How to Report a Cold Case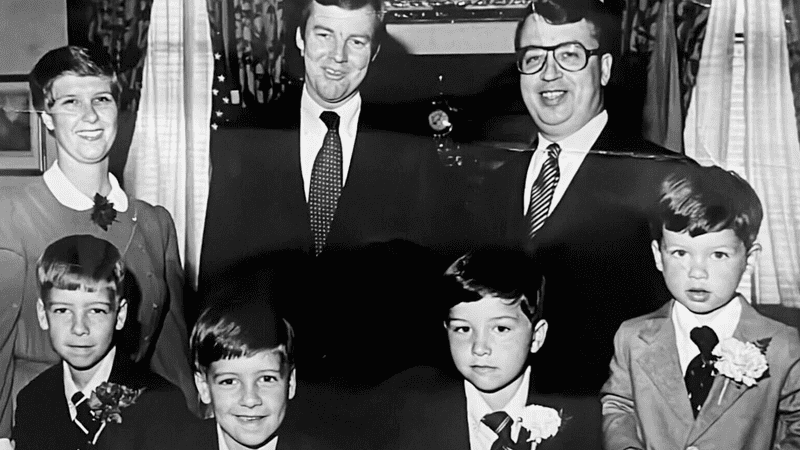 Transcript
BROOKE GLADSTONE From WNYC in New York. This is On the Media. I'm Brooke Gladstone. On this week's show, following the trail of a grisly murder leads one reporter to an even more grizzly story.
BARRY JANSEN The type of wounds that Mrs Sheridan suffered were consistent with a rage type of attack.
NANCY SOLOMON The Sheridan's funeral was held in October 2014, and the most powerful people in New Jersey came to pay their respects.
PETER SHERIDAN When a prosecutor's office tells you that it was a murder suicide, that's like a gut punch.
BROOKE GLADSTONE A cold case reopened, presents quandaries for the reporter. Like: are red herrings, bad journalism?
NANCY SOLOMON I wondered, like, are we telling the story well enough if we don't have red herrings? Because I really did want it to unfold like a murder mystery, but I just couldn't, as a journalist, I couldn't put information into the podcast that I knew was not true.
BROOKE GLADSTONE It's all coming up after this.
[END OF BILLBOARD].
[CLIP]
OPERATOR 911. Where is your emergency?
NEIGHBOR Yes. Meadow Run Drive in Skillman, New Jersey. [END CLIP]
BROOKE GLADSTONE The call came in just before sunrise on Sunday, September 28th, 2014. On this quiet cul de sac, 911 calls were rare.
[CLIP]
NEIGHBOR I believe my neighbor's house may have the beginnings of a fire in her house.
OPERATOR Why do you think that?
NEIGHBOR I can smell smoke out in the air. [END CLIP]
BROOKE GLADSTONE White smoke was pouring out of the bedroom window on the second story of a large central hall colonial, where John and Joyce Sheridan lived. Halloween decorations were in the front yard, but something more sinister had happened inside.
[CLIP]
FIREFIGHTER So I see heavy smoke conditions throughout the entire house, especially the second floor. [END CLIP]
BROOKE GLADSTONE The firefighters arrived and quickly upgraded to a two alarm fire at 6:31.
[CLIP]
FIREFIGHTER We searched the basement and first floor. No occupants. We do believe there's occupants on the second floor. [END CLIP]
BROOKE GLADSTONE The door to the master bedroom wouldn't budge. And when they finally got in, they found a large armoire had fallen over and blocked the entrance. They found John Sheridan's body under the armoire. He was stabbed and badly burned. The door blocked by the armoire would become a crucial detail for the detectives. Because if there was an intruder, how did that person get out.
[RADIO OVERTALK]
BROOKE GLADSTONE And then they removed the body of Joyce Sheridan, who was lying on the floor by the bed. The firefighter who carried her out was covered in blood.
[CLIP]
FIREFIGHTER [UNDISCERNIBLE] removed at this time. Ah, we're still working on the bar. [END CLIP]
BROOKE GLADSTONE From WNYC in New York. This is On the Media. I'm Brooke Gladstone. This week, how the efforts of a gumshoe reporter sometimes can maybe lead to change. Nancy Solomon is a long time colleague and a reporter for OTMs producing station WNYC. In her new podcast, Dead End, a New Jersey political murder mystery, she tells the story of the death of a prominent couple in New Jersey. So it's a true crime, cold case investigation. It's also a deep dive into the inner workings of how local politics work and don't in the Garden State. Nancy will take it from here.
NANCY SOLOMON I live in New Jersey and cover the state for WNYC, and that's almost a full time political corruption beat. John Sheridan was connected to some of the most powerful politicians and movers and shakers in the state, and that was enough to make me follow every detail of this story.
BARRY JANSEN I was one of the first from the crime scene unit there.
NANCY SOLOMON Barry Jansen is retired now. At the time, he was a forensic technician for the Somerset County prosecutor's office.
BARRY JANSEN The number and type of wounds that Mr. Sheridan suffered were consistent with a rage type of attack. She was mutilated, for lack of a better word.
NANCY SOLOMON Eight knife wounds to the head and a fatal one to the heart. John was stabbed, too, but the wounds were smaller. An autopsy would find that Joyce died before the fire, but John had soot in his throat and lungs. That means he was still alive when the fire started. He died from a knife wound to his jugular. In the bedroom, detectives found a bread knife and a carving knife.
BARRY JANSEN Like a chef's knife had actually fallen into the springs. The mattress that basically burned away. There was just the the knife was appeared to be heavily bloodstained.
NANCY SOLOMON Joyce had cuts on her hands, indicating she had tried to protect herself. And John's hands didn't have any cuts. And there was a gas can and gas had been poured onto the floor. The armoire was laying on its side, on fire and on top of John Sheridan. This is how detectives saw it: no forced entry, bedroom door blocked from the inside, $950 in cash on the bedside table. So it wasn't for the money and very different stab wounds on each victim.
MARK SHERIDAN So my parents died Saturday night, Sunday morning.
NANCY SOLOMON Mark Sheridan is the oldest of the couple's four sons.
MARK SHERIDAN We met with the prosecutor's office on Tuesday. And that's when things started to go off the rails.
NANCY SOLOMON The Somerset County prosecutor, Jeff Soriano, spent some time detailing the autopsy. Then Soriano said something that didn't make sense to the brothers.
MARK SHERIDAN Look, guys, he said they are hesitation wounds. Your dad tried to stab himself and couldn't do it.
NANCY SOLOMON What they were telling them was your dad killed your mother. And then after several attempts – killed himself.
MARK SHERIDAN And that sort of set off a tinderbox.
NANCY SOLOMON The Sheridan's funeral was held on a blustery, overcast day in October 2014. The line to enter the building snaked down the block, and the most powerful people in New Jersey came to pay their respects. The governor at the time, Chris Christie, was there and so were three former governors, including the only woman ever elected governor of New Jersey, Christine Todd Whitman.
CHRISTINE TODD WHITMAN It was not a small turnout. It was almost all of the assembly, the Senate, and they all played the respects to a guy who never held elective office. And yet you had all these political people there to to stand up for them and for the family.
NANCY SOLOMON At the Sheridan's memorial, there was an unsettling vibe because very few people knew how they had died. The first news report said they died in the fire. Then local detectives announced the fire had been deliberately set. Former Governor Whitman told me rumors were spreading and people didn't know what to think.
CHRISTINE TODD WHITMAN Because we were still in those throes of this. It's just impossible, the theories they're putting out there, what happened, this was just not the John and Joyce any of us knew.
NANCY SOLOMON John Sheridan had worked at the highest levels of government for 40 years. First as a Cabinet member and then as an advisor to several governors. And he'd been a lobbyist for one of the most prominent law firms in the state. Some 1800 people attended the memorial. Sitting next to the former governor was Joyce's best friend, Chris Stevens. They'd been close for 30 years.
CHRIS STEVENS She would call and she'd say, Chris, call me, let's go to lunch.
NANCY SOLOMON The last time Chris saw Joyce was only a day and a half before she died.
CHRIS STEVENS And just had a nice usual lunch with Joyce. Laughed. Yeah. It was fun.
NANCY SOLOMON Chris was a social worker. Joyce, a public school teacher, and both husbands were lawyers who were involved in government. Both couples had four kids about the same age. The two families lived in the suburbs not far from Princeton. Joyce in Skillman and Chris just down the road in Belle Meade.
CHRIS STEVENS I really appreciated her humor. She was a very independent, but such a good friend. She would knit me scarves and and hats and I couldn't do anything with my fingers. I'm a mess. So she sort of took care of me in that way.
NANCY SOLOMON Chris was just back from church on that Sunday morning when her husband came in to tell her the Sheridan's had died. She was stunned. And then the detectives decided it was a murder-suicide.
CHRIS STEVENS I, I don't feel comfortable talking about this.
NANCY SOLOMON What about it makes you feel uncomfortable, and you don't need to say, but ––
CHRIS STEVENS I don't believe it. And neither does Bob. And any of our kids or our friends. Any-anybody I know does not believe that that happened. I don't have anything else to say except that I miss her. And I miss John.
NANCY SOLOMON And you mentioned that you talked about kids and grandkids. Was there anything on her mind that was bothering her.
CHRIS STEVENS I know where you're going? But no, um definitely not. I know you have to ask the question, but no, I think she would have said to me.
NANCY SOLOMON Okay, what are your memories of your parents and their relationship with each other at that time when you were a kid growing up in the house?
MARK SHERIDAN They were always together at.
NANCY SOLOMON The time of his parents deaths. Mark Sheridan was the lawyer for Chris Christie's campaign for governor, and he also represented the state Republican Party. He and his brothers didn't believe the detectives murder-suicide theory, especially after they were allowed to enter the house and see the crime scene.
MARK SHERIDAN A mess that you can't even begin to fathom. There are feathers everywhere. Everything is out of every space in the room and there's all over the floor and the bathroom is full of stuff. You know, I guess when the fire happens, they're putting it out and they're just once it's out, they're throwing stuff into the bathroom.
NANCY SOLOMON The Sheridan brothers also noticed there's no fingerprint dust, and the blood soaked rug where their father died was rolled up in the hallway, raising questions about whether blood or DNA samples were taken. They decided to hire Michael Bodden. He's an independent medical examiner with 50 years experience. His resume is 18 pages long. Bodden conducted a second autopsy on John Sheridan's body.
[WALKING ]We're going to the building next door to the Museum of Modern Art.
I went to see this legendary medical examiner. In is apartment building in midtown Manhattan.
DOORMAN All right. Go through the rubble just right down the left side.
NANCY SOLOMON We met in his building's conference room. He kept detailed notes from the autopsy.
MICHAEL BODDEN What I found is one of the wounds that struck the jugular vein that was a fatal wound was made by a what I describe as stiletto-like instrument and went into the body for about two inches or so.
NANCY SOLOMON A thin stiletto, not a large carving knife with a wide blade. Not the same knife that killed Joyce. Bodden's assessment is: that's not a hesitation wound. That's a wound made by a very different kind of knife. But the detectives think John's wounds were inflicted with one of the knives they found in the bedroom. There were two. A big carving knife and a serrated bread knife. Nothing the shape or size of a stiletto.
MICHAEL BODDEN Usually when people commit suicide using a sharp weapon, the weapon is found at the scene.
NANCY SOLOMON I can't imagine a circumstance in which someone kills themselves with a knife and the knife is not there. So is there any circumstance where that could happen?
MICHAEL BODDEN Well, I yes, you know, one can find all kinds of odd things. I had one situation where a person attached a knife to some kind of bungee cord that stabbed himself and the bungee cord then tossed it out out of the window. So odd things can happen.
NANCY SOLOMON Okay. Odd things can happen, but suffice it to say, the knife matching the wounds to John Sheridan was never found. I haven't solved this murder. At least not yet. But I'm rattling a few cages, and the person who's done more than anyone to unravel this mystery is Mark Sheridan.
MARK SHERIDAN When I was walking up the stairs one day, I just happened to notice that there was blood all over the wall on the right, and it was high and cast in a certain direction and it was dripping down. I sent that photo of that, I think, to Baden.
NANCY SOLOMON And the family's medical examiner sends the photo to a blood analysis lab.
MARK SHERIDAN And they came back more like that's blood spatter. That is evidence of where the stabbings took place. And then when you measured it out, it matched pretty closely with where wounds were on the left side of my father's body. So it at least suggests that he was stabbed at the very top of the stairs.
NANCY SOLOMON When the detectives first arrived at the Sheridan house, they thought the blood in the stairwell was from firefighters carrying Joyce's body down the stairs. But the blood splatter is different from those stains. It's higher and not smeared. . So I put this theory to Barry Jansen, one of the first forensic technicians on the scene. And so he was could have been partially incapacitated from the start.
BARRY JANSEN I don't think so with the type of blood spatter that I saw there. If it was one of the wounds that Mr. Sheridan had received, even if it was the neck wound, there were no handprints. It was more consistent with like bloody hair, maybe some clothing. There was nothing that jumped out at me and said, hey, wait a minute, this isn't right. This, you know. This doesn't add up.
NANCY SOLOMON The Sheridan family had the blood tested and the splatter on the wall was their father's blood. There's also soot on the walls from the fire. The question is, was the soot on top of the blood or the other way around? But the detectives didn't carefully photograph the stairwell.
Speaker 2 If I make a mistake, I'll own the mistake. And I'll own the mistake that I didn't document that blood staining on the wall. That was something that I should have done, even though I was told not to. If I had a do over, I would definitely do it.
NANCY SOLOMON Janssen had been told by his captain to disregard the blood stains. Evidently, the firefighters had reported to detectives that there were no blood stains on the wall until they carried Joyce's body out.
BARBARA BOYER So walking into the house, it was actually very orderly. Everything was in place.
NANCY SOLOMON Barbara Boyer was the crime reporter at the Philadelphia Inquirer at the time. Mark Sheridan invited her to tour the house, and she brought a veteran homicide detective. Eddie Rocks. When they went upstairs, they saw the blood spatter.
BARBARA BOYER Eddie Rocks immediately pointed that out, and he said, This is indicative of someone who was stabbed here.
EDDIE ROCKS When you see a blood splatter, that shows direction. Usually you see the splatter is where there's a confrontation, where there's movement.
NANCY SOLOMON And so what did what did it look like to you?
EDDIE ROCKS I can't say I have no idea how that happened. I don't know. What was the confrontation at one point at the top of the stairs and I went back into the bedroom.
NANCY SOLOMON Another detail about the crime scene was something quite simple, frankly. It was obvious, but it went unnoticed by the first detectives to arrive.
BARBARA BOYER This is the front door to the house.
NANCY SOLOMON When I sat down with the newspaper reporter, Barb Boyer. Before I could ask her a single question, she drew me a diagram on the back of an envelope.
BARBARA BOYER There's a back door over here. The dining room is like over here.
NANCY SOLOMON And this is the mudroom right here with the back stairs that come down. Right?
BARBARA BOYER Right.
NANCY SOLOMON So the bedroom where the bodies were found has two ways out, and each one leads to a different staircase. There's the front stairs and there's the back stairs. And those bring you to the back door of the house. Remember what the detectives think. The bedroom door is blocked from the inside by the armoire. So John Sheridan must have killed his wife and then himself. But there's another piece of evidence that I find, frankly, stunning. When an insurance investigator inspected the crime scene weeks later, he found a bent fire poker. It's lying in the heap of stuff that firefighters had thrown from the bedroom into the bathroom. The Sheridan's were avid antique collectors. And this was a vintage four foot long wrought iron fire poker.
BARRY JANSEN We did find a fireplace poker upstairs.
NANCY SOLOMON Barry Janssen, the forensic technician.
BARRY JANSEN I know there were some questions about the fireplace poker brought up down the road that the family felt that that may have been used as a weapon. Again, I. I don't see the logic in that.
NANCY SOLOMON But the autopsy did say John Sheridan had a chipped front tooth, long, thin bruises on his chest and four broken ribs.
BARRY JANSEN If somebody is going to hit him with the fire poker, they're going to finish the job. Did he bring the fire poker upstairs, this quote unquote assailant? And was he going to use that to beat them to death with? Then, why the knife? None of that makes any sense.
NANCY SOLOMON Not to Barry Jansen, at least. Barbara Boyer, the gumshoe reporter, has a different take. When she walked from the back door into the kitchen. It took her right in front of the fireplace mantle. And there was an empty spot where the first tool would have been hanging.
BARBARA BOYER It makes sense that someone came in that door and that was the first thing there.
NANCY SOLOMON A couple months after his parents deaths, Mark needed to submit their taxes. Turned out the detectives had taken a pile of paperwork that was on the dining room table. Mark asked for copies and received a large stack.
MARK SHERIDAN And I started looking at that and I'm trying to get my arms around it.
NANCY SOLOMON Mixed in with the tax documents was a pile of papers from his father's work. Printed emails, hand-written accounts of phone conversations and records documenting meetings. Mark could see it was about a real estate deal on the Camden waterfront, and it clearly involved powerful political interests and large amounts of money. Mark had discussed this real estate deal with his father months before his death.
MARK SHERIDAN And I know that this is what my father was upset about. And I know that this was what was bothering him.
BROOKE GLADSTONE Coming up, a paper trail leads us to Camden, where John Sheridan's boss wields his power. This is On the Media.
[BREAK]
BROOKE GLADSTONE This is On the Media, I'm Brooke Gladstone. We've been listening to excerpts from the podcast Dead End, a New Jersey political murder mystery. Before the break, we learned that John Sheridan, the man at the center of this tale, was in the middle of a disagreement over a real estate deal involving powerful political interests. Nancy Solomon picks up the story.
NANCY SOLOMON Months after the deaths of John and Joyce Sheridan. Detectives returned a pile of documents they found on the Sheridan's dining room table. Their son, Mark, told me it was enough to fill a file box.
[TO MARK]
Do you think it's fair to characterize it as a paper trail?
MARK SHERIDAN It definitely looks like a paper trail. Absolutely.
NANCY SOLOMON To understand the significance of these documents, I need to introduce you to John Sheridan's boss at the time of his death. He's New Jersey's other boss, George Norcross. He's the head of a powerful political machine. And Camden is his hometown, his passion project and the spiritual center of his empire. John Sheridan decided to go work for Norcross at Cooper University Hospital in Camden at a curious time. It was just months after damaging recordings of Norcross came out. Dubbed The Palmyra Tapes, the recordings caught him bullying and offering a favor to a small town official. He also boasted about his power.
GEORGE NORCROSS He said, You have to understand something. I'm not going to tell you this, but to insult you.
NANCY SOLOMON You, you have to understand something. I'm not going to tell you this to insult you.
GEORGE NORCROSS But in the end, the McGreevey's the Corzine's, they're all going to be with me.
NANCY SOLOMON But in the end, the McGreevey's the Corzine's. They're all going to be with me.
GEORGE NORCROSS Not because they like me. But because they have no choice.
NANCY SOLOMON Not because they like me, but because they have no choice. For the New Jersey uninitiated. Those are two of our former governors. It was a pretty big story in New Jersey. And yet, just months after the tapes went public, John Sheridan agreed to go work for Norcross at Cooper University Hospital. I was curious to know what his son, Mark, thought about it. He didn't express any concerns about George Norcross, his reputation. I mean, this is now post the Palmyra tapes. And, you know, people know what kind of an operator he is at this point.
MARK SHERIDAN So I asked him about that. He had this view that George's bark was worse than his bite and that if George really was working to redo his image and wanted to fix Camden, the Norcross family had a long, storied history in Camden, and my dad believed George genuinely wanted to fix it. And I think that's been borne out.
NANCY SOLOMON George E. Norcross, the third was born in Camden and grew up in Pennsauken, a blue collar town right next door. He's 66. A few years ago, he was said to be worth $245 million. He owns a multimillion dollar insurance brokerage that does a very lucrative business with government entities all over New Jersey. Norcross didn't run for office, but he hand-picked candidates, raised money for them and hired expert campaign consultants and pollsters. By the 1990s, Norcross had a network across South Jersey who owed him. Mayors and people who served on city councils, school boards, and even the state legislature.
GEORGE NORCROSS There is nothing harder to do in politics than to ask somebody for money.
NANCY SOLOMON Micah Rasmussen is the director of the Center for Politics at Rider University. But he's not just an academic. He ran local campaigns in South Jersey. He worked in the state legislature and he worked for governor throughout it all. He saw how Norcross became powerful by raising campaign cash for local candidates.
MICAH RASMUSSEN There's nothing more unpleasant – unless you're good at it. Unless you're just, you know, masterful at it, as Norcross is.
NANCY SOLOMON The politicians who took Norcross his money, that could be independent as long as they voted with the boss on the things he cared about.
MICAH RASMUSSEN You knew the votes that were important. Who was going to be the Speaker of the Assembly? Who was going to be the Senate President? Who was going to wield the power? Those were votes. Where you that that. That came with the party.
NANCY SOLOMON The strategy worked. In 2009, the Norcross allies elected Steve Sweeney, president of the state Senate. That's the most powerful person in the state legislature and makes him second only to the governor statewide. That means Sweeney could control what Bills came up for a vote and who would serve on which committees. The relationship between Sweeney and Norcross is often boiled down in news articles to one phrase. Sweeney, the childhood friend of Norcross. But I got my hands on an email chain from 2014 that showed the kind of power that Norcross held over Sweeney. In the thread, Sweeney received a list of bills from his assistant that are ready to be put up for a vote. He forwarded the list to Norcross with a note. Is there anything on this list that bothers you? In a one word reply, Norcross approved Sweeney putting the bills up for a vote. He wrote simply, "Good".
SHANEKA BOUCHER George Norcross is the CEO of the Democratic Party, and it operates like any other business, any other corporation.
NANCY SOLOMON Shaneka Boucher is a city councilwoman in Camden. She got elected with the help of the Norcross machine. But on one issue, she refused to vote as told. She says that's a rarity on the seven person council.
SHANEKA BOUCHER And it was a 6–1 council vote. Right? Like I was the only person on council that voted no. And so the retaliation starts small. So it's really like, well, we're not going to talk to you as much, will isolate you a little bit. And I'm comfortable with that. I'm not from South Jersey, so I'm from New York.
NANCY SOLOMON What form does the retaliation take? Like, what would be some of the the small punishments?
SHANEKA BOUCHER So, for instance, like me working on a committee and now your committee changed or people that I would have called or returned your call on things that you were working on together now and they stop picking and they don't call you back.
MARILYN TORRES I hear a lot of George Norcross, but to me it's our fault. Accepting positions, accepting jobs.
NANCY SOLOMON In 2010, Marilyn Torres became the first Latina to be elected to the Camden City Council. She voted in line with everyone else, and she was rewarded with an appointment to lead the Camden Redevelopment Agency.
MARILYN TORRES What do we become to be? A yes-yes, person. And that's what I was a yes. Just person. And I hear the community complain. Don't vote yes on this because this is not good for our city. And in many times when women are crying. I was forced to vote for them, because I was a yes-yes person.
NANCY SOLOMON Yeah, but who who who had their thumb on you forcing you to vote for it.
MARILYN TORRES And is like like the octopus is pulling his strings.
NANCY SOLOMON The octopus is pulling his strings. It's a bit of a mixed metaphor, but I understood exactly what Marilyn Torres meant, because there's a book about the Norcross machine in Camden. And on its cover, there's a drawing of a huge octopus hovering over City Hall. In that book, the author details how government entities across Camden County hand out contracts to the donors of the George Norcross run campaigns. It's a sustainable setup. Donate to the machine, their candidates get elected, and then the contracts go to the donors.
[IN AN INTERVIEW]
NANCY SOLOMON So nice to virtually meet you, Mr. Norcross.
GEORGE NORCROSS Nice to meet you. Good morning.
NANCY SOLOMON Morning.
[NARRATING]
I produced a series of stories about Norcross in 2019, and early in that year, he agreed to speak with me.
GEORGE NORCROSS Camden, dubbed America's most dangerous city at one time, was a place that in the center city area and probably almost every neighborhood in in the city, you could buy drugs, buy sex or get killed all on the same block.
NANCY SOLOMON So Norcross ushered in a redevelopment plan for Camden, and he hired a wise hand, a guy who knew how to make government work better. John Sheridan.
JOHN SHERIDAN Camden City is one of the poorest cities in the United States, with approximately 40% of its households living below the federal poverty level. And Cooper is the city's main health care provider.
NANCY SOLOMON That's from a 2009 hearing on Capitol Hill when Sheridan testified about health insurance. He was the CEO of Cooper Hospital, the city's largest employer. And his goal was to use the hospital to drive economic development in Camden. That plan was actually working until 2014. And that brings us back to the documents on the table that were turned over to John Sheridan's son, Mark.
MARK SHERIDAN All of the L3 documents were there.
NANCY SOLOMON L 3. It's an office complex on the Camden waterfront. The documents were all about the sale of those buildings.
MARK SHERIDAN And I'm trying to get my arms around it. And I start to see from those emails that there was a fight over this issue, over this property.
NANCY SOLOMON That story starts in 2013 when then Governor Chris Christie signed the Economic Opportunity Act. It was a bill that supercharged New Jersey's corporate tax break program, and the tax breaks were beyond generous. The bill was sponsored in part by Donald Norcross, a brother of George. He was a state senator at the time, and now he's a member of Congress. And sections of the bill were written by lawyers at the firm led by a third brother, Phil Norcross. The state owned L3. It was built in the nineties and it looks like a bland office park. Two buildings each, three stories high and made of brick. In 2014, the generous tax breaks for Camden were just going into effect, and L3 was a one of a kind opportunity. Unlike most buildings in Camden, it was ready for a business to move in, obtain a tax break for doing so, and get its rent paid for ten years. And nobody knew that better than the local business group that had been trying to improve Camden for decades. Cooper's Ferry Partnership. It's a nonprofit like most towns have, like a business improvement association or Main Street alliance. For 30 years, Cooper's Ferry has been the primary recruiter of real estate development in the city, and there was L3, a block from the river with parking a cafeteria and a gym. And here's where John Sheridan comes in. He was the CEO of the hospital. And the reason he went to work there was to work on improving Camden. And one of the ways he worked on Camden was by serving as chairman of the board of Cooper's Ferry Partnership. The small nonprofit saw an opportunity. If the organization bought L3, they could use the profits from the rent to fund parks or farmer's markets or other community projects. The nonprofit went to John Sheridan for help. When Phil Norcross, George's brother, learned about the L3 deal.
BROOKE GLADSTONE Coming up, we find out what was happening in Camden and how John Sheridan was involved.
[BREAK]
BROOKE GLADSTONE This is On the Media, I'm Brooke Gladstone, and this is the conclusion of our excerpts from Dead End, a New Jersey political murder mystery. Here's the host of the podcast, Nancy Solomon.
NANCY SOLOMON Jeff Pillets is an investigative reporter who has been watching the political players in South Jersey for decades. Together, we spent months digging into the documents left on the Sheridan's dining room table. They detail a dispute over the sale of L3, the building on the Camden waterfront. Cooper's Ferry Partnership had a contract to buy it at a very good price. But George Norcross and his brother Phil informed the leaders of the nonprofit that they wanted to choose who would buy the property. That led to a series of emails where the nonprofit asked John Sheridan for his help.
JEFF PILLETS What happened then and then the subsequent months, according to these documents, is Cooper's Ferry did everything they possibly could to fight off George Norcross's aligned companies from taking it over.
NANCY SOLOMON As Jeff Pillets, I dug into the documents. We could see it all came to a head. In April 2014. A memo in John Sheridan's handwriting details a call with the two top guys at Cooper's Ferry Partnership, the local nonprofit developer. They'd had a meeting with Phil Norcross and were asking for Sheridan's help.
JEFF PILLETS If you're looking for the fingerprints of the party boss, George Norcross, this memo pretty much has it on here. The Coopers, very people. These executives are telling John Sheridan, Phil says we're persona non grata. Then he says they have to get out of the real estate business. So basically you have, according to this document, you have Phil Norcross, George Norcross telling the chief nonprofit developer in town, you can't be in the real estate business.
NANCY SOLOMON I recently sent letters to George and Phil Norcross and asked them whether they said the Cooper's Ferry executives would be persona non grata. And if they did, what did they mean? They didn't address that question.
JEFF PILLETS These guys have no official position. But this is evidence of some nature that they want to control what happens in this town and that they are controlling what happened in this town.
NANCY SOLOMON So that leads to really only a week or two later, John Sheridan has a meeting at Parker McCay, the law office of Phil Norcross.
JEFF PILLETS This is about what time does this now?
NANCY SOLOMON This is now May 5th, 2014.
JEFF PILLETS May 5th 2014.
NANCY SOLOMON At 12:07 p.m.. I happen to know this because it has because he put his visitor's sticker from Parker McKay on top of the envelope where he had scribbled notes. The notes on the envelope are in John Sheridan's own handwriting. I have a duty of loyalty and good faith, and I need to act in a way consistent with that responsibility. Responsibility is underlined. We don't know what happened at that meeting or who all was there. But just two days later, the memos and emails show the leaders of Cooper's Ferry Partnership attend a meeting with the developers who've been pushed on them by the Norcross Brothers. At that meeting, Cooper's very offers to sell their right to purchase the L3 buildings. And the emails show the buyers were asked how much they were willing to pay. This is the part of the deal that's most curious to Mark Sheridan.
MARK SHERIDAN From what I know. I think that Cooper's Ferry gave up a very lucrative developmental right for zero return or almost zero return without any real justification for doing it.
NANCY SOLOMON And do you have any you have any understanding of why they would have done that?
MARK SHERIDAN I, I understand that they probably would have been cut off from access to redevelopment in City of Camden if they hadn't done it.
NANCY SOLOMON Over the course of five years. Parcel by parcel, a large chunk of the waterfront changed hands, a stretch ten blocks long, and three blocks wide.
JEFF PILLETS Owned by Norcross or developers associated with Norcross. Or companies that are aligned with Norcross in some way. Or his brother in some way.
NANCY SOLOMON On this beautiful summer day. As Jeff and I sat by the waterfront, the change was unmistakable. A half dozen buildings, including an 18 story office tower, a new apartment building, and Camden's first hotel in half a century now sit on land that was once vacant. Most of it is owned by George Norcross or his business partners or clients of Phil Norcross. George argues that this was precisely the kind of action needed. Free buildings or free rent for businesses that were willing to invest in Camden. That's what he told me when I talked to him in 2019.
GEORGE NORCROSS There has not been a single person that I have seen or read anywhere that with fact has suggested that what's going on in the resurgence in Camden, what's been going on over the last seven years is anything but extraordinary and spectacular.
NANCY SOLOMON But when Jeff Pillets and I visited the waterfront, there was something missing in all the fancy development there: the people who actually live in the city.
[NANCY, ON THE SCENE]
Oh, here comes the streetcar.
[NARRATION CONTINUES]
Every 10 minutes, an empty streetcar passes by on the line, meant to bring people down to the river.
[BACK ON THE SCENE]
I didn't see a single person.
[NARRATION]
The median household income in America is more than $67,000 a year. In Camden, it's 28,000. That means half of all the households in Camden make less than that. Massive amounts of state and federal aid haven't done much for the residents of this city. And government entities once owned much of the land on the waterfront, including the L3 complex. The subject of the dispute between the Norcross Brothers and the nonprofit developer. In the letter I sent George and Phil Norcross. I asked why they intervened in the L3 deal.
NANCY SOLOMON I had an hour long video call with his lawyers. Norcross was there. He didn't speak. And he three lawyers and two spokespeople didn't turn on their cameras. Attorney Michael Critchley did most of the talking, but they didn't want to talk about the L3 deal.
MICHAEL CRITCHLEY What we're talking about is if you're going to be fair, make sure that you emphasize that you have no evidence whatsoever that George Norcross had anything to do with the Sheridan's murder investigation, that tragedy, that tragedy. And I don't want to get this to be adversary, because if anyone even suggest intimates or infers. Obliquely, directly, indirectly that George Norcross was somehow involved in Jon Sheridans and Joyce Sheridan's tragic death. The next letter you receive from me is a litigation hold notice.
NANCY SOLOMON It's when you get a letter saying you're about to be sued and you're legally required to keep documents. Suffice to say, they're not happy I'm talking about Norcross, and they wanted me to agree to say on the podcast that I have no evidence that George Norcross was involved in the Sheridan deaths.
MICHAEL CRITCHLEY If you're not going to give me that commitment, I would recommend we terminate this proceeding. Other than that, it's just a waste of time.
NANCY SOLOMON I told them I would consider it, but without a promise. The meeting ended abruptly.
[LAWYERS TALKING]
NANCY SOLOMON And I never got to ask my questions of George Norcross.
[LAWYERS LEAVING VIDEO CALL]
NANCY SOLOMON But fair enough. I'll say it. I don't have any evidence that George Norcross had anything to do with the deaths of the Sheridan's. Just as we were finishing the podcast, I heard some of the folks I had interviewed were contacted by the New Jersey Attorney General's Office. I was able to confirm they had opened a new investigation into the Sheridan deaths, something that office had refused to do for seven years.
BOB STEVENS Hello.
NANCY SOLOMON Hi, Bob. It's Nancy Solomon, WNYC.
BOB STEVENS Oh, hello, Nancy. How are you?
NANCY SOLOMON I'm good. You got a minute? I had heard some people had been contacted by a state investigator, including Bob and Chris Stevens.
BOB STEVENS And they seem to know more about me than I knew.
NANCY SOLOMON They were good friends of John and Joyce, you know, Chris was the one who'd had a three hour lunch with Joyce just a day and a half before the Sheridan's died. Her husband, Bob, is a lawyer who used to work in the attorney general's office. Sure enough, they had heard from the AG's office too. And in fact, Bob told me they were called in to the offices in Trenton.
BOB STEVENS We were questioned separately and she didn't come out in handcuffs. So I was that was good. So hold on, let me find Chris – if I can find her. It's not a big house.
NANCY SOLOMON A few weeks ago, Chris had wanted to talk with me about the investigation, but Bob had been concerned that it might need to be kept confidential.
CHRIS STEVENS Hey, honey, can I talk to Nancy? He said, sure. Okay. That sounds good.
NANCY SOLOMON Oh, good. So tell me about getting the call from them and what it was like and what how you felt about it.
CHRIS STEVENS I was nervous, you know, was I was used to talking to you, but I just first of all, scared, you know, going to the justice complex and that to see the of everything. But I got the impression the FBI was really looking into everything and and the same with the state investigators.
NANCY SOLOMON That's the first I heard. The FBI is involved. The Stevens didn't know why and I haven't been able to find out anything more. The part of this story that disturbs me most is something quite separate from the political and financial shenanigans that go on in my state. John Sheridan was effectively convicted of murdering his wife without judge or jury.
JOHN FARMER You can't just do this. You know, you basically are ruining this man's reputation without any kind of hearing and without any kind of evidentiary standard.
NANCY SOLOMON John Farmer was John Sheridan's longtime friend, who served a term as attorney general under Christine Todd Whitman.
JOHN FARMER When you have a situation like this, there's a right some kind of hearing like they have in other jurisdictions where you you know, the medical examiner has an inquest and they present what the evidence is and you have a chance to challenge it. That that doesn't exist and that's a big, big gap I think, in our law.
NANCY SOLOMON Many states hold an inquest when a person dies from anything other than natural causes. That's a legal proceeding in front of a judge that would have required the Somerset County detectives to present evidence. With that requirement, the detectives might not have been able to get away with never fully investigating the crime. Not only wasn't the crime properly investigated, but the Sheridan family had to fight just to get their father's death certificate changed from suicide to undetermined.
PETER SHERIDAN When the prosecutor's office tells you that it was a murder suicide, that's like a gut punch.
NANCY SOLOMON Peter Sheridan is John's younger brother and a federal judge in New Jersey.
PETER SHERIDAN It's worse than a gut punch, though, because a gut punch, the pain goes away after a short period of time. And this is more like more like a scar. It just it's there every day. And you can- can't get around it. You're confronted by it. For me, just about every morning.
NANCY SOLOMON He's been inspired by the four shared in Sons, how they've hung together and continued to seek justice.
PETER SHERIDAN They're fighting for the reputation of their parents every day. And. Sorry. They just do a great job at that.
NANCY SOLOMON The Sheridan family is hopeful that the new state investigation will uncover new facts about their parents deaths. But even if the trail has gone too cold, there is something that can be done. The evidence in their bedroom makes a clear case for double homicide. The death certificate for John Sheridan can be changed. His manner of death should no longer be listed as undetermined. That change would bring some semblance of justice for one family. But when a well-connected family has to fight for seven years to get the bare minimum in terms of justice, it raises questions about the justice system itself. The attorney general of New Jersey was missing in action on this case for seven years. It will take a lot more investigation to figure out why.
BROOKE GLADSTONE You've been listening to excerpts from WNYC's, Dead End. There's much more reporting in the eight part series, which you can find wherever you get your podcasts. If you check out the On the Media podcast feed this week, you'll find a conversation I had with Nancy about the making of the series and how she wrestled with the tension between unrolling a juicy crime story and staying true to the tenants of journalism.
Dead End was reported by Nancy Solomon with Karen Frillman and Emily Bertini. Sound Design and Original Music by Jared Paul. Jennifer Munson is our technical director. Katya Rogers is our executive producer. On the Media is a production of WNYC Studios. I'm Brooke Gladstone.