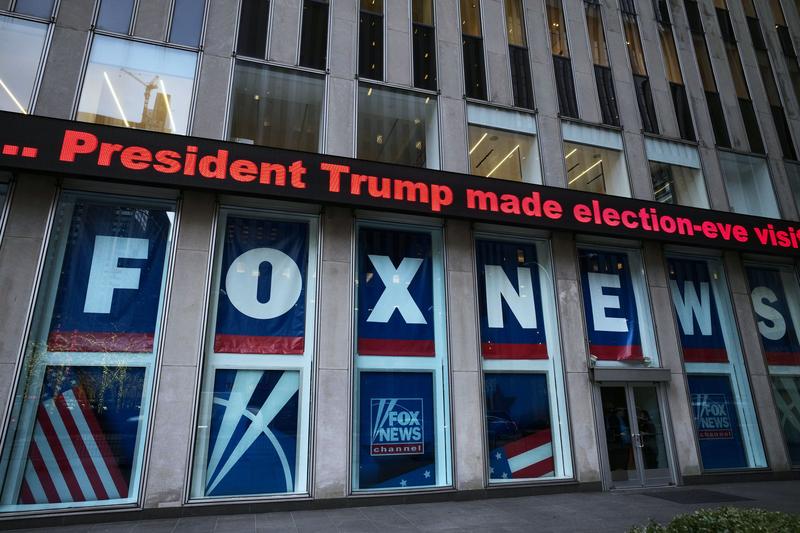 Transcript
Brooke Gladstone Dominion Voting Systems is suing Fox News for defamation and they have receipts.
PBS The court filings reveal that behind the scenes many of the network's top stars and executives derided Trump's election lies as quote "mind-blowingly nuts" and "totally off the rails"
Brooke Gladstone From WNYC in New York. This is On the Media. I'm Brooke Gladstone. It's an old saying that journalism is the first draft of history. But when the historical record is too sparse to serve us, fiction steps in.
Toni Morrison Places are still there. If a house burns down, it's gone. But the place, the picture of it stays. And not just in my memory, but out there in the world.
Brooke Gladstone Plus, a historian pieces together an enslaved woman's story with bits of tattered cloth.
Tiya Miles We could just throw our hands up and say, Oh, well, we can't find what we need, so we can't tell these stories. But that would be an additional injustice on top of historical injustices.
Brooke Gladstone After this.
Brooke Gladstone From WNYC in New York, this is On the Media. I'm Brooke Gladstone. This week, we all got a peek behind the curtain at Fox News. So much drama!
MSNBC Dominion Voting Systems has dropped the latest bombshell and its $1.6 billion defamation suit against Fox News.
CBS Fox Chairman Rupert Murdoch acknowledged under oath that some Fox News hosts endorsed false claims of voter fraud in the 2020 election.
CNN There are newly revealed text messages that show how some of the biggest names at Fox News actually felt about the bogus election fraud claims that they were pushing at the same time on Fox's air.
Brooke Gladstone Dominion's case hinges on the claim that it was defamed by Fox, a historically high bar to clear as it requires proof a news organization knew it's spreading false information. In this case.
CBS Dominion argues, the cable news network falsely claimed the voting company had rigged the election in an effort to boost faltering ratings.
Brooke Gladstone A Fox News spokesperson told us that Dominion's motion is, quote, an extreme, unsupported view of defamation law and a, quote, blatant violation of the First Amendment that basically Fox News was just covering in commenting on the allegations of a sitting president. Dominion's motion, which became available to the public earlier this week, provides details about what happened on Fox's airwaves in the fall of 2020 and why.
Andrew Prokop Fox was the earliest network to call the state of Arizona for Biden. And it was a controversial call.
Brooke Gladstone Andrew Prokop is a senior politics correspondent at Vox.
Andrew Prokop A lot of decision desks at other networks thought perhaps they jumped the gun a little bit. But Trump was furious. His campaign was furious. And according to the filing, Kushner called Murdoch to complain about it. And Murdoch said, I can't help you.
Brooke Gladstone But Trump wasn't alone in his rage.
Andrew Prokop Over the next few days, the backlash against Fox really built from their viewers. Trump was criticizing them publicly. Their ratings are dropping. They're starting to worry about competition from Newsmax and that they're essentially losing their viewers trust that they've won over so many years. So they make a strategic shift.
Brooke Gladstone Tucker Carlson.
Tucker Carlson How, for example, did senile hermit Joe Biden get 15 million more votes than his former boss? Rock star crowds for Barack Obama?\.
Brooke Gladstone Lou Dobbs.
This election, a lot of strange things happened and many of them highly suspicious. For example, Dominion's software.
Sean HANNITY The software glitch called Dominion, actually changed thousands of votes from Trump to Biden. Now, the same software also, quote, glitch in Georgia. We need really, Jeanine Pirro.
MSNBC The Dominion software system has been tagged as one allegedly capable of flipping votes.
Maria BARTIROMO about Smartmatic, which owns Dominion Voting Systems. They have businesses in Venezuela, Caracas. They have businesses in Cuba. And there are also links to China.
Brooke Gladstone But that shift from even a glass of journalism wasn't seamless on November 12th, 2020. Fox News reporter Jacqui Heinrich fact checked a Trump tweet that praised HANNITY and Dobbs for throwing shade on Dominion and the election results.
Andrew Prokop Jacqui Heinrich responded, That's not what top election infrastructure official said on the Record tonight. The November 3rd election was the most secure in American history. There's no evidence that any voting system deleted or lost votes change votes or was in any way compromised. Tucker Carlson sent the tweet to Sean HANNITY and Laura Ingraham, his fellow primetime hosts. He said, please get her fired. He wrote in a text. Seriously, what the. I'm actually shocked. It needs to stop immediately. Like tonight. It's measurably hurting the company. The stock prices down. Not a joke.
Brooke Gladstone Around the same time, Fox News host Neil CAVUTO cut away from a White House press conference that was repeating the groundless claims of fraud. Fox executives called CAVUTO the decision a brand threat. Then, ten days later, Fox White House correspondent Kristen Fisher said that claims made at a press conference by Trump lawyers Rudy Giuliani and Sidney Powell simply weren't true.
Andrew Prokop Fisher then testified that her own boss told her that higher ups at Fox News were unhappy with her fact checking and said that she needed to do a better job of, quote, respecting our audience. And she complained in text that she was being punished for doing my job.
Brooke Gladstone What's spelled out in the documents is that a group of Fox News executives and hosts viewed coverage of the Big Lie solely as a business decision. Tucker didn't believe it. HANNITY didn't believe it. Laura Ingraham didn't believe it. Rupert Murdoch certainly didn't believe it. Phrases surfacing this week from Fox's bold face names about respecting the audience. Representing the audience, serving the audience meant explicitly lying to the audience. Sure, reporters are people subject to biases, ambition and fear. But real reporters do not knowingly lie, pays sources or break the law in the course of doing business.
Andrew Prokop This is probably the biggest reputational and legal peril to Murdoch's businesses since about a dozen years ago.
Brooke Gladstone David Folkenflik is the media correspondent for NPR News and author of the book Murdoch's World: The Last of the Old Media Empires. He reported on the last time the Murdoch enterprise was in existential peril 12 years ago in the U.K..
ABC The turmoil that has brought down one of the nation's oldest newspapers there is leading to arrests happening right now.
ABC Revelations that the paper illegally hacked the voicemails of 4000 people.
The Sun tabloid was hated by celebrities, politicians, even the royals for its relentless pursuit of sensational story stories that made it hugely popular with readers and hugely profitable for Murdoch.
David Folkenflik Murdoch's British tabloids were involved in hacking into the emails and voicemails and cell phones, not just of celebrities and sports stars and various royals who the British public often thought of as just targets for sport, but also crime victims. You know, a murdered girl. Former British troops have been killed in service.
Brooke Gladstone Two members of Murdoch's editing staff where arrested Rupert Murdoch had to testify before a parliamentary committee and a judicial inquiry. British lawmakers were in high dudgeon.
CNN More than any individual alive. He used to blame. Morally, the deeds are his. It is his company, his culture, his business, his failures, his lies, his crimes, the price of profits and his power.
Brooke Gladstone At the time, questions rose about a possible inquiry into the crown jewel of Murdoch's empire, Fox News. But that didn't happen.
David Folkenflik Rupert Murdoch in 2011 was concerned, as he is now, about the erosion of the newspaper's dominance and standing with the public, and that the way to take care of that was to continue to report aggressively about the things that interested their audiences. At one point, he said anything that the public is willing to pay for as a service is a public service.
Brooke Gladstone Murdoch's view of journalism as entertainment at all costs prompted other lawsuits, ones that offer insight into how Dominion's lawsuit might go. In 2019, a former Playboy model named Karen McDougal sued Tucker Carlson for claiming that she'd tried to extort Donald Trump. In 2020, the judge dismissed McDougal's defamation case on the grounds that, well, no one believes Tucker Carlson.
NBC Now, some lawyers call this the Tucker Carlson defense. Fox News lawyers said viewers shouldn't believe everything Carlson says.
David Folkenflik And what the judge decided was that people don't come to Tucker Carlson expecting to hear the truth. It might feel truth. But, you know, it wasn't real. And that's how he got off the case.
Brooke Gladstone Similar arguments protected MSNBC's Rachel MADDOW against the right wing One America News Network back in 2021. MADDOW was sued for $10 million after she said that oh, an N was, quote, The most obsequiously pro-Trump right wing news outlet in America really literally is paid Russian propaganda, unquote. The judge in the case said that, quote, No reasonable viewer could conclude that MADDOW implied an assertion of objective fact.
David Folkenflik The idea was that people had to be given some running room to be less than perfectly precise at all times. Otherwise, you could have the courts used to essentially clamp down on critics, particularly political and government officials, public officials, and abuse the system that is supposed to ensure freedom of speech. So, you know, political rhetoric is allowed, opinions are allowed and hyperbole that stray from the facts are allowed.
Brooke Gladstone But that doesn't mean that absolutely everything goes. When the corporation fought off the lawsuit against Tucker Carlson. Another story was stirring up trouble for the network.
David Folkenflik The family of Seth Rich is suing Fox News for broadcasting false conspiracy theories about the death of their son.
Brooke Gladstone Seth Rich was a Democratic National Committee staffer who was killed in a robbery gone wrong in Washington, D.C., in July of 2016. About a year later, a story appeared on the Fox News website with information. That came after a Fox News commentator, an investment adviser, offered to hire a private investigator to help the family find their son's killer. But instead of finding the perp, he found ways to connect the murdered man to the leak of DNC emails to WikiLeaks. Fox ran with it. The original story was eventually taken down by the network for not meeting their editorial standards. But that's a weak remedy.
David Folkenflik The family is suing, saying that they've had a lot of emotional distress over Fox's story. We debunked it here at CNN within hours of the FOX. It took him seven days to actually retract that story, and now it seems it actually might cost them.
David Folkenflik To my mind, it's one of the most despicable chapters in Fox's history, where they took a young dead man and blamed something that an overwhelming series of governmental investigations, including the Republican led Senate Intelligence Committee, you know, pinned on forces linked to Russian intelligence and tried to blame it on him, saying that he was trying to sabotage Hillary Clinton's election prospects in ways that are utterly unsupported by facts.
Brooke Gladstone Fox settled the case with the rich family in the fall of 2020, and just when Fox was coming out of a settlement for lying on air came the 2020 election and Fox hosts lied again, sparking another lawsuit, though Fox viewers might not hear about it.
David Folkenflik Fox itself is not covering this. In fact, its own media critic finally revived himself enough this past Sunday to say that Fox had told him he can't report on this. So Fox viewers aren't going to be confronted by that, except in that very elliptical way. And as a result, they will pivot and move on to other things.
Brooke Gladstone Another disclosure from these court filings, Rupert Murdoch shared President Biden's 2020 campaign ads with Jared Kushner. Before they aired, it was confidential stuff Murdoch gave to the Trump campaign, along with helping Trump with his debate strategy. Regardless of the legal or monetary punishment Fox might endure. None of this is likely to cause a ratings fall for while some of us may clutch our pearls at the running river of confirmation bias that is Fox News. That's not why people tune out.
Andrew Prokop I think a lot of people have the too simple model that they put out a propaganda line and then their viewers simply accept that. But it's much more of a two way process.
Brooke Gladstone Andrew Prokop.
Andrew Prokop They are trying to win their own viewers attention. Loyalty and trust. They play to their fears and prejudices. They entertain them. They convey they're on the same side, but they're also trying, as Murdoch says, to lead them in certain directions.
Brooke Gladstone They say journalism is the first draft of history. But that's operating under the assumption that news outlets are reporting ethically about what they know and what they don't. Even the most responsible reporting, dependent as it is on location and outlook and who holds the information, is a view through a soda straw. What goes into the historical record and what gets left out? That's what we're looking at in the rest of the hour. Coming up when On a journey for Historical truth. Historical fiction is a crucial port of call. This is On the Media.
Brooke Gladstone This is On the Media. I'm Brooke Gladstone. Fifty years ago, if you wanted to be considered a serious novelist, you might write a contemporary novel, one that captured the current moment with all its anxieties and technologies. But in the 21st century, the historical novel would give you far better odds for a critical hit. Take it from Alexander Mankell, author of the forthcoming book Writing Backwards Historical Fiction and the Reshaping of the American Canon.
Alexander Manshel Between 2020 20, something like three quarters of the novels shortlisted for the National Book Award, the Pulitzer Prize and the National Book Critics Circle Award took place in the historical past.
Brooke Gladstone The New York Times Sunday Book Review section has a regular dedicated column for the genre and universities. The newer books taught are more likely to be set in the past. But as a reader, you may not have even noticed the growing infatuation with history in literature.
Alexander Manshel Because the historical novel has become such a diversely practiced form by such a wide array of writers. It's almost become invisible to us as a genre in itself.
Brooke Gladstone Consider the recent winners of the Pulitzer Prize for fiction. Two time recipient Colson Whitehead's set The Nickel Boys and an abusive reform school in the sixties.
NPR Some years you felt strong enough to head down that cement walkway knowing that it led to one of your bad places. And some years you didn't avoid a building or stared in the face. Depending on your reserves that morning.
Brooke Gladstone Meanwhile, Vietcong Win introduced readers to an ambivalent communist sleeper agent in seventies Vietnam with his debut, The Sympathizer.
Viet Thanh Nguyen I'm not some misunderstood mutant from a comic book or horror movie, although some have treated me as such. I'm simply able to see any issue from both sides.
Brooke Gladstone And Louise Erdrich, its 2021 winner, the night Watchman, dropped audiences into a fraught moment on the Turtle Mountain Reservation in the mid-twentieth century.
The Night Watchman clip Something is coming in, the government, said Thomas. They have a new plan. They always have a new plan, said Bitcoin. This one takes away the treaties, said Thomas. For all the Indians are just us at the point.
Brooke Gladstone All these books, different as they are, do more than transport us to another time in focusing on lesser known histories. They ask us to consider what's worth remembering at all. OTM producer Eloise Blondeau charts how historical fiction has become a rich resource for reckoning with our past.
Eloise Blondiau Last year, Hilary Mantel, the historical novelist, died aged 70. In her memory, a lecture she gave for the BBC was recirculated.
Hilary Mantel History is not the past. It's the method we've evolved of organizing ignorance of the past.
Eloise Blondiau History, Mandel says, is the record of what's left on the record. It's what's left in the sieve when the centuries have run through it.
Hilary Mantel It's no more than the best we can do. And often it falls short of that.
Eloise Blondiau At On the Media, we often examine the failings of our historical record. And many historical novelists have long engaged in the same project to bring the dead back to life.
Wolf Hall clip I promoted you. I am responsible for your rise.
Eloise Blondiau In her Wolf Hall trilogy, Mantel resurrected Anne Boleyn, the second wife of King Henry VIII. In the BBC's faithful adaptation, Boleyn confronts the King's advisor, Cromwell, who would plot her execution.
Wolf Hall clip And at the first opportunity, you've betrayed me. Those who've been made can be unmade.
Wolf Hall clip I entirely agree.
Eloise Blondiau Mantel's Boleyn is brave and irascible. She uses the little written evidence we have to tell us who Boleyn was, like a letter that told of Berlin, describing her imminent beheading defiantly.
Wolf Hall clip I only have a little luck, so it'll be the work of a moment.
Eloise Blondiau Mantel received pretty much every accolade a novelist can hope to win. But that almost didn't happen when she first tried to get published. She ran up against the shabby reputation of historical fiction.
Alexander Manshel Quite famously, Henry James wrote in a letter to a friend that the historical novel was, quote, tainted by a fatal cheapness.
Eloise Blondiau Alexander Manshel is a professor of literature at McGill University and he's also my guide.
Alexander Manshel So the idea was that to actually access the historical past through fiction was an impossible task, and the only people foolish enough to attempt it were those looking to make a quick buck on cheap thrills.
Eloise Blondiau That doesn't mean it wasn't popular. Over the last century, millions of copies were sold. Think of Margaret Mitchell in the thirties. James Michener in the sixties and James Clavell and Ken Follett beginning in the seventies. That decade also saw the rise of these really funny sci fi takes on the genre from authors like Thomas Pynchon, Kurt Vonnegut and Ishmael Reed.
Alexander Manshel Here, the example I think of first is Ishmael Reed's 1976 novel, Flight to Canada, in which runaway slaves literally take flight aboard Air Canada jetliners heading north, and Abraham Lincoln is assassinated live on satellite television. It's an absolutely wild novel.
Eloise Blondiau But overall, historical novels were considered more popular than prestigious, which might explain Mantel's challenges early in her career.
Alexander Chee When she hoped to debut with a 700 page novel about the French Revolution, publishers were absolutely against it.
Eloise Blondiau The writer Alexander Chee, wrote about Mantel's experience for The New Republic. You quote Mantel saying they didn't want another novel about high hair.
Alexander Chee Yeah, that's not realizing, of course, that she would go on to become world famous and a bestseller for her Wolf Hall novels.
Eloise Blondiau Of course, Mantel got her historical fiction printed in the end. But it was only after she first had a successful contemporary novel published. For Chee, who began his writing career in the late nineties. The opposite was true. It took him two years to sell his contemporary novel Edinburgh, and during that process he had an idea for a very different historical book. He had been reading something that offhandedly described an intriguing woman.
Alexander Chee She was a favorite courtesan of the Emperor Napoleon the third. And she loved to walk on her hands because she'd been an acrobat and ride horses bareback. And I thought, Wait a second, what happened to her? You know?
Eloise Blondiau He sent his agent a note about a book that he'd later call the Queen of the Night.
Alexander Chee And that was the one that they overwhelmingly wanted. Editor after editor kept saying, Can he do that one first?
Eloise Blondiau You write, It was five years later that I was ready to sell a second book. And that little paragraph of the historical novel sold in nine days.
Alexander Chee Yeah, it was incredibly peculiar. And I should say I was paid over ten times for my second historical novel, what I was paid for my first novel.
Eloise Blondiau Between 2000 and 2010, when Chee's book was picked up, Alexander Manshel found that 80% of the novels that were shortlisted for major American literary awards were set in the past like Mantel's Wolf Hall. Michael Chabon's The Amazing Adventures of Kavalier and Clay, which was set in World War II and Ian McEwan's own war novel, Atonement.
Atonement clip Probably didn't read my letters, nor had I been allowed to visit you. Had they let me every day, I would have been there every day.
Atonement clip But if all we have rests on a few months in a library, three and a half years ago, then I'm not sure.
Eloise Blondiau Accolades were plentiful for the 2005 novel March, which Geraldine Brooks wrote about the father of the girls of Little Women. They also loved Chimamanda Ngozi Adichie's Half of a Yellow Sun about the Nigerian Civil War. So why the about Face? Manshel notes that some novelists vying for highbrow prizes didn't want to date their work with tech that would seem old in just a few years.
Alexander Manshel If you are a literary novelist, you are interested in having your work not only be read right now, but having it last, having it survive to be read in the future. And so when writers set their work in the historical past, they're also in a way claiming a kind of timelessness.
Eloise Blondiau While the promise of eternal relevance may have tempted some writers to try the genre that doesn't quite account for the scale of historical fictions dominance today. According to Manshel, there's one pioneer of historical novels who often gets overlooked when he tells people about his research. He's met with a common refrain.
Alexander Manshel People will say, Oh, you mean like Hilary Mantel? And when I say no, I mean like Toni Morrison. There's this brief moment of pause when we think about what the historical novel is and does and what it should do. We think about, you know, the courtly drama of Cromwell and Henry VIII. We're not thinking about a woman in Ohio in 1873.
Eloise Blondiau While Mantel's most celebrated books focused on the giants of 16th century England, Morrison's work exemplifies the expansion of the genre in a different direction in America, the retrieval of otherwise disregarded histories, often by writers of color.
Alexander Manshel Morrison, in her most iconic work Beloved coins the term re-memory. And this is the idea that history lives on in the present, even for those who haven't experienced it directly.
Eloise Blondiau Beloved won the Pulitzer Prize for fiction in 1988, and it was a finalist for the National Book Award. It's often described as a ghost story about how a mother is haunted after she killed her own baby to keep her from being raised in slavery.
Toni Morrison You know, some things you forget, other things you never do.
Eloise Blondiau This is Morrison reading from Beloved.
Beloved Places, places are still there. If a house burns down it's gone. But the place, the picture of it stays. And not just in my re-memory, but out there in the world.
Alexander Manshel And this idea that there are histories, especially traumatic histories, for marginalized people in the United States that live on in the present was central to Morrison's entire body of work.
Eloise Blondiau In the eighties and nineties. Morrison's success was accompanied by a shift in the institutions that recognized American novelists. Universities, publishers and award committees --- they were admitting more people of color than they had before and recognizing more marginalized writers in turn.
Alexander Manshel At the end of the 20th century, as more and more Black, Asian American, Latinx, Indigenous and Jewish novelists were finally being recognized by the literary establishment, the vast majority of the work that was being celebrated was historical fiction.
Eloise Blondiau Those authors, Manshel says, were popular in universities because they allowed professors to both teach great works of literature and introduce students to history they may not have encountered before. Between 1980 and 2010, over 90% of the novels by writers of color that were shortlisted for a major American literary prize were historical.
Alexander Manshel I'm thinking of writers like Toni Morrison, Leslie Marmon Silko and Alice Walker. It's about lesser known figures and lesser known histories, and that's actually part of the project.
Eloise Blondiau In the past decade or so, a new class of writers has carried forward this tradition of disrupting the prevailing historical narratives. Like Morrison, Colson Whitehead weaves fantasy into his books. He transforms the Underground Railroad route that enslaved people used to escape to freedom into a literal subway system.
The Underground Railroad clip We're going down there. Yes, indeed. On this ladder. After you.
Eloise Blondiau In that book, Whitehead critiques the idea of linear historical progress. His protagonist, Cora, escaped slavery only to find work in a museum as a performer in slavery reenactments. In this clip from the Amazon show, Cora fearfully watches white men practicing their role.
The Underground Railroad clip You see, let it flow. And if you like, you could add some dialog.
The Underground Railroad clip Stupid animal. Hey, you like that, huh? I've done this before. Thank you. Well, that was...it was a lifetime ago.
Eloise Blondiau Several recent prize winners follow families across generations. In her 2016 debut, Homegoing, Yaa Gyasi charts the lineage of two sisters over 300 years beginning in 18th century Ghana. One sister is enslaved and taken to America, while the other remains in Africa. And in 2017, Pachinko by Min Jin Lee follows the journey of one family over eight decades, beginning with a young girl in Korea who moves to Japan, where her family is mistreated. The stories of these ordinary Koreans falling in love, struggling to pay their bills amid the giant storylines of war and mass migration were not ones that Lee had encountered as a history major in college.
Min Jin Lee It was so clear to me that everybody that I cared about, all the people that I really valued all these lives, important lives to me were not included in history. And I thought it's something that seemed quite untruthful.
Eloise Blondiau The first line of Pachinko is History has failed us. But no matter.
Min Jin Lee The more important statement, I believe, is the subordinate clause of the statement. History has failed us, but no matter because it is a statement of defiance, I'm saying it doesn't matter because we are history and we will be included and we will persist anyway.
Eloise Blondiau With Pachinko in particular, you're also tapping into a kind of collective grief for generations past. And I wonder if you write as a way to contend with loss.
Min Jin Lee Yes. I think that every honest storyteller is really experiencing a kind of loss. It could be of life. It could be of love, it could be of status, it could be of money. It could be a friendship, it could be of community. It could be of a nation. Some things cannot be had again. If we lose a parent or a sibling or a lover to death, we cannot get that person again. I think that it's honest to say that I rail against death because we have the time that those who have died do not have.
Eloise Blondiau For Lee, writing novels about the past is a way to shape the future.
Min Jin Lee You and I are making history right now, Eloise, and it's kind of breathtaking when you think of it that way, that 50 years from now, most likely I'll be dead. And let's say someone was considering, well, what did people in 2023 think about historical novels? Perhaps our conversation would come up and then we are making history. And with that knowledge, I feel concerned about the value and significance of you and me talking about this.
Eloise Blondiau That feels like more pressure.
Min Jin Lee Maybe it is. I guess I think of it as what an extraordinary thing that we get to be included.
Toni Morrison The past, I suspect, is probably more important than the future.
Eloise Blondiau Here's Toni Morrison again.
Toni Morrison The point is that there are lessons to be learned so that we don't have to do that again. And this garbage and it also that you can throw out. But it's all information. It's all the way we were. It's all part of who we are.
Eloise Blondiau History has never been just the purview of historians as powerful as they are. The more we all add to the record of our history, the truer it will be. No matter if those contributions are merely bits and pieces, tattered cloth, names on park benches, old maps or pottery shards. Add the alchemy of the imagination. And you have a novel, a gateway to our common humanity in every era. For On the Media. I'm Eloise Blondiau.
Brooke Gladstone Thanks again to Alexander Manshel, who shared with us so much research from his book Writing Backwards Historical Fiction and the Reshaping of the American Canon, which comes out this Fall. Coming up, three lives in four objects. This is On the Media.
Brooke Gladstone This is On the Media. I'm Brooke Gladstone. We know history is written by the victors and that the gaps in the record mostly relate to the losers or the powerless. About them, there may be little left to find, so you work with scraps and shreds. Or in this case, an enslaved little girl's tattered seed sack rediscovered more than a century after its creation. That's what historian Tiya Miles decided to do when she saw it displayed. Here she reads the embroidered inscription.
Tiya Miles My great grandmother, Rose, mother of Ashley, gave her the sack when she was sold at age nine in South Carolina. It held a tattered dress, three handfuls of pecans, a braid of Rose's hair, told her it be filled with my love always. She never saw her again. Ashley is my grandmother, Ruth Middleton, 1921.
Brooke Gladstone Miles is the Michael Garvey professor of history at Harvard University and Radcliffe Alumni Professor at the Radcliffe Institute for Advanced Study. Two years ago, her book called All That She Carried the Story of Ashley Sack, a Black Family Keepsake, won the National Book Award and ten other prizes. During her research, she learned that when the sack was first displayed, so many viewers cried that the curators handed out tissues beside it. Miles had often come across instruments of torture in her work shackles, neck braces. But this sack opened a window into a profound and universal love emanating still from Ashley's sack.
Tiya Miles I am an academic and I spend a lot of time in my head. But when I saw this artifact, I was completely overcome and overwhelmed. The object itself reflects not only the story of this family and the story of African-American women who were enslaved, but also the critical importance of affection, of care, of kinship ties to enslaved people.
Brooke Gladstone So you looked through slave holding records to find a record of an Ashley and a Rose together in a particular location. And you found that they were likely under the ownership of a man named Robert Martin.
Tiya Miles The more I dug into the materials, the clearer it became that while Rose was a very common name for enslaved women in this place, Ashley was a very, very rare name. Ashley tended to be a name reserved for the English gentry. So if I could find one of these rare Ashley's in the same set of records with a Rose. These were likely to be the daughter and mother pair I was looking for in the right time the right place in the same set of publicly available South Carolina documents.
Brooke Gladstone With regard to Ruth, who embroidered the sack of her grandmother. It was easier to uncover her likely identity because there were more written records. She was married and pregnant. At 16. She moved from the South to Philadelphia around 1920 and eventually became a regular feature in the Black Society Pages.
Tiya Miles Yes, Ruth is a fascinating figure in this history. I mean, she is someone who came from the family of Ruth and Ashley, who had experienced the worst that we can imagine as parents today. And yet Ruth was born free in South Carolina and decided to change her life, moved to the north, as many African-Americans were doing in this first wave of the Great Migration. And in Philadelphia, she became a young mother. And it was around this time that she had her first child, the girl named Dorothy, that Ruth Middleton started stitching this story of her foremothers on the sack that she still had.
Brooke Gladstone Now, you initially set out to get answers, maybe even write the biographies of Rose and Ashley and Ruth, but you found unbridgeable gaps in the historical record. As a historian, what drove you to continue and how did your research goals change?
Tiya Miles In the beginning, Brooke, I felt confident that I could do it. I would be able to trace these women in the South Carolina records. It turned out that they are very difficult to trace with certainty, and that is the case with most enslaved people who didn't go on to do something that made them famous, such as Harriet Tubman or Frederick Douglass. These were women who lived their lives out in slavery. They were not freed until the Civil War. Never had the opportunity to learn how to read or write. They never escaped. And so it's much more difficult to identify them and to learn about the textured details of their lives.
Brooke Gladstone But in the paucity of information about Rose and Ashley, you still embarked on a history, but you wrote not a traditional history. It leans toward evocation rather than argumentation and is rather more meditation than monograph. And you name several scholars as inspirations. One is Saidiya Hartman, a professor at Columbia University who coined the term critical fabulation to fill the blanks. If you can't tell their particular history. You can tell the history of people in similar circumstances about which there may be information. You can tell the history of their time, which is documented and transparently make a case that this is possibly what they experienced or what they felt.
Tiya Miles Hartman introduces a method that really compels us to use our imaginations to fill in those gaps, because gaps are all over the historical record when it comes to enslaved people, black people, indigenous people, women. We could just throw our hands up and say, Oh, well, we can't find what we need, so we can't tell these stories. But that would be an additional injustice on top of the historical injustices.
Brooke Gladstone Let's talk about the contents of the sack. What Rose might have been thinking of when she packed it. For example, Rose included three handfuls of pecans. That type of nut was unusual for the mid 1800s. I learned from your book.
Tiya Miles Mm hmm. I thought that pecans were native to the Southeast. Because whenever I have gone down to the Southeast, I've seen pecans everywhere. So I first imagined her going out to a pecan grove and collecting the nuts from the ground. But it turned out pecans — they're native to places like Texas, Louisiana, even Mexico. And they would have been imported by elites as a delicacy in Charleston at the time when Rose was enslaved there, which meant she certainly would have known how prized these nuts were. She may even have known how nutritious they were. And in learning this information about the corn, I arrived at a conclusion which made sense when put together with other bits of information that Rose was probably a cook in the household of Robert Martin and his wife, Milbury Serena Martin.
Brooke Gladstone Of whom you paint a pretty persuasive portrait. These were people who were not old money, they were new money and who were eager to impress by offering exotic things like pecans.
Tiya Miles Mm hmm. Robert Martin started off as a grocer, worked his way up to been something like an accountant to old money Charles Stone in elites. And then he was able to acquire black people, which increased his status dramatically.
Brooke Gladstone How do you picture Rose getting her hands on three handfuls of pecans?
Tiya Miles I have thought about this. I have wondered how was she able to get so many? And it seems to me that the timing of the packing of the sack mattered. Robert Martin died in the winter of 1852, not long after Christmas, and I think it's very likely that Rose would have had pecans in the kitchen because they were used for holiday dishes. She may have had more pecans than usual at this time. She would have known when he died. And he may have suspected that this meant every single person in that household and other Martin Properties was now under the threat of being sold. And so she may have started to set aside some of those pecans. We don't know what she was thinking, Brooke. Maybe Rose was thinking that to pack the sack for herself and for Ashley, that they would run away together, that she had escape plans in mind. But the majority of enslaved people could not escape, especially those who were in the Deep South like folk. Carolina.
Brooke Gladstone Talk to me about the dress as you go through the clues in Ruth's embroidery. One of the words is tattered. It was a tattered dress. What did tattered signify?
Tiya Miles At the time that I was working on the book. Tattered signified to me an item that was worn, perhaps torn, frayed, used. But as I have been sharing information about Rose and Ashley and Ruth and the fact this reader told me that tattered may have been a way of saying tattered and that tattered or tatting is a way of making fancy lace. And so now I have these two interpretations which I think are equally arresting one of a worn and frayed dress and one of a very special dress with fancy lacing, either of which would have been very significant to Rose and her daughter.
Brooke Gladstone So there were the pecans, there was the dress. And then very fertile ground for your meditative approach. There was a braid of roses hair, because while the facts of their lives were sparse, the tradition of hair as a means of connection was long and rich. What did your research suggest about the inclusion of Rose's Braid?
Tiya Miles We know that enslaved people had very little opportunity to care for themselves, to take care of their needs for hygiene. And yet, in acts of resistance, they cared for their own selves and others. And one of the major ways they did this was by doing hair. They might braid their hair and cornrow their hair, twined their hair with a string or with a piece of vine. They would do the same for others in their community, for loved ones expressing love and dignity. Rose's hair would have been important in this way as a gift to Ashley, in that it could be a reminder of caring for oneself and of caring for others through the physical act of tending and adorning the body. And this braid that rose packed would also have been a very tactile way that Ashley could have part of her mother with her, even as they were separated for the rest of their lives. And I thought about this braid break. I also imagine the scene where Rose was freeing the spray from her own body to give to her daughter. And I thought about what a radical act that was, because in the system in which she was captured and the view of her enslavers, Rose's body belonged to the Martins. They were the ones who had the right to it by cutting her hair. Rose was asserting without words that no, her body belonged to her and she was choosing to share it with her daughter as an expression of love.
Brooke Gladstone You quote Laurel Thatcher Ulrich on what she calls the manic power of things. Things become the bearers of memory and information, especially when they're enhanced by stories that expand their capacity to carry meaning. Could you tell me about the quilt made by your great Aunt Margaret.
Tiya Miles That grown up here in the story of that quilt and given a chance to take a peek of that quilt which my grandmother kept stored and protected in her closet? And I always knew that the quilt was made by my grandmother, sister by my great aunt, and that this sister had been something of a hero in my grandmother's life. Because when my grandmother and her family were living in Mississippi in the early 20th century, they experienced terrible, traumatic events forced off their land by white men who had guns. And my great grandfather was forced to sign a piece of paper he couldn't read. He signed with an ax. This paper was some kind of property transfer, which meant that he was losing the land on which they lived. My grandmother told the story to me and my cousins growing up, and she always talked about how at the time when the family was being expelled from their home, her big sister Margaret, did something amazing. Margaret went out the back door of the farmhouse. She grabbed one of their cows. She took it over to a neighbor's home, which meant that even though the family lost almost everything during that expulsion, they still had that one cow. Due to the quick thinking and the bravery of my great Aunt Margaret. And my grandmother was a young child during this incident. And Margaret was only a teenager, as I. Tell you the story, Brooke. I am actually looking at the quilts that Margaret made because I inherited it. It hangs on my wall right now. And whenever I see this textile, I think of Margaret's bravery, of the possibility for resistance and resilience, even in the worst circumstances. That has been proven over and over again and the history of African-American women.
Brooke Gladstone In addition to being a historian, you're a writer of historical fiction, and you've said that for every historical work you've written, you're kind of drafting a couple of novels in the back of your mind. Can you give me an example?
Tiya Miles Yes. Well, I can't help it because, you know, as our whole conversation has shown, historical work is very important and I'm committed to it. But it is limited because we just can never fully reproduce the past. And no historical source can reveal in a whole and deep way the interior experiences of people who lived in the past. The place for that is fiction. It won't surprise you to hear that. Toni Morrison is one of my favorite authors, not just for her fiction, but also for her theory. And I write fiction because while I am thoroughly dedicated to reconstructing histories, I want to be able to say more, to move into that interior space, to open the doors that historical records always leave. LAMB sat in front of me.
Brooke Gladstone You mentioned Toni Morrison. You say that Beloved is a book in which love and horror are intimately connected, that she uses the notion of haunting, ghostly ness horror to tell a story about love. I immediately thought of the historical work I'd just been reading all that she carried horror and love intimately connected.
Tiya Miles The artifact of Ashley Sack is an artifact of trauma and sorrow and separation. And yet the sack itself, the way that it's been received across time, the way that its halls have been patched so lovingly, its story inscribed on the fabric with care and attention tells us this is not just a trauma story. This is not even mainly a trauma story. This is a story of love, of perseverance, of resilience, of survival. If not for those attributes, Ruth Middleton would not have existed to stitch this narrative onto the fabric. And when she does preserve that story for herself, for her daughter, and for all of us, now that we have the opportunity to review it and reflect on it. Ruth centers the word love. She highlights love. And she's telling us, I think, through that artistic decision, that this powerful emotion of affection and care and selflessness is key to her family's survival and perhaps to our own.
Brooke Gladstone Tiya, thank you so much.
Tiya Miles Thank you, Brooke.
Brooke Gladstone Dr. Tiya Miles is the author of All That She Carried the Journey of Ashley Sack, A\a Black Family Keepsake. Her novel, The Cherokee Rose, inspired by her research on a plantation comes out in paperback in June.
Brooke Gladstone And that's our show. On the Media is produced by Micah Loewinger, Eloise Blondeau, Molly Schwartz, Rebecca Clarke-Callender, Candice Wang and Suzanne Gaber with help from Temi George. Our technical director is Jennifer Munson. Our engineers this week were Andrew Nerviano and Sham Sundra. Katya Rogers is our executive producer On the Media, is a production of WNYC Studios. I'm Brooke Gladstone.
Copyright © 2023 New York Public Radio. All rights reserved. Visit our website terms of use at www.wnyc.org for further information.
New York Public Radio transcripts are created on a rush deadline, often by contractors. This text may not be in its final form and may be updated or revised in the future. Accuracy and availability may vary. The authoritative record of New York Public Radio's programming is the audio record.