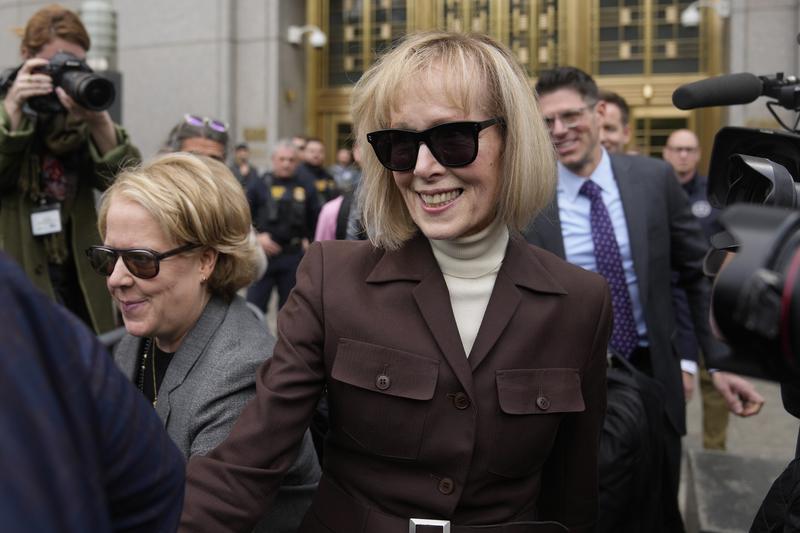 Transcript
Brooke Gladstone Hi, it's me. Before we get into this week's show, I need to pass on a quick message. And if you already know exactly what I'm about to say, then bravo. You can skip straight to the part where you pledge your support to on the media by texting OTM to 70101 are going to on the media dot org and clicking the donate button where you can choose between a variety of cool OTM merch for you guys. Your work is done here. Thank you so much. If you do not know what I'm talking about, let me explain. Our show is listeners supported, which means that you guys help us keep the lights on. Good. Thorough, no punches pulled. The journalism takes time and money to produce, and that's where you come in. So please text OTM to 70101 or go to on the media dot org and join your fellow listeners in helping to keep OTM going strong. Urgent message over and out of the show. Donald Trump returned to the main stage this week. And boy, would you not be surprised.
TAPE The falsehoods kept coming fast and furious about the January six insurrection, about COVID, about the economy and more.
Brooke Gladstone From WNYC in New York, this is On the Media. I'm Brooke Gladstone. After the defeat of Roe v Wade, there was a sense that the MeToo backlash had arrived. But E. Jean Carroll got her day in court, and won.
Rebecca Traister We always want to be taking the temperature. What's happening this week? What happened last year? And we lose the broader historic view. Social progress happens over lifetimes, not seasons.
Brooke Gladstone Plus en-BLEEP-ification. Part Two: Big Digital's Secret Twitter Lead.
Cory Doctorow After Diapers.com rebuffed his offer to buy them out, Jeff Bezos clicked a mouse and lost $100 million selling diapers below cost. And as soon as Diapers.com was broken, he clicked him out and the price went back up again.
Brooke Gladstone How they pull the levers. Stay tuned.
Speaker 5 WNYC Studios is supported by Tom Stoppard's Leopold Short, now the most Tony nominated play of the season with six nominations, including Best Play. This is a once in a generation play that must be seen by every generation, and you only have a few more weeks to see it. The Wall Street Journal calls it the best player of the year. And NBC insists we need a play like this now more than ever. Leopold Short on Broadway through July 2nd only visit Leopold short play. Dot com WNYC Studios is supported by Amazon Music. Amazon Music now offers prime members the largest catalog of ad free top podcasts. You can listen to shows like Death, Sex and Money, Radiolab, and On the Media ad-free on the Amazon Music app.
TAPE Listener supported WNYC Studios.
Brooke Gladstone From WNYC in New York, this is On the Media. I'm Brooke Gladstone. On Wednesday night, the day after Donald Trump was found liable for sexually abusing and defaming writer E. Jean Carroll, he told his side of the story in a CNN town hall in New Hampshire, moderated by anchor Kaitlan Collins.
TAPE That they did. They said he didn't rape her and they didn't I didn't do anything else either. You know what? Because I have no idea who she is. Mr. President, can I ask you, given your recounting....
Brooke Gladstone Trump also called Carol a whack job in anyway.
TAPE What kind of a woman meets somebody and brings him up and within minutes you're playing hanky panky in a dressing room. Okay. I don't know if you, the audience.
Brooke Gladstone Members of the New Hampshire GOP or people who plan to vote in the upcoming GOP primary were audibly on board and Trump knew what would inspire the familiar hoots and whistles playing the ref, or in this case, playing the mark. Or in this case, Kaitlan Collins.
TAPE Are you ready? Can I talk? Yeah. What's the matter? Can I. Do you mind? I would like for you to answer the question. Okay. It's very simple. That's why I asked it. It's very simple. You're a nasty person. I'll tell you.
Brooke Gladstone CNN's journalists and pundits were not amused. Here's Jake Tapper.
TAPE And the falsehoods kept coming fast and furious about the January six insurrection, about the threat to Vice President Pence, about Pence's ability to overturn the election, about COVID, about the economy and more.
Brooke Gladstone Rolling Stone reported that CNN insiders found the town hall, quote, appalling, brutal, an F-ing disgrace. And yet, CNN's Chris Licht apparently told the staff the next morning that while we all may have been uncomfortable hearing people clapping, that also was an important part of the story because those people represent a large swath of America. Let's bid for inclusivity and ratings has given new oxygen to some of the voices that were sidelined after the horror of January 6th. As has Elon Musk's project to free the bird from the woke mind virus.
TAPE Other aspects of the woke mind virus that I think are very dangerous is that you can't, you can't question things. Free speech used to be a left or a liberal value. And yet we see from the in quotes, left a desire to actually censor.
Brooke Gladstone Since acquiring Twitter, he's given free rein to right wing conspiracies in the name of free speech, which makes it a safe place for a master conspiracist newly at large.
TAPE Tucker Carlson announcing plans to relaunch his show, this time.
TAPE On Twitter. Remember, Carlson was fired from his prime time Fox News show last month. He is reportedly giving up about $25 million to break his non-compete clause.
Brooke Gladstone We're back, Tucker tweeted, along with some video apparently filmed in a home sauna. And he has the inside track on the vast list of all conspiracies, the one that undergirds all the others, the one utterly impervious to evidence.
TAPE At the most basic level, the news you consume is a lie.
Brooke Gladstone Tell it, Tucker.
TAPE A lie of the stealthy, highest and most insidious kind facts have been withheld on purpose, along with proportion and perspective. You are being manipulated.
Brooke Gladstone Some questions hang over this future enterprise contractual ones. Just after Carlson posted his video, Musk tweeted, I also want to be clear that we have not signed a deal of any kind and financial ones on Fox. Carlson's show seem to repel advertising except for this guy.
TAPE Looks like you've been sleeping well naked. He's back. The MyPillow guy.
Brooke Gladstone So Musk is fighting to hold on to Twitter's shrinking ad base, and Carlson could reportedly lose a multimillion dollar payout. But both men are very rich. And if Carlson does take his show to Twitter, he'd presumably answer to no one except Musk, who seems to be able to tolerate anything except criticism. And Carlson wants no limits on telling his truth.
TAPE There aren't many platforms left that allow free speech. The last a big one remaining in the world. The only one is Twitter. The best you can hope for in the news business at this point is the freedom to tell the fullest truth that you can't.
Brooke Gladstone In this case, his racist, sexist, paranoid hellscape of a vision that his fans find so invigorating.
TAPE But there are always limits. And you know that if you bump up against those limits often enough, you will be fired for it. That's not a gas. It's guaranteed. It's filthy, really, and it's utterly corrupting.
Brooke Gladstone It's a diabolical gift shared by Carlson and Trump alike to spin nightmares into the gold of community, face a consequence or two or three, and then sell that to their aggrieved fans as martyrdom. But as far as the CNN debacle goes, I'm giving the last bit to veteran reporter Jim Fallows and his excellent substack breaking the news. He watched as I did the inevitable viewing panel after the town hall made up of eight Trump supporters, some who'd voted before, some who hadn't. CNN's Gary Tuchman ask them.
TAPE Show of hands. Anybody think Donald Trump looks better after this town hall?
Brooke Gladstone No hands.
TAPE And if you think it looks worse,.
Brooke Gladstone Nope. Then, after reviewing some of Trump's more memorable moments, he asks.
TAPE And if you think the same thing about him as you did when you walked in.
Brooke Gladstone All eight hands. That observed Fallows was an astute panel. Nothing to see here. There was no real news for a Trump town hall. It didn't even get great ratings. The truth is, we learned far more about CNN's editorial management than we ever would or could about Trump. Coming up, it's not really about the men. This is On the Media.
Speaker 5 WNYC Studios is supported by Tom Stoppard's Leopold Short, now the most Tony nominated play of the season with six nominations, including Best Play. This is a once in a generation play that must be seen by every generation, and you only have a few more weeks to see it. The Wall Street Journal calls it the Best Play of the year. And NBC insists we need a play like this now more than ever. Leopold Short on Broadway through July 2nd only visit Leopold short play. Dot com. Support for WNYC Studios and the following message come from MOMA. One day is never enough. Become a member of the Museum of Modern Art in New York City and experience art at your own pace with unlimited free visits. Members also get discounted guest tickets, a variety of engaging programs and events. After hours, access free film tickets and more, visit MOMA, forgo WNYC to become a member and enter code WNYC at checkout for a special offer.
New Yorkers are always juggling work, family sleep, so it can be tough to keep up with the news. That's why there's NYC now, a local news podcast from WNYC with three quick updates. A day, you'll get breaking news, the big story of the day, in-depth reporting and what it all means for you. Listen to NYC now weekdays, wherever you get podcasts. More.
Brooke Gladstone This is On the Media. I'm Brooke Gladstone. Just a heads up. This next conversation has a description of a sexual assault. So take note if you'd rather not hear that.
TAPE A jury today found former President Donald Trump liable for a sexual abuse and defaming writer E Jean Carroll.
TAPE At the same time, the jurors rejecting Carroll's claims that she'd been raped. Carroll says the alleged assault happened in 1995 or 96 when she ran into Donald Trump while both were shopping at a posh New York Department store. She alleges Mr. Trump forced himself on her.
Brooke Gladstone On Tuesday, the jury awarded Carroll $5 million in damages, citing battery and defamation. That afternoon, she strolled out of the courtroom onto the New York City sidewalk, sunglasses clad, triumphant, joyous.
Jean Carroll I'm overwhelmed, overwhelmed with joy and happiness and delight for the women in this country. This is not about the money. This is about getting my name back. I want to tell the people who are about to watch CNN tonight. Donald Trump did it. Donald Trump did it.
Brooke Gladstone On Thursday, Trump filed an appeal. So what place does this case hold in the ever shifting landscape of the MeToo movement? Rebecca Traister is writer at large for New York Magazine and author of Good and Mad The Revolutionary Power of Women's Anger. She says the fact that the former president was held accountable for a nearly 30 year old case underscores just how long it takes for a movement to change laws and lives. The verdict also suggests that last year's concerns about the death of MeToo were, to coin a phrase, greatly exaggerated.
TAPE Depp's legal team is suggesting Amber Heard manipulated the MeToo movement for her own personal gain.
TAPE Multiple newspaper op ed columns say the case Marks the death of the MeToo movement.
TAPE MeToo is over. Now it's coming full circle. You can trash Lewinsky now. It's fair game.
Brooke Gladstone Welcome to the show, Rebecca.
Rebecca Traister I am always so happy to be here.
Brooke Gladstone You've said that the fact that a former president has been held accountable in this way for a 30 year old assault underscores how long it takes to alter the laws, the practices and the attitudes in any historic movement. But you also said it highlights, quote, how shortsighted the recent proclamations about the death of MeToo have been.
Rebecca Traister I think last summer was a moment where a lot of people said, look, this recent feminist resurgence that took place in part in reaction to the election of Donald Trump is at its endpoint. First there was that Amber Heard Johnny Depp trial, which was in fact really depressing. You know, the treatment that Amber heard got from the media and the public. And of course, last summer it was also in the wake of the Dobbs decision which overturned Roe v Wade. The Dobbs decision was 50 years in the making. But it happened to happen last summer in the same period that there was the her death trial. And I think it led a lot of feminist commentators to say, this is it. Now it's over. The backlash is here.
Brooke Gladstone And you say it's not dead. In fact, it may have taken E. Jean Carroll a lifetime to internalize the changes that have been happening around her for decades.
Rebecca Traister In part, it's those of us who work in the media, and I include myself in this. We always want to be taking the temperature of where things are. We're constantly saying, is it going well? Is it going badly? We're looking at what's happening this week, what happened last year, what happened in this administration, and we lose the broader historic view. So a lot of people would pinpoint me to to October of 2017 with the reporting on Weinstein. But in fact, exactly a year before that had been the release of the Access Hollywood tape in which Donald Trump, who was then on the verge of being elected president, was recorded bragging about grabbing women against their will.
Brooke Gladstone Many people will argue it didn't seem to have an impact.
Rebecca Traister People forget that after the release of the Access Hollywood tape, there was an online outpouring. Thousands of people talking about how they themselves had been grabbed against their will. It was a real precursor to what happened virally. A year later, in 2017, let me take it back one step further. The summer before the Access Hollywood tape there had been reporting in New York magazine, by the way, about Gretchen Carlson and her allegations against Roger Ailes. That was a story about sexual harassment that had a real impact on Roger Ailes himself, on FOX. It's action, reaction, action, reaction. And neither victories nor losses are the end of this story, because you have that outpouring in response to the Access Hollywood tape. And that is in October, up through early November of 2016. And then Donald Trump won. Via the Electoral College. People were so livid that he got elected in the context of it being after these revelations of his assaults. I would argue that absolutely helped to energize in January of 2017 the Women's March, which at the time was the biggest single day demonstration in the country's history that absolutely was informed by the release of the Access Hollywood tape by the women who had told their stories at that point. A historic number of women wind up being elected to office in the fall of 2018 following the testimony of Christine Blasey Ford against Brett Kavanaugh, which is also unsuccessful in that, Kavanaugh gets confirmed. And yet Democrats win a historic election in 2018. A historic number of women and first time candidates. I don't want to convey a kind of denial of the losses, right? It really matters that Brett Kavanaugh is on the Supreme Court. It really matters that Donald Trump was president and could be president again. It really matters that Clarence Thomas still sits on the Supreme Court, despite the obviously believable testimony of Anita Hill in 1991. These losses are real and they do long term damage, but they also spawn reactions which are just as real.
Brooke Gladstone And I think that was why we were so excited by your column, because you wrote, the most important steps towards greater gender equality are rarely about the bad men or what happened to them at all, and that this is about what the women do, how they present themselves, their courage, their way of changing perception in the conversation. And that's what I want to talk about. E. Jean Carroll's testimony was made possible by the Adult Survivors Act, which was signed by New York Governor Kathy Hochul in May of 2022.
Rebecca Traister That was pushed for over years by activists in the wake of MeToo. In the wake of the election of Donald Trump, and anger burst forth a day into his presidency with a women's march. A year into his presidency, the hashtag MeToo explosion that came in the wake of the Weinstein reporting, E. Jean Carroll did not publish her story until 2019. Social progress happens over lifetimes, not seasons.
Brooke Gladstone What is the significance of the fact that this assault was considered and judged via a defamation trial?
Rebecca Traister That's a big deal because Carol's testimony herself is that when she called her two friends back when this assault happened, one friend advised her to go to the police and the other friend said, Don't. He'll bury you. Right. There's a celebrity in New York City. He was a real estate tycoon. Donald Trump has been a powerful public figure for many decades. And what her second friend advised her to do that she listened to at the time was to stay quiet because that was an assessment of the power differential. So now, 30 years later, the defamation suit, that was her legal option because as far as a criminal charge of sexual assault goes, her statute of limitations was up. So she pursued the defamation case, which is a very powerful message to people saying, wait. Actually, I'm not going to let you bury my voice. I am going to come after you and I am going to fight for the veracity of the story that I told. And she said several times during the trial that she was just happy to be in court telling her story.
Brooke Gladstone Writing in Slate, Dahlia Lithwick said that finally the good victim trope really seems to be faltering, Whether it's Stormy Daniels chortling about the former president's penis, E. Jean Carroll refusing to designate herself a rape victim while still suing the former president for rape, or Amanda Zurawski testifying before the Senate Judiciary Committee about how her inability to access health care nearly killed her. These women are not broken, defiled, ruined or asking men to rescue them. They are rather pissed off living their lives and defying the public imperative to open a vein in public as a testament to their loss and brokenness. They are nobody's property, nobody's responsibility. And it's about freakin time we took them seriously. What defines that notion of a good or acceptable, or even more importantly, plausible victim?
Rebecca Traister Historically, the perfect victim, as Dahlia wrote, this white, timid, vulnerable, traumatized. Right. Their experience of whatever they're alleging has. Defined their entire existence. The idea that somebody could be brassy could continue in Carroll's case, to give assertive advice to other women that she could continue to shop at Bergdorf's, that she didn't scream. First of all, a lot of those behaviors are what we understand to be completely in line with people who have been sexually assaulted or harassed and and engage in all kinds of nonlinear behaviors afterwards.
Brooke Gladstone On May 5th, there was a remarkable letter in The New York Times. The woman named Sandy McDonald wrote a response to Jessica Bennett's opinion piece called Questions Not to Ask a Rape Accuser. And McDonald wrote, I didn't scream when I regained consciousness while being raped by a boy who was part of a group of exchange students newly arrived in southern Vermont. I offered them a ride to their dorm from the Brattleboro Bar, where I worked. And as thanks, they invited me in for a glass of wine they'd brought from their native country. I didn't scream when the room began to spin. Awakening, pinned, I didn't scream when I heard other boys pounding on the door. They just want their turn, the boy on top of me said. I didn't scream to protect myself from further rape. I told him I liked him best and wanted only him. I didn't scream. As the dawn finally broke and I cautiously collected my clothes to walk naked through the snow to my car. I didn't scream when a cop I considered my friend told me not to bother to report the rape, that I'd be the one scrutinized. Instead, I wrote a letter to the head of the exchange program concerned for the families that these boys were about to join. I didn't scream upon receiving his elegantly worded response, alluding to the boy's, quote, completely inexcusable behavior. I didn't scream when I cashed the $40 check he'd drawn on the program's account to reimburse me for medical expenses. He marked it entertainment. A half century has gone by and I have never stopped screaming inside.
Rebecca Traister I had not read that letter until I just heard you read it. Now.
Brooke Gladstone Someone very dear to me didn't scream.
Rebecca Traister Yeah, well, I mean, I have to tell you, I'm listening to this, and I'm like, I didn't scream either, but I mean, one of the incredible things that E. Jean Carroll was so open about in her testimony and in the memoir is what people are made to feel when something like this has happened to them, even if they know rationally that women are made to feel shame. I just heard her saying again that she felt so stupid for having gone in the dressing room with it. You know, people who are assaulted reflexively feel it was their fault. There was a risk in screaming that the revolution won't be that somebody is assaulting you, but that you've done something bad, just pure human terror.
Brooke Gladstone There's that other thing, too, that I've heard. You try and reinterpret it to be less horrible.
Rebecca Traister Yes, you do.
Brooke Gladstone Hence the giggling, hence the. The joking. You just want it to not be what it was.
Rebecca Traister Part of what an old version of a perfect victim entailed. That idea that to be assaulted or attacked would somehow define or mark you would be the whole of who you are is so terrifying for people because we've all been raised with those ideas. Even if we can rationally disentangle them from antiquated ideas about female virtue or whatever, that to have this happened to, you would then define who you are, defined how you move through the world, and when it happens to you, as it happens to so many of us in one way or another, part of the instinct is to say, no, no, no, no, no. I'm not going to let this be important. I am not going to let this define me. I'm not going to let it shift my course. I'm not going to let it shape who I am, because it's an awful thing that just happened. And I'm going to pretend that it wasn't important or, you know, I'm going to make it not important. I'm going to make it not real. By staying silent about it. I'm going to try to forget it. I'm going to press it down. A million things we do to make it not loom so large because it sucks that this stuff happens so often. You, Jane. Carroll talks about how she has not been able to have a sexual or romantic relationship since. That's her story of how this shaped her life. But oh, it's so awful that these things can can have an impact. And so a lot of us do the work to say, no, I don't want it to have that impact. The kind of magical thinking that we do, the kind of rational thinking we do to integrate this very common experience into our lives can take so many different forms, which again, is the most basic challenge to this idea that there's one way to have been a victim, that there's one way to have behaved that makes you plausible or viable or valid. And I want to take it back just for a second to some of the history we talked about earlier, having covered Christine Blasey Ford testimony and been shaped politically by Anita Hill's testimony.
Brooke Gladstone In 1991 when she appeared in court to talk about sexual harassment from Clarence Thomas and was not allowed to present witnesses and was silenced.
Rebecca Traister Both of those women only testified in part because they both had advanced degrees, both class and professional peers of the men that they were accusing. They could rise to the level of being heard, even though then they were treated badly. And ultimately their testimony did not impede the ascension of either man to the court. But I think all the time about how many other women and men have been harassed or assaulted by people sitting in positions of tremendous power, but whose stories could never get that public hearing because they are imperfect in other ways. People who worked in the service industry, people who would be discounted because of the way they were dressed and whose stories are no less real, but because they don't fit an incredibly narrow view of the voices we are encouraged to take seriously and understand as legitimate. Those voices are never heard.
Brooke Gladstone So how do you put E. Jean Carroll's case in the history of MeToo?
Rebecca Traister I think it's a real interesting watershed moment because it excavates so much history in both short term and long term ways. Short term, with regard to this explosive political period that maybe began in the summer and fall of 2016 with the Access Hollywood tape, the revelation that a presidential candidate had admitted to grabbing women against their will, that that did not, in fact, impede his victory, the kind of anger that that provoked then the explosion of the hashtag MeToo movement, from which came Jean Carroll's memoir, from which came the Adult Survivors Act, pushed by activists to reopen a window of legal. Accountability. After the statute of limitations, you can see the very recent push pull winding progress that leads to seven years, eight years later, the first instance of legal accountability that Donald Trump has faced. And it comes from layers of recent history that got to this moment. It is such an incredible lesson in view of the stop start, circuitous nature of how this happens. Communicative lead legally, politically, more broadly, E. Jean Carroll's willingness to talk about being born in 1943 gives us a view of an even longer history than that and takes us back to pre second wave feminist ideals in which she came of age. Any of the kind of legal protections that were won in the 1970s in which the things she was raised to understand about sexuality, shame, assault, her own responsibility, her own ability to speak out, which is wildly different from the kinds of tools and supports that are imperfectly available to her now. And so that's the longer view of history that she so generously gave us. It has been, I hope, just a moment in which the arduous ness of this process has been broadly revealed, but also the potential for success, even in the wake of failure, because it's a really important lesson for all of us that there are no easy stops or starts and no clean, neat stories, that this process, when it comes to fighting for all kinds of equality and inclusion, is a lifetime's project for all of us. We can't rest easy after a victory, nor can we despair and become paralyzed after a defeat. This goes on and on.
Rebecca Traister Thank you so much.
Brooke Gladstone Thank you. Rebecca Traister is writer at large at New York Magazine and author of Good and Mad: The Revolutionary Power of Women's Anger. Up next, part two on the enshittification of big digital. This is On the Media.
Speaker 5 WNYC Studios is supported by the Central Park Conservancy. Central Park is a living work of art, and even lifelong New Yorkers don't know its biggest secret that it is cared for by the Central Park Conservancy. They are committed and experienced staff members, from arborists and gardeners to landscape architects and groundskeepers. And they don't do it alone. They keep the park thriving for everyone with the help of New Yorkers. The park needs us. Join the community and get involved at Central Park NYC dot org. WNYC Studios is supported by Dana-Farber Cancer Institute. They are one of the largest recipients of NIH funding. Their scientists played a substantial role in developing over half the cancer drugs approved by the FDA in the last five years. Dana-Farber Cancer Institute has been making one advanced cancer discovery after another for over 75 years. Dana-Farber Cancer Institute is changing lives everywhere. Find out more at Dana Farber.org/everywhere.
Brooke Gladstone This is On the Media. I'm Brooke Gladstone. Last week we were led by our own digital guide, journalist and novelist Cory Doctorow. Through the three steps taken by big digital platforms like Facebook, Amazon, TikTok and Twitter to get richer and get worse, a process that Doctorow calls in defecation. Step one. Lose money to serve the customer better. Step two. Benefit the big suppliers at the expense of smaller suppliers. And step three, squeeze all the suppliers and bog down the users. So everyone but the shareholders is miserable but not too miserable to leave. Got it? Okay. Now on to the second part of our disquisition. Also in three parts, where we discuss how and why this is possible and whether big digital is maybe just different from other earlier monopolies. Hi, Cory. Welcome to Section Two.
Cory Doctorow Thank you very much. It's a pleasure to be here in the luxurious digs in the the second section.
Brooke Gladstone So this is the part where you explain, I guess, why the corrosion and corruption in the service provided by these huge platforms is not just possible, but kind of inevitable, right?
Cory Doctorow Sure. Yeah. I mean, for this, we need to talk about competition, which is not just about tech, but we also need to talk about some of the things that tech brings to the table that, you know, highly concentrated industries, from beer to professional wrestling to intermodal transport do not enjoy.
Brooke Gladstone But before we do that, I want you to step back and answer the charge that the power of technology is exceptional, not just about regulation or the lack thereof, but that tech has an exceptional power. Sean Parker, the founder of Napster and the first founding president of Facebook, wrote a may a culpa about using the ability to leverage dopamine, a neurotransmitter that makes us feel so good to steal our time and attention. But you've written that tech exceptionalism isn't where we should go for our answers.
Cory Doctorow Neurotransmitters are real, but stimulus regresses to the mean. It is absolutely true that the first time I read an Upworthy headline like Seven Amazing Things About Your Socks. You won't believe the third one. That I was like, I really want to find out about the third one. But by the time I'd seen that headline 200 times, you know, if you've ever gone into a casino and pull the lever on a slot machine, the first couple of times you do it. You're like, This is weirdly compelling and I'm enjoying it more than I predicted. It's true that there's a small proportion of people for whom this becomes a really pathological behavior. We definitely need regulation to limit the harms to those people, but it would be a mistake to extrapolate from those people.
Brooke Gladstone But what about people who don't get inured, people who aren't online all the time but get there and love the feeling of what it does to their body when they find their opinions affirmed online.
Cory Doctorow Maybe it's true they've established a foothold on human freewill, or maybe it's true. And this is the more likely explanation, given the historic evidence, as they found a small, temporary advantage that will erode over time. Just like 10.99 maybe didn't seem like $11 at one point. But today, for all but the smallest children, 10.99 is indistinguishable from $11.
Brooke Gladstone So we should aim some criticism at the technology. Critics like myself, who commit the sin of repeating tech barons claims of incredible prowess.
Cory Doctorow I mean, let us at least ponder the possibility that they aren't evil sorcerers, but rather ordinary mediocrities who've managed to corner a market.
Brooke Gladstone So now let's talk about what is undeniably different about digital tours, the speed in which they can change the game.
Cory Doctorow Absolutely. So I call this twiddling and we get back to this idea of evil sorcerers versus ordinary mediocrities. You know, if J.P. Morgan or John D. Rockefeller wanted to bankrupt a fairy line by laying a railroad line and offering below cost shipping to make sure that the fairy goes out of business and no longer competes with them, they don't get to click a mouse and lay some track. When Jeff Bezos wanted to stop Diapers.com after they left his offer to buy them out, he clicked a mouse and lost $100 million selling diapers below cost. And as soon as Diapers.com was broken, he clicked a mouse and the price went back up again. So it is not that the new generation of tech barons are doing anything that the old generation or tech barons didn't want to do. They're just doing it faster with computers. The trick is just that you've automated away something that used to require a lot of drudge work.
Brooke Gladstone So twiddling is what happens when tech companies have their hands on the levers and they're pulling them in their own favor. Like playing with pricing, the gig economy is rife with that.
Cory Doctorow Yeah, there's a term for this. It's algorithmic wage discrimination.
Brooke Gladstone Give me an example.
Cory Doctorow Yeah. So let's think about an Uber driver here. Uber drivers divide themselves into two categories. There's ants and pickers. Ants take every ride it's offered to them and pickers cherry pick. Uber has an algorithm to induce people to not be pickers and start being ants. And the way that it does that is it offers the pickers better rates than it offers the ants. There's a famous experiment from the rideshare guy where two brothers from Chicago, one of whom drives a Tesla only occasionally. Picking up Uber passengers, and the other one has leased a hatchback hybrid and drives every hour that God sends. They're sitting next to each other with their phones out and they're seeing the offers show up and the aunt is getting offered less than the picker.
Brooke Gladstone Seems to me that that would induce people to become pickers and not at all.
Cory Doctorow But the picker then starts to say, Oh, look at what a great deal I'm getting from Uber. Whatever else it is I'm doing to pay for my Tesla, I should do less of that and start doing more of Uber. So you give up your other side hustles, you become more and more beholden to the platform and the needier you get. That is to say, the more that you sign in, the more Uber starts to dial down the compensation. And there's heartbreaking stuff going on here. So one academic who studied this from an anthropological perspective found a Syrian refugee who lives in the Bay Area, who sleeps in his car for three days so that he can drive as much as he possibly can for Uber and make money for his family. And he can't understand why his payout isn't as good as the payout of everyone else on social media talking about their Uber takings. He thinks he's bad at Uber, and contrariwise, they think they're good at Uber. So the people who just happen to be algorithmically favored attribute their success to some measure of skill. And this is definitely a cognitive blind spot. Every rich person born on third base thinks that they did something special, that that janitor cleaning up the mess behind them didn't manage to do.
Brooke Gladstone And this is all legal.
Cory Doctorow Well, that's a question. If algorithmic wage discrimination is simply trying to find and convert pickers to ants. Maybe that's legal. But what if the strongest correlate of being an ant is being poor and the strongest correlate of being poor is being black or brown? What you're doing is paying black and brown people less than you are paying white people on the app. That starts to look a lot less legal. Now, it's a stretch as a legal theory to prove, but you know, it's not like we've never seen this before. Right. There are correlates in ad targeting that can cause the most attractive financial offers to be shown to white people and not black people. And there have been settlements, there have been enforcement actions, and there have been lawsuits that have fielded the theory that even if you don't explicitly set out to do digital redlining or other forms of unlawful exclusion, that you are nevertheless engaged in prohibited discrimination and companies are paid fines and settlements and adjusted their conduct on that basis.
Brooke Gladstone And the reason that the big platforms can do what they do is because they're monopolies. And you wrote that the best time to prevent monopoly formation was 40 years ago, and the second best time is now.
Cory Doctorow Yes, I did. Everyone take a drink. So during that golden age of antitrust enforcement, which is, you know, loosely speaking, like FDR and Reagan, there were a large number of bases on which we attacked monopolies and tried to prevent them from forming. That revolved around things like whether a company would gain too much political influence or whether it would be able to abuse its workers or whether it would foreclose on innovation. In the Reagan era, this kind of fringe figure named Robert Bork, who, you know, you may remember as the guy that Reagan tried to put on the Supreme Court and failed. And he wrote this genuinely bizarre book called The Antitrust Paradox. And he argues two things, that monopolies are often formed because they're efficient and therefore fence out all the competitors. And we don't want to punish efficient companies. And then he makes another argument that is just bizarre, which is that Congress knew this and never wanted to fight monopolies, and this is just not true.
Brooke Gladstone Had he ever heard of Teddy Roosevelt?
Cory Doctorow And more to the point, John Sherman, Tecumseh Sherman's brother, who in 1890 when he was stumping for the Sherman Act in front of the Senate and let me get this quote for you. He said, If we would not endure a king as a political power, we should not endure a king over the production, transportation and sale of the necessaries of life. If we would not submit to an emperor, we should not submit to an autocrat of trade. This is not a man who's concerned about efficiency. This is a man who is concerned about power.
Brooke Gladstone Right.
Cory Doctorow And about the corrupting influence of large firms and the autocrats who run them. And so Burke makes these two arguments and there is a good factual basis to argue about whether or not monopolies can be efficient and whether we're doing it wrong. But there's really no question about what the statutes say the Sherman Act, the Federal Trade Act, the Clinton Act. These are very clear that monopolists are able to seize the power of democratically accountable lawmakers and gather to themselves. And we see this. You know, AT&T ruled until 1982 the first attempt to break up AT&T was 69 years earlier. IBM went through a 12 year antitrust hell, 1972, 1982, and every year outspent the entire Department of Justice Antitrust Division on outside counsel. They called it antitrust's Vietnam. So allowing a monopoly to form is allowing a concentration of power to occur that if in hindsight you decide is dangerous, is very, very hard to diffuse again, because the monopoly has become too big to fail and too big to jail. In the case of AT&T. The Pentagon stepped in in the fifties to say, Don't break up Ma Bell or we'll lose the war in Korea. Womp womp.
Brooke Gladstone Wow. We're talking about monopolies. But let's pivot to monopsony, because if a single dominant seller is a monopoly, a single dominant buyer is just as powerful when it comes to screwing up a genuinely free market.
Cory Doctorow That's right.
Brooke Gladstone So that brings another platform into the discussion. Spotify, you have this orgy of mergers and acquisitions. You have three big record labels, Sony, Warner and Universal. So in the late aughts, when Spotify was trying to get off the ground, especially in the U.S., it made a deal with the Big Three.
Cory Doctorow Yeah. So Spotify goes to Sony, Warner Universal, 70% of all their sound recordings in their portfolios, which they didn't invest in. They bought from other companies when they bought those companies in mergers that would have been illegal before Ronald Reagan. They say to these three companies, What's it going to take to get your music on our service? And the three companies say, we're going to be your business partners. We're going to take a big equity stake and you're going to love that because we want those royalty rates to be as low as possible, a fraction of a penny per track, because these big three record labels, once they are co-owners of Spotify, can take money out of Spotify as license source. Right. And that money has to be shared with the labor force who made the music, or they can take it out of shareholders. And that money, they don't have to give it to the workforce if they don't want to. The musicians who made the works. And so the more they charge for the music you listen to on Spotify, the less their shares are worth.
Brooke Gladstone So this is how the record companies made money at the expense of their own artists by joining up and keeping prices for access unreasonably low.
Cory Doctorow But they also insisted that no one else get paid more than them. So for the 30% of independents and small labels, they got the same low per stream rate. They didn't get free inclusion in playlists, they didn't get free advertising, they didn't get minimum monthlies, and they certainly didn't get shares that were suddenly worth billions of dollars at Spotify's IPO.
Brooke Gladstone And the big three, they got all of that.
Cory Doctorow And again, remember, historic antitrust contours prohibited manufacturers from offering preferential terms to a single retailer that weren't more broadly available to other retailers.
Brooke Gladstone Mm hmm. Now, these enormous record companies could take a parcel of their huge profits and award them to particular musicians. Which reminds me of a theory you love called the giant teddy bear theory.
Cory Doctorow That's right. So I grew up going to a great little company in Toronto called the Canadian National Exhibitions, the CNE. By 10 a.m., and there'd be someone walking around with a giant teddy bear that they won by throwing three balls in a peach basket. As hard as you tried, you could never match the feat. So how did they get this giant teddy bear and why? Well, basically, the company made sure they won. The first person who came along and looked like a likely mark, they'd say, Tell you what, I like your face. You got just one ball in the basket. I'll give you a keychain. And if you do it again, I'll let you trade two keychains for the giant teddy bear. And the point was that if you carry that giant teddy bear around all day, other people are going to go, hey, I can get a giant teddy bear too, and put $5 down and fail to win the giant teddy bear. They may not even get the keychain. This guy is lugging around this conspicuous teddy bear doing the marketing for the rigged game where you see Joe Rogan getting $100 million for his podcast or you see TikTokers have these incredible success stories. Or back when Kindle was getting off the ground, there were independent authors who went to Kindle and reported these incredible findings. Substack. All of those early Substack writers who are guaranteed a minimum monthly. We're talking about how Substack was the future of journalism. And really all that was happening is they were being given these giant teddy bears, same as those Uber drivers who are filling Uber social media with accounts of how much money they make driving for Uber. They're just luring people to go through the picker to ant pipeline.
Brooke Gladstone And you say the big teddy bear theory plays out big on TikTok.
Cory Doctorow So the thing that even TikTok's critics admit is that it's pretty good at guessing what you want. That's why most people who use tech talk just tune in to the recommendation feed. People find themselves going viral because so many people have tuned in to this algorithmic feed. And the assumption had been this is what America wanted to see right now. And so America saw it. But then a reporter from Forbes revealed the existence of something called the heating tool. And it's just a knob that's someone at TikTok twiddles to say, we're going to stick this in front of a lot of people, even though the algorithm doesn't think they'll like it. This is a way of temporarily allocating a surplus, giving goodies to the kind of performer that they want to become dependent on TikTok. So maybe they want sports bros, they find a few of these guys and they give them giant teddy bears. You're viral. 10 million views every video you post. Are you really going to make like two different videos, one for YouTube and one for TikTok, especially when you're getting ten times the traffic on TikTok? And remember, you know, TikTok's got this like, idiosyncratic format. You really got to customize it for TikTok. So it's not really practical to make it for Instagram, YouTube and TikTok. Maybe you'd become a TikTok first performer, right? And then they can take it away from you if they decide they've got enough sports pro content and now they want to got, I don't know, astrology influencers. They can stop promoting, stop heating the sports bro content and start hitting the astrologer content. But also, it's impossible to tell whether a performer or a writer or creative worker on one of these platforms like Substack, is getting a giant payout. Whether they've been given a giant teddy bear, whether they even know. And in fact, if you and now we're getting into counter twiddling, if you get aggressive enough and trying to figure out how they're determining whether or not your videos will be shown to your subscribers. Right. If you start to reverse engineer their tools, start to pull apart their app to see if you can find the business rules, they will start to come after you for violating Section 1201 of the Digital Millennium Copyright Act, which broadly prohibits reverse engineering, violating the Computer Fraud and Abuse Act for tortious interference with contract for trademark violation, patent violation, copyright infringement. And again, this just boils down to felony contempt to business model.
Brooke Gladstone I don't know what that is.
Cory Doctorow That's just the idea that even if Congress never passed a law saying never displease a shareholder, that you can mobilize existing laws like copyright law to say that displeasing a shareholder becomes illegal. So, like, let's talk about iPhones just for a second. I make an app for an iPhone. You own an iPhone, you spend $1,000 on that iPhone. I made the app and I hold the copyright to it. I don't want to share 30% of all my revenue with Apple. And you don't think I should have to. So I give you the app and a tool that allows you to install it on your iPhone, which belongs to you. I the copyright owner, by letting you use my copyrighted work, violate copyright law. Section 1201 of the Digital Millennium Copyright Act, punishable by a five year prison sentence and a $500,000 fine.
Brooke Gladstone Mm hmm. It's amazing that people who talk about the free market lock it up so tight that it can't be responsive to the consumers that are supposed to operate it.
Cory Doctorow Oh, you know, it's even worse, right? Because it's not just that Apple, like all capitalists, hates capitalism when they're on the pointy end of it. It's that Apple did the thing that they would now sue you for two other companies. So if you think about when Microsoft Windows reigned supreme in the office and Macs were getting harder and harder to use because word for the Mac or office for the Mac was so bad, the way Steve Jobs resolved, that was by having some of his technologists reverse engineer Microsoft Office and make AI work that read and write Microsoft Office files. When Apple did it, that was progress. When you or I do it, that is theft that it it's allowing maximum twiddling on the incumbent side and preventing any twiddling on the new market entrants side. You know, ad blocking is the most successful consumer boycott in history. That's what Doc Searls says. And it's only possible because the web is an open platform. But if you wanted to make an ad blocker for an app, the fact that you have to first reverse engineer the app that you have to bypass digital rights management makes it a felony. And so the ads on apps are a lot more obnoxious, not just. In terms of their presentation, but in terms of the data that they gather and target with, we're all familiar with the stories about people being targeted by ads based on visiting mosques or abortion clinics and all of the other terrible abuses. That's because without the constraint of counter twiddling, the sky's the limit in terms of how much they can tell you.
Brooke Gladstone The FTC has lawsuits against Facebook, and the Department of Justice has an antitrust case against Google where twiddling resulted in undetectable fraud. So is there some accountability afoot?
Cory Doctorow I think that there's an attempt to do it. But let's go back to the best time to fight monopolies was 40 years ago, and the second best time is now. You know, there are people who say that the monopolies that we have in tech, the winner take all are winner take most monopolies that they come out of tech exceptionalism. There's just something about the great forces of history that have made tech so powerful. But, you know, Occam's Razor says we should look to the simplest explanation first. And the simple explanation here is that we used to do anti-trust and we didn't get monopolies. We stopped doing antitrust and we got a lot of monopolies. I think the world of the antitrust enforcers in the Biden administration, Lina Khan, is extraordinary.
Brooke Gladstone The head of the Federal Trade Commission.
Cory Doctorow That's right. She was a third year Yale law student just a couple of years ago. And she wrote this paper that was a direct answer to Robert Bork. So Bork's book was called The Antitrust Paradox. Her law review paper was called Amazon's Antitrust Paradox. And it was such a stinging rebuttal to Bork that it set the whole antitrust theoretical world on its ear. And just a few years later, she is the youngest ever chair of the Federal Trade Commission, and she found things like Section Five of the Federal Trade Commission Act, which wasn't that hard to find. It's right between Section Four and Section six, but hasn't been used in 40 years. And it's the article that gives the Federal Trade Commission broad latitude to act against deceptive and unfair practices. And that's the basis on which she promulgated a rule banning non-compete agreements. We are seeing in Khan what a skilled technocrat can do. If you know where the levers are, you're not afraid to pull the levers. You can make incredible things happen. And we are in an incredible moment for antitrust. And it's not just her, it's Jonathan Kanter at the Department of Justice. It's other commissioners like Rebecca Slaughter. And it's the whole of government approach that Tim Wu crafted when he was in the White House, where every department is now being asked to use its legislative authority to go ahead and act to reduce monopoly monopoly power across the entire economy.
Brooke Gladstone In Section Three, we'll talk about the other levers available to us. Are you game?
Cory Doctorow I like pulling on levers.
Brooke Gladstone Cory Doctorow, author of the new novel Red Team Blues and special advisor to the Electronic Frontier Foundation. Next week, our third and final conversation on Big Digital enshittification and what to do about it. On the Media is produced by Micah Loewinger, Eloise Blondiau, Molly Schwartz, Rebecca Clark-Callender, Candice Wang and Suzanne Gaber. Our technical director is Jennifer Munson. And engineers this week are Andrew Nerviano and Sham Sundra. Katya Rogers is our executive producer. On the Media is a production of WNYC Studios. And I'm Brooke Gladstone.
Speaker 5 WNYC Studios is supported by the Central Park Conservancy. Central Park is a living work of art, and even lifelong New Yorkers don't know its biggest secret that it is cared for by the Central Park Conservancy. They are committed and experienced staff members from arborists and gardeners to landscape architects and groundskeepers. And they don't do it alone. They keep the park thriving for everyone with the help of New Yorkers. The park needs us. Join the community and get involved at Central Park NYC dot org.