Escaping the Kremlin's Propaganda Machine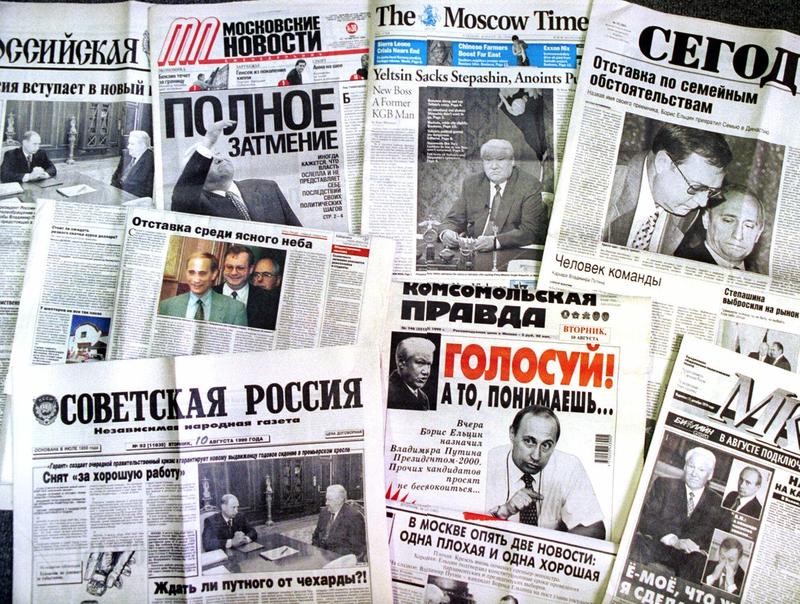 Transcript
Brooke Gladstone: This is On the Media's midweek podcast. What follows is the story of one woman's painful effort to deprogram herself. This weekend marks five months since Russia invaded Ukraine with no end in sight, and in Russia support for the wars remained high. 77% approve of Putin's actions in Ukraine according to a survey conducted in late May by the Levada Center, Russia's only remaining independent pollster. The war, at least in its neatly repackaged, Kremlin-approved form, is somewhat popular amongst Russians.
Speaker 2: This is the Russian media's version of atrocities committed by Russian forces in Ukraine. They've labeled videos of slaughtered civilians fake and even claimed the massacre in the town of Bucha was perpetrated by Ukrainian forces.
Brooke: The Kremlin has continued its attack on any and all forms of independent press.
Speaker 3: Last week, Putin signed a law that effectively criminalizes accurate reporting about the war, even the word war itself is banned.
Brooke: This fake news law signed in March of this year threatens imprisonment for any journalist who deviates from the Kremlin's depiction of the war, effectively shielding the operation of its efficient and enduring propaganda machine. Independent journalist, Anastasiia Carrier was born and raised in Yoshkar-Ola in what she says is a core of province in Western Russia. She spent the last few years in the US working as a reporter and actively wrenching herself away from the propaganda she'd imbibed all her life about Russia's unequaled, prominence, probity, and purity that she took on as articles of faith and fact.
For most of her childhood though, news and politics were just faint voices in the background from adult conversations overheard or brief flickers on her grandma's TV tuned to the evening news. Her grandma, a professor of German was an avid news consumer.
Anastasiia Carrier: She was a very easygoing cheerful person who loved and loved Soviet Union.
Brooke: Her grandma was nostalgic about Soviet days of yore when she said people were kinder to each other and job security was guaranteed. She was often found humming Soviet songs, and in 1999, Carrier's grandma finally found a new leader in which to instill her trust, a young rising star named Vladimir Putin. Carrier was still in kindergarten then, but she remembers the catastrophe that rocked her world in September of '99. Over 300 people died in 3 separate bombings of apartment buildings. Carrier avoided tall apartment buildings on the way to school for weeks afterwards in fear. That was when Putin, then director of the KGB spoke out to the people.
Anastasiia: Putin showed up as this confident and young person who said that he's going to hold Chechen people accountable and he blames in Chechens.
Brooke: In 2000, riding a wave of popularity after the bombings, Putin ran for president, much to the delight of Carrier's family. On election day, she and her grandma stood in line outside the voting booths a few blocks from their home.
Anastasiia: I remember we stood in the line, and then she took me in the booth with a curtain. She lifted me up and showed me where to mark for Putin. I was so excited, I was talking about it for a while. I think I even was displeased with other kids whose parents didn't vote for Putin.
Brooke: Were the Chechens ultimately to blame for those apartment bombings or is it still shrouded a bit?
Anastasiia: Later I learned, and this was after I realized that all my beliefs were a lie. Later I learned that there is a group of historians and journalists who blame Putin directly or indirectly for orchestrating those bombings.
Brooke: Is there proof of that?
Anastasiia: Yes, they caught some of the KGB agents and Putin around this time. It was the director of KGB or he just stepped down. They caught some of his agents I think delivering the bombs in the buildings. I remember this is what Litvinenko was working on when he was poisoned.
Brooke: Litvinenko who was poisoned by people associated with Putin?
Anastasiia: Yes, and another reporter.
Brooke: Anna Politkovskaya?
Anastasiia: Yes, she was also working on that.
Brooke: And she was killed as well?
Anastasiia: Right.
Brooke: They say by Chechens.
Anastasiia: That's what Russia would say, yes.
Brooke: These revelations about Putin's possible involvement in those bombings as a way to get elected, that came much later. You started having doubts about Putin mostly during the years of Dmitry Medvedev who became Russia's president in 2008. Putin had hit his term limits. It seemed clear as you wrote that Medvedev was keeping Putin's seat warm. Then, there was a new constitutional amendment. It lengthened the four-year presidential term to six years, and in September 2011, Putin announced he'd run for the presidency again. That did it for you and a lot of your friends, right?
Anastasiia: It was around the time when I was in high school when Medvedev became a president. People around me just got so excited about him because he was fun and modern. It felt like something good is going to happen under his rule, and at the same time, we started to understand that Putin is not great for Russia. We started to understand that he's corrupt.
Brooke: Another thing that was going on around the time that you and your friends really got disillusioned with Putin was that a lot of other people were too, right? It was around that time that the biggest anti-government protest since the 1990s broke out across the country in response to the accusation that Putin and his party had rigged the parliamentary elections.
Anastasiia: Yes. There were some changes done to constitution that ultimately allowed Putin to come back to power and come back to power for longer. When this was happening, we all strongly suspected this was done to allow Putin to come back in power.
Brooke: This was also around the time, was it 2011, 2012, that you changed schools?
Anastasiia: This was a much better high school. I had teachers who were more encouraging of real critical thinking. We would talk about different kind of governments. We would talk about economic issues. We would talk about history, the topic of the Soviet Union and Stalin's repressions came up and the teacher challenged us. She spoke negatively about the repressions that left millions of Russians dead. This was new to me. My teachers before didn't take active political stances or they missed the Soviet Union. Teachers would encourage us to encourage our parents to vote for Putin's party. It was unusual to have a teacher who would speak differently.
Brooke: You said that the moral clarity felt alien.
Anastasiia: It really did. I remember registering it. I remember feeling strange about it, but at the same time, my family really became interested in so-called alternative history AKA rereading of the old history to be [inaudible 00:08:12].
Brooke: Alternative history as determined by Putin, who famously said that the fall of the Soviet Union was the biggest catastrophe that ever fulfilled the world?
Anastasiia: Yes. One of the big ideas is that Stalin is this misunderstood genius who saved Russia, and the people who died, it's just necessary sacrifice. Probably, because of the teacher who pushed back in such a casual way, I never really became interested in this alternative history, thankfully.
Brooke: Then, it was the end of high school and you became old enough to vote.
Anastasiia: At this point, Putin already announced that he's running for the president. My friends and I were clear that we were not going to vote for him. We tried to do research and figure out who we should vote for. We liked Prokhorov, he is a Russian oligarch, but he was young and charismatic. We thought that he could change Russia for the better and make it more democratic.
Brooke: Your grandmother's confidence in Putin was shaken and your whole family started considering other candidates as someone who'd basically grown up under Putin, this must have felt very peculiar.
Anastasiia: We all started to discuss other options. I think my grandmother even though she was open to other options, she was still feeling warmly about Putin, and it felt great because before this, we were just not interested in politics. My dad always says that you cannot go into politics and not become shit. We like the idea of being more politically engaged because we thought that the change was possible.
Brooke: Then, at the very last moment, everything changed because there was a tremendous wave of negative press against Prokhorov and for Putin. What were you hearing? What was that change?
Anastasiia: I wish I remembered what it was. It was something rather small. I guess it just restored this old model that we had learned, that there was nothing we could do to change. When Prokhorov was discredited in our eyes, it went back to default, as Putin that was a strong leader, even though we never stopped doubting that he was corrupt. It just felt that there was no other option. I personally was so disheartened about it. I didn't even go to vote.
Brooke: You've described a kind of doublethink, that a lot of people were subject to, two kinds of narratives about Putin being held in your mind at the same time?
Anastasiia: Yes. Doublethink or cognitive dissonance is a common trait for Homo Sovieticus, which is a term that was introduced by the Soviet writer and sociologist Alexander Zinoviev. It describes ability of people from post-Soviet countries to have two opposing beliefs at the same time and you can switch between them. I remember switching myself between the opposing beliefs. You can think that Putin is the best thing that ever happened to Russia, and think that he is corrupt and he barely does anything at the same time.
Brooke: Let's return to what was going on in your brain then, Anastasiia. In 2014, Russia invaded and subsequently annexed Crimea. That's when you became staunchly pro-Putin.
Anastasiia: At first, when the protests in Ukraine started happening, the great Maidan Revolution that ended up in overthrow of the government.
Brooke: This is the government that pushed out the pro-Russian president Viktor Yanukovych?
Anastasiia: Correct, yes. The coverage in Russia was that the new Ukrainian government was Nazi government. I guess it's worth mentioning that anything Nazi-connected is a very sensitive topic for Russians because victory in the Second World War is a huge point of pride. The idea of Nazis is triggering, in any shape or form. When Russia is starting to say the Ukrainian government is Nazis, it becomes a very important topic for Russians who didn't even follow news closely.
You get the snippets of the news that make their way to you through TV, the headlines you see online, some posts you see online on social media. You start to realize that this is important. This was my sense of what was happening when I came to the US for the first time, for half a year as an exchange student. I was removed from Russian propaganda and I got to see the snippets of the western coverage of what's happening. I remember feeling that this was bizarre and wrong, whatever I saw happening on CNN.
Then, I went back to Russia-- This was after Putin actually annexed Crimea and this was where it became more of an issue for me and I started to grow more and more pro-Putin because I started to feel like this is such an important thing that Russia has done, we saved brothers and sisters from Nazi regime, we helped them to get back to Russia that they allegedly missed. I become more pro-Putin because I'm very happy that he's done it but I also realize that the West is really unhappy with this.
They start to feel that the stakes are higher to have a strong leader, that is Putin because you don't see any other options. I started to be more invested with him and more supportive of him.
Brooke: How was the West presented, and the US, in particular, in the news stories and in the general views of people when you were back in Russia?
Anastasiia: The West couldn't stand the idea that Russia was so big and so strong, that it had so many natural resources, that we were so oil-rich, and that everything that was happening, the sanctions that was happening, it was just the US in this case, in particular, just couldn't bear the idea of Russia doing good around the world.
Brooke: Let's take you to college. It's 2016, you moved to the US to attend University in West Virginia. For a whole year, you were in contention with a lot of your classmates, you were freely fighting back against opinions about Russia hacking the election, for instance. You even wrote an op-ed for your journalism class about Russia's maligned reputation in the 2016 election.
Anastasiia: Yes, I moved to the US for a second bachelor's degree and I became more outspoken politically. I started to bring up certain topics in journalism class conversations. Whenever I felt like somebody was saying something wrong, I would insert my so-called fact check. I wouldn't say that I was very combative about it, partially because I don't think anyone around me was particularly invested on trying to get me to see the reality. There was definitely a lot of, "I'm going to let you finish this statement and we're going to move on from this topic," but they didn't pick up on that until much later.
Brooke: Did you feel patronized?
Anastasiia: No, I didn't. If anything, I felt a little more special for having this opposite point of view to the popular narrative. "I have the truth," sounds a lot like people who believe conspiracy theories, I realize it now.
Brooke: How did you react outside of expressing your points of view verbally? Did you write anything?
Anastasiia: Yes. It was happening around the time when the conversation about Russians hacking the elections started. It was still very much a conversation of, "Do you believe it or not?" I strongly did not believe it because why would Russia, the power for good, do anything so bad? I was trying to find the proof that this didn't happen. I did find a piece that said that it's nearly impossible to hack the certain kind of voting machines at the moment. I was pretty set on this. It happened that at the same time, we had an opinion writing class.
I wrote about the US and the western media treating Russia unfairly, misunderstanding all the great things we do in the world. Annexing Crimea to [unintelligible 00:17:16] made appearance in this piece. I used this photo I found online of allegedly building in Crimea, showing a lot of Russian flags from the windows as a proof that the Ukrainians really wanted to join Russia.
Brooke: You brought your piece to the editor at the local paper, right?
Anastasiia: Yes, I show my piece to the editor, trying to get it published. He's just not amused by the proof that I'm showing there. He and the other editor push back, and they push back, and I edit, and edit, and edit until it becomes a different piece. This was the moment when I started to realize that a lot of the arguments I was using to justify my beliefs were not fact-checked. When I tried to fact-check the old anecdotes I used in the story, I couldn't really find the sources and I couldn't really understand where some of these facts even appeared from.
I still stood pro-Putin. I still felt that the West somehow misinterprets Russia. I couldn't figure out where the media went wrong. As a journalist, I was trained to report on things a certain way to fact-check, to collect information and evidence. Then, there was the coverage of Russia, which I didn't agree with. I really couldn't understand at what point of the news organization somebody would give an order to start lying. I started to sense that it was possible that no one really gave this order.
Brooke: What you're saying is that you expected that there would be an order to lie in American journalism because you were so accustomed to seeing what was written there as lies.
Anastasiia: I thought that there has to be an order because it felt like the only explanation why with this kind of journalism training that I was getting, the news products would get Russia wrong.
Brooke: This process of unraveling your own beliefs-- Our beliefs are part of us. You said it felt like your world came crashing down around you, that you experienced an acute sense of political homelessness.
Anastasiia: Yes, I think that me being proud of being Russian became one of the cornerstones of my identity. I didn't realize how big it was for me until it was pulled out from under me. I didn't really realize who I was or what was true about the world for some time afterwards. I did feel politically homeless, and this is the term I borrow from people who quit QAnon and they have to find what to believe after they switched sometimes from very liberal beliefs to very radically right beliefs and then they quit both.
I was experiencing something similar and it took a long time and a lot of work to just educate myself enough on history and current affairs to start to form an opinion.
Brooke: You told our producer that you couldn't really accept that one thing is false and that everything else is true, that it's not how the world works. What did you mean?
Anastasiia: When I was trying to make sense of what happened to me, all the lives were connected to each other. That there was this one lie I would accept that this was a lie and then that would pull two more lies from the past that I learned. The best way to sort through this was to just get rid of everything, just to stop believing everything. Everything I was raised with was a lie. It is truly fascinating looking back at how many small things that I thought were common knowledge were based on some kind of misinformation, propaganda, or something very small that added up to something toxic in the end.
The most common one was that Obama is a Muslim. Then, there were other things like Russia was supplying Ukraine with free oil for this long time, and then Ukraine cheated Russia of oil.
Brooke: Did you have to do that? Did you have to believe everything was a lie in order to open yourself up to the possibility that some of it was?
Anastasiia: The biggest part of it is that I believe that Russia could do nothing wrong, that Russia was the power for good. I had evidence that proved that Russia wasn't the power for good and that casted a long shadow of doubt and everything else I ever knew about Russia. The more I started to learn about Russian history, the more I started to realize that there were a lot of half-truths that I was taught in school, especially about the darker times of the Soviet Union.
Brooke: Tell me about how you learned that stuff.
Anastasiia: Yes. I had a wonderful teacher. She was my politics professor, Sally. I took her international relations class and I showed up at her office almost every day. She would recommend me books and she was really a key person in helping me pull through this very dark and lonely time of not knowing what was true.
Brooke: Six months ago, Russia invaded Ukraine, things shifted again. Did this have an impact on your own ideological shift?
Anastasiia: Before the war in Ukraine, these disagreements with my parents, this realization that they are under influence of propaganda was just something that inconvenienced my life, inconvenienced my ability to be honest with my parents, and really talk about what was happening or what I believed. As I learned later, I missed the train to change my dad's mind because he did have doubts and he called me to comfort me that the invasion, the special operation, was just to take out Nazis.
To me, it sounded like an insult, but now, I understand that he actually wanted to talk, but since then, I do try to talk to them whenever I see that there is a chance that they would hear me, but it's becoming harder and harder because I could see annoyance before. I've never seen it to this level when I bring up the war and damage that Russia is doing. There was this conversation I recently had with my parents. I don't remember what exactly I was saying, but at this point, I'm already writing about the war in Ukraine for a political magazine and I already interviewed refugees from Ukraine.
They told me the stories of Russian soldiers. There was this one woman who told me about her neighbor being shot by Russians for nothing, about the starvation of people who sit in the basements, about the car wrecks all over by the road, and you can see that these cars were shot. I have all this information as a journalist I collected and fact-checked. I'm trying every now and then to bring it up to my parents. I'm not credible enough just because I'm in the US. I think my parents pity me for being brainwashed.
In this particular case, I brought up this information I collected and my dad asked me not to bullshit him. It sounds like a small thing, but the only time my dad raised his voice in me in such a way was when I cursed at him as a five-year-old kid to make him stop tickling me. This was huge. This was a big moment.
Brooke: Yes. He's acting as if you're cursing at him again by bringing up these things.
Anastasiia: He got very defensive and very angry, I guess, which is really out of character. My parents are-- and it's such a shame that I have to make this disclaimer when I talk about their beliefs but they are wonderful, educated, and kind people. Their beliefs just don't really make sense in the context of their character. They were supposed to be spared because again, they're educated and there are so many Russians who do not have the same level of education. They do not have the same financial safety. They didn't travel around the world. My parents did. They travel every year. They were supposed to escape this thing and they didn't.
Brooke: What can you do to inform people who live inside a controlled-news environment? You've reported on groups like QAnon. You've talked to your parents. They all are forced to live or choose to live in pretty impermeable media bubbles. Essentially, you have to get them to trust you, but how do you do that?
Anastasiia: I think you should be poking in their beliefs and providing them with facts that would hopefully get them to doubt their beliefs, but not push it on them.
Brooke: Well, that really worked well with your dad.
Anastasiia: Right. Yes.
Brooke: Sorry.
Anastasiia: No, you're right. I think you can just hope it's going to work. I know that for my time, there is nothing anyone could have said or done to change my point of view. They might have made me feel very bad about my beliefs, but they wouldn't have forced me to change them. I think what we can do with anyone who has beliefs based on conspiracies is to just keep talking without trying to humiliate them or enrage them and hope that whenever they have doubt, they're going to come to you with questions and you would have a productive discussion.
It's a little bit trickier with Russians now because there is such a moral duty to try to do anything you can to help Ukraine and to get people to believe that what is happening is wrong. Maybe just because you don't want your family and friends to support the bloodshot. I think there is a responsibility to have these conversations and hope that something is going to come out of them.
Brooke: Anastasiia, thank you very much.
Anastasiia: Thank you for having me. This was fun.
Brooke: Anastasiia Carrier is an independent journalist who reports on business, politics, misinformation, and online radicalization. Thanks for checking out On the Media's midweek podcast. The big show is posted on Friday around dinner time and it's all about this really confusing economy and also the cosmos.
Copyright © 2022 New York Public Radio. All rights reserved. Visit our website terms of use at www.wnyc.org for further information.
New York Public Radio transcripts are created on a rush deadline, often by contractors. This text may not be in its final form and may be updated or revised in the future. Accuracy and availability may vary. The authoritative record of New York Public Radio's programming is the audio record.