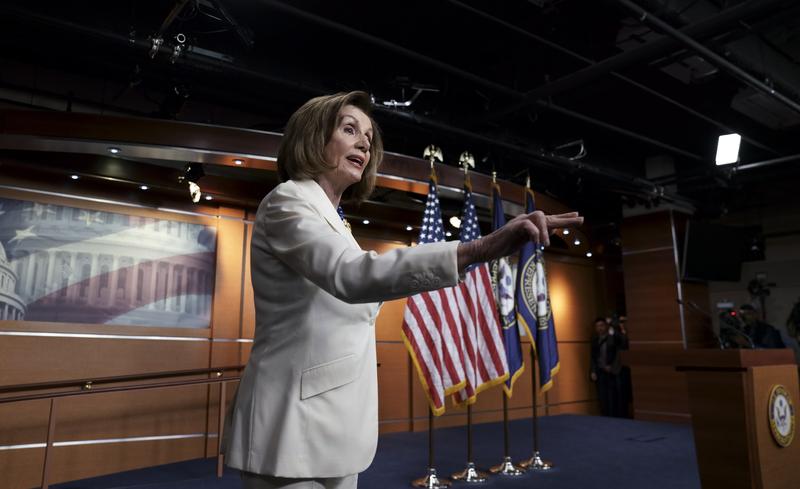 Transcript
[CLIP]
NANCY PELOSI With allegiance to our founders and a heart full of love for America, today, I am asking our chairman to proceed with articles of impeachment. [END CLIP]
BROOKE GLADSTONE From WNYC in New York, this is On the Media. I'm Brooke Gladstone.
BOB GARFIELD And I'm Bob Garfield. The parallels between the impeachment of Andrew Johnson 150 years ago and today are eerie. They even had Fox like coverage
BRENDA WINEAPPLE Well there was MSNBC, too. But yes, all the press was partisan, but you had some really wonderful journalists and the most surprising one was Mark Twain.
BROOKE GLADSTONE Also, to understand how the illiberal conservative movement coalesced, we go back to its roots.
MATTHEW SITMAN We backed you for 40 years. What did it get us? Gay people can get married. Abortion is still legal and the causes dear to religious conservatives, there's no progress on that front.
BOB GARFIELD It's all coming up after this.
BROOKE GLADSTONE From WNYC in New York, this is On the Media. I'm Brooke Gladstone
BOB GARFIELD And I'm Bob Garfield.
[CLIP]
MATT WHITAKER Instead of Bing Crosby's Christmas album, you're going to have impeachment. [END CLIP]
BOB GARFIELD Yes, as former acting attorney general Matt Whitaker observed Thursday on Fox, it's beginning to look a lot like impeachment. Perhaps just in time for the holidays when treetops glisten and children listen to hear accusations of bribery, obstruction and abuse of presidential power
[CLIP]
NANCY PELOSI With allegiance to our founders and a heart full of love for America, today, I am asking our chairman to proceed with articles of impeachment. [END CLIP]
BOB GARFIELD In finally giving her green light, House Speaker Nancy Pelosi rejected Republican accusations of political vendetta and couched the decision as constitutional duty. This setting the stage for what? For exactly the absurd spectacle we've experienced literally from day one of Trump's presidency: documented facts against a vaudeville of denial. So here we are again after three years facing one of the more memorable Yuletides ever. And we have in all that time advanced the story, impeachment or no impeachment, not one Christmas fig. Professor Karlan of Stanford, a witness handpicked by Democrats to debunk Republican accusations of unfairness, lack of due process, sham and coup d'etat was no nonsense about this.
[CLIP]
PAMELA KARLAN What has happened in the case today is something that I do not think we have ever seen before. A president who has doubled down on violating his oath to faithfully execute the laws and to protect and defend the Constitution. [END CLIP]
BOB GARFIELD But not so fast. It may seem like Trump's flouting of Congress is singular, that his governing by executive fiat is unprecedented. But nope, been there impeached that. In 1868, the House of Representatives voted for articles of impeachment against President Andrew Johnson. As a U.S. senator and vice president under Abraham Lincoln, Johnson had fought hard against secession and revered the Constitution. But installed in the presidency after Lincoln's assassination, he thwarted congressional plans for reconstruction. His reason? Congress had declined to immediately offer the 11 former Confederate states their former seats without concessions such as the right of suffrage for freed blacks. Thus, Johnson concluded the legislative branch was illegitimate. The incomplete Congress could pass no laws, and he proceeded to do whatever he could to return freed slaves in the South to an existence of utter degradation. Brenda Wineapple is the author of The Impeachers: The Trial of Andrew Johnson and the Dream of a Just Nation. She says that after Lincoln died, Congress was out of session. Johnson refused to call a special session and instead began acting on his own.
BRENDA WINEAPPLE He started putting in to place executive actions in the South that would reconstruct the government's along southern white supremacist lines, prevented the formerly enslaved people from making contracts, from moving, from marrying, from any kind of due process. When Congress got back into session, first they passed a civil rights law. Johnson vetoed it. Congress passed the legislation over his vetoes and then they started the reconstruction laws to put the formerly seceded states back into Congress by getting them to redo their constitutions to make sure that black men had the vote and also to ratify the 14th Amendment. Because by this time, Congress had decided due process should be enshrined in the Constitution. They also passed the Tenure of Office Act. The Tenure of Office Act said that cabinet members who have been approved by the Senate cannot be fired unless the Senate approves that too. The reason they passed that particular law was to protect a specific cabinet member, Edwin Stanton, who was the secretary of war. The military had been kept in the south to make sure that black men and white loyalists were able to get to the polls.
BOB GARFIELD There were generals who were appointed essentially as vice-rois--
BRENDA WINEAPPLE Who had fought to protect the union and now they see people slaughtered on the streets. So they were there to prevent this kind of violence. Johnson fired Edwin Stanton and because Johnson had violated a specific law, the House of Representatives felt it had no choice but to vote overwhelmingly to impeach Andrew Johnson. That happened in February of 1868.
BOB GARFIELD I want to ask you about Johnson's motives and his authoritarianism. One is that he wanted to rebuild the union as quickly as possible. The other is that he was just a naked white supremacist. Which of those do you think best describes his motives?
BRENDA WINEAPPLE He did want the union reconstructed as quickly as possible, but he said this is a white man's country and by God, it will be a white man's government. Johnson was born in North Carolina as poor white as you could possibly be. His mother sent him and his brother out as indentured servants. And when he ran away from the tailor shop where he was indentured, the owner of the shop put out a wanted sign as if Johnson were a fugitive slave. He is not a planter. He is not part of the southern aristocracy. But it does not mean that he doesn't really at some level want to be part of them. So when he gets into the White House, he begins pardoning those aristocrats who served in the Confederate Army or in the Confederate government. Almost a hundred a day. He becomes quite authoritarian. He loves the union, but he also loves the power of white people over everyone else.
BOB GARFIELD It's not just some political squabble that we're discussing here. There were black Americans shot in the street for the crime of being black.
BRENDA WINEAPPLE In both Memphis in the spring of 1866 and then in New Orleans that summer, black men and women were slaughtered on the streets, women were raped, beatings and whippings in both cases, concerted mob violence that began to be understood as the formation of the Ku Klux Klan, which people in the Democratic press or the white supremacist press dismissed as propaganda. There were constant reports of this by journalists who traveled south by the military, and actually Congress convened a committee that took testimony. A hundred and forty four people testified about what was going on in the south, and it was dismissed by Johnson.
BOB GARFIELD Thanks to the telegraph, there was a lively daily press already developed in 1868, but almost every paper was affiliated with a party or a faction of a party.
BRENDA WINEAPPLE That's absolutely right.
BOB GARFIELD Was it like every outlet was Fox News spinning the narrative to suit its own constituents?
BRENDA WINEAPPLE Well there was MSNBC too. But yes, all the press was partisan. But you had some really wonderful journalists and the most surprising one was Mark Twain and early on in the impeachment trial was actually covering it--caustic and as insightful as anyone that you wanted to meet or read.
BOB GARFIELD Made a little joke about Fox News, but where any of the major papers at the time so partisan as to utterly distort the actual straight dope in order to support its audiences worldview.
BRENDA WINEAPPLE You had a lot of speculation. You had a lot of propaganda. The New York World gave me the chills because it was so incredibly racist. But that doesn't mean they were making up things. The scary thing to me is that this kind of propaganda sometimes hardens and--
BOB GARFIELD it calcified into history.
BRENDA WINEAPPLE Yes. And in fact, the calcification of history, I can give you a good example. John Kennedy's Profiles in Courage, which got a Pulitzer Prize. One of the chapters claims that a man named Edmund Ross, junior senator from Kansas, was himself courageous, heroic for casting the vote that kept Andrew Johnson in office. Andrew Johnson, it said, should never have been impeached. It was the radical fanatic, maniacal Republicans who wanted him out of office. And you can still sort of hear some of that point of view today. Kennedy writes, there was no real reason for Johnson to be impeached. The issues were not national issues. You look back and you say, how can you say that? Well, if you read Ross's memoir, that's what he's gonna say because he's justifying his vote.
BOB GARFIELD The deciding vote, rather than being a profile in courage may have been a profile in bribery. What's the historical evidence?
BRENDA WINEAPPLE Well, there's quite a bit of historical evidence. Edmund Ross, the junior senator from Kansas. He kept going to Johnson and there are letters where he says, for my vote, would you please take care of, say, my father in law, my brother, myself? Johnson would do whatever he asked. And then Ross would come back for another favor. Sorry to have to come back, but for my vote, so.
BOB GARFIELD Holy s***, for my vote?
BRENDA WINEAPPLE Yeah.
BOB GARFIELD The nation was only 79 years into the life of the constitution, but even then they had to deal with the murky language of the framers. As in what the hell are high crimes and misdemeanors? So for guidance, they turned to Alexander Hamilton?
BRENDA WINEAPPLE And we do the same thing today in Federalist 65, Hamilton said that a civil officer, particularly a president, could be impeached for something called maladministration and abuse of the public trust. Now, that doesn't make things very clear. But it was actually pretty smart not to be so specific because the kinds of maladministration or misbehavior or abuse is going to change over time. Unfortunately, what's elastic is also kind of murky at the same time.
BOB GARFIELD So how did the House determine that Johnson crossed the line into political crime?
BRENDA WINEAPPLE People were so offended by his bigotry, by saying Congress was illegitimate and couldn't pass any laws because those eleven states weren't seated in it. There were some who were so horrified by that that they wanted to impeach Johnson as early as 1867. The issues went to the Judiciary Committee. We've heard of that. But they were waiting for a specific violation of law because of these very murky issues about what's abuse of power. By the time that they actually voted overwhelmingly, as I said, to impeach Andrew Johnson, they voted because of the trip wire, the violating of the Tenure of Office Act.
BOB GARFIELD So firing Stanton was the hey, would you do me a favor, perfect phone call?
BRENDA WINEAPPLE Exactly. It was the straw that broke the camel's back. It was the perfect phone call. You know, it was considered so egregious. And it didn't take very long for the House to drop those articles of impeachment. There were eleven. Nine of which dealt with the violation of the tenure of office.
BOB GARFIELD All right. Spoiler alert, Andrew Johnson was acquitted in his Senate trial by one very questionable vote. Was it mostly along partisan lines?
BRENDA WINEAPPLE Mostly, but not entirely. There were seven Republicans who voted along with the Democrats to keep Johnson in office. What happened was they were very close to an election. The Republicans had Ulysses S. Grant, the popular war hero, waiting in the wings. They wanted to nominate him. And they were afraid that if Benjamin Wade, considered a radical Republican, were to take Johnson's office even for a short amount of time, that would somehow undermine Ulysses S. Grant. And Grant might even have to put Wade on the ticket with him. But there were other reasons, too. Something that we would call dark money today was floating around. There was a house investigation of what was going on, favors being passed back and forth and promises made. By and large, however, impeachment was a partisan process.
BOB GARFIELD This all played out familiar early enough as Johnson was readying himself for a reelection campaign. Was there consideration in the House about just letting electoral politics take their natural course?
BRENDA WINEAPPLE No. The House felt it had no choice but to go forward with impeachment. I mean, it had been dragging its feet. But when Johnson violated the law, they just said that's enough. The Senate is a different story. It's a higher bar for removal from office. It's not a simple majority. It's two thirds.
BOB GARFIELD Now, I happen to know of a president facing impeachment who responds by refusing to cooperate with congressional subpoenas and with vicious ad hominem attacks on all of his perceived enemies, including members of his own administration. How did Andrew Johnson respond to the process?
BRENDA WINEAPPLE He wanted to take his case to the people. He was a demagogue stirring up crowds and actually calling, believe it or not, for the execution of his perceived enemies, particularly men in Congress. So he was as epithet-strewing as anyone you might think of in the present.
BOB GARFIELD Oh, and I might add, he didn't need his secretary of energy to compare him to Jesus Christ, he just took care of that himself.
BRENDA WINEAPPLE Well, he told black people that he was gonna be their Moses. Oh god, he thought of himself as deeply persecuted, too.
BOB GARFIELD Johnson was acquitted and then came the election. But it's not as though he lost in a general election to Ulysses S. Grant. He never got to a general election.
BRENDA WINEAPPLE No. The Democrats felt that he was toxic. They had had enough of Andrew Johnson.
BOB GARFIELD Not quite enough.
BRENDA WINEAPPLE No.
BOB GARFIELD His political career did not end.
BRENDA WINEAPPLE No. He was not a broken man. He was an angry man. And in the 1870s, Andrew Johnson is sent back by the Tennessee legislature to the United States Senate. And what does he do? He stands up and he goes on a rant against Ulysses S. Grant during congressional recess, Andrew Johnson goes home and passes away before he can do any more damage in the Senate.
BOB GARFIELD Throughout this conversation, I've been pointing out parallels, some of them actually quite eerie to 150 years ago and today. What lessons should we take from the Johnson impeachment?
BRENDA WINEAPPLE Having nine articles of impeachment focused on the violation of the law and only two on abuse of power and obstruction of justice means that people forgot that the real issues at stake were not the question of this particular law, maybe even this particular phone call, if you want to make that kind of analogy, but actually the direction that the country should and would go in today. What's at stake, too, is the direction of the country that really what's behind the abuse of power is the destruction of a whole democratic structure and the independence of a sovereign country. And the fact in both cases that no one, not even a chief executive is above the law.
BOB GARFIELD Brenda, thank you very much.
BRENDA WINEAPPLE Thank you, Bob, a pleasure.
BOB GARFIELD Historian Brenda Wineapple is the author of The Impeachers.
BROOKE GLADSTONE Coming up, a map for navigating the nation's roiling political right.
BOB GARFIELD This is On the Media.
This is On the Media. I'm Bob Garfield.
BROOKE GLADSTONE And I'm Brooke Gladstone. After Speaker Nancy Pelosi announced that the House would be drawing up articles of impeachment, a reporter asked her if she hated the president.
[CLIP]
NANCY PELOSI I think the president is a coward when it comes to helping kids who are afraid of gun violence. I think he is cruel when he doesn't deal with helping our dreamers. I think he's in denial about the climate crisis. However, that's about the election. This is about the Constitution of the United States and the facts that lead to the president's violation of his oath of office. And as a Catholic, I resent your using the word hate in a sentence that addresses me. [END CLIP]
BROOKE GLADSTONE The Constitution, invoked repeatedly by Democrats, served as a rebuke to Republicans who oppose putting the president on trial on democratic grounds.
[CLIP]
DOUG COLLINS You're talking about overturning 63 million votes of a president duly elected who is doing his job every day. [END CLIP]
BROOKE GLADSTONE Never mind that more than 73 million people voted against Trump. For better or worse, our elections are determined by the Electoral College. And if this really were about thwarting the will of the electorate, that would be a cause for concern. But the GOP's appeal to respect the people's will is hollower even than it sounds because its leadership no longer is interested in majority rule. To explain how and why let's start in March and the publication in the conservative journal First Things of a manifesto signed by 15 conservative intellectuals. It was called Against the Dead Consensus and it plotted a new course for the conservative movement. Its stated principles were adamant, if vague. "We oppose the soulless society of individual affluence. We resist a tyrannical liberalism. We want a country that works for workers. We stand with the American citizen and family and nationalism." But what is the dead consensus it stands against? That's the question. That's why things seem so different now. According to Matthew Sitman, associate editor of Commonweal magazine and co-host of the "Know Your Enemy" podcast, The Dead Consensus is the strain of conservatism, which in the 50s flowered in the pages of William Buckley's National Review, right up until Trump.
MATTHEW SITMAN The mix of social conservatism and religious values with more libertarian economics. And then during the Cold War, a kind of strongly anticommunism. And then after the Cold War, something like George W. Bush's kind of muscular, aggressive foreign policy. This manifesto was a coming out party, saying that especially after Trump's win, that form of conservatism was over.
BROOKE GLADSTONE What was their beef with the Ronald Reagan style of conservatism?
MATTHEW SITMAN Well, for one, they are recognizing, as Trump did, at least rhetorically, that the economy was no longer working for a lot of working class Americans. So they were responding to some of that economic anxiety and populist discontent. But it was even driven more by the rise of LGBT rights, the acceptance of trans people. One way reading the manifesto is to say in that mix of social conservatism, libertarianism and foreign policy views, social conservatism got the raw deal. We cut taxes again and again. We started wars abroad. Those factions got what they wanted. But we backed you for 40 years. What did it get us? Gay people can get married. Abortion is still legal. Trans people are increasingly being accommodated, whether it's in public restrooms, in public schools. And they think our causes, the causes dear to religious conservatives. There's no progress on that front.
BROOKE GLADSTONE There was a kind of existential urgency, I think, because birth rates were plummeting and marriage rates were down. It was also politically opportune because of Trump?
MATTHEW SITMAN Yes. Trump was a kind of wrecking ball. The language used around economics about American workers being ripped off at almost every point, Trump pushed against the consensus.
[CLIP]
PRESIDENT TRUMP What's happening with China? What's happening with Japan? What's happening with Mexico? They're just absolutely eating our lunch. It's a shame. It's terrible. So I have to stay true to my principles also. And I'm a conservative. But don't forget, this is called the Republican Party. It's not called the Conservative Party. You know, there are conservative parties just called the Republican Party. [END CLIP]
MATTHEW SITMAN Once you have all the conservative magazines and funders and intellectuals and policy people lining up with the nationalists idea, that's basically the Trumpification of the conservative intellectual movement. The nationalism might be the most important and broadly supported of the illiberal ideas percolating on the right. You mentioned declining birth rates. They actually used the language of displacing American citizens.
BROOKE GLADSTONE The displacement of white people and the plummeting birth rates of white people.
MATTHEW SITMAN That's right. Trump put immigration at the center of what the Republican Party and conservative intellectuals are thinking about right now. This past summer, in July at the Ritz Carlton.
[CLIP]
If people could come in and take their seats-- [END CLIP]
MATTHEW SITMAN There was a meeting of national conservatives.
[CLIP]
I'd like to introduce our keynote speaker here. [END CLIP]
MATTHEW SITMAN Embracing the term nationalism. That was the new brand.
[CLIP]
No one saw it coming that the next big thing of the 21st century would be the nation state.
The case for American nationalism is self evident.
Nationalism is gonna ask hard questions. It's gonna ask how does our country stack up against other countries? How does it compare? [END CLIP]
MATTHEW SITMAN Everyone was there. Conservative intellectuals like Rusty Reno, who edits First Things where Against The Consensus was published. A sitting senator like Josh Hawley--
[CLIP]
JOSH HAWLEY The leadership class have attempted to build a new state in their own image, one that exists cut off from our history, separate from our shared beliefs, beyond borders and beyond belonging. That project has failed. [END CLIP]
MATTHEW SITMAN Tucker Carlson, the Fox News host.
[CLIP]
TUCKER CARLSON There's nothing inherently wrong with nationalism. In fact, it should be the default setting for a nation, right? I mean, by definition. [END CLIP]
MATTHEW SITMAN But what was interesting was the way they were uncomfortable invoking race specifically, they'd use more euphemistic language.
[CLIP]
There has to be a return to national tradition. Anglo American traditions of constitutionalism, the common law, the English language and the Christian religion. [END CLIP]
MATTHEW SITMAN But at one point, Amy Wax, a University of Pennsylvania law professor, let the mask slip and she said, you know, in the immigration policy I want, it will mean more white people. She offered a decoder ring for all this, that all the language you can use about cultural heritage, about Anglo American traditions, Judeo-Christian values. Really, you're talking about race.
BROOKE GLADSTONE So this piece that ran in First Things about the dead consensus, it boasted a really hefty roster of coauthors.
MATTHEW SITMAN This was one flag that was planted where a rejection of the old ideas and an embrace of something closer to Trumpism was made explicit. But if you take a step back, one of the most interesting ways to understand how conservative intellectuals are relating to Trump can be seen in the figure of Rusty Reno, who's the First Things editor. When Trump was running in the Republican primaries, and it wasn't quite certain whether he would win or not, National Review published an against Trump issue. Reno contributed an article why he was against Trump. He eventually endorsed him for president, but a bit grudgingly. And then after Trump was inaugurated, he kind of was a little more keen on Trump. But he said, you know, if Trump implements the policies he's spoken about-- a more restrictive immigration policy--Reno would stand up and speak out against Trump if any of this was implemented in a cruel or unjust way, that was in January of 2017. Now fast forward to last summer, July 2019. Reno was speaking openly about nationalism.
[CLIP]
RUSTY RENO The nation is a political community and a shared way of life. It is not a clan bonded together by family ties. As a consequence, patriotic love is a great cure for our self-love. A cure, indeed, that is more powerful than clan and family ties. [END CLIP]
MATTHEW SITMAN Reno did not utter a word about any of what we're seeing at the border. Kids in cages. Family separation. The deeply inhumane conditions people are being kept in. And so you see the movement from opposition to lukewarm acceptance to now openly embracing nationalism, turning a blind eye toward the injustices he once said he would speak out against. And that is emblematic, I think, of a lot of conservative intellectuals.
BROOKE GLADSTONE You used to be a conservative yourself?
MATTHEW SITMAN Yes.
BROOKE GLADSTONE Now you have a podcast called Know Your Enemy.
MATTHEW SITMAN Right.
BROOKE GLADSTONE What happened?
MATTHEW SITMAN Well, that's a long story. But I was especially in college and graduate school, very involved in the conservative intellectual movement. The magazines and personalities and ideas I'm describing here were ones I was immersed in. You know, there's that famous line attributed to Winston Churchill that if you're not a liberal when you're young, you have no heart. And if you're a conservative when you're older, you have no brain. Something like that. My experience was the opposite. I started out a young conservative and then as I saw an experienced more, I realized that people suffered and struggled for reasons that had nothing to do with their own virtue or hard work that a lot of the conservative tropes about why people are poor, why people might need government assistance, or the general idea that you could pull yourself up by your bootstraps and make it. That just didn't map onto the people I knew and what they were going through. I dug into the history more and I realized how central race and racism was to the rise of the right. Economically, I just did not believe anything conservatives were selling anymore. And in general, too, you know, I grew up in a very working class conservative home connected to traditional religious values. And while I'm still religious, my views on a lot of those hot button social issues have changed, too. I'm writing about institutions and ideas and people and programs that I have familiarity with. And so I both try to understand them, but also level the critiques that I feel like I'm well positioned to make because I have experienced this.
BROOKE GLADSTONE So for the record, give me a definition of illiberalism.
MATTHEW SITMAN Well, one feature of illiberalism is I think it's amorphous quality right now. And there are different strains. There's the nationalism. There's the Catholic integralism, more almost theocratic, the temporal power subordinate to the spiritual power, which to say the Catholic Church. You have a political theory critique of liberalism that you find in the work of someone like Patrick Deneen, who wrote a book called Why Liberalism Failed, which is on President Obama's reading list a summer or two ago. So it's a mansion with many rooms in it.
BROOKE GLADSTONE It sounds like all the rooms are shaped a little anti-democratically.
MATTHEW SITMAN Well, the connection between liberalism and democracy is a complicated one. But what I would say is that liberalism is a political philosophy, not the partisan contemporary political meaning, but liberalism is a political philosophy grounded in individual rights, human equality, certain features of the political order like the rule of law, due process, constitutional governments. Those features of liberal politics are what they're rejecting, especially the individualism and the equality of it. You raised the issue of how this illiberalism relates the term undemocratic. That's it. When you take aim at human equality that we're all equal individuals who possess certain rights. That's also the basis not just of, say, a liberal judicial order, but the foundation of democracy. One person, one vote. That's rooted in individual equality. That is what they're rejecting. They're saying that actually they know better that the key is to implement the highest good the order they think is true and just.
BROOKE GLADSTONE We were talking about how abstract a lot of the illiberal formulations are and how they play out in the real world. Can you connect some of those dots?
MATTHEW SITMAN Sure, I can try. Connecting the dots is difficult sometimes because when you're talking about abstract ideas, it's not always fair to take something written in an essay and First Things and point immediately to something on the ground. But it's worth asking how ideas and arguments at a fairly high intellectual level condition us to accept certain things. That language of acceptance and permission is how I would connect the arguments to the on the ground realities. You're not going to hear a lot from these people about the kids in cages. The elections in Kentucky won by a Democrat when the Republican legislature said, well, we might actually install the Republican candidate as the governor. You're not going to hear the kinds of intellectuals we've discussed point to that and say that's not good. You're not going to hear them say maybe it's a problem that a presidential candidate can win millions fewer votes and still take the office. So the undemocratic moves we're seeing on the ground, it's not that they always explicitly affirm them, it's that they create the conditions in which they're tolerated, that they're talking in ways that downplay democracy and the rights we all have. And when they reject something like liberal proceduralism,
BROOKE GLADSTONE You used air quotes then.
MATTHEW SITMAN Right. What does that mean? If you're from the wrong group, you don't get your day in court? You don't have certain protections? You can be arrested and deported at the whims of a president? What does it actually mean? Of course, there are problems with liberalism. As someone on the left, I have my own critique of mainstream liberal politics. But the total rejection of it trying to go behind it is extremely worrying.
BROOKE GLADSTONE Behind it. What do you mean?
MATTHEW SITMAN Well, the valorous nation of order, more traditional forms of community before women were treated as fully realized human beings, before LGBT people had any kind of rights at all.
BROOKE GLADSTONE Toxic nostalgia
MATTHEW SITMAN It is a kind of nostalgia.
BOB GARFIELD Coming up, the blueprint for democracy's demise.
BROOKE GLADSTONE This is On the Media.
BOB GARFIELD This is On the Media. I'm Bob Garfield.
BROOKE GLADSTONE And I'm Brooke Gladstone with Matthew Sitman, an editor of Commonweal and co-host of the Know Your Enemy podcast. A couple months after First Things published Against the Dead Consensus. It followed up with a piece by New York Post Op Ed editor Sohrab Ahmari, one of the 15 behind the original manifesto. This one was titled Against David Frenchism. David French, as an editor at The Dispatch, constitutional lawyer, noted Never Trumper. And according to Ahmari, an ideological dinosaur.
MATTHEW SITMAN David French stands in for the old consensus in a way that did embrace classical liberalism in the broadest sense of what that term means. It at least recognized that people have individual rights and that the procedures and institutions of the American political system were worth supporting, because even if you didn't get your way all the time, you could fight in the court system for your rights. It's notable that French is a longtime litigator on behalf of religious liberty causes.
BROOKE GLADSTONE Religious liberty, if I can boil it down, I think, "I don't have a right to say who you can marry, but you don't have a right to force me to bake a cake for your wedding."
MATTHEW SITMAN I think David French is still against same sex marriage, but in general it is a more live and let live philosophy. You let me practice my religious faith the way I want. I don't have to bake that cake. My religious institution gets to hire who it once and so on. But the flip side of that is a recognition that other people have rights. The article that you mentioned that Sohrab Ahmari wrote against David Frenchism, he was taking aim both at that substantive view and the kind of civility and niceness of David French. That article was occasioned by a drag reading at a public library in California that Ahmari saw an ad for on social media, either Twitter or Facebook.
BROOKE GLADSTONE So people in drag were reading--
MATTHEW SITMAN to children at a public library and it was kind of,
BROOKE GLADSTONE Oh, the horror.
[CLIP]
They often draw hundreds of parents and children. And it is a threat and it is demonic because by the description of the organizers themselves, it aims to "promote a glamorous, unabashedly queer role model for kids." [END CLIP]
MATTHEW SITMAN This caused Ahmari to snap and was the immediate cause of the article you just referenced, because Ahmari just thinks, no, that's wrong and it shouldn't happen. And David French says, well, you can't ban certain groups of people from using public libraries in this way.
[CLIP]
DAVID FRENCH You cannot take these things on a case by case basis and establish rules that say free speech for me and not for thee. Because then you better be sure that the me is always in charge. And in this country, the me will not always be in charge. [CLIP]
BROOKE GLADSTONE But Ahmari says if you let people have those rights, you are normalising things that are profoundly wrong.
MATTHEW SITMAN Right.
BROOKE GLADSTONE I loved that he was worried about normalising things.
MATTHEW SITMAN It ends up being again, a very good way into this approach that the new post Trump conservatives are taking because Ahmari described politics there as defeating the enemy, reordering the public square to the common good and ultimately the highest good capital, H capital G. Now, Ahmari is a convert to Catholicism. So what he means by that is that our public political life should point us toward our final spiritual end as religious creatures.
BROOKE GLADSTONE So began the enduring Ahmari French debate.
[CLIP]
SOHRAB AHMARI I would define David Frenchism as a program for negotiating Christian retreat from the public square into a safe private sphere that overweening, aggressive liberalism would have us retreat into. And I'm not prepared to retreat. And so I oppose David French. [END CLIP]
DAVID FRENCH You know, my approach from the beginning has been to aggressively, offensively, but not offensively. Offensively use the instruments of liberalism to expand the place of Christians in places that do not want Christians there. And so the idea that I am in any way, shape or form an agent of retreat or surrender is completely false. It's a product of this weird Trump era that says that I'm an agent of surrender unless I get on board with him. No, I just have a new enemy in him also. And so that's Frenchism. [END CLIP]
BROOKE GLADSTONE New York Times Op Ed writer Ross Douthat said that it was actually a full employment bill for conservative pundits.
MATTHEW SITMAN I think it caught on the way it did because of condensed the debates happening on the right. Immigration, economics, foreign policy. There's a lot of pieces to it. But this very helpfully reduced it to two symbols, Ahmari standing in for one view and French standing in for another. And this was a debate that everyone wrote about.
BROOKE GLADSTONE The editor of First Things, R.R. Reno, he said that the animating spirit of this pro Trump branch of conservative intellectuals is that something else is needed besides just classical liberal limited government commitments. But they don't have any certainty about what that something ought to be. They don't know, really what they want.
MATTHEW SITMAN Right. That's been one of the most notable features of these debates and arguments roiling on the right is what do those who are against the dead consensus actually want? For example, after Ahmari published his piece against David Frenchism, I believe it was Jane Coaston, a reporter for Vox who asked him, well, what do you want? And one of the examples he gave was longer paid maternity leave. Now, I'm sorry, when I read you saying that politics is about enmity and war and reordering our politics to the highest good. I don't think that means longer paid maternity leave.
BROOKE GLADSTONE He wants more women to stay at home having babies.
MATTHEW SITMAN Right. I'm sure he does want longer paid maternity leave, but those small bore minor policy fixes are not matching the rhetorical force of the way they're writing. So I think they have been a bit coy about what they want.
BROOKE GLADSTONE They believe home matters. They want a country that works for workers. They reject attempts to compromise on human dignity. But it is awfully general.
MATTHEW SITMAN You're right. Say, when it comes to American workers and the note of economic populism, they hit, at least rhetorically. What you don't see is them talking about a certain health care system, about a living wage or a higher minimum wage. This is where I do become more cynical. For instance, Marco Rubio gave a speech at the Catholic University of America unveiling his new economic vision.
[CLIP]
MARCO RUBIO On the political right, where I come from, we've become defenders of the right of businesses to make a profit. The right of shareholders to receive a return on their investment and the obligation that people have to work. All of these things are true, but we have neglected the rights of workers to share in the benefits they create for their employer. And we've neglected the obligation of businesses to act, also in the best interest of the workers and ultimately the country that have made that success possible. [END CLIP]
MATTHEW SITMAN You know, this happens every few years. Call it compassionate conservatism, Sam's Club Republicanism. When Paul Ryan a few years ago was trying to talk about poverty a lot. They're always trying to rebrand their particularly ghoulish version of right wing economics. Now, you would think in a speech where you're trying to tap into some of the discontent out there.
[CLIP]
MARCO RUBIO They know that homeownership is nowhere in sight, And then they'll rent if they want to move out of home, but that's gonna be about 55 to 60 percent of whatever you're gonna make. They're angry at a system that has rigged has been rigged against them and rigged against them by the very people who created every single one of these problems may cause the catastrophic financial crisis and left us with this disordered economy. [END CLIP]
MATTHEW SITMAN But he didn't mention unions at all. He didn't talk about a higher minimum wage. So what are they actually doing for workers? My sense is that a lot of the economic populism really is a way of doing the culture wars in a different idiom. So the focus would be on immigration and keeping out those who might so-called take jobs from American workers rather than actually implementing the policies that would force corporations to behave differently, that would take more money from the extremely rich to fund social services and programs that help working to middle class families.
BROOKE GLADSTONE I've been calling them, you know, the dead consensus guys, but really, I should call them advocates of illiberalism, right?
MATTHEW SITMAN Yes. And I think they would embrace that term. They are critics of liberalism.
BROOKE GLADSTONE When we talk about the illiberal right, they believe increasingly and especially under the Trump presidency, that--
MATTHEW SITMAN The ends justify the means. It's what you give yourself permission to abide by. It's what you're willing to overlook. Or in the case of immigration, what you're willing to just not talk about.
BROOKE GLADSTONE So simply the higher good becomes the justification for the kinds of behavior you would have been obligated to reject. Can it justify the creation of an authoritarian state?
MATTHEW SITMAN I would hope not. If you are a believing Christian who believes in a highest good. That should determine not just the ends, but the means. But I think in practical politics that gets lost. When you look back to recent conservative history, even a magazine like First Things under its former editor, Richard John Neuhaus, who was a conservative Catholic priest, they ran a symposium in the 1990s about the judiciary and democratic political life. They were extremely concerned that the judiciary was imposing liberal values. What was interesting about it was not that conservatives disagreed with liberal judges. That's to be expected. But what they did was say these liberal judges are thwarting democracy. The majority really does believe what we do. There is a moral majority. They use the language of democracy against liberal elites. Today, they are no longer speaking the language of a democratic majority of the people being with them. They are saying we must crush our enemies. They've moved from that defensive democracy to say we want to get our way because we are right. We know what the highest good is. That move from democracy to simply saying we're right is the essential thing because nowhere in Sohrab Ahmari's piece, does he say? I really think most people are with me. He says, no, we must reconquer the public square in order to the highest good. You don't see any of these intellectuals really appealing to democracy in the way majority was invoked. in the symposium I referenced in the 1990s, they think they're entitled to power, but they also are not grappling with the fact that they might not really have a majority behind them.
BROOKE GLADSTONE There hasn't been a poll taken that suggests that they do right.
MATTHEW SITMAN So we know Trump won 3 million fewer votes than Hillary Clinton. We know that due to gerrymandering and assaults on voting rights, Republicans have more representation in Congress than they should based on the amount of support they have. We know that our political institutions are fairly undemocratic, especially the Senate and the Electoral College. You can see a situation arising in which Republicans keep trying to hold onto power despite not being a majority. And my concern is that these conservative intellectuals are creating the conditions, are giving themselves permission to go along with what amounts to authoritarian rule by a political party that doesn't have anywhere close to the support of a majority of Americans.
BROOKE GLADSTONE In your podcast, you quoted from Damon Linker, who is former editor at First Things, as well? And now a moderate?
MATTHEW SITMAN Yes.
BROOKE GLADSTONE He wrote When social conservatives thought that they were the moral majority, it made sense for them to dream of exercising real political power when they recognized that they were a minority. It made sense for them to resign themselves to adopting a defensive posture and preparing to live out their days in a country as dissenters from the reigning liberal consensus. What makes no sense is for social conservatives to think that they can be both weak and strong at the same time a minority that wields the power of a majority. Unless, of course, social conservatives no longer care about democracy.
MATTHEW SITMAN He put it very well, and that's a apt summary of my concerns that I'm expressing. That the key is to implement the highest good to implement the order they think is true. And just the good and the ways you get there matter less.
BROOKE GLADSTONE Matthew, thank you very much.
MATTHEW SITMAN Thank you very much for having me. I really had fun talking with you.
BROOKE GLADSTONE Matthew Sitman is an associate editor of Commonweal and co host of Know Your Enemy, a podcast about the American Right. And we will link to the relevant episode on our website onthemedia.org.
BOB GARFIELD That's it for this week's show. That's it for this week's show. On the Media is produced by Alana Casanova-Burgess, Micah Loewinger, Leah Feder, John Hanrahan, and Asthaa Chaturvedi. We had more help from Charlotte Gartenberg and our show was edited by Brooke. Our technical director is Jennifer Munson, our engineers this week were Sam Bair and Josh Hahn.
BROOKE GLADSTONE Katya Rogers is our executive producer, On the Media is a production of WNYC Studios. I'm Brooke Gladstone.
BOB GARFIELD And I'm Bob Garfield.