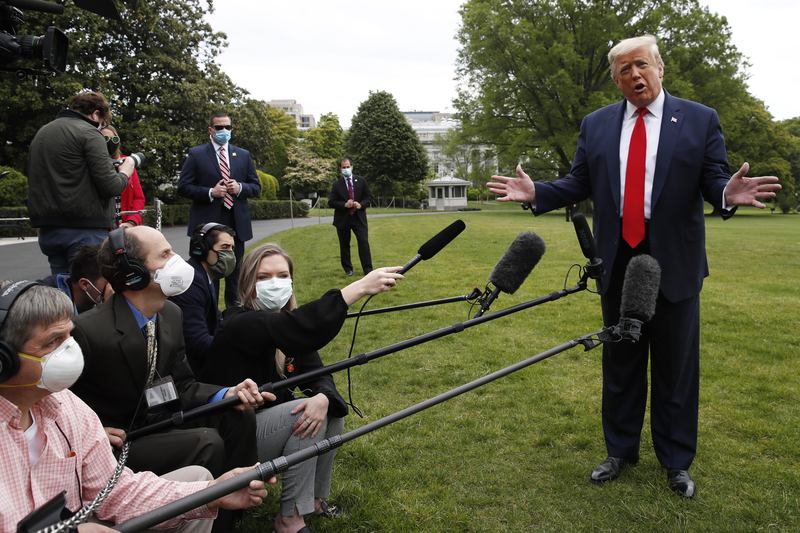 Transcript
Bob Garfield From WNYC in New York, this is On the Media.
Brooke Gladstone is out this week. I'm Bob Garfield. In the course of the COVID-19 pandemic, we've seen all manner of messaging from political leaders, perhaps none so telling as the declaration this week from British Prime Minister Boris Johnson.
[CLIP]
Boris Johnson You've put up with all the hardships of that programme of social distancing, because you understand that it's the only way to defeat the coronavirus, the most vicious threat this country has faced in my lifetime. [END CLIP]
Bob Garfield Well done, you lot. Your perseverance and sacrifice have saved our nation. Now, please stop persevering.
Boris Johnson We said that you should work from home if you can, and only go to work if you must. We now need to stress that anyone who can't work from home, for instance, those in construction or manufacturing, should be actively encouraged to go to work.
Bob Garfield This is what you call a mixed message, which is what tends to happen when politicians are forced to make the stark choice between the public's immediate welfare and political ideology or the outlook for the next election. Here in the USA this week, a conservative majority Wisconsin Supreme Court in overturning the Democratic governors science informed decision privileged the right to roam freely over the right to not be fatally infected by a loved one or random stranger.
[CLIP]
NEWS REPORT A major decision on stay at home orders that could reverberate nationwide. The Wisconsin Supreme Court overturning the state's mandate to stay at home as unenforceable under state law. [END CLIP]
Bob Garfield In the crossfire of such mixed messages, and in a vacuum of reliable information, leadership and trust. Is it any wonder that the public turns to alternative sources of information. Across the world, over the past roughly two weeks, millions of social media users have invested trust not in the authorities, but in the ravings of a discredited anti-vaxxer or about broad conspiracies to sicken the world.
[CLIP]
Judy Mikovits The game is to prevent the therapies till everyone is infected and push the vaccines, knowing that the flu vaccines increase the odds by 36 percent of getting COVID-19. [END CLIP]
Bob Garfield In an existential crisis, authority matters. And so this hour we're considering the use and abuse of information at a moment in human history when survival depends on well-placed trust. It's about communication, not of a virus between one person and another, but of reliable information from those responsible for leading us out of catastrophe. We begin at the White House.
[CLIP]
Donald Trump All throughout the country, the numbers are coming down rapidly. [END CLIP]
Bob Garfield Not true. In various hotspots around the country, infections and deaths are skyrocketing. And the administration knows that because they have data reflecting extreme spikes of infections in heartland states that are the heart, most of all of Trump country. But as reported in a scoop from NBC News this week, those data were not made public nor even passed on to the authorities in the affected states and communities.
Phil McCausland reports on rural issues and the social safety net for NBC News. He was one of the journalists who broke the hidden data story. Phil, welcome to OTM.
Phil McCausland Thanks for having me.
Bob Garfield So, first of all, what did the report identify?
Phil McCausland The part identified quite a few locations across the country that are of concern. Well, I think it's particularly notable because, you know, so much of the media has focused on the coasts where we've seen such incredible spikes in New York and California. But now we're beginning to see the growth of the virus in small towns in Minnesota, and Kansas City, in Charlotte, North Carolina, where we may not have seen such a huge outbreak prior to this.
Bob Garfield Now, a few cases of a small area can create large percentage spikes. Going from one case to three is a 200 percent increase. What are we to make then of, let's say, Central City, Kentucky, where there were six hundred and fifty percent spike over a seven day period in that particular instance?
Phil McCausland There's a prison there where there's been an incredible spike. You know, the White House press secretary pushed back against this document, saying some of these locations are where prisons are, or where meatpacking plants are and disregarded the data for that reason.
[CLIP]
Kayleigh McEnany So I would just say that this was a quote. This is proof that the system is working, that we're able to identify what the president said are embers and put them out. And it's the system at work. [END CLIP]
Phil McCausland But I think that's also disregarding the important presence that those places have. A prison is a huge employer in that area. And I mean, prisoners are people as well.
They're getting sick. And then those correctional officers go home and spread the disease potentially to their families and to their communities. Meatpacking plants, we published a story today about what in Minnesota where there is a spike and it's slowly beginning to spread in the local community. So these are concerning no matter if it's a meatpacking plant, a prison or otherwise. All of these communities are beginning to become hotspots, and that is why I think the White House is keeping an eye on them.
Bob Garfield Now, I'm no public health official, but if I were responsible for trying to contain the embers, in my jurisdiction, I'd want all the available data to help me direct my resources and my restrictions where they are most urgent. The White House didn't make these data public to you, to the press. You had to dig them up. What about state and local officials? Have they also been left in the dark?
Phil McCausland Yeah, I think I think numerous health officials have come out since the publication of this document who said, A) we were totally unaware, and we've been blindsided by this data. I think a lot of people and medical workers say this too who have interviewed say the feds in some ways have left us to fight a battle with a squirt gun. So as they continue to be left in the dark, I think you see a lot of local officials who are deeply frustrated and deeply frightened. Especially as these communities begin to open up again.
Bob Garfield On the face of it, Phil, it's outrageous that the White House would bury crucial information about hot spots, especially such alarming ones. But you say that it's pretty typical for the federal government to release such tracking data if and only if it chooses to. Which, also may mean if it's politically advantageous.
Phil McCausland Yeah, I think we've seen elements of that. The Senate Help hearing on Wednesday, for example, we saw a few Trump officials promote the elements of testing.
[CLIP]
This may be hard to see, but if you look at the line on top, that's the total numbers of tests done by the United States. No other country in the world comes close to the total numbers, again, as the president has said. Today, we will top over 9 million tests.
[END CLIP]
Phil McCausland We see all kinds of different things to celebrate from the administration, but rarely do we see numbers or anything coming from them that might show an honest picture of how difficult this has been to contain. And I think that is maybe a troubling element for some state and local officials that as this continues, the federal government is attempting to take a back seat, and rather than have some top down leadership, they're very much leaving things to local officials and state officials to make decisions when they may not be equipped to be able to respond. For example, in Chattanooga, the mayor there is very much pushing against trying to reopen out of concern that there is not enough testing. He doesn't actually know the spread of the disease. But meanwhile, the Tennessee governor has pushed to reopen the state. And so his hands are tied to some degree. I've also done some reporting in Minnesota where we've seen a spike around the St. Cloud community. They've decided to reopen. They've sent a letter to the governor pushing him to reopen because they think their small businesses are going to collapse and die. And I think it comes down to that devil's bargain of what is the price of a human life.
Bob Garfield Well, on the subject of politics, Central City is represented on the federal level by two of the most vocal politicians fighting to reopen the economy. Is there a way to connect the political leadership of Kentucky and the rush to open up the economy to these clusters such as Central City? The 650 percent spike community.
Phil McCausland In Kentucky, you do have two leaders there. Rand Paul and Senate Majority Leader.
Bob Garfield Mitch McConnell.
[CLIP]
Mitch McConnell President, our task in the weeks ahead will be to keep seeking thoughtful solutions that are not just for the very short term but will help pivot toward a phase reopening. [END CLIP]
Phil McCausland Who are very public facing within all of this. And Rand Paul, especially as a doctor, I think people may look to him as an example. But seeing him during that help committee hearing, not wearing a mask and pushing against Dr. Fauci's characterizations.
[CLIP]
Rand Paul As much as I respect you, Dr. Fauci's. I don't think you're the end-all. I don't think you're the one person that gets to make a decision. [END CLIP]
Phil McCausland I think was pretty startling for a lot of folks. But overall, whether they're looking to them for how to act within the pandemic, I think they're probably looking to them more for the next coronavirus relief bill, and what decisions they'll be making around that.
Bob Garfield And I guess it can't help that just when the public needs the straight dope the most - local newspapers are dropping like flies.
Right now is when we depend on local journalism to dig into their own communities, to highlight these issues, to hold their local leaders accountable, to hold their governors and state legislatures accountable. What is really scary is we're going to see a media blackout in regions of the country where some of these hotspots might pick up. And we may not be able to note that pickup as quickly as we could if we had journalists on the ground asking questions, knowing the regions really well, knowing the leaders really well, and asking difficult questions.
Bob Garfield Phil, thank you for joining us.
Phil McCausland Yeah. Thanks so much for having me.
Bob Garfield Phil McCausland reports on rural issues and social safety net for NBC News.
Coming up, there's a playbook for leadership and a pandemic. Guess who hasn't cracked it? This is On the Media.
This is On the Media. I'm Bob Garfield. Opacity, as we've heard, is antithetical to public health and a pandemic. But there are more ways to undermine public trust and cooperation than suppressing bad news. Because when news is bad, or simply uncertain, human behavior can go in all the wrong directions. But for public health authorities, this is not their first rodeo.
Through polio in the 1950s, to H1N1 in 2009, to Ebola from 2014 to 2016, their experiences coalesced into a compendium of best practices for informing the public. A literal playbook published by the CDC's Epidemic Intelligence Service. It's dedicated to the Do's and the please, please, please don'ts of pandemic communications. In a recent New Yorker article, Charles Duhigg wrote "The Tale of Two Cities: Seattle and New York Struck Back to Back with Coronavirus Outbreaks." One city's leaders followed the CDC guidelines to the letter. The others did not. But before we go there, let's begin with what does the playbook recommend?
Charles Duhigg One of the very strong suggestions in that field book is that when it comes to health advice and scientific updates, put the scientists front and center. And Richard Besser, who used to be the acting director of the CDC, I think he put it best when he said, look, the problem is if you put a politician on the stage, there's a very realistic chance that 50 percent of the audience is going to do the opposite of what he or she says, because they didn't vote for that person. They don't trust that person. They don't like that person.
Bob Garfield And what should that spokesperson be saying?
Charles Duhigg They should primarily be doing two things. The first is to make a statement of empathy, because you want the listener to know that the person who's giving them advice has their interests first and foremost in their mind. And then the second thing that they need to do is they need to say what they know and what they don't know.
Bob Garfield That should go all Donald Rumsfeld and talk about "known-knowns", "unknown-knowns", "known-unknowns" and so forth.
Charles Duhigg That's exactly right. And they should do it as simply as possible. In fact, in the CDC is Epidemiology Field Manual. What they recommend is before every single press conference, before every single interview, you sit down and you figure out what's known as a SOHCO, which is a single overriding health communication objective. People are panicked when they're talking about health. Right? When I'm listening to someone talk about a pandemic, I am anxious. And that means that I'm going to listen and absorb much less information than normal. And so what the communicator, the scientist or the spokesperson wants to do is they want to figure out what is the one piece of essential information that I can communicate and how can I say that in the fewest number of words, and how can I repeat it again and again and again? Richard Besser, the former acting head of the CDC, told me that before he did press conferences, he would actually sit down with his SOHCO, which would just be one or two sentences, and he would remove as many words as he can. And then you say it at the beginning of the interview, you said at the end of the interview, you see it throughout the interview. That's why during periods of this coronavirus pandemic, you would hear spokespeople say things like wash your hands and cough into your elbow. They would say it again and again and again.
Bob Garfield A good example of this playbook in action you say happened during the Obama administration with the H1N1 epidemic. What happened there?
Charles Duhigg When the H1N1 pandemic was first detected in the United States and was a very serious outbreak, over 12,000 Americans died. Over 700 school districts were shut down. The reason we don't particularly remember it is because the response from the Obama White House was almost a picture perfect adherence to the principles of communication that the CDC has put forth about how we ought to speak and behave during a pandemic. Obama actually said very little publicly about H1N1. Instead, he handed off communications to the director of the CDC, who at the time was Richard Besser and was replaced by a guy named Tom Frieden. And what would happen is that those scientists would stand up and give a briefing every single day at noon from the CDC.
[CLIP]
Besser Let me provide for you an update in terms of where we are today and what kinds of public health actions are being taken here as well as abroad.
Besser Today, we can confirm that there are 20 cases of swine. [END CLIP]
Charles Duhigg And Obama stayed in the background. He only spoke about H1N1 a few times. And when he did, he always took great pains to compliment the Republicans.
[CLIP]
Barack Obama The Bush administration did a good job of creating the infrastructure so that… [END CLIP]
Charles Duhigg He was trying to signal to folks this is something that transcends party divisions. And we're giving you advice based on science.
Bob Garfield At the outset of this, we said that it would be a tale of two cities, New York, but also Seattle.
Charles Duhigg Seattle was the first hotspot.
[CLIP]
NEWS REPORT There were 27 confirmed cases yesterday. There are now 39. We don't know how many cases are really out there. That is why. ..[END CLIP]
Charles Duhigg Seattle has essentially controlled coronavirus. Not only did they do the things that the CDC handbook recommends, like putting the scientists front and center.
[CLIP]
Kathy Lofy My name is Dr. Kathy Lofy. I am the state health officer at the Washington State Department of Health. And I want to give you a little bit of an update. [END CLIP]
[CLIP]
Kathy Lofy I want to add my voice to Dhows to send our deepest condolences to the loved ones of those who have passed. And our heartfelt the most important those who are. [END CLIP]
[CLIP]
State Official Steps that individuals can take to improve their health and decrease their risk of getting sick. Currently, our basic hand hygiene. Wash your hands frequently. More hand-washing. [END CLIP]
Charles Duhigg But equally, they started a conversation very early where they said we need to shut everything down. Jeff Duchin, who's the top public health doctor in Seattle, turned to one of the top politicians and he said, if I had my druthers, what we would do is we would shut everything down today. Then he said, look, I knew that if we said that today, no one's going to follow our advice. In fact, we're going to undermine our credibility because they're going to think that we're overreacting. So the question is, if we want to tell everyone to stay home four days from now, what do we say today to get them ready for that? So not only did they start having press conferences with that principle in mind, they also started taking other actions. For instance, Dow Constantine, who's the top politician of King County, which includes Seattle, called Brad Smith, who's the president of Microsoft. And he said, I want to ask you a favor. Tell all of your employees to stay home from work tomorrow. Now, Microsoft at that point had not had one diagnosis of coronavirus, but Dow Constantine and Brad Smith knew that if Microsoft stayed home, it would send a message to the entire state. This is so serious that Microsoft, this huge company, is telling everyone to stay home. I need to start taking this more seriously myself. Amazon also agreed to ask all of its employees to stay home from headquarters.
Bob Garfield So it was modeling on a mass scale?
Charles Duhigg Absolutely. And it made a drastic impact. One person told me that he woke up the next morning, drove to work, and there was 100,000 cars missing from the highway because of Amazon and Microsoft employees who'd stayed home. He knew something serious was going on because the streets were empty. The same thing is true of closing schools. When cities shut down schools to stop the spread of coronavirus, part of it was that kids are a vector for transmission. But the other part of it is that it sends a message even to people who aren't parents. Things are serious.
Bob Garfield So that was Seattle. Then there was New York where it played out very differently. Mayor Bill de Blasio And also when the threat first emerged, Governor Andrew Cuomo took precisely the position that the handbook says you shouldn't take.
[CLIP]
Bill de Blasio It's important. Just go about your lives. [END CLIP]
[CLIP]
Andrew Cuomo The facts are not very frightening. [END CLIP]
Charles Duhigg That's right. And that's an understandable instinct, right, as a political leader. You want to help people calm down. It's also worth noting that Mayor de Blasio had been applauded for doing that in the past. A few years earlier, there was a patient with Ebola in New York City. And Mayor de Blasio, after the patient recovered, gave that patient a hug in public. He went to the restaurant where that patient had eaten to show that things were safe now. You don't have to be worried about getting Ebola.
[CLIP]
NEWS REPORT Meatballs for the mayor, his wife and the city's health commissioner. Four days after the city's now only known Ebola positive patient ate here. And two days after the patient, Dr. Craig Spencer, was admitted to Bellevue Hospital diagnosed with Ebola. [END CLIP]
Charles Duhigg It just turned out that in the coronavirus case, that was the wrong thing to do. And in his defense, you know, most people didn't understand how contagious, how deadly the coronavirus was at that particular moment. Now, the problem is that epidemiologists did understand that, including his own health department, because they were watching Seattle, because they were watching Wuhan, and they were kicking and screaming and saying, do not tell people to go to the movies. Do not tell people that this is not a big deal. In fact, they were saying shut down the restaurants, shut down the bar, shut down the schools. And de Blasio was resistant to doing so.
Again, in his defense, he had good reasons to be resistant. One of the arguments that he made was if you shut down all of New York City's schools, it disproportionately negatively impacts our most vulnerable kids. There was also small business owners who have been devastated by these shutdowns. But the Department of Health said, no, this coronavirus, it is it is bigger than those concerns. And in fact, some of them felt so strongly that they marched into his office and told people in city hall that they were going to quit and resign, if de Blasio did not shut down the schools and the bars and the restaurants. And eventually the mayor and the governor did exactly that. But by then, the coronavirus had escaped, and at this point, over one in every 600 residents of New York City has died because of COVID.
Bob Garfield Now, once the severity of the infection had become all too obvious and once the death toll started to mount and once the hospitals began to be overwhelmed, both de Blasio and Cuomo came around and they, for the most part, started governing as if they understood the stakes. And Cuomo in particular, was practically venerated for his daily press conferences.
[CLIP]
ANDREW CUOMO Only essential businesses will be functioning. People can work at home. God bless you, but only essential. [END CLIP]
Bob Garfield And as such, though, Cuomo violated principle one of the playbook. You know, let the public health officials do the talking.
Charles Duhigg The problem is that this is all being done in the context of President Trump having a daily briefing. And so Andrew Cuomo stepping forth and becoming the spokesperson for a data driven and scientific approach to dealing with the pandemic as opposed to a political or emotional approach. I don't think that's a terrible idea because I don't know that a scientist would as easily become the foil, or the counterpoint to what the president is saying from the White House.
Bob Garfield We are speaking on Wednesday. On Tuesday, Dr. Anthony Fauci testified before the Senate, issuing warnings about the likely trajectory of the disease.
[CLIP]
Dr Fauci Even under the best of circumstances. When you pull back on mitigation, you will see some cases appear. [END CLIP]
Bob Garfield And the gaps in our federal and local response in direct contradiction to various, uncorroborated assertions by the president. What happens when we get to see the conflict between those following playbook item one and those not following it? Essentially speaking at the same time and leading the public to very different conclusions.
Charles Duhigg The real risk that we're seeing right now is that when we see such confusing advice, it just raises the stakes that someone sitting at home is going to say, you know what? I'm not going to listen to anyone and that that person goes outside without a mask. They congregate with a bunch of other people. The virus spreads. It starts to exponentially move through a community. And as a result, more people die.
Bob Garfield I'm just following that thread in my mind, and it's — it's just kind of whelmed me.
Charles Duhigg Literally right before we started talking. I was talking to a friend of mine whose brother just passed away, like literally, a week and a half ago. He was a doctor in Manhattan. It's really easy, particularly when we're watching TV and this seems like just another chapter in a political battle that's been going on for four years, but particularly living in New York. And I think, you know, this the toll is immense. It is not a contest of perspectives or a contest of who ought to be right or moral superiority. It's a scientific question. And the more that we step back and we listen to the science and we listen to the scientists. The more lives we are going to be able to save.
Bob Garfield Charles, thank you.
Charles Duhigg Thank you.
Bob Garfield Charles Duhigg is the host of the podcast How To with Charles Duhigg. His article in The New Yorker is titled Seattle's Leaders Let Scientists Take the Lead. New York's Did Not.
Coming up, if a rotten tree falls in the forest and millions watch it on YouTube. Well, not good. This is On the Media.
This is On the Media. I'm Bob Garfield. Haphazard communication from politicians, distrust in the news media and an ever toxic online ecosystem have created a contagion of their own. One the World Health Organization has called the infodemic here and abroad, because coronavirus can't just be a natural pathogen doing what viruses do. There must be something else, something evil or nefarious or greedy, but definitely human behind it, like Wi-Fi.
[CLIP]
NEWS REPORT: But what 5G actually does. It absorbs oxygen. The idea being pushed by some, is that the pandemic is caused not by a virus, but by radiation from 5G towers amplified online by celebrities like Woody Harrelson, John Cusack and musician M.I.A.
[END CLIP]
Bob Garfield After watching the conspiracy theories spread throughout Western Europe and Canada, the U.S. Department of Homeland Security began urging telecoms this week to prepare for attacks on cell towers in the United States. And beyond the transmission of infectious foreign rumor, we have our own homegrown paranoia to contend with. According to a Pew survey, nearly a third of Americans believe that COVID-19, was originally developed in a lab. A claim that runs counter to the current overwhelming scientific consensus. And then there's that theory's cousin, that the virus escaped from a lab in Wuhan. Here's Florida Congressman Matt Gates telling Tucker Carlson on Fox how the U.S. subsidized Chinese incompetence or worse.
[CLIP]
Matt Gates The NIH gives this $3.7 million grant to the Wuhan Institute of Virology. They then advertise that they need coronavirus researchers. Following that, coronavirus erupts in Wuhan. [END CLIP]
Bob Garfield What followed, as 60 Minutes recently observed, was a disturbing escalation by the president.
[CLIP]
Donald Trump The Obama administration gave them a grant of $3.7 million. I've been hearing about that. [END CLIP]
Bob Garfield Not long after his administration suspended the NIH grant. Never mind that Trump renewed and increased the same grant last year. Never mind that the money actually went to an American NGO that collaborated with Chinese scientists. Never mind that the money was used to develop a promising drug that was being used in the United States to treat COVID-19 patients. Once a conspiracy theory gets going, it's nearly impossible to contain. Which is why disinformation watchdogs are reeling after a 26 minute video excerpt purporting to be a preview from an anti-vax documentary called Plandemic went super viral earlier this month. Kelly Weill, is a reporter with The Daily Beast. She's used to seeing paranoia, content mostly siloed in fringe online spaces. But Plandemic surged into the mainstream. Feasting on the fear, suspicion and uncertainty surrounding COVID-19, in an unusually slick package.
Kelly Weill It looks like something you might watch on Netflix. It has a lot of the panache of a highly produced, reputable film, which makes it stand out from what we would typically consider a crank conspiracy video. You know, terrible photoshops and muffled voice speaking over them.
Bob Garfield The video clip that we've seen so far, I guess it's something like a quarter of the larger documentary film that's presumably on its way, is based on an extended interview with a discredited researcher named Judy Mikovits.
[CLIP]
Dr. Judy Mikovits has been called one of the most accomplished scientists of her generation. Her 1991 doctoral thesis revolutionized the treatment of HIV AIDS. At the height of her career, Dr. Mikovits published a blockbuster article in the journal Science. [END CLIPS]
Bob Garfield She is a virologist, I gather, who has a long history with vaccines, but a very checkered history. And by the way, she spent some time in jail. Who is this woman?
Kelly Weill Judy Mikovits, if it is a former researcher who used to do a lot of work on chronic fatigue syndrome. Unfortunately, her biggest triumph, which was a breakthrough, she thought about why people have chronic fatigue, turned out to be the result of a contaminated lab culture. In other words, she discovered nothing, and her biggest journal article was retracted. So she's had an infamous claim to fame. And since her fall from grace, she's really spent a lot of time circling alt-health organizations. She has been on the fringes of the anti-vaccination movement. And over the past two years or so, she's really spent a lot of time blaming Dr. Fauci for her downfall.
[CLIP]
Narrator The man who is heading the pandemic task force was involved in a cover up.
Judy Mikovits He directed the cover up. And in fact, everybody else was paid off, and paid off big time. Millions of dollars in funding from Tony Fauci, Tony Fauci's organization, National Institute of Allergy Infectious Disease. These investigators that committed the fraud continue to this day to be paid big time. By the NIAID. [END CLIP]
Kelly Weill She has claimed that he attempted to suppress her work, which we now know was removed from a journal because it was found to be inaccurate. Dr. Fauci has denied that he ever said anything like that. He doesn't appear to have actually interacted with her much, but nevertheless she's made him out to be the sort of scapegoat for her career ills.
Bob Garfield Can you tell me about what got this video clip deplatformed from the main social media outlets?
Kelly Weill Well, large social media outlets, like Facebook, eventually removed the clip because they said it could cause imminent harm. And the reason I think they cited that was because she claimed that not only are facemasks not helpful, they are helpful. She claimed that wearing a face mask activates the virus.
[CLIP]
Judy Mikovits Wearing the mask, literally activates your own virus. You're getting sick from your own re-activated coronavirus expressions. And if it happens to be SARS_cov_2. Then, you've got a big problem. [END CLIP]
Kelly Weill Now, that doesn't mean anything at all. If somebody watches pandemic and they believe everything she's saying in there, then they're very likely not to wear a mask and in fact, to encourage people around them to skip wearing masks. And as we know, that can really cause a detrimental effect to everyone in your surroundings.
Bob Garfield There's a lot going on in Plandemic, but if you had to boil it down, what would you say is the main gist of the video?
Kelly Weill The main gist is one that we see in a lot of anti-vaccination in alt-medicine, and general conspiratorial circles, which accuses public health officials and medical researchers of having nefarious purposes. She seems to imply that doctor Fauci and others in his circle are profiting from this illness.
[CLIP]
Narrator If we activate mandatory vaccines globally, I imagine these people stand to make hundreds of billions of dollars
Judy Mikovits And they'll kill millions, as they already have with their vaccines.
[END CLIP]
Kelly Weill A lot of conspiracy theorists want to undermine public trust in the health apparatus because they believe that they are being coerced into doing things that we know are for the good of the public health. So things like taking vaccinations, which aren't just for you, they're for everybody around you - it builds herd immunity. And a lot of them, like Dr. Mikovits, are promoting their own books and videos for profit. So there is a very direct gain for someone like this to be had.
Bob Garfield Mikovits' book was trending number one on Amazon's bestseller list. One of the things that makes this video, I guess, effective is that Mikovits is portrayed as a victim, someone who has been silenced by the man, a martyr to truth-telling, which I guess is a recurring theme in the conspiracy genre.
Kelly Weill People who believe conspiracy theories believe that they are being acted on very maliciously by an outside group. So there is this built in martyr, persecution complex. So, when someone like Dr. Mikovits says that I'm being silenced, I have the truth that they don't want you to know they are acting against me. And if you listen to me, they're going to act against you. That attracts a lot of people who are already receptive to that sort of message. So although some of us might look at that and say, yes, there's a reason why we don't want you spreading dangerous disinformation, other folks will hear that and say, oh, there's a reason they want her silence. I think that's a very powerful effect.
Bob Garfield The more that the social media platforms take down the video, the more juice it has among its potential audience. They're boasting of how great it is that Facebook and Google are playing to the stereotype of powerful institutions.
Kelly Weill Taking a video down, I think broadly does help stem the overall flow of it. But when people believe they're being acted against and they try and share the video in the little Facebook pop up comes up and says, you can't share this video, it's disinformation. They go from viewing themselves as part of, you know, an abstractly persecuted against movement - to really feeling as though Facebook is acting against them as a person.
Bob Garfield This is Anna Wood, who was a hashtag resistance influencer turned QAnon influencer, who thinks that what they call censorship of Plandemic is absolutely helping their cause.
[CLIP]
Anna Wood And the fact is you can delete as many YouTube videos as you want, as many posts as you want, as many accounts as you want. You can delete this video if you want, but people are still going to see it and you can't erase their memory and they're still gonna share it with people, even if it's verbally. And the truth is spreading like this. This is the truth movement. People are waking up in the largest numbers you can imagine every single day. [END CLIP]
Kelly Weill If someone feels like they are being lied to about the coronavirus, and a lot of people do feel like they're not getting all the right information, then they are more susceptible after watching a video like that to say, well, what else am I being lied to about?
Bob Garfield Now, I know this isn't data, exactly. It's strictly anecdotal, but you spoke to a woman who had been sort of mildly into conspiracy talk. But once the COVID-19, disinformation started coming out. You know, her antenna went up. And, you know, next thing you know, she's looking deeply into QAnon who is this lady?
Kelly Weill So this is one of a couple women I spoke to who had a similar experience. Where she was already interested in anti-vaccination. She described herself as a researcher, which some conspiracy theorists do. But she was not into QAnon she said she hadn't even heard of it. But when she started looking into coronavirus conspiracies, she very quickly found her way to QAnon, and almost I think immediately made the conversion.
QAnon is this deranged pro-Trump conspiracy theory. The main tenet of it claims that most of Trump's enemies are part of a satanic pedophilia and cannibalism ring and that ,Trump, what seemed like his public gaffes, are actually part of an elaborate ploy to arrest and send all his enemies to Guantanamo Bay. That's not true, but it nevertheless has, I would say millions of followers is my estimation. Now, what videos like Plandemic can do is they are small pieces of a broader conspiratorial network that QAnon is very prominent in. So, even if someone is not necessarily interested in QAnon, they're not the type of person to go and seek that out. If they watch a video like Plandemic, it resonates with them. It speaks to the fears that they maybe very reasonably have about COVID, and they go looking for more information from the same channels that they watch this on.
Bob Garfield We do know that part of the population, numbering in the millions, buys this stuff to get caught up in the conspiracy theories for reasons that have been widely speculated about on a political and sociological and psychological level. But how dangerous is it when something like Plandemic comes along? What are the stakes here?
Kelly Weill The stakes are that people stop following public health guidelines that are really meant for the public health. You can't be healthy just as an individual. You're as healthy as your community, your family, everyone around you. That's why we wear masks. That's why we get vaccinations is because it's part of a group protection. There's a great piece in The New York Times about what happens if a vaccine comes out and half the country doesn't want it. And the answer is, it doesn't really work when we have this kind of health disinformation. It's really an attack on our physical health.
Bob Garfield Kelly, thank you very, very much.
Kelly Weill Thank you so much for having me.
Bob Garfield Kelly Weill is a reporter with The Daily Beast.
It's easy to write off conspiracy theories as crackpot fantasies, until a loved one posts a link to some COVID-19 disinformation. Then, you have a situation not entirely unlike a cousin struggling with drugs. What do you do? Joe Pinsker, who writes about families and relationships for the Atlantic, wondered just that. And the result is his piece. If someone shares the Plandemic video, how should you respond? With help from a psychologist, public health academic and conspiracy theory expert, Pinsker developed some loose guidelines for that undesirable conversation. Joe, welcome to the show.
Joe Pinsker Hey, thanks so much for having me.
Bob Garfield What's step one?
Joe Pinsker Step one is kind of a preliminary step. You want to try to assess how strongly somebody believes in something. There are a couple different possibilities here. One actually leads us to the shortest and easiest branch of this decision tree, which is that if the other person is really firm in their beliefs, whether that's something you concluded based on past experience with them or just because of how they're presenting the video, now. If that's the case, you probably don't stand much of a chance in getting them to change their minds. And the best option might actually be just to disengage or ignore. The other possibilities, though, are that there may be kind of vaguely committed to the video they're sending you. Maybe they're curious about it and express some uncertainty or that's where you can maybe make some headway. And really, I would say there's an emphasis on the word: maybe. The researchers that I consulted on this generally weren't very, very optimistic about your odds here. You should be prepared for what I'm about to describe to not work.
Bob Garfield Okay. So let's just say that Aunt Linda shares this video on Facebook. And, you know, Aunt Linda, she's always worrying, and she may be a little bit gullible, let's say - but, you know, not a die hard Alex Jones fan. So, she's a little intrigued and a little just freaked out because, look, if plandemic were true, that would be scary. So you see Aunt Linda's post, and what do you do next?
Joe Pinsker Yeah, well, first of all, it's a bit eerie that you actually picked the name of a specific relation I have. And I just have to say, for the sake of Aunt Linda's good name, that she is not subscribing to this.
Bob Garfield OK, well, let's just say Aunt Dorothy.
Joe Pinsker So, yeah. What you'd want to do first is you want to kind of try to think about why they might be drawn to something like this. Maybe underneath everything. It's actually confusion or fear that's motivating them. So along those lines, maybe something you'd say is, I'm glad you brought this up. This documentary is making some scary claims. Or something like I've heard other people bring this up. And yeah, there really is so much information out there that it can be hard to know what's accurate and what isn't these days. Even if those statements to some extent underplay your own skepticism, I'd think of them as a way of opening up with a bit of diplomacy. They're sort of kind things you could say in service of a few moments, getting them to try to give some legitimate piece of media a fair shot. I'd also note one way you're likely to not achieve your goal here. You really don't want to lecture people. You don't want to lose your temper. Those things may feel cathartic to you, but they're probably not going to get you very far in changing minds.
Bob Garfield Now, in this case, you know, it's just a high risk not only of offending people, insulting them with your arrogance, you know, even if you try to soft pedal it, it's kind of hard not to sound condescending.
Joe Pinsker Yeah. One tactic, a researcher that I talked to suggested was gently asking somebody about the source that something comes from maybe you'd get somewhere if they have to glance at a url and tell you that they got something from "Patriotic News Bomb dot com"
Bob Garfield Right. There's another tactic that you encountered this essentially. Well, I'll see you your Patriotic News Bomb dot com, and I'll raise you by the New England Journal of Medicine. Who told you that? And tell me more.
Joe Pinsker So this was advice from psychologist Joshua Coleman. He talked about once you've set that opening empathetic, diplomatic tone, that's when you can kind of pivot to the request that you're going to make. I think the step before that is you kind of gently introduce your skepticism and say those are some scary claims in that video. I'm pretty skeptical, though, because the stuff in the video doesn't match up with what I've been reading. And then that's when you segue way into what you'd actually like them to do. So you could basically just say, you know, would you mind if I sent you an article about that? And I would even also add that you could throw in another diplomatic gesture there to further try to convince them, which is something like - you know, it might be good for both of us to consider the various sources that are out there.
Bob Garfield This seems like you have to venture into deceit with Aunt Dorothy. Along the lines of, well - you know, we both have to keep an open mind, in order to sort of trick her into looking at a credible source.
Joe Pinsker I totally get this objection. You know, you could also try to say something that's a bit closer to the truth. Say like, I think it'd be good for us to be aware of everything that's out there. But really, the goal here is anything that sets a tone of compassion. And I think it's possible to do that without compromising any of your own integrity or granting the video some legitimacy that it doesn't actually have.
Bob Garfield So there's another technique that I think of as sort of the halfway house to reality that was suggested by a Harvard public health researcher named Rachel Piltch Loeb. To redirect your aunt's attention to someplace that might be not your go to for public health information. But, you know, she trusts more than CNN and The New York Times.
Joe Pinsker Rachel Piltch-Loeb studies risk communication. And she was saying that maybe something you do is to try to think through what sort of outlet's the person you're talking to might already be familiar with. Something that they already trust, and send them something from there. Maybe you could send them a social media post from some celebrity that, you know, they like. Really, you can kind of use what you know about them and what they like to pick something out that they might trust more.
Bob Garfield I have to ask you that some listeners may say that, you know, being empathetic with people who are spreading dangerous conspiracy theories, even naïvely, is - to start with a waste of time, because you're just not going to dislodge their suspicion and superstition. Why be empathetic with someone who is actually a vector for dangerous lies? You know, what about tough love?
Joe Pinsker I'm not necessarily saying that this is what's best. If, for instance, you're a newspaper that's publishing a piece fact-checking some politicians speech or you know, the best way to call out disinformation when you're tweeting to ten thousand people. In those situations, it may well be the case that, you know, a more forceful approach is in order. But here, really what we're trying to optimize for is two things. One, is the sort of the harmony of your relationship with somebody, and the other is the possibility that they'll change their minds. And what I heard when I talked to these researchers was that, you know, forcefully pushing back on this, especially in a way that they find threatening, probably won't get you very far in either respect. So what I've described, it may not work every time and it may take a lot of effort and restraint. And there may be so many other places we can channel our empathy. But it's one way you might hack away at a messy problem that we're all left to deal with on an individual level. And also note that the strategy isn't something that I personally think you have to do that we're obligated to do. I mean, if you don't have the emotional bandwidth to engage with people who believe in conspiracy theories, that's fine. But I do think a lot of people want to try because these are friends and family members we're talking about. And if you want to try, this seems to me like how you'd make the most progress.
Bob Garfield One last thing. Joe, you know, I've been kind of joking with you about this whole thing and maybe condescending in exactly the way that you're advising we avoid. This is not really a trivial matter. And when we're talking about relationships with people we care about, attention must be paid and care must be taken. The stakes are not low.
Joe Pinsker Absolutely. Yeah. I think this is something that is really, really difficult for people to try to navigate. I guess one way of thinking about it as if everything that we've talked about sounds like going out of your way, and making a really deliberate effort, that's because it is. I think that's going to be what it takes to undo some of the damage that this particular conspiracy theory has done to your relationship with someone you care about. I mean, I guess one thing that struck me after talking with these experts is that even if these conversations don't go in the way that you hoped, if somebody ends up feeling attacked or totally closing the door on you, that at least can help prompt you to get into a different mindset. That's where you phase out of being a fact checker and phase back into whatever relationship you have with somebody. And then I think you start figuring out what that relationship looks like to you working around the fact that you just aren't going to change their mind on this.
Bob Garfield Joe, thank you so much. Thanks very much for having me. Joe Pinsker is a staff writer for The Atlantic where he writes about families and relationships.
That's it for this week's show. On the Media, is produced by Alana Cassanova-Burgess, Micah Loewinger, Leah Feder, John Hanrahan, Xandra Ellin and Eloise Blondiau. Our engineers this week were Sam Beir and Josh Hahn. On the Media is a production of WNYC Studios. Brooke Gladstone, will be back next week.
I'm Bob Garfield.