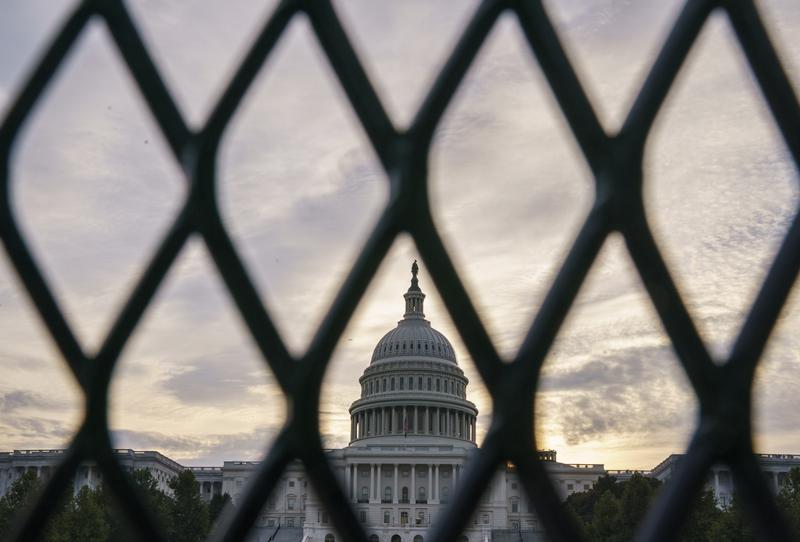 Transcript
DAVID FOLKENFLIK Trump putting his toe in and showing some interest in the 2024 race now is in part just to change what's being written about.
MICAH LOEWINGER In the wake of the January six committee hearings, headlines generated by and about the former president. Our omnipresent. Also on this week's show why some reporters are finding it harder to get Republican legislators on the record.
DAVID FREEDLANDER They've spent so much time poisoning their voters minds – the idea of the mainstream press that to sort of be interviewed by the mainstream press would be sort of seen as consorting with the enemy.
MICAH LOEWINGER Plus, the Equal Rights Amendment might be the solution to abortion access, but it's been lingering in legal purgatory for decades.
KATE KELLY This is the maybe the only thing I don't disagree on with Phyllis Schlafly. I believe that it absolutely will be a path to cementing and finalizing abortion rights.
MICAH LOEWINGER It's all coming up after this.
[END OF BILLBOARD]
MICAH LOEWINGER From WNYC in New York, this is On the Media. Brooke Gladstone is out this week. I'm OTM correspondent Micah Loewinger. After weeks of heated coverage around the January 6 Select Committee hearings. And now news that the Department of Justice is investigating Donald Trump in a criminal probe, the former president has turned to the old playbook of flooding the zone with alternate news.
[CLIP]
NEWS REPORT Former President Donald Trump back in Washington.
DONALD TRUMP We had made America great again. We made it great again.
NEWS REPORT Donald Trump has sent a formal notice to CNN, threatening to sue the network for defamation if it doesn't abide by his requests.
NEWS REPORT Former President Trump absolutely dominating in the 2024 GOP presidential nomination straw poll at this weekend's Turning Point USA Student Action Summit.
NEWS REPORT There.Trump spoke for nearly 2 hours, railing against the January 6th committee and any other groups looking to hold him accountable for his actions.
NEWS REPORT Well Donald Trump is now in a fight with 9/11 families as only Donald Trump can be.
NEWS REPORT As the former president hosted the Saudi backed and LIV tour, at adding New Jersey Golf Club just 50 miles from ground zero. His controversial comments,.
DONALD TRUMP Nobody's gotten to the bottom of what that means, fortunately. [END CLIP]
MICAH LOEWINGER But there's one place in particular where he seems to have failed to seize back the narrative Murdoch owned outlets. David Folkenflik is NPR's media correspondent and author of Murdoch's World: The Last of the Old Media Empires. Last week, he tweeted that the Murdochs had dumped Trump.
DAVID FOLKENFLIK You know, and I got some pushback on that. Here's what we saw on Friday evening at 5:39 p.m. Eastern Time, The New York Post. That feisty, you know, right of center populist tabloid of Rupert Murdoch. That in some ways is the best expression of where he is at any given moment. Wrote that: the findings presented to the public by the January six Commission as partizan as it may be, which is certainly a claim that the Post and other Murdoch properties made about it proved that former President Trump was unfit to hold national office. And looking ahead to the 2024 presidential race, made clear that he should not be considered for the position. 73 minutes later, the Wall Street Journal, the Tony High End, respectable, elite newspaper of Rupert Murdoch, the one that gives him a seat at the full table of respectability when it comes to the American media, published a very similar editorial in the name of the Journal itself. That said that Trump had faced, as many presidents do, a test of his character amid severe crisis. One that I might add, was one that then president's own making and that Trump, the Journal wrote, had utterly failed that test.
Now, these are proud newspapers, and I don't think there was a conference call at which Rupert and his son Lachlan said, This is what you're going to say, take notes now. Although that sometimes happens in the Murdoch world, I can tell you.
MICAH LOEWINGER Really?
DAVID FOLKENFLIK Yeah, sure. He'll say, I want you to turn against this policy or this guy has to go down. You saw Rupert Murdoch order his editors in Australia against Kevin Rudd, who was the center left prime minister of Australia, Rupert Murdoch's native country. And let's be clear, The Post and the Journal also basically told Trump to give up the game after the January 6 insurrection in the violence of Capitol Hill. This isn't the first time, but this was a moment at which Trump was dumped, I think it's fair to say, by Murdoch.
MICAH LOEWINGER Moving forward to Tuesday, Donald Trump gave a public speech during his first visit to D.C. since the end of his term.
[CLIP]
DONALD TRUMP There is no longer respect for the law and there certainly is no order. A country is now a cesspool of crime. [END CLIP]
MICAH LOEWINGER And on the same day elsewhere in the D.C. area, former Vice President Mike Pence gave his own speech.
[CLIP]
MIKE PENCE I don't know that our movement is that divided. I don't know that the president and I differ on issues, but we may differ on focus. [END CLIP]
MICAH LOEWINGER To your point about Murdoch's dumping Trump, Fox didn't air Trump's Washington speech. They aired Mike Pence's.
DAVID FOLKENFLIK The point about. Fox is that, you know, Murdoch is smart enough to know that he has to keep these elements true to their brands, and he can't turn Fox on a dime in the same way. But what you do on Fox is you allow there to be more space for news coverage of things that are very damning of Trump. And you've seen that with Bret Beyer and others on the news side, really talking about how damning the revelations of the January 6 committee were. You also just give Trump less oxygen. What did Trump have that nobody else had in the 2016 race? Well, he had 100% name recognition, and he also had 100% of the airtime devoted to him, give or take, in a way that none of the other candidates could have. In recent days, you have seen Fox not cover every public posting by Trump. Every utterance, every endorsement. Does not receive an hour of coverage.
MICAH LOEWINGER People in the media have been portraying Trump's speech as kind of a soft campaign rollout and the timing of when he will or if announce a 2024 presidential run has been obviously an item of intense speculation. And it's partly to do with a absolutely bombshell piece of news dropped by the Department of Justice on Tuesday evening.
[CLIP]
NEWS REPORT The Washington Post's reporting, the Justice Department is now wrapping up sorry, ramping up its wide ranging criminal investigation into former President Trump, including his actions on January 6th. [END CLIP]
MICAH LOEWINGER Some of the right wing media's reaction to this news was predictable.
[CLIP]
NEWS REPORT I'm not sure that this will do anything but help him in that argument, that there's this unfair attack against him, which continues as a result of the establishment and the media. So the Department of Justice being politicized to go after him so he cannot run for president again. [END CLIP]
MICAH LOEWINGER But what are we to make of all this? There have been so many investigations of Trump before that didn't take him down. The Mueller report, the Southern District of New York fraud investigation, the Marylynn v Trump lawsuit, two impeachment trials. I mean, the list goes on.
DAVID FOLKENFLIK It's a lot. There are two things to think about. One of which is Trump's putting his toe in and showing some interest in the 2024 race now is in part just to change what's being written about, right? Like, here's a guy who's very much about what the medium rhythms are: what is going to make headlines, what's going to dominate cable news. If you give a talk in front of a big audience, that sounds like a presidential campaign speech and you can change things, too. Is he running or isn't he? And who is he likely to run against? It's different than saying, you know, the attorney general of the United States is effectively acknowledging that he's investigating the former president for potential criminal activity. The second thing is that Trump learned from his days in New York and the New York media that the more brazen he is about bad actions, bad activity and bad character, the more he gets away with bad activities and bad character. So the lesson he seems to have taken from these various investigations you've talked about is that he'll survive all of it.
MICAH LOEWINGER If the kind of going narrative is that he's betting that the Department of Justice won't pursue charges if he's an active presidential candidate. And last week, a May-memo from Attorney General Merrick Garland went public and emphasized that the DOJ shouldn't interfere in the election process.
DAVID FOLKENFLIK Which has been for a long time the guiding principle about the attorney general's office when it comes to former presidents of the United States. They don't want us to turn into the kind of country where the person who has just left office gets prosecuted by his or her political foes. And there are good reasons for that. You know, a lot of countries that do that on the regular are countries that have unstable and undemocratic forces that guide it.
MICAH LOEWINGER Yeah, I feel like they're giving mixed messages.
DAVID FOLKENFLIK The fact they're giving any messages at all in some ways is a departure. The U.S. Department of Justice tries to hold things close to the vest on all this stuff. In some ways, for good legal reasons, they're trying not to try their case in public. They're trying not to undermine the ability to take this to a jury trial. They're trying to say we're doing this by measure of the law and they're trying to show their distance. Counter what we saw in the Trump years at the Justice Department, their distance and independence from the White House in terms of making their own decisions so that it's not just foreordained that a President Biden would want to prosecute a President Trump.
MICAH LOEWINGER There are also a handful of pieces in The Washington Post, CNN and PBS over the last week or so, trying to make sense of public opinion polling to take the temperature on how Americans are making sense of the January 6th hearings and the DOJ investigation news. A PBS poll from earlier in July found that half of Americans believe Trump should be charged for his role in January 6th. But CNN, after the eight hearings, ran a poll that found that the American public's view on the state of democracy and the threat posed by January 6th haven't really changed that much.
DAVID FOLKENFLIK Yeah, I think the latest polls from PBS and NPR and Marist shows that a majority of Americans think that the former president broke the law and that it matters. And yet there is a disbelief that he will be prosecuted. I think that these hearings have changed the nature of discourse in a way that is remarkable. And that was dismissed by figures prior to the hearings starting.
MICAH LOEWINGER Around the primaries. It seemed like the media narrative is like, hey, this guy still controls the party. But this week I was seeing talking heads on TV saying that elites in the party are beginning to ditch Trump. I mean, I'm just not really sure what to make of these rumors and if they're useful, because I feel like the press has been here before.
DAVID FOLKENFLIK I think the press has been here before. But it's got to monitor these things as opposed to sitting back and saying things are inevitable. I think that cover is being given for those who want to offer distance or independence from Trump within the Republican Party. What the Murdochs have signaled is that they're not going to raise the pain threshold. If Republican lawmakers who have been heretofore in full-throated defense of Trump don't speak up for him at this time. And they got a lot out of Trump business wise. In terms of policy, in terms of regulations, in terms of getting the Disney acquisition of their Hollywood holdings waived through despite clear antitrust concerns. So, you know, if Trump were to prove to be the guy and he could actually win again, I think you'd see Fox swing back and they would never acknowledge that there had been any change. But right now, I think you're seeing efforts to say we think Biden is beatable and we want to make sure that the Republican Party is leading with somebody who can take him down. And we don't think Trump is that person anymore.
MICAH LOEWINGER There's one phrase about Trump posed as a statement or a question that the press has articulated so many times throughout his candidacy and presidency.
[CLIP]
NEWS REPORT Firing sessions and firing Mueller could mark the beginning of the end of the Trump presidency.
NEWS REPORT Bannon leaving the White House could be the beginning of the end of the Trump presidency,. The moment that Donald Trump becomes Arnold Schwarzenegger, meaning a more of a liberal.
NEWS REPORT I think we very well could look back on this day, November 29th, 2018, as the beginning of the end of the Trump presidency. [END CLIP]
MICAH LOEWINGER You're suggesting that the most powerful conservative media empire is beginning to turn its back on him. Do you think this is the beginning of the end for Trump?
DAVID FOLKENFLIK I think the Murdochs would like it to be. What we're going to see now is whether Murdoch is both an influencer and a forerunner of what happens. Or if Murdoch has to come creeping back because a damaged Trump is still the most powerful elephant in the room.
MICAH LOEWINGER David, thank you very much.
DAVID FOLKENFLIK Pleasure.
David Folkenflik is NPR's media correspondent. Coming up, Ron DeSantis has a cold. This is On the Media.
[BREAK]
MICAH LOEWINGER This is On the Media. I'm Micah Loewinger sitting in this week for Brooke Gladstone. The incipient chatter about a possible run for Trump in 2024 is a sure sign that the presidential campaign season has begun. In previous cycles around this point, profiles of presidential hopefuls filled the glossies.
[CLIP]
NEWS REPORT On the cover of the new Time. Magazine. You have Marco Rubio headline The Republican Savior.
NEWS REPORT Our senior legal correspondent, Jeffrey Toobin has a brand new article on Ted Cruz in the new issue of The New Yorker magazine. [END CLIP]
MICAH LOEWINGER But this time around, at least so far, the magazine covers are missing politicians posed in their just casual enough business attire. One reason might be, as argued in a slate of recent articles, that when it comes to the Republican Party, brushing off legacy outlets is par for the course now. For instance, in March, four candidates running for governor in Pennsylvania said they'd only participate in a debate ahead of their primary if the moderator was a registered Republican and could prove that their publication had never, quote, maligned any of the men.
Earlier this month, a Missouri debate was canceled after one of the candidates said he'd only show up if the event was run by right wing news sites. And last weekend, the only public video of Florida's annual GOP summit was produced by one of the predominantly conservative reporters who were granted access. Up and down the ballot, distrust of the press seems to be shaping more and more of the coverage. For presidential contenders in particular. Tucker Carlson issued something of a warning at last week's Family Leadership Summit in Iowa.
[CLIP]
TUCKER CARLSON You need to be really wary of candidates who care what The New York Times think. You really, really do.
MICAH LOEWINGER In an article in New York magazine titled Why Republicans Stop Talking to the Press. Reporter David Freedlander observed the differences between 2014 and now.
DAVID FREEDLANDER There were profiles of Marco Rubio, Ted Cruz, Rand Paul. Pretty much everybody who was thinking of running Jeb Bush. And there really haven't been any of those this year, or there haven't in very many of them. There was a big one a few weeks ago, a profile of Ron DeSantis, the governor of Florida, but he didn't participate in it. He wasn't interviewed. The reporter – it's a great story – had no access to him and that was unheard of even just a few years ago.
MICAH LOEWINGER There's another cohort of Republicans, you say, who are not talking to the press, and that's people who maybe are afraid of having to own up to their affiliations with Trump.
DAVID FREEDLANDER If you were to do a fair profile of any Republican, you would have to ask them: "you know, in 2015 and 2016, you said that Donald Trump was a threat to the country and a threat to the Republican Party. And you don't say that anymore, now you like him. So what were you wrong about?" There's no real good answer to that question. Ted Cruz said he was a danger. Marco Rubio said he was a danger. I mean, Rand Paul said he was a danger. Lindsey Graham said he was a danger.
MICAH LOEWINGER Trump dragged all of them individually and then only a couple of years later, they were in lockstep with him in his candidacy and his presidency.
DAVID FREEDLANDER Right? "And so what is it about Donald Trump's first term in office? Senator X, did you see that made you want to think he was a threat and a danger and now you think he's deserving of a second term?" And the answer to that question is obviously because – generously that's where my voters are. And also like if I'm a politician, I want to be a successful politician and I want to have political power. Those are not good answers. Those are not the kind of things you can tell a reporter. And so you just kind of get stuck on this question, I think, which is kind of like you can change your mind, but what made you change your mind?
MICAH LOEWINGER I do want to get specific, though, because I think there are some exceptions to the phenomenon that you're noticing. Like, for instance, Donald Trump still makes himself pretty available to reporters. Right. And also, I feel like I see right wing politicians on the Sunday shows, the talk shows pretty frequently.
DAVID FREEDLANDER I think less and less. I think the Sunday talk shows are kind of the same cohort of politicians increasingly. And you don't find the folks that are looking to advance their careers, run for president or run for higher office on the talk shows. But as you point out – Donald Trump – it's amazing. He's the one who in a way, like created this dynamic. He's the one who talked about, you know, the press, the enemy of the people, and had his rally audiences turn around and boo the press pen in the back. But he also seems like the only one who kind of is in on the joke. He turns down no interview requests. He does everything all the time. He kind of does this whole thing with a wink and a nod and everyone else kind of bought it.
MICAH LOEWINGER In your piece, you quoted one GOP adviser working with a likely contender who said that there really wasn't any point in talking to reporters because, quote, every outlet is just chasing resistance, rage clicks. And this is a kind of another nuance in this phenomenon that I'm interested in, because it seems like for some current members of Congress, not necessarily people who are planning to run for president in 2024, that this is basically their whole media strategy. Marjorie Taylor Greene and Matt Gaetz, they don't talk to journalists, but they figured out that their outrageous comments are going to get clipped and written up just about every week anyway.
DAVID FREEDLANDER If so-called liberal media is outraged by something they've said or done. They then recycle that to their own supporters and send that, you know, in fundraising emails. You know, NPR just called me a liar, said I was a fraud, give me $15 and we can stand up to the liberal media kind of thing. And as a journalist, it kind of put you in a little bit of a box. I mean, on the one hand, you don't want to give these things more oxygen, but on the other hand, you kind of have to cover the outrageous.
MICAH LOEWINGER You quoted Richard Nixon, who told Henry Kissinger, quote, Never forget the press is the enemy. It's not like this started with Trump. We've seen for a long time the Republican Party disliking the press as part of their platform. But how do you think it changed from paying lip service to that distaste, to going to just kind of not interacting with reporters?
DAVID FREEDLANDER I think there are a couple of things. I mean, I think, first of all, there's been a really robust growth in the universe of right wing media outlets, websites, podcasts, you name it. That's kind of created this this ecosystem where that's where that kind of Republican voters are. And so there's much less of a need to kind of deal with the mainstream press.
MICAH LOEWINGER Yeah. Like Donald Trump helped legitimize and I use that word in quotes, some far right outlets by giving them press credentials to come into White House briefings, by often taking their questions before those of mainstream outlets. He has given interviews to outlets like Infowars that before Trump were considered extremely fringe. And as you mentioned, the whole right wing podcast thing has exploded.
DAVID FREEDLANDER A lot of these folks have their own podcasts themselves. I mean, Ted Cruz like seems to spend as much time on his podcast as he does in the Senate. They've spent so much time, you know, poisoning in their voters minds the idea of the mainstream press that to sort of be interviewed by the mainstream press would be seen as consorting with the enemy. But you don't have to worry about that if you're going on Newsmax.
MICAH LOEWINGER The media landscape is fundamentally different than it was in 2014 and certainly going back further. But you also think that something has changed in newsrooms among the people who would be doing the presidential profiles, who would be doing the sort of routine local coverage.
DAVID FREEDLANDER Newsrooms did kind of become I want to be careful here, like a little bit more nakedly partisan after Trump. You know, one of the things we always used to say is you can't have any biases if you're a political reporter except biases for the First Amendment or biases for freedom of the press. And Trump, you know, was frankly, a demagog with anti-democratic tendencies, to say the least. And so I think that sort of brought out the notion of the press being like oppositional as a kind of baseline, because how could you be otherwise?
MICAH LOEWINGER What do you think is the consequence of coverage that doesn't feature as many Republican voices speaking about their policies, their visions, their own candidacy, their own voting records, in their own words?
DAVID FREEDLANDER I mean, I think there's a way there's like an opportunity here. Access, I think, can be a curse for a lot of political journalists. So you just have to dig a little deeper and a little harder without it is fine. But that said, I think the discourse will be degraded further without their participation. I mean, the idea of these profiles in these stories is you treat the politician and their ideas seriously and you talk about their biography and the way their biography informs their ideas. And you learn something about the country, our politics, and the people who hope to lead the country in these kinds of journalistic treatments. And if we don't have that, I just think the historical record will be we'll just kind of be degraded in some fundamental way.
MICAH LOEWINGER David, thank you very much. Thanks for having me. David Freedlander is the author of The New York Magazine Story Why Republicans Stopped Talking to the Press.
The stonewalling of journalists by Republican politicians is testing the skills of even the most dogged reporters. That profile of Governor Ron DeSantis that David Freelander just mentioned was written by Dexter Filkins for The New Yorker. Filkins told me that he spent two and a half months writing it, even as the subject dodged requests for an interview. Same with the people in the governor's inner circle and the circle outside the inner circle.
DEXTER FILKINS It was harder than it used to be. I had a lot of closed doors and a lot of unanswered phone calls and unanswered emails. It was tough going.
MICAH LOEWINGER So how do you report a profile without the participation of the subject?
DEXTER FILKINS Well, that that was like the least of the problems. Most of the profiles I've written, they're generally about people that don't want to be profiled. If, in this case, Governor DeSantis had decided to speak to me. It would have been nice to have him. You know, I could have seen him in the flesh, but I doubt he would have said anything that I didn't discover in other ways. The real problem is getting people around him, you know, getting his friends and getting the people he works with and the people that are under his direction. And those are the people who know him and they're the ones who can tell you about him and what he's like and what he's done. And that was really, really hard.
MICAH LOEWINGER You said you called people. Who called people who called people on your behalf. Yeah. Well, let's talk about some of the people who did agree to speak with you. You actually went to the governor's childhood home and managed to speak with Governor Desantis's father.
DEXTER FILKINS Yeah, that was, like, the most fun I had on the trip. I drove to Dunedin where Governor DeSantis is from. It came in off of I-4 from Orlando. And I pulled into a McDonald's and I changed clothes. I tried to look nice, knock on the door, hoping he would answer. And he did.
MICAH LOEWINGER One detail in particular that stuck with me was how, at a young age, Ron DeSantis read the book, The Science of Hitting, which was, I guess, a kind of philosophical manual for a young baseball player. And the book said, you know, wait for the right pitch.
DEXTER FILKINS His father was telling me this wonderful story, pointing into the street, saying, you know, I must have thrown Ron a million pitches. And I think he only swung at 500 of them. And that's DeSantis. He's like super disciplined. He's super focused. You know, he just he doesn't slip up. Any kind of chooses his moments.
MICAH LOEWINGER That detail seemed to sort of capture the focus and drive studiousness that he had from, like, a pretty young age. Right. He went to Yale for college. He went to Harvard Law School after that. I think it's easy to look at his aggressive push to reopen Florida during the pandemic and say this is a guy who doesn't care about science.
[CLIP]
NEWS REPORT And as governor, Death-Santis, as his detractors call him. soldiers on. The scope of the threat to Florida's most vulnerable only grows.
RON DeSANTIS We're not shutting down. We're going to have schools open. We're protecting every Floridians job in this state. [END CLIP]
MICAH LOEWINGER But at the beginning of your piece, we hear from a Stanford University epidemiologist who said that, you know, basically he was blown away by how well-read DeSantis was on the research at the time. Quote, "He'd read all the medical literature, all of it, not just the abstracts."
DEXTER FILKINS Look, I think he's a smart guy and I think he did his homework. But think about that time that we're talking about here. It's like nobody knows what's going on. There's not a lot of data, scientifically speaking. So everybody's winging it. I mean, look at New York. Governor Cuomo made catastrophic decisions to basically put COVID patients in with nursing home patients. That was devastating to the nursing home population. DeSantis basically took the opposite tack, which is to segregate, I think, based in part on the advice of the Stanford epidemiologist that you mentioned, to basically seal off the nursing homes because they were especially vulnerable. A decision like that is part scientific and it's part political. A lot of people, particularly in the press, were, I think, too quick to judge the decisions of elected officials because everybody was doing their best. And again, nobody understood the pandemic. And so, like in the beginning when people were saying DeathSantis or whatever, I think a lot of that stuff was just it wasn't fair.
MICAH LOEWINGER You don't feel that his politicization of mask wearing and vaccination was intended to play into the culture war?
DEXTER FILKINS What you're struck by when you talk to epidemiologists is overwhelmingly their humility. They don't claim to know all the answers. They don't claim to know all the science. You will never hear humility come out of Governor DeSantis mouth. So in public, he makes up his mind, he makes a decision, and he moves forward. And when the criticism comes, he fires back very, very hard. If there's any place where I think you could sort of clearly question his conduct is not so much in the decisions he made, but in his kind of aggressive and extremely self-assured tone that he took in all the decisions he made. He doesn't take criticism very well.
MICAH LOEWINGER Ron DeSantis public health strategy certainly generated like a constant hum of negative press got. And from your piece, it's hard to tell whether he really cared or whether he saw there was much to gain from engaging with it. But there was one specific moment with the CNN reporter in January 2021 that gave us a hint at what his press strategy was.
[CLIP]
REPORTER What has gone wrong with the rollout of the vaccine that we've seen? Phone lines jammed, websites crashed, And also –
RON DeSANTIS A lot of demand. I mean, I think at the end of the day.
REPORTER If I could, If I could, If I could
RON DeSANTIS Excuse me, excuse me. You just said, what has gone wrong? So I'm answering the question.
REPORTER If I could complete the question, though.
RON DeSANTIS So you're going to give a speech. Or are you going to answer ask a question?
REPORTER With all due respect, Governor, I'm trying –
RON DeSANTIS You asked the question. I'm going to answer.
REPORTER – to finish my question.
RON DeSANTIS You're not – No, you're you're giving a speech. You asked the question.
REPORTER I am trying to ask you.... [END CLIP]
DEXTER FILKINS What was interesting to me was out of COVID, out of the pandemic emerged desantis's governing strategy, which I think has basically propelled him to the national spotlight. And that's essentially like picking fights with what he perceives to be the liberal press and the liberal media. And by offering up these either legislation or initiatives that he's doing, like the don't say gay law, the voter security law.
MICAH LOEWINGER That a U.S. district judge has since described as, quote, a cynical effort to suppress black voters access to the polls.
DEXTER FILKINS The really egregious one, I thought, was the rewriting of the electoral map to basically cut the number of black congressional seats in half.
MICAH LOEWINGER He erased two seats.
DEXTER FILKINS Yeah, I mean, I think every one of these controversies which we all read about, they all kind of unfold in a very predictable way, which is to say DeSantis puts forward a new policy which seems calculated to enrage a particular segment of the population and of the press. And I'd say most of these initiatives that he does, they're not of all that much consequence, but some of them are. And then there's a big fight. And, you know, the liberals get really angry. And then DeSantis says, I'm not going to bow down to the liberals. And then his people applaud and it just goes round and round and round like that. I think it's kind of reassured his supporters on a pretty regular basis that he's on their side and that the elite institutions of the United States, many of which are kind of dominated by left leaning professionals, that he's going to stick up for his people against them. And I think that's what makes him popular.
MICAH LOEWINGER NYU journalism professor Jay Rosen says that the current press relations model for Republicans is to invite negative media coverage and then use it to, quote, create the image of a fighter, which is something you kind of described as part of Desantis's playbook. Can you tell me a little bit about the 60 Minutes debacle?
DEXTER FILKINS So 60 Minutes had this segment in which they basically accused Governor DeSantis of something called Pay to Play, which is he took a campaign contribution in this case from public supermarkets, and he gave them an exclusive contract to administer vaccines. And they went after him. And he looked terrible in the piece, if you saw it. I think the reality was actually way different, certainly, as I discovered. Which was that in fact and DeSantis actually said this on the air, but it didn't make it into the 60 Minutes segment, was that DeSantis brought together a number of grocery store chains and drugstore chains and basically said, look, we've got to get the vaccines out as quickly as possible. We can do this for everybody, but we got to move fast because it's an emergency. That's a fundamentally different story than what 60 Minutes reported. And I thought it was a cheap shot. And it was pretty clear if you saw the unedited version of that report.
MICAH LOEWINGER They made a mistake and he was able to say, I'm fighting the enemy of the people and truth is on my side.
[CLIP]
RON DeSANTIS They cut out everything that showed that their narrative was a piece of horse manure. These are smear merchants. That's why nobody trusts corporate media. They knew what they were doing was a lie. I knew what they were doing was a lie. They know that. We know they're lying, and yet they continue to lie. [END CLIP]
DEXTER FILKINS The 60 Minutes piece is a great example. You know, I don't know what their motivations were, but, you know, whether it's TV stations or Internet outlets or newspapers, they're just more ideologically driven than they used to be. In my case, I work for The New Yorker. I think The New Yorker is perceived as being pretty liberal. I don't consider myself terribly liberal or progressive, but I was a newspaper reporter in Florida for many years and was trying to be as straight as I could be, and that's what I was doing. But it's hard to convince people of that if they don't know who you are and if they've never spoken to you.
MICAH LOEWINGER You said you don't identify with the so-called liberal media, and you think that a lot of the mistrust of journalists by, say, conservatives is is warranted. Is that fair to say?
Yes.
MICAH LOEWINGER What I think many journalists see in DeSantis is. Is, you know, the kind of racist dog whistle that's his focus on critical race theory, him passing these transphobic and homophobic laws. And they're saying that these are warning signs. It sounds like you're not as interested in seeing journalists sound the alarm in the way that they have.
DEXTER FILKINS No, I first of all, I think 50% of the population in the country doesn't agree with the positions you just laid out. All the tools are available to journalists to bring facts out and let people make up their minds. And I think that's what's been lost, which is that journalists have taken upon themselves to say, I'm going to tell you, the reader, what you need to think, and I'm going to tell you who's good here and who's bad. I don't believe that's my role. I believe my role is to allow people to make up their own minds. And I think a lot of that has been lost. To our detriment.
MICAH LOEWINGER Don't I mean, don't you think right wing politicians owe it to readers to talk about their voting records, their policies, what motivates them? Doesn't this hurt the public when they avoid speaking with journalists?
DEXTER FILKINS I think all elected officials have an obligation to engage with the public. Some politicians are really good about talking to the press and some are really bad. And your job as a journalist is to try to break through that.
MICAH LOEWINGER It sounds like your advice to reporters who are having a hard time getting Republican politicians on the phone is try harder.
DEXTER FILKINS Try harder. I've been a reporter for a long time and like a savvy, sophisticated politician who wants to get reelected is going to try to control his or her message. But like, that's your job, your job as a reporter to break through that. And so am I shocked that the governor of Florida doesn't pick up the phone for me. No, I'm not. But it's not going to stop me from what I'm doing.
MICAH LOEWINGER Dexter, thank you very much.
DEXTER FILKINS Thank you. I really appreciate taking the time.
MICAH LOEWINGER Dexter Filkins is a staff writer at The New Yorker and the author of the article Can Ron DeSantis Displace Donald Trump as the GOP's Combatant In Chief?
Coming up, a possible solution for abortion access has been in legal limbo for half a century. This is On the Media.
[BREAK]
MICAH LOEWINGER This is On the Media, I'm Micah Loewinger. Since the Supreme Court gutted Roe v Wade last month, Democratic lawmakers have proposed a series of workarounds to codify protections for abortion rights.
[CLIP]
NEWS REPORT We must expand the court.
NEWS REPORT Congressman Hank Johnson and Senator Ed Markey are pushing legislation to add four seats to the Supreme Court.
NEWS REPORT The House voted to legalize abortion nationwide on Friday. The House measure would actually expand Roe, but it has little chance of becoming law. Democrats don't have the votes to get it through the Senate. [END CLIP]
MICAH LOEWINGER Which is precisely why some activists are pointing to a solution that wouldn't require input from Congress. The Equal Rights Amendment, a constitutional amendment with a simple premise. Its first clause, just 24 words long.
[CLIPS]
NEWS REPORT Equality of rights under the law shall not be denied or abridged by the United States or any state on account of sex.
JOHN OLIVER And that's basically it. [CONTINUES UNDER]
MICAH LOEWINGER John Oliver on Last Week Tonight.
[CLIP CONTINUES]
JOHN OLIVER And the idea behind it is broadly popular. In fact, according to advocates 80% of us think it's already in the Constitution. [END CLIP]
MICAH LOEWINGER Part of the confusion might have to do with the fact that Congress already passed the ERA in 1972.
[CLIP]
NEWS REPORT Proclaiming once and for all that women have all the same rights as that other sex.
DAVID FREEDLANDER The agreement now goes to the States and must be ratified by 38 of them. [END CLIP]
KATE KELLY So in 1972, after this huge surge of the women's liberation movement, the Equal Rights Amendment had huge amounts of support.
MICAH LOEWINGER Kate Kelly is a human rights lawyer who recently wrote an opinion piece for the L.A. Times titled Best Way to Protect Abortion Rights. Finalized the ERA.
KATE KELLY It sailed through Congress, both houses. And then in the first year following passage in Congress, it was ratified by 30 states. Everyone thought it was a done deal.
MICAH LOEWINGER But it wasn't.
KATE KELLY It wasn't.
MICAH LOEWINGER Because at the same time as this sort of grassroots surge to ratify the IRA was picking up steam. There was also this anti-rape campaign that was sort of playing out in Washington and also in the media.
KATE KELLY The anti-ERA movement ramped up and it sort of found its spokesperson in a woman named Phyllis Schlafly. She ran twice for Congress against men and lost both times and wanted power. And the way that she found power was leading a movement to defeat equal rights for women in this country.
MICAH LOEWINGER Some of her arguments were kind of like standard conservative stuff, like, Oh, this amendment will give more authority to the federal government and take authority away from the states. But it seemed like a lot of her rhetoric was explicitly anti-feminist.
[CLIP]
PHYLLIS SCHLAFLY I think that it was an anti-family movement. I think they target men as the enemy. They teach that women have been kept in a condition of oppression and serfdom for all these years, and that society owes it to them to take care of their children and to find them jobs at the expense of more qualified man. It is a negative view of life. [END CLIP]
KATE KELLY Phyllis Use scare tactics. So you're going to lose your benefits. You're going to be drafted. You're going to be forced to go into bathrooms with men. Same-sex marriage was another major component of the anti-ERA campaign, so they really stoked homophobic rhetoric. It was all to scare people into thinking that your way of life, your way of thinking is under attack.
MICAH LOEWINGER I understand that there were a lot of scare tactics, but was there any truth to these social shifts that she was warning against?
KATE KELLY I was raised Mormon, and my mother and my grandmother were assigned to fight against the ERA. So the way that I learned about it was it was going to destroy the family, society would collapse, you know, all of these very grandiose visions of what the ERA would accomplish. And now that I'm adult and now that I've gone to law school. What I've realized is almost everything Phyllis Schlafly warned against has happened. For example, Social Security is now available on a gender neutral basis. The federal judge has said that women will be subjected to the draft were there ever to be one to be reinstated even without the ERA. Same sex marriage exists. You know, all of these things have basically come to fruition and society has not fallen apart. Families still exist.
MICAH LOEWINGER I feel like Phyllis Schlafly is kind of having a bit of a renaissance recently, in part because of that Hulu mini series. Mrs. America.
[CLIP]
MRS AMERICA Section two States The Congress shall have the power to enforce by appropriate legislation the provisions of this article. Now, if the ERA passes, it will give the federal government a massive amount of power. I mean, we're no longer the party of limited government and states rights.
MAN You have no idea of the pressure that we're under. We have to give the women's movement something.
MRS AMERICA Well, I think you've given them plenty. [END CLIP]
KATE KELLY The main flaw of the show, Mrs. America, to me, is that it depicts Phyllis Schlafly as the person who killed the Equal Rights Amendment. And it kind of frames the entire fight as a cat fight, like, oh, here's these glamorous ladies like Gloria Steinem versus this housewife, Phyllis Schlafly, and kind of leaves men out of the picture, ironically, in a way that protects them from critique. Because Phyllis Schlafly never voted against the ERA. The people who actually voted against the ERA were men. They eventually extended the deadline from 1979 to 1982 in Congress because there were a hundred thousand people that marched in Washington in support of the Equal Rights Amendment and in support of extending the deadline. The trick was they extended the deadline only three years. They could have gotten rid of it. They could have eliminated it entirely. Many amendments have had no deadlines attached to them, but they did it in a way that they knew that the state senators in the most difficult states could outlast that three years.
MICAH LOEWINGER Congress had asked that 38 states, three quarters of states ratify the amendment, and we only got to 35. So it seemed like it was dead for a while, right?
KATE KELLY Yeah. In fact, Phyllis Schlafly, in 1982, when the extended deadline lapsed, Phyllis Schlafly had a huge gala blowout party in Washington, D.C. and they all celebrated and they said, Ding dong, the ERA is dead.
MICAH LOEWINGER They played the song Ding Dong, the witch is dead, right?
KATE KELLY No one said she didn't have a sense of humor. Yes. So they celebrated. They said it's dead. They claimed victory. And they went on to create an incredibly robust movement on the infrastructure that she built, largely focusing on anti-abortion campaigns.
MICAH LOEWINGER I saw another speech from 1982 where she said "The ERA has been defeated. It will not pass. No state has passed it since 1977 and no state ever will." She was wrong.
KATE KELLY Contrary to her words, the ERA was ratified in Nevada in 2017. Kind of out of nowhere. Like everyone was like, wait, what? The following year, in 2018, it was ratified in Illinois. Phyllis Schlafly State, which had never ratified. And then in 2020 it was ratified in Virginia. So she was dead wrong. The ERA was ratified by three additional states, completing that 38 necessary required under Article five of the Constitution.
MICAH LOEWINGER This is kind of where the story gets like wonky and weird because these states procedurally ratified it. But obviously the modern critics of the ERA say we've long passed Congress's deadline for doing this. So those don't count. And also during Schlafly's campaign, some five states tried to take their ratifications back. So it seems like there are a few different ways of doing math on this topic.
KATE KELLY Yeah, I mean, the math isn't difficult. Article five of the U.S. Constitution has only two explicit requirements. One of them is that it's passed by more than two thirds of Congress. And the second is that it's ratified by three fourths of the states, which at this point is 38. Opponents of equality will make every single procedural argument they can to keep it out of the Constitution. And then part of it is a states rights issue. You know, Nevada, Illinois and Virginia have ratified it. Their legislatures acted on behalf of their constituencies. And those ratifications are not being recognized by the federal government.
MICAH LOEWINGER In fact, those three states, after ratifying the ERA, actually sued the archivist of the United States, basically the chief librarian of the National Archives. Why that guy?
KATE KELLY There's a statutory requirement that the archivist a core unelected librarian, someone who's only ever worked in library stacks, not a political person, not an elected position, is the person who's charged with certifying and publishing the amendment once it reaches the necessary ratifications. The boss of the archivist is the president. So Joe Biden at any point could tell the current acting archivist, go ahead, certify it, publish it in the Federal Register when we print out these. Copies of the Constitution. It will have 28 amendments instead of 27, and the Equal Rights Amendment will be one of them.
MICAH LOEWINGER He has spoken about it a couple of times since he took office. Kamala Harris, when she was running for president, said that she would ratify the ERA in her first 100 days. So I don't get it. Why hasn't it happened?
KATE KELLY Why are they not acting? There may be many reasons, but one of them could be fear of, you know, a clash with the Supreme Court. If Biden goes ahead and certifies. And then the case against the archivist by the three states that have recently ratified rises to the Supreme Court level. Perhaps they're afraid of a constitutional crisis when the president says the Constitution is one thing, but the Supreme Court or another branch says another thing.
MICAH LOEWINGER In an op ed for the L.A. Times earlier this year, you wrote. Finalizing the era is the clearest path forward for abortion rights. How would that work?
KATE KELLY This is the maybe the only thing I don't disagree on with Phyllis Schlafly. I believe that it absolutely will be a path to cementing and finalizing abortion rights. And the reason is Roe was decided based on privacy. Privacy is an unenumerated right, which means it's not written anywhere in the Constitution. It's essentially derived from conjecture of the other rights.
MICAH LOEWINGER It's a relatively new legal concept.
KATE KELLY Privacy was invented in 1965 by Justice Douglas in a case called Griswold versus Connecticut, which legalized contraceptives for married people. So before 1965, this concept of privacy did not exist. He said that he found privacy in what he called the penumbras of the Constitution. So these these overlapping shadows of the Constitution. I like to say that he shimmied it in there, you know, and if we enumerate equality, we will not need penumbras, we will not need shimmying. We will be in the Constitution, and that is why the opposition to the era is so deathly afraid of it. That is why when you go to state ERA meetings in legislatures, the National Conference on Catholic Bishops is there at every meeting, every hearing opposing the ERA. They are mortally afraid that we will get it into the Constitution and we'll have permanent protection for abortion rights.
MICAH LOEWINGER Biden has said that he really thinks Congress should extend the deadline or remove the deadline for state ratification. He's kicking the can down the road. You think it's his responsibility?
KATE KELLY Have you been watching the news? Like getting a 60 person majority in the Senate has proven nearly impossible for every issue, including but not limited to voting rights, which are pivotal and essential to our democracy. So if we can't even get it together to vote on protecting voting rights, I'm not sure that demanding that we do something so bold as ratifying the ERA is going to happen. So I think it's really disingenuous to say, Oh, Congress needs to act when it's very, very clear that there's a concrete and pretty simple step that the president can take on his own.
MICAH LOEWINGER Kate, thank you very much.
KATE KELLY You're welcome.
MICAH LOEWINGER Kate Kelly is a human rights attorney and the author of the book Ordinary Equality.
That's it for this week's show on the Media is produced by Eloise Blondiau, Molly Schwartz, Rebecca Clark-Calender, Candice Wang and Suzanne Gaber with help from Savannah Collins. And our show was edited this week by our executive producer, Katya Rogers. Our technical director is Jennifer Munson. Our engineers this week were Andrew Nerviano and Adriene Lily. On the Media is a production of WNYC Studios. Brooke Gladstone will be back next week. I'm Micah Loewinger.