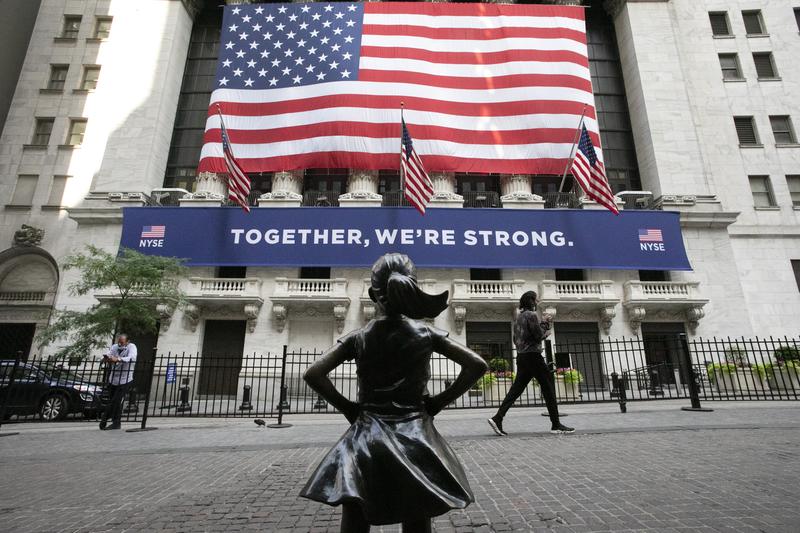 Transcript
ZEYNEP TUFEKCI If they say "three layer mask is better," I don't want to play guessing games with old t-shirts, I want a certified cloth mask that I can purchase.
BROOKE GLADSTONE COVID-19 messaging has been muddled from the start. Can it improve in time to make a difference? From WNYC in New York, this is On the Media, I'm Brooke Gladstone. We also have a vaccine supply problem, but companies that could make them are hamstrung by patent laws.
DEAN BAKER They don't have that option unless Moderna or Pfizer are prepared to give that to them. Patents are a form of monopoly. Unless we change the policy, there's not much we can do about that.
BROOKE GLADSTONE Plus, how redditors day traded a meme stock into the heavens, upending Wall Street mostly for the lolz.
JAMES SUROWIECKI /WallStreetBets recognized that if they collectively decided to elevate GameStop stock, they could do it.
BROOKE GLADSTONE Stay tuned.
[BREAK]
BROOKE GLADSTONE From WNYC in New York, this is On the Media. Bob Garfield is off this week, I'm Brooke Gladstone. So a new COVID safety precaution has been making the rounds; double masking.
[CLIP]
NEWS REPORT So if you have a physical covering with one layer, you put another layer on. It just makes common sense. [END CLIP]
BROOKE GLADSTONE Sound advice. Why are we only hearing it a year into the pandemic? Here's Dr. Fauci. Back in March of 2020.
[CLIP]
DR FAUCI China and South Korea, whatever, everybody's wearing a mask. Right now in the United States, people should not be walking around with masks. [END CLIP]
BROOKE GLADSTONE But East Asia's had more experience with SARS viruses than us. Wouldn't they know?
[CLIP]
NEWS REPORT The coronavirus outbreak is prompting the US surgeon general to make a desperate plea to the public: stop buying masks. They're not effective in preventing general public from catching coronavirus. [END CLIP]
BROOKE GLADSTONE Do you sense that maybe the authorities didn't trust us to do the right thing? Like saving medical grade masks for frontline health care workers? Maybe their impulse was right, but their method was... so wrong.
[CLIP]
DR FAUCI Wearing a mask might make people feel a little bit better and it might even block a droplet. But it's not providing the perfect protection that people think that it is. [END CLIP]
BROOKE GLADSTONE Our own Dr. Fauci even said they carry certain risks...
[CLIP]
DR FAUCI And often there are unintended consequences. People keep fiddling with the mask and they keep touching their face. [END CLIP]
BROOKE GLADSTONE Wearing a mask can also keep you from touching your face, but some physicians disparaged mask wearing is akin to carrying a rabbit's foot. Others suggested it might give us a false sense of security.
[CLIP]
NEWS REPORT The Chicago Medical Society is worried that a call for general mask wearing will reduce social distancing. [END CLIP]
BROOKE GLADSTONE Meanwhile, taking mask myths to another level, Texas Republican Representative Louie Gohmert blamed his mask for giving him the virus. Darn mask!
[CLIP]
GOHMERT I can't help but wonder if by keeping a mask on and keeping it in place, that if I might have put some germs on some of the virus onto the mask and breathed it in. [END CLIP]
BROOKE GLADSTONE Muddled messaging in Europe and the States spread confusion and suspicion, reckless optimism and hopeless pessimism. First over masking, then over vaccines, now over the variant strains. There are consequences to withholding the full truth, even to get the public to behave itself.
ZEYNEP TUFEKCI It creates this opportunity for mistrust, especially if the authorities don't really come clean.
BROOKE GLADSTONE Zeynep Tufekci is associate professor at the University of North Carolina Chapel Hill and contributing writer at The Atlantic in The New York Times.
ZEYNEP TUFEKCI They did kind of say, well, the evidence changed, but Hong Kong and Taiwan clearly had evidence. So the evidence hasn't really changed. It's more like, well, we were behind the evidence, which is more honest.
BROOKE GLADSTONE In your newsletter, Insight on Substack, you quote David Leonhardt of The New York Times, who says: a version of the mask story is repeating itself. This time, he said, it involves the vaccines. Once more, the experts don't seem to trust the public to hear the full truth. What is the truth that we're not hearing?
ZEYNEP TUFEKCI What he's trying to get at is the framing around the vaccines. We have hit, unexpected, amazing home runs with these vaccines. The first two that have been authorized in the United States, the Pfizer, Biotech and Moderna. You don't get any COVID at all for 95 percent of the people and for the rest of the five percent in both the Moderna trial and the Pfizer trial, there's about sixty thousand people total out of that sixty thousand total, there was a single severe case among someone who was vaccinated.
BROOKE GLADSTONE Even among the five percent for whom it wasn't, quote, effective, their cases were mild except for a single case.
ZEYNEP TUFEKCI One case qualified as severe, and her clinical description was that her oxygen saturation got down to ninety three percent. But she didn't need any other medical attention. She didn't need to be hospitalized. And that's the only case. Now, contrast that with the messages full of well, we don't yet know if they prevent transmission or you can't take your masks off yet or you can't do this and you can't do that. Those things aren't completely false, but they have to be framed correctly. We do think it's going to blunt transmission. We just don't have an exact number yet. In the preliminary study, Moderna found that even asymptomatic infection was down by two thirds. So that's really strong at suggesting that it's going to blunt transmission somewhat. Publicly, we will probably be wearing masks for a while because in public, you don't want to create two classes of people and you also don't know like who's vaccinated, but of all the things to emphasize right now, we have vaccines that are better than anything we had hoped for. Basically almost complete elimination of severe disease. So instead of celebrating this, because life is going to get back to normal when enough of us are vaccinated, it's full of headlines warning people about all the short-term limits. And a lot of anti-vaxxers have latched onto this saying if the vaccines are so good, why are there so many articles warning you nothing's going to change? People are tired and fatigued, and when we didn't get our mask messaging right, we damaged compliance and masking. And when we don't communicate the real upsides of the vaccines, when we don't get our messaging right, we do damage to trust.
BROOKE GLADSTONE Now come the COVID variants. And let's start with the ones first encountered in the UK and South Africa. I mean, we should be worried about a more infectious strain. They are 50 to 70 percent, maybe more transmissible. We were also told, though, at the same time that they were not more deadly, but it seems that if you have more cases, it means more deaths. And I recently heard on the BBC that these strains may, in fact, be more deadly. But you've taken issue with the worries that the media are now choosing to spotlight, right?
ZEYNEP TUFEKCI Right. I started seeing the data and I thought, oops, we got adaptive evolution here. Question number one is, what do I do in the short term? You have to up your precautions because if it's transmitting 50 percent more than it used to, it means that the environment that you got away with last time, you're 50 percent less likely to get away with it. We also have seasonality working against us, right. These coronaviruses are usually seasonal, this one appears to be so. So we have the winter dry air. Well, what about the vaccine? Moderna came out with a study which was really encouraging, which showed that while both variants UK one a less so in the South African one is a little more dangerous, they were lowering the neutralizing antibodies. But neutralizing antibodies are but one part of the immune system and they were so high to begin with, they were clearing the bar. So what we were hearing was that, you know what? It's going to work.
BROOKE GLADSTONE So when you objected to the San Francisco Chronicle writing Moderna's Coronavirus vaccine protected against the mutations of the virus first detected in Britain and South Africa, but the antibodies were six times less effective at neutralizing the South African variant. It made it sound like it was –.
ZEYNEP TUFEKCI Six times less effective. They gave you the very wrong impression. The thing that went down six-fold is the neutralizing antibodies, that doesn't really translate into vaccine efficacy. I mean, I realize this is kind of getting into the technical weeds of immunology, but if you're writing a headline, that's what you should know. If you just put a six-fold decrease in the headline, you're going to freak people out because people are going to think, wait, like did we go from, you know, 90 percent to 30 percent?
BROOKE GLADSTONE So how effective is it?
ZEYNEP TUFEKCI Most people think it might go from, say, ninety five percent to say 90 percent. Nobody's expecting to go down to 30 percent. So the correct message is you and I should not be discussing neutralizing antibodies. It's not the public's area of expertise, and I'm just telling you what the scientists have told me. It will have a small effect. Plus, Moderna said they were working on a booster for the new variants, and a lot of people were saying, well, if they're working on a booster, that means this one doesn't work, whereas they clearly said, you know, we're just kind of keeping an eye on this. So my sense from seeing that press release and the paper, they put the paper out to us, it was like: "this is great," and they're already working on the booster. That's exactly what they should be doing.
BROOKE GLADSTONE Some other framings you didn't like. Vaccines have been oversold as the pandemic exit strategy. From the Financial Times and a tweet from NPR which said, Moderna finds COVID-19 vaccine less effective against variant.
ZEYNEP TUFEKCI It's fine to say the efficacy will take a marginal hit and also to tell people the variant is a real threat. You're unvaccinated now. If you're like most Americans, you've got to be more careful. Let's be straight, let's say the good stuff, let's not give misleading information. Let's not put six-fold decrease in net neutralizing antibodies in a headline, as if that's something the public should be expected to understand. And that's going to make people not want to take the vaccine when they should jump at it. The media has to examine how it switches, like there's this hearding effect, where they dismissed the pandemic risk. They dismissed masks. They did this for a long time, and then when it flipped, there's a lot of doom saying now. I'm seeing articles saying vaccinations are not going to get us out of it. Yes, it will. The problem is we don't have enough.
BROOKE GLADSTONE You've said that the confused messaging, the wrong messages were being spread by officials long after the evidence was in. You wrote, maybe worst of all is the willful amnesia. It sometimes feels as if these failures were never made, as if we all just updated our COVID related guidelines when the evidence came in. In reality, you said, most Western nations were tragically lagging in their response. Also, the WHO.
ZEYNEP TUFEKCI You know, I talked about the CDC and the World Health Organization being late with mask guidance. We also didn't get ventilation guidance till fall, and it was a confusing thing with the CDC. We got something posted and then got it deleted and it got back. And I wrote an article about ventilation in July. Then I got inundated by people who are trying to plan how to open schools by all sorts of things like that. And they're like, nobody told us any of this because it wasn't part of the CDC guidelines. And the World Health Organization kept like talk about handwashing and disinfecting, which has a place, but it doesn't make sense to disinfect every surface, but not open a window when we know that makes a difference. There are all these things in which we were late, and I know that we were late because Japan wasn't late. Hong Kong wasn't late. The amnesia part is that once we catch up, we act like nothing happened. They just sort of say we got more evidence. Well, you know what? Japan had mask guidance, aerosol transmission over dispersion, which is like the clustering, in February. Why did it take us till fall? And with the World Health Organization, it took until December of 2020 before they started telling people to wear masks indoors, regardless of distancing, like that's 10 months late. So, there has been no explanation or searching of what on earth has been going on.
BROOKE GLADSTONE So this comes back to your first point about accountability.
ZEYNEP TUFEKCI And even if it's partly because they were working under really difficult conditions with the president, we still need that conversation, and with the World Health Organization, that's a whole other thing. Like we need that conversation because these are institutions we need to trust. You know, the National Transportation Board, they do these no blame postmortems where the emphasis is on trying to understand exactly what went wrong.
BROOKE GLADSTONE Lessons learned. The military does it too.
ZEYNEP TUFEKCI Lessons learned rather than just, you know, firing people. We need that because, you know, for all my criticisms, they're are excellent organizations.
BROOKE GLADSTONE They're all we have.
ZEYNEP TUFEKCI And they are who we need! Right now, with the new administration, I know it's been just a week, but it's urgent. We need our public health authorities to give us clear, actionable guidance on if they say "three-layer mask is better," I don't want to play guessing games with old t-shirts. I want a certified cloth mask that I can purchase. If somebody is high risk or in a poorly ventilated environment, I want them to be able to say, where can I buy an N95? How do I best put it on? How do I take it off? How do I reuse it? They're not like some failing organization overall, they're amazing people. Whatever happened last year, on the whole, they're of course more right than wrong.
BROOKE GLADSTONE Zeynep Tufekci is Associate Professor at the University of North Carolina, Chapel Hill and contributing writer at The Atlantic and The New York Times.
Coming up, the perils of intellectual property during a plague. This is On the Media.
[BREAK]
BROOKE GLADSTONE This is On the Media, I'm Brooke Gladstone.
[CLIP]
NEWS REPORT Vaccine shortages across the country. [END CLIP]
[CLIP]
NEWS REPORT States and cities like New York are desperate for more supply. [END CLIP]
[CLIP]
NEWS REPORT We're now on nearly at 4000 people die in the U.S. every day. [END CLIP]
BROOKE GLADSTONE Labyrinthine vaccination sign ups, lack of transparency, canceled appointments. If the pathway through this pandemic is vaccines, it's a dark and twisted one. For all the issues with distribution, and there are issues, there is equally an issue with supply. President Biden announced this week that his administration is working to buy an additional 200 million doses of the vaccines, but as Dean Baker, senior economist at the Center for Economic and Policy Research, explains, we're still constrained by the matter of who can actually manufacture them.
DEAN BAKER Moderna, Pfizer own a patent, and what that means is that no one else could produce them without getting a license from those two companies. So, while in principle we might think that there are other companies that either have the manufacturing capacity or could develop it, they don't have that option unless Moderna and Pfizer are prepared to give that to them. Patents are a form of monopoly. Unless we change the policy, there's not much we could do about that.
BROOKE GLADSTONE And both these companies had access to hundreds of millions of dollars in public money and billions of dollars in advance purchase commitments.
DEAN BAKER Yeah, this is really striking. In the case of Moderna, we literally paid for the development of this vaccine. We gave them somewhere in the order of four hundred thousand four hundred forty million to do the original development and then the phase one, phase two testing and then the government put up another roughly four hundred forty million to pay the cost of phase three testing where they determine that it's safe and effective. And of course, the Food and Drug Administration approved that. Drug companies often say, well, they need to patent and they have to charge high prices because they took a big risk and sometimes their drugs fail, which is true, of course, this case, suppose the FDA looked at and goes, it's a no go, it's not effective. It's not safe. Well, they were paid.
BROOKE GLADSTONE Reshma Ramachandran and Zoe Thill wrote in The Nation this week that we shouldn't be calling these Pfizer vaccines or Moderna vaccines at all. They are the people's vaccine.
DEAN BAKER We paid for them, and one of the things we really would have liked was full transparency on all of the research results. So they're giving it to the FDA, the Food Drug Administration. And I'm not saying they don't do a good job, but still things will get through. They can't analyze everything. They're rushed and inevitably they will make some mistakes. If we're fully transparent, if you hand the data there so that you could look what happened to younger people, to older people, people who had heart issues, people might have had other conditions, then researchers all over the country, all over the world would be able to go through it and maybe they would catch something that the FDA missed.
BROOKE GLADSTONE I don't entirely understand what the data has to do with monopoly ownership of the drug, because the data refers to how it's worked out in the trials, not how it was made or what its components are or any of that.
DEAN BAKER Well, to my view, there's not a good argument for keeping the data secret, but most of the drug companies insist on that. And there's a very pernicious reason as to why they might want to keep it secret, and that's why they may look to misrepresent the safety or effectiveness of their drugs. That's a big part of the story of the opioid crisis. You know, Purdue Pharma, which was one, of course, the big opioid manufacturers from the first day– this was selling as a generic, anyone could produce it – they wouldn't have a big incentive to go out and market and tell doctors, oh, don't worry, it's not addictive. They wouldn't be doing that. My view is, why don't we just pay for the research up front? Then you don't have that issue. And that's exactly what we did with Moderna. We paid for the research up front. We still gave them a patent monopoly, which makes zero sense, but if you pay for the research up front, then they don't have costs to cover. Currently, the government spends roughly 45 billion a year on biomedical research. If you look at what the industry spends, it's roughly 90 billion. So more or less, twice that amount. Now, suppose we look to replace what the industry spends. We were spending, say, somewhere around 130, 140 billion a year in prescription drug research and development. Well, then we would have paid for the companies in advance to do the research. Once it was approved, it could be sold as a generic from the first day.
BROOKE GLADSTONE What these manufacturers become essentially are research companies. They stand to make far less money from the actual sale of the drug that they were paid to create.
DEAN BAKER And to my view, that's exactly what we want. I'm not looking to put any of these companies out of business, Pfizer, Merck, all the big companies, presumably would want to stay in business. They've had years of experience doing research, so they would put in bids on these contracts. They're going to research cancer drugs. You know, in my view, if they're asking me to design the system, everything's open source. So as soon as you get a lab result, you put it up on the web so everyone could see it.
BROOKE GLADSTONE In your scenario, which I really I love. It's so socialist.
DEAN BAKER It's just the different type of capitalism. I'm not concerned that they could make as much profit as they do under the current system. I mean, maybe they will. I frankly hope they don't.
BROOKE GLADSTONE We're talking about serving the public.
DEAN BAKER Yes, that that's our goal in designing the system. And we always have to remember patent monopolies are government policy because again, I don't know how many times I've argued with people on the go. You want to interfere with the market? I'm sorry, a patent monopoly is from the government. So, we're already interfering with the markets, we're deciding how best to do it.
BROOKE GLADSTONE The situation that we're in now wasn't inevitable. Back at the beginning of the pandemic, the WHO set up a COVID-19 technology access pool to promote the sharing of knowledge. And there were early reports about how the pandemic was going to change how the world does science, make it more collaborative.
DEAN BAKER There was a lot of cooperation early on that many scientists talked about. There were a lot of developments that were posted on the web, you had international cooperation, scientists in Europe and China and the United States. But then we quickly huddled down, you had the companies saying, – OK, we're going to work on this, we're going to work on that – they wanted to get patent monopolies and have vaccines, treatments that would allow them to make lots of money. And what in principle we would've wanted to see was collective sharing of knowledge and also open access to technology so that when these vaccines were being developed, anyone with the means to produce the vaccines would have been able to. We would have liked to have hundreds of millions of each of these vaccines available, maybe even billions at the point where they were approved. Maybe we would have made eight hundred million, a billion doses of the vaccine. And it gets to December. And turns out FDA looks at it and they say it's a no go. Well, that's unfortunate. But you go, OK, so the vaccines cost roughly two dollars each to produce, again, not an exact figure, but ballpark number. So we threw two billion dollars in the garbage. We've spent, in the US alone, somewhere in the order of five trillion dollars now, in COVID relief.
BROOKE GLADSTONE This past October, there was a proposal put forward by India and South Africa asking the WTO to exempt member countries from some forms of intellectual property enforcement. Which would allow them to produce generic versions of COVID vaccines and treatments, and that was an immediate no go. But aren't there global provisions for emergencies just like this?
DEAN BAKER Yeah, this is a fascinating question. So, the TRIPS accords, trade related aspect of international property, part of the WTO as of 1995. Those require all countries to adopt US style patent laws, but they have special permission during emergencies to override those patent laws. Then special permission has very, very rarely been invoked, and the reason for that is the United States and I suspect European countries as well, have basically threatened retaliation.
BROOKE GLADSTONE What kind of retaliation? Denying the drugs, they're not giving them anyway.
DEAN BAKER Various forms of trade retaliation. This came up with South Africa in the 1990s. We threatened to put up tariffs because they were going to do that on a drug that was used to treat AIDS patients. And this was, I think, 1999. Bill Clinton was still president then. The US threatened them with retaliation, where we would make it more difficult for them to export items to the US. Al Gore, of course, was running for president in 2000, a number of AIDS activists went to his speeches and they protested, and Clinton backed down on it because it was hurting Gore. Gore didn't want to be associated with it. I forget whether they actually issued the compulsory license because, again, you get this this dance where countries threatened to issue compulsory licenses and then often to prevent that from actually happening, the company agrees to radically reduce the price that that's happened several times.
BROOKE GLADSTONE I don't know if Pfizer or Moderna or Johnson & Johnson, if that one comes out, could even do the little jig of saying, oh, no, we'll drop the prices, because they can't make enough. We're talking about hundreds of thousands of potential lost lives.
DEAN BAKER The pharmaceutical industry is saying, oh, well, it's complicated technology. They couldn't possibly produce it. Well, first of all, India, Brazil, some of the other countries in the developing world, they have very high-tech manufacturers. So, they're not working with sticks and rocks. India's generic manufacturers are as good as anyone in the world. Now do their facilities up and running? Probably not, they would have to retool them. So, what's the timeline we're talking about? Well, I'm not an expert in the technology, but what we do know is none of these vaccines existed back in March of last year and they were able to produce hundreds of millions of doses by November. What that tells us is in eight months, we could have hundreds of millions of doses if we had new factories ready to produce the stuff and maybe quite a bit sooner. I mean, I'd love to say that, well, eight months would be too late. We already have the pandemic under control, but I don't think anyone really believes that. So if if we said, OK, today, you know, we're going to allow anyone in the world who has the ability to produce this to go ahead and start converting a factory, that would be a huge thing in terms of controlling the pandemic.
BROOKE GLADSTONE But no sign of that so far.
DEAN BAKER The Trump administration, America, first they didn't care. I would hope the Biden administration would show more foresight. The humanitarian reasons are huge, but really just from self-interested reasons. I mean, look at what's happening. We're seeing variants of the virus. So even if we're successfully able to vaccinate everyone in the United States in 2021, if it's still raging in sub-Saharan Africa and Latin America, elsewhere in the world, we're going to see new variants and maybe the vaccines we have will be effective against them, but there's a chance they won't be.
BROOKE GLADSTONE Didn't Moderna agree not to enforce its patent until the pandemic was over?
DEAN BAKER They did, but the end of the pandemic is not well defined, so maybe the end of the pandemic, you know, from Moderna standpoint, is when it's no longer widespread in the United States.
BROOKE GLADSTONE Well, then why can't India and South Africa and all those other countries have Morderna's formula now?
DEAN BAKER So if they could get in writing that as long as it's widespread anywhere in the world, then in principle they could take up the Moderna vaccine, start producing that.
BROOKE GLADSTONE It's widespread right now.
DEAN BAKER Well, it is, but perhaps Moderna is going to say six months, eight months down the road. Oh, it's no longer widespread. We're pronouncing the pandemic over and now you owe us lots of money. Put yourself in the position of the generic manufacturer in India, Brazil, and you hear this pledge from Moderna, and that's all you have, that there's not that they're not going for their patent rights until the pandemic is over and you call them up and go, what does that mean? And they go, well, it means what we just said. Well, you go how are you defining the end of the pandemic? Well, when we say it's over. Now, if you can get them to say, "well, no as long as you have a lot of it in India, then it's not over. If you can get that commitment, that's great. But to my knowledge, they haven't been willing to say that.
BROOKE GLADSTONE So it was meaningless mumbo jumbo?
DEAN BAKER That's when I suspect. Again, these are business people, they know how to say what they mean. And if their intention is to say, as long as the pandemic is a problem anywhere in the world, people are free to use the technology. That would be great, but that's not what they said.
BROOKE GLADSTONE Dean, thank you very much.
DEAN BAKER Thanks a lot for having me on, I really enjoyed it.
BROOKE GLADSTONE Dean Baker is senior economist at the Center for Economic Policy Research.
Coming up, maybe the clearest explanation of the GameStop phenom, and how I played the long game. Very long. This is On the Media.
[BREAK]
BROOKE GLADSTONE This is On the Media, I'm Brooke Gladstone.
So back in 1999, in my early 40s, I had a modest individual retirement account, and my account manager was Charlie, who made suggestions when I had money to invest. I must have had a speaking engagement that year or something because I had a thousand dollars to put in. And he suggested that I buy 65 shares of a 15 dollars stock total cost: 975 bucks called GameStop. Now, following my portfolio, as it were, tends to make me bored or worse, anxious or worse still greedy. So I pretty much ignore it. My husband doesn't. Back in April, he said, "You still have GameStop? It's three dollars and fifty cents." And I said, "Yeah, yeah," and just to needle him a little. I added, "Hey, you never know." When your investment shrinks from almost a grand to 50 bucks because you ignored it, the rational move, I reckoned, was to continue ignoring it. GameStop is a corporation that sells digital cartridges containing video games and also video game consoles and other fun widgets from brick and mortar stores to flesh and blood customers. It's a thing of the natural world and so must abide by its physical laws. The stock, on the other hand...
[CLIP]
NEWS REPORT Video game retailer GameStop is set to continue their head spinning ascent today. [END CLIP]
[CLIP]
NEWS REPORT Absolutely nuts. If you look at the, if you just look at the volume in the last few days, there's never been anything like it in its history. [END CLIP]
BROOKE GLADSTONE For most of last year, the company was worth a pretty dismal 250 million dollars, but GameStop stock has soared upward into the exosphere, ballooning the company's worth to somewhere in the ballpark of 20 billion dollars. Did it suddenly have a new strategy to overcome the fact that people could download most of what it sells? That in-person retail sagging for years had plunged into a virus induced toilet? Would even that cause the crazy speculation we've witnessed? No, runs like that are fueled not by reality, but by phantoms. Like housing bubbles, imaginary investment instruments, dreams of catching a moving train into the sky after it's run out of steam. At least that used to be why it happened, but now there's a new reason. Spite. All this is best explained not by corporate actions or the current state of the actual American economy, but rather, as James Surowiecki explained this week in Marker, as a meme. And you may remember other recent meme stocks: Kodak, for instance.
JAMES SUROWIECKI There's usually some kind of catalyst that gets them interested. In Kodak's case, for instance, there was this very odd rumor that they were going to get involved with drugs to to deal with COVID and that sort of got people buying it. And in GameStop's case, the catalyst was really two things. One is, you know, people were saying it was it was pretty undervalued – its stock had been driven down very, very low, and then in the summer, a new guy came on board the board, a guy named Ryan Cohen, who had helped make a company called Chewy very successful. He has all these ambitions to, you know, move GameStop into e-commerce. So that kind of got people talking about it, and maybe the kind of center of the meme stock universe has become a sub Reddit, a board on Reddit called r/WallStreetBets. It actually now has, I think, more than two million subscribers, and it's really just a place where people come in, talk about usually sort of bad companies that could make interesting bets. But what has happened over the last year is that they sort of have realized the power that they potentially have. That even though, you know, most of them, I assume, don't, at least it sounds like when you read it, don't have a ton of money. When you aggregate all of their buying power, they suddenly have the ability to move stocks. So the other thing that's important about meme stocks is generally they all have had two characteristics. They've all been cheap. The vast majority, maybe all of them have had stock prices in the single digits at the time that they really first started to get going. And then the other thing about them is that they were all heavily shorted. In other words, short sellers were betting strongly against them.
BROOKE GLADSTONE Give us a brief explanation of short selling.
JAMES SUROWIECKI So the vast majority of investors, the vast amount of money that's in the stock market is betting that stocks will rise. Short sellers do the opposite. They bet that stocks will fall. So they try. To identify companies where the business is bad or where they think the stock price has gotten totally out of control, they borrow shares from someone who actually owns the stock and then they sell them. Their hope is that the stock price will fall, then they can buy back the shares at a lower price and return them to the person they borrowed them from. The ideal trade would be you short the stock at 20, it drops to 10. You buy back the shares and you know, you've made basically ten dollars a share. The danger for short sellers is that in theory, their losses are unlimited. If you buy GameStop at five dollars a share, the most you can lose is five dollars a share. I mean, it could go to zero and you would lose five dollars a share if you short GameStop as a lot of shorts did. If you short it at 20 dollars a share and it goes to two hundred and ninety dollars a share, which is where GameStop was a few minutes ago, and you hold on to your short that whole time, you've just lost two hundred and seventy dollars a share. So your losses are in theory, unlimited, and it makes it, a) very hard to be a short seller, psychologically is very hard to do.
BROOKE GLADSTONE You need a strong stomach.
JAMES SUROWIECKI Yeah, you need an incredible level of pain tolerance. The basic problem for a short is that if they don't want to hold on to that stock all the way up to 290, at some point they just decide, I can't take the pain anymore, I got to close out my shorts, so I have to buy the stock back. But when they do that, it actually sends the stock higher. Right. There's all this demand. If there are still people shorting it, which they usually are, that actually inflicts more pain on them. And so they start to say, you know what, I can't take the pain. They buy the stock that sends the stock higher. And that's what's usually called a short squeeze. And that was a big part of what has driven GameStop's stock higher.
BROOKE GLADSTONE Now, you said that people, they don't like short sellers. They're seen as the Darth Vader's of the market by a lot of people, because they're betting that stocks will go down. They're buzzkills.
JAMES SUROWIECKI Yeah.
BROOKE GLADSTONE But the redditors seem to think that they are just bad guys. Alex Kirshner in Slate quoted some of the Reddit posts: "when these boomers made their bet, GameStop wasn't a big thing on Wall Street Bets yet," "I don't feel bad at all," said another, "taking money from these rich, greedy hedge fund managers." "I'm an old millennial. I'm tired of getting screwed by the globalist elites," another one said. "This isn't left or right, Republican or Democrat. It's the one percent versus everyone else."
JAMES SUROWIECKI Yeah, there definitely is a real sense of basically taking it to the man. So there was a hedge fund that had, I think, the biggest short position in GameStop Melvin Capital. Earlier this week, Melvin Capital had to be bailed out. It basically got a three billion dollar, almost three billion dollar injection of equity from two other hedge funds. The celebration on Wall Street bets was pretty palpable. I mean, they had essentially, you know, toppled this hedge fund. And, you know, there is a sense that a lot of people have that Wall Street is basically a corrupt insider's game, and they're not entirely wrong about that, it's a game where big wigs are able to prosper even as everybody else doesn't. You know, obviously, over the last 10 years, a lot of people have gotten rich in the stock market and a lot of ordinary people have too. But that clearly is a dominant image of Wall Street, and it and it's not an incorrect one. And so what this has become for a lot of people, both people who are actually doing the trading and then also people observing it, is a kind of populist revolt. Wall Street is finally getting what it deserves. I actually do think there is a real resonance between what's happening in GameStop and other stocks like it and what happened in twenty sixteen with sort of the meme lords on places like 4chan and Reddit and the way they really tried to sort of – and did – disrupt the traditional media narrative, the traditional way the media covered the campaign, the way sort of politics work.
BROOKE GLADSTONE How did they disrupt it?
JAMES SUROWIECKI What they were able to do was use social media to spread pro Trump, but really anti Hillary memes that I think helped make really powerful the image of Hillary as a corrupt insider who stood for everything that, you know, the Internet was and millennials were not in favor of. And, you know, we can debate about how effective those memes were, but when Trump won, there was this one poster on 4chan who who posted "we actually elected a meme president." Slightly overstated, obviously, but there certainly was a dimension to that that was accurate, although that was really driven by kind of an alt right perspective, and that's very different from what's happening with Wall Street Bets. That sense that you can leverage social media, that communities can self organize, and can then really go out and accomplish really interesting things. There, I think is a real resonance between 2016 and what we're seeing right now.
BROOKE GLADSTONE Your reference to the meme president is particularly interesting because the virtual world and the world inside of our own heads has merged so much with the "in real life" world. And of course, the stock market, money in general, has always existed principally in our own heads.
JAMES SUROWIECKI You know, the stock market is kind of the perfect place for these kinds of [chuckles] for these kinds of projects to sort of play themselves out. There's nothing imaginary about the businesses underlying the stocks, but stocks always have a certain kind of fantastical element to them. The continued ascent of Bitcoin, which is in a way a kind of perfect example of collective willing something into existence. I mean, Bitcoin's value depends entirely on the fact that people think Bitcoin is valuable and as a result, it really is that valuable. This group of people on this sub Reddit and other message boards kind of recognize that if they collectively decided to elevate GameStop stock, they could do it.
BROOKE GLADSTONE Is this kind of manipulation, strictly speaking, legal?
JAMES SUROWIECKI It's a fascinating question that I don't think we have a clear answer to. It's not obvious who you would hold responsible for the illegality. You know, there's a long history of people organizing pools, you know, to buy stocks, to drive them up, or alternatively to sell stocks to drive them down. That was very characteristic of the of the 19th century and then the early 20th century.
BROOKE GLADSTONE The uranium stocks in the fifties and the R.V. stocks in the 60s and the dotcom stocks in the 90s. Maybe the tulip bubble in the 1600's.
JAMES SUROWIECKI Yeah.
BROOKE GLADSTONE Is that what you're talking about, or is this something else?
JAMES SUROWIECKI This is something else. I mean, that's one of the really important points to make about this, that what we're seeing with GameStop and other stocks like AMC, the theater company, which on Wednesday quadrupled by midday despite the fact that we are in a pandemic and no one is actually going to the movies. What we're seeing with these stocks is very different from what we've seen in past bubbles. In past bubbles, it was really a function of investors believing that a certain set of companies was going to sort of transform the world. So, yeah, uranium stocks in the 1950s or my favorite is the bowling stock bubble of the early 1960s. People became convinced that every American was going to become a bowler, and that feeds on itself because, as you know, stock prices rise, other people say, oh, wait, maybe I should buy them and they get in. But it isn't an organized or strategic effort to drive stocks up. What is distinctive about what we're seeing this week is the essence of it was a kind of strategic recognition. That if enough people got together to buy GameStop stock and drove the price up, then they could create a short squeeze, and if they traded options in a clever way, that would help drive the stock up. And in that sense, it actually looks much more like what we used to see in the 19th century, in the early 20th century, what were sometimes called bull raids, where a pool of investors would basically connive amongst themselves to buy stocks in order to pump up the price in the idea that that would then lure other buyers in and they could sort of ride it up and then dump it at the top. What's happening in GameStop is people recognizing we can do this thing and then going ahead and doing it without anyone being in charge, which is one of the reasons why I think it's so fascinating.
BROOKE GLADSTONE Mmhmm. Elon Musk has been tweeting about various stocks. Not long ago, I guess the messaging app Signal and then a lot of investors flocked to the wrong company, also called Signal that was defunct, and was this fun? Was this intentional? People made or lost a lot of money there.
JAMES SUROWIECKI Yeah. So, I actually think the impact that Elon Musk is having on the stock market is probably a little closer to bubbles we've seen in the past. During the dotcom bubble, for instance, companies that added dot com to their name or something similar almost always saw their stock prices jump, simply because they added dotcom to their name. But even with the Elon Musk thing, I think there is a level of –.
BROOKE GLADSTONE Are you saying? He is like appending dot com to your name?
JAMES SUROWIECKI It isn't so much that Elon Musk says it and then everyone says, OK, well, that must mean it's worth buying. I think there's also an element of if Elon Musk says it, then people will think they should buy, so therefore I will buy to cash in on that. And then other people say other people are going to buy. And so there is a kind of positive feedback loop. And that was the case with the Signal advance story. And then more recently, Tuesday, after the market closed, he didn't even really say much about GameStop. He just said GameStonk.
[BROOKE LAUGHS]
JAMES SUROWIECKI And that, I think helped get the market going again. So, Musk definitely has this kind of ability to move markets.
BROOKE GLADSTONE So do you think that the redditors have permanently altered some fundamental aspect of American capitalism?
JAMES SUROWIECKI Yeah, on the simplest level, if you are a short seller, you have to be much warier today than you were a week ago. You just have to be, and I don't think that's going to go away any time soon.
BROOKE GLADSTONE People who don't hate short sellers see them as a kind of necessary brake on irrational exuberance.
JAMES SUROWIECKI All the evidence shows that having short sellers in the market is a good thing. It makes stock prices more efficient. It tends to provide, as you said, a check on irrational exuberance. So, while I have no sympathy or pity for the particular short sellers in GameStop and what happened to them. They're big boys, they should have known what they were potentially getting themselves in for and they were setting themselves up for, you know, a massive short squeeze that could crush them. They should have been well aware that even if they didn't know that, that it was going to be a ragtag bunch of redditors who were going to send them to the poorhouse. So I have no sympathy for them, I do think generally we want shorts in the market. And, you know, it's going to be fascinating to see what happens because, you know, if I were a short seller, I would be a lot a lot more nervous about doing it. In that sense. I think it is accurate to say that what's happened has changed American capitalism.
BROOKE GLADSTONE By the way, you want to know how much money I made.
JAMES SUROWIECKI Yeah. How much did you make? I was trying to do the math in my head.
BROOKE GLADSTONE Well, I sold it at 100, so I made 6500 dollars.
JAMES SUROWIECKI That is awesome. Congrats!
BROOKE GLADSTONE On a 975 dollar investment. Of course, it took 22 years!
JAMES SUROWIECKI Yeah, but, you know, it's funny, I was talking, my brother called yesterday, and I was just joking around and I was like, did you buy GameStop? And he was like, yes, I was like, what? And he's not like he doesn't have much money and isn't whatever. But he bought it at sixty and he sold it at 120 or something like that. And I was just like, wow.
BROOKE GLADSTONE Last time I looked it was around two seventy, and I just wonder why do people keep buying if they know it's just a manipulation based on very little. That gravity will happen and they can't know precisely when.
JAMES SUROWIECKI You know, one of the reasons why it's hard to hold a stock when there's no clear fundamental reason to hold it is that, you know, you're by yourself and you're just kind of you don't have any idea when it's going to drop, so the sensible thing to do is to sell it at one hundred. I mean, you know, you could argue the sensible thing to do would have been to sell it at seventy, whatever. But I think one of the things that r/WallStreetBets does is it actually provides a place where people talk to each other and encourage each other, and so if you go there, you'll see, you know, there are lots of posts saying, hold the line. You know, this is going to a thousand. And it does kind of play a role in in sort of reinforcing that.
But there is something mysterious about it. I mean, we don't entirely know, obviously, who's buying all this stock. I mean, a lot of the stock buying, I think, has been done by shorts who are basically covering their shorts and trying to get out of their positions. And some of it is being done by Wall Street professionals who need to own the stock in order to sell options against them and stuff. But if you look at the volume, I mean, an absolutely incredible number of GameStop shares is trading every day. So, there are a lot of ordinary people in there buying and selling the shares. I think some of what's happened in the last couple of days is that there's a lot of day trading in the stock. So, people are just trying to ride it up and down. But I think the main thing that's keeping it elevated where it is is this Wall Street Bets' conviction that there's still more pain that they can inflict on Wall Street, and that's the idea. But I just don't know, that's the fascinating question is: at what point does that resolve vanish? It's an incredibly interesting story.
BROOKE GLADSTONE Thank you so much.
JAMES SUROWIECKI I appreciate it. Thanks for having me on.
BROOKE GLADSTONE James Surowiecki writes about business and finance. His article, titled The Game Stock Fiasco proves wearing a meme stock bubble. Is at Marker.medium.org.
And that's the show. On the Media is produced by Alana Casanova-Burgess, Micah Loewinger, Leah Feder, Jon Hanrahan, Eloise Blondiau, Rebecca Clark-Callender and with help from Alex Hanesworth. Xandra Ellin writes our newsletter. Our technical director is Jennifer Munsen, our engineers this week with Josh Hahn and Adriene Lilly.
Katya Rogers is our executive producer. Bob Garfield will be back next week. And I'm Brooke Gladstone.
Copyright © 2021 New York Public Radio. All rights reserved. Visit our website terms of use at www.wnyc.org for further information.
New York Public Radio transcripts are created on a rush deadline, often by contractors. This text may not be in its final form and may be updated or revised in the future. Accuracy and availability may vary. The authoritative record of programming is the audio record.