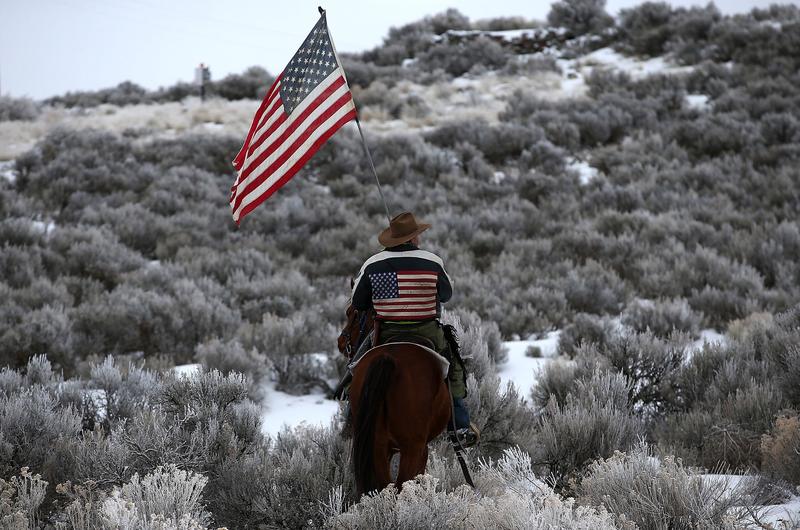 Transcript
[CLIP]
DONALD TRUMP Send it in early and then go and vote. And if it's not tabulated, you vote. And the vote is going to count. [END CLIP]
BROOKE GLADSTONE Fraud in the defense of democracy is no vice. Legality, no virtue. From WNYC in New York, this is On the Media. I'm Brooke Gladstone.
BOB GARFIELD And I'm Bob Garfield. The murder of two protesters in Kenosha by a gun toting team is the latest militia related story to make headlines. But the movement's origins go way back.
JOHN TEMPLE In 1964, 76 percent of Americans would say that always or most of the time they would trust the government. By 1994, that had dropped to 19 percent.
BROOKE GLADSTONE And now all it takes to organize outrage into paramilitary action is a place to post and get angry - courtesy of Facebook's algorithm.
JULIA CARRIE WONG Employees are increasingly saying the social effects of this company are frightening and something needs to be done.
BOB GARFIELD It's all coming up after this.
From WNYC in New York, this is On the Media, I'm Bob Garfield.
BROOKE GLADSTONE And I'm Brooke Gladstone. Never has the phrase law and order as invoked by a president come to mean so clearly its opposite - illegality and disorder. Starting with the first, illegality, like voting twice. On Wednesday, Donald Trump encouraged his North Carolina followers to cast two ballots, one by mail and one in person.
[CLIP]
DONALD TRUMP Send it in early and then go and vote. And if it's not tabulated, you vote and the vote is going to count. You can't let them take your vote away. These people are playing dirty politics. [END CLIP]
[CLIP]
NEWS REPORT In some states you can ask for your mail in ballot to be invalidated, but intentionally voting twice is fraud and a felony in most states. [END CLIP]
BROOKE GLADSTONE The president defended 17 year old Kyle Rittenhouse, who traveled with an assault rifle from his Illinois home to Kenosha, Wisconsin, to enforce law and order and now stands charged with six criminal counts, including first degree intentional homicide, first degree reckless homicide, recklessly endangering safety and possession of a dangerous weapon as a minor. He shot two protesters to death and wounded a third. But to Trump, he is the victim.
[CLIP]
DONALD TRUMP He was trying to get away from them, I guess - looks like. And he fell and then they very violently attacked him. And it was something that we're looking at right now and it's under investigation. But I guess he was in very big trouble, he would have been. He probably would have been killed
BOB GARFIELD This, but one week after his Republican convention showcased accused felons, Mark and Patty McCloskey, who'd brandished guns at peaceful protesters in front of their St. Louis home and who are now official GOP spokes-gunman for the false narrative of white America under siege.
[CLIP]
PATRICIA MCCLOSKEY They're not satisfied with spreading the chaos and violence into our communities. They want to abolish the suburbs altogether by ending single family home zoning. This forced rezoning would bring crime, lawlessness and low quality apartments into now thriving suburban neighborhoods. [END CLIP]
BOB GARFIELD Lie after lie after lie from the husband and wife rich lawyer militia from the Trump campaign and from the hate factory of Fox News.
[CLIP]
LAURA INGRAHAM When the rioters come for your town, and their coming. Will Biden and his team do enough to stop them? And the answer is clearly no. [END CLIP]
[CLIP]
NEWS REPORT These are people are now crossing state lines clearly, and this is being organized using the Internet. [END CLIP]
[CLIP]
TUCKER CARLSON They will burn down your cities and tell you that you did it. And if you don't accept that judgment, maybe they'll send BLM to your house. [END CLIP]
BOB GARFIELD The same race baiting law and order rhetoric was sold by Richard Nixon and Ronald Reagan. Now literally weaponized. Let's just put aside lethal pandemic denial and paranoid QAnon fantasies, at least for a second, and consider Trump's warnings of the, quote, dark shadows and deep state moles controlling Joe Biden. You know, those thugs clad in black on airplanes bound to destroy us.
[CLIP]
DONALD TRUMP They are people that are on the streets and people that are controlling the streets. We had somebody get on a plane from a certain city, this weekend. And in the plane, it was almost completely loaded with with thugs wearing these dark uniforms, black uniforms, with gear and this and that. There were on a plane.
REPORTER Where's this?
DONALD TRUMP I'll tell you sometime. But it's under investigation. [END CLIP]
BROOKE GLADSTONE They have scary gear. They even have menacing... lunch?
[CLIP]
DONALD TRUMP And you have people coming over with bags of soup. Big bags of soup, and they laid it on the ground, and the anarchists take it and they start throwing it at our cops, and our police. And if it hits you, that's worse than a brick because it's got force. [END CLIP]
BROOKE GLADSTONE Soup assaults on police, he says. Every one of whom deserve unwavering support even after the use of deadly force against so many black men and women in this greatest of nations, excluding, of course, the anarchicic parts. Defends their actions against fake news, he says, so quick to smear cops for letting their nerves get the best of them.
[CLIP]
DONALD TRUMP They choke. Just like in a golf tournament. They miss a three foot...
LAURA INGRAHAM You're not comparing it to golf because, of course, that's what the media would say.
DONALD TRUMP I'm saying people choke.
LAURA INGRAHAM People panic.
DONALD TRUMP People make people choke. [END CLIP]
[CLIP]
BILL BARR I do think that there appears to be a phenomenon in the country where African-Americans feel that they're treated when they're stopped by police frequently as suspects, before they're treated as citizens. I don't think that that necessarily reflects some deep seated racism in police departments or in most police officers. [END CLIP]
BROOKE GLADSTONE Meanwhile, Bill Barr, the nation's keep law enforcer, shrugs at the notion that all-too-frequent lethal force against Black people signifies the systemic racism. He also mischaracterizes the details of Jacob Blake's arrest on sexual assault charges caught on video that left him with seven bullets in the back. Courtesy of a Kenosha policeman.
[CLIP]
BILL BARR In the Jacob case, he was in the midst of committing a felony and he was armed. [END CLIP]
BOB GARFIELD No, though police later reported finding a knife in the car. Blake was surrounded by police walking slowly and unarmed when he was shot, which is where Black Lives Matter comes from. Which is why there are protests nationwide, which is why Trump is trying to portray overwhelmingly peaceful dissent as anarchy.
Truth is often not black and white, this week Trump's lies all were. Stirring up the very race conflict his most violent supporters most covet. So is this just the latest so-called shiny object or is it a line crossed of historic and irreparable peril? Who knows? It's a fool's errand. After four years of overlapping lives, provocations, illegalities and inhumanities to declare any one moment a turning point. And yet, with a historic election only eight weeks away, how not to tremble at the realization of our worst fears of a depraved presidency.
BROOKE GLADSTONE Coming up, when fixing our democracy is inseparable from fixing Facebook.
BOB GARFIELD This is On the Media.
BROOKE GLADSTONE This is On the Media, I'm Brooke Gladstone.
BOB GARFIELD And Bob Garfield. The armed right wingers who have arrived in force at protests in Kenosha, Portland, Harrisburg, P.A., Louisville, Kentucky, have been labeled patriot militias - as if that tells you everything you need to know. But the history of America's militia movement, as it's been called, shows that apart from guns, cammo and extreme right-wing ideologies, what passes for a movement is really a grab bag of grievance. John Temple is a journalism professor at West Virginia University and the author of Up in Arms: How the Bundy Family Hijacked Public Lands, Outfoxed the Federal Government and Ignited America's Patriot Movement. John, welcome to OTM.
JOHN TEMPLE Thanks for having me.
BOB GARFIELD Now, I suppose if you asked modern right wing militiamen when their movement began, they would say it was during the Revolutionary War when civilian Minutemen would mobilize in a moment's notice to fight the British. But you believe that the political and ideological roots of the militia movement could be traced to the mid nineteen hundreds?
JOHN TEMPLE Yes, there is a lot of symbology from the Revolutionary War that they employ wearing tri cornered hats and waving the Gadsden flag, the yellow flag with the Serpent Club on it that says Don't tread on me. But it really started to coalesce in 1950 with that era's version of the Tea Party, in a sense, the John Birch Society. And then as the civil rights movement occurred and there was more federal intervention and different issues, you had organizations springing up like Posse Comitatus, which believe that the county level government was the supreme authority. We should be making this decision at the local level.
BOB GARFIELD And I remember rather breathless reports in Time magazine about militia men in Michigan, in Hayden Lake, Idaho, and obviously got a lot of publicity.
JOHN TEMPLE Yeah, very fringe in those days. But at the same time this was going on, there was this corresponding drop in trust in the federal government. Just to give you an example, in 1964, 76 percent of Americans would say that always or most of the time they would trust the government to do what's right. By 1994, that had dropped from 76 percent to 19 percent. So what was radical, gradually became a fairly common place concept. You know, that didn't mean that everyone was picking up guns and going into the woods and joining paramilitary outfits. But it definitely became more of a mainstream cause.
BOB GARFIELD There were paramilitary wannabes, but quite disparate until the 90s, and one particular event. Can we discuss Ruby Ridge?
JOHN TEMPLE Yes. You know, I spent a lot of time with militia people to report the book that you mentioned, Up In Arms, they talk about Randy Weaver like it happened yesterday.
[CLIP]
NEWS REPORT A standoff between a man who is wanted by the FBI and a large number of federal agents. [END CLIP]
[CLIP]
NEWS REPORT Surrounding the cabin for a fugitive named Randy Weaver is holed up with his family. [END CLIP]
JOHN TEMPLE In 1992, U.S. Marshals went to this very rural mountaintop in Idaho to arrest a guy named Randy Weaver. He was a white separatist. He'd been arrested on gun charges and he hadn't appeared court, and a shootout ensued. That left both a U.S. marshal and Weaver's 14 year old son dead. And an FBI sniper shot and killed Weaver's wife. And it just became this proof that the federal government was overreaching and was going to come for you and kill your family.
BOB GARFIELD So it was the proto-bloodbath, but it wasn't the biggest bloodbath to rally the cause. That would be Waco.
JOHN TEMPLE Waco. Yeah, a year later,.
[CLIP]
NEWS REPORT Under the blistering Texas sun, investigators comb the smoldering remains of the Branch Davidian compound. More than 80 people are believed to have died in yesterday's fiery conclusion to the 51 day siege. Twenty four of them children.
BOB GARFIELD Branch Davidian's was a cult that stood accused of...
JOHN TEMPLE Illegal weapons. So there was a shoot out - four federal agents died and six sect members died, and then horribly, the FBI launched a tear gas attack to try to get them out of the compound. A fire breaks out and sweeps through all the buildings, killed 75 people, many of them women and children. Just a disastrous situation. And this became just a big rallying cry for the Patriot movement.
BOB GARFIELD And since then, thousands of paramilitary groups have sprung up in common cause?
JOHN TEMPLE It's not a single movement, really. It's a bunch of different movements. Some of them are fairly organized and some of them are a couple of guys out the woods type situation. They had different beliefs. Some were racists. Some were more concerned with gun rights. Some were more concerned with immigration in recent decades. But they realized that racism, overt racism, that was it's not going to take them into the mainstream. And if there's one thing that these folks want, it's to broaden their appeal. They decided to stop using as much racial language and start focusing on two issues that were more popular, one being that the federal government was overreaching, and the other that the federal government was looking to take away their guns. And they decided that the most positive being that they could give themselves was patriots. So that's what they call themselves.
BOB GARFIELD Let's briefly discuss Bundy. That's the subject of your scholarship. This was a Western rancher who was in an ongoing dispute with the Bureau of Land Management about the grazing of his cattle encroaching on federal lands. Federal government, finally, after trying to stop him in court, decided to take more decisive action.
JOHN TEMPLE Yes, they sent some cowboys up on this federal land, this land that Cliven Bundy did not own, this is 2014. They knew that the Bundy family might fight back. So they had more than a hundred agents of different federal agencies involved to protect them. And Cliven Bundy was not a militia member, put out a call to arms saying they're coming for my cattle. They're arresting my kids, because that was happening as well. And what had happened by this time, it was different than Waco and Ruby Ridge was that now we had social media networks. So this call to arms went out and it just went crazy. Thousands traveled from all over the country to fight back.
[CLIP]
NEWS REPORTER Demonstrators have rallied to support Bundy, leading to an altercation with law enforcement officials on Wednesday when one of Bundy's sons was tased after kicking a police dog.
[CHANTING]
NEWS REPORTER Jim Lordi came from Montana to join the protesters. He says he and other militia members are not afraid to shoot if necessary.
JIM LORDI We need guns to protect ourselves from a tyrannical government. [END CLIP]
JOHN TEMPLE That turned in to a real flashpoint. But the thing that was unique about it was that now they knew how to gather. And they knew how to get the word out about events like this.
BOB GARFIELD You made reference to this earlier. It has perplexed me for some years. Is this just a LARP exercise with live ammo? You know, a bunch of men playing paramilitary because it makes them feel powerful or part of something bigger than themselves? Or are these real revolutionaries by and large.
JOHN TEMPLE That's a great question. And it's a question that, of course, I can't answer definitively. As you know, every every person has their own individual motivations. But there is an element of fun involved in this. It may not sound fun to you or me, but I think these are oftentimes people who might have mental health problems, or they may have money problems or they may have been unsuccessful in their personal lives. And this is a way to get together with other people. But there are others who truly believe in what they're doing, that we're under attack and that the federal government is overreaching.
BOB GARFIELD How could it be that at the moment they have in the Oval Office the very man who at least propounds their nonsense, that they're taking to the streets? There's some cognitive dissonance there.
JOHN TEMPLE Oh, absolutely. I spent a lot of time riding around in cars with these folks and going to various events. And it's really, really interesting because, like you said, if the one thing that they did have in common for decades was that they believed the federal government was kind of the enemy. Suddenly the person at the top of the federal government is espousing, you know, many of the same ideas as they are. What I saw was a split. A majority of people kind of were like, great, we love Donald Trump. But there is this element of purists who are like, you know what? If you are in charge of the federal government, you are the enemy by default. And then there's another thinner slice. And I would include Ammon Bundy, Cliven Bundy's son, who believe that Donald Trump is an authoritarian.
BOB GARFIELD Ammon Bundy posted on Instagram live about this very thing. Well, here's what it sounded like.
[CLIP]
AMMON BUNDY You must have a problem in your mind if you think that somehow the Black Lives Matter is more dangerous than the police. If you think the armed teeth is the one going to take your freedom, you must be hypnotized by conservative talk show host if on the police is the correct thing to do. [END CLIP]
JOHN TEMPLE Yeah. So, you know, he has gone from being the hero of the movement in, say, 2016 when he was occupying more wildlife reservation in Oregon to being sort of sidelined.
BOB GARFIELD So it's scattered. It's contradictory. It's often paranoid and fantastic, but it's out on the streets now with loaded rifles. First, how dangerous is this moment? What do you think is its trajectory? And what, if anything, can we do about it?
JOHN TEMPLE I will never try to predict the future of what's going to happen next with this movement. You know, these folks are always looking for a cause. They're looking for a Bundy ranch. They're looking for a Ruby Ridge or Waco. Word they use all the time is optics, optics, optics, optics. How does this look on camera? And right now, they have a 17-year-old kid, Kyle Rittenhouse, who is, in their view, defending himself. That will appeal, they believe, to a broader slice of the country. And it appeals to Donald Trump. And the other thing is this is going to drag on for a while. There's going to be court cases. There's going to be opportunities for rallies and events and protests. And the optics, from their point of view are good. And then it's taking place in this time where no matter what side you're on or even if you're in the middle, you know, you're feeling this heightened sensitivity. We've got someone stoking fear and paranoia. I mean, every day it gets a little nuttier what's coming out of Donald Trump's mouth. So it's scary set of circumstances.
BOB GARFIELD Thank you, John. I'm very grateful.
JOHN TEMPLE Thank you for having me.
BOB GARFIELD John Temple is a professor of journalism at West Virginia University, and the author of Up in Arms: How The Bundy Family Hijacked Public Lands, Outfoxed the Federal Government and Ignited America's Patriot Movement.
BROOKE GLADSTONE On August 25th, organizers affiliated with a group called the Kenosha Guard shared a call to action on where else - Facebook. Quote, any patriots willing to take up arms and defend our city tonight from the evil thugs? We know now that the taking up arms in question led to the murder of two protesters at the hand of a 17-year-old vigilante who should never have gone to Kenosha. The scrutiny Facebook has undergone in the aftermath of the Kenosha shooting is well trod territory for the platform. Just this Thursday, the company released a suite of new regulations aimed at securing the legitimacy of November's presidential election.
[CLIP]
NEWS REPORT In this plan that's rolling out today, Facebook promises to flag or in some cases remove misinformation about voting related to the coronavirus. It will also limit political ads in the week before the election. [END CLIP]
BROOKE GLADSTONE A week. The new regulations amount to fixing a nuclear reactor with duct tape and some spit. Facebook, which runs on money generating algorithms, is hazardous to our collective health, says its former V.P. for user growth, Chamath Polihapitiya, because the, quote, short term dopamine driven feedback loops that we have created are destroying how society works. Julia carrie Wong is a senior technology reporter for The Guardian. She says that the violence that spilled into the streets of Kenosha had its origins on Facebook. Of course it did.
JULIA CARRIE WONG The Kenosha Guard was almost exclusively a creation of Facebook itself. The militia leader, quote unquote, is a man named Kevin Matheson. He basically set up a Facebook page during the George Floyd protests. But the page didn't really go anywhere up until the police shooting of Jacob Blake. That's when this Facebook event kind of snowballed.
BROOKE GLADSTONE Was the use of Facebook by the Kenosha Guard typical of these vigilante groups?
JULIA CARRIE WONG You know, I'm not entirely sure. But I think it might have been one week before this all happened. Facebook announced that they were going to crack down on U.S. based militias that were using its site to organize. They said that they were taking down 980 Group's, 520 pages, starting with the militias that had used language that suggested that they were encouraging violence.
BROOKE GLADSTONE But Facebook did have some basic rules in place for a while, banning organizations from the site that were explicitly violent - like terrorist organizations, criminal cartels. What were the contours of those regulations?
JULIA CARRIE WONG If you have a violent mission and if you're not state based, you're not allowed to use its platform. In other countries, Facebook has also banned armed ethnic organizations that might be recognized under international law. Facebook said because they're not state actors, they should not be allowed on the platform, but these rules are clearly problematic. If you look at history, the African National Congress would not have been allowed to use Facebook's tools to connect people that were fighting against an oppressive racist regime. If you look at Rwanda, they would have prevented the Tutsi rebels from using their tools while allowing the Hutu genocide heirs because one was in state power and one was not. There's been, I think, a bit of a double standard. I'm sure that Facebook is full of double standards. But in the U.S., we have this thriving subculture of militia movements for a long time allowed to remain on Facebook. The three percenters, the Oath Keepers, these non-governmental groups that are nevertheless armed and whose rhetoric, at least if not their actions for the most part, includes a lot of discussion of potential violence. So, these are very difficult rules to enforce. They're very difficult calls to make.
BROOKE GLADSTONE Yeah. Isn't that the problem, that when the catchall category at Facebook is, quote, dangerous organization, who gets to determine what that is?
JULIA CARRIE WONG It's of concern. You know, here in the United States, we have a lot of criticism about how Facebook is making these decisions, how Facebook is drawing its lines. Ninety percent of Facebook users aren't even here in the U.S. where we have the most attention from Facebook staff. So when we're calling out Facebook for making a mistake in Kenosha, Wisconsin, you have to recognize that Facebook put more effort into getting that decision right than they possibly could have in any other country around the world, because this is where they have the vast majority of their policy people paying attention to the potential backlash, and even still they're often making the wrong call.
BROOKE GLADSTONE And recently, Facebook has been trying to figure out how to tamp down on groups that aren't explicitly violent but could provoke violence. What prompted them to go further?
JULIA CARRIE WONG It was a lot of pressure over how they were going to start dealing with QAnon. QAnon has been exploding on Facebook. It's consistently been tied to vigilante violent acts. And at the same time you can't look at QAnon and say that it falls into the same category as ISIS or al-Qaida. So they were trying to straddle the line between the aspects of QAnon which are political speech and the parts that are deeply committed to a false interpretation of reality. To the extent that they might be interested in inciting violence. The fact that QAnon is a pro-Trump movement and that we've seen Facebook show very little appetite for challenging the Right in the US. Probably plays into their decision to chart a middle ground here.
BROOKE GLADSTONE Nor is Facebook banning the groups that it flags as malicious. It's more like, you know, they're on notice.
JULIA CARRIE WONG They've created this separate category for groups like QAnon militias and Antifa, to the extent that Antifa uses Facebook, which I think is pretty absurd. They've basically said that all of these groups are on notice. So a normal group like neighborhood soccer team or a PTA that uses Facebook, if one person says something violent in that group because they lost their temper, a soccer game goes really bad or something really outrageous happens at the PTA meeting. The group itself will not be banned. It's possible that Facebook would remove that single post and might put the user that said it in like a 24 hour timeout or something. But for QAnon groups and for militia groups, it's one strike and you're out. You can set up the Kenosha Guard and you can say this is a militia we're all about safety, but the moment that you start talking about encouraging violence, that's when you're done.
BROOKE GLADSTONE After the violence you saw on Facebook and Instagram, which it owns depictions of the alleged shooter as as a saint, as a martyr.
JULIA CARRIE WONG As soon as this shooting happened, Facebook s policy team designated this shooting as a mass shooting. It means nobody is allowed to represent in a positive manner the shooter or the shooting itself, because we've seen mass killers lionized by extremist groups. And what was really just deeply disturbing was that there was a lot of groups and pages that were posting meme's of this alleged shooter, photos of him with his gun. There were taglines saying that he was a hero. One of the ones that just really upset me was a meme that showed a photo of him and it said three commies down.
BROOKE GLADSTONE Ugh
JULIA CARRIE WONG There were also three separate fund raisers for the alleged shooter. Those fundraisers, which are technically banned by Facebook, garnered more than 20000 shares over a couple of days. Facebook had very little to say for itself. It took them more than 24 hours to get back to my questions and then took down the things that I had specifically linked them to.
BROOKE GLADSTONE Then there's the problem. Facebook is a removal of the posts, reinforcing the "you're censoring my right to say things" - that whole deal.
JULIA CARRIE WONG Right, exactly.
BROOKE GLADSTONE How do you thread that needle?
JULIA CARRIE WONG It's a very, very complicated one, right? Because within the first day of this shooting taking place, we saw Tucker Carlson on Fox News offering a justification.
[CLIP]
TUCKER CARLSON So are we really surprised that looting and arson accelerated to murder? How shocked are we that 17 year olds with rifles decided they had to maintain order when no one else would? [END CLIP]
JULIA CARRIE WONG That kind of set the tone for the way that the right was going to justify this. I don't envy Facebook having to deal with that situation. When you have the ruling party offering up a justification for an extrajudicial killing.
BROOKE GLADSTONE In a video that was released from an internal meeting at Facebook, CEO Mark Zuckerberg responded to criticism over the company's impotence in the face of militia organizing.
[CLIP]
MARK ZUCKERBERG he contractors know the reviewers who the initial complaints were were followed too risky, didn't pick this up. And on, onm\, second review, doing it more sensitively. The team that was that's responsible for dangerous organizations recognized that this violated the policies and we took it down. [END CLIP]
JULIA CARRIE WONG He blamed it on the contractors, which was interesting. The contractors being people that don't actually work for Facebook, don't actually get any of the perks of working for Facebook, but are kind of tasked with dealing with the worst detritus of the Internet every day at low wages, often in other countries.
BROOKE GLADSTONE Yeah. You recently spoke to Ellen Pao, the former CEO of Reddit. She said basically that you subcontract things you don't care about and you don't care about things you subcontract.
JULIA CARRIE WONG Ellen Pao was the CEO of a Reddit trying really hard to clean up that platform and deal with violence, harassment and hate on the Internet. She said that she wishes that she had brought content moderation in-house. And I was just really struck by that. You know, nobody in Silicon Valley, none of these platforms ever talk about bringing content moderation in-house. It's this huge workforce that is kept off the books. They're often in different cities and different countries, and they're not treated as being as important to the company's mission as the software engineers and the product managers and the ad salespeople.
BROOKE GLADSTONE And being so remote they can just follow the instructions. They can't make any judgments because a lot of times they just don't know the context.
JULIA CARRIE WONG If Facebook in-sourced editorial, I think that that would help. It's the largest publisher in the history of the world and they have entirely outsourced editorial to people that don't work for the company. The content is generated by users and the content is edited by subcontracted low-wage workers, often in other countries. And then on the other side of it, there's just the sheer size and scale. Facebook is in many ways simply too big to be effectively moderated.
BROOKE GLADSTONE But it does seem that the employees at Facebook are starting to get angry. At the beginning of the summer. There was a digital walkout over Facebook's decision to say that Trump's quote, when the looting starts, the shooting starts was okay. This was a company that was used to obedience.
JULIA CARRIE WONG Among all the different Silicon Valley tech companies, Facebook has a reputation of the staff being kind of true believers. That there are no problems, that more Facebook won't fix. What we've seen this summer is that Facebook employees are increasingly coming out and saying the social effects of this company are bad and frightening and something needs to be done. And it's not surprising. I mean, most of their employees live in the United States and are now getting firsthand experience of the kind of deleterious impacts that Facebook can have on a democracy that have been seen in the Philippines and Poland and India.
BROOKE GLADSTONE How did you feel when you saw the Kevin Roose piece in The New York Times about how extreme right wing influences are dominating the political conversation on Facebook? And we're talking about entirely alternate universes. It's long been the case that we can avoid inconvenient facts, but Facebook seems to have cemented these information pathways to the point where they're like luge slides. You never get off the glide path you were on.
JULIA CARRIE WONG Right, I mean, I thought that that piece by Kevin was really important. I hope that more people, especially more journalists, will take his advice and start spending more time trying to use Facebook the way that people that you don't know use Facebook. There is a tendency in the journalists discourse to say that Twitter isn't real life. But since the pandemic, we've all been living our lives online. The Facebook world that people exist in is real to them. And if you don't really know what this right wing Facebook ecosystem feels like, you need to kind of take the time and get to know it because it's a different world.
BROOKE GLADSTONE So what would you advise a person who wants to engage with people outside of their luge to do? What would you advise them to bring to those conversations?
JULIA CARRIE WONG The parts of our psychology that Facebook taps into. The structure of its algorithms is particularly effective for outrage, for anger, for things that are emotive and reactive. But when it comes to the much harder work facing this entire country, trying to build social ties across political disagreements, across social difference, I honestly don't think that Facebook is capable of doing that. Probably you are going to be better off engaging in civic life in your community and trying to help rebuild that outside of the structures that Facebook has created. Cause those structures at the moment are simply not suited for positive social outcomes.
BROOKE GLADSTONE Julia, thank you very much.
JULIA CARRIE WONG Thank you so much, Julia. Carrie Wong is a technology reporter for The Guardian.
BOB GARFIELD Coming up, a wrong headline and what constitutes news.
BROOKE GLADSTONE This is On the Media.
This is On the Media, I'm Brooke Gladstone.
BOB GARFIELD And I'm Bob Garfield. Thousands assembled in Civic Center Park, Kenosha, Wisconsin, this past Saturday to decry the police brutality that put Jacob Blake in a hospital bed and locked him there.
[CLIP]
JACOB BLAKE SR I know there's a lot of parents out here that you could not imagine what it feels like to look at your baby paralyzed from the waist down. Shackled! Shackled!. Where was my son going? They already put him in the bed. [END CLIP]
BOB GARFIELD Blake's father, Jacob Blake, Senior, set the tone.
[CLIP]
JACOB BLAKE SR The good people of this city understand. If we tear it up, we have nothing. If you tear it up, you will have nowhere to go. I don't want you all to be homeless. I don't want you to be storeless. I don't want not to be able to buy your sons, daughters and grandbabies the food and the milk that they need. Do me a favor. My nation is asking you. Stop it. Stop it. [END CLIP]
BOB GARFIELD Other speakers included Wisconsin Lt.. Governor Mandela Barnes, U.S. Congressperson Gwen Moore and a speaker whose name we still don't know who strayed way off message.
[CLIP]
UNKNOWN SPEAKER If you kill one of ours, its time for us to kill one of yours [END CLIP]
BOB GARFIELD Those words of rage and despair played into the very race war fears being stoked by Trump, the GOP and to the right wing media sphere. So, what does the Daily Kenosha News put in its headline? That outlier expression of anguish? The Inflammatory Threat. Daniel Thompson was a digital editor at the Kenosha News until Saturday when he resigned over his objections to the headline. Daniel, welcome to On the Media.
DANIEL THOMPSON Thank you for having me.
BOB GARFIELD So you texted the boss, executive editor Bob Heisse, and said what?
DANIEL THOMPSON I screenshot the headline. I circled it in red and I sent him a text saying, I want to know exactly who wrote this headline. I sent a few more texts. The last one, I think, stating that I don't know if I can associate with the company after this, and I need to calm down, but I want you to know immediately. And you can tell by my wording that I didn't believe that Bob was the one who wrote the headline.
BOB GARFIELD And Heisse replied. Now, did he say: To Daniel, it seems newsworthy to me, but as the Kenosha New's only black editor, perhaps you are sensitive to something that I just don't see. Let me mull this over and think about the context and the likely effect of this decision. Is that what he said?
DANIEL THOMPSON That is not what he said. His reply was that I should, yes, just calm down. He said that it was a direct quote from the event and that it was a public threat, and therefore kind of saying that it was a valid thing to put in the headline. That led to me saying that I quit.
BOB GARFIELD Now, I should observe that the decision to highlight one moment out of a long day of speeches is not in and of itself bad journalism. Now we are trained to focus on the most newsworthy detail, even if it's only an instant. But if the instant that you choose to journalistically isolate mischaracterizes the news event and inflates an outlier moment, and especially in this environment, stokes fears - you believe what?
DANIEL THOMPSON I believe that you're being irresponsible. And it's been, in my experience, even covering protests that the way that people have thought about approaching stories in the past, does not do justice to stories revolving around issues such as justice for Jacob Blake, George Floyd, Breonna Taylor, police accountability and things like that. Because in these situations that are very tense, very volatile, it's almost more important to set up the context completely in which they're taking place. Before you start throwing out these big quotes.
BOB GARFIELD In the past, when you flagged issues of insensitivity or nuance, Hice and other editors listened. And as I understand it, often accommodated your concerns.
DANIEL THOMPSON Yes, that's almost what makes it more surprising is because we did have a relationship where I was very vocal about things that I didn't agree with. We could talk about these things. And in the end, maybe they saw my point, maybe they didn't. But more often than not, if my point was valid, things were adjusted.
BOB GARFIELD We invited Bob Heisse to speak to us. He declined. But he did give us a quote, which has our staff has been working tirelessly to cover the protests and civil unrest in Kenosha. The community depends on us and we are working under challenging circumstances. We are telling all sides of the story with photos, videos and stories, and we will continue to do so. Now, you want an apology from the paper to the Blake family, at a minimum. That isn't one, is it?
DANIEL THOMPSON No, but I do understand. Here's the thing. The Kenosha office is taking a lot of heat right now for something that was not the fault of anybody in that office. Besides, you know, my interaction with Bob, I've said I would not name the person publicly, but I'm comfortable saying that person did not work in that Kenosha office. In ways that makes me even more angry that Lee Enterprises and publisher Mark Lewis, who oversees WisCon Valley Media Group, which is Kenosha News Journal Times and Lake Geneva Regional News. He hasn't said anything either, and I'm sure he knows exactly who did it to. But he's letting Bob and the Kenosha staff take all the heat.
BOB GARFIELD This summer, the New York Times media columnist Ben Smith wrote about the generation of black journalists who covered Ferguson in 2014. He connected their experiences then to changes that we're seeing in American newsrooms now. As they, quote, try to find common ground between a tradition that aims to persuade the widest possible audience that its reporting is neutral and journalists who believe that fairness on issues from race to Donald Trump require clear moral calls. Was the decision to stand by this headline immoral?
DANIEL THOMPSON Perhaps. I still wonder in the back of my head how we got here. But I've thought there are a few options. For one, there is the possibility that it is a boss who has been, yes, working tirelessly and working many hours and doing so because he's short staffed because of cuts by the parent company over the years. Who is lacking sleep and probably angry. And then he has an employee basically address him in a tone of complete insubordination. Was it a pride thing? Was it anger? Was it a culmination of just what he was dealing with? Probably. Was it a moral stand? Maybe. And then there's the third option of Bob wasn't the one who did it, but he wasn't also going to throw the person that did do it under the bus. So as much as people want to give me credit, I think Bob should also get credit, too. Because even though this wasn't his fault, he hasn't put the blame on anybody else.
BOB GARFIELD Well, you're clearly fair minded and beyond that, which I expected to tell you the truth under these circumstances. Which makes me wonder, going back to that Ben Smith column, whether you agreed at the time or embrace the notion that the rules of journalism, which cleaved so heavily on being disinterested observers, do have to change under the circumstances of social and economic injustice. Are you radicalized by this experience?
DANIEL THOMPSON It radicalized me at first. If you see my tweet and everything, my sudden, angry, almost dictator like call for this person to publicly apologize or I'm going to name them. Yes, I had a radical moment. I was angry and I'm thankful that people actually responded to that tweet and questioned me on it. And as the day went on, as my anger dissipated, I started to see their point. It would be almost the most hilarious example of hypocrisy to rail against my former employer one day for their irresponsible acts that put the black community or even local community in general in danger. When I'm threatening to do the same thing, but not to a community, to a specific person and a specific family. And in that moment, I realized that I had become the equal opposite reaction of what they did. So, yes, there were moments where I kind of lost control, but now I'm back in control. Back to more objective perspective of things. And I'm happy to be.
BOB GARFIELD One last thing, Daniel. When this happened during this momentous episode and the struggle for social justice and against racism and police brutality, you were the only black full time member of that newsroom. The story isn't over. In fact, we're seeing other coverage is beginning to peel back even more of the layers of social injustice in Kenosha in particular. But now there is zero full time black employees of the Kenosha News. Do you think in the end this episode will help the proper telling of a complex and heartbreaking story? Or have you walked out with the only sort of institutional knowledge required to keep that coverage honest?
DANIEL THOMPSON No. No, not at all. The connection to staff is incredible. Deneen Smith, Jill Rozell, Heather Poyner, Liz Snyder, Dan Truttschel, Terry Flores, if I hadn't mentioned her already, James Lawson, Sean Krajacic. These reporters and photographer have worked so hard to cover the community as much as people like to think that. I've been speaking up in the newsroom. They're the ones who have spoken up to me when I'm wrong. So do I think that the lack of diversity is troubling? Yes. But I also know one hundred percent that there are good, unbiased reporters in that newsroom because I've worked with them side by side for years. I don't worry about Kenosha with that reporting staff there. I worry about what management does to what that reporting staff turns in.
BOB GARFIELD In the aftermath of all of this, you have announced that you're going to stay in town. You're going to publish an online independent news site, and you had a GoFundMe or some other online tool for generating some capital. And the community responded.
DANIEL THOMPSON In droves. And honestly, I don't even know how to react to how nice everybody has been. Because for a lot of my life, and especially the past few years, suffering through my own kind of verbal abuse as a journalist covering certain things, I was feeling very cynical and in fact made many social media posts about losing my faith in humanity. And in all of this, it's been completely restored. It's funny, the Kenosha news and leaving that ends that chapter of my life. But everything that's happened afterwords puts me in a much better position for the next chapter, both as a person and as a professional.
BOB GARFIELD Dude, you are so Wisconsin nice, I do not know how to process this.
[BOTH LAUGH]
BOB GARFIELD Your equanimity is just - it's hard for me to get my head around.
DANIEL THOMPSON I worked at a small town in Nebraska and I didn't know in small towns, anywhere, that everybody just waves at you when they drive by. It took me days to adjust to that level of nice because I was like, wait, do I know that person?
BOB GARFIELD Well, I feel like you're waving to me. Daniel thank you so much.
DANIEL THOMPSON Yeah, well, thank you too.
BOB GARFIELD Daniel Thompson is now an independent digital journalist in Kenosha, Wisconsin. That's it for this week's show, On the Media is produced by Alana Casanova-Burgess, Micah Lowinger, Leah Feder, Jon Hanrahan, Xandra Ellin and Eloise Blondiau. And our show was edited by... Brooke. Our technical director is Jennifer Munsen, our engineer this week was Josh Hahn.
BROOKE GLADSTONE Katya Rogers is our executive producer. On the Media, is a production of WNYC Studios. I'm Brooke Gladstone.
BOB GARFIELD And Bob Garfield.
Copyright © 2020 New York Public Radio. All rights reserved. Visit our website terms of use at www.wnyc.org for further information.

New York Public Radio transcripts are created on a rush deadline, often by contractors. This text may not be in its final form and may be updated or revised in the future. Accuracy and availability may vary. The authoritative record of New York Public Radio's programming is the audio record.