Are We There Yet? Are We There Yet?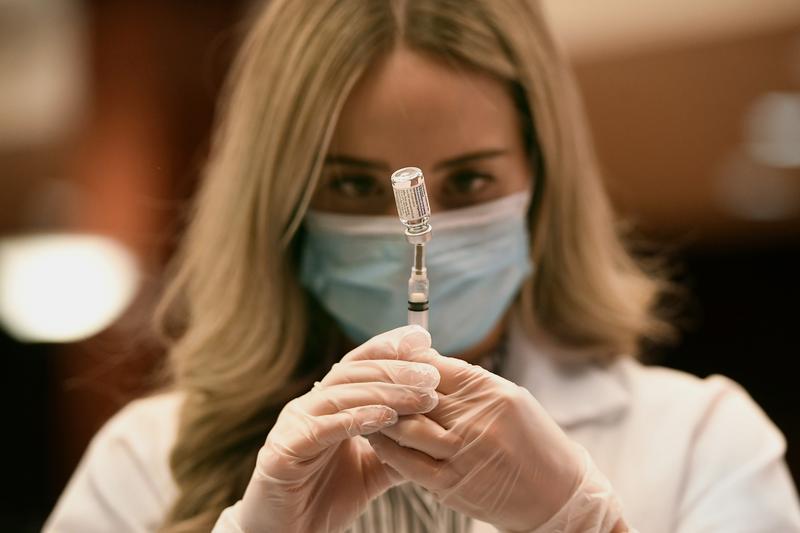 Transcript
RACHAEL PILTCH LOEB There is always this anxiety that I have of am I putting myself, my loved ones, at risk by doing this and is it really worth it to me?
BROOKE GLADSTONE So when that anxiety lifts, is that when the pandemic is over? From WNYC in New York, this is On the Media. I'm Brooke Gladstone.
BOB GARFIELD And I'm Bob Garfield, also on this week's show. Sure, Pfizer and Moderna chalked up lofty stats during their trials late last year,.
HELEN BRANSWELL But they were playing on a different playing field than the vaccines that completed their trials more recently. They were the ones that are still in trials.
BROOKE GLADSTONE Plus, New York Gov. Andrew Cuomo has dueling media personas. Print readers know him as a bully, but on TV, he's our pandemic hero.
ALEX PAREENE He's not berating anyone. He's joking around with his brother. He's New York's dad.
BOB GARFIELD It's all coming up after this.
[BREAK]
BOB GARFIELD From WNYC in New York, this is On the Media, I'm Bob Garfield.
BROOKE GLADSTONE And I'm Brooke Gladstone.
[CLIP]
ARI MELBER When will it end? When will it all be over? We all want to know. We're all wondering. [END CLIP]
BROOKE GLADSTONE I mean, seriously, it's like MSNBC's Ari Melber was speaking for the whole country. Well, most of it.
[CLIP]
NEWS REPORT Breaking news in Texas where Republican Governor Greg Abbott just issued an executive order ending, ending the statewide mask mandate and will now allow all businesses to reopen at 100 percent capacity on March 10th. [END CLIP]
BROOKE GLADSTONE Earlier this week, officials in Texas and Mississippi decided that the pandemic is over, but it's not a majority view.
[CLIP]
NEWS REPORT We've heard from the CDC director, Dr. Wollensky. This is not repeat, not the time to let up in these precautions because there are variants out there, it's still a very dangerous pandemic. [END CLIP]
BROOKE GLADSTONE According to James Hamblin of the Atlantic, ending precautions, now, it's like entering the last miles of a marathon and taking off your shoes to eat hot dogs. But the question still stands: where is the finish line? What will it take for us to get there? Is there a finish line at all?
[CLIP]
NEWS REPORT That just because you get vaccinated doesn't mean you have the green light to travel? [END CLIP]
[CLIP]
PUBLIC HEALTH OFFICIAL This is really important from a public health perspective. Your behavior doesn't change.
REPORTER But why is that? [END CLIP]
BROOKE GLADSTONE Yeah, why?
[CLIP]
GOV. ANDREW CUOMO Here's what all this means. We're now on track to have enough vaccine supply for every adult in America by the end of May. [END CLIP]
BROOKE GLADSTONE Our leaders keep referring to some kind of luminescence, beckoning us in the dark. Wait, that's not the phrase.
[CLIP]
GOV. ANDREW CUOMO There is light at the end of the tunnel.
[CLIP]
REPORTER Governor Gavin Newsom peppered a press conference with a simple message:.
GOV. GAVIN NEWSOM There is light at the end tunnel, but we're still in the tunnel.
REPORTER He said that again and again.
GOV. GAVIN NEWSOM There's not just light at the end of the tunnel. There's bright light at the end of this time.
[CLIP]
GOV. ANDREW CUOMO The light at the end of the tunnel is in sight, but we can't stop driving now. [END CLIP]
BROOKE GLADSTONE But a lot of us are running out of gas. And according to some experts, that light is set on an infinitely receding horizon. When is this gonna be over? We keep getting mixed messages because there's a lot we don't know, and even more we can't predict. We want definitive answers about how to behave and we can't have them because the nation and its people are diverse geographically, politically, economically and in so many other ways. Still, we wanted to ask the question, how does it end? Rachael Piltch Loeb is a preparedness fellow at the Harvard T.H Chan School of Public Health, and an associate research scientist at the NYU School of Global Public Health.
RACHAEL PILTCH LOEB The reality is there has been such diverse experience that it's pretty hard to imagine a unified end. We know that there are vastly different experiences for our front line, essential workers, people who have been going to work every single day. You know, we live in an incredibly diverse country and that, for better or worse, has led to an incredibly diverse pandemic experience.
BROOKE GLADSTONE You were quoted in an article in The Atlantic by Joe Pinsker, who suggested that even defining the end has to do with what you choose to do. There's a person in his piece who was going to get a tattoo when it was all over. And so when she decides it's safe to get a tattoo, then for her it's all over.
RACHAEL PILTCH LOEB It's an interesting thought that people will mark what they perceive to be the end of the pandemic in different ways. We oftentimes are making decisions around our understanding of the latest data, and data is only as good as the inputs going into it. So, for example, how well is the government able to roll out testing? Who is it that's actually going to get tested? How accurate are the tests? I've seen experts discussing how perhaps when there is on average one hundred deaths a day, which is similar to the number of deaths that would be attributed to the flu per day, that will be a quote unquote reasonably acceptable threshold by which we could say the Covid pandemic is over. And this is kind of the new norm for society. And I think the tolerance that society or community has for continuing to have some of these, I don't want to call them restrictive, but changes to our functional norms.
BROOKE GLADSTONE Why don't you want to call them restrictions? They are! Wearing a mask with your grandparents, there's no way that that could be seen as a neutral thing.
RACHAEL PILTCH LOEB Your point is well taken. I also think, though, that in the future they will become guidance for how to reduce the risk you pose to your grandparents.
BROOKE GLADSTONE I get your larger point, but I was also thinking back to the beginning of the pandemic when New York Mayor Bill de Blasio promised health care workers a ticker tape parade when this is all over. That was supposed to feel definitive. I mean, this will be possible at some point.
RACHAEL PILTCH LOEB It will definitely be possible in the not so distant future. We're talking about an outdoor event, where people could still wear masks. But I don't think that there will be a clear moment when we can say we never have to think about covid again.
BROOKE GLADSTONE Well, we're still thinking about the flu.
RACHAEL PILTCH LOEB Yes.
BROOKE GLADSTONE Now, as we speak on Wednesday, the CDC is about to issue new guidelines that reportedly will say that fully vaccinated individuals will be able to gather in small groups with other people who have also been vaccinated. Even for people who have been fully vaccinated, other mitigation measures will still be recommended, including wearing a mask in public and social distancing. I found all of this quite interesting and stipulating that there are many, many factors that are impossible to predict. Would you allow me to try a lightning round?
RACHAEL PILTCH LOEB Sure, we can try.
BROOKE GLADSTONE Here we go! First, when can unvaccinated kids kiss their vaccinated grandparents?
RACHAEL PILTCH LOEB Oh, never.
BROOKE GLADSTONE OK.
RACHAEL PILTCH LOEB It would be very bad – for the grandparents. I would not recommend it.
BROOKE GLADSTONE When can unvaccinated college students flood into sweaty basements and bars?
RACHAEL PILTCH LOEB When should they? When will they? I can see that happening in the fall. I think that there is never a time when that would be a recommendation. They should be getting vaccinated.
BROOKE GLADSTONE Can vaccinated people remove their masks when gathering in small groups with other vaccinated people?
RACHAEL PILTCH LOEB Yes. Having vaccinated people interact with each other, we should feel comfortable with and we should celebrate the opportunity to do that after probably not being able to for so long. The risk that the vaccinated individual is contracting COVID from other vaccinated individuals is incredibly low. So if that vaccinated person goes, has fun with their vaccinated friends and comes home to others who are unvaccinated, it would be pretty unlikely, from what we understand, that that vaccinated person would then spread the virus. But to call it zero is unrealistic.
BROOKE GLADSTONE You would agree that vaccinated people should still be getting tested before traveling or going to a large event – for the sake of other people?
RACHAEL PILTCH LOEB For the purposes of abundance of caution, yes. That is going to continue to evolve as we see how long the immunity lasts, as we figure out whether or not that is still realistic after a few months. What I'm reflecting on, what all of this suggests is just we are flying the plane as it's being built, as we come up with guidelines and recommendations of what's safe both for an individual and for populations.
BROOKE GLADSTONE I understand that getting vaccinated doesn't give me a free pass to do whatever I want, but I find it hard to believe, as some people suggest, that I can't do anything differently, now. I'm inclined to think that's overstating things. Essentially, in order to manipulate the public into being responsible to fellow citizens, it was the same impulse that early in the pandemic had Dr. Fauci claiming that wearing masks was a bad idea. He wanted to make sure people wouldn't hoard them, and that medical people could get them. That doesn't mean I think people are going to not hoard masks – I'm not saying they won't behave irresponsibly – but that kind of social engineering has unintended consequences. And I wonder if you agree with that.
RACHAEL PILTCH LOEB It's hard to know the exact reasons why discussion early on was wearing masks isn't necessary, and then it pivoted to we recommend you should. Perhaps there was this background concern about hoarding, but I also think that our sense of the science evolved and the level of community spread changed.
BROOKE GLADSTONE But in the Far East, they understood that and they had the data to support it. So, in our looking at evolving data, were we ignoring evidence that was on the other side of the world?
RACHAEL PILTCH LOEB So two things. One is, I think that there is already a preexisting culture of wearing masks in many Asian countries.
BROOKE GLADSTONE Because they dealt with SARS type viruses before.
RACHAEL PILTCH LOEB So they dealt with a SARS virus, they've also dealt with flu viruses. They've dealt with many viruses, as have we. Now, culturally and scientifically, the evidence is not, I think, as clear as –
BROOKE GLADSTONE – I'm making it out to be?
RACHAEL PILTCH LOEB Exactly. Or wasn't necessarily as transparent or wasn't being looked at. I think that there is not one explanation. We all kind of looked at what was going on in terms of lockdowns in Asia at various points when the pandemic first existed and thought it was draconian or pooh-poohed it, and now look at who's emerged from this pandemic faster than the United States. There's a lot to unpack. If we were to compare the response of governments across the world and we could probably spend hours picking that apart.
BROOKE GLADSTONE Just talking about the racial aspect of this would take hours or months.
RACHAEL PILTCH LOEB Absolutely. But I think to your point of what you're calling the social engineering, and I would call ineffective communication, there needs to be more nuance and transparency. Here is what we know. And here's what we don't know. Here's what we're trying to find out, because the reality is getting a vaccine does make a difference in what you can do. And I think that some of that's getting lost.
BROOKE GLADSTONE This past week, Texas Governor Greg Abbott lifted the mask mandate in his state. He said that all the businesses could reopen at 100 percent capacity. It seems that he wants the pandemic to be over. Policy makers don't get to decide when this thing ends. How can people continue to navigate the difference between what's permitted and what's advisable?
RACHAEL PILTCH LOEB I think that people should continue to ask themselves questions that they hopefully have been asking throughout the pandemic, which is do I accept the risk of getting the virus? Do I accept the possibility that I could be passing the virus on to somebody else? You know, what's my comfort level if my parent, grandparent, child, loved one were to get covid because of my actions? And the reality is that cases are still moderately going up, at least as of midweek this week in Texas, in Florida. And we are talking about case counts that are still higher than parts of 2020.
BROOKE GLADSTONE How do you anticipate the different pandemic endings playing out on the global stage? If the virus is out of control in other parts in the world, eventually those mutations will reach here and then we don't know whether our vaccine protocols will work.
RACHAEL PILTCH LOEB I agree with you that the United States will continue to potentially feel the impact of the pandemic when it is not under control in the rest of the world. How much that impact is going to be, I'm not quite sure. But it's going to depend on what are those variants? How infectious are they? Do they avoid the current vaccines? Can we make booster's for them? And again, this is a very Western centric view, just thinking through what would be the impact here in the United States. But we are one world. It does matter that the pandemic is ongoing in other places.
BROOKE GLADSTONE So what do you think we've learned about how we ought to communicate the risks of covid in the future? What should we emphasize?
RACHAEL PILTCH LOEB There is not going to be the tolerance for lockdowns or restrictions to use that word that we had over the past year. Because this emergency phase where we're seeing the impacts of the virus day in and day out will come to some sort of an end. What the conversation should pivot to is what are our societal or community priorities? So, is it that we want kids back in school and we want that school to be in person learning because that's better for their educational development? You can go down the list of what do we want to achieve when we shift the conversation to identifying the priorities within a community or for society at large. There can be a more open conversation that there may still be tradeoffs. Getting everyone together in group settings does pose some form of risk. Perhaps we accept that risk because the risk to not doing it is worse. So the risk to keeping kids out of school for 2 years is worse than the possible spread of covid in a classroom. And that's where we need community input. We need a variety of different communities to identify what matters.
BROOKE GLADSTONE When does the pandemic end for you, Rachel?
RACHAEL PILTCH LOEB [SIGHS] The pandemic will end for me when I feel comfortable going to an indoor event without any qualms.
BROOKE GLADSTONE Masks or maskless?
RACHAEL PILTCH LOEB Maskless.
BROOKE GLADSTONE Do you envision that event?
RACHAEL PILTCH LOEB Yeah, I think it's a wedding or a large indoor celebration where I am not thinking about my risk of covid. If I were to think about any of those events, there is always this anxiety that I have of am I putting myself, my family, my loved ones, at risk by doing this, and is it really worth it to me? An end to this pit in my stomach, the pandemic pit.
BROOKE GLADSTONE Rachel, thank you so much.
RACHAEL PILTCH LOEB Thank you for your time.
BROOKE GLADSTONE Rachael Piltch Loeb is a preparedness fellow at the Harvard T.H. Chan School of Public Health and an associate research scientist at the NYU School of Public Health.
BOB GARFIELD Coming up, more confusion, disgust and dispel. Does it matter which vaccine you get?
BROOKE GLADSTONE This is On the Media.
[BREAK]
BROOKE GLADSTONE This is On the Media, I'm Brooke Gladstone.
BOB GARFIELD And I'm Bob Garfield. The world now has 11 vaccines of various kinds with a couple of more in the pipeline. Pfizer, Moderna and Johnson and Johnson are available stateside and another from Novavax may be here in May. Sussing out the differences between the vaccines has become a regular genre of TV spitballing.
[CLIP]
NEWS REPORT So how are Pfizer and Moderna similar? Let's take a look over here. So, both vaccines, you need two doses. They both have messenger RNA and both up to 95% effective, even with people with underlying conditions. [END CLIP]
[CLIP]
NEWS REPORT The Johnson and Johnson vaccine is a single dose. 85% effective in preventing severe disease. You guys 100% efficacy in preventing covid related hospitalizations and deaths. [END CLIP]
[CLIP]
NEWS REPORT You have the Pfizer at 95% effectiveness at preventing covid. Moderna 94%, and Johnson and Johnson, updated number there, 85%.
BOB GARFIELD And so people are doing what they do with cars and peanut butter and Tinder profiles; comparison shopping. But Helen Branswell, a senior writer at Stat News covering infectious diseases and global health says - resist the impulse. Helen, welcome to the show.
HELEN BRANSWELL Hi, thanks for having me.
BOB GARFIELD So comparison shopping is not necessarily the best approach. Why?
HELEN BRANSWELL Well, for one thing, most people won't really have a choice. You know, vaccine supplies are still really scarce right now. So your best chance of getting vaccinated is to take what is offered to you.
BOB GARFIELD The vaccines are either mRNA or viral vectored different mechanisms for implanting some genetic code into the subject. What's the difference?
HELEN BRANSWELL The mRNA vaccines, messenger RNA are brand new. There have never been vaccines of this type made before. Viral vector vaccines, there are few. For instance, the Ebola vaccine that was used in the recent large Ebola outbreak in the Democratic Republic of Congo was a viral vector vaccine. It's hard to compare the vaccine efficacy of the various vaccines at this point because the mRNA vaccines completed their trials early - before the variants, your listeners will have heard a lot of talk about – started to circulate. And so they definitely have sort of high numbers. Those are the ones that came in with sort of 94 and 95% efficacy, but they were playing on a different playing field than the vaccines that completed their trials more recently OR the ones that are still in trials.
BOB GARFIELD So if I understand you right, Moderna at 95% efficacy and Johnson and Johnson at 66% seems like a no brainer, but no, it's a brainer.
HELEN BRANSWELL Yeah, Moderna, which actually came in at 94%, their trial ended earlier before the variants started to circulate. So it's not clear it would still be 94% if it were being tested now. And the Moderna trial was looking for any infection and the Johnson and Johnson trial was looking for moderate to severe covid infection, the latter being really the more important thing, the thing that you really need these vaccines to do.
One of the things your listeners are probably already hearing is that public health people are sort of leaning into a different number when it comes to the Johnson and Johnson. The fact that, you know, it was 85 percent effective against severe disease.
BOB GARFIELD You began by mentioning that in the United States, most of us actually have no choice about what vaccine is available. Where I live, it's Moderna or nothing, but that's not necessarily true all over the world. I have a lot of friends and family in Serbia where they have the choice of Pfizer, AstraZeneca and Chinese and Russian vaccines. The Russian one, they call it Sputnik. And in Serbia, your vaccine is like a status symbol. Oh, Chinese, really? [SNICKERS] I got Pfizer. A conspicuous vaccine consumption.
HELEN BRANSWELL That's interesting to hear. While I said that most of us won't have a choice, that doesn't mean people won't try. I'm relatively certain that when people are looking online trying to book appointments, some of them may be looking to see what's being given at the mass vaccination sites where they're going. Right now, it's hard to book an appointment, but there are people who are more adept at it than others. There are people who have more time to spend at it than others. There are people who can get in the car and go a longer distance than others. And I think some of that is going on.
BOB GARFIELD In the United States. There will likely not just be, you know, sore arms and muscle pain, but political side effects, because, for instance, Johnson and Johnson just approved by the FDA, the lower reported efficacy numbers is easier to handle than other vaccines. It's easier to store and administer and will therefore likely be headed to more rural and poorer communities. But inevitably, with the lower reported efficacy, it will be deemed like, you know, second class treatment.
HELEN BRANSWELL Yeah, it's a real concern in public health circles that the very things that make this vaccine potentially a game changer are also going to lead to people assuming that, you know, the better vaccines are being saved for the more affluent. That people will start to see some of these other vaccines, not just the J&J, but AstraZeneca, if it is approved here, and in the Novavax vaccine, if it's approved here. These are vaccines that are easier to use because they don't require the ultra cold chain that the mRNA vaccines require. And in the case of the J&J, it's a one dose vaccine which makes it much easier to use. People have said this would be a great vaccine to use if you're trying to vaccinate people who are homeless, for instance. So you wouldn't need to worry about finding that person 21 or 28 days later to give them the second dose, but if people start to use the J&J vaccine uniquely in those kinds of settings, it could create the impression that there are classes of vaccines.
BOB GARFIELD How can it best be managed?
HELEN BRANSWELL You know, the experts I spoke to said one of the things that can be done to forestall this or deal with it is to be clear about why they're using the vaccines they're using in the different places that they're using them. It could well come down to there isn't supply of one, but there is supply of the other. And then, you know, explain this is going out now to these parts of the country, because that's what we have. Being clear with people about why these decisions are being made.
BOB GARFIELD Helen, thank you so much.
HELEN BRANSWELL Nice to talk to you.
BOB GARFIELD Helen Branswell is a senior writer at STAT News. Covering infectious diseases and global health. With the menu of vaccines continuing to expand, it is at times easier to focus only on the chaotic, bureaucratic maze of Americans trying to find someone, anyone who will jab them in the arm.
[CLIP]
SNL I'm America's voice of reason and celebrity hall pass for some reason, Dr. Fauci. The vaccine rollout is going strong, but it's also very confusing. Who can get it? How? When? Where is it? Do both doses go in the same arm, or different arms or what? I don't know. So tonight, we give everyday Americans the chance to vie for a vaccine eligibility on a little show we like to call: so you think you can get the vaccine? [END CLIP]
BOB GARFIELD And to be sure, with crashing online portals and freezing outdoor lines, an innoculation Hunger Games is the stuff late night comedy was born to cover.
[CLIP]
SNL Getting the vaccine shouldn't be a competition, but Americans will only want to get it if it means someone else can't. [END CLIP]
BOB GARFIELD But there's a whole group of Americans, roughly one in three, who are eyeing the queues at their local pharmacies and saying "maybe not," or "no, thanks," or the timeless "Bill Gates is trying to implant a microchip in me." Derek Thompson is a staff writer at The Atlantic, and this week he warned against lumping together those skirting vaccination into one category. Though the majority do have one thing in common.
DEREK THOMPSON I think the biggest slice has to be the Republican Party. In the last few months, just about every demographic has grown more positive about the vaccines, as we've accelerated the process of putting shots into arms. Black Americans have become less resistant. Hispanic Americans have become less resistant. Overall Americans, including most Democrats, have become less resistant. It's only really Republicans, and in particular younger Republicans under the age of, say, 50, who basically 4 months ago, 50 percent of them said, I don't want this vaccine. And you asked them today, 50 percent of them say I don't want this vaccine. So when we talk about vaccine hesitancy and a large part of that conversation is about nonwhite Americans. For a good reason, I think it's important to put on the front burner that the group that has been least moved by our early successes in vaccinating Americans are Republicans.
BOB GARFIELD In one of your pieces, you make a chilling observation that various marginalized communities have earned their hesitancy, not just from their history, but from their present. Especially blacks and Native Americans. How would you characterize that problem?
DEREK THOMPSON So, I came into this not really knowing a whole lot about the history of medical exploitation of nonwhite Americans. I knew about the syphilis experiments, but I was very far from being an expert in this space.
BOB GARFIELD And those were experiments in which black subjects, some got the treatment for syphilis. A whole other group did not, but they were not informed that they had not gotten the real drug. They've gotten only a placebo and they remained sick.
DEREK THOMPSON And many of them died, exactly. Professor Giselle Corbie Smith at the University of North Carolina, who's also the director of their Center for Health Equity Research, she made what I just thought was a really, really powerful point. Which is that to assume that it's only the history of exploitation by the medical field, or the history of unethical research conduct that taints black Americans' trust in the medical system. It's a really big mistake. She says, no it's their current day experience with a health care system, including in this pandemic where black and brown Americans have died at a much higher rate than white Americans. That leads to their abundant distrust in the medical system. Even now, with the rollout of the vaccines, there are towns and counties in Alabama, in the south that are majority black, that haven't received a single dose.
You know, these populations have many reasons to distrust that they are a priority of this government's health care system. It's a big reason why when I asked a lot of clinicians what would they call the vaccine hesitancy that they see, what would they replace that noun with? Giselle Corbie Smith said she calls it vaccine deliberation, right. Not skepticism, not hesitancy, not reluctance – deliberation. This is a time, she said, of watchful waiting for black and brown people.
BOB GARFIELD You attribute some of the fear and misunderstanding to careless media behavior, not necessarily bad information, but badly presented or incautiously presented information. How so?
DEREK THOMPSON So one example that I reported on: February 5th, NBC reports..
[CLIP]
NBC NEWS REPORT That the CDC says it's investigating the death of a 58 year old woman in Virginia who died shortly after receiving the Pfizer vaccine. [END CLIP]
DEREK THOMPSON So the story goes viral. It feeds on a lot of people's preexisting fears that these vaccines might kill them or hurt them. But several weeks later, NBC reports the death is almost certainly unrelated. So, is that story disinformation? Is it misinformation? Well, no, not technically. Like the headline might have been true, this woman did die shortly after her vaccination shot. But it's the sort of technical truth that I think is the enemy of understanding. It's inevitable that some older Americans are going to die shortly after getting this vaccine shot, in a way that doesn't necessarily have anything to do with the nature of the chemical that they just put in their body.
BOB GARFIELD You know, they also put on socks before they died.
DEREK THOMPSON Exactly!
BOB GARFIELD And nobody's associating that with the cause of death.
DEREK THOMPSON Putting on socks is a fantastic example. So there's that sort of misleading information, even though I don't think it's disinformation. I think that there are, and I want to be delicate about this, a lot of really smart journalists and scientists that are holding on to a interpretive mode about the pandemic that is overly dire in the face of information that is getting better and better. And I think we're sometimes downplaying that effectiveness in a way that's really harmful.
BOB GARFIELD Who else is culpable for carelessness? What about public health officials, medical practitioners, governors, presidents?
DEREK THOMPSON There is a lot of blame to be shared throughout the entire sort of elite ecosystem. From public health officials to politicians, especially on the right. They are more to blame, but it doesn't let us off the hook. And just because an extremely pessimistic and risk forward interpretation of the pandemic was necessary, morally necessary a year ago doesn't mean that that's exactly the same way that we should be talking about the upcoming phase of the pandemic. We've seen hospitalizations decline among senior citizens by 80 percent in the last two months. We've seen vaccines increase from fewer than one million shots per day now to more than two million shots per day. Things are changing. And as things change, we need to change the interpretive mode with which we talk about the world.
BOB GARFIELD It is the nature of journalism to focus not on what's right or what's OK, but rather what's wrong, what's aberrant, what's dangerous. And as a consequence, we start delivering what you call: doom bait. Stories that are scary, that in the aggregate obscure the very kinds of progress you're describing. How do we fix what is the problem of journalists just being journalists?
DEREK THOMPSON I think you're right that we are much more likely to focus on bad news than good news, and especially likely to focus on sudden bad news. Even than, slowly evolving bad news. There are much more stories about earthquakes than malaria, but we know that malaria kills more people than earthquakes. But what I'm actually worried about is something closer to I guess you could call it negativity, bias habituation. I should probably unpack that. If journalists are seen as being overly negative all the time, then there's a certain category of reader that's going to learn to stop listening to us when we give negative news. You know, the classic canonical story here, I guess, is the boy who cried wolf. If we cry sudden, horrific negativity in the face of overall improving data where people feel like not only are they seeing things getting better, but they're ready for things to get better, then we're going to lose the trust that is already so tenuous, I think, between the press and our readership, our subscribers and our viewers and listeners. And so we need to find a way to balance our possibly ethical and maybe inevitable negativity bias with an ability to be responsive to the world.
BOB GARFIELD Derek, thank you very much.
DEREK THOMPSON Thank you.
BOB GARFIELD Derek Thompson is a staff writer at The Atlantic.
BROOKE GLADSTONE On TV, New York Governor Andrew Cuomo is a saintly Dr. Jekyll. In print, more of a Mr. Hyde.
BOB GARFIELD This is On the Media.
[BREAK]
BOB GARFIELD This is On the Media, I'm Bob Garfield.
BROOKE GLADSTONE And I'm Brooke Gladstone. During the pandemic, New York Governor Andrew Cuomo transformed into a fully-fledged TV star.
[CLIP]
GOV. ANDREW CUOMO Let's remember some basic contexts, and facts. Society functions. Everything works. There's going to be food in the grocery stores. [END CLIP].
BROOKE GLADSTONE Propelled into the firmament by his daily coronavirus briefings that reassured an anxious, leaderless public. Here's Ellen DeGeneres and Trevor Noah.
[CLIP]
ELLEN DEGENERES You call yourself a cuomosexual, and I, I agree with you. I feel like I'm a cuomosexual too. [END CLIP]
[CLIP]
TREVOR NOAH It genuinely have been very inspiring and refreshing to see a leader like Cuomo. [END CLIP]
BROOKE GLADSTONE New fans declared their adoration in TikTok videos, Memes and song. The great Randy Rainbow:
[CLIP]
RANDY RAINBOW [SINGING] Stranded in my bedroom, No one to love, then there he is,
GOV. ANDREW CUOMO Let's give you an update as to where we are today.
RANDY RAINBOW [SINGING] My favorite guy. [END CLIP]
BROOKE GLADSTONE And the chummy treatment of the governor, of course, extended to many news networks like CNN, where Chris Cuomo asked the tough questions.
[CLIP]
CHRIS CUOMO Now, you know, I've seen you referred to a little bit recently as the "Love Gov" and I'm wondering if that's bleeding into your demeanor at all, making you a little soft on the president? Love Gov?
GOV. ANDREW CUOMO I've always been a soft guy. I am the Love Gov. I'm a cool dude and smooth you know that. [END CLIP]
BROOKE GLADSTONE But in the past few weeks, Cuomo is TV persona has faltered. A report from the state attorney general and a court order found that the official count of deaths of nursing home residents due to the virus was nearly double the figure first reported by the Cuomo administration. Plus, as I write this, three women have accused the governor of sexual harassment, some in awkward, icky detail, including two former aides. Alex Pareene, staff writer at The New Republic, recently wrote the article: The Andrew Cuomo Show Has Lost the Plot. Welcome back to the show.
ALEX PAREENE Thank you so much. I'm glad to be here.
BROOKE GLADSTONE You note to people who have closely read about the governor in the newspapers over the years as opposed to TV, this version of Cuomo; this bully and cynical operator, isn't new. How have the media changed the message?
ALEX PAREENE If you are a long-time consumer of mainly print news about state politics, you had an entire chronology of Cuomo scandals, even if you forgot some of the details that didn't necessarily get a lot of play on TV news. Keeping up with Cuomo news over the last decade has also required being familiar with reporters from the Albany Times Union or newspapers in Rochester. You know these places where the Albany bureau is still really important and a big part of their beat and a lot of that news, the complexity of it and specifically the way it fit a pattern of behavior with Cuomo was usually too difficult to get across, and especially in like a short television segment.
BROOKE GLADSTONE I know a lot about this because I actually listen to the local radio station that produces this show. That's how come I know about the Moreland Commission. But you said this story never made it to primetime because it's too complicated.
ALEX PAREENE Absolutely. Yeah. All of the past few governors had gotten in trouble. Cuomo was running as the guy who's going to come clean it up, and so he sets up a commission called the Moreland Commission. He says they have the authority to investigate corruption and all of its forms here in Albany and they will be independent. I will not meddle. I will not interfere. He shuts them down less than a year later because they start going after people too connected to him, essentially. And people who worked on the commission, they went to The New York Times and they said Cuomo was meddling. He stopped us when we were getting too close to his allies. So that stuff was out there, but when the story made it to TV news, it was stripped of the level of detail necessary to understand what had happened and why.
BROOKE GLADSTONE Like in this interview with Charlie Rose, months after it came out that Cuomo's office had hobbled the aforementioned Moreland Commission.
[CLIP]
ROSE Governor Andrew Cuomo is reestablishing a family dynasty in New York politics, though he's had to get used to criticism of his leadership style.
GOV. ANDREW CUOMO You micromanage.
ROSE Yeah, they say that
GOV. ANDREW CUOMO You should delegate more.
ROSE Right, and you're not transparent, they say.
GOV. ANDREW CUOMO I know. I know.
ROSE And they say you don't suffer fools and you know.
GOV. ANDREW CUOMO Yeah.
ROSE And you're not –.
GOV. ANDREW CUOMO You push too hard.
ROSE Yeah.
GOV. ANDREW CUOMO You micromanage.
ROSE Yes. All of that. You plead guilty or not guilty.
GOV. ANDREW CUOMO You can't have one without the other. I plead guilty. [END CLIP]
ALEX PAREENE Like not only was Rose asking an easily dodged question, he was almost ventriloquising the answers for Andrew Cuomo. Right. It's like the old job interview joke: what's your biggest flaw? You know, I'm too hard on myself.
BROOKE GLADSTONE [CHUCKLES] You take issue with the defenders of Cuomo who say that: hey, his most important audience, New Yorkers, always have known about the governor's bullying quality, that sharp operator with the even sharper elbows and all of that, and they like it.
ALEX PAREENE There's this idea that he has cruised to reelection twice. They must know who this guy is and support him. And that's why I draw that distinction between Cuomo, the TV character and this newspaper Cuomo, because if we have listened to a few clips of him on television, he's not berating anyone. He's joking around with his brother. He's performing empathy for victims of COVID-19 or Hurricane Sandy.
BROOKE GLADSTONE He's daddy complete with the daddy jokes
ALEX PAREENE Exactly. He's New York's dad.
BROOKE GLADSTONE Now, it seems that Cuomo has been able to keep his TV. Her son and his newspaper persona separate. Why are they colliding now?
ALEX PAREENE For a few reasons. One important one is that people do not want to go on the record attacking Andrew Cuomo because of the power he holds in the state, especially elected Democrats. What happened this time is that Ron Kim, an assembly member, received a bullying call from Andrew Cuomo for speaking to The New York Post about the nursing home situation. Kim had been at a briefing where a top Cuomo aide said, yeah, this looks bad, that we reported the wrong number of people who had died in nursing homes, but you have to understand, like we didn't want it to become a story basically. Like they were like Trump, Trump's DOJ is going to make a thing of it. Trump's gonna make a thing of it, that's why we covered it up. So anyway, Ron Kim went to the post and gave an on the record quote to the Post about that meeting. That was the subject of the call where Cuomo allegedly said, according to Kim, I'll destroy you. In normal Albany affairs, what happens next is either Kim shuts up, Kim goes on background to The New York Post again.
BROOKE GLADSTONE Because Cuomo, as in other cases, finds an irregularity in Kim's background, and implies that that could be used against him.
ALEX PAREENE And what he would end up doing is at a press conference, bring up a years old story about how Kim had flip flopped on this bill about nail salons. Then he would outright say Kim was crooked. Right after Cuomo does a press conference, there's a story on CNN about how Cuomo had made this phone call to Kim the day before, and that's not the kind of thing that legislators in Albany usually do when they get implicitly or explicitly threatened by Cuomo. They don't call CNN and go on the record and say, the governor threatened me. I think that Cuomo got away with it for so long because no one wanted to put their name to descriptions of his behavior. But Kim, he knows, well, I have a story now. I have a compelling narrative in which I'm the hero and the governor is the villain. And TV likes stories like that. And he ends up on The View.
[CLIP]
JOY BEHAR Tell us what happened after he called you, or when he called you.
ASSEMBLYMAN RON KIM Yeah. So it was last Thursday night. I was about to bathe my three kids when I received a call from the governor. He spent 10 minutes threatening my career and ordering me to issue a statement that would be used to cover for the state secretary...[END CLIP]
BROOKE GLADSTONE You wrote, quote, If a politician acts as if he believes his voters experience politics as a television show, the best way to harm him is to make yourself a compelling character. That's what the women who alleged the governor's sexual harassment are doing. And it's very compelling.
ALEX PAREENE Absolutely. And to my mind, that's why Andrew Cuomo doesn't seem like he knows how to navigate out of this stretch of bad press because people are putting their names to it. Going on the record.
BROOKE GLADSTONE These women do have some witnesses and some documentation, even a photograph. And Cuomo himself seems to have confirmed at least some of this.
ALEX PAREENE Yeah, I think that even if you're skeptical of some of the specific claims any of them made, they clearly have produced documentation that shows at least that he acted in ways that were inappropriate and that made them uncomfortable. And as you say, Cuomo has essentially admitted to that too. And he attempted to call for an independent investigation that would be half run by a political ally of his. He first tried to get the attorney general of New York to work with a judge he appointed to investigate this while calling it an independent investigation, because that sounds like the thing he would get away with in the past. It seemed like he couldn't get away with it this time, and he actually backed off. He referred it to the attorney general's office without that request. I think we are absolutely in uncharted territory for Andrew Cuomo right now.
BOB GARFIELD So what are the consequences, do you think, of fans of Andrew Cuomo, the TV character, being introduced to Andrew Cuomo, the newspaper character?
ALEX PAREENE Because politics is treated as fandom, I think television encourages it sometimes. There's going to be denial and there's going to be anger at the people who brought down Andrew Cuomo. Michelle Goldberg wrote in The Times about a tendency where people think it's just not fair that Democrats are always held to these standards and Republicans aren't. I personally would rather be on the side that has high standards.
BROOKE GLADSTONE And the ghost of Al Franken looms over this as well.
ALEX PAREENE Exactly. And there are definitely politicians that I feel that sort of affection for. I think it's a lot easier to get detached when you read the news very closely, rather than get it from cable news.
BROOKE GLADSTONE So is that the lesson? You really should avoid TV news?
ALEX PAREENE I really think that, I think you get a sort of distorted view of what's happening. The best way to learn about politics is not to watch cable news all day, but I think there are a lot of people who consider themselves well-educated, high information voters who follow the news, who aren't paying attention to what's going on in city hall or their state house. I do think if they want to be considered an engaged citizen, they have a responsibility to know what's going on, not just at the national level, but at city hall and the state capitol.
BROOKE GLADSTONE You are advising audiences to move away from TV news, which is something that I've done myself, but shouldn't we be leveling some of our opprobrium at the medium itself for being so reductive? Or do you think it's simply inevitable that they will get behind a narrative model? It stays on like an electronic fireplace.
BROOKE GLADSTONE It's definitely possible for any audio-visual form to tell a complicated story and explain things well, but the format that we crafted over many years called TV news, especially the 24-hour cable news version, doesn't seem well suited to me. The 24-hour cable news model is we need to fill a lot of time and not go broke doing it, so let's just get people in a studio talking. That's not the sort of careful reporting and then crafting of narrative journalism that you would get out of a documentary. It's not even the amount of work that goes into, for one example, the John Oliver show every week. Which usually just tries to tell one complicated story well. So that that kind of thing is possible in television, but it's not compatible, I don't think, with the 24-hour cable news model.
BROOKE GLADSTONE When did it strike you that there were these two dueling Andrew Cuomos in two different media?
ALEX PAREENE I had been watching the governor and the mayor of New York City have this fight in March about whether or not to shut down. Mayor de Blasio was late to the conclusion that New York had to shut the schools in the restaurant and go into lockdown, he was late to it, but he got there before Cuomo. And Cuomo attempted to undermine him when de Blasio made that decision. Typical Andrew Cuomo, this is how he works. So I was watching him respond to this pandemic with his usual management style. I thought it was failing New Yorkers. It was terrible here over the spring and summer, and I watched him then become a beloved TV celebrity. At its most absurd when he commissioned an artist to create a three dimensional mountain representing coronavirus cases in New York City, he made a monument to his mismanagement like it was a success, like we'd all gotten over this mountain together and covid-19 very few places have successfully stopped it. It's an incredibly difficult governing challenge, but no one should be taking victory laps over it. Like unless you are literally the government of New Zealand or Vietnam.
BROOKE GLADSTONE Alex, thank you so much.
ALEX PAREENE Thank you, Brooke.
BROOKE GLADSTONE Alex Pareene, staff writer at The New Republic and host of the podcast The Politics of Everything, recently wrote the article, The Andrew Cuomo Show Has Lost the Plot.
BOB GARFIELD That's it for this week's show! On the Media is produced by Alana Casanova-Burgess, Micah Loewinger, Leah Feder, Jon Hanrahan, Eloise Blondiau and Rebecca Clark-Callendar with help from Alex Hanesworth. Xandra Ellin writes our newsletter and our show was edited...By Brooke. Our technical director is Jennifer Munson. Our engineer this week was Adrienne Lilly.
BROOKE GLADSTONE Katya Rogers is our executive producer. On the Media, is a production of WNYC Studios. I'm Brooke Gladstone.
BOB GARFIELD And I'm Bob Garfield.
Copyright © 2021 New York Public Radio. All rights reserved. Visit our website terms of use at www.wnyc.org for further information.
New York Public Radio transcripts are created on a rush deadline, often by contractors. This text may not be in its final form and may be updated or revised in the future. Accuracy and availability may vary. The authoritative record of programming is the audio record.