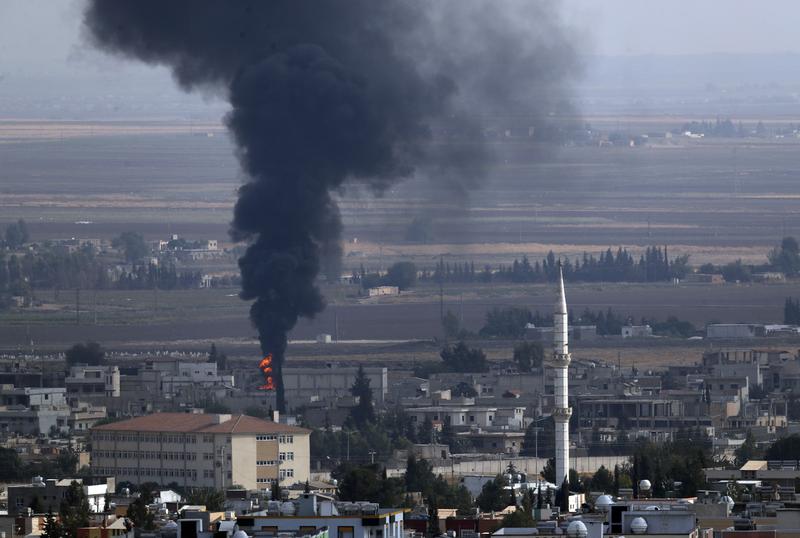 Transcript
BOB GARFIELD From WNYC in New York, this is On The Media. Brooke Gladstone is out this week, I'm Bob Garfield.
[MUSIC UP & UNDER]
BOB GARFIELD On Thursday, barely a week after Turkish forces began to bombard Kurds in Syria, after a go ahead and then a weird about-face from the American president and after condemnation from the global community, Turkey at least agreed to temporarily relent.
[CLIP]
MALE CORRESPONDENT Turkish side will pause Operation Peace Spring in order to allow for the withdrawal of YPG forces from the safe zone for 120 hours. [END CLIP]
BOB GARFIELD The Kurdish led Syrian democratic forces, who were our allies in the deadly struggle to rout ISIS from the region, have been given five days to abandon portions of what locals call Rojava, a semi-autonomous Kurdish state within a state. Though on Friday, journalists and SDF officials reported that shelling and gunfire continue. And so many Kurdish civilians have already fled Rojava fearing the worst.
[CLIP]
MALE CORRESPONDENT Just a few bags of essentials will all this family could carry as they ran from the fighting in northeastern Syria. 'There were shelling and fighting,' this man says, 'my family hasn't slept for days. We've left everything behind.' [END CLIP]
BOB GARFIELD Last weekend, mere days into the Turkish operation, members of the press were also forced to evacuate. Among them was NPR international correspondent Daniel Estrin, whose team only a day before had gotten the network's approval to report from within Rojava. Daniel, welcome to OTM.
DANIEL ESTRIN Thanks for having me.
BOB GARFIELD We're speaking to you Friday afternoon your time, you are in Dohuk, Iraq, not far from the Syrian border. There have been reports that the Turkish forces or their proxies in Syria have not ceased firing. What are the refugees telling you?
DANIEL ESTRIN Yeah, this is such a rapidly changing story. So as soon as we hang up, the story could go an entirely different direction. But yes, fire has not ceased. We're hearing from Kurdish medics inside Syria that Turkish air strikes are continuing in one area at least. We spoke with the spokesman of the main Turkish backed force fighting in Syria and he said the majority of fighting has ceased. There are some clashes in one area, but the fighting is continuing in one area.
BOB GARFIELD Now you are again on the other side of the border. You did spend a little bit more than one day in Syria. Tell me about that foray.
DANIEL ESTRIN Well, when all of this began, we flew to Erbil, Iraq. My producer, Lamil Arian, and I, we drove to a town near the Syrian border, which is where I am now. And for the first few days, we went to the border crossing. We met some of the lucky few Syrians who actually could escape Syria to Iraq because they had Iraqi residency papers. So we heard their stories as they were crossing the border. We were calling Syrians inside northeast Syria on WhatsApp and they would send us WhatsApp voice memos that we could play on the radio, all the while we were deliberating about whether we'd go inside Syria.
BOB GARFIELD Because for most news organizations, the days of just rushing headlong into a war zone are kind of over. There is much more caution exercised nowadays than in the past, no?
DANIEL ESTRIN I think it does depend on the news organization. Certainly, my organization is much more careful on matters of security and I think a lot of the big organizations are. I know of other freelancers especially and some other journalists who are still in Syria right now when most of the other journalists pulled out. Our main concern was Turkish shelling, which seems indiscriminate. There was shelling on the outskirts of the town that we were hoping to be based in, a town called Dayrik, which is about a 30 minute drive from the Iraqi side of the border. We finally did decide we could go there, that that was a low risk place to be, that it was a couple hours drive away from the heavy fighting and it was close enough to the Iraqi border crossing that we could drive out in a pinch if we felt that we needed to get out quick. And, you know, someone close to me told me the night before we went, you know, fine, take the risk, but is it worth the risk to give this appearance of access and on the ground knowledge without the real thing, without adding meaningfully to the story?
BOB GARFIELD Why bother going into Syria just for the sake of saying you were in Syria if you're not in the thick of the action?
DANIEL ESTRIN Yeah, that was the question that was posed to me. And I think it's a fair question and I hope that we proved that doubt wrong. Within 10 minutes of driving into Syria, we found people who told us their story. We saw a convoy of a couple of pickup trucks on the side of the road. There were trucks with piles of colorful mattresses and carts of tomatoes and eggplants and we pulled over and we met the patriarch of this family, about 20 people. They had been fleeing for three days and they weren't being allowed to cross into Iraq. They didn't have the right papers to do so. The patriarch of the family, a 70 year old man, told me that his sons were still stuck in a city that was being heavily bombarded and couldn't get out and he started to cry and he wiped his tears away with the scarf on his head. And those are the kinds of stories that I wanted my listeners to hear.
BOB GARFIELD At some point, however, the decision was made, not necessarily by you, that it was time to go. What happened?
DANIEL ESTRIN Things changed rapidly when we were there. The Syrian Kurdish forces struck a deal with the Syrian regime because the US was pulling out its troops and so the Kurdish forces invited the Syrian government regime to come in and help them fend off a Turkish invasion. And so suddenly we're faced with an entirely different risk. If at first we were afraid of Turkish shelling, we were suddenly looking at the possibility of the Syrian government regime coming to the area where we were and taking over the border crossing. We had entered Syria with Syrian Kurdish permission and not permission from the Syrian regime. If the regime got ahold of us, we were afraid of a one-way ticket to a Damascus prison. So that's why we made the decision on the ground to get out quickly. It was about 12:45 in the afternoon when one of our security consultants working with us said he had heard from his colleague that the Syrian regime was set to take over the border crossing at 3 pm. So we rushed out. I guess I should say that until now, the Syrian regime has not taken that border crossing but we were watching Syrian government forces advancing quite quickly. And so we and I think nearly all other journalists in Syria at that time made the decision to get out.
BOB GARFIELD We have spent the last eight years noting how difficult it has been for journalists to get into Syria to report on the brutality there of the Assad regime and the civil war and the difficulty of local journalists getting the story. Is there any benefit being where you are on the Iraqi side of the border? What are you getting from there that you might not have been able to get had you still been in country?
DANIEL ESTRIN Well, for instance, we're getting the other side of the story, which is that more and more Syrians are fleeing and they're becoming legitimate refugees, leaving their country not just displaced within their country, but crossing a border and seeking safety inside Iraq. We were driving on a highway yesterday and we saw a convoy of many shuttle buses at night with, you, you look in the windows and you see men, women, children, their faces look exhausted. And the buses are marked International Organization for Migration, which is connected to the U.N. These are people seeking shelter. It's not an easy task to cross the Iraqi border. A lot of them drove a very circuitous route and went through a border that's not usually used for people. So you get a sense of the trickle that could turn into a deluge of refugees. And you're also poised in case something changes and you can quickly get to the border and cross into Syria if you think it's safe. And that's exactly what's happening now because of this declared ceasefire. Just speaking to journalists staying at the hotel where I'm at, they're saying that they are planning on, on entering this weekend.
BOB GARFIELD How does NPR balance the danger of reporting with the urgency of being a witness to what takes place?
DANIEL ESTRIN I think you said it. It's a balance. We continue to be here on the border, ready to enter if we deem it safe enough but we continue to aggressively report stories.
[MUSIC UP & UNDER]
DANIEL ESTRIN The reporting doesn't stop even if we're not on the ground and the hope is that we'll be able to get back in.
[MUSIC UP & UNDER]
BOB GARFIELD Daniel, thank you so much.
DANIEL ESTRIN Thanks for having me.
BOB GARFIELD Daniel Estrin is an international correspondent for NPR. He spoke with us from Dohuk, Iraq.
[MUSIC UP & UNDER]
BOB GARFIELD Coming up, in the story of American betrayal of the Kurds is hidden another tragedy–the possible obliteration of a fledgling democratic society. This is On The Media.
***************************
BOB GARFIELD This is On The Media, I'm Bob Garfield.
[MUSIC UP & UNDER]
BOB GARFIELD Daniel Estrin described the challenges of reporting from inside Syria, where today's ally is tomorrow's target and where threats and allegiances this week shifted literally overnight. And we have heard a great deal about the courage of those whom the president sold out.
[MONTAGE OF CLIPS]
FEMALE CORRESPONDENT It's a group American leaders call 'the greatest warriors fighting the Islamic State.'
MALE CORRESPONDENT Twenty year old Eflin loads rounds into her heavy machine gun. She's part of an all-female Kurdish unit on the frontlines in the war on ISIS here in northeastern Syria.
FEMALE CORRESPONDENT These Kurdish Peshmerga soldiers are on the offensive, fighting to stop ISIS militants from reaching a major battle just 35 miles from Baghdad.
MALE CORRESPONDENT In a dusty camp in Maliki, Syria, Iraqi refugees have new heroes. Syrian Kurdish fighters who battled militants to carve out an escape route for tens of thousands trapped on a mountaintop. [END CLIP]
BOB GARFIELD But to view the story as simply the betrayal of our courageous super warrior allies is to miss a more existential drama now unfolding–the looming destruction of a fledgling society. Rojava is not just an enclave, it is a radical experiment in ecological, feminist, communitarian democracy. Rojava's three cantons in the north of Syria operate independently, but according to a shared Social Contract, prescribing democratic processes within a highly socialistic framework. It's a place that, until recently at least, had a population nearing 2 million, mostly Kurdish but with ethnic and religious diversity. And its political experiment was functioning fairly well, until the abrupt retreat of the United States from northern Syria. Jenna Krajeski is a journalist who has reported on Kurds throughout the region. She says that lost in the narrative of war is the story of a threatened oasis of democracy.
JENNA KRAJESKI The way that they would describe it is democratic confederalism. And that comes from the writings of Abdullah Öcalan, who is the founder of the PKK. He is in prison and he's in turn inspired by a whole variety of people, among them an American philosopher by the name of Murray Bookchin.
[CLIP]
MURRAY BOOKCHIN An attempt on a neighborhood basis, on a civic basis, where people can get together into assemblies on the basis of a number of broad social issues. [END CLIP]
JENNA KRAJESKI Whose ideas of democratic confederalism, a really decentralized government, inspired Öcalan in prison, who then wrote these texts that were taken to the Kurdish public in Turkey and elsewhere, who were inspired to found this government in Rojava based on those principles. And they're really outlined in quite some detail in the Social Contract, which is the name of the Rojava of our Constitution, focusing on decentralized power, on neighborhood councils that come up with their own rules, that make sure to represent the diversity of the neighborhood, of the area, in terms of religion, in terms of ethnic identity, all the way up to a kind of executive power and how much power they actually have, their term limits, who they're supposed to be. There's an equal representation of women and of men. There's quotas for religious and ethnic minorities within Rojava.
BOB GARFIELD It's defiantly uncapitalistic in nature.
JENNA KRAJESKI Absolutely. And in the Social Contract, they say any public resources, any natural resources, they belong to the people. It doesn't outlaw private ownership of things. It just says that we're no longer going to allow for these monopolies that we've seen happen in Syria and Iraq. We're not going to allow for private companies to influence our politics. We're going to make sure that the wealth is in the hands of the people and for the people's benefit.
BOB GARFIELD At the very core of all of this as well is the place of women in Rojavaian society. They seem to be at the heart of governance.
JENNA KRAJESKI Yes, very, very much so. And in fact, I would say that women and women's rights and women's involvement have been at the heart of the Öcalan inspired Kurdish movements for decades within Turkey, within Syria, within Iraq, within Iran. And you see that laid out really explicitly in the Social Contract. There's a co-presidency, a man and a woman, of each canton, and they have equal power. And that representation goes all the way through the local councils, the conferences that they organize, the people's assemblies, all these groups that make up the Rojava government, make sure to explicitly outline that women are going to be an equal part of it. You see that also, of course, in the security forces. So the equivalent of the police and in the military forces that were, up until recently helping the US fight ISIS. In 2015, I met a woman named Hediya Yousef, who was the co-president of the Jazeera Canton, and she at the time was working on a document that would, in even more detail, say how women are protected in Rojava. So she was talking about things like what happens if a woman gets pregnant and she's on the job? Domestic violence, marital rape, polygamy, issues that are core to a woman actually feeling like they're participating in a society or government, but that are left out of the sort of more general Social Contract.
BOB GARFIELD It wouldn't be shocking if the aspirations didn't quite meet the realities. How has the society embraced the Social Contract that does seem to conflict with traditional values and norms?
JENNA KRAJESKI Well, I think at this point we can actually say that there is a long tradition of feminism in the Kurdish movement in the region because it was part of the foundational conversations that, you know, Öcalan and other founders had in the 70s when they were first establishing the PKK. You look at the major political parties, the major Kurdish political parties that have existed throughout the years and there is the same idea of having women and men occupy one position. So Kurdish women have made tremendous strides in Turkey in terms of taking the ideas of the PKK and sort of the idea of the female fighter, which is where it started and evolved that into political representation, into representation and civil society, into all those things.
BOB GARFIELD You mentioned the women fighters and it obviously got a lot of attention from the press.
[CLIP]
MALE CORRESPONDENT On the front line between Kurdish fighters and Islamic State militants, a group of young women have mobilized. They've left their homes and dreams behind to fight on the front line. [END CLIP]
JENNA KRAJESKI The problem that I have with the way that the media focuses on the military side of things is that it's so rarely pulls back and looks at what those women are really fighting for. Because they were fighting ISIS that day or that week and they were allied with the U.S. because it was the best alliance in order to fight ISIS. But they were fighting for the things laid out in that Social Contract.
BOB GARFIELD Let's talk about what the governance of Jazeera and the other two cantons looks like.
JENNA KRAJESKI They describe it as communes. Each commune has its own council and that council makes the decisions for the local commune. It also participates in electing officials that are higher up so the co-presidents of certain cantons. The cantons themselves have autonomous governance, although they all are governed by the ideals of the Social Contract. So these local councils have been making decisions that are really practical to the situation that they're in and how local they are about food, about security, about streetlights, about how to intervene if there is a domestic dispute–things like that. They're responsible for electing a judiciary that is also meant to represent the people.
BOB GARFIELD And it's all kind of working, albeit at a small scale, in spite of the fact that it is a war torn region with something a lot less than a robust economy. But there are aspects of the society that, you know, are kind of eyebrow raising.
JENNA KRAJESKI Right. I think it's very, very important not to romanticize the project and there has been plenty to criticize. Among them, the use of soldiers under the age of 18, which the PYD, the political party in charge, there would deny, or they would sort of hedge when you would ask that question. And yet when I was there, I went to a funeral for a 16-year-old soldier. And I asked his sister why he was fighting. And her answer was just, 'well, he was a patriot and we all fight in this family.' So there was a feeling of just total devotion to the cause. And you could kind of feel that elsewhere. I had spent so much time in Turkey talking to Kurdish people about the PKK that I knew that there was ambivalence there, that it wasn't just a straight forward adoration of the PKK and Öcalan, that it had become a complicated relationship, which is inevitable.
BOB GARFIELD The whole idea that this experiment is taking place in Bashar al-Assad's Syria and he, you know, somehow has left them be in the midst of this great civil war. Why is he suffered the indignity of having this Kurdish model society cheek by jowl with Damascus?
JENNA KRAJESKI The general answer is that there was so much keeping him occupied in the rest of the country that was more valuable to him than northern Syria, which hadn't really been developed. One of the ways in which Assad and his father before him oppress the Kurds was to not develop their land. So if there was oil, it wasn't really exploited, that kind of thing. So the idea was just there is this crazy war going on, there are so many people fighting. Let's just leave this alone for a while.
BOB GARFIELD For this moment, now Rojava is at least temporarily allies with Assad in the vacuum left by the withdrawal of American troops. You know, all of which makes me wonder, what in the world happens next?
JENNA KRAJESKI I hate to say it, but it does seem like Erdogan has gotten what he wanted, which was essentially to destroy this experiment in northern Syria and to make sure that there was no hope of Kurdish autonomy on the border with Turkey. The best evidence of the positive side of what was going on in Rojava is the pictures and stories coming out of the region since Turkey started the incursion. Just the amount of civilian life lost, people fleeing their homes, it tells you that if nothing else, the Kurdish government in Rojava was doing a good job of keeping people safe from ISIS, from Turkey, from Assad. That's a huge achievement and it has just been totally obliterated.
BOB GARFIELD I've described the Syrian Kurds as having been martyred. Considering the public sentiment, is it a chance that it will have been a, a repression too far?
JENNA KRAJESKI I have never seen an outpouring of support in the US for a Kurdish story. It's bipartisan. It seems to really have appealed to the American public at large. And I think that that is the result of rows of Rojava kind of changing a lot of the larger conversation about who Kurds are. The YPG helped the Yazidis escape Mt. Sinjar in 2014 when they were being attacked by ISIS. The YPG defended Kobani, the town on the border with Turkey, and this really beautiful, passionate, you know, determined way so that the PKK or the YPG or whoever are no longer maybe seen just this terrorist. We accept that characterisation without thinking about it and seen also as heroes. So, yes, what's going on in northern Syria now is desperate and bloody and horrible but the ideas that were taking root there that were growing. Those aren't going anywhere.
BOB GARFIELD Jenna, thank you.
JENNA KRAJESKI Thank you.
BOB GARFIELD Jenna Krajeski is a journalist with the Fuller Project for International Reporting.
[MUSIC UP & UNDER]
BOB GARFIELD Rapareen abd Elhameed Hasn is a 27 year old dentist in Qmaishli, Rojava. She is also the co-president of her local health authority, an administrator who has thrived in the seven years of the Rojava of a project. She spoke to us Thursday from her clinic filled with uncertainty about Rojava's destiny and filled also with resolve. Rapareen, welcome to On The Media.
RAPAREEN ABD ELHAMEED HASN Thank you.
BOB GARFIELD Roger Rojava was built based on a vision of the world as it could be. Would you please describe for me what the vision is?
RAPAREEN ABD ELHAMEED HASN We start to build a unique administration here. You know, it was built on the female power, on respecting the planet, on the democracy of all of people living together with love and respect for each other. Yes, it was a really unique experience.
BOB GARFIELD I want to ask you about life and politics in Rojava. But first, the invasion. I can hear the, the automobile traffic outside of your clinic. Are people fleeing the town as the bombing approaches?
RAPAREEN ABD ELHAMEED HASN No, they are not fleeing the town. They don't want to go out from their cities but everybody close their offices and go to home to stay with their families. But the children start to be afraid whenever they are hearing some bombing.
BOB GARFIELD I want to go back to, in general, before Trump's decision. You are co-president of your local health authority.
RAPAREEN ABD ELHAMEED HASN Yeah.
BOB GARFIELD What does that mean? What what is your role?
RAPAREEN ABD ELHAMEED HASN My work was to organize all the health area here, all the health centers, all the hospital, all the clinics was under our control. We were trying to give the best service for all people here, you know?
BOB GARFIELD And would this have been possible before the great Rojava project?
RAPAREEN ABD ELHAMEED HASN It was very hard. It doesn't have the opportunity to work in your own medical center, in your own city. It was very hard to get the job there. But now after we build Rojava, it was possible for everyone to work everywhere--.
BOB GARFIELD Everyone, male or female?
RAPAREEN ABD ELHAMEED HASN Yeah, and our health authority, we have to be close. So one is male and the other, absolutely gonna be female.
BOB GARFIELD The structure demands equality.
RAPAREEN ABD ELHAMEED HASN Yeah, it's equality. Yeah.
BOB GARFIELD Now, Rojava is seven years in development, how different is Qamishli today from what it was like seven years ago?
RAPAREEN ABD ELHAMEED HASN Very, very different. Before that, there was a lot of fear because the people here really didn't like each other. There was difference between Arabs and Kurds and other people. But now, after Rojava building, all of them together, Kurds, Arabs, Syrians, they all work together. They all love each other. They live together as one family.
BOB GARFIELD It's impossible to separate Rojava from the trajectory of the women's movement in the various Kurdish regions. What, what do your mother and grandmother think about Rojava?
RAPAREEN ABD ELHAMEED HASN My mother, she taught me to be like this. She was always telling me that I can do it, that these people need someone like us, like we are young people. We have activity. We have creativity to build this town again.
BOB GARFIELD And the men have they embraced women's empowerment and women's leadership? Are they confused? Are they angry? Are they delighted?
RAPAREEN ABD ELHAMEED HASN I won't tell you that 100 percent they are positive. No. There is still some people they are angry, but I could say that 80 percent they are with us. They support us, you know.
BOB GARFIELD So I want to talk about the last three years. There has been this great experiment in democratic confederalism in empowering women.
RAPAREEN ABD ELHAMEED HASN Yeah.
BOB GARFIELD And at the same time constant fighting against ISIS, against Syrian forces. It's just hard for me to imagine what life has looked like for you over the past three years.
RAPAREEN ABD ELHAMEED HASN The past just three years was very long, hard years, actually, because we were living in war. We were fighting with ISIS and we trying to be normal, to live our life as normal as we can. But all that day, we are seeing our people, our friends, our sisters, older brother, dying fighting ISIS, you know? They were fighting them and we were here trying to build up the city. It has been very hard.
BOB GARFIELD Let's talk about right this minute. We are speaking to you over Skype, so communication networks are still up to some extent. What is functioning and what are you living without?
RAPAREEN ABD ELHAMEED HASN For the last ten days, we are living without a lot of things. First of them is internet. It's come for an hour and then it goes out for three, four hours. The most important problem is our people there in Sari Kani are dying right now and we don't have the way to get them. Our stuff cannot go there right now. I will say about me, it's how we say, it's not very hard to live without a lot of things. It's going good. No problem. But there is a lot of people who have a lot of deficiency, like food and place to sleep and electricity, even water. They have a lot of deficiency.
BOB GARFIELD Rapareen, you're obviously an optimistic woman and I must ask you, as you wake up every day, is it with any hope for any sort of democratic future? Is it just desperation? Is it plotting for survival? What is in your mind?
RAPAREEN ABD ELHAMEED HASN Actually, I wake up every day and I say, 'OK, this is a new day. I will fight until the night. And I really come back to my home to sleep again and wake up again to fight again.' All of us say the same. We are not leaving our places here even if Turkish attacked all homes and all hopes and dreams, we are staying in our homes, we are staying in our land.
BOB GARFIELD As the war creeps ever closer to you, what, what story do you wish were being told? What do you want the international community to hear?
RAPAREEN ABD ELHAMEED HASN Actually, I want them to open their eyes to what's happening here, because, you know, Turkish attack is very dangerous to us, all our children, our mothers and fathers are dying here and nobody open their eyes on what's going on there. I'm just telling them to give us help, to stand up with us as we stand up with them and we fight the ISIS.
BOB GARFIELD I, I, it's hard for me to imagine also what you must have thought when you heard that, that Trump had walked away.
RAPAREEN ABD ELHAMEED HASN Yes, it was very hard. After everything we have done, after all of our people that we have given, now, they need us like we did nothing, like we are nothing here. You know, it was very hard for us.
BOB GARFIELD Left you to die.
RAPAREEN ABD ELHAMEED HASN Yes, they all left us to die. If you are not living here, you will never imagine what's happening here.
BOB GARFIELD The experiment, if it is coming to an end, has it been for nothing?
RAPAREEN ABD ELHAMEED HASN I hope it's not. We will stay. We will fight. Now [inaudible] to destroy everything we have built for seven, eight years. They are trying to destroy everything because they hate us, you know?
[MUSIC UP & UNDER]
RAPAREEN ABD ELHAMEED HASN And we are on our road until the last point of blood and soul, you know, because it's really worth it.
BOB GARFIELD Rapareen abd Elhameed Hasn lives in Rojava where she is co-president of her local health authority.
RAPAREEN ABD ELHAMEED HASN Thank you. Thank you.
BOB GARFIELD All the best to you Rapareen, thank you so much.
RAPAREEN ABD ELHAMEED HASN All the best for you, too. Thank you.
BOB GARFIELD After Thursday's announcement of a ceasefire, Kurdish commander Mazloum Abdi gave a statement on local TV urging continued resistance. Meantime, as of Friday, reports from Rojava suggest that the Kurds remain under attack from hostile forces.
[MUSIC UP & UNDER]
BOB GARFIELD Coming up, when the press demand for a simple answer gets in the way of the truth. This is On The Media.
********************
BOB GARFIELD This is On The Media, I'm Bob Garfield. This week we heard The New York Times as national editor and Democratic debate co-moderator. Marc Lacey asked Senator Elizabeth Warren the question about health care we have now come to expect.
[MUSIC UP & UNDER] [CLIP]
MARC LACEY You have not specified how you're going to pay for the most expensive plan, Medicare for All, will you raise taxes on the middle class to pay for it, Yes or no?
ELIZABETH WARREN So I made clear that my principles are here and that is costs will go up for the wealthy and for big corporations. And for hardworking middle class families, costs will go down. [END CLIP]
BOB GARFIELD But that wasn't a yes or no answer to a yes or no question. So Lacey, persisted.
[CLIP]
MARC LACEY Senator Warren, to be clear, Senator Sanders acknowledges he's going to raise taxes on the middle class to pay for Medicare for All. You've endorsed his plan. Should you acknowledge it? Senator Warren, will you acknowledge what the senator just said about taxes going up? [END CLIP]
BOB GARFIELD And Warren dodged as she's been dodging for months.
[CLIP]
ELIZABETH WARREN So the way I see this, it is about what kinds of costs middle class families are going to face. Costs are going to go up for the wealthy. They're going to go up for big corporations. They will not go up for middle class families. And I will not sign a bill into law that raises their costs because costs are what people care about. [END CLIP]
BOB GARFIELD It looked like a tough journalist holding an evasive politician to account. But was it? As the Huffington Post's Arthur Delaney reported this week, Warren's point is correct. Households would inevitably face those higher taxes she won't acknowledge out loud, but also have much lower outlays for health care. Net net, she claims. It's at least a wash, which is why Delaney thinks the, 'will taxes go up' trope is the worst debate question of the cycle. He joins me now. Arthur, welcome to On The Media.
ARTHUR DELANEY Thanks for having me.
BOB GARFIELD In your piece, you cite a couple of main reasons the tax increase query is the worst debate question. First, you say it's argumentative and a trap along, 'do you still beat your wife' lines.
ARTHUR DELANEY That's absolutely right, because it zeroes in on the most unfavorable aspect of a pretty complicated policy proposal.
BOB GARFIELD With the understanding that an honest answer is going to be political ammunition for the Republicans. Both the moderator and the candidate know that just giving a straight yes is bad politics. And both know that that's what the answer is but it's tough because not answering directly isn't very good either.
BOB GARFIELD And as you observe, it's a false metric because it presumes that the only issue is tax liability vs overall household outlays. Right?
ARTHUR DELANEY The reason people don't like taxes is that they cost money. So if you're going to zero in on taxes when the actual tradeoff proposed is something that theoretically would cost people less money, then it's, it's misleading to focus on the taxes.
BOB GARFIELD But if a politician doesn't want to say something out loud, the journalistic instinct is to get them to say it. And the more the politician strains not to answer, the more urgent the answer seems. Now, obviously, a so-called simple yes or no answer is often misleading and devoid of context but is it the journalist's job to worry about, you know, downstream political ramifications for the candidate?
ARTHUR DELANEY It's not. But in this case, we've had the question put to Elizabeth Warren at least eight times, including in previous debates. And we know what her answer is. She gave that answer over and over when she was presented with this question on Tuesday. And her answer actually does imply that, yes, taxes are part of the equation. She that's why she says costs are going to go down. So at some point, you do want to press as a journalist, but you also want to recognize when you've gotten as much as you can get and you can still have this conversation about tradeoffs in taxes without continuing to bang your head against a wall.
BOB GARFIELD All right. But beyond that is your second objection, that the gotcha in the gotcha question is premised on a false understanding of voter sentiment, that taxation is always a nonstarter, a no fly zone. You know George H.W. Bush and all that.
[CLIP]
GEORGE H. W. BUSH Read my lips. No new taxes. [END CLIP]
ARTHUR DELANEY So for years, Americans have told Gallup, they've told Pew that they're not most upset about what they themselves pay. The thing that bothers the most about taxes is the idea that corporations and the wealthy aren't paying their fair share. And majorities of people have said that they think their own tax burden is fair.
BOB GARFIELD You pointed to the work of a scholar named Vanessa Williamson, who tried to understand the Tea Party as a backlash to Barack Obama's presidency. And what did she learn?
ARTHUR DELANEY So Vanessa Williamson, when she was interviewing Tea Party protesters, she asked them what they were mad about. They would preface their great by saying, 'as a taxpayer,' and it made her wonder if taxes are so toxic, why are these people who are protesting seemingly so proud of paying taxes? And she pursued that apparent contradiction in a book called Read My Lips: Why Americans are Proud to Pay Taxes. And she finds that the notion of taxes really goes to how you feel about America and who you think this country is for.
BOB GARFIELD And this is where we get into such a can of worms because lower taxes and less government spending have been bedrock conservative principles and mantras for decades. But you believe that reflects not a paradox, but just more evidence of structural racism, because conservatives don't mind paying taxes as long as the money doesn't go to freeloaders.
ARTHUR DELANEY This is something that's, I think, pretty robust in academic literature that according to surveys, people's attitudes toward government spending and taxes are heavily correlated with their attitudes toward African-Americans. This is people who say in surveys that they think most of the reason for African-Americans economic disadvantage is their own effort rather than discrimination, and that people who feel that way tend to also object to higher taxes and more government spending.
BOB GARFIELD So tax and spend rhetoric is really just the ultimate dog whistle. But sometimes they don't whistle it. They just say it. Like in 2012 when Republican senator, and then presidential candidate, Mitt Romney told a group of wealthy donors--
[CLIP]
MITT ROMNEY Ah, 47 percent--[END CLIP].
BOB GARFIELD Forty-seven percent of the country pays no federal income tax.
[CLIP]
MITT ROMNEY Because there are victims who believes the government has a responsibility to care for them--[END CLIP].
BOB GARFIELD Believes they're entitled to government welfare and would never vote for him.
[CLIP]
MITT ROMNEY Forty seven percent of Americans pay no income taxes. [END CLIP]
ARTHUR DELANEY When Romney said that at a fundraiser, he was really just articulating a common meme in conservative media, which is that most people aren't taxpayers. And it's actually not true. He was focused on the federal income tax and in that case, everybody who earns a paycheck is a federal tax payer because social insurance taxes are taken out of your first dollar of income.
BOB GARFIELD Another thing that Romney left out and what critics of the freeloaders don't seem to internalize is that they are freeloaders, too. There are ways to benefit from big government largesse that aren't direct cash benefits, but huge subsidies. Here was historian Molly Michelmore on our program in 2017.
[CLIP]
MOLLY MICHELMORE The home mortgage interest deduction, for example, it is the United States de facto housing policy. We spend far more in revenues lost to the home mortgage interest deduction than we do on public housing. But because it's done through the tax code, it does not feel like a benefit. [END CLIP]
BOB GARFIELD But it is. Middle class welfare You could call it. She talked about the mortgage interest deduction. There's also untaxed employer contributions to health insurance and, you know, other benefits that many Americans receive essentially through tax subsidies.
ARTHUR DELANEY The tax preference for employer-sponsored health insurance is one of the very biggest in the federal tax code. It's 300 billion dollars annually, which is the size of four food stamp programs, for example. And nobody knows about it. But that's the whole reason we have the wacky public-private patchwork health insurance system that we do in this country.
BOB GARFIELD Once again, there's no stigma attached to that. That's reserved for recipients of direct aid, which fuels the tax and spend nanny state freeloader rhetoric, which leads to gotcha debate questions, huh?
ARTHUR DELANEY That's right. I think, because we've had decades of politics in which welfare has been bashed and where welfare was often associated with African-Americans and people of color, that there is just an understanding among many voters that big government is not for me. Meanwhile, there are all these big government programs that are either not regarded as welfare because people don't know about them or because they just have a special status and they're funded by contributions rather than taxes, which is a rhetorical trick that FDR put into play 100 years ago.
BOB GARFIELD It actually goes back to the Democrats. Who say they laid this trap for themselves, dating back to the 30s and the creation of Social Security.
ARTHUR DELANEY It's not a new trick. When they made Social Security, which is probably the most popular and successful social program in American political history, they often said this is not a tax we're using to pay for this program. These are contributions that workers make to an annuity that they will later receive, which is not really true. They don't put that money in the safe, but it makes people feel really good about earning Social Security benefits. Whereas with welfare programs, that's just a handout.
BOB GARFIELD And the implicit message, whether FDR thought this through or not was contributions good, taxes bad. So bad that when he needed to finance what do you call it, World War II, he had to turn for political help, not across the aisle, but across species.
[MUSIC UP & UNDER]
ARTHUR DELANEY When they wanted to raise income taxes in order to help pay for World War II, the FDR administration hired Walt Disney to make a cartoon propaganda video.
[CLIP]
MALE CORRESPONDENT Are you a patriotic American?
DONALD DUCK Yes, sir.
MALE CORRESPONDENT Eager to do your part?
DONALD DUCK Yes, sir.
MALE CORRESPONDENT Then there's something important you can do.
DONALD DUCK [inaudible]
MALE CORRESPONDENT Your income tax.
DONALD DUCK Income tax? [END CLIP}
ARTHUR DELANEY In which a narrator tells Donald Duck, 'you got to pay taxes to beat the axis. I'm sorry, but this is all Hitler's fault.'
BOB GARFIELD What about the postwar environment and the language used in the Great Society and after in order to underwrite social entitlements and government welfare and other big spending?
ARTHUR DELANEY A key moment was when the Kennedy administration was pushing tax cuts in the 60s. This was amid growing furor over welfare programs, which they decided not to defend. Instead, they said we are going to improve the economy by cutting taxes and therefore giving people more of their own money to spend, which will increase aggregate demand and reduce the welfare case loads because more people will have jobs. So they switched to this argument about managing the economy as technocrats through tax cuts rather than make an affirmative defense of the state by saying that actually these welfare programs aren't so bad. And this is basically the rhetoric we've been living with ever since. We're in a policy stalemate where both sides are tax cutters and nobody wants to say taxes are good.
BOB GARFIELD Are you saying that by couching all of these programs in that way, that the Democrats were implicitly kind of refusing to address the very kind of question that Elizabeth Warren had to face in the debate?
ARTHUR DELANEY That's right. And maybe they made a good strategic decision at all these junctures in the 20th century. But that's how we got where we are. And as a result, leave aside Medicare for All, Democratic candidates and current members of Congress have a lot of proposals to ameliorate hardship in America, to make life better for working and non-working people. And they almost all use the tax code. They say this is just an expansion of the earned income tax credit. It's not a government program.
BOB GARFIELD But all vaguely disingenuous. It's not the kind of thing that, that builds public trust in government if they're chronically, over a period of decades, not really saying the thing that is the nub of it.
ARTHUR DELANEY I mean, that's the argument against doing it this way. You are sort of concealing the role of government in making people's lives better. And it puts you in a policy trap where you are unable to make those arguments and the tax code just keeps getting whittled down. And, you know, coming up with a new program to get out of a policy problem is increasingly difficult.
BOB GARFIELD The phrasing, you know, 'how are you going to pay for it' has a very familiar ring. Isn't that a question that politicians have been facing on all matter of policy proposals since time immemorial?
ARTHUR DELANEY Yes. And they've had that question for all their other policy proposals for child care and things like that. And they generally say, well, we'll make the rich pay for it, which is a really easy dodge. Taxing the rich is really popular. People like the idea of taxing the rich, even if it's not to pay for something just to do it. But with something as ambitious as Medicare for All, it's not clear that it would work. This is a high standard, though, I must say. Republicans a couple of years ago passed a huge tax law that added more than a trillion dollars to the deficit and basically waved away questions of how you're going to pay for it.
[MUSIC UP & UNDER]
BOB GARFIELD Arthur, thank you very much.
ARTHUR DELANEY Thanks so much for having me.
ARTHUR DELANEY Arthur Delaney is a senior reporter covering politics for The Huffington Post.
[CLIP].
BOB GARFIELD That's it for this week's show. On The Media is produced by Alana Casanova-Burgess, Micah Loewinger, Leah Feder, Jon Hanrahan and Asthaa Chaturverdi. We had more help from Charlotte Gartenberg. And our show was edited this week by our executive producer, Katya Rogers. Our technical director is Jennifer Munson. Our engineers this week we're Sam Bair and Josh Han. On The Media is a production of WNYC Studios. Brooke Gladstone will be back next week. I'm Bob Garfield.
UNDERWRITING On The Media is supported by the Ford Foundation, the John S. and James L. Knight Foundation and the listeners of WNYC Radio.