Nice Democracy You've Got There...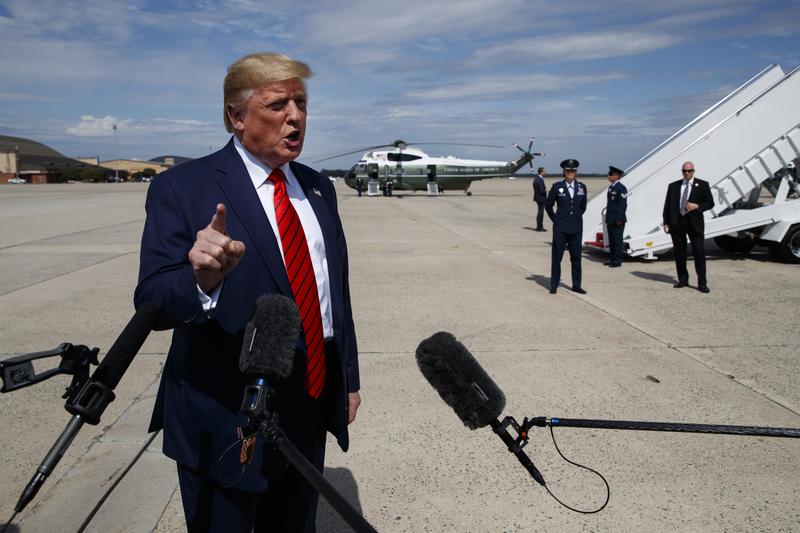 Transcript
[CLIP]
MALE We cannot delay. We must not wait. [END CLIP]
BROOKE GLADSTONE Amid a cascade of revelations and headlines, an impeachment inquiry begins. From WNYC in New York, this is On The Media. I'm Brooke Gladstone.
BOB GARFIELD I'm Bob Garfield. In the impeachment process, there are rhetorical traps to watch out for. Like, don't let others set the terms of the inquiry.
[CLIP]
TIM NAFTALI We're seeing the President make this all about quid pro quo, and not the problem of applying pressure on a foreign government to collect dirt on a domestic opponent. [END CLIP]
BROOKE GLADSTONE And why whistleblowers in the intelligence community have no rights, even when the stuff they're blowing the whistle on isn't classified.
[CLIP]
TOM DEVINE We call whistleblowing the sound of professional suicide. This is a scorched earth conflict of the highest stakes. [END CLIP]
BOB GARFIELD It's all coming up, after this.
[MUSIC UP & UNDER]
BOB GARFIELD From WNYC in New York, this is On The Media. I'm Brooke Gladstone. I'm Bob Garfield.
BROOKE GLADSTONE And I'm Brooke Gladstone. Wouldn't it be weird if a telephone shakedown of the Ukrainian president by the American president, or the cover up of same, was the thing that, you know, did it. Where to start with this one? Maybe March, when the country was awaiting Joe Biden's inevitable entry into the presidential election ring. That's when the anti-Biden blitzkrieg began. Here's Hannity in krieg.
[CLIP]
SEAN HANNITY Joe Biden is continuing to be dogged by claims of international corruption stemming from his son Hunter's dealings in Ukraine while Biden was Vice President. And clearly it has struck a nerve as sleepy, creepy Uncle Joe fired back at former New York City Mayor Rudy Giuliani. [END CLIP]
BROOKE GLADSTONE According to the whistleblower complaint that found its way from the intelligence community to Congress and set the impeachment investigation in motion this week is much more than a presidential phone call to look into. There's an array of alleged evidence of an unprecedented abuse of presidential power for personal gain. A quote 'favor' requested in the context of American military aid withheld. A backchannel communication with Ukraine that placed Rudolph Giuliani, who admitted seeking dirt on Biden, where State Department diplomats normally would be. And reports of more telephone transcripts allegedly relocated to unjustifiably classified locations. If we spent time on a thorough recap, there'd be no time to dig into the issues all of this raises. So consider the rest as read. OK?
BOB GARFIELD Big newsweek. Big week for metaphors conveying sudden irresistible force.
[CLIP]
FEMALE CORRESPONDENT Well the impeachment dam is finally broken. House Speaker Nancy Pelosi opening the floodgates by launching what she calls a formal impeachment inquiry after months of stalling.
MALE CORRESPONDENT The release of the transcript did nothing to slow the freight train of impeachment that the Democrats have now jumped on. Nancy Pelosi--[END CLIP]
BOB GARFIELD In the New Republic, Alex Pareene wrote quote, 'we seem to be barreling toward his impeachment.' But Pareene doesn't necessarily endorse barrelling or bursting or speeding locomotives. In response to reports that some Democrats anticipate a speedy process built around a solitary line of inquiry. Pareene pleaded for everyone to slow the hell down. 'This moment,' he says, 'calls for deliberate deliberation.' Quote, 'I would like the full story, a complete and detailed account of everyone's involvement in everything.' Historian Tim Naftali agrees and he may know whereof he speaks. As a former director of the Richard Nixon Presidential Library and Museum and co-author of Impeachment: An American History, Naftali is thoroughly acquainted with the process and recently has noticed some parallels.
TIM NAFTALI I can certainly see the outline of something similar to what I learned a lot about when I was director of the Nixon Library, which is the kinds of abuse of power Richard Nixon used to engage in. What he would do is he would use the instruments of government to collect dirt on people he wanted to hurt.
BOB GARFIELD Daniel Ellsberg for example.
[CLIP]
RICHARD NIXON We've got to keep our eye on the main ball. The main ball is Ellsberg. We've got to get this son of a bitch. [END CLIP]
TIM NAFTALI Well, but I was actually going to talk about Daniel Schorr, CBS correspondent later who was with NPR. He wanted to hurt Daniel Schorr. He had them go to the FBI and say I want an investigation of Daniel Schorr not because there was any reason to believe Daniel Schorr was not a patriot but because he needed something which he could then leak to ruin Daniel Schorr. Taking advantage of the vulnerability of a foreign country whose neighbor is Russia and saying basically, 'do me a favor and investigate an American citizen, 'in this case Hunter Biden, that's just like Richard Nixon saying to the FBI, 'get me dirt on Daniel Schorr.' Now, I am not sitting in judgment yet. I am telling you that this is the outlines. A real impeachment inquiry would involve getting the president's side. It's got to be fair. People are asking members of Congress, 'do you support impeachment? The question should be, 'do you support an impeachment inquiry?' It's a mistake for anybody in Congress, publicly, to say they support impeachment and I am very worried about the comments that Chairman Nadler has made of the Judiciary Committee because he seems to give the impression that he's already made up his mind before the investigation is started.
[CLIP]
JERRY NADLER We are concentrating our resources on determining whether to impeach the president. Personally, I think the president ought to be impeached. [END CLIP]
TIM NAFTALI It's like the foreman of a grand jury saying at the beginning, 'I think this person should be indicted before going through all the evidence.'
BOB GARFIELD So let's say you, like me, are eager to see the president effectively in the dock to answer for his conduct. I also don't want to see him or anyone else in a kangaroo court. Will this look like a kangaroo court under these circumstances? Will that actually be a kangaroo court because Nadler has prejudged? How serious is that rhetoric?
TIM NAFTALI I suspect that that rhetoric is the reason why Speaker Pelosi decided that six different committees are going to be involved in the impeachment investigation. I think it's very serious. I don't think it's doing irreparable damage to the process but it's going to make it that much harder for Republicans and independents to believe that the process is fair. I have a feeling this has to do with the fact that what people remember understandably is the 1990s. The impeachment of Bill Clinton was highly partisan. And I think for some that's viewed as the normal approach to impeachment. The Nixon impeachment is so much further away. I mean some are old enough to remember it but they don't realize how hard the Democratic majority worked to make this a national effort. The leadership of the House Judiciary Committee let Republicans and Southern Democrats rewrite the articles of impeachment so that they were comfortable voting for them. That's how bipartisan the process became by the summer of 1974. Such a process may be impossible because of the era we're in but it would be wonderful if Speaker Pelosi found some good government Republicans to lead some of these investigations. That would be one way of sending a signal that this is about the future of our constitution, it's not about the future of the Democratic Party.
BOB GARFIELD If the House does indeed impeach the president, could Mitch McConnell do approximately what he's been doing and just block the thing at the Senate door?
TIM NAFTALI The Constitution is silent on whether the Senate has to proceed. It just says that the House has the sole power of impeachment and that the Senate, let me just read it, 'the Senate shall have the sole power to try all impeachments.' But it doesn't say that the Senate has to meet. If Donald J. Trump is indicted, effectively that's what an impeachment is, indicted by the House, he needs to be cleared or convicted. It seems strange that the Chief Justice of the United States John Roberts who would officiate that he would not require some kind of proceeding where the indictment is weighed and perhaps set aside.
BOB GARFIELD I want to ask you about us, the media. What would you advise the press against in covering this process?
TIM NAFTALI Make sure that you have an open mind. The number of people thought that there was going to be evidence of collusion. And when there wasn't evidence of collusion, they lost interest in what Donald Trump had actually done.
BOB GARFIELD So he defined the terms of the investigation.
TIM NAFTALI Yes.
BOB GARFIELD And we unwittingly played along.
TIM NAFTALI Richard Nixon tried the same.
[CLIP]
RICHARD NIXON I had no prior knowledge of the Watergate break in. [END CLIP]
TIM NAFTALI No evidence has ever appeared that he did. He got away with that but then he made a big mistake which is that he said, 'and I wasn't involved in a cover up.'.
[CLIP]
RICHARD NIXON I neither or authorized nor encouraged subordinates to engage in illegal or improper campaign tactics. That was, and that is, the simple truth. [END CLIP]
TIM NAFTALI Nixon's denials were very, very precise and that got him. Because what happened was it was clear that he was involved in a coverup. He had set a very high standard of behavior and then the evidence contradicted that very high standard.
BOB GARFIELD OK that was way back in the olden days when being caught in a lie could be politically problematic. Would that sort of problem that Nixon had trip up Trump who's, you know, six thousand lies into his administration?
TIM NAFTALI I do think there are lies and then there are lies. Most of his daily lying people don't see as a test of our institutions but as this investigation proceeds, the president will say one thing and his accusers might say another. And if there's evidence to prove that he's lying about those cardinal points that everyone has framed as key to understanding the health of our institutions and our republic then the president gets hurt. I don't think the American people have changed so much since 1974 that they will appreciate being lied to in matters of high importance. We have a president who takes advantage of ambiguity. This is a president who made the Mueller investigation all about a low probability event, collusion. When it was about ethical actions on the part of a campaign, when a foreign government is meddling in our democratic process, once again we're seeing the president make this all about, in the Ukraine case, all about quid pro quo and not talking about the problem of applying pressure on a foreign government to collect dirt on a domestic opponent.
[CLIP]
PRES. DONALD J. TRUMP I didn't do it. You take a look at that call it was perfect. I didn't do it. There was no quid pro quo but there was with Biden and there was with these senators. [END CLIP]
TIM NAFTALI Keep in mind, the president wasn't saying to them, 'and I want this to be done judiciously and I want there to be courts and subpoenas.' He was asking them for dirt. He was actually opening the door for them to make up things. The president the United States was not asking for a favor on behalf of the American people. The present United States appears to have been asking for a favor on behalf of his re-election campaign and that is a misuse of power whether or not you had an explicit quid pro quo.
BOB GARFIELD Nixon's stonewalling was famous and, as you've observed, he denied unlawful behavior almost right to the end. But it seems to me that he and his people did not spend a whole lot of time trying to undermine the legitimacy of the impeachment process itself. Trump on the other hand, in all of the investigations that he's been subject to, has not only refused to allow his members of administration to testify or refuse to provide certain documents, he has gone on campaigns to discredit the investigators themselves.
[CLIP]
PRES. DONALD J. TRUMP And the Democrats did this hoax during the United Nations, [inaudible] was perfect because this way it takes away from this tremendous achievements that we're taking care of doing, that we're involved in. [END CLIP]
BOB GARFIELD Is he following a path that Even Nixon didn't pursue?
TIM NAFTALI Well, Nixon was capable of shame and he also had a sense of presidential norms. He conversely did these abuse of power but wanted to maintain the appearance of cooperation, while in fact he was engaged in very heavy stonewalling. President Trump doesn't seem to care and doesn't think that his supporters care. One of the huge differences is that the Republican Party in 1974 wanted Nixon to appear to be cooperative. I've seen evidence, diaries of one Republican in particular, where the Republicans are saying to the White House, 'please be more forthcoming with the Judiciary Committee,' because they assumed he was innocent. So that's a big difference. Not only is the frame different because of the nature of the president but also because of the nature of the Republicans. The other thing is think of the impeachment process, even in the Nixon period, as water polo. Below the water it was very dirty and Richard Nixon's people were brutal against Republicans. When this process begins, if it continues, one of the things that I believe the press should be looking for and others is the extent to which the White House puts pressure on members of the Judiciary Committee and that much of this pressure could actually be an abuse of power in and of itself.
BOB GARFIELD The previous three presidents who have faced impeachment have had that experience under vastly different sets of circumstances. Furthermore, as you've observed, in our founding documents the template is intentionally vague and we live in the Trump era during which seemingly anything is possible. Can we be misled by trying to draw too many conclusions from our collective past?
TIM NAFTALI I'm not suggesting that this process is going to go in the same direction but there is a playbook for a presidential abuse of power. It doesn't predict the present. This is not my phrase but I love it, 'I don't believe history repeats itself but I believe it rhymes.' Looking at history gives you a guide so that you ask better questions about the present. But if you are too influenced by history, you won't think outside the box. The healing process that we are going to need as a nation after Trump-ism has to be a healing process outside of the yak-accuracy and outside of our major cities. It has to be everywhere. Talk to lots of folks and read lots of things. We are at one of those moments where civic engagement should be a patriotic requirement.
[MUSIC UP & UNDER]
TIM NAFTALI Read, get involved, think, participate.
BOB GARFIELD Tim, thank you very much.
TIM NAFTALI Thank you Bob.
BOB GARFIELD Tim Naftali is a historian at New York University and co-author of Impeachment: An American history.
[MUSIC UP & UNDER]
BROOKE GLADSTONE Coming up, if you blow the whistle on the intelligence community there is no protection for you in the Whistleblower Protection Act.
BOB GARFIELD This is On The Media.
*************************
BOB GARFIELD This is On The Media, I'm Bob Garfield.
BROOKE GLADSTONE And I'm Brooke Gladstone. Tom Devine is the Government Accountability Project's legal director, which advises and represents and tries often against the odds to protect government whistleblowers. For 40 years, He's helped over 7.000 of them defend themselves against retaliation and he knows the law. He says the US was the first in the world to grant whistleblower protections but now its safeguards lags far behind those of other democracies. And what's worse, there's a caste system here. Government whistleblowers have reasonable protections in most every sector But intelligence. Blow the whistle in that community, on anything, and you never can come in from the cold.
TOM DEVINE An intelligence community employed under their whistleblower rights, they first have to go to the institution that's allegedly engaged in the misconduct. And that means they can't blow the whistle confidentially or anonymously. Secondly, they have to give all of their evidence of the institutional misconduct to the institution they're accusing. And then they have to get permission in order to share that with Congress or even the intelligence committees in Congress, which are constitutional watchdogs of intelligence abuses of power. And you can't do that until the alleged wrongdoer has seen all the evidence, had a chance to destroy the documents, knows who you are and can discredit you and then gives you permission. To me, this isn't really a whistleblower law, it's like turning yourself in.
BROOKE GLADSTONE We're dealing with national security, right? Information that could have a material impact on the safety of the nation.
TOM DEVINE Well, if it's going to threaten national security, the information should be classified. But there shouldn't be a national security shield for all abuses of power. National security isn't a blank check for impunity. The specific type of evidence can be protected but people shouldn't be gagged or restricted from warning the public when their national leadership is selling them out.
BROOKE GLADSTONE Now this situation, the one that we've been watching play out this week, you say this is evidence of how the system works. You've just described a system that doesn't work.
TOM DEVINE I think what's happened is our constitutional system of checks and balances work because Congress was determined and persevered in getting to the bottom of this. The system worked in spite of the Intelligence Community Whistleblower Protection.
BROOKE GLADSTONE Mmhm.
TOM DEVINE If you're comparing the rights under that law to those by not intelligence workers, it's like comparing a fig leaf to a tuxedo. This is a bad joke.
BROOKE GLADSTONE So let's go back to Thursday's House Intelligence Committee hearing. Joseph Maguire the acting director of National Intelligence called the whistleblowers complaint unprecedented because it raised the issue of executive privilege. And again and again he seemed to draw a distinction between the concerns of the intelligence community and the prerogative of the White House, right?
TOM DEVINE Yes, he did. And your executive privilege is unusual in a whistleblower complaint because normally federal workers aren't blowing the whistle on the president.
BROOKE GLADSTONE What did you make of his interpretation and of his action to take this complaint outside of the usual channels?
TOM DEVINE Well, I say national security staffer at G.A.P. has said, Irvin McCullough, he was caught between a rock and a hard place.
BROOKE GLADSTONE Mmhm.
TOM DEVINE This was an unprecedented situation. Mr. Trump is famous for knee jerk attacks on anyone who threatens him and he wanted to make sure that he had crossed all his T's and dotted all his I's, wasn't taking any chances on something that he didn't have the expertise for. Yeah, in my opinion, he should have just followed the law which didn't have that exception. So you have to ask the president if the president's the one engaged in misconduct. The law says you shall transmit any intelligence abuses to Congress but he was just being cautious and careful.
BROOKE GLADSTONE You don't blame him for that? A lot of Democrats in the Intelligence Committee hearing did.
TOM DEVINE I don't blame them for being frustrated but I think what's more significant for Mr. Maguire's testimony is that he affirmed that the whistleblower was doing the right thing.
[CLIP]
JOSEPH MAGUIRE I think he followed the law every step of the way. [END CLIP].
TOM DEVINE Rather than acting as a political hack the way the president had trashed. And he pledged that there can be no retaliation against this person. And I'll tell you that's the rare exception to the rule. Most intelligence community whistleblowers are just smashed if they challenge abuses of power.
BROOKE GLADSTONE And he conceded to Representative Terri Sewell, a Democrat out of Alabama--
[CLIP]
TERRI SEWELL The chilling effect that it will have on others in government who may witness misconduct but now may be afraid to come forward to report it.
MAGUIRE Congresswoman I think that's a fair assessment. I don't disagree. [END CLIP]
BROOKE GLADSTONE You are more in touch with whistleblowers past and present, and possibly future, than anyone else I could summon up, Do you think there has been a chilling effect?
TOM DEVINE Absolutely and it's a long term chilling effect. At the Government Accountability Project where I work we call whistleblowing the sound of professional suicide and the power structure does everything possible to destroy anyone who effectively challenges institutional abuses of authority. They have to or else they would be held accountable for breaking the law and they wouldn't be able to continue breaking the law. This is a scorched earth conflict of the highest stakes and the whistleblowers should be very wary of acting on these through the proper channels. One of our clients, Tom Drake, acted through all the proper channels and he was supposed to be a confidential whistleblower. The Department of Defense Office of Inspector General, without any evidence that they had engaged in misconduct, turned him into the FBI, which prosecuted him and sought 35 years incarceration under the Espionage Act.
[CLIP]
MALE CORRESPONDENT The government alleged he was a source for a series of Baltimore Sun stories in 2006 and 2007, looking at the NSA. [END CLIP]
TOM DEVINE It's not just a chilling precedent, it's a freezing precedent.
BROOKE GLADSTONE You think that what's been going on this week might offer a bit of a thaw then perhaps because at least it's focusing on the risks they face.
TOM DEVINE How often does it happen that there's a global spotlight on abuses of power by a president like in this case? For in the--.
BROOKE GLADSTONE Mmhm.
TOM DEVINE --normal scenario where someone is opposing abuses of power like maybe torturing someone and violating their rights. We warn whistleblowers that their rights under the intelligence community act are almost like a trap.
BROOKE GLADSTONE So do you think that Maguire can, and will, do enough to protect whistleblowers in the intelligence community as he seemed to assure Adam Schiff on Thursday?
[CLIP]
ADAM SCHIFF Do I have your assurance that that whistleblower will be able to testify fully and freely, um, and enjoy the protections of the law?
JOSEPH MAGUIRE Yes, Congressman. [END CLIP]
TOM DEVINE Well, no one has absolute authority but his leadership will make a big difference.
BROOKE GLADSTONE Do you think the whistleblower will come to Congress?
TOM DEVINE Well, the whistleblower has requested that but some whistleblowers just say this is the right thing to do and I'm going to stick my neck out and I hope the law will support me. The anonymous whistleblower's lawyers are being much more careful. They're making sure that they do everything by the book. And so far, this whistleblower has been quite effective following all the rules in spite of them. But what it's taken is a partnership between the very weak legal rights and extremely determined congressional oversight. And frankly, you can have the ladder whether without a law. So I don't give the law too much credit but I'm kind of proud of Congress the last two weeks.
BROOKE GLADSTONE It's no surprise that this week the president questioned the patriotism and the origin of the whistleblower. You hear those talking points in people like Fox News personality Steve Doocy.
[CLIP]
STEVE DOOCY The whistleblower had no direct knowledge of it, heard about it somehow and the inspector general of the intel community said, 'you know what, we have looked at this whistleblower and we feel that this person has a political bias for a rival candidate of Donald Trump.' [END CLIP]
TOM DEVINE We call the first love retaliation shift the spotlight from the message to the messenger.
BROOKE GLADSTONE Mmhm.
TOM DEVINE Investigating and trashing his or her integrity, professional history, sexuality, motives, bias, anything that a smear that person so that people won't believe him or her. Dirty laundry might become the whole issue rather than the abuse of power they're exposing. I'm encouraged that Chairman Cummings in the House Committee on Oversight and Reform has been working very seriously on upgrading the Whistleblower Protection Act here so that its fifth generation, it might actually be credible.
BROOKE GLADSTONE What would the fifth generation of the law look like?
TOM DEVINE One is, unlike corporate whistleblowers or government contractor whistleblowers, federal employees can't seek justice against free speech retaliation from a jury trial in district court. They have to go to a highly politicized administrative board called the Merit Systems Protection Board, which in the Senate doesn't even have any members right now. Their due process rights so almost paralyzed.
BROOKE GLADSTONE That's crazy it is crazy.
TOM DEVINE It is crazy.
BROOKE GLADSTONE So you're suggesting they should be able to go to a regular court.
TOM DEVINE And have justice determine by a jury of citizens whom the whistleblower is purporting to defend when he or her risks his professional life. That's where you'll get real justice. The second big weakness in the current law is it doesn't protect against retaliatory investigations that are almost a knee jerk reaction and thus can morph into criminal referrals. And it means that there's a backdoor way around the employment rights to the Whistleblower Protection Act. You can try to get somebody prosecuted for free speech that they couldn't be fired for. The third thing is to get a realistic chance for temporary relief for federal workers. These cases drag out for routinely for two to five years, some of them over a decade, and they don't have a functional chance to get them. And that means by the time that you've won your case it may be too late. You've gone bankrupt, you've lost your family, you've lost your house, you're professionally blacklisted. The vindication is just kind of symbolic. We need those three additional teeth for the Whistleblower Protection Act to be genuine free speech rights.
BROOKE GLADSTONE Next administration?
TOM DEVINE Well, the House of Representatives is working that very seriously in this administration. And then the sun will be on the spot whether or not they're going to kind of back up their rhetoric supporting whistleblowers with credible rights. And if that happens then President Trump will be on the spot. He ran as a citizen whistleblower who is going to drain the bureaucratic swamp of corruption in Washington D.C., but you know you can't drain the swamp of alligators if you keep feeding the people who are doing the cleanup to the gators. And that's what's happening.
[MUSIC UP & UNDER]
BROOKE GLADSTONE Thank you so much Tom.
TOM DEVINE Thanks for having me.
BROOKE GLADSTONE Tom Devine is the Government Accountability Project's legal director.
[MUSIC UP & UNDER]
BOB GARFIELD Coming up, evidence makes clear there is no moral equivalency between Trump's predations and what he accuses the Bidens, of much less what they've actually done still.
BROOKE GLADSTONE This is On The Media.
****************************
BROOKE GLADSTONE This is On The Media, I'm Brooke Gladstone.
[MUSIC UP & UNDER]
BOB GARFIELD And I'm Bob Garfield. There's the Ukraine story and then there's the coverage of the Ukraine story. Will it mark the downfall of Donald Trump or will it mark simply his latest offensive, obscuring his own abuse of power with a foreign government by falsely charging Joe Biden with the same? Not an idle question as James Fallows noted in The Atlantic. Several news organizations have granted Trump's unfounded allegations the same consideration as the undisputed fact of Trump's own possibly impeachable act. 'The Biden story, Fallows wrote, 'has become the quote patient zero of the next false equivalency epidemic. Perhaps because, as in previous Trumped up scandals, the tissue of lies has threads of tantalizing fact.' Adam Entous of the New Yorker this summer wrote a long profile of Joe Biden's son Hunter–and it is an eyebrow raiser. Entous just looked into the president's claim that Joe Biden pressured Ukraine to thwart an investigation into his son's company. But--
ADAM ENTOUS I found that the investigation had already been dismissed by the previous prosecutor's office and that this prosecutor was not pursuing an investigation of the company where Hunter Biden, Joe Biden's son, was working. When Joe Biden pushed the president of Ukraine to fire the prosecutor, he was doing so at the request of the American government, the IMF, the World Bank, the Europeans. They thought the prosecutor was not pursuing corruption investigations.
BOB GARFIELD Now this is a non scandal that Trump's personal lawyer Rudy Giuliani, in spite of everything you just said, has been howling about for months. But when it all blew up this week, you were in a doubly unusual position. You had done this very long story. You already knew that there was no there, there about Joe Biden and shut down investigations, but you also knew about the many skeletons in Hunter Biden's closet, his car, his resumé, his web browser, his blood tests, etc. Not a portrait of stability.
ADAM ENTOUS Whenever Joe Biden was running for office, this issue came up over and over again. Joe Biden was, you know, Delaware Senator which is home to MBNA the bank and after Hunter got out of Yale Law School, he got a job at MBNA bank, which happened to be one of his father's largest contributors. And the accusations at the time was very similar actually to the accusations today, which is that Hunter Biden is trading on his father's name to get these positions to curry favor with the senator. And that's really the same issue that repeats itself over and over again and is a legitimate subject of scrutiny when it comes to his business dealings when his father's vice president–and those would be the business dealings that he does in Ukraine and China.
BOB GARFIELD Yeah you wrote that there's quote, 'little question that Hunter's proximity to power shaped the arc of his career.' Isn't that the swamp? It's not just the perception of conflict, it's a business model. It's exactly what makes proximity to power such a lucrative commodity. Can we presume, getting back to Ukraine, that his seat on the board of large natural gas producer there was not based on some background in energy markets or fossil fuels.
ADAM ENTOUS I can say this, that by talking to members of the board who sat alongside Hunter during those years that the five years that he was on the board, he told me, and they verified, that he made it very clear from the beginning that he would not talk to his father or US government about the company and its activities. As far as I could tell that was a policy that was not breached during Hunter's five years with the board. He had a 'don't ask, don't tell policy' with his father. And this is so if a reporter like myself or if you were to ask, 'why did your son do this deal,' Joe Biden and his staff can genuinely say, 'we didn't even know he was doing it.' But you know I was kind of mystified by why Joe Biden's aides and the State Department officials and White House officials, they told me that they were disturbed by Hunter's decision to join this board and yet they told me that they never really raised it with Joe Biden. They said they were intimidated. One of them told me that the best way to not advance in government is to criticize the son of a politician to that politician. So there was this self-censorship, I think, that went on. I only was able to find one aide in the administration, a Ukraine expert, who does eventually raise it with the vice president and he doesn't tell the vice president that he should ask his son to step down from the board. He just tells him, 'hey we're gonna be going to Kiev and every time we go to Kiev, Russian propaganda stations promote this story.' So they wanted the vice president to be prepared to answer questions if he was asked about his son. I believe that's the conversation that prompts the one conversation that I was able to document between Hunter Biden and his father. Hunter told me that he got a call from his dad. His dad said, 'I hope you know what you're doing son.' And Hunter responds by saying, 'I do.' And he goes on and continues on that board and continues to obviously receive funds from the company through just this spring.
BOB GARFIELD And I just want to know if in your mind that the way it's been framed, in the rest of the press in the last few days, it distorts the, you know, the equivalency of the, the president's behavior and the Bidens.
ADAM ENTOUS I feel like I'm seeing almost two versions of the stories depending on which media I go to. When I turn on MSNBC, I'm seeing that this is all not true, tt's all being invented. And then I go to Fox and I see, you know, the opposite repeating the allegations. This is incredibly complex. It's very hard for journalists who have not spent a lot of time in Ukraine, and I have not spent a lot of time in Ukraine, to really get to the bottom of what motivates people to say what they say in a country which has its own politics that are very hard to understand. And I think it's a work in progress to try to figure this out. You know, how did this narrative get to Rudy Giuliani in the first place. I personally thought Jake Tapper on CNN last Sunday handled it very well. He had Mnuchin on--
BOB GARFIELD That's Treasury Secretary Steve Mnuchin.
ADAM ENTOUS Uh, Mnuchin was saying that he was disturbed that Hunter Biden was doing business in Ukraine.
[CLIP]
STEVE MNUCHIN I, for one, find that to be concerning and to me that's the issue perhaps that should be further investigated.
JAKE TAPPER Well, I don't understand. So it's OK for Donald Trump Jr. and Eric Trump to do business all over the world. It's OK for Ivanka Trump to have copyrights approved all over the world while President Trump is president, but while Vice President Biden was vice president, his son shouldn't have been able to do business dealings? [END CLIP]
ADAM ENTOUS Sure you can question the judgment of Hunter Biden in deciding when his father was involved so heavily in policymaking in Ukraine and China. The wisdom of him taking these positions with these companies. That said, look who's making the accusation. Rudy Giuliani has been expanding his business very aggressively by touting his relationship with Trump and being his personal lawyer. And like Jake Tapper said, I mean the children of Donald Trump are running around with businesses that raise very similar questions.
BOB GARFIELD Matt Yglesias of Vox, for one, observed quote, 'the banal ordinary sleaziness of the Hunter Bidens of the world makes it hard to fight the extraordinary corruption of Donald Trump.' In other words, even in the face of a White House that operates like the marketing arm of the Trump Organization, my words, not yours, he says the public itself can't help but operate from false equivalency. Do you think he's right? Do you fear that juxtaposing Hunter Biden with Trump Inc will cause the public to shrug and say, 'you know, it's the way it is. It's Chinatown Jake. It's the swamp.'
ADAM ENTOUS There is a, you know, clearly a danger that many people will think that everybody's the same. That people in politics, their families, are all cashing in. Obviously that's particularly damaging to Joe Biden because he's sort of made his career by taking pride in his humble finances frankly. There's a reason why this campaign, the Trump campaign and previous Republican campaigns and even Democratic campaigns when Joe Biden was in the primaries, focused on Hunter. His business activities, his work as a lobbyist, albeit as a lobbyist mainly for Jesuit universities, and his work in Ukraine and in China is arguably an effective way to raise doubts about, you know, whether Joe Biden is the way his persona is perceived. That's the reason why they're focusing on this. This is not new but what is different this time is obviously you have a sitting president who was growing frustrated that this narrative, the dubious narrative that Joe Biden used his office in order to protect his son in Ukraine, was not getting the traction in the mainstream press that they were hoping it would get. And then Trump did something we've never seen before, which is in a private conversation with the Ukrainian president in order to bring to greater public attention these allegations against Joe Biden and his son.
BOB GARFIELD All right you've just alluded to the ecosystem in which this is all taking place. And it goes back to the way disinformation takes hold. You have done a thoroughly reported, highly nuanced and mainly exculpatory piece about the Biden's. But don't we also have to reckon with the near inevitability that the New Yorker, and now On The Media, for all of our scrupulousness, are also putting a bellows to the latest incendiary Trump lie, putting the story out there inevitably to be misunderstood.
ADAM ENTOUS That is the danger. You know, we can right, in this case, a 12,000 word piece–probably most people will just read the headline, which would maybe give people a misleading impression. This is obviously a very hard position that we find ourselves in. We want to be able to tell people what the facts are but in so doing we are partly doing Trump's and Giuliani's bidding by keeping this in the news. I don't have a solution to this problem. You know, I'm not sure there is one.
BOB GARFIELD Adam, thank you very much.
ADAM ENTOUS Thank you.
BOB GARFIELD Adam Entous is a staff writer for The New Yorker where this summer he wrote Will Hunter Biden Jeopardize His Father's Campaign?
*********************************
BROOKE GLADSTONE Adam Entous described the challenge of untangling Ukraine's knotty political narrative–remote and opaque to most Americans and thus fertile ground for myth and misinformation. Consider the series of stories by conservative columnists John Solomon and the Hill last March when, in a time honored tradition of using American outlets to launder foreign propaganda, he quotes senior officials in Ukraine making accusations against a well regarded anti-corruption activist and investigative journalist. From such spores growing mighty mold colonies. Rudy Giuliani is such a colony unto himself propagating accusations on Fox News. Here he is May.
RUDY GIULIANI It's all part of one large conspiracy that has about two or three parts to it.
FEMALE CORRESPONDENT OK.
RUDY GIULIANI So I've decided, Sharon, I'm not going to go to the Ukraine.
FEMALE CORRESPONDENT You're not going to go.
RUDY GIULIANI I'm not going to go because I think I'm walking into a group of people that are enemies of the president, in some cases enemies of the United States. And in one case on already a convicted person who has been found to be involved in assisting the Democrats with the 2016 election. A gentleman by the name of Leshchenko.
FEMALE CORRESPONDENT Yes.
RUDY GIULIANI Who supplied a black book that was found to be fraudulent. [END CLIP]
BROOKE GLADSTONE All this can land like gibberish on many American ears but to those who know Ukraine, it's crystal clear–an obvious attempt to obscure a very real very explosive anti-corruption investigation. Career Kyrylo Loukerenko is the executive director and co-founder of Hromadske Radio in Ukraine. He explains that the black ledger was the key to unmasking corruption at the highest levels in Ukrainian society.
KYRYLO LOUKERENKO It was, it was a book with handwritten names and figures found in the headquarters of Yanukovych political party during the Maidan advance.
BROOKE GLADSTONE During the Maidan demonstrations to get rid of Yanukovych whose pro-Russian party was enormously unpopular and it was in his party headquarters that the ledger was found. And one name that comes up again and again when talking about those years and the legacy of American influence in Ukraine is Paul Manafort.
KYRYLO LOUKERENKO Actually very few people knew about his work. He was travelling back and forth as far as I understand to the U.S. and Ukraine. However, once upon a time a courageous Ukrainian journalists and his friends actually found that Manafort was mentioned as he was paid by Mr. Yanukovych and his friends for his lobbying and consultations. He lobbied the Yanukovych government in the US and also he consulted Yanukovych public relations strategy in Ukraine so it would be better perceived in the US and Europe.
BROOKE GLADSTONE He was paid many millions to do this as was quantified in the black ledger. His and other payments by the president at the time, that issue was never investigated in Ukraine?
KYRYLO LOUKERENKO It--it was investigated but I'm afraid there was no court hearing which actually came to a correct conclusion about that issue.
BROOKE GLADSTONE What about the new Ukrainian president Zelensky? He campaigned as a reformer. He is a complete outsider. He has been plunged in presumably way over his head in dealing with the Trump administration strong-arm tactics. Would he re-open the black ledger issue or examine it?
KYRYLO LOUKERENKO I believe that he is a moral person who really wants to change our country to the better. If he is successful in this, he has to deal with all those issues which were under investigated, which were under clarified for the Ukrainian public. He is trying to focus on the recent misdeeds by the previous administration. But I would not believe that he would preserve his image of a positive thinking politician if he would abandon their investigations of Yanukovych era.
BROOKE GLADSTONE I'm wondering, Leshchenko was called an enemy of the people and of the US by Rudy Giuliani on Fox News. As Ukraine rapidly enters the forefront of the American news cycle a lot of us are working very hard to make sense of Ukraine. What are the top three things that you'd recommend news consumers learn about in order to make sense of how the story is playing out?
KYRYLO LOUKERENKO First, I would recommend, uh, those who did not watch Chernobyl series on HBO to watch it. It's a part of a picture that brought Ukraine to independence.
[CLIP OF CHERNOBYL]
You morons blew the tank.
This is an emergency. Everyone stay calm. Our first priority--.
It's exploded.
We know. I came off of cooling the reactor core.
We shut it down but the control rods are still hot. [END CLIP]
KYRYLO LOUKERENKO Because Ukrainians felt betrayed by Moscow back in 1986. Ukrainians understood that basically they need to decide for themselves how to take care about themselves and everything which is on their land. The second issue I would recommend to learn more about Maidan events of 2014.
[CLIP]
[Chanting in Ukrainian]
BROOKE GLADSTONE The uprising.
[CLIP]
[Sound of uprising clashes]
KYRYLO LOUKERENKO Mostly it was about European integration, definitely. But it was also about democracy because it was a decision of many people to defend democratic values. However, it brought some further breach to the rule of law because it was very much neglected during the Yanukovych time.
[CLIP].
KYRYLO LOUKERENKO And it was crushed because that appraisal, some people in Ukraine they still think that many things could be solved in a violent way. And actually Russia used this ambiguity in order to annex Crimea and support separatist forces in Donbass.
[CLIP]
MALE CORRESPONDENT In Moscow today, Putin saying Crimea's vote to join Russia is in line with international law. Meanwhile, Ukraine's prime minister saying Ukraine will not join NATO. [END CLIP]
KYRYLO LOUKERENKO So I would say this is this third issue for the US people to learn its current situation in Ukraine. Every day we'll learn some news about shellings, bombs, killed soldiers. This is every day reality for Ukraine.
BROOKE GLADSTONE You told us to remember Chernobyl, which intensified the need to separate. And then the Maidan uprising which toppled a pro-Russian ruler. A violent uprising to some degree has not yet been subdued sufficiently by the rule of law, which gave Russia an excuse to come in and take the Crimea. Finally, you ask US news consumers to consider that there still is violence every day in the country. Tell us what lessons we should draw from understanding those things.
KYRYLO LOUKERENKO This is the way issues are solved under democracies. It's an open discussion. Countries which are autocratic, it looks like everything is correct, few discussions because everything is very good. But it's simply not true because somewhere below you find those problems which are masked, which are neglected and which are going to stay for many, many years without solution.
BROOKE GLADSTONE Democracy in action is often an unholy mess.
KYRYLO LOUKERENKO Exactly.
[MUSIC UP & UNDER]
BROOKE GLADSTONE Thank you so much.
KYRYLO LOUKERENKO Thank you. Thank you for interest to my country.
BROOKE GLADSTONE Kyrylo Loukerenko is the executive director and co-founder of Hrmadske Radio in Ukraine.
[MUSIC UP & UNDER]
BOB GARFIELD That's it for this week's show. On The Media is produced by Alana Casanova-Burgess, Micah Loewinger, Leah Feder, Jon Hanrahan and Asthaa Chaturverdi. We had more help from Charlotte Gartenberg. And our show was edited by Brooke. Our technical director is Jennifer Munson. Our engineers this week with Sam Bair and Josh Han.
BROOKE GLADSTONE Katya Rogers is our executive producer. On The Media is a production of WNYC Studios. I'm Brooke Gladstone.
BOB GARFIELD And I'm Bob Garfield.
UNDERWRITING On The Media is supported by the Ford Foundation, The John S. and James L. Knight Foundation and the listeners of WNYC Radio.