The Worst Thing We've Ever Done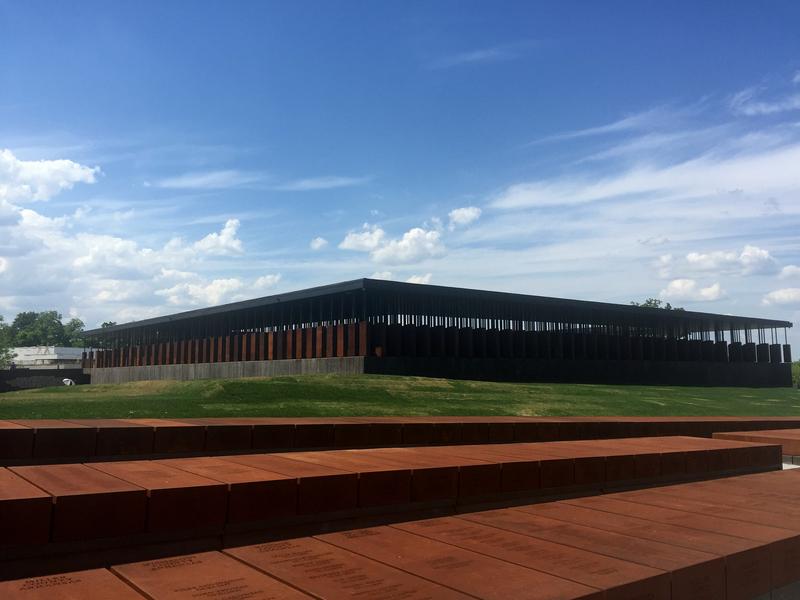 Transcript
WNYC Announcer: Listener supported. WNYC Studios.
Brooke Gladstone: On this week's On The Media, how to tell our real history and make people believe it.
Speaker 1: I want to go to that Legacy Museum because it said something about the lynchings that happened after the abolition of slavery. And I'm like, what?
Bryan Stevenson: Most people can't tell you anything about slavery because they don't know that there were four million enslaved people living in this country when the civil war began.
Speaker 2: They treat us like animals. I sleep on this naked floor in chains and handcuffs.
Peter Weissenburger: There is no point in which we can say okay, we're done now, this is always going to be what happened.
Speaker 3: Look at the feet, look at the hands, look at the creases in the ... I have a much larger vocabulary but I am still so overwhelmed.
Bryan Stevenson: I think a lot of people realize, yeah, something bad really did happen. And they don't want to acknowledge it because they're afraid they're going to be punished for it. I have no interest in punishing this nation for its history. I want to liberate us.
Brooke Gladstone: From WNYC in New York. This is On The Media. Bob Garfield is away this week, I'm Brooke Gladstone. This week and next, we're re-airing two episodes about the stories of our histories, the ones we embrace, and those we refuse to hear. Because getting history right is pretty much the most important thing citizens can do in a nation at war with itself as ours was, and is. It's often said the North won the war, but the South won the narrative. That's why the battle still rages and still takes casualties every single day. To chronicle the opening of a new front in the war over the Civil War, in May, OTM producer Alana Casanova-Burgess and I went to Montgomery, the first capital of the confederacy. And not far from our hotel we saw a sign. At the start of the Civil War, the city had a larger slave population than Mobile, New Orleans or Natchez, Mississippi. Slave trader's offices were located primarily along Commerce Street and Market Street. Now Dexter Avenue, yeah.
Alana Casanova-Burgess: We're on Commerce right now.
Brooke Gladstone: Over time, Montgomery became one of the most important and conspicuous slave trading communities in the United States. After the Alabama legislature banned free black people from residing in the state in 1833, enslavement was the only legally authorized status for African Americans in Montgomery. And that sign was put up by the Equal Justice Initiative and there it is.
Alana Casanova-Burgess: Right next to the Hank Williams Museum.
Brooke Gladstone: Right next to the Hank Williams Museum. But look at that, Equal Justice Initiative. It's painted as if it had been there forever. It seems almost to be etched in the brick as if it had as long a legacy as the slave trade but it doesn't. This is an effort I guess, to design it as if it were permanent.
Bryan Stevenson: This is a community that prides itself at being the cradle of the Confederacy.
Brooke Gladstone: Public interest lawyer, Bryan Stevenson has sprung well over 100 innocent prisoners from death row. Won a historic case ending mandatory life without parole for children under 18 and founded the Equal Justice Initiative in 1989, to help provide legal services to men and women on death row in Alabama. Now EJI is not only defending marginalized people but marginalized history, a civil rights museum, a lynching memorial, attracting headlines across the nation when it opened in the spring, spotlight on Montgomery.
Bryan Stevenson: When we began our work, we bought this building, but we didn't know it was the site of a former warehouse where enslaved people were held. No one had actually documented the primacy of slavery in this community. I went to Berlin, you can't really go 100 meters without seeing markers and stones have been placed next to the homes of Jewish families that were abducted. Germans seem to want you to go to the Holocaust Memorial. They were intent on changing the narrative. They didn't want to be thought of as Nazis and fascists forever. And I just don't think we've created cultural spaces in this country that motivate people to say never again to this history of enslavement and lynching and segregation. And the absence of that commitment, I think has left us vulnerable. And not only do we not do that, we actually romanticize this era.
And we tell stories about how glorious and wonderful the architects and defenders of slavery are. In Alabama, Confederate Memorial Day is a state holiday. Jefferson Davis' birthday is a state holiday. We do not have Martin Luther King Day in Alabama, we have Martin Luther King slash Robert E. Lee day.
Brooke Gladstone: Stevenson has made Montgomery his laboratory in a vast experiment to shift the narrative on American racism's roots and legacy. And he's taken as models similar efforts in South Africa, Rwanda, Germany, and especially its capital Berlin, where Stolpersteine, literally stumbling blocks bear the names of Holocaust victims swept up from nearby apartments. Where there's a vast Holocaust Memorial just south of the Brandenburg Gate, acres of concrete slabs of various size that you cannot avoid. In Berlin, history comes at you around every corner, but the Nazi viewpoint has no presence there, in the spirit of never again.
Richard Evans: The street names are replaced to what they used to be before the Nazis came to power.
Brooke Gladstone: Historian Sir Richard Evans is author of The Third Reich In History and Memory. We asked him to trace Germany's path to reckoning.
Richard Evans: The concrete swastikas and eagles were taken down. Some smaller buildings were blown up to erase the immediate memory of the Nazi period. And of course, all those millions of people who had Nazi uniforms from the Hitler Youth or the National Socialists Stormtroopers, burned them or buried them or threw them away. The Allies had a huge program of Denazifications, old Nazis were fired. There were thousands of trials, not just in Germany, but in Poland and France and other places. But the Denazification program involved sending out questionnaires to millions and millions of Germans. It went very far and very deep.
Brooke Gladstone: What did you think about the Denazification films and newsreels the Allies made?
Richard Evans: Yeah, they were made by well-known directors like Billy Wilder or Alfred Hitchcock. Mills of Death was one of them, with archived footage of the concentration camps. Germans were forced to go and see them in local cinemas.
Newsreel Announcer: They had been beaten down to live like animals. Far worse, or few animals had lived in the terror, hunger and filth of these victims.
Richard Evans: A lot of Germans simply refused to believe what they've seen in these films because they've been fed a diet of Nazi propaganda lies for 12 years. And most Germans too, in the immediate aftermath of the war, were simply trying to survive. I mean, there was mass malnutrition, economic conditions were really terrible, so they didn't really want to know. And then it took a long time after that for Germans to accept the idea of democracy. After all, democracy in the '20s in Germany, the Weimar Republic has led to Nazi's coming to power and it was an economic disaster. First of all hyperinflation, and then a huge depression, much deeper than the slump in America.
Brooke Gladstone: But that was related to the First World War.
Richard Evans: Yeah, it was following on that. But I mean, as a result of that, of course, Germans mistrusted democracy. They didn't think it delivered prosperity. Whereas, Hitler's rearmament had delivered something of a boom. So it wasn't till what the Germans called in West Germany, the economic miracle. In the '60s, when the German economy recovered, they began to think well, maybe democracy can actually deliver prosperity.
Brooke Gladstone: There was a television series called Holocaust in 1978, starring Meryl Streep, that was really influential.
Richard Evans: That's right it was. It was shown in Germany and we follow a number of fictionalized characters, a Jewish family, and a young man who joins the S.S. and becomes bit by bit, kind of vicious Nazi thug.
Narrator: Yes, our job was nearly finished, a Jew free Europe. So perhaps the camps and the machinery could soon be obliterated.
Speaker: Forgive me, my Fuhrer, would it not be more fitting to let them stand as monuments to our great service to mankind? We have nearly followed the logic of European history. A case can be made for Auschwitz.
Richard Evans: And that had a big effect in Western Germany. But it's not really till the 1990s, that there's a further step towards a reckoning, when the Berlin Wall fell. A lot of West Germans who'd lost their property to the communist regime in East Germany from 1949 onwards, they claimed for the return of their property. There were a couple of million of these lawsuits. And then that sparked former slave laborers of the Nazis from Poland and Eastern Europe to put in their claims. And then there's a whole process of restitution of looted artworks that began in the mid to late '90s.
Brooke Gladstone: In Germany today, only the unhinged would reminisce about the virtues of the Third Reich, or define its defeat as a lost cause. If there are trunks bearing the moldering remnants of Nazi regalia, they aren't brought out for fun filled reenactments of the Battle of Belgium. There are no high schools named for Adolf Eichmann. No statues of Heinrich Himmler. Actually, there is one controversial monument in Hamburg. It commemorates a World War One battle, but it was erected by the Nazis and was fascist in its execution. This presented a problem.
Richard Evans: That's right, the Hamburg regiment in World War One, they lost a number of people on the battlefront. And in 1936, in the Nazi period, they put up a big stone block with a concrete relief of the soldiers in their helmets and rifles marching around it, and above it in Gothic lettering, "Germany must live even if we must die." And it isn't necessarily what the soldiers thought at all. And this was thought to be a monument in the terms of National Socialists Nazi ideology. So there were a lot of protests. But then of course, understandably, the relatives and descendants of the men who'd been killed, who were memorialized in this block, said, "No, you mustn't take it down. You mustn't forget them." So the idea came of constructing an anti-monument next to it.
The biggest and most damaging air raid of the entire World War II was in Hamburg, in 1943 and 40,000 civilians were killed. And it makes you think, well, if that's what happens in a war, then war perhaps isn't as glorious as the monument implies.
Brooke Gladstone: To Evans, an ideal solution. If there's a reason to keep a problematic monument, build another one next to it for context to balance the narrative. Evans argues that the Germans will never return to fascism because they're always coming across, literally stumbling over these memorials to the victims of the Nazis. But there is a difference between the West and the East. The West was made to feel responsible. The East was not.
Richard Evans: Yes, East Germany was controlled by the Soviet Communist Party from 1945 until 1990. And what the East German puppet regime tried to do was to tell East Germans that communists resisted the Nazis and they should identify with the communists, so they didn't have to confront any sense of involvement in the crimes of Nazism. And then, on top of that, democratic political culture, which was rooted in West Germany by 1990, had very shallow roots in East Germany. They lived under a Soviet dictatorship or communist dictatorship and before that, under the Nazi dictatorship. So you find that in East Germany, the votes for the anti-immigrant party, the Alternative for Germany are much, much higher than they are in West Germany. They're still only about a fifth of the electorate.
Some of the politicians say that Germans feel too guilty about the Nazi Party, it's time to stop feeling guilty. But as I said, most of Germany, it's a very small minority. Remember, the rise of authoritarian, anti-immigrant, right-wing leaders who are undermining democracy in all kinds of ways is mostly confined to former communist states. So Poland, Hungary, for example.
Brooke Gladstone: Denmark, Sweden-
Richard Evans: Czech Republic ... no, they're not, they haven't come to power there.
Brooke Gladstone: But they're gaining strength.
Richard Evans: Yeah, but they're not very strong. I mean, that's the point. So everyone gets terribly worried when the Alternative for Germany scores only 15% of the vote. But they forget that virtually every other political party in Germany supports Angela Merkel's policy on letting immigrants into the country. Not just the Christian Democrats, which is her party, but the Social Democrats and the Greens for example. As I say, it's where democratic values are strongly anchored in political culture that the memory of what happens when you have a far right dictatorship for most Germans is more than enough to put them off.
Brooke Gladstone: So let's recap the lessons of Germany. Extirpation of Nazi symbols and ideology, much of it imposed by the Allies bearing gifts, prosperity, generational shift, and yes, responsibility finally internalized in the form of reparations. In America, still marked by slavery's legacy, that seems like a very uphill climb. Bryan Stevenson's EJI started with signs and even those met with resistance. Now he has a museum and a memorial, testaments to an ugly past that we can no longer afford to ignore and a challenge to the nation designed to shame communities that turn away. All that's coming up in the next segment. But first, we presented a challenge to our listeners to look at your streets, your monuments, to see who was being memorialized and to let us know.
Loretta Cooper: My name is Loretta Cooper and I live in Fairfax County, Virginia. The neighborhood that I would like to bring to your attention is called Mosby Woods and it's named after John Singleton Mosby, who was a Confederate Army battalion commander in the Civil War. And the streets in this neighborhood are named things like Plantation Parkway, Confederate Lane, Scarlet Circle, Shiloh Street, Ranger Road, Raider Lane, it goes on and on. But what makes all this even worse in my estimation is that these aren't houses that were built in the early 20th century. These houses were actually built in the mid 1960s. Well, after the Civil Rights Movement had an opportunity to seep into the consciousness of Americans. And it always seems to me to real intentional insult and poke in the eye to the better angels of our nature. Thanks for this, bye.
Brooke Gladstone: This is On The Media.
This is On The Media, I'm Brooke Gladstone. Montgomery marks its history and though most of the signage in granite is devoted to the Confederacy, more recent events increasingly intrude. Take the intersection of Dexter Court and Commerce, there's a telegraph office where in 1861, General P.G.T. Beauregard was authorized to attack Fort Sumpter and launch the Civil War. Across from that is the bus stop where Rosa Parks boarded her bus and took the fateful seat she refused to surrender in 1955. At the intersection's heart is the Artesian Basin fountain, site of a slave market, marked with a sign.
Slaves of all ages were auctioned along with land and livestock standing in line to be inspected. Public posters advertised sells and included gender, approximate age, first name, slaves didn't have last names, skill, price, complexion and owner's name. In the 1850s, able field hands brought $1,500, skilled artisans 3,000.
Alana Casanova-Burgess: That's Lee Street over there.
Brooke Gladstone: Of course, our ultimate destination is the Equal Justice Initiative's Legacy Museum: From Enslavement to Mass Incarceration. And the way, we meet another museum goer.
Alana Casanova-Burgess: Yeah, yeah. Where are you from?
Female Visitor: Right now, I'm from Georgia. My husband is Air Force and he's teaching at the Air Force Base right now. So I'm just tooling around. I was going to this Rosa Parks Museum this morning, walked around the corner and the security guard there ... I was just looking at the building and she said, "Did you see the poem on the side of the building?"
Alana Casanova-Burgess: What is the poem?
Female Visitor: "History despite its wrenching pain cannot be unlived. But if faced with courage, not need be lived again."
Alana Casanova-Burgess: Who wrote it?
Female Visitor: Maya Angelou. So then she took my picture in front of the Legacy Museum, that's the one you're talking about.
Alana Casanova-Burgess: That's the one.
Female Visitor: I want to go to that, I got to do that at least. Because it said something about, oh, the injustice and the lynchings that happened after the abolition of slavery and I'm like, what, up until 1950. I'm a skeptical person that feels I can't believe everything that I read, see, hear. But you can hear it, at least, I mean, you can take in the history lessons. And that's where each person has to weigh the evidence that they see. And it's not like I'm looking to be persuaded or not be persuaded. Injustice happened for sure. That's why I took a picture of that poem, for sure we don't need to relive it.
Brooke Gladstone: I was surprised by her skepticism about the persistence of lynching, since photographs are easily found and the one of Emmett Till's body in 1955 is historic, having galvanized the civil rights movement. But Bryan Stevenson wasn't surprised.
Bryan Stevenson: That's not an uncommon perspective. Most people can't tell you anything about slavery, because they don't know that there were four million enslaved people living in this country when the civil war began. They certainly don't understand that the great evil of American slavery wasn't involuntary servitude and forced labor. It was this ideology of white supremacy, this narrative of racial difference. And for me, that's the narrative that we haven't actually come to grips with, this notion that black people aren't fully human. That was the true toxin that poisoned our nation.
Brooke Gladstone: He wants the Legacy Museum to connect the dots, to show how the evolution of the slave market made slaves even more vulnerable and emboldened the owner who depended on them to treat them less and less as human beings. And to convey the humanity of the slave, the anguish you think anyone could imagine. But why would we, really?
Bryan Stevenson: We banned the international slave trade in 1808, which was actually before Alabama was a state, before Mississippi was a state, before Louisiana was a state, before the Deep South had actually formed. A million enslaved people were moved from the North to the South where enslaved people were losing their value with increasing calls for abolition. Slave owners didn't want to be caught owning property that they could not get a return on. And so they wanted to trade that to a region where there were people still willing to buy. And that created the domestic slave trading that became so especially brutal. That's what separated children from mothers and families were broken up, et cetera and it was harder labor.
Brooke Gladstone: Once in the museum, Alana and I were struck immediately by holographic images of people in cells. Slaves, glowing with their own light and speaking of loss.
Audio of a Woman from the Exhibit: Have you seen my children? Seems like I hear my daughter calling out for me but I can't find her.
Bryan Stevenson:
And we want them to have a first person narrative.
Singer: (singing)
Audio of a Man from the Exhibit: She fell at his feet, clung to his knees. In treating him to provide for her babies as well as for herself.
Bryan Stevenson: We employ this technology that shows you the slave pens where people are held. And then the ghosts of these enslaved people emerge and we use actual slave narratives that people recite.
Audio of a Woman from the Exhibit: I sleep on this naked floor in chains and handcuffs. When they take us out on the flock, they want us to sell ourselves. "Don't be sullen, praise yourself or you're sure to be beaten."
Bryan Stevenson: You know, we've heard spirituals and you can go to the most ornate concert halls. These songs become part of the canon, but it's only when you hear a spiritual being sung by an enslaved person in chains in the slave pen and it's only when you hear someone singing in that setting, that you begin to understand the grief and anguish that produced this music.
Singer: (singing)
Bryan Stevenson: And then we want them to see the slave catalogues, which we blow up on banners, to see books that are titled, Negros, Mules, Carts, Wagons. To see the descriptions of people, children, their prices, and then to hear the expressions of grief from enslaved people. For me, that was really critical. One woman says, "Selling is worse than flogging." She said, "My back has been beaten many times but has always healed. They sold my husband away, my heart is not right yet."
Until you have a perspective on what it means to be ripped from the only thing you get as an enslaved person, which is the opportunity to love someone, your child, your spouse, your parent, then you're not going to appreciate the devastation. And then when you see that instead of remedying 250 years of enslavement, we actually aggravated by terrorizing people through lynching and we try to make that tangible. When you go into our museum you see jars of soil. The community groups that gone to lynching sites and collected soil and put it in jars with the names and places of these lynchings because we've made that history invisible. We want to make it tangible.
Alana Casanova-Burgess: It's Robert Lewis in Port Jervis, New York, June 2, 1892. Mary Jackson, Harrison County, Texas, February 13, 1912. You got Georgia, Colorado, Kentucky.
Audio of a Woman from the Exhibit: ... Had gathered to watch as John Hartfield was hung from a tree. As he swung, his fingers were amputated and passed around as souvenirs while he screamed in pain. The crowd that shot over 2,000 bullets into his body, until a final bullet severed the rope, dropping his body to the ground, but he was burned on the spot. Postcards of the proceedings were sold for 20 cents to those wishing to commemorate the day.
Bryan Stevenson: I have argued that slavery didn't end in 1865, it just evolved. It turned into decades of terrorism and violence where black people were pulled out of their homes, they were drowned, they were hanged, they were beaten. And everybody was complicit. The courts, law enforcement, elected officials, churches, teachers, schools would all come out and celebrate these acts of torture. And it was so traumatizing that six million Black people fled the American South. It was one of the largest mass migrations in world history and we haven't talked about that. Because I don't think that the Black people in Cleveland and Chicago and Detroit and L.A. and Oakland went there as immigrants, looking for opportunities. They went there as refugees and exiles from terror.
And the generational poverty we see in those communities, the consequences of being displaced from land and the opportunity to develop wealth is still evident. And rather than acknowledge this role of terror and lynching and creating this reality, we blame these communities. I mean, you had at the end of the 19th century, hundreds of thousands of formerly enslaved Black people who had skills and trades and had the ability to create wealth through agriculture, through industry, but they weren't allowed to do that because their lives were menaced whenever they became too successful. And so this wealth gap that we talk about in America can't be understood until you understand the way in which we use terror and violence to prevent wealth accumulation in the African American community and then displacement aggravated that.
Then we blocked Black veterans and others from entering the middle class through redlining and denying them loans and economic opportunities. And I think the galling part for many people is that they hear folks now saying that we're dealing with domestic terrorism for the first time in our nation's history after 9/11. And for older people of color, that's an insult. It's an added injury because they grew up with terror. And that's why these narratives of lynching become so important. People weren't lynched just because they were accused of some violent crime, they were lynched because they were successful in business. They were lynched because they insisted on being treated fairly. When they asked for better wages as sharecroppers, they would be lynched. When they asked for better conditions as coal miners, they would be lynched. When a Black man got too close to a white woman, he would be lynched. When a Black woman complained about her husband being lynched as being unjust, she would be lynched.
And this violence was intended to sustain racial hierarchy. And our complete absence of awareness contributes to this false narrative, this false understanding of who we are, changing that, for me is key. If we understood that we did horrific things to enslave Black people, we tortured them, we raped them, we had children taken from their parents. And we promised freedom after emancipation, and what we gave instead was terrorism.
Brooke Gladstone: It's a short walk from the museum to EJI's National Memorial for Peace and Justice, the Lynching Memorial. Every lynching when it is known, every county, every date, every name, is engraved on copper columns suspended from poles, higher and higher as you proceed through the site, so many. This is very much like the memorial in Berlin. I mean, it's different because it looks like in Berlin a bunch of tombstones, tall and short and short and tall, on a hill and down. That seemed to represent men, women and children. And here, they're suspended on poles and so it definitely gives you the impression of hanging.
Alana Casanova-Burgess: Tattnall County-
Brooke Gladstone: Georgia.
Alana Casanova-Burgess: Georgia. And the first date is 1894. And then the next four all have the same last name Padgett-Dosia, Sam, Soula and Wolfert. And they all were lynched on the same day, May 21, 1907. I think that tells you as much as stories as anything here. And these people were killed as a group, this family was exterminated.
Brooke Gladstone: Henry Smith, 17, lynched in Paris, Texas.
Visitor 1: Oh, there's Caddo Parish.
Visitor 2: Oh my God.
Brooke Gladstone: Is that where you're from?
Visitor 1: That's what I was born.
Visitor 2: I see a White on there.
Visitor 1: You see a White on there?
Visitor 2: Bill White.
Visitor 1: (crowd noise) first one I see, Caddo Parish.
Brooke Gladstone: In 1886.
Alana Casanova-Burgess: From this angle, right, we have to stretch our necks up, puts you under their bodies in the same way that a mob would be.
Brooke Gladstone: I wonder if you want to create a sense of complicity?
Bryan Stevenson: Yeah, I don't think there's any question. I mean, when you go to Brandenburg Gate and you see the Holocaust Memorial, you are trusted to bring into that space an understanding of the Holocaust, that will allow you to have a meaningful interaction with those wordless structures. In America, we could not create a memorial with no words, because people don't have an understanding of this history. And so when you walk into our memorial, you walk down a path where we narrate this past. And we have to remind people about the enslavement that proceeds, and that's why we have that slavery sculpture by Kwame Akoto-Bamfo and for many people's the first time they've ever seen a sculpture, with human beings about slavery, that's how silent we have been.
Brooke Gladstone: It depicts human suffering in exquisite detail, as one viewer observed.
Female Visitor: Look at the feet, look at the hands, look at the creases in the ... I have a much larger vocabulary but I am still so overwhelmed. I can't say anything else.
Bryan Stevenson: The figures are in chains. You see a mother holding a baby.
Brooke Gladstone: And you see an empty pair of shackles lying on the ground and their story is told.
Bryan Stevenson: That reflects the two million kidnapped people who died during that a slave trade. But what he also presents with these figures that are streaked, the copper streaks down them, you see their anguish and pain, but you also see their humanity, their dignity. The name of that installation is called Nkyinkyim, which is from an African proverb that talks about resilience and resistance to oppression. Then you walk into the monuments, our country has been largely silent. And so it hangs over us. It is a cloud, it's a shadow that continues to haunt us. And as those columns begin to rise, they are lifted up. One, because that's what racial terror lynchings were about. They wanted to lift up these bodies because they wanted to torment communities of color. And that terror can't be understood without replicating those dynamics. And so we lift them up because unlike the nation state of Germany, we have not been willing to talk about this history. We are a small private organization creating a space for this story to be told.
And until that story is acknowledged, and other institutions and people reckon with this history, it will continue to haunt us. And we give people the opportunity. We have a replica for each one of those monuments in the park. And we are asking people in communities to have these conversations and to claim their monument.
Brooke Gladstone: How many counties across the nation?
Bryan Stevenson: There are about 840.
Brooke Gladstone: How many states?
Bryan Stevenson: About 29 states.
Brooke Gladstone: What you're asking is for counties to own their histories, basically put this replica of what you have in the museum in the location where the lynching took place?
Bryan Stevenson: Right. I do think there is something about sites of conscience, about places where horrific things happen. There's a reason why people go to Anne Frank's house. There's a reason why we have a 9/11 memorial. Less than 15 years after 9/11, we wanted to create something to make future generations understand the agony of that moment. We do believe in memorials. We just haven't been willing to memorialize the most tragic and devastating aspects of our history that relate to lynching and slavery, and segregation. And so yes, I think the monuments create an opportunity for communities to begin a process of recovery, of reconciliation of restoration. But they will be there and the communities don't engage, the monument becomes a sort of report card, which communities have claimed their history and which ones haven't.
Brooke Gladstone: That whole section where the replicas lay, you hope one day will be empty.
Bryan Stevenson: That's the hope and that there'll be information about every county in this country that did something in response to that sense of dread and menace that people experience when they walk through the memorial.
Brooke Gladstone: The memorial is the experience I'll take home with me, the one I'll never forget. It felt elemental and real. The columns had names and places, and they forced me to look up and up and up. The replicas, the twin columns which all those counties are called upon to claim, along with their dark history and acknowledgement of the annihilated, including in my state of New York. I hope they are claimed, they must be claimed.
Male Caller: Hi, so I live here in Austin, Texas. And recently, people decided to change the name of some streets that might have been named after Robert E. Lee. And I think it's very funny because if there's a move to get rid of Confederate names here in Austin and in Texas, then they're going to need to get rid of all the Texas history names including Austin, named after Stephen F. Austin, who was a slaveholder. Travis County, named after William Travis who was a slave owner and Houston, of course, also named after Sam Houston who was a slave owner. So that's what's funny.
Brooke Gladstone: This is On The Media.
This is On The Media, I'm Brooke Gladstone reporting from Montgomery, Alabama. It's often been noted with hope that the arc of history is long, but it bends towards justice. I wondered how attorney Bryan Stevenson who's pursued justice his whole life, found his arc bending towards history. I asked him to trace it.
Bryan Stevenson: I grew up in a community where Black children had to go to the colored schools. This was in southern Delaware on the eastern shore. There were no high schools for Black kids when my dad was a teenager, he couldn't go to high school in our county. And I remembered when lawyers came into the community and made them open up the public schools. And it was so powerful because I don't think you could persuade the majority of people in that community to integrate on their own. It took the rule of law. And that planted a seed in my head that maybe the law could protect disfavored people in ways that the political process couldn't.
Brooke Gladstone: So let me ask you this. You've described redressing injustice, then you undertook to redress history. Can you tell me how you got from there to here?
Bryan Stevenson: While I was really proud of a lot that we had achieved, it became clearer to me that there were constraints. I'm a product of Brown v. Board of Education. But in 1987, when we challenged racial bias in the death penalty, what the court held was that these disparities based on race are inevitable. It's almost as if they gave up on this commitment to equal justice under law.
Brooke Gladstone: Was there a particular decision, a particular moment when you just said, I can keep bashing my head against the wall and see the horizon retreat in front of me or I can take on this audacious task of American history?
Bryan Stevenson: I think it did begin with that case, McCleskey v. Kemp in 1987 when the Supreme Court upheld the death penalty despite overwhelming evidence that race of the victim was the greatest predictor of who got the death penalty. In case after case, we were challenging the exclusion of African Americans from juries. The court just continued to shrug its shoulders and it was a sort of a gradual awareness that we were going to have to change the environment outside the courts. And that's when we decided that we were going to have to talk more honestly about the history of racial inequality that I think has made us indifferent. I went to Johannesburg and spent time in the Apartheid Museum, was very moved by a cultural institution that was intent on making sure people do not forget apartheid.
I researched the Genocide Museum in Rwanda. And you can't go to Rwanda without being forced to hear about what happened. I go to the Holocaust Museum here in the United States. And when I get to the end of it, I am motivated to say, along with many others, never again.
Brooke Gladstone: What is the false narrative?
Bryan Stevenson: That, to the extent that slavery was a problem, it was a problem because people were forced to labor against their will. But people were well treated. People weren't that unhappy to be enslaved, slave owners were generous and kind.
Brooke Gladstone: Is that what people think in Alabama?
Bryan Stevenson: It's what people think all over America. Michelle Obama gave a speech at the Democratic National Convention where she talked about living in a house built by slaves and she was attacked.
Michelle Obama: So that today I wake up every morning in a house that was built by slaves. And I've watched my daughters, two beautiful, intelligent black young women, playing with their dogs on the White House lawn.
Commentator 1: Slaves that worked there were well fed, and had decent lodgings provided by the government, which -
Commentator 2: It is preposterous to believe that you are soft on slavery, like in the Holocaust, you can only speak about it in unequivocal damnation.
Commentator 3: They can't stop talking about slavery. And largely in a context of, "Hey, you know what, it isn't settled yet. Hey, we haven't fixed it yet." And I think that's a no-win situation.
Bryan Stevenson: I hear people talking about the civil rights movement, and it's starting to sound like a three day carnival. On day one, Rosa Parks didn't give up her seat on the bus. On day two, Dr. King led a march on Washington. And on day three, we passed these laws and racism was over. And I wish that were our history but there was tremendous resistance to civil rights. Our elected officials said segregation forever and they've never repudiated that narrative. We created an educational system that now is every bit as segregated as it was in the 1960s. And so we haven't done a very good job of confronting it. And I knew we were in trouble when I saw state tourism agencies taking out ads in civil rights memorial books, saying things like, in 1963, Dr. Martin Luther King partnered with the people of Alabama to create a better future, literally the language that is used.
If you think polio is just like a cold, then you're not committed to creating a polio vaccination. Most Americans would say that if they were alive during the 19th century, they would of course be trying to end slavery. I would say that if they were alive in the 1920s and '30s, they would do whatever they can to stop lynching. Everybody would claim to be on the side of the civil rights marchers and wanting to end segregation. And I don't think you can claim to have been an abolitionist or an anti-lynching crusader or a civil rights protester, if you're living in a society where evidence of horrific racial bias characterizes our criminal justice system, and you say nothing, you do nothing. And that legacy is part of what we want people to confront.
We want them to wrestle with the fact that the state of Alabama still prohibits black and white kids from going to school together in our state constitution. And we can't get it out because the majority of people keep voting to keep it in. We want them to wrestle with the fact that we throw children away, that we don't seem to respond to constraints on voting rights for African Americans. And then we want to pose the question, are we willing to say never again? Are we sufficiently moved by an understanding of this history that we're now prepared to make that commitment? Because if we make that commitment, a lot of things will have to change. We're not going to be able to accept the kind of police shootings of unarmed Black people that we've accepted. We're not going to be able to tolerate restrictions on voting rights in communities of color. We're not going to be able to ignore these disparities in suspension and expulsion rates in schools. We're going to have to think differently about confronting the legacy of this history.
Brooke Gladstone: So what happens when a nation does commit itself to the task of confronting its history? Bryan returns again and again to the German experience. But what's the impact on Germans who have no personal memory of the Nazis or even of the Berlin Wall? Peter Weissenburger is 30-years-old and editor for the Society and Media Section with Taz newspaper in Berlin. He seemed to be someone I could ask. Do you think that exposure to these monuments growing up changed you?
Peter Weissenburger: Hmm. I mean, as I grew up in the countryside, I didn't see a lot of monuments. What I saw was television productions, movies about what happened, documentaries. They're also monuments, right? Did it change me? Definitely. I mean, it was ever present. For me, being German is mostly about that. Right-wing people tend to say that there's this like originality to what Germans are. That's not true. Most of what defines being German is to deal with our kind of history and not to forget.
Brooke Gladstone: There are a lot of people who say that until we deal with slavery and its legacy, which may be our defining feature, we'll never progress.
Peter Weissenburger: Possibly, the controversial thing is about it that once you start, you're never going to be done. So there's no such thing as dealing with it. And then finally, having dealt with it, and I think this what makes people so afraid to start dealing with history at all. There's no point in which we can say, okay, we're done now. This is always going to be what happened. There's always going to have been millions of people that were killed in a fascist, racist killing machinery and a whole society of bystanders. And it's much easier to sort of compartmentalize it and be outraged as somebody puts a large monument right in the middle of your capital. I mean, right-wing people now are addressing it as a wound of shame that's in the middle of our capital-
Brooke Gladstone: The Holocaust Memorial.
Peter Weissenburger: The Holocaust Memorial. Because they want history, especially history of Germany to be something where there's this thing that happened but that's in the past, we strayed off our path there. But I believe that it's more important to acknowledge that this part of your history makes up the organism of your society and something that is always going to be tearing on you. And this is what a lot of people feel like can't be asked of them, to always feel like there's something internally wrong with the way that their society was created.
Brooke Gladstone: And what do you think?
Peter Weissenburger: I mean, what are you going to do? This is our starting point. This is the starting point of the way that our Constitution is written, it wouldn't have been written that way if it wasn't for fascism. The way that our media work, the way that our parliamentary system works, and it's the way that now a lot of people are looking at immigration and racism and refugees, positioning themselves when it comes to those issues has to do with the past. And how are you going to compartmentalize that? Are you going to say this has nothing to do with what we are now?
Brooke Gladstone: In terms of slavery, certainly the founding documents were made in such a way so that slavery could continue in order to create a unified nation or a nation that could live with itself. Of course, it just put off the problem for 80 years.
Peter Weissenburger:
I mean, to be fair, Germany had the Allies who came there and who decided what the narrative was going to be. The kind of consensus, quote, unquote, that we have now that this is a horrible thing that happened, and this is the way we have to deal with it. That did not emerge organically. There were outside forces. I'm not saying that you can't have that. But I don't think we have the illusion that this is something that can come out of society without any conflict. There's going to be people that are emotionally invested in the narrative that they have now.
Brooke Gladstone: That the Civil War was fought over states' rights.
Peter Weissenburger: Yeah and that some ancestor died in the Civil War for what he thought was right, and you don't want anybody to come and tell you that he died for the wrong idea. That's a pretty harsh thing to wrap your head around to. I'm not saying that you can't and you shouldn't. There's other parts of the society that is saying, but yeah, we have to deal with it, you can't just like make excuses because there's like some great-great grandfather who died there. This is our right to have that kind of injustice addressed. There's going to be a lot of fighting around this.
Brooke Gladstone: And so it has been, do you ever resolve it, absent in an outside power?
Peter Weissenburger: Probably easiest to do away with the idea of resolution in the case of the United States, at least. To deal with it constantly and to try and make progress and institute mechanisms that make it possible for future generations to engage with the issue in a new way. But not to believe that everybody can come to the conclusion that we now have a consensus on what happened and how we have to go from here.
Brooke Gladstone: Well, thanks, Peter.
Peter Weissenburger: You're very welcome.
Brooke Gladstone: You've said many times that no person is the worst thing that they've ever done. And yet it seems that we as a country cannot get past the worst thing that we have ever done.
Bryan Stevenson: I don't think our nation believes that the genocide of Native people is the worst thing we've ever done, or slavery is the worst thing we've ever done, or lynching is the worst thing we've ever done, or even segregation. I think we've actually created a narrative that those things weren't that bad. And not only do we not need to recover from that, we don't even need to be remorseful about that. There is no shame.
Brooke Gladstone: But it is the worst thing we've ever done.
Bryan Stevenson: It is in fact, and I want the nation to have the courage to own up to that. With the knowledge that if they own up to that they won't be condemned by it, that there is something on the other side of it, which is why we do this work. I represent a lot of people who have done terrible things. And it's in that context that I've come to understand that we are all more than the worst thing we've ever done. We are more than a country that perpetrated the genocide. We're more than a slave society. We're more than a lynching society. We're more than a segregation society. But we cannot ignore that bad thing we did. And there is redemption, waiting. There is recovery, waiting. There is reconciliation, waiting. There's something that feels more like justice than what we have experienced in America. There is something better waiting for us, without this burden, this history of racial inequality holding us down. But we can't get there through silence, by pretending that the history doesn't exist. We've got to own up to it.
Marshall, OTM Caller: My name is Marshall as in Marshall County in northeast Alabama where I grew up. Our county was incorporated in 1838 and named for Chief Justice John Marshall, who defied President Andrew Jackson and tried to defend the Cherokee people's legal right to stay in their homeland. That a county was named for a defender of a people whose removal made said county legally possible has always struck me as upside-down, counterintuitive. The naming of the neighboring county, Jackson, seems far more appropriate. The only explanation I can conjure is that someone in that council had a rock solid conviction as to the injustice of it all and determined to leave a signpost for future generations to contemplate. And, oh, how I would like to have been a fly on the wall during that naming.
Brooke Gladstone: On The Media was produced this week by Alana Casanova-Burgess and edited by executive producer Katya Rogers. Our technical director is Jennifer Munson and our engineer this week was Greg Rippin. We thank all the listeners who sent in their observations of how their communities memorialized the past. On The Media is produced by WNYC Studios. Bob Garfield will be back next week. I'm Brooke Gladstone.
Copyright © 2020 New York Public Radio. All rights reserved. Visit our website terms of use at www.wnyc.org for further information.
New York Public Radio transcripts are created on a rush deadline, often by contractors. This text may not be in its final form and may be updated or revised in the future. Accuracy and availability may vary. The authoritative record of New York Public Radio's programming is the audio record.