All The Opinion That's Fit To Print?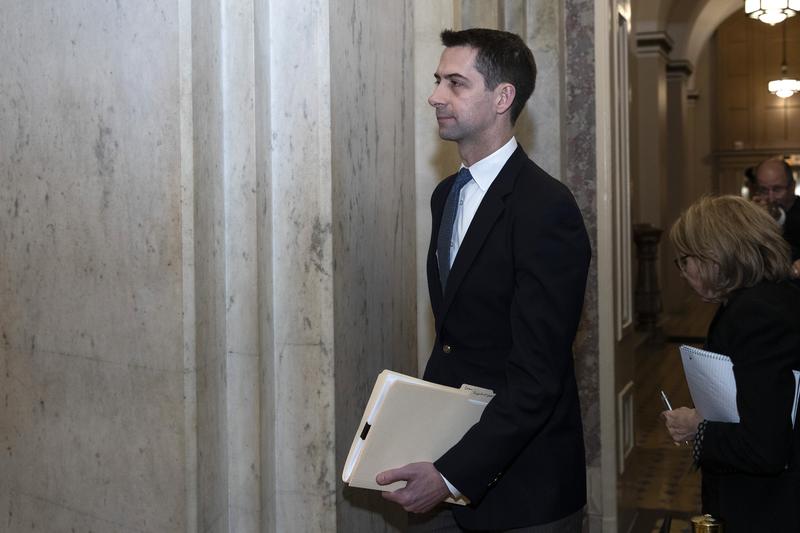 Transcript
Protesters: Don't shoot.
Bob Garfield: It was Wednesday of last week, and there was footage from cities across the country showing violent police officers shoving, beating and otherwise assaulting peaceful protesters. Just two days earlier, President Trump had threatened to deploy active duty troops to combat the protest. The Secretary of Defense, Mark Esper had said he didn't think using the military was the correct action.
Mark Esper: The option to use active duty in a law enforcement role should only be used as a matter of last resort, and only in the most urgent and dire of situations. We are not in one of those situations now.
Bob: Meanwhile, in The New York Times opinion section, the United States Senator was given a platform to call for, "an overwhelming show of force" to quash the protests. The outcry over Tom Cotton's opinion piece was sharp and swift, not only from readers, but from the newspaper's own employees. The paper's opinion editor James Bennet, at first defended the piece writing that it would, "undermine the integrity and independence of the times if we only published views that editors like me agreed with". Then it came out later in the week that Bennet hadn't even read the piece before publishing it. He resigned over the weekend.
David Roberts writes for Vox, and in a piece this week, he argued that The New York Times has a responsibility to uphold, not undermine fundamental democratic values, and also by the way, not to publish misinformation.
David Roberts: If you just read the column you would have thought that there were squadrons of radical anti-fog domestic terrorists, hovering around all these demonstrations and protests, and there just wasn't. There's been multiple investigations now, and there's just no evidence turned up that that's true at all. He just exaggerated the level of violence. He exaggerated who's responsible for the violence, and I thought on a very basic level is inaccurate about what would make the violence stop.
Everywhere where heavily armed police and law enforcement were sent to manage things violence started. Over and over again, this is what we saw is that the police were gassing and shooting with rubber bullets, and beating peaceful protesters. There's dozens and dozens of videos floating around now. This notion that if you bring in American soldiers who are trained to fight wars overseas that that would reduce violence, this is crazy. It just shows the mindset at work, which is always about violence, always about control, and the punitive mindset that is part of what the protests are about in the first place.
Bob: Well, we will return to Cotton gate in a minute, but [chuckles] I want first to turn to the underlying editorial problem that you believe precipitated this whole brouhaha. Since 1970, I think, the op-ed page at The Times has existed at least nominally to offer a diversity of viewpoints. Never mind what has till very recently constituted diversity, but at least in theory, it was a noble mission, you have no issue with the sentiment behind diversity of opinion.
David: In post-war America, there were a lot of very strong assumptions that went unstated, that fed into that model of the op-ed page. I think one of the assumptions and I tried to get at least in my column is that, we are resting on a foundation of common agreement about certain basic principles, about certain forms of government being preferable over others, about the value of freedom and open speech. We share all these assumptions, and so within the playing field defined by those assumptions, let's hear people argue it out.
The question is, what should an op-ed page look like without those bedrock assumptions in place? Because if you continue operating it on its original spirit, if you demand that people share those assumptions, then in practice, you're going to exclude a large chunk of today's conservative movement, because those bedrock assumptions no longer hold sway in today's GOP. That's precisely the problem that everyone's wrestling with in the media, not just the op-ed people, not just the editorial people, but also on the news side.
Bob: You think that James Bennet, now departed op-ed editor, his mission was mission impossible? You said as much back in 2018 with a piece headline, the real problem with The New York Times op-ed page, it's not honest about US conservatism?
David: Right. I would say it's still possible to run an op-ed page with a robust diversity of opinion, but what you can't do is what James Bennet wanted to do, which is expose his readers to the modern-day right in a way that conformed to the standards of The Times op-ed page because The Times op-ed page assumes these basic foundational values, and what Trumpism has become is, we are going to hold on to power. We being white, rural, and suburban people are declining in power, we're no longer as central to the society as we were, we hate it. We want that power back, we want to stay at the center. Whatever you might say about that movement, there's not really an argument for it.
Bob: No intellectual underpinnings, no ideological foundation.
David: It's the oldest political impulse in the book, but it's not reason. It's will to power like, "We want to be in charge and we want you out of the way." That's all there is.
Bob: Unable to find someone to articulate ideas and mount arguments in a vacuum of ideas and arguments, Bennet, wound up filling his pages with who?
David: Well, this was the interesting thing. He wanted to expose his readers to conservatives. He couldn't find any Trumpist conservatives that were up to the standards of the job so he ends up running material by conservatives like Bret Stephens, or Bari Weiss, or David Brooks, who are all these never-Trump, old-school, fashioned themselves as center-right, kind of a dying breed in American politics. Which, sure it's an opinion that the liberal audience I guess can benefit from seeing, but it's not an opinion that has any sway in the current Republican Party.
Like the David Brooks's and Bret Stephens are not representative of the motive force of the current US right. Actually, in getting this Tom Cotton op-ed, The New York Times was attempting to do what I was talking about in that piece, which is, let's hear from actual Trumpets. Let's hear what they're actually saying on the right. Let's hear the real stuff. What they found was, you just can't do that and also obey The Times bedrock standards of accuracy and decency. The two are incommensurate, and that is the dilemma that James Bennet could never wrap his head around.
Bob: Try to put yourself in Bennet's shoes, at least his shoes as of last week. Can you think of any voice that can articulate relevant, modern conservative point of view and still cliff to The Times standards of argument and factual basis, and some general acceptance of the Constitution and the rule of law? Is there such a beast out there?
David: You can be a principled conservative, but I do not think it is possible to be a principled supporter of Donald Trump, because Donald Trump's behavior and actions are not principled in any way. There is no set of principles that you can reverse-engineer to make what he's doing look coherent or justified. The only justification for supporting Trump is power. He's our people. He's in power so this makes it possible for us to do what we want to do, and I want to be in power. Support that if you want power, but you, me, them, Bennet, let's all of us drop the pretense that there's any principle involved here.
Bob: One of the upshots of the Cotton affair is that a precedent was established. It was determined that Cotton's views or at least widely argued, that Cotton's views were so noxious, so offensive to the Constitution, to morality, and to the truth itself, that it just simply had no place in The New York Times, that The Times has the responsibility to be a gatekeeper of its platform.
David: That's the reasoning that people are somewhat imposing on it, but if you actually read the editor's note that is now attached to Cotton's op-ed it says, the reason this shouldn't have been published is one, the inaccuracies and then two, they don't say offensive to the Constitution or gross or any of the things that you just said, which I think are totally accurate. They just say it was unduly harsh in places. If you think the moral perspective
David: is just repugnant, say that, but unduly harsh, that's not going to make anybody happy. That's not going to sound plausible to anyone.
Bob: I take your point, but I want to pursue mine because once again, there were many arguments proffered that it was just simply beyond the pale, that it was beneath the dignity of The Times to be passing along and validating this worldview. What struck me and what makes me wonder if some Rubicon has been crossed, was that the voices who wished to suppress the noxious speech were very similar to the voices who throughout the '60s and '70s and '80s and '90s were complaining about the monopolistic media who suppressed diverse voices?
I wonder now that the Overton window has been slammed shut on Tom Cotton, whether this will become a new reality of received understanding of what is acceptable content for a serious news organization.
David: I wish that that was the outcome. [laughs] I mean, part of what I was trying to say in my pieces that The New York Times has taken this notion of objectivity and neutrality to its illogical conclusion. Like there are some things about which journalists should not and cannot be neutral because these values we're talking about make journalism possible. You can't have journalism unless you have at least a presumption that people ought to tell the truth, and that they will feel abashed if they are caught not telling the truth. That alone, you just need that in place to have a coherent democracy at all.
It would be great if this was viewed as The New York Times standing up for those basic principles. I fear what's going to happen is seemingly what happens to every news event these days, which is just everybody's going to conclude that their priors were right after all. [laughs] The right is going to conclude the politically correct lefties want to shut down speech they don't like, and Bennet-type people are going to conclude that the left has abandoned its commitment to free speech.
That's why I wanted The New York Times in its editor's note to proclaim the principles you're defending instead of this mealy-mouth to harsh business, right? What it ought to say is we believe in equality under law. Right now Black people are not equal under law, they're not treated equally under law, and we are not open to people arguing that Black people should be further discriminated against and further beat down by police. We don't think that's on the acceptable range or spectrum of opinions. I wish they had taken a stand because then that would have conveyed the message we're talking about a little more clearly.
Bob: If the op-ed pages do what you are asking, they will cease to be op-ed pages. They will just be different voices articulating the editorial and democratic philosophy of the publication. Doesn't that obliterate the whole raison d'etre for op-ed sections in the first place?
David: I don't think so. No, because I think within the frame or the playing field defined by those basic values, there's still plenty of room for disagreement and diversity of opinion. Those are not particularly prescriptive values, treat everyone the same under law, respect the value of accuracy and evidence. That's not particularly restrictive, there are still a wide range of political opinions and cultural opinions possible within that. The problem is that we have an explicitly anti-democratic movement-building in the US that is trying to do to our democracy what happened to Turkey and Russia, there's a list of [crosstalk]
Bob: Hungary, Holland, Philippines, it's it is a long list.
David: One of the things they do is cloud the information environment with nonsense. They gin up a bunch of domestic enemies to try to make people feel scared so they'll want more law enforcement and they'll want a strong man. It's just a script that plays out almost the same way in every country where this happens. A demographic that used to be in control is losing control and it's freaking out and panicking and it's throwing its commitment to democracy overboard, and attempting to entrench an autocracy that keeps it in power.
Bob: You seem to have described a Gordian knot of political impossibility. Have you untangled that knot?
David: I was just reading a paper from a political scientist about this yesterday, is that this is not a unique problem to the US. Is anytime there's democratization in a country, that's not just the founding of the US but also if you imagine that in the 1930s, this radical expansion of the federal government and federal powers and federal equality, that was a democratization. Anytime democratization happens, the forces that fought against democratization, the forces that were benefiting pre-democratization still exist and still have power and are still around in your democracy and are still opposed to your democracy.
How tolerant do you have to be too political forces that are not tolerant of you and your democracy? It's a very difficult dilemma. This is important to keep in mind. Two, a lot of what looked like good faith debate in our house on past, back when we thought there was more common agreement, a lot of that common agreement and what looked like good faith was built by excluding marginalized voices. We don't want narrowing down to just Orthodox liberal opinion. That's the last thing I'm saying, but excluding racist authoritarianism still leaves you with a pretty big playing field.
Bob: David, thank you very much.
David: It's been a pleasure, Bob. Thanks.
Bob: David Roberts writes for Vox this week. His piece was titled the Tom Cotton op-ed affair shows why the media must defend America's values. Hey, if you haven't signed up for our newsletter yet, I really urge you to do so because basically, it's the best thing we do. Just go onto onthemedia.org to subscribe and tune in this weekend when we will be parsing the call to defund the police. We'll also be asking why Hollywood is so in love with cops. That's it, stay strong everyone. Talk to you Friday.
Copyright © 2020 New York Public Radio. All rights reserved. Visit our website terms of use at www.wnyc.org for further information.
New York Public Radio transcripts are created on a rush deadline, often by contractors. This text may not be in its final form and may be updated or revised in the future. Accuracy and availability may vary. The authoritative record of New York Public Radio's programming is the audio record.