The Messy Politics of Oprah and Dr. Oz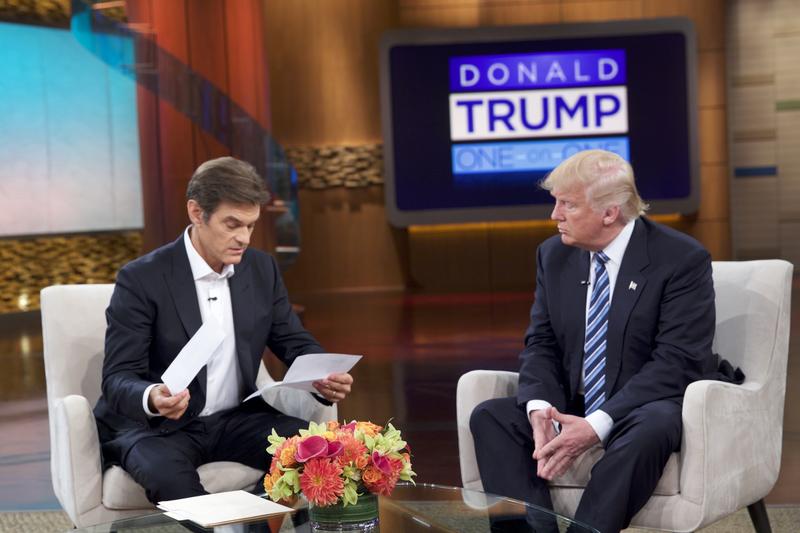 Transcript
[music]
Brooke Gladstone: Back in the before times, when we used to go to the radio station every day, the great WNYC host Brian Lehrer was a few feet away in the next office. He hosts a 2-hour live call-in show every day from 10:00 to noon in New York City. I was making my coffee the other morning and I heard a segment on Brian's show I thought you guys might like. The conversation examines the relationship between Dr. Oz, now the GOP Senate candidate in Pennsylvania after winning his primary there, and the woman who promoted his career, Oprah Winfrey. Here's Brian.
[music]
Brian Lehrer: It's the Brian Lehrer Show on WNYC. Good morning again, everyone. Dr. Mehmet Oz, yes, we're going to talk about Dr. Oz, who we haven't in this whole election cycle, or maybe ever, come to think of it, on the Brian Lehrer Show. The Turkish-American heart surgeon who hosted a popular daytime TV show for many years. In case you missed it over the weekend, he is now officially the GOP Senate candidate in Pennsylvania. After the recount, his opponent conceded, he has Trump's endorsement as many of you know. One reason the doctor is so popular despite the many critics who say he promotes unscientific therapies and alleged cures is his many appearances on Oprah Winfrey's long-running daytime talk show.
Joining me now are historians Kelly Jackson, who's a professor of Africana studies at Wellesley, and Leah Wright Rigueur who's a professor of history at Johns Hopkins. They are co-hosts of a new podcast called Oprahdemics, like Oprah and academics, get it? They have a special episode now called The Oprah-Oz Conundrum in which they explore Oprah's role in giving Dr. Oz a platform, what he became, and they ask whether or not she has any responsibility to speak out against his candidacy for Senate if she opposes it, or thinks he's been a quack, or whatever she thinks about him now. Dr. Jackson, Dr. Rigueur, welcome to WNYC.
Leah Wright Rigueur: Thank you. Thanks for having us.
Kellie Jackson: Yes. Thank you.
Brian Lehrer: Listeners, wondering if anybody in Pennsylvania or with ties to Pennsylvania is listening and has an opinion about Dr. Oz's candidacy. Do you know of anyone who voted for him and why, if you didn't yourself, or if we have any Oprah fans or Dr. Oz TV medicine level fans, politics aside, what do you want to say about either of these daytime TV stars and did Oprah give you an Oprah seal of approval for Dr. Oz once upon a time that shaped your opinion of him? 212-433-WNYC, 212-433-9692, or tweet @BrianLehrer.
Now, since you host this podcast together, I'm going to let you two sort out who's better positioned to answer which question. Give us the deep background on Dr. Oz, because maybe some of our listeners don't even know that before he was a staple on Oprah Winfrey's daytime show he was a surgeon at Columbia University with a very good reputation as a heart surgeon. How did Oprah meet Dr. Oz and what impression did he make on her?
Kellie Jackson: Oprah's history with Dr. Oz goes back pretty far. In 2002, Dr. Oz has his own show. Before the Dr. Oz Show he has his own show called Second Opinion with Dr. Oz, where he brings on celebrities and talked to them about health or their bodies. His very first guest is Oprah Winfrey. When Oprah meets him, she's so impressed by his knowledge and affable personality that she says, "Why don't you come onto my show and talk to my audience about some of these same ideas and topics?" Dr. Oz doesn't just come on one time, he comes on dozens of times. He becomes a real fixture in the latter years of the show. He brings on organs like lungs or hearts, or omentums, and talks about the body in so many different ways. It really puts him on the map. I mean, it explodes his platform as all things happen when Oprah puts you on her show.
Brian Lehrer: That's, by the way, listeners, Dr. Jackson who is speaking there, just so you can tell our guests apart. For people who are totally unfamiliar, we're going to play a clip that you pulled for your podcast episode, an example of Oprah with Dr. Oz. We will hear Oprah first and then Dr. Oz introducing an organ called an omentum.
Oprah Winfrey: Dr. Oz says there's something inside of us that we all have that plays a key role in making us fat. Do some of us have more than others?
Dr. Oz: Some of us have more than others, yes.
Oprah Winfrey: Yes, I must have more than other people. Okay, so what is that thing?
Dr. Oz: There's an organ that you have inside of you. We're going to teach a little bit of vocabulary today. This is a critical part of it called the omentum. This organ literally pumps chemicals into your body and it holds the secrets.
Kellie Jackson: Dr. Oz is doing characteristic Dr. Oz. He is up on stage with Oprah and he has a table with blue napkins over it. Then he turns over the napkin to reveal the organ, whether it's a heart or whether it's a part of someone's stomach.
Oprah Winfrey: Where it, where is it in your body?
Dr. Oz: It's actually hooked up to your stomach, but I did better, I brought you some now.
Oprah Winfrey: Come on. A little omentum, never hurt anybody. Come on.
Brian Lehrer: All right, with a little insertion from one of you there in your podcast in that stretch you bring up how Dr. Oz presents himself on the show. What do you want to say, professor, maybe we'll turn to you for this one about the showmanship and the theatrics of his appearances and how that might translate to politics.
Leah Wright Rigueur: I think the showmanship and the very real charisma that Dr. Oz demonstrates is part of what sells him to America. It's what makes him America's doctor. Certainly, there's the anointing by Oprah Winfrey, but there's also, there has to be something there. There has to be something that people are attracted to. He's also relying on the fact that he's not just a medical doctor, but he's a medical doctor with multiple degrees who has been celebrated in his field and is a respected surgeon and teacher at Columbia University. He has all the accolades. He has the showmanship, he has the charisma, and he has the expertise, at least in his field.
What we don't differentiate between though, and where, I think, we struggle, and Kellie and I talk a lot about this on the show, is this idea that simply because you're an expert in one area, does that mean that you are an expert in another area? Part of what we see is that Dr. Oz relies on that, that expertise in areas of heart, in order to make very big and oftentimes faulty claims in other areas.
What we're seeing now is that his performative, this performative politics, this very deeply charismatic, this TV doctor, but also with a level of expertise is being extended in order for him to make pronouncements, again, oftentimes faulty pronouncements about the world of politics. What we're also seeing here, though, is that it's working, or at least it's working in the Republican primary.
Brian Lehrer: You want to take a step back and talk about the concept of your podcast series Oprahdemics? Why are you applying your academic credentials and understanding of social science to this TV host?
Kellie Jackson: I think Oprah is so suited for this format because when you think about the Oprah Winfrey Show, it's been 25 years. There's over 4,500 episodes. There's so much you can talk about in terms of Oprah's impact on the culture and not just when it comes to weight or weight loss, we all know about the wagon of fat. When we think about controversial interviews or these personal sentimental stories, when we think about giveaways, when we think about the making of Obama through Oprah's endorsement, when we think about how her endorsements, how her stage has boosted so many different ideas, whether it's veganism or whether it is The Secret or all of these things that some have aged well and some not so well, Leah and I really wanted to do a deep dive on this because we grew up on Oprah.
We, as academics are bringing our scholarly brains to the conversation. It's smart, but it's also really fun, academics have fun. We talk about what Oprah means to the culture and how she shaped the culture and how certain episodes have stayed with us and really continue to resonate.
Leah Wright Rigueur: I think the other thing that we really wanted to emphasize is that Oprah Winfrey is an institution. She has this cultural impact, but we also know now that Oprah Winfrey has an economic impact. She's a political impact. She has social impact. It's actually kind of criminal that there hasn't been this academic focus on her before, because she has very real power.
As an institution, she has been influential in areas across industries, across the United States. Really she's a global phenomenon. She is also incredibly rare. She is a Black woman billionaire who has very true power and charisma. Kellie and I were thinking both as people who classify ourselves as super fans, but also as people who have PhDs and are really interested in the very real power and influence of popular culture to affect all these different segments that we owed it to the culture to actually do a deep dive into Oprah Winfrey.
Brian Lehrer: You're both historians, so you have a big long view on this. In your podcast episode on Oprah and Dr. Oz you talk about how Oprah has received pushback for her role in giving Dr. Oz a platform in the context of his now Trump-endorsed run for the US Senate. Has Oprah said anything publicly to support or denounce his candidacy?
Kellie Jackson: Not really. Her response has been benign which is to say, "I'm aware that he's running and you should choose whoever you think is best for this office." That's a paraphrase, but she has not come out and denounced him. She certainly has also not come out and endorsed him as well. It'll be interesting to see what happens as the campaign really kicks into high gear and what happens if he wins or if he loses. I suspect if he loses, she'll say nothing. If he wins, I think that might beg more of a response.
Leah Wright Rigueur: One of the things Kellie and I have discussed too and we really have wrestled over is perhaps Oprah's silence as a statement in and of itself. We know that she is effusive in her praise of people that she adores and that she respects and that she loves. One only has to look at Barack Obama. She has been very, very quiet about Dr. Oz beyond saying, "This is a free country, freedom of speech and people have the right to run for office if they want to run for office." Given the way that Oprah operates and the way that she engages, if she supported Dr. Oz I would've expected a much larger statement. A very direct endorsement of his candidacy and we have not seen that and I don't think we will see that.
Brian Lehrer: We want to talk a little more about what you touched on a second ago about the many people who Oprah has elevated over time and you called yourself super fans, which helped inspire the creation of this podcast series I guess. In addition to so many worthy people, Black female authors who weren't getting attention previously and then got a lot, other very worthy people. Here's a little pushback that we're getting from listeners on Twitter.
One listener writes, "Oprah has a long history of promoting junk science and terrible medical advice, she promoted snake oil salesman Dr. Oz, she created Dr. Phil and gave anti-vax ignoramus Jenny McCarthy airtime." The words of one listener on Twitter. Another one, Carmella, writes, "Shame on Oprah. O is now Rand Paul not even Pennsylvania resident," meaning Dr. Oz, "Oprah needs to own this." How do you see the big picture there?
Kellie Jackson: It is complicated. I think that we're very honest about this, that as super fans we not just adore Oprah, but we also feel like we're closest to be able to critique some of the things that she's done that's been problematic, as we say on the show not all of her episodes or her endorsements age very well. All those things that the listener just listed off as fair. Jenny McCarthy is really problematic. She's caused a lot of harm in the vaccine world. Same with Dr. Phil and Dr. Oz. The Secret, I think, is highly problematic. I think there are a lot of things that we grapple with now and we say no, this would not work, this does not go.
I also push back on that as well and say, how much of a culture are we also culpable for supporting, promoting, purchasing from watching these shows? What's fascinating to me is that for all of the disdain that Dr. Phil or Dr. Oz has they were the number two and number three highest rated shows behind The Oprah Winfrey Show. They had wild popularity and support. It's not as though every woman's on this bandwagon of calling them out. They were people who loved them, still love them, and that's what makes all of this very deserving of nuance. People can make bad decisions and other people can also promote those bad decisions through continued ratings.
Brian Lehrer: Since you two have been examining his appeal and appearances on The Oprah Show, let me get your take on one of his recent political ad in the context of the Senate campaign. This is a minute of a recent thank you message that he posted in which he declared himself the presumptive Republican nominee on May 27th.
Dr. Mehmet Oz: I want to take a moment to express my deep thanks to the great people of Pennsylvania who have joined me so far on this journey and supported my campaign. I am blessed to have earned the presumptive Republican nomination for the United States Senate. This is a tough campaign. I traveled everywhere. You guys were pretty honest sharing with me thoughts, worries you had, you don't feel like you're being heard. You want to make sure that the person you elect will stand up for what you believe is important.
I'm here to tell you I'm going to do that, but more importantly I'm going to reach to every corner of this [unintelligible 00:16:03]. I know we've got to heal. We've got to pull people together again. I want to make sure that happens. I will work with anybody who's got good ideas and make the best solutions out of them. We don't want to have high energy prices driving inflation, we don't want to have city streets that are unsafe, we don't want to have infant formula shortages caused by bad leadership. Here's the deal. If we bond together we can solve all of our problems. I want to meet you, I want to hear your ideas, I want to make your ideas work to make this country as bright as it's ever been.
Brian Lehrer: All right, and that we'll note was posted Oz calling himself the presumptive Republican nominee before his opponent conceded, as the recount made Oz's victory obvious. That was maybe ethically questionable, but what do you take from that Ad in terms of the translation of his communication style on Oprah and on his own show to the political world?
Leah Wright Rigueur: I think one thing is obvious Dr. Oz sounds like a politician. He's always sounded like a politician. I don't know any candidate that's going to say, yes, I endorse baby formula shortages. It's a very straightforward in some ways generic political advertisement that could have been made by any candidate in this race and in really any race. It's actually moderate in its approach. One thing that is clear is that this is very much the same Dr. Oz who has been working in the world of media and television for a very long time.
This is a Dr. Oz who is leaning pretty heavily on his audience recognition, but also his connection to this larger brand or this larger world of celebrity in order to push a very specific agenda while also marketing himself as approachable, as a down to earth guy. I think the last thing that I'll say here is that part of the reason Dr. Oz had to do this is because even though he received Donald Trump's endorsement, they've been friends for a very long time.
Trump has appointed him to several things in Trump administration. Even as he did that Trump's audience wasn't initially accepting Dr. Oz. He was booed at the last Trump rally, but he's seen as an outsider for a number of different reasons. Really leaning in on that Trump connection, but also the idea of celebrity and charisma and being America's doctor this is who he is and that's how he's going to run the campaign.
Brian Lehrer: Do you know why he was booed at that Trump rally?
Leah Wright Rigueur: Why was he booed?
Kellie Jackson: Because he's a snake oil salesman. I think people have gotten tired of Dr. Oz selling them a bill of goods, selling them magical raspberry tablets that will allegedly make you lose 20 pounds in 20 days. I think people [unintelligible 00:19:15]
Brian Lehrer: Trump's supporters certainly know a snake oil salesman when they see one.
Kellie Jackson: Here's the thing. He won by 916 votes. That's not a huge margin at all, which is why there was a recount, but it's also not a mandate saying that Pennsylvanians really want this guy this was close. I think he's got a lot of work to do if he thinks that this election will be a foregone conclusion.
Brian Lehrer: What was Dr. Oz's appeal to Donald Trump and what's Donald Trump's appeal to Dr. Oz? Because no matter what people may have thought of Dr. Oz in the TV medical context, they probably wouldn't have thought of him as someone who would support Trump's white nationalism or stolen election laws necessarily but here they are.
Leah Wright Rigueur: If you look at the relationship between Donald Trump and a lot of celebrity figures who fall into that celebrity world, it makes sense. We we see one of the first endorsements to come out from the celebrity world of Donald Trump is, I can't think of his name. He's the promoter for Mike Tyson. Don King comes out and he has been my friend since forever. When we think about who Don King is and the work that he's doing like this is not surprising but it's also the transactional relationship that they have that exists outside of all of these other things that Donald Trump brings to his campaign including nationalism, including bigotry, including xenophobia.
When we see this relationship develop between Donald Trump and Dr. Oz please know that it predates the actual Trump as a politician. Dr. Oz is willing to look the other way particularly because Donald Trump ultimately wins and when you win, what do you do? You have access to power. The other thing that we see is that Dr. Oz is willing to come out and say things about Trump. Trump is physically fit. Remember though all those questions about Trump's health oh boy, and his doctor writing up that he's this is the most physically fit man I've ever seen.
Or this is the healthiest man I've ever seen. [inaudible 00:21:31] Dr. Oz endorses that there are these moments and we see too that Trump appoints Dr. Oz to these various like science and technology or science and health councils and he seeks out his advice. They're engaging in this celebrity relationship that also has roots in politics and transactional exchanges in politics. I think part of why we look at it and we look at it as skew is that we say well, what do they have in common? They actually have a lot in common and it starts with and it's rooted in that idea of celebrity.
Brian Lehrer: With the word celebrity we leave it there with my guest historians Kellie Jackson associate professor of African studies at Wellesley college and Leah Wright regard associate professor of history at Johns Hopkins university. Their podcast series is called Oprah Gimmicks details on their website which is oprahdemics.com
Brooke Gladstone: For all you non-New Yorkers, the Brian Lehrer Show is available every day as a podcast and it's consistently great. Check it out. On the big show this week we're taking a long painful look at the images of death by gun violence, the good as well as the bad and the ugly I'm Brooke Gladstone.
Copyright © 2022 New York Public Radio. All rights reserved. Visit our website terms of use at www.wnyc.org for further information.
New York Public Radio transcripts are created on a rush deadline, often by contractors. This text may not be in its final form and may be updated or revised in the future. Accuracy and availability may vary. The authoritative record of New York Public Radio's programming is the audio record.