Meet the Redstones, the Complicated Family Behind a Media Empire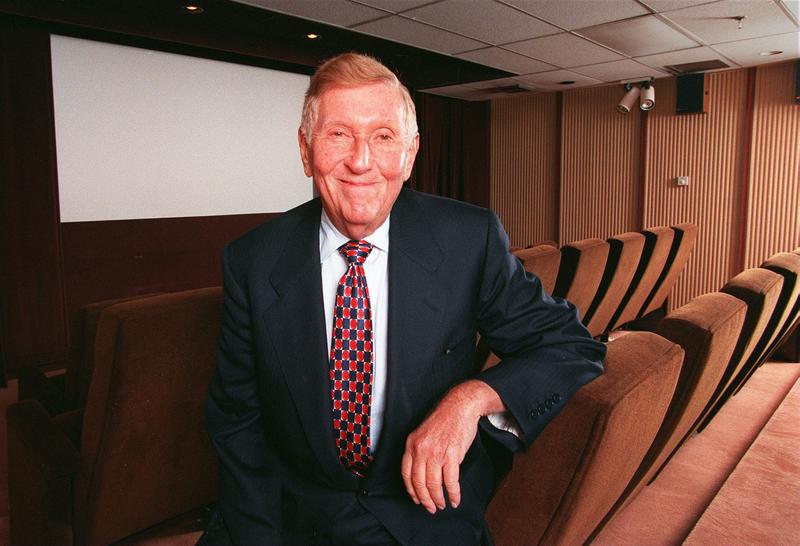 Transcript
otm042523_cms1320944_pod.mp3_ywr3ahjkcgo_3e9b3421b622b277c42665708ce0832c_17972813.mp3
BROOKE GLADSTONE This is on the Media's Midweek podcast. I'm Brooke Gladstone. This week, some personnel changes in the media industry.
TAPE Fox News firing controversial host Tucker Carlson today, a total earthquake that comes amidst the rockiest period in the history of the Fox News Channel. They say Rupert Murdoch made this decision himself. This was more like an episode of succession than last night's episode of succession.
TAPE Well, less than an hour after news of Tucker Carlson's departure broke cable television network, CNN announced that it had fired its host, Don Lemon. In February, Lemon apologized to CNN staffers after making offensive remarks about women and aging. He was then briefly suspended from his program. Quite a day in cable news.
TAPE For those who don't follow cable news. This is like if Ronald McDonald and the Burger King got fired on the same day.
BROOKE GLADSTONE It's hard to overstate Carlson's political influence over the past six years or so, as The New Yorker's Andrew Marantz put it, Donald Trump had the raw power, but Carlson set the ideological agenda. But ideologues, even the most influential ones, have always come and gone. In 2017, it was the seemingly immovable Bill O'Reilly who was shown the stage door.
TAPE Bill O'Reilly was the conservative colossus who stood astride prime time cable news for 20 years. But tonight, he's out of a job at Fox News after a wave of sexual harassment allegations.
BROOKE GLADSTONE It was that very timeslot, one that O'Reilly had dubbed the No Spin zone that Tucker slid into after Bill was ousted. Meanwhile, the moguls pulling the strings behind the scenes tend to have much lengthier legacies, whatever their transgressions. Take the Redstone's who control Paramount Global, formerly known as Viacom CBS Inc. That family makes the Murdochs look like the Von Trapp Family Singers. True, Rupert Murdoch plays his kids off each other and broke up with one wife on email. But Sumner Redstone, who died at 97 in 2020, had to be rescued from two women he thought he'd more or less bought.
TAPE We turn to that blockbuster legal brawl involving media mogul Sumner Redstone.
TAPE 93 year old billionaire media mogul Sumner Redstone suing two former girlfriends for what he claims was a calculated scheme to take his money.
RACHEL ABRAMS Rupert Murdoch has made a lot of headlines for a lot of, I would say, consequential news stories, whereas Sumner Redstone, his personal life, especially towards the end of his life, was really tabloid fodder.
BROOKE GLADSTONE Rachel Abrams is the senior producer and reporter for The New York Times Presents and coauthor with James Stewart of Unscripted The Epic Battle for a Media Empire and the Redstone Family Legacy. Welcome to the show, Rachel.
RACHEL ABRAMS Thank you so much for having me.
BROOKE GLADSTONE Let's start at the beginning. He went to Harvard on a scholarship where he later attended law school. He was an accomplished linguist. You wrote who cracked enemy codes during World War Two before returning home to Boston and working for his father. And basically, he bought a couple of Drive-In movie theaters and turned them into multiplexes, a term you say he invented.
RACHEL ABRAMS So two of the most defining aspects of Sumner Redstone's life and his growth in business are one, his ruthless desire to win at any costs. And that ruthlessness and that competitive drive, which, by the way, extended to his treatment of his own children. This is a man who could not be happy if his daughter beat him in tennis. He always had to win that ruthlessness and this sense of invincibility at times. People often looked at an incident early in his life as being sort of seminal in shaping those personality traits. And that incident was a fire at the Copley Plaza Hotel in the Boston area where Sumner, in his much earlier years was there with a mistress and a fire breaks out and Sumner climbs out the window and he hangs on for dear life, even though the fire is burning his hand and actually mangled his hand for the rest of his life, scarred it. And Sumner would point to that and say, basically, you know, if I could survive that, I could survive anything. He would joke that he did not need to make plans for succession because he was going to live forever.
BROOKE GLADSTONE Was that a joke?
RACHEL ABRAMS That's I was about to say, I think a lot of people thought he was only half joking.
BROOKE GLADSTONE Let's talk about his kids. His son eventually got fed up, sold his shares of the company, moved to a ranch in Colorado, never spoke to the family again, didn't attend the father's funeral. His daughter, Shari Redstone. He was even worse to her.
RACHEL ABRAMS Yes, he would publicly berate his daughter. He would call her unfathomable things in emails that are seen by other people. He was so temperamental that, you know, there were points where he would publicly say that he wanted Shari Redstone to take over. And then later on, he would publicly excoriate her. But at the end of the day, no matter how badly he treated her, it was still her father. And up until the day he died, you know, she hoped that he loved her.
BROOKE GLADSTONE But let's talk about then how Shari actually saved him in a way. He was a real womanizer. He would presume multiple women at the same time. Some of the women he had relationships with ended up working for his businesses, but he paid a hefty price for that in your telling of events.
RACHEL ABRAMS One of the things that Sumner did that was wildly inappropriate for somebody in his position was he used his vast wealth and resources to basically like take over the lives of women he was trying to pursue. There was a flight attendant on the corporate jets that he basically got fired, but then dangled job prospects in front of so that she would have dinner with him and accompany him to events. You know, these are really objectionable, horrific ways to treat women. And as somebody writing about our book, put it, you know, two of his perhaps most observant students basically used his own tactics against him in a way, because toward the end of his life, when he was losing the ability to advocate for himself, you know, his speech was deteriorating, His is cognitive function was deteriorating. These two women who at times were romantic partners or companions, maybe caregivers, Manuela Herzer and Sydney Holland, they basically, one after the other, move into his mansion and kind of take over his life. They isolate him from his family. They tell him his family doesn't love him, and they siphon away millions of dollars from him in one afternoon. Each one of them was wired $45 million in a single afternoon. And these two women got very close to having Sumner add them to the trust controlling his empire. You know, they came really close to gaining access to this multibillion dollar media fortune. One thing that was so shocking to me and Jim Stuart, my coauthor, was for all of Sumner Redstone's money and power and resources. You would think that there would be guardrails around him to keep out people like these women. And yet there were, in large part because Sumner had excommunicated everybody that really cared about him from his circles.
RACHEL ABRAMS And let's talk about Sydney Holland. Apparently, Bravo's millionaire matchmaker Patti Stanger hooked him up with Sydney Holland and less than a year later, he proposed to her with an enormous diamond. She moves in and takes on all the roles you mentioned, but apparently it is his daughter who's finally able to loosen the grip of both Herzer and Holland. How did she do that?
RACHEL ABRAMS Stanger, as you mentioned, set up Sumner with Sydney. Holland And one thing that's Patti Stanger told Sydney Holland was Sumner Redstone is old school. He is going to go out and do whatever he wants. But if you were to be involved with him, you cannot step out on this man. You can never find out that you have cheated on him or seeing anybody else. And Sydney Holland, unbeknownst to Sumner Redstone, was having an affair with a man named George Pilgrim in Sedona, Arizona. And she would basically take the private jet to Sedona from Los Angeles to spend romantic afternoons and evenings with George. And then she'd fly home back to the Beverly Park mansion where Sumner lived before he had gone to sleep. So he would be none the wiser and Sydney would just shower. George Pilgrim, who was at one point an actor in a recurring role on famous soap opera, He had been in a couple sort of cult hit movies. He had also been on my personal favorite credit, the History Channel's Ancient Aliens. Sedona, Arizona, is known for its new age oddities and attractions. And George is really, really into aliens. So he embarks on this whirlwind romance with Sydney Holland, who, by the way, says, you know, I'm involved with Sumner Redstone and I can buy your book. He was shopping a book at the time. I can make it into a movie deal. I can make any of your dreams. I can make it happen. All of this under Sumner's nose. And in the midst of all of this, there are so many questions about Sumner's cognitive abilities and who's really controlling him. And if he's in full control of himself. And what is this? For the company. There's a lot of speculation, media circles. And Bill Cohen, who was a reporter at Vanity Fair, writes this story where he gets interviews with both Manuela and Sydney, and they're wearing ball gowns and professing their love for Sumner. And it's a fantastic feature. And Sydney Holland says in this article is quoted as basically, you know, talking about how how much she loves Sumner and how beautiful his hair is. And, you know, all the way in Sedona, Arizona, this article comes out and George Pilgrim, who thinks this is Sydney Holland, is a woman he's going to marry and he's been having this affair with. He sees this. He's infuriated and he's embarrassed. And he calls up Bill Cohen, the Vanity Fair reporter, and he tells Bill how he and Sydney have actually been carrying on all this time. Bill writes another article and Sumner Redstone sees this and much as Patti Stanger, the Millionaire Matchmaker, had warned Sydney Holland. He goes ballistic. He does not accept any kind of infidelity. Sumner kicks out Sydney Holland. Not long after that, Manuela Herzer gets kicked out of the mansion. Whatever alliance that the two of those women had formed to sort of work in tandem to stay in that mansion had disintegrated once Sumner got mad at one of them. And after these two women leave his life. That is when Shari Redstone, his daughter, is able to come back in and start repairing the relationship with her father, get back in his good graces, spends more time with him, and ultimately cements her role as the successor to his media empire, which was very close to being taken over or at least partially taken over by these women.
RACHEL ABRAMS So going back to the business behind all the drama, you didn't expect to tell the story of the Redstone family when you started your research, right? What was the story you were going to tell.
RACHEL ABRAMS At the height of the MeToo movement, The New Yorker published a couple stories about Les Moonves, the former head of CBS, in which a total of 12 women accuse him of sexual misconduct. You know, as far back as I think the late eighties and September 2018, CBS announces that Moonves is out, He's gone. And Jim got a tip that the real reason Moonves left CBS had nothing to do with the stories in The New Yorker, even though it appeared that way, because every day, if you'll recall, in the fall of 2018, there was a new story about a new man being ousted for sexual misconduct accusations. But Jim had gotten a tip that it was actually because of Moonves attempts to silence a woman he feared would go public with totally new accusations. He was basically being blackmailed to keep this woman quiet by offering her film roles and and doing other things. And when CBS investigators questioned him about this, he did a lot to mislead investigators. And it was that vulnerability to blackmail, that poor judgment, that misleading that ultimately caused CBS to determine he was too much of a liability and needed to go. So Jim had gotten a tip about this. And separately, I had heard from a source who was in this incredible position to know what the investigators had uncovered about Moonves behavior and Gemini into pairing up and looking into this. And we ended up doing a few different stories for The New York Times. I think we wanted to elaborate on the story about what caused Les Moonves to be ousted from CBS and how that changed the trajectory of this massive media empire. And I think that we always understood the part of that story was going to be understanding how much this matter to Shari Redstone. And what I mean by that is right before Moonves gets ousted from CBS, he launches what amounts to a coup against Shari Redstone and the Redstone family because he does not appreciate that she is, in his mind meddling in his business. Shari Redstone, you know, right around 2018 is talking to Moonves about how she wants to merge Viacom and CBS. And at that time, CBS was doing very well and Viacom was really struggling as many legacy media businesses have been with changes in the media landscape, how people do or do not go to movies streaming all of that. And so Shari thought that the two companies should be united. Media companies need scale. Moonves did not want to hear that, and he resented her for inserting herself in his view. And he and his loyalists on the board of directors of CBS decide to do this unprecedented move where they basically launch a lawsuit that would have stripped the Redstone family of control of the Redstone family business. And Jim and I wanted our readers to understand what that would have felt like for Shari Redstone, which was a gut punch. It was a gut punch for her, not just because it was the family business and not just because she had considered Les Moonves to be a friend of hers. But because she had just finished fighting to get these two women, Manuela Hertzog and Sydney Holland, out of her father's life, and then to turn around and face this lawsuit that would strip her of control or threaten her place once again after just winning this very painful battle. We wanted our readers to understand what the stakes were, what the emotional stakes were, and where this whole thing would have fallen within the timeline of Shari Redstone's relationship with her father and her family and the business.
BROOKE GLADSTONE What does the story of this one media mogul tell us about the structural issues in the media industry today? You've said that this should be taught in business schools.
RACHEL ABRAMS One of the big lessons here is about corporate governance or the lack thereof that all of these people who were supposed to be looking out for the best interests of shareholders absolutely failed to do so. And what I mean by that is when the board of directors of CBS learned about rumors that their CEO, Les Moonves, could be or had been accused of sexual misconduct, they did basically nothing. I mean, what they did was they hired an outside lawyer to essentially ask Moonves, hey, is there anything we should be worried about? And took him at his word when he basically said no. And Shari Redstone was furious at the time. As is detailed in our book. She writes a letter to the board of directors basically saying, I can't believe that you would call this an investigation. This is not an investigation. And the board of directors, you know, their response to some of these rumors or accusations of misconduct is at 1.1 of them says, I don't care if 100 women or 50 women come forward with more accusations about Moonves. He's our guy. And that's so preposterous. Moonves is not anybody's guy on the board of directors. The board of directors represent the shareholders in CBS. And this book really shows you these corporate boards, which are often made up of people who have to attend a handful of meetings a year, not really do too much. They get to take a nice paycheck home when there is an actual crisis and problem to be dealt with. This is a window into an incredible case where they just completely failed to step up to the plate and react appropriately. So I think that it really tells you something about corporate governance in corporate America that goes beyond the media industry.
BROOKE GLADSTONE Rachel Abrams is the coauthor of Unscripted The Epic Battle for a Media Empire and the Redstone Family Legacy. Rachel, thank you very much.
RACHEL ABRAMS Thank you so much. This is a pleasure.
BROOKE GLADSTONE Thanks for listening to this Midweek podcast. I'm Brooke Gladstone. Tune in to the big show this weekend to hear three mysteries in the world of sound. And since you're here, consider leaving us a review on your podcast app of choice. Thanks.
Copyright © 2023 New York Public Radio. All rights reserved. Visit our website terms of use at www.wnyc.org for further information.
New York Public Radio transcripts are created on a rush deadline, often by contractors. This text may not be in its final form and may be updated or revised in the future. Accuracy and availability may vary. The authoritative record of New York Public Radio's programming is the audio record.