In John Waters' Home (But Not In His Colon)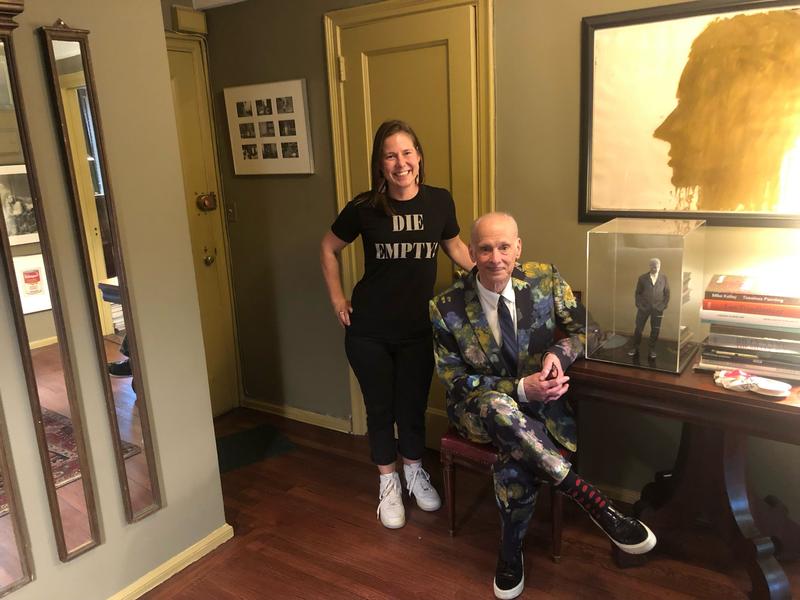 Transcript
Brooke Gladstone: This is On the Media, I'm Brooke Gladstone. It's the midweek podcast. Did you know the film director John Waters has a new book out? It's so dirty in places that recently when Death, Sex & Money host Anna Sale was reading it on a plane, she had to put it down because she was too embarrassed to read it in public. I learned that and a lot more in the latest episode of her podcast in which she went to the home of John Waters.
There's lots of body talk and words and phrases not meant for the ears of the impressionable including the C word. If you're someone who puts a podcast on in the kitchen while you're cooking or in the car or on a school run, save this one for another time. Here's Anna.
Anna: Do you have any close friends who you think are snobs?
John Waters: Yes, and I think they're kind of funny, some of them, but they're always so serious. Once Valentino, I was with on his yacht, I'm name dropping but it's a good story and we pulled in and we had dinner, with other people, and the waiter said the Valentino, "Water with bubbles or without?" and he went, "Bubbles make you fat." He was not kidding.
I've never had bubbled water since.
Anna: Oh, I want for you to have some bubble water. It tastes so good.
John Water: No, thank you. I don't want to be bloated as they say in Baltimore.
Anna: This is Death, Sex & Money. The show from WNYC about the things we think about a lot and need to talk about more. I'm Anna Sale. Hello.
John Waters: I'm overdressed because I bring on television right after so I'm totally overdressed.
Anna: When John Waters opens his door he is wearing a flower print suit, pink, purple and yellow flowers reminiscent of Monet, with red polka dot socks. Inside his Manhattan apartment, there is original art on nearly every wall. Ornate candelabras hanging by the fireplace and a small fluffy white dog lying underneath the table who doesn't move at all? Is that a fake animal over there?
John Waters: Yes, it's real.
Anna: I was like, that doesn't seem like a natural sleeping position. [laughs]
John Waters: Really, it doesn't? It's looking the other way, though. It would have turned around if it was alive.
Anna: John Waters, of course, is the writer and director of the cult classics Pink Flamingos, Serial Mom and his biggest mainstream success Hairspray.
'Cause you can't stop the beat
Ever since this whole world began
A woman found out if she shook it, she could shake up a man
And so I'm gonna shake and shimmy it the best that I can today
'Cause you can't stop the motion of the ocean or the sun in the sky
He's been making movies since the 1960s and he also has a touring one-man comedy show performing live across the country to sold-out audiences. I think of John Waters as a provocateur with manners in real life but his work is famously perverse whether in his movies or in his debut novel that came out earlier this year, Liarmouth: A Feel-Bad Romance. This novel is an incredibly dirty romp that was so raunchy at points that when I was reading it on a plane, I had to put the book down because I felt too embarrassed to be reading it in public. The book's main character, Marsha Sprinkle is a criminal and a liar, but like many of the characters in John Waters' universe, her backstory makes her more complex.
John Waters: My women characters are better than my man characters, I think maybe, maybe. Marsha had a reason to be as crazy as she was. She did have a terrible thing happen to her and got pregnant, and in a really awful way. At the same time, Ricki Lake is a good friend of mine, and she has done all these documentaries about the miracle burden and I said to her, "Oh my God," when I saw that documentary, I said, "Don't let your children see you have birth in a bathtub in your bedroom. Are you insane? They'll be in shrinks for the rest of your life."
Ricki, I always say to her, "Birth is shameful." Just to kid her to make her crazy because I don't believe that. When I read that people give birth and the father eats the placenta, it's I'm sorry.
Anna: That's too far for John Waters.
John Waters: To me, I don't get why you'd have natural childbirth. To me, why would you want it to hurt? I don't know. To me, I have never given birth obviously. At the same time, it's such a blasphemy for a woman to be against that and everything. I think I was being reactionary to Ricki Lake in a humorous way because I had to watch that whole movie of her giving birth and I said, "This is like Freddy Krueger for a gay man, that we have to watch people give birth for 90 minutes."
Anna: I'm going to tell you something, and it might shock you. When I had my second baby and it was a vaginal birth, the first one was a C-section and I noticed in the corner there there's this big mirror, and I didn't know what it was, and then when the baby was coming, they said, "Do you want to watch?" I could watch this child come out of my own body.
John Waters: Did you?
Anna: I did.
John Waters: That's me, when I got a colostomy they go, "Do you want to watch?" No, why do I want to go in a fantastic voyage up my ass hole? No, I don't want to watch, why would you ask me that? I can see that in a way, that's a different thing. You see the first entry.
Anna: I'm so surprised, I think that you would be very curious about seeing your colon.
John Waters: No, not really, not at this stage. Maybe my 20-year-old colon and not my 76-year-old. It's not my time for a close-up in that department without retouching.
Anna: For the most part when you were writing this, were you alone or were there people in the room?
John Waters: Always alone, I never write with anybody in the room. They can be in the house, but they know not to come in. My favorite line ever that I always used to everyone I know is-- Ann Tyler is a friend of mine and when she won the Nobel Prize, she doesn't give interviews much. The Baltimore Sun knocked on her door and she answered and said, "Excuse me, I'm in the middle of writing a sentence." That's the funniest line I ever heard. I always say that if anyone comes in. My friend always says, "I know you're in the middle of writing a sentence, but do we need milk?" That kind of thing. No, people know not to call me then.
Anna: Do you read sections out loud to yourself to get the rhythm and laugh out loud?
John Waters: Sometimes I do, and also I handwrite everything, I write by hand, so when it finally gets to the stage, which is the second or third draft to give to my assistants, three of them who type, they can read my side Twombly handwriting, but I make a tape of it so they can listen to it as we go along. I burn those tapes and nobody hears the tape because then I do the audiobook later, but that way I can tell if I'm using the same word twice. I can hear the rhythm of it.
I always did that with movies, because I would just play every part, say the dialogue. I do do that. That helps me though hear how it's going because I always want it to sound like I'm telling you a story, no matter it might take seven drafts, but I want it to sound like I just made that break down when you're listening to it.
Anna: On those tapes that you burn, are you cracking up when you get to the funny parts?
John Waters: No, sometimes I do, once in a while I do then it's a really good joke. If I can make myself laugh, that's the first audience, and then I always go through with my staff, who are three generations of different age women.
Anna: What ages?
John Waters: 30, 40-something and 60. I ask them, all right, when we go through, they're my sensitivity readers. They're good at it and they bring up points that are good, but then I ask each one like, "What was the most hideous thing, do you think?" The one that everybody says is her favorite line, three different people will say, "Even God thought she was a cunt." That's a sensitivity editor. I might reject that line, but after you read the whole book, maybe not.
[music]
Anna: This is the kind of taboo storytelling that John Waters really revels in. He loves to shine a light on the worst of us, but rarely to ridicule, more as a reminder of how gloriously sinful we can be. He was raised Catholic, his father wasn't Catholic, but his mother, Patricia Ann made sure he went to Sunday school. What was your mother's personality like?
John Waters: My mother, when she saw Serial Mom, she said, "That is me."
Anna: Really?
John Waters: She wasn't that. My mother, we called her Queen Elizabeth. She taught me good taste. My favorite thing she used to say is, "Fool's names and fool's faces always appear in public places." At her funeral when I spoke, I said, "Sorry, ma, I really violated that one." She thought your name should be in the bed when you're born, when you die, when you get married. None of those things did I follow. She was great. Both my parents, I'm very lucky, they were horrified by what I did. Thank God they don't have to read this.
I would really be uptight to hand my parents this book. My father doesn't know what analingus week is. Does he even know what that is? Has it ever entered his consciousness? I don't know. Maybe not. I'd help my mother, but I don't know because once I gave him this book that I did, it was an art book.
I had this art piece that I did call, Assholes and a Dirty Foot. I said, "I want to dedicate the book to you." She said, "That's nice." I said, "There's one thing." She said, "Nothing you can do would shock us anymore." Then I gave them the book and then I didn't hear from, I didn't hear from, and I called and there was silence. She said, "Why would you do something like that?" I felt bad, I shouldn't have given it to her.
Anna: Just dedicate it without making any--
John Waters: Well, no, then she would've looked through it. I taped the two pages shut with a post it and she violated and opened it. That's what you get. That's what you get if you snoop around.
Anna: You really did?
John Waters: Yes. I told her, "Don't look at this." I warned her. Why would you? It used to be in the old days, they looked through my drawers and then they stopped cuz they found stuff they didn't want to know. That's why they never asked me if I was gay. They thought the answer was worse, but I made multiple maniacs in their house. Desperate living the bedroom, the baseball comes through. That's my mother's bedroom. They were supportive.
They hated the movies, but they were amazed that I could do them. I was that driven to do it. They respected that. I was lucky that they didn't try to stop that. They never said, don't make these movies. Even when I was getting arrested and it was, no one said they were good. There were humiliating reviews in the newspaper.
Anna: I've wondered about that. Your discipline as a maker alongside your delight and rebelliousness. Are there two parts of you that feel intention?
John Waters: No, they're not intention at all, but that's my dad. My dad taught me responsibility and business and how to be organized and how to have a plan and maybe how to have a backup plan. We just had very different product. He started the company that went on to be very successful and my niece runs it. My brother who died ran it first and now his daughter runs it, very successful and it's fire protection equipment. He sold that and I sold shock. It's the same thing. He liked talking to me about business, how the movie business worked and he was amazed that I figured all that out and everything, but that's how we could relate.
Anna: I Fire protection equipment. What does that mean?
John Waters: It means, well, in the beginning it was fire extinguishers. You have to have one in your house, but that now it's big systems in warehouse, everything, but when we were young, every time we'd hear of siren we'd jump in the car and go to people's houses were on fire to watch. It would be exciting. It was like, I felt close to my dad watching neighbor's house burn down because he would go to see it. I don't think he was a power maniac. I hope not. We'd be eating dinner and hear the volunteer fire siren go off. We'd jump in the car and we were fire engine chasers. The whole family would do it.
Anna: I didn't know that. That's amazing.
John Waters: It was fun.
Anna: Did you ever see suffering that was--
[crosstalk]
John Waters: I'd never pulled up where families were running out of the house on fire. No, I did not see that. Thank God.
Anna: Oh, the whole family would jump in the car. Did he help you when you were figuring out the business side when you were just starting?
John Waters: He lent me the money and I paid him back with interest and he was so shocked. I think it was the only person that ever of the investors that I raised hoped I would not pay him back so the career would end and I wouldn't ask him again. He was disappointed when I paid him back, but when I would rent halls. In the beginning, I would rent the place and my brother would come get all the money and then he'd take it home to my dad and they would help me get the money out of there so all these hippies didn't steal it.
[laughter]
Anna: The Marshas in your fan days?
John Waters: No, we didn't have any Marshas. We didn't.
Anna: How do you think acquiring wealth has changed the way you think about or feel aligned with outlaws and rebels in America right now?
John Waters: I say in my show when I was young I wanted to burn the Bank of America down. Now my money's in there, but I'd still like to burn it down because they run the bank really badly I think. I gave all my huge art collection and I've collected over the years to the Baltimore Museum. Has it changed me? Nothing happened overnight. It happened very gradually. The career went up and down. For a few years when I made Hollywood movies, yes, I got real money and I bought a house and apartment, everything. I went through what you have to do to get that money too. I don't have any complaints about it.
Anna: What do you mean went through?
John Waters: If they give you that amount of money to make a movie, they're going to give you notes. You're going to go through test screening. They want it to make money. I always wanted to make money. I always thought the films were commercial. Weirdly enough, they all were. The difference was it took a long time to make the money back, but they're still all in print. They're still all playing. They still come out and even the early ones had an audience. I didn't have critical support, but the audiences always came.
Even if it was in like I would rent a church hall and have the premier of Multiple Maniacs or Pink Flamingos. Friday, Saturday, and Sunday at 8:00, 10:00 and midnight. They all sold out. The audience was great. It wasn't like I felt ignored ever, but I did learn how to do it and I went through with New Line Cinema in the very, very beginning. I got Variety when I was 14. I learned the business, I learned a fight in it. I learned about what expenses are, how it's hard to get the money even if you make money.
Bob Show used to always say to me, "How do you make friends with the accountant," which I always did. I still send Christmas cards to accountants from 30 years ago that I made friends with. They were always furious because the accountants would say, "Whose dinner was this for?" In can. They'd say that one [unintelligible 00:16:14], they would tell me.
[laughter]
Anna: I love one way that you have described your work-life balance is that you've said at least half of my dinners, I don't expense.
John Waters: No, I don't. That just means you have a private life. If all your expenses are not. I learned a long time ago from my accountant the clothes you could never deduct. Even though wearing crazy clothes gets me fashion work, but you cannot deduct clothes if you can wear them on the street. They can't have pockets. I'd like to say, I'd like to see an IRS wear this suit, good luck, but still I've learned business stuff, how it works and everything and I am honest, if I spend 20 cents, I have a receipt, I give it to my accountant.
Anna: What's your system?
John Waters: Every day my accountant comes twice a week and she gives the envelope and it's all the receipts that week, the bills and everything. Every receipt goes in. If it's a personal receipt, it goes in one envelope. If it's a business in another one. If it's one that gets reimbursed, a third envelope. I only got audited once and they said I had better records than General Motors. I wasn't there because the tax account I had at the time said don't come. They didn't want me there.
Anna: You must have three envelopes right now in the bag that you're carrying.
John Waters: I have them right at my desk and all the boarding passes too to print so I make sure I get all those frequent flyer miles.
[music]
Anna: Coming up, John Waters talks about tending to his circle of friends who range from heiresses and business moguls to incarcerated people and petty thieves, including the one John told me about who inspired parts of his novel.
John Waters: I did have a friend that used to steal the stewards' pocketbook.
Anna: Really? Wait, tell me how you found this out.
John Waters: She told me and my other friend said I was with her and then we're about to take off and they made announcement, "Someone has taken the flight attendant's pocketbook and we're not taking off till we get it back." She looked over at her friend, she knew her friend did it, and then she didn't tell and they did take off.
[music]
Anna: We have been updating our Anthems of Change Spotify playlist with your new additions and we've loved hearing from you about the songs that are keeping you going right now and the songs that have carried you through some tough times.
[music]
A listener named Lena was inspired to share her song after listening to our recent episode with Lucinda Williams, who was one of her mother's favorite singers. "When I was trying to pick out a song for my boyfriend to sing at my mom's funeral," she wrote, "he reminded me of the last song he ever sang for us. It was Lucinda Williams, Fruits of my Labor. I still can't get through five seconds of that song without a tidal wave of grief washing over me."
We also heard from our former intern, Marty Harding, who said that she had to throw in her song even if in her words, it is so cliche.
[music] Marty says that nothing hits home like shrieking, "Closer I am to fine, yeah," at the top of her lungs. This song's popularity and consistency through the years, she wrote, is a reminder that I'm not the first young person to feel listless. Then there's Amy who wrote to us. She's sandwiched between kids and elderly parents plus husband, house, dog. Not necessarily in that order, she added. Her go-to song, Midnight Radio from Hedwig and the Angry Inch.
[music]
You can email us and let us know what songs you turn to in moments of transition. Send them to us at deathsexmoney@wnyc.org and we'll add them to our playlist. It doesn't have to be a new song. It could be an old one you're hearing in a new way. You can check out our full Spotify playlist in the show notes or just search for Death, Sex & Money anthems in Spotify.
This is Death, Sex & Money from WNYC. I'm Anna Sale. I will tell you, John Waters makes you feel good. He likes talking and makes it feel like he likes talking to you, which makes you feel interesting like he's your friend, so it makes sense that he has a lot of friends. He makes them easily and he takes good care of them.
John Waters: I don't trust people that don't have old friends. Something's a matter with them if they don't. They last longer even than your family because they're your age.
Anna: When you think about your closest friends, your closest most intimate circle right now, are they fellow creative people who make art or are they people--
John Waters: Yes, they are, but one is my best friend Pat Moran. She's a casting agent, but I've known her forever. She did the Wire. She does a million stuff. Dennis Dermody, my dear, dear friend who's a horror film buff, and he also has a cinema blog and the [unintelligible 00:22:31] up here. He used to work for Andy Warhol. They both did. Yes, they are, but I have lots of other ones that are not in the arts at all and they mostly all live in Baltimore.
Anna: How did your old friendships shift during the period of isolation?
John Waters: They didn't shift at all. We talked all the time. Sometimes I don't see them all the time anyway if we're both at work and I'm in a different city. The only thing that shifted is I didn't have my annual Christmas party and I still am not having it. I don't know. 200 people in my house without mask drinking, I'm not ready for it. Will I ever have that party again? I don't know.
The one I had in Baltimore was my Baltimore party. There were people there that have helped me or I've known my whole life. I only see, I'd say, half the people that one time a year now, at the party. I know I'll probably never see them again. We're still in touch, but I'll miss that, but I ain't dying for that. Honestly, I'm not comfortable for that yet. Will I go back to that? I hope, but I don't know.
Anna: Are you making phone calls to a wider circle of people than you did when you knew you would see them at a dinner or at a party?
John Waters: No, I still see in each place I live the same people. Even during the pandemic we would meet because my building in San Francisco wouldn't even let you have guests. We would order pizza and eat in the park or on the roof. Yes, I still stayed in touch with my core of, I would say, 25 closest people. I even saw them during the pandemic.
Anna: I love that you have 25 close people. That's a lot of close people.
John Waters: Well, if you're saying, probably.
Anna: Are they mostly your age?
John Waters: Some are younger, but mostly or between-- That's a good a question. I think they're varied in age, but certainly-- I went to see my oldest high school friend, that I haven't seen in a long time the other day in a retirement community. It was so weird to go in there. I do stay in touch. If anything bad happens to you, I call. If you get a bad review, I call. If you go to jail, I definitely am your first visitor. I'll never don't come visit you if you're in jail. My mother used to say it was my junior league work.
Anna: What was the retirement community like for you?
John Waters: It was not bad. I get ads for retirement communities that infuriate me. I put them right in the shredder. How dare you? Including the one my parents was in. Don't think you're getting me.
Anna: There is a certain ease.
John Waters: Well, I did. I don't know when I will, eventually. I did have someone I taught in prison and he served 27 years for double murder and I got him out. He's doing great. He said, "The only way I can ever repay you, if you're old, I'll carry you up the steps." I'll remember that. I might take you up on that. Come on over. I'm on the first floor.
Anna: Have you felt that? I noticed you mentioned earlier your back-
John Waters: Yes, it is currently.
Anna: -it hurt. How are you feeling about the way your body is changing with age?
John Waters: My dad had a bad back, I got one. Otherwise, I'm going to 10 cities this week. I did five last week. I have a 20-city Christmas tour. It's not like it's holding me back, but sometimes-- I'm 76. I'm not middle-aged. I'm not 152. People always say, "Why don't you retire?" I think if I retire, I might drop dead the first day. I don't know.
Anna: Really?
John Waters: Well, I don't know that.
Anna: It's not just aging that John Waters doesn't relish. He makes the mundane details of living in a body seem grotesque, as he explored through his novels main character, who absolutely hated all of the functions that keep you alive.
John Waters: I'm like Marsha a little. I resent that I have to have a bowel movement. It's the only good thing about being dead. You never have to go through that again.
Anna: Can you tell me why?
John Waters: Because you have no choice. I didn't think it up. Why do I have to do it? Even sex. I didn't think it up. Why is that in me? Instinct. Well, I have no choice, but to do things.
Anna: Do you enjoy eating?
John Waters: Yes, but I wish I didn't have. It's why do you have to eat. It's this whole thing that you have no choice over. You cannot really decide not to do that. Marsha has figured it out as much as she can. She only has little pellets that shoot out, so she doesn't even have to wipe. She has no odor. She has no BO or anything. She has no odor anyway because she wants to smell like nothing.
Anna: I thought the detail about not having to wipe was quite evocative. You eat the right kind of whole grain cracker and it's all taken care of.
John Waters: I also think you should never ever leave your house and do that. Even though when they talk about different kind of bathroom, well, I think no one should ever go to the bathroom except when you're in your house in the privacy of your own home and train yourself. If you can't do that, stay home. When I see people go to the bathroom on the airplane, I think, "God, how can you go in that room?"
Anna: You're so disgusting.
John Waters: Even in first class, they're disgusting.
Anna: Going back to bowel movements and your resentment of bowel movements, the idea that having to do something that you didn't think up like this idea of like, "I don't want to be told to do something." Do you chafe at being told what to do, generally?
John Waters: I like to tell myself what to do.
Anna: Yes, that's not being told what to do by someone else.
John Waters: It depends on the tone again. Yes, if I agree with it, fine. Yes, but not many people tell me what to do.
Anna: Writing a novel for the first time, knowing that you didn't have to cast it, knowing that you didn't have to find where you were going to shoot that scene, did it allow you to be more wild?
John Waters: It allowed me to go into more detail about people's obsessions and how they feel and feelings. I didn't have to show everything. I didn't have to have them say it out loud to get it. There was a lot more inner turmoil that I could deal with and develop and go even deeper into their obsessions, but all the people that are obsessed in Liarmouth believe they're normal. They all think they're right. They think they're on a mission and few of them have humor about themselves. That's always the kind of people that amaze me. How could you go out looking like that? Did you look at a mirror? People look at me and think that.
Anna: This is the last question because I know you have to get to Fox News. I love this transition.
John Waters: We'll see if I get out.
Anna: I love this transition in your life right now. You used the word obsession there, which I think is interesting. Is that when you think about what is this thing that this person can't let go off like, is that the organizing?
John Waters: Yes. It's so interesting to me like, why are they so obsessed with that one thing? Why can they not do it another way? Why can't they see that it's unreasonable? That is all people that are obsessed or cult-like behavior or people that are so driven into one way that they get detoured out of normal life or normal emotions. Those kind of people always have fascinated me.
Anna: Are you one of those people detoured out of normal life?
John Waters: Well, am I in normal life? Well, it depends what that means. When I'm on tour, I always think, can I go outside for a minute where I'm not on TV or grin into the next thing? I don't live that life all the time. That is my normal life when I'm on a tour. I think I live a normal life for me in my position and what I do in the world. I have worked 76 years to make it as normal. By that I mean not causing me internal grief. A certain satisfaction. You've worked it out with yourself about what you expect can happen and what is realistic to believe in and what's going to happen in that day.
[music]
Anna: That is John Waters', his debut novel Liarmouth is out now and you can see him perform this fall in a city near you. Death, Sex & Money is a listener-supported production of WNYC studios in New York. This episode was produced by Zoe Azulay and Liliana Maria Percy Ruiz. The rest of our team is Afi Yellow-Duke, Lindsay Foster Thomas, and Andrew Dunn. Our intern is Lily Clark. The Reverend John Delore and Steve Lewis wrote our theme music. I'm on Instagram @Annasalepics. That's P-I-C-S.
You can see a picture of that weird fake dog in John Waters' apartment right there and the show is @Deathsexmoney on Twitter, Facebook, and Instagram. Thank you to Carry Coffee in Charleston, South Carolina for being a member of Death, Sex & Money and supporting us with a monthly donation. Join Carry and support what we do here by going to deathsexmoney.org/donate. You know I asked John Waters' a few follow-up questions about that friend who steals flight attendants' pocketbooks, but I didn't get anywhere. Tell me about this trend.
John Waters: She's alive and well, so I don't want to libel her, but she's a piece of work. She was a true [unintelligible 00:32:39].
Anna: I'm Anna Sale and this is Death, Sex & Money from WNYC. Don't forget to check out the big show on Friday. It posts on Friday around dinner time in the Eastern Time Zone and thanks again.
Copyright © 2022 New York Public Radio. All rights reserved. Visit our website terms of use at www.wnyc.org for further information.
New York Public Radio transcripts are created on a rush deadline, often by contractors. This text may not be in its final form and may be updated or revised in the future. Accuracy and availability may vary. The authoritative record of New York Public Radio's programming is the audio record.