Joe Rogan: Debate Moderator?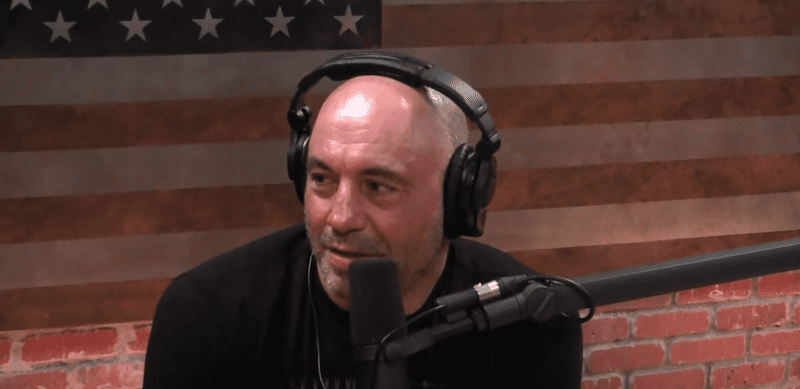 Transcript
Brooke Gladstone: On the big show this weekend, we'll be discovering some of the ways the media seemed to be covering 2020 as a "business as usual" election, even though we should all know by now that Donald Trump is unique in his approach to both business and usual. One red flag caught Stephen Colbert's high this week.
Stephen Colbert: The first presidential debate is just two weeks away. This year you won't have to wait until Thanksgiving to hear two grandpas argue about politics, but there may be a major format change. Thanks to podcast host and Q ball being pulled out of a claw machine, Joe Rogan. On a recent episode, Rogan's guest Tim Kennedy proposed a different kind of debate.
Tim Kennedy: Would you do a debate?
Joe Rogan: Would I?
Tim: Like a Biden-Trump debate with Joe Rogan hosting your questions?
Joe: We should have that. This is 2020 and we have the ability to have that. We're not talking about 1979. We're talking about 2020. If they wanted to do that, they both wanted to come here in Austin, sit down, and have a debate. I would 100% do it.
Tim: My God.
Joe: I would 100% do it.
Brooke: Trump quickly agreed to Rogan's invitation. The Biden camp has not, at least publicly, as of this recording. Traditionally, the debate monitor is a journalist, someone with a presumed familiarity with the political issues at stake, who's also skillful at enforcing the rules when the sparring gets hot. Rogan has no track record at either of those. He is undeniably a new media star who grabs headlines mainly for two reasons. One for surpassing expectations is when last year he signed a $100million dollar contract with Spotify, and two for his history of transphobic comments, like this recent joke about Caitlyn Jenner and the Kardashians.
Joe: People are saying he was born a woman. He's always been a woman. I was like maybe, or maybe if you live with crazy bitches long enough, they can turn you into one. Maybe you go crazy.
Brooke: Rogan, first garnered an elitist following as a commentator for UFC, Ultimate Fighting Championship, the premier league for mixed martial arts.
Joe: But Tito does have a good jaw. He took a tremendous knee from Yuki Kondo to the big right hand from Ken Shamrock.
Brooke: At 53, Rogan looks a lot like the UFC fighters he describes, tattooed, barrel-chested, bald with broad rounded shoulders and a narrow waist. He's clearly comfortable playing a quirky tough guy on TV. Remember Joe, a tertiary character on news radio in the '90s, sitcoms, starring Phil Hartman?
Lisa: Have you seen any good movies lately?
Joe: Me, I don't go to movies. I don't like movies. Most movies suck. Someone says, "Hey, Joe, you want to go to a movie?" You know what to say? Say, "I don't like movies. I don't go to movies. Most movies suck."
Brooke: Nowadays, aside from his podcast, of course, he's probably best known as a stand-up comic on Comedy Central and as the former host of Fear Factor, where contestants win big money by facing their phobias.
Participant 1: Oh, my God.
Joe: You're going to lie in this pit, covered with these 3000 scorpions for three and half--
Brooke: Of course, his resume doesn't begin to explain how he created the world's most popular podcast, how he built a brand around extended interviews with philosophers, scientists, mathematicians, comedians, expounders of conspiracy theories, reactionary thought leaders, and far-right trolls. Why is Joe Rogan so popular? is the title of a profile in The Atlantic by Devin Gordon, a writer who keeps running into the name, Joe Rogan. I spoke with Gordon back in January.
Devin Gordon: He was constantly coming up on Twitter, in the conversation for his podcast, and I couldn't square what I was hearing about these three-hour-long conversations with some of the world's most thoughtful minds and greatest scientists with the Fear Factor guy. Then I felt a little bit like the coastal media elite blind spot that maybe I was condescending to something that I didn't know enough about.
Brooke: You decided to immerse yourself in the Joe Rogan Experience?
Devin: Yes. It wasn't meant to be this stunty crash course where I came out with a remade body and a new outlook on life, but in order to understand what it was about this guy that was connecting with millions and millions of mostly men at a time when everyone was trying and failing to connect with these men, it seemed like the best way for me to try to get into that mindset.
Brooke: You were never able to talk to him. He rarely grants interviews, probably because he doesn't need to. You pulled off a Frank Sinatra Has a Cold thing, Gay Talese's famous profile of Sinatra by instead living the routine he describes on his show using the products he advertises and he swears by. How did you change your life for those four to six weeks? Was it four weeks or was it six weeks?
Devin: Let's not get specific with the numbers. I did it for as long as I could. I started drinking mushroom coffee from one of the companies that he is aligned with.
Joe: It also has lion's mane and chaga mushrooms in it, half the caffeine of regular coffee, but it makes you feel great.
Devin: He takes about a billion supplements, everything from gut health to giving you a bionic vision or something. I don't know. Then I brushed my teeth with this disgusting toothpaste that I guess is like really good, healthy toothpaste.
Brooke: I think you said it tasted like wet sand and looked like loose stool.
Devin: Honestly, I could have been meaner. Then I would go to the gym-
Brooke: Every day?
Devin: Most days, and while I was there, I would listen to chunks of Joe's podcast.
Brooke: You listened to it a lot at this point, right?
Devin: Yes, and I still feel like I've only dipped a toe in.
Brooke: He has a vast catalog.
Devin: Yes.
Brooke: He often offers a kind of inspirational health message accompanied by a product. Who do you think he's talking to at that point?
Devin: You can watch it on YouTube or you can listen to it on a podcast. Every podcast begins with about 10 minutes of him doing ad reads for all these companies that he loves and these products that he endorses.
Joe: I am obviously a big fan of nutrition and a big fan of health, and one of the best ways that I've found to make sure that I get all of my nutritional needs met is Athletic Greens. Devin: Almost all of them are self-help oriented, mentality and mindset growth, brain development, energy focus. One of the slogans for one of the companies that he endorses was "Total human optimization."
Joe: Total human optimization, we specialize in things that improve physical performance, mental performance, and all things that promote what we call "Functional strength".
Brooke: Who do you think he's pitching to?
Devin: Men who feel overlooked, underappreciated, or who feel they need the energy and inspiration and "grab life by the throat" vibe that he brings to everything.
Brooke: You likened him to a kind of a male Gwyneth Paltrow?
Devin: Yes. He's Goop for men, and that means you have to change the language, right? The language of self-help and wellness that Gwenyth Paltrow uses very effectively for Goop would of course never fly for men. Joe has reprocessed that language through like this bro filter, but it's all the same thing. It's just gendered differently.
Brooke: In the Elon Musk interview, I noticed he kept referring to himself as just kind of a dumb guy, a regular guy. You wrote, "Rogan seems like a regular Joe, but he's not. He's driven, inexhaustible and honest to goodness autodidact. I used to think of myself as pretty pancurious, it comes with the job, but my Joe Rogan experience was humbling."
Devin: I was learning about the science of aging and business ethics, all of these subjects that I was not listening to podcasts about. I was listening to my knucklehead NBA podcasts because I love basketball, and here I am condescending to Joe Rogan, and I'm learning about all of these fascinating subjects via two and half-hour conversations.
Brooke: You said, "His brain is wicked absorbent, like Neo in the Matrix, uploading knowledge through a hot spear jammed into the back of his skull. He's a freak of nature, and most of his fans," you wrote, "in fact, cannot be just like him."
Devin: He's a really talented guy. It's not to my taste, a lot of the things that he does, but I think his ability to be expert at what he's doing is admirable.
Brooke: What makes his interview style so good?
Devin: I think part of it is that he manages to keep it from feeling like an interview.
Joe: Pass that whiskey because we're getting crazy over here. This is getting ridiculous. Cheers, by the way.
Elon Musk: Cheers.
Devin: I think he comes in with an advantage that he's not a journalist.
Brooke: It's not adversarial.
Devin: It's a little bit more intimidating to people, I think, to be interviewed by a journalist then by a chummy guy who's got a tumbler of whiskey in his hand.
Elon: It was a great whiskey.
Joe: Thank you.
Devin: He allows his subjects to reveal themselves. Then they slowly get drunk or high and then things really get loopy.
Joe: Some electromagnetic field around the cars and as cars come close to each other, they automatically radically decelerate because of magnets or something.
Elon: Like a physical barrier.
Devin: For somebody as vast in his interests, and as determined to be open-minded to ideas, he carries it to a fault.
Brooke: He had Alex Jones on his show twice.
Devin: Yes. Once many years ago, when Alex Jones was not a savory character by any means, but you could see him in the conspiracy universe as an entertaining nitwit. I think Joe Rogan finds Alex Jones funny but this is a problem with Joe Rogan is that he chooses the wrong people to empathize with. He seems to empathize with the bully rather than the bullied too often. When you invite someone like Alex Jones on your podcast or Milo Yiannopoulos, he believes that these are legitimate ideas in a marketplace. He wants to hear all sides and there are certain components of their beliefs, particularly where it concerns free speech where they intersect.
Brooke: Isn't that the secret door into mainstream mainstreaming arguments in favor of complete insensitivity and exclusion of marginalized people?
Devin: It sure is. He is giving an audience of 25 million to some pretty odious characters with some pretty objectionable beliefs, something that he does not seem to be interested in reckoning with. Joe doesn't really do confrontational. They are given a welcoming atmosphere, to speak at length. It's a difficult place to strike the right balance because inevitably, we're getting into very subjective territory.
He is someone who believes that the expression of ideas and saying the unsayable is an extremely important part of civic discourse. A lot of those instincts go back to his primary career of being a stand-up comic. Radical free speech is an article of faith among stand-up comics.
Brooke: I want to get back to that in a minute, because it isn't just what his guests say, sometimes it's what he says.
Devin: What he says.
Brooke: Here he is in conversation with Jordan Peterson about someone that he met.
Joe: I'm pretty sure that used to be a woman or she, they. You're not allowed to say that. If you say that you're a bad person. If you say they.
Devin: Transgender pronouns, he's incredibly stupid on that subject. He's doing a lot of it for a fact and I also think that he is playing out in public a conversation that a lot of men are having. There's a healthy way to have that conversation, which is, "I really don't understand this. I need help understanding it." Then there's the way Joe Rogan has chosen to handle it, which is to make sport of it and turn it into comedy. That's just pretty ugly.
Brooke: What are his politics do you think?
Devin: He describes himself as super left. He has said that he is practically a socialist. I think he would define himself as radically supportive of individual rights, your freedom to do whatever the hell you want, say whatever you want. That's a big thing for him. The Democratic side that is very suspicious of the government, very suspicious of corporatism., he falls very neatly in line with those people. The thing is, those same beliefs exist on the far right, too. They just reach different conclusions.
Brooke: Well, he says during his Netflix special that he often says stuff he doesn't mean because it's funny. You think that people reveal their deepest selves in the subjects, they keep revisiting?
Devin: You have to be careful with comedy, and he says, "I'm trying to provoke", but the subjects that you choose, say something about who you are. It would be a lot more persuasive to me if he was joking about different subjects.
Brooke: But they wouldn't be so funny. It's the sacred ball that is most tempting to gore.
Devin: There are a lot of sacred balls out there, and it matters which ones you choose to gore. Identity politics is a real frustration for him. It seem like he's got a lot of issues with women, and that to the extent that his beliefs go alt-right or conservative, it's almost entirely on that front. Choosing to make fun of Hillary.
Joe: Oh, girls, relax. I think a woman can be president but let's not use a lion old lady who faints a lot.
Brooke: Ladies,
Devin: Ladies.
Joe: Ladies.
Devin: His use of the word ladies, if I was a lady, I would be annoyed by the way he keeps calling you ladies. He talks about women like they're constantly hectoring him. It's hard for me to believe that he doesn't believe some of that, in his heart.
Brooke: It isn't hard to go back a few years into the Joe Rogan catalog of appearances and shows other than his podcast to hear some pretty dicey stuff.
Joe: Planet of the Apes, man. We're going to use the Planet of the Apes. I look on the iPhone app, and it says, 'Okay, take me to this one." The guy goes, "Okay," he goes, "Is that in a good neighborhood?" He said, "Oh, yes, yes." Guy barely speaks English. He takes us there. We get out and we're giggling, "Oh, we're going to see the Planet of the Apes." We walk into Planet of the Apes. We walked into Africa, dude.
Brooke: It's not a pretty sight.
Devin: For some reason, it brings to mind the fact that-- I'm a sports fan and if you're a sports fan, you've spent this entire week mourning, Kobe Bryant. The outpouring of grief over his death, I honestly can't think of anything like it in sports. This is someone who is accused of rape.
Brooke: In his settlement conceded that the woman, at least, sincerely believed it was non-consensual. It doesn't look good.
Devin: It doesn't look good. Hard to come away from it concluding good things about Kobe Bryant, and yet, here we are. I think it was like 2003 when that happened. He was very young. Everyone, the president of the United States, the previous one, Obama tweeting about him. I was heartbroken and I've been ambivalent about Kobe Bryant all along, but I'm bringing it up because these things are so hard. What do we do with these things? Should we not feel that way about Kobe Bryant? Is it wrong?
Should the 25 million people who follow Joe Rogan, should they cancel him because of some very awful things that he said, seven, eight years ago, and I've probably said several awful things. Does saying awful things in the context of trying to make people laugh, add up in terms of its moral cost to what may have been a rape? What do we do? It makes us so uncomfortable, but we have no choice but to leave it up to adults to make these decisions for themselves. We don't have any other option, even if we think we do.
Brooke: Devin, thank you very much.
Devin: Thank you. This has been fun.
Brooke: Thanks for checking out this podcast extra. The big show rolls in at about dinner time on Friday. I'm Brooke Gladstone.
Copyright © 2020 New York Public Radio. All rights reserved. Visit our website terms of use at www.wnyc.org for further information.
New York Public Radio transcripts are created on a rush deadline, often by contractors. This text may not be in its final form and may be updated or revised in the future. Accuracy and availability may vary. The authoritative record of New York Public Radio's programming is the audio record.