Investigating the Toll of 2-Day Shipping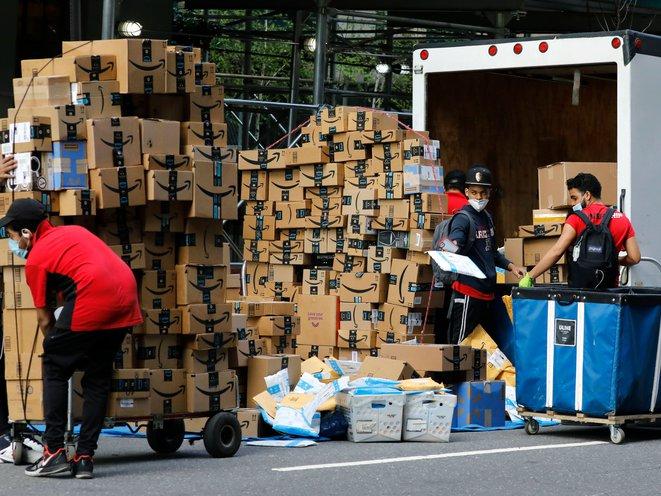 Transcript
Bob Garfield: Last year, the investigative podcast Reveal documented an extraordinary number of workplace injuries at Amazon warehouses around the country. Enormous not just in sheer number, but relative to the incidence of injury in all warehouses around the country; on average, twice the incidence. It was a huge national story bigger still because of the soaring reliance on Amazon and with it, Amazon's growing impact on the labor market, but the national story was essentially a compilation of a hundred-some local stories.
If broken out and reported locally, communities could be informed of the collateral damage attendant to new jobs dangled by a commercial colossus. Reveal, a product of the Centre for Investigative Reporting, built the Behind the Smiles Network enlisting local news organizations to investigate their own Amazon facilities with the help of data supplied to them by Reveal. Byard Duncan is an engagement and collaborations reporter for Reveal. He acts as the liaison between Reveal's national reporters and the local network. Byard, welcome to On The Media.
Byard Duncan: Thanks for having me.
Bob: Tell me how the reporting network came about.
Byard: Back in 2019, our lead reporter on the Amazon story, Will Evans, got his hands on a little more than two dozen injury records from Amazon warehouses across the country. It was about two dozen out of over 100 of these warehouses. In Will's initial investigation, Amazon worker in Indiana was crushed to death under a forklift. When that story first published, we built out a reporting network to share those injury records with local reporters on the ground who could take them and investigate further in their communities.
We started with a little more than 24 of these records but this year, the reporter, Will Evans, got his hands on every single set of records from every Amazon warehouse across the US for 2016, '17, and '18. They show the sheer volume of how severe some of the injury rates at these different warehouses were.
Bob: Tell me the various ways in which different beneficiaries of your data, Lajes, have taken different approaches.
Byard: Manuela Tobias at the Fresno Bee right when our initial story published with the two dozen or so records, she basically got access to the data, started digging and she was able to take the injury records, which contained folks' names who were injured and just started building up sourcing there. Before long, she had pushed through a pretty major investigation at the Fresno Bee. The workers she talked to described a pretty stressful work environment where they kept this breakneck pace of work up or they had to face write-ups from their supervisors, they were afraid to go to the bathroom, things like that.
This fact that Fresno's warehouse rate of serious injuries was 12 injuries per 100 workers, very, very high compared to others around the region. That was what she used as the foundation, the jumping-off point, but it's other networks too.
Bob: You actually anticipated my question, which was apart from Amazon, what other stories has the network distributed in this way?
Byard: Yes. There's a handful of networks. We have one about law enforcement officers across the country that were part of basically hit groups on Facebook and then a couple of years ago, we built one around rape clearance data. That was from a partnership we did with ProPublica and Newsy. We got this massive trove of data showing how police departments across the country in dozens of major cities were basically closing rape cases without solving them but giving them a designation of being cleared, which is different than being closed. It doesn't mean solved.
A cleared rape case can mean several things, but in one instance, it's basically the prosecutor takes a look at it, agrees there's not sufficient evidence to move it forward, talks to law enforcement, they shake hands and say, "All right, this is not going anywhere. We can take it off our books," but the law enforcement agency gets to present publicly that this percentage of rape cases has been cleared and the public doesn't really understand what that means.
Our data showed which police departments across the country had a really high rate of clearance. In Louisville, Kentucky, a reporter named Eleanor Klibanoff at Kentucky Center for Investigative Reporting dug into the data for months and months and ended up coming up with a really profound, impactful story. She found that in 2017, 194 people reported a rape to the Louisville Metro Police Department. 122 of those cases were cleared by police. Only 30 were cleared by arrest and only four were ultimately convicted of rape.
Bob: This network flows from your blockbuster national story about injuries and other problems in Amazon warehouses, but it's not the first example of you taking a national story and creating a network to localize it. Where did that idea begin?
Byard: Almost two years before the Behind the Smiles Network. The network started as a seedling of an idea related to two reporters' workaround work-based rehabs here at Reveal, reporters Shoshana Walter and Amy Julia Harris. I had spent years investigating rehabs that were essentially putting people to work for free in exchange for treatment when they couldn't afford another form of drug rehabilitation treatment.
Whenever they reported one of these stories, a series of tips would pour into them whether through their own email accounts which were attached to the stories, whether through their social channels, their Twitter account or Facebook pages, or whether through web forms that I built and embedded in the stories that we were producing. It seemed as though every time Amy Julia and Shoshana produced one of these stories, they would get messages from other folks in different parts of the country saying something along the lines of, "We see your piece about Arkansas, but wait till you hear what's going on in Oklahoma or Massachusetts or California."
At a certain point, the reporters, myself and their editor, Andy Donahue, had to have a meeting where we said, "Look, you guys can either spend the rest of your lives reporting this story out or we can find a way to vet these tips a little bit and then distribute them to local reporters." The response was, "Which local reporters?" I was like, "I don't know. Let's try to get some."
When we launched that initial network with training materials about how to investigate these rehabs, another webinar, and this repository of tips about local work-based rehabs across the country, we didn't have any members of the Reveal Reporting Networks. We didn't even call them that yet because there was only one, we called it the Rehab Reporting Network, but pretty quickly, within the course of about two weeks, there were about 250 reporters that signed up. It just took off from there.
Bob: This is resonant for me because on my first day at a newspaper in Wilmington, Delaware, The News Journal, I picked up the telephone of a colleague who was out sick that day, and landing in my lap was extremely granular injury data on DuPont factories around the country. All of a sudden, I had dig in just about everything I needed for a major scoop and it's just because I happen to answer somebody else's phone. Are the reporters who get this story locally, like, "Pinch me, I can't believe you've given me such a head start."
Byard: I think this year, they're like, "Pinch me. When will this nightmare end?" For the most part, I think that they reach out when they see that there's an opportunity in their community, and based on the strength of the data or the strength of the tips that we're disseminating to them, yes, I would say that they're very capable of recognizing a great story that's already in progress that they can pick up and run with.
Bob: Local news as we have documented to a fare thee well on this program is under existential threat. I wonder if, as a consequence, some of the local efforts have not met your standards that they've taken the data and the leads and just done a really shitty job or worse.
Byard: [laughs] That's never happened. Getting pick up this year has been the hardest obstacle, it's been the biggest hurdle whether it's because of the COVID pandemic, whether it's because of the subsequent layoffs, declining resources because of that, or frankly, whether it's just because reporters are covering COVID and they're covering the election. Getting pick up this year has been a little harder than in previous years.
Bob: The network is only as good as the pickup. The concept is only as good as the percentage of pickup. Do you find yourself holding your head and screaming, "Dude, silver platter? What does it take to get you to dig in?"
Byard: That's a great question and yes, sort of, I do find myself doing that sometime, but it's never so much about frustration. I talk about it in terms of turning our funnel into a tunnel. You can imagine there's going to be a certain amount of reporters who express interest in the resources and training we have. A smaller amount will attend our webinar, for example, and communicate with me and then even after that, a smaller amount will come back to me with a literal link to their story, say, "I completed this. Thanks for all your help."
This idea of that diminishing that pipeline is something that I'm really motivated in this next year to try to improve and to look for ways to improve. I think the thing that works best is when you have data that's just so compelling, it's hard to say no. That's always the biggest strength to any of the things we're offering, but there are other things I'd like to explore this year so that a larger percentage of the people who express interest, then attend our training, and then, in turn, produce stories.
Then, hopefully, garner impact among their local community or lawmakers in their backyards too, because that's ultimately what it's all about. It's about reaching these people that these local reporters are equipped to reach, who we just don't have the same connections with. Somebody in Tuscaloosa might not know what Reveal even is, but if a story, a localization happens in their local newspaper, that might be a different story.
[background music]
Bob: Byard, thank you.
Byard: Thanks so much, Bob. I really appreciate it.
Bob: Byard Duncan is an engagement and collaborations reporter for Reveal. If you are a reporter and are interested in becoming a part of this, go to revealnews.org/network. This has been an On the Media podcast extra. Be sure to tune into the big show on Friday. Before you do that, go to onthemedia.org/newsletter and sign up for the thing for which no words are adequate to describe.
Copyright © 2020 New York Public Radio. All rights reserved. Visit our website terms of use at www.wnyc.org for further information.
New York Public Radio transcripts are created on a rush deadline, often by contractors. This text may not be in its final form and may be updated or revised in the future. Accuracy and availability may vary. The authoritative record of New York Public Radio's programming is the audio record.