An Interview With Basketball Great Walt "Clyde" Frazier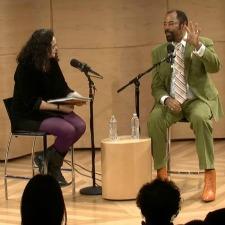 Transcript
Brooke Gladstone: This is On The Media's midweek podcast.
[music]
Brooke Gladstone: A few years ago, I recorded a series of interviews with New Yorkers who intrigued me. Cyndi Lauper and Aasif Mandvi were two of my favorite guests. Another was a man who'd spent his life navigating the media, who proved you could have second acts if you want them. His first act brought down the house, or at least Madison Square Garden in 1970. I wasn't a sports fan but his speed, his cool, his name was in the ether. Walt Clyde Frazier, New York Knick.
Speaker: Frazier taps to his left, now, stops and chops. Frazier, out of the bad court. [unintelligible 00:00:42] west across but [unintelligible 00:00:44] loses to Frazier.
Brooke Gladstone: With his mutton chops and his fedora, he rolled on fancy wheels through New York City. An icon of laconic cool. In that historic 1970 championship game, Knicks' team captain, Willis Reed, playing with a terrible injury was the hero but Frazier's lethal steals and stealthy buckets clinched the win.
Frazier: Willis provided the inspiration. In a way, I provided the devastation.
Brooke Gladstone: Frazier's little rhyme there foreshadows his second. The one you may not know if you don't live in New York. He's a Knicks color commentator on the MSG network, famous for his truly astonishing suits, coordinated ties, and pocket squares, and for his syntax, his rhymes. That's what got me.
Frazier: All in and appalling splendor on the glass. Erratic, dramatic, charismatic, acrobatic, that's JR. penetrates, creates, rising on [unintelligible] and your left hand, ain't that peculiar?
Brooke Gladstone: I'm still not a sports fan, but back in 2012, drawn into the hoopla over then next prodigy Jeremy Lin, I found the legend of my youth, now valuable and amiable but still cool. I read about his childhood in segregated Atlanta, changing the diapers of his many sisters, playing on dirt courts, his passion for yoga, his retreat in St. Croix, his restaurant, Clyde Frazier's Wine and Dine. How did he manage it without combusting like so many superstars, without even a surgical repair? This interview was recorded live in WNYC's Greene Space.
[applause]
Brooke Gladstone: Ladies and gentlemen, Walt Frazier. I started off by asking Walt about the genesis of his nickname, Clyde.
Frazier: When I was a rookie, I wasn't playing well so, in order to pacify myself, I went shopping.
[laughter]
Frazier: I dress up in my room and go at a mirror, "Well, I'm not playing good but I still look good."
[laughter]
Frazier: One day we were in Baltimore. It was a hat store and I see this Borsalino hat, brown, blue, but it had a wide brim and like today, everybody's wearing a narrow brim. The first time I wore this hat, everybody laughed at me, my teammates, the opposition. Two weeks later, the movie Bonnie and Clyde comes out. I walk in the locker room, everybody go, "Hey, look at Clyde." That shows you, kids, that if you have something you believe in, don't listen to nobody else.
[laughter]
Brooke Gladstone: A former teammate said that the legend of Clyde, your legend, was partly a media creation but that you happily went along with it.
Frazier: Yes, that's true. Clyde is the alter ego of mine which operated between 12:00 and 4:00 AM.
[laughter]
Frazier: The rest of the time, I'm Walt. Nice guy from Atlanta, Georgia that change diapers and do other stuff.
Brooke Gladstone: Harvey Araton, in His brilliant book When The Garden Was Eden, said that you put on Clyde the way that Leonard Nimoy puts on a Spock ears, that it's comfortable if alien, or maybe it's comfortable because it's alien. Did it help you deal with the scrutiny?
Frazier: Normally, I'm home alone. I never had an entourage and when I was Clyde, I had a driver.
Brooke Gladstone: That was quite a car.
Frazier: Yes, the Rolls Royce. Normally, I'm a very quiet and shy person. People laugh when I say that but I'm a shy guy that likes to walk around in mink coats and Rolls Royce.
[laughter]
Brooke Gladstone: Well, let me ask you about the style in your game. You, more than anyone, monumentalized the steal. Stealing on the court as you describe it demands cool, playing possum. It's like poker at a 100 miles an hour.
Frazier: I'm playing possum. I'm lulling you to sleep. I give you room so you think that you can do something. Sometimes in the early in the game, I could steal the ball but it wouldn't have the same impact. Now, you're dribbling the same way, and all of a sudden I come and I make the steel that could turn the momentum of the game.
Brooke Gladstone: You're describing a pool hustle.
Frazier: It's a cat and mouse game that I played on defense. Defense was my favorite part of the game primarily because when I was in college, one year I was ineligible to play because of poor grades. As a punishment, the coach made me play defense every day in practice for a whole year. I'd never played offense. I said, "Well, if I'm going to be a defensive player, I'm going to be the best damn defensive player of the year."
Brooke Gladstone: We were talking in the green room about the earliest rules of the game. You said the game was very, very boring when it started. Why was that?
Frazier: Because they started on a peach basket but you had the bottom in it. Every time you scored, they had to get on a ladder and go and take the ball out of the peach basket. It took them seven years to figure out to take the bottom from underneath the basket.
[laughter]
Brooke Gladstone: It seems like the game, in recent years, has changed a lot too. I was watching the Knicks game last night and it seems to be built very much around star shooters. It wasn't team play like the Knicks of the 1970s
Frazier: Well, that's true. That's one of the more blatant changes in the game. Shooting a lot of threes and dunks and nothing inside of the arc. To me, the most glaring difference in the game today other than the money is the size of the players. When I played, I was a big guard at 6'4. Today, I'd be a shrimp. I'm a point guard today because the average height of an NBA player is 6'7.
Brooke Gladstone: Do you wish that the three-pointer had never been invented? Do you find it dispiriting that everybody focuses on taking these really long shots?
Frazier: Well, it's a blessing and a curse, but today, the game is entertainment. Today, it's who's in the stands and celebrities and that type of thing. It's more focused on getting the young kids to buy the video games and the merchandise and the jerseys and ESPN. We never had ESPN. These guys know today if you do something, a good dunk, you're going to be number one and number two on ESPN. The only time you're going to see a good defensive play is if you block a shot to win the game. Other than that, it's all embellishing offense.
Brooke Gladstone: Do you find it boring?
Frazier: No, I've accepted it. When I first started I was like, "Oh, these guys can't play."
[laughter]
Frazier: I was like, "Nobody can shoot. What are they doing?" Today a guy will rather make a stupendous dunk shot and go over 10 just the way the game has evolved.
Brooke Gladstone: The three-point shot, it's cinematic. You say it's changed because of TV but has it actually changed the rules of the game?
Frazier: Oh, yes. They took away the hand check, why? because they wanted more continuity. They wanted more ball movement. Nobody liked the game. People were complaining. The game is too rough. There's no movement and not enough shooting. Television pays the cost to be the boss. I think other than that, the rules have been better. When we played, the shot clock was on the floor. I attribute a lot of my steals to guys trying to find the shot clock.
[laughter]
Frazier: The last-second shot and they're trying to look for that clock and then I'd have the ball go on the other way, but today, both shot clocks are above the basket so it's much easier. You don't have to try to look for it. I like a lot of the changes, making the game more populous and international sport now. When you look at basketball, when I played in the '70s, everybody was from the US. Today, a third of the players are from all over the world, it's like tennis. It's a very popular game. Look at Dennis Rodman, he's become a political--
[laughter]
Frazier: He's going to bring peace to the world.
Brooke Gladstone: You mean America's great diplomat? Yes. The '70s, New York in the '70s, America in the '70s, this was an incredibly racially charged time. Did it get to you?
Frazier: Well, I actually came along at the right time. Guys like Oscar Robertson, Bill Russell, those were the guys that really paved the way. When I came into the NBA, Black players, we never had to stay in separate hotels like Russell and those guys had to do. I really pay homage to them for making those sacrifice. Then having guys like Bob Cousy and Hondo Havlicek, the White players also supporting the effort to integrate basketball. Basketball has come a tremendous way now when you look at-- maybe it's 80/20 Black now compared to 60/40 White when I came into the league. I'm from the south, so I still believe that if not for sports, the south would be segregated.
Brooke Gladstone: Really?
Frazier: Yes. It really propel them to look at people differently. They wanted to win and they knew the Black players were dominating the game and they started integrating the schools and that made it happen. As far as when Black and White meet, there's no color, it's just respect. When you were playing and that's why guys accept each other more in sports than any other venue because they respect the talent when guys compete.
Brooke Gladstone: You once said, "I was never afraid of being an individual even if it meant I was going to be ostracized for it." Well, that's never going to happen, but the wide lapels, the wild colors, not the austere style of the third millennium we're currently in. You couldn't care less, right?
Frazier: I think when you're a visionary, you can't be concerned with what people think. I used to just walk up and down 5th Avenue, look at how women were dressed, how men were dressed and my tailor was only a few blocks from there. I see different color combinations and I run to my tailor and I have things made up. A lot of times, I talk to kids and I say, "Don't be afraid to veer from the path and leave your own footprints."
I think today when I go in our schools, everybody walking alike, they all talking alike, they all look alike, there's no individuality. Everybody's a follower, they're not too many leaders. We've got to get back to not being afraid to do what you want to do. The other part of my always being cognizant of dressing for success, was growing up under the oppression of segregation and being the oldest of nine kids. Whenever I went downtown, I was not only representing my family, my neighborhood, but my race as well. My mom was always telling me, "Well, you got to set a good example for the kids." Whenever I went out, I was aware of that. Even today, I'm still aware of that, especially when I got into broadcasting.
Many of you know I wasn't using, they say $100 words when I was a Knick player, but once I got into broadcasting, I didn't want to embarrass myself, my family, or my friends, so right away, I knew, I said, "Man, I have to improve my vocabulary."
Brooke Gladstone: How did you do that? Bounding and astounding, creating, penetrating, erotic, acrobatic, certainly charismatic but where did it come from?
Frazier: I started on radio. The guy that I was working with, he never gave me a chance to talk and radio--
Brooke Gladstone: On the radio. That's a definite disability.
[laughter]
Frazier: Sometimes I start talking and I couldn't shut up. He go, "Excuse me, Walt. He's just running right over me." Then I was getting bored and I just came up with-- if the Knicks would make him passes and I knew he had to catch his breath and I go, "They audition and switching," that was about all I could get in. They're ubiquitous, they're provocative.
[laughter]
Frazier: To improve my vocabulary, I used to get The Sunday Times, the arts and leisure section when they critiqued the plays.
Brooke Gladstone: Oh, the plays?
Frazier: Yes. [unintelligible] mesmerizing and provocative, profound. People think I'm a voracious reader but I have books and books of words and phrases. When I first started, I just studied these books over and over. Ironically, you can use cliches and no one will ever say anything, but if you use ubiquitous twice, they'll go, "He used that word twice already."
[laughter]
Frazier: Then all of a sudden, I fell in love with words. Words are like people, the more you see them, the more you relate to them. Even today, just like fashion, I'm always looking for new words and how I can incorporate them into my style.
[applause]
Brooke Gladstone: We took audience questions and one woman asked about how pro athletes make the transition from the limelight.
Frazier: That is a daunting task that I would say 80% of professional players never make. Their marriages dissolve, drugs and alcohol problems. Many of the players I played with or against they destitute now. Sometimes the players are so bad, the teens have to bury them when they die. Sports Illustrated did an article, I guess two or three years ago, about 80% of the guys once they leave the game, professional players, 7 or 8 years after they leave the game, they're broke.
I think the best thing that happened to me was getting traded, leaving New York.
Brooke Gladstone: Going to Cleveland?
Frazier: Going to Cleveland. I was all dressed up, and no place to go.
[laughter]
Frazier: I usually get dressed up and go out and wear my [unintelligible] "Clyde, where you going?" I became a homebody. I was reading a lot of self-help books because I knew I only wanted to play a couple of more years. I was reading books that would help me make that transition into not playing. It still took me a couple of years to get over that. You can imagine today how players-- we should fly commercially, we stayed in Holiday Inns, today these guys in the [unintelligible], Four Seasons. They have their own private plane. They're making millions of dollars. How do you come down from that? How do you make that transition from that after you squandered your money?
Brooke Gladstone: How many players do you think like you never received a technical violation? Never mouthed off at a ref, never got tossed out the game.
Frazier: Maybe 1%. I give kudos to my coaches for that. In grade school, high school, college, they never allowed the teams that I was on to talk back to the reps. We never had prima donnas, everybody had the same rules, and college [crosstalk]--
Brooke Gladstone: But you also didn't like the fines.
Frazier: Phil Jackson asked me once, "Clyde, how could you pay $50 for a pair of alligator shoes?" Back in that day, the alligator shoes cost $50. I go, "How can you pay $25 for a technical?"
[laughter]
Brooke Gladstone: Okay.
[applause]
[music]
Brooke Gladstone: Thanks for checking out our midweek podcast. The big show posts on Friday, usually around supper time. Check out our uniquely hilarious newsletter by Zander Ellen. We'll get through 2021, which was better than 2020, to something better still. We have a chance.
[music]
Copyright © 2022 New York Public Radio. All rights reserved. Visit our website terms of use at www.wnyc.org for further information.
New York Public Radio transcripts are created on a rush deadline, often by contractors. This text may not be in its final form and may be updated or revised in the future. Accuracy and availability may vary. The authoritative record of New York Public Radio's programming is the audio record.