How a Russian Sleeper Agent Charmed Her Way Onto NATO's Social Scene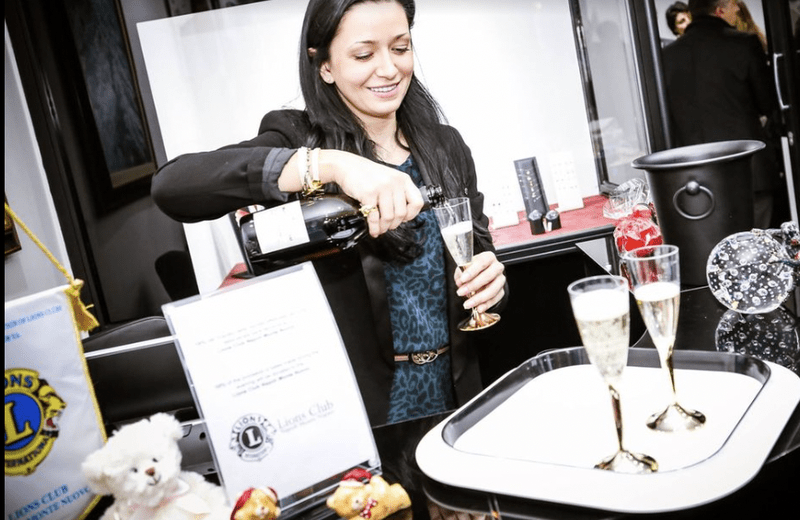 Transcript
[music]
Brooke Gladstone: This is On the Media's midweek podcast. I'm Brooke Gladstone. What's a sleeper spy? If you've watched the thrilling TV series called The Americans, you know they're a rare species of spy trained from youth to burrow seamlessly in American life, and they're often Russian. And what's Bellingcat? A group of investigative journalists specializing in using open source intelligence to solve crimes and expose criminals --- often Russian ones.
Christo Grozev is lead Russia investigator with Bellingcat. His probe into the identities of suspects of the 2018 poisoning in the UK of several people --- most notably a Russian double agent for British intelligence --- won the European prize for investigative journalism. Last November he exposed another sleeper, who for years cozied up to unwitting officials in NATO. Welcome to the show, Christo.
Christo Grozev: Thanks for having me.
Brooke Gladstone: So last November, you were combing a list of passport numbers suspected to have been used by Russian spies. Well, first of all, why were you doing that?
Christo Grozev: That's what I do on my spare time, and I'm not kidding. When I'm on an airplane, when I have a little time between assignments, I like to go over old data sets that we haven't parsed through completely and look for new things. So I had access to this Belarusian border crossing database. We had kind of gone through that a few times, but I thought, well, what else can I do with it? And one thing I decided to do is look for new passports from the known range that we had discovered earlier, to belong to Russian military intelligence.
Brooke Gladstone: A known range of passport numbers.
Christo Grozev: That is correct. We had found out in 2018 that what the Russian GRU, the military intelligence, did is --- for laziness or for whatever reason --- they'll issue passports and the fake identities in sequential numbers. So you would have one spy traveling to poison, well, in this particular case, this creep was in Salisbury with a passport number like 6435793, and the other one accompanying him would have only the last digit differ. So this obviously gave us a way to discover new spies because all we needed to do is just look for neighboring numbers in all kinds of different data sets, and we would find a lot of new spies. And that's what I was doing in November.
Brooke Gladstone: [laughs] So while other people are playing words with friends, this is what you're doing. In a list of male Russian names, you stumbled across one Maria Adela Kuhfeldt Rivera.
Christo Grozev: That stood out completely from everything else. One of the things we have taught ourselves to do is to always look for some innocent explanation of an otherwise odd observation because we have to. Otherwise we'll fall into rabbit holes all the time because coincidences do exist in real life, and many colleagues don't believe in coincidences, so they kind of immediately jump to the most dramatic or conspiratorial inclination. In this case, I thought maybe it's just regular foreigner who acquired the Russian passport and they happened to give it from the same range, but still, it deserves a second look.
I started Googling her name and I found a 2006 entry in a congressional report in Peru of all places, where this name had been mentioned along with two other names as applicants for Peruvian citizenship based on fake identities. And this, plus the original finding that the passport was from the range of spies, already made it very difficult to not see a pattern here, right? Obviously that night I didn't sleep, because I had to find everything I could until the morning.
Brooke Gladstone: And what else did you learn right away?
Christo Grozev: First, I needed to read what literally was in that report and put it on a timeline, so the earliest mention of this name was in that congressional report. In December 2006, she was listed there as having applied for a passport and being denied one because of the government finding out that this person didn't really exist. And the entry into the travel database was from 2012 and 2013, which means that sometime after she was refused that passport, she already had a Russian passport, so this was particularly important because it provided a possible explanation as to the identity of an illegal.
An illegal spy is somebody who is sent by a government to live under a cover identity for a long time --- for 10, 20 years. The term illegal comes from the fact that there's no diplomatic protection for such a person. If they're caught, they get jailed like The Americans from the TV Show.
Brooke Gladstone: The Americans --- sleeper agents who created fictional stories lasted for a very long time based on the method of creating these sleepers, how often do these people come up?
Christo Grozev: Extremely rare, such a rare occurrence that when I've found this particular one, and I realize it's most likely a sleeper, you can equate this to a scientist discovering a new species or something, or an astronomer finding a new star because it's so rare. Definitely in the last 25 years, there've been only 10 such illegal spies outed by the United States, those were the guys and girls who were exchanged for [unintelligible 00:05:54] and several other American and British spies that were working in Russia.
Brooke Gladstone: Yes.
Christo Grozev: That happened 2010. Since 2010, there have been only one case of a discovery, and that happened about three months ago. It was a young male with Brazilian passport and cover identity who had almost gotten job at the International Criminal Court in the Hague, where he was going to work as an analyst, analyzing Russian war crimes in the war in Ukraine, and this turned out to be a Russian illegal. You can see how rare that is. Yes, it's very rare.
Brooke Gladstone: Wow. With regard to Maria Adela, you looked at her travel records and she had 13 really long train trips, and that struck you as odd.
Christo Grozev: Absolutely 13, two-and-a-half-day trips between Moscow and France and Italy via train, we've never seen this before. It was grueling long trips, not just the short trips, like three or four hours, so we had to come up with some hypothesis. Was it because she was carrying something more easily be transported by train? Was it because she had a fear of flying, which would mean that she would be a very, very interesting spy? You have to literally go to many places if you're a spy, and if you can't fly, you're limited to places you can only go by train.
Anyway, there are more strange things that we discovered, for example, that this woman had registered a trademark, which was a jewelry brand called [unintelligible 00:07:28] in France in 2012, and then she had moved this trademark registration to Italy. Then we were able to find through the name of the brand, a Facebook account, and we could see where she had been and the circle of people that she was interacting with.
Brooke Gladstone: Yes.
Christo Grozev: Those were mostly Americans, mostly from the Natal base in Naples, in Italy, called the Joint Command Center for the Allied Forces. It's the Naval center of all NATO forces. This woman who, by this point, we believed pretty strongly was a Russian spy, had managed to befriend hundreds of Americans and Germans, and Italians who were working at NATO.
Brooke Gladstone: How did she do this?
Christo Grozev: We were looking for Patient Zero who connected her to NATO, and we found that she had relaunched a dormant chapter of a charity organization called Lions Club. This particular local branch of the Lions Club had been launched by a NATO general from Germany in 2003, but when he retired, it was dormant. Our Maria Adela in 2013, shows up in Naples and relaunches it as we can see from a little story that praises her on the website of this club. There was a photograph of her as the secretary of this club surrounded by many, many people, so we started looking at the faces of these people to do [unintelligible 00:08:59] from different websites, and literally all of them were NATO officers, NATO personnel, NATO lawyers.
Brooke Gladstone: You found that the chairman of the club was a data protection officer for NATO.
Christo Grozev: Exactly. The photographer of the club was the photographer of the NATO base and the photographer for her jewelry brokers.
Brooke Gladstone: [laughs] You never had any suspicions about him?
Christo Grozev: Definitely not suspicions that any of these people knowingly were collaborating, but that's even worse that [chuckles] they were passively being apparently exploited, and that was clear.
Brooke Gladstone: What did Maria Adela look like?
Christo Grozev: She was described by a close friend, or let me rephrase that, but she was described by somebody who believed was a close friend of her and had a maternal relationship with her because she was much older. Whenever Maria walked into a room, men stood up and no woman would let Maria alone with their husband or partner. That's giving you an idea. She had either raven black long hair or short blonde hair, and she would change every year or a couple of years. She had a very cute black cat, which by the description of many people who thought were her friend, was the only stable thing in her life. Actually that was quite important for our investigation because you want to find something stable because that would travel with the person into their real identity, not only the fake identity, but in any case, men were falling over heels with her, and in this description of one of her acquaintances, he even had a romantic thing with her and he was an NATO officer.
Brooke Gladstone: She spent over a decade undetected in Europe, primarily in Italy. She had a Russian accent, which at least one of her cover stories explained. I'm just wondering why Russia would find Maria Adela useful as a spy and whether she was a native Russian. I'm just wondering whether you were able to piece together how she wound up, where she wound up.
Christo Grozev: It was a big mystery, if she had not been outed by the Peruvian government and she had acquired that passport, she would've traveled around the world never admitting any connection to Russia. She would've pretended she came from Peru, she would've learned a backstory very well about where she grew up and what her mother was like, and so on and so forth.
Brooke Gladstone: She had a Russian accent.
Christo Grozev: This is funny because even these sleepers who spent 20 years in America and kicked out in 2010, even they had strange non-American accents, but they got away with it. The way it usually works is they come up with some little twist to their background saying I had a Russian nanny and that's where I picked up this accent, or my parents traveled a lot and for a long time, we were based in Thailand and there I went to a Soviet school or something like that. They would have such explanation in case somebody notices the accent, but she didn't get that passport. By that time, apparently, she had already been deployed with that name.
She had traveled under that Peruvian identity so it was too late for them to change the name. They had to come up with the second best, and that was a Russian passport issued in this same name, but then they had to come up with a really crazy backstory. This crazy backstory was that she was the daughter of a Peruvian mother and a German father born in Lima, Peru, but was brought by her mother to Soviet Russia to see the Olympics when she was age two in 1980, and her mother had to leave urgently back to Peru, for whatever unexplained reason, and she left her with a local Soviet family, and that Soviet family became her adoptive parents.
She didn't have a great relationship with them, which explained why she wanted out of Russia and she ended up in [unintelligible 00:13:18] looking for a husband, somebody would get her the passport for her to not have to stay in Russia. That was the cover. Considering how stereotypical this is that young Russian attractive women want to get out of Russia and marry a foreigner, preferably a wealthy one, this didn't really raise a lot of concerns.
Brooke Gladstone: Who do you think was making up the backstory? The GRU?
Christo Grozev: Absolutely. Now I reached out to some former GRU analysts and officers living in the West for a long time, and I asked them, how would this cover story backstory would've been created? I just gave them a little data like Peru, and they immediately said, "Oh yes, we know who did it, we know how it happened." The original cover story would've been created back in the '70s because the Russian KGB and the GRU, they had their full-time resident spies in Latin America, usually working as clergymen, as pastors.
They would roam from village to town and they would record in their diary, little details about local churches, about local people who had lost a child at birth or something like that, things that they could throw in into a-- They call it a legend, it's a backstory, for future use in 20, 30 years. It seems that the original story for Maria Adela was created by one of those old timers working for the GRU in the '70s or '80s. What was wrong there, however, in that backstory, and this is the reason why she was called by the Peruvian Migration Office, was that apparently the birth certificate that was issued to her in 1978 was issued by a church which actually was built only nine years later.
This is a major, major blunder by the GRU. The Peruvian authorities when they received this application, they called the church and they asked, when were you built? The pastor from the church told them in 1987. The new cover story which is this complicated one with the Moscow Olympics, it would've been created on the flight to retrofit the facts and it would've been done by the GRU in Moscow.
Brooke Gladstone: I guess we should distinguish between the KGB and the GRU. The GRU is specifically Russian Military Intelligence, right?
Christo Grozev: That is correct. The current heirs to the KGB are the SVR, Foreign Intelligence of Russia. They run most of the illegals, then there's the FSB who mostly focus on domestic intelligence and security, and then there's the GRU, who look for information that can help the Russian military. This is particularly notable because Maria Adela's focus was NATO, and that makes sense.
Brooke Gladstone: You mentioned why she seemed to be an unlikely spy. You said a lot of people who thought they were her friends viewed her as very chaotic and emotional, that she had love affairs and even seemed to take some of them seriously.
Christo Grozev: The first self-perceived [unintelligible 00:16:21] friend of Maria that I spoke with was this older woman that really thought she had a very, very strong, almost familiar relationship with her. When I broke the news to her, that she had befriended a spy, for months she pondered how she could have been a spy with that chaotic character, with her falling for men and needing men to feel complete or fulfilled, as she said it, sometimes even crying over men, that was a second sign that this spy is unusual.
We thought a lot about what the reason for this might have been, some colleagues thought, maybe it looks attractive to people for somebody to appear weak, maybe that was all staged, or it could be that she was not a great spy and she was just the daughter of somebody important that arranged for her that sweet job because it is a sweet job. Considering that most of these spies come from a pretty poor background, something that is interesting is that it's almost never that these sleepers come from a major city because you don't want a classmate of yours to meet you in Naples and shout out the street.
Most of these people are chosen from small villages so that the number of people who knew them when they were kids under their real identities is minimal.
Brooke Gladstone: Just like those amazing characters in The Americans.
Christo Grozev: That story is based on so much truth, not the actual narrative, but the way the methods it's completely the same. They would've come from a pretty poor background, then this lifestyle for them is a major change. Who she really was, was the biggest mystery. We had figured out what she did, the access she got to NATO, we can talk about the potential damage that she would've done to NATO, but for me really, the longest time of this investigation was the search for the real Maria Adela.
Brooke Gladstone: You found her?
Christo Grozev: At the last minute. It took almost 11 months of hunting for the real Adela. She was back in Moscow at the time we were looking for her because she was recalled at some point in late 2018, so we knew that we would have to look for somebody who was in Russia, relatively recently from the end of 2018, and most likely though somebody would have a cat because everybody told us how much Maria Adela loved Louisa. Now we had a lot of photographs of Louisa the cat, ranging from the time she was a kitten of a couple of days old all the way until she was two and a half, three years old.
Brooke Gladstone: You had a dossier on Maria Adela's cat.
Christo Grozev: Literally, I have a file called the Cat Dossier. We did face recognition of a cat trying to match this cat to another cat, doing face comparison of cats, but me. We even got the microchip number of the Italian cats, and we were trying to find that chip number in hundreds of leaked pet databases in Russia, but she wasn't there. Then we did face search for the woman known as Adela in the Russian passport database. We got almost 100 near matches, but we didn't come up with anything very, very strikingly similar. One of them, however, appeared a possible match, mostly because the photograph on the Russian passport was very old from the time that she was 15.
We thought, why would this person not have a fresh photograph in her passport file? That was a first clone. She was somewhat similar, but of course, the difference of 25 years of age would not make a person easily recognizable, but we had a name. We looked in all kinds of lead Russian databases to find that this person with a name Olga Kolobova had had a pretty lively presence in Russia until the year 2007. She had traveled a lot. She had alcohol company registered in her name and then suddenly there's an abrupt stop of any digital presence for this person. She reappears again, guess when? In November 2018, again, with a very, very lively digital presence. The first thing she does is she buys a car and that car happens to be an Audi.
Now, Maria Adela, despite drove an Audi, the second thing she does is she signs up at the vet clinic as a regular client. We know she has a cat and she loves the cat. Then she registers an account on the Russian equivalent of Facebook but never shows her face there. She posts hundreds of photographs of her apartment or places she's been to. She befriends her old school friends from a small village, by the way, and she never posts a selfie or a photograph of herself, which was interesting in itself. Other similarities began piling up. For example, both Adela and this person we're posting many, many photographs of bouquets of roses, closeup photographs of roses.
In one of these photographs, you could see the hand of the Russian person Olga Kolobova. We have-- Believe it or not, we have access to a hand recognition expert.
Brooke Gladstone: What?
Christo Grozev: Yes, it exists. Hands are completely unique and you can use them almost as fingerprints to identify a person.
Brooke Gladstone: Amazing.
Christo Grozev: The vein distribution on a hand is completely unique from one person to another because it is randomly created at the time of gestation in the body. We compared this hand to many of the hand pictures of Maria Adela, and we found the match. We knew that this is the same person we just needed to prove it for the world. Then we were able to get from a whistleblower with access to driver's licenses in Russia, a photo of the driving license of Olga, and it was the same woman.
Brooke Gladstone: Just amazing. I don't know if you want to get into this detail but she had a peculiar marriage. Her husband died at age 30 of double pneumonia and systemic lupus not long after they were wed.
Christo Grozev: Yes. Despite the fact that she would share all of her love stories with her friends, she never mentioned that she had a boyfriend that she had been engaged to. Only after the marriage, she told people, "Oh, by the way, I got married." That surprised her best friends but nobody doubted it that much because she was chaotic. Less than a year later, she told her friends that her husband had died from lupus at age 30. She confided that to her friend from the UK over dinner in Malta. There was a doctor at dinner who said, "I don't believe this story. Young men don't die from lupus." Maria Adela became quite agitated and angry and said, "No, that's what the doctor said. He did die from lupus."
Now we have the identity of this young man. We are looking into actually what happened because I don't want to scoop ourselves and give you the likely outcome of our ongoing investigation but it does appear that this was not a very natural death.
Brooke Gladstone: In the course of your reporting, you weren't able to uncover exactly the kind of intelligence she gathered in her decade chatting up NATO personnel. What did you learn about the impact of her work?
Christo Grozev: Even if we take the most conservative estimate, which is that she did not acquire files and data from these quite informed friends that she became close to including the data officer and the health officer, and the [unintelligible 00:24:13] council, even in that very innocent hypothesis, she would've been able to describe and create profiles, psychological, financial, medical even of tens, if not hundreds of NATO personnel and NATO officers. This is extremely valuable information for any intelligence in particular for the GRU because this could allow them to target their offers of blackmail or financial incentives for recruitment. Even that alone is a full-time job that is extremely valuable.
Some of Adela's circle of acquaintances went on to go back to the states and get other jobs at a higher level. One of her friends, perceived friends went on to become a candidate for Congress. All of those people would've been very, very attractive targets for the GRU that's why it was important to alert them of our findings as soon as we could. None of the other sleeper agents that we have looked at that are known would've ever achieved anything so valuable in terms of proximity to just the right people but we have to ask ourselves, was that all?
I don't think that was all because again, sharing a photographer with NATO would incidentally accidentally or otherwise allow you access to some photographs, to some drives, and so on and so forth. Having the ability to visit homes of senior NATO officers for dinner definitely exposes their system to being bugged. Think about it. She was selling jewelry, which by the way we discovered was both off cheap Chinese wholesale sites, but she was gifting some of it to her NATO friends and officers' wives. Imagine the possibilities, for example, bug this jewelry because it's not unheard of, it did happen before. We're not aware of what the impact is. We know that the risk of the impact is huge.
Brooke Gladstone: I'm wondering about the tools you used widely available, facial recognition software, some of it open source investigation.
Christo Grozev: First of all, the knowledge that you can use open source tools to discover dark government crime and espionage, that alone has changed the game, both for the better and for the worse. Changed the game for the better because we have disabled whole bunches of clandestine operations. We have made it impossible for 30 or 40 Russian spies who previously went around the world blowing things up and assassinating people and poisoning people with [unintelligible 00:26:46], they can no longer travel. Recruiting and training new people who are not going to be certain that they will not be found out is much harder, is going to take time and money.
We being transparent about how we do it has also upped the game, it's made the Russians in this particular case, more careful. They don't anymore use sequential passports. They try to go after any whistle-blower who provides this access to Russian databases. They cleaned up the Russian passport database from the files for their cover agents. This is almost like a multi-level computer game. We win one level and then the system, in this case, the Kremlin fixes something and then the next level is much harder to win, but it's a bigger challenge. At the end, works.
Brooke Gladstone: What was the most surprising revelation of this investigation for you?
Christo Grozev: I think that the naivete of people we perceive are protecting us. The naivete of NATO and of their own internal security service surprised me. I didn't believe that this would've been possible. The ability of a spy with such glaring holes in her backstory and in her skillsets even to achieve this for so many years was shocking. What was not shocking is when we discovered that her father had been a spy as well. Colonel maybe by now a general from the Russian army with long international experience in Africa and Syria and Iraq.
That made some sense because apparently she was chosen, not necessarily just for her skills, but maybe for her loyalty and maybe because her father had a say in selecting her career.
Brooke Gladstone: This has been so fascinating. I really don't want to let you go. Could you tell me about some of your other notable revelations and those of Bellingcat? While we're at it, tell me how you got into this game.
Christo Grozev: I spent most of my career not doing what I studied for. I studied journalism but I was running companies, radio companies, by the way. I was close to journalism but not doing it. Then, in 2014, I decided to start my own blog, looking a little bit of this information and fake news, which was a very new thing at the time. At about the same time a colleague launched Bellingcat and they started researching more or less the same topic that I was researching at the time, which was the shooting down of a Malaysian Airlines, MH17 by something. It was a big mystery. A lot of people died, kids and families were shot over Eastern Ukraine.
Of course, the Russian government started immediately portraying this as a Ukrainian missile having shot down this plane. The Ukrainian said the opposite. It was a Russian missile. It was a, he said, she said, both I and Bellingcat started looking for evidentiary proof one way or the other. This actually exposed both me and my colleagues from Bellingcat to the abundance of open source data because Bellingcat were able to prove who shot down MH17, purely by following selfies by Russian soldiers who had been traveling from an army base containing anti-aircraft weapons in western Russia to the Ukrainian border.
Then the same weapons that they had accompanied had been photographed and posted on Twitter and on TikTok by Ukrainian people who had seen them cross their villages or towns. Then immediately after the shoot down the same weapon made a reverse toward back to Russia. That was the baptism of fire for Bellingcat, and for me how you can use completely open data to prove a major government crime. Then I joined Bellingcat in about 2015. I had a particular focus on clandestine operations because that's cool. I think the first big investigation I made was into a failed coup d'etat that the Russian GRU had actually tried to organize in the small republic of Montenegro in the Balkans.
That investigation showed me how lazy and sloppy the GRU may be. In one particular case, the GRU had actually sent money to their plotters to their spies in Montenegro via Western Union. As a sending address in that wire transfer, they had put the headquarters of the GRU. That actually told me these guys are not as smart as they want to be. Let me focus on investigating their crime long-term, and that led to many other investigations, including the poisoning of the Skripals, which we cracked, we found not only the identity of the two main guys but also of their commander who was with them in London at the time of the poisoning and the whole team.
Then we found out the secret research laboratory that produces banned chemical weapons in Russia for the government that was used also in the poisoning of the Skripals. By tracking what this lab does, we were able to also connect the same lab to the poisoning of Alexei Navalny, the Russian opposition leader in 2020. As well as to the poisonings of more than six opposition figures and human rights leaders in Russia in the last 15 years. That's what we've been doing for the last seven years since we were launched.
Brooke Gladstone: Have you ever had the desire to meet any of these people in person?
Christo Grozev: I am absolutely sure that they know of my existence, and they probably think I'm their biggest, if not enemy, but the person who destroyed their career. I'm not sure that it will be a friendly meeting, but yes, you're right, I have a feeling that I know them better than their partners do than their parents do. There could be a lot we could talk about if we meet but I'm not sure that they will be happy with that.
Brooke Gladstone: John le Carré, David Cornwell when he wrote his series about Smiley, it was based a lot on Kim Philby, and others. He was once given the opportunity to meet him in Russia, and he absolutely refused. He said he was responsible for the death of so many people I knew in British intelligence, I couldn't sit across the table from him. I don't know it would have been really hard not to look him in the eye.
Christo Grozev: Especially with the GRU officers who we know were involved with assassinations, with blowing up munition depots that caused death. I cannot imagine any situation which I can have even journalistic discussions with them because this will be way too much. I had a conversation recently with somebody that we identified as being behind a mutilation and execution video in the Ukrainian war at the moment, and I had to speak to this person for 30 minutes, just to give them the right of reply, and that was a very, very hard 30 minutes for me. I can imagine that a face-to-face would be impossible.
Brooke Gladstone: Bellingcat is the coolest thing in the world today.
Christo Grozev: Cool. Okay. I'll take this quote, and we'll use it in the commercial.
Brooke: Christo Grozev is lead Russia investigator with the investigative journalism group called Bellingcat. He spoke to us from Vienna. Thank you so much.
Christo Grozev: Thank you.
[music]
Brooke Gladstone: Thanks for listening to our midweek podcast. Join us for the big show that posts Friday around dinnertime. It's all about the publishing industry and the algorithms that supposedly identify potential best sellers.
[music]
[00:35:16] [END OF AUDIO]
Copyright © 2022 New York Public Radio. All rights reserved. Visit our website terms of use at www.wnyc.org for further information.
New York Public Radio transcripts are created on a rush deadline, often by contractors. This text may not be in its final form and may be updated or revised in the future. Accuracy and availability may vary. The authoritative record of New York Public Radio's programming is the audio record.