How Hydroxychloroquine Became A Thing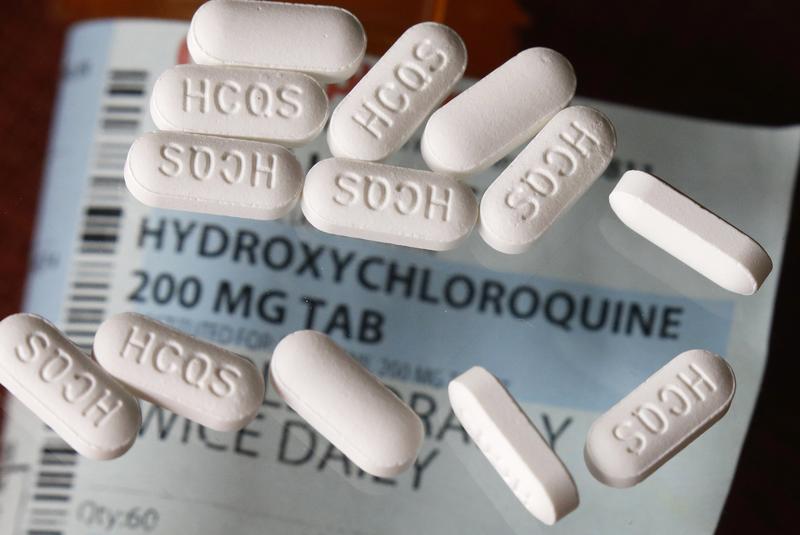 Transcript
President Trump: I say it, what do you have to lose? I'll say it again, what do you have to lose?
Bob Garfield: On Saturday, President Trump again touted the use of hydroxychloroquine, an anti-malaria drug as a potential treatment for COVID-19.
President Trump: Take it, I really think they should take it.
Bob: The USC announced it has stockpiled 29 million doses, though the basis for using the drug to treat the disease is entirely anecdotal. Some doctors are already using it in hospitals around the country. Some report that it might be useful in the early stages of COVID-19 but we really don't know. What do we have to lose? There are side effects, experts warn, and it is potentially fatal for patients with heart problems or who are on certain antidepressants. Then there's the side effect of a shortage for people who are actually prescribed hydroxychloroquine for illnesses like lupus and rheumatoid arthritis.
Dr. Anthony Fauci: We have to be careful or that we don't assume something works based on an anecdotal report that's not controlled. I refer specifically to hydroxychloroquine.
Bob: Dr. Anthony Fauci, Director of the National Institute of Allergy and Infectious Diseases, has been urging caution in White House briefings and in media interviews, such as this one with Fox's, Laura Ingraham,
Dr. Anthony: There's a lot of buzz out there on the internet on the social media about that. We need to look at it in a scientific way. Well, those studies, some of them would not control.
Bob: Why the intense media interest in hydroxychloroquine, even before the President started talking it up. Reporting this week for The Guardian, Julia Carrie Wong traced the not so winding path from Fox News to Trump's ears.
Julia Wong: It's become kind of a meme within the news cycle and among the general populace in a way that is pretty substantially disconnected to the degree to which it's actually important within the medical response
President Trump: Hydroxychloroquine, which I think as you know, it's a great malaria drug.
Newscaster: Dr. [unintelligible 00:02:16] yesterday, the president united states was talking about hydroxychloroquine, which you have detailed for a number of weeks.
Newscaster: Also tonight, we have big, big developments on hydroxychloroquine.
Julia: It is one of several treatments that might end up being useful, but the narrative around hydroxychloroquine has far exceeded any actual science supporting whether or not it will end up being important to combating this virus and treating people.
Bob: A narrative fed again and again and again by Donald Trump himself.
Julia: On March 19th, he started specifically calling this drug out by name in his daily press briefings and talking it up as something that might be a cure.
Bob: Now this is like trying to locate patient zero. The media part of this seems to have begun in a March 18th episode of Tucker Carlson show on Fox.
Gregory Rigano: The President has the authority to authorize the use of hydroxychloroquine against coronavirus, immediately.
Bob: Featuring some guy named Gregory Rigano.
Gregory: Hydroxychloroquine has been on the market for over 50 years with a quality safety profile. I'm here to report that as of this morning, about five o'clock this morning, a well-controlled peer-reviewed study carried out by the most eminent infectious disease specialists in the world Didier Raoult, MD PhD, out of the south of France, in which he enrolled 40 patients, again, a well-controlled peer-reviewed study that showed a 100% cure rate against coronavirus.
Bob: He also claimed an affiliation with Stanford Medical School, which [unintelligible 00:04:04] was non-existent. Not to mention the preposterous claim of 100% cure rate. Now, there was a study of sorts he was referring to and it was published. Well, tell me about the 'but'?
Julia: [laughs] This study was published in a respectable journal. It was peer-reviewed.
Bob: The Journal of the International Society of Antimicrobial Chemotherapy.
Julia: Right. There's been a lot of concern about preprints and studies that get out into the public before they're peer-reviewed, but this one actually made it through peer review but it was nevertheless a fairly flawed study. The professional association that publishes the journal has now issued a formal statement of concern about the methods.
Bob: What were the obvious red flags in the construction of this study such that it was?
Julia: There's a gold standard for how you want a study to be set up. That's called a double-blind randomized controlled trial. This basically means that you don't want either the doctor or the patient to know whether or not they got the drug, or they got the placebo. That takes out bias that you might have doctors treating people differently based on whether or not they're part of the treatment group or the control group.
You want it to be randomized, which means that you don't get to pick and say, "Well, everybody that looks really healthy goes into the treatment group, and everybody that looks a little bit sicker goes into the control group." You want it to be controlled, which means that the two groups are fairly equivalent. They're made up of people from the same population. You don't have all sorts of confounding factors.
None of those basic standards were met here. It was open-label, which means that they knew who got each group. It was not randomized. They actually drew from totally different populations. All of the patients that got the drug were at one hospital in Marseille. The patients who did not get the drug, who were called a control group, even though this is not really considered a strong actual control, came from other area hospitals, and we're just chosen to be a control.
Even more importantly than those design flaws, there's a lot of concern about the things that they chose to look at. This was a study that was based on how quickly the patients clear the virus from their system. They did not judge the patients based on their clinical outcome, which is, did they get better or not? There were four people in the group that got hydroxychloroquine, who actually did not get better. One of them died, and three of them were transferred to the ICU, which is a pretty poor clinical outcome.
They said that the patients who were transferred to the ICU and the patient who died were simply excluded from the study because it was not possible to continue to take their nasal swabs. That is a really significant flaw that fundamentally creates a misrepresentation of what the outcome of this treatment has been. We in the global public were not primarily concerned with whether or not people clear viral load from their nasal passages. We're primarily concerned with whether or not they get better.
Bob: When Anthony Fauci says we need to do rigorous scientific testing-
Dr. Anthony: When you don't have that information, it's understandable why people may want to take something anyway, even with the slightest hint of it being effective.
Bob: -he is speaking about precisely the randomized double-blind experiment it that you described, which anyway you look at the study is not that.
Julia: Yes. Those trials are ongoing. The World Health Organization is running this large international clinical trial with four different treatments that they're looking at. Hydroxychloroquine is one of the four because there is a plausible theory that hydroxychloroquine could have a positive impact in the fight against this virus. It's just unknown whether or not that is the case.
Bob: There was a piece in The Wall Street Journal, an op-ed by two doctors in Kansas, promoting the use of hydroxychloroquine. You got in touch with them to ask them what's up. What did they say?
Julia: This op-ed was signed by two doctors. One is the director of the division of infectious disease at the University of Kansas medical centers. This op-ed states that researchers in France found that of the patients that they treated, 100% of them were cured by dissects of the treatment. I reached out to both of the authors to say that this very seriously misrepresents the results of the study.
I asked if they wanted to correct that. Dr. Hinthorn, the infectious disease doctor did respond to me. He said that, My analysis of the French study was correct, that what the study actually told was that the treatment regimen of hydroxychloroquine and azithromycin might merit further evaluation." He also gave the same general justification for using the drug in his practice that other people have used, which is that there is no proven treatment so we're trying this.
When I asked him whether he wanted to clarify the op-ed, which is still existing under the very impressive auspices of The Wall Street Journal to clarify that he did not respond. The other author, Dr. Jeff Colyer, who is the former governor of Kansas and plastic surgeon did not respond to my questions.
Bob: Now we heard in the tape that we played earlier, this guy, Rigano speaking directly to the president's authority to bypass certain regulatory hurdles.
George: He has cut more red tape at the FDA than any other president in history.
Julie: I have not been able to establish exactly how it was that he got hooked up with Fox News. The New York Times has reported that there were also other people involved in influencing Donald Trump around hydroxychloroquine, and talking to him about it, including it seems Larry Ellison and Rudy Giuliani.
Bob: Larry Ellison, the founder of Oracle?
Julie: Right. Rigano, he's interesting because he hooked up with a Bitcoin investor who has an MD, but does not appear to practice. They seem to have gotten in touch with the French researchers and the lead investigator with this French team Didier Raoult. He did a very effective job of getting the Silicon Valley influencer circuit interested. They put together this Google document that looked like it was a scientific paper.
It was not in any way a scientific paper. It was just a hodgepodge of aggregated links to other studies, but had the veneer of authenticity about it. They successfully got that circulating on social media and within Silicon Valley circles up until the point that it was actually shared by Elon Musk. Now suddenly mainstream outlets are covering this drug because they're saying, well, Elon Musk is talking about it.
Bob: According to Media Matters, the liberal media watchdog group, Fox on its various shows raised hydroxychloroquine 109 times over three days. I went to draw on Al Pachino in Glen, Gary, Glen Ross, what was their shot? I get it when they talk about voter fraud and Russian hoax, but a malaria drug, what was in it for them?
Julie: I decided to reach out and try to speak to historians of medicine to try to get a bit more of an understanding of what was the attraction of this miracle drug. There's been a lot of speculation that this is motivated by financial concerns, that someone's going to make a lot of money off of hydroxychloroquine. I don't have strong evidence for this either way, but I don't believe that that is the case.
This drug is off-patent. It can be manufactured as a generic and there can be large amounts of competition on that. You don't generally make a lot of money off of generic old drugs, but I do think that when you have a situation with the right-wing partisan media where there's been blatant mismanagement of a public health disaster, this is an opportunity to give people hope.
President Trump: I have to say if chloroquine or hydroxychloroquine works or any of the other things that they're looking at that are not quite as far out, but if they work, your numbers are going to come down very rapidly. We'll see what happens, but there's a real chance that they might work.
Julie: It's also an opportunity to, I think, distract attention from other issues and also to give people an enemy because by creating a scenario where Trump can say, "I want to give you this drug. This drug will cure everything. It's just that the FDA and the scientists and all of these people that don't just go with their gut and listen to what I'm saying. They're the ones that are trying to prevent you from getting this drug."
Journalist: Why not just let the science speak for itself? Why are you promoting this drug?
President Trump: I'm not, very simply, I'm not at all. You know what I'm trying to do.
Journalist: You come up here every day, sir, start talking about the benefits.
President Trump: I want them to try it and it may work and it may not work, but if it doesn't work, it's nothing lost by doing it nothing, because we know long-term what I want? I want to save lives and I don't want to be in a lab for the next year and a half as people are dying all over the place.
Julie: Is a very effective way to change the narrative and redirect anger that might be directed at the failures of the federal response to this pandemic.
Bob: Which is how Anthony Fauci could find himself facing accusations from the right-windgosphere, that he is just an agent of the deep state, who is willing to spout mumbo jumbo about science attempting to embarrass the President while people are dying.
Julie: There are portions of the American body politic that are very opposed to the FDA that want loosening of restrictions. They want it to be much easier to bring drugs to market. There are strong financial motives for certain people to try to lower the standard by which the FDA allows you to sell a drug. You also have a real and persistent anti-vax movement in this country and around the world and that movement has very much attached itself to a hydroxychloroquine.
It fits into a narrative of saying, "They don't want to give us this drug that will work, instead they want to force us to take a vaccine that we believe will harm us, even though the vaccine doesn't even exist yet." It fits neatly into that distrust. One of the struggles that you have with a story like hydroxychloroquine and the way that this narrative has gotten so out of control is that there is no simple story on the other side. There's nothing that is satisfying, or that gives people narrative coherence around the idea that "A drug exists.
It might work. It might not. We just have to wait"
That is not a reassuring message at a time when people are seeing body counts in thousands and there's just intense fear and uncertainty around the countries. On the one hand, yes, there are these niche groups that have glommed onto hydroxychloroquine, and melded that into what was already kind of a very particular worldview. It is natural and fairly understandable that for large numbers of people that are not conspiracy theorists, when they hear the president of the country say that a drug should work, that they will believe him.
Bob: Hey, you get mail. Which must be a big thrill for you because who doesn't like recognition? What does it say?
Julie: I have gotten a big response to this story since it was published. I've actually gotten a lot of very thoughtful emails from people around the world who are just interested in the science. Somebody in France reached out and asked if they could translate it, because since the study came out of a pretty well-known group of researchers in France this is very controversial there and being discussed. I've also received I feel like a somewhat surprising amount of hate mail for an article that just walks you through some methodological flaws in a minor scientific study.
There is anger and the kind of vitriol that we see in other areas of really polarized American life around race and immigration and these very emotive things that Trump's xenophobia often inspires. That is I was a bit surprised to find was being directed at me based on the fact that I had delineated questions and concerns about something scientific, which is not fundamentally partisan issue, but that has been made partisan by the way that Trump has dealt with it.
Bob: Julia, thank you.
Julia: Thank you so much.
Bob: Julia Carrie Wong is reporter for The Guardian. She traced the misinformation campaign in her piece Hydroxychloroquine, how an unproven drug became Trump's coronavirus miracle cure. That's it for this week's podcast extra. Before we go, we wanted to remind you of a powerful tool at your disposal. Keep washing your hands and keeping your distance, but also if you like OTM, and really how could you not, with all the thrills and spills and background music we provide, could you please rate and review the show on your podcast, listening platform of choice.
Not to feed our vanity, but because it helps other people discover On The Media, which we think is a net game. You can also recommend us to your friends and family in your next Zoom call, whether it's a yoga class or an Easter meal, and tell them we said, "Hey."
[music]
Copyright © 2020 New York Public Radio. All rights reserved. Visit our website terms of use at www.wnyc.org for further information.
New York Public Radio transcripts are created on a rush deadline, often by contractors. This text may not be in its final form and may be updated or revised in the future. Accuracy and availability may vary. The authoritative record of New York Public Radio's programming is the audio record.