How the Depp v. Heard Trial Became a Meme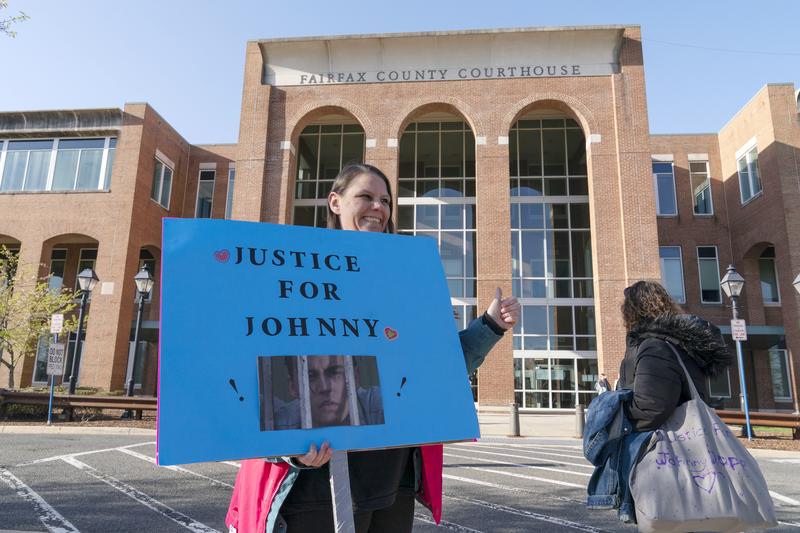 Transcript
[music]
Brandy Zadrozny: I'm Brandy Zadrozny. I'm a reporter for NBC News, but this week I'm sitting in for Brooke Gladstone. Johnny Depp is suing Amber Heard, his ex-wife for defamation and she's counter suing him for the same and never has the term media circus been more apt.
Speaker 2: Johnny boy, Johnny.
Speaker 3: There is a Johnny Depp supporter right there, right behind the court, right by that garbage can with alpacas, I kid you not alpacas that have a sign that says justice for Johnny.
Speaker 4: There are loads and loads of dirty laundry. I do not think the juice is worth the squeeze for either of these two, because these details are horrific.
Brandy Zadrozny: It all started back in 2018 when Heard wrote an op-ed for the Washington Post, in which she identifies herself as a survivor of domestic violence, that same year Depp sued a British tabloid for defamation over headlines that accused him of being an abuser but he lost that case. Given that all of this stuff has been in the ether for years, you might be forgiven for thinking that there'd be less coverage about this latest trial, but you'd be wrong.
The ratings for Court TV, which is broadcasting every salacious moment of the trial have more than doubled. Pair the live visuals with Depp's massive online fan base and you've got a case being watched billions of times over. In fact, the #JusticeForJohnnyDepp has upwards of 10 billion views on TikTok.
Ej Dickson: I've never seen anything like it.
Brandy Zadrozny: Ej Dickson is a senior writer at Rolling Stone where she covers internet culture.
Ej Dickson: I've seen it referred to as the memification of the Johnny Depp trial. I've never really seen that process applied to a trial before, especially in the context of such extreme and horrifying allegations. The pro Johnny Depp sentiment just so far outweighs the pro Amber Heard sentiment, or even just the neutral sentiment around this trial that it's really not even worth comparing at a certain point.
Brandy Zadrozny: The social media phenomenon that exploded around this trial began with videos that joined Johnny Depp poking fun at Amber Heard's lawyer. For example, Depp was described as pouring himself a quote mega pint of red wine.
Speaker 5: A mega pint. [laughs] I poured myself a large glass of wine.
Brandy Zadrozny: Then that word became a meme. It even made it onto t-shirts sold by fans and Etsy Shops. Almost immediately after it was uttered, there are thousands and thousands of t-shirts, mugs, stickers incorporating the mega pint meme being sold on Etsy right now.
Speaker 5: A mega pint. A mega pint of red wine.
EJ Dickson: He's been so charismatic. There's a reason why there are all these memes about him.
Brandy Zadrozny: Okay. Mega point is one thing, but more recently an unsettling trend has made the rounds on TikTok and it uses this audio from Heard's testimony.
Speaker 6: I was walking out of the bedroom, he slapped me across the face. I turned to look at him and I said, Johnny, you hit me. You just hit me.
Brandy Zadrozny: Videos featuring this audio have racked up tens of millions of views. Can you describe the trend to me?
EJ Dickson: Sure. People are using the audio and re-enacting it on TikTok and the point that they're trying to make in some of these re-enactments is to point out the inconsistency of Heard's testimony, because the idea is that he can't have hit her in the face and her turned around to deliver this statement to him at the same time. The end result is that these people are re-enacting a domestic violence scenario that Heard is describing on the stand. It's tons and tons of videos of mostly men pretending to hit women.
Brandy Zadrozny: Are they supposed to be funny?
Ej Dickson: Yes, they are. They are supposed to be funny. There is one video in particular that uses cats dressed as Heard and Johnny Depp's pirate's character to recreate the scenario.
Brandy Zadrozny: Are these videos allowed on TikTok?
EJ Dickson: Not technically, not according to a TikTok spokesperson I spoke to about this while reporting this story out. I thought that they violated TikTok community guidelines prohibiting promotions of violence on the platform but what the spokesperson actually said is that they prohibit TikTok's anti-bullying and harassment guidelines. The videos that I pointed out to the spokesperson were removed from the platform, but there are still including that cat video that I just mentioned thousands and thousands of videos using this audio and recreating this trend.
Brandy Zadrozny: Who's making these videos and why?
EJ Dickson: You would think that it would just be [unintelligible 00:04:48] Johnny Depp stands because that's who at least at the start of the trial was driving this discourse, but it really is like a very wide range of creators. The person who I spoke to for the piece, her page isn't about Johnny Depp or domestic violence at all. Her page is about her cats, but she's got like 600,000 followers based on these cute videos of her cats. It's really creators of all stripes who are jumping on this trend because they know how much engagement content about the Johnny Depp trial can get.
Brandy Zadrozny: It's okay. We mentioned earlier that there are a few reasons why this upswell of interest in the Depp-Heard case is happening right now. It's televised, it's live, a litany of personal details about some very famous people are being divulged each day as the trial continues, but the major points of this case, their old news, why is this explosion of pro Depp sentiment being unleashed right now? Are fans making a media that maybe tabloids or more reputable outlets would've done in the past?
EJ Dickson: Well, I think it's a combination of factors. Probably the most major factors is how much this is being fueled by social media and specifically how much it's being fueled by platforms like TikTok, which run on algorithms that reward content that's most likely to get engagement. That's usually very sensationalized regardless of whether the content in the video is harmful or even accurate or not and Brandy, I know that's something that you've covered a great deal. I think it really applies here in the context of this case.
I'm talking to people and I'm one of them who did not really seek information about this trial at all but were just constantly, constantly fed these pro-Johnny Depp memes in the algorithm that we're getting 6, 7, 8 million likes. I think that's very purposeful on TikTok's part. I think the reason why they're not removing some of this more harmful content is because they know precisely how much engagement it is getting and how much it's fueling users staying time on the app and key metrics like that. I think another aspect of this is also, I think it's a simmering backlash to the MeToo movement.
When Amber Heard first came out with her allegations against Johnny Depp, it was at the peak of the movement and she was very much embraced as a prominent domestic violence survivor. She was riding the wave of the movement as it were. As time has gone on, there has been a lot of simmering sentiment questioning the MeToo movement and the whole idea that all women who allege violence of any kind should be believed and you're seeing this explosion of that previously concealed sentiment on social media. A lot of the people that I'm seeing in my mentions, they are Johnny Depp stands and they are people who have a vested interest in saying that Johnny Depp is innocent, but it's also MRS.
Brandy Zadrozny: Men's rights advocates.
EJ Dickson: Yes and people who are saying, oh, you're just a woman who only believes anyone who doesn't have a penis or you're [unintelligible 00:07:55] very far-right extremist discourse. It's fascinating to see the confluence of these two sectors. The pro Johnny Depp people intermingling with these far-right rape denialists basically.
Brandy Zadrozny: What misinformation are you seeing about this trial?
EJ Dickson: Oh, it's endless. I think the biggest piece of misinformation that I've seen is the coverage of the Melanin makeup pallet. Do you know what I'm referring to?
Brandy Zadrozny: I do.
EJ Dickson: Yes. Amber Heard's lawyer said in opening arguments that she used a makeup pallet to cover her injuries and she showed the product in court. She didn't specify the brand of the pallet, but what she held up in court did look a lot like a specific product made by this brand called Melanin and what Melanin did in response to getting this exposure was make a TikTok that went viral, fact checking Amber Heard's lawyer's claim like stating the pallet wasn't on the market yet until after Heard alleged that Johnny Depp abused her, which has really fueled the narrative that Amber Heard is not telling the truth.
Melanin's response was covered by a lot of news organizations, but the fact that Heard's lawyer never specifically cited this pallet at all in her opening argument, or even that it was her lawyer who said it and not heard herself, no one thought to publish a story about that at all. They just wanted to cover Melanin's sassy rebuttal of her lawyer for clout.
Brandy Zadrozny: I've seen claims that Amber Heard is snorting cocaine on the witness stand. A lot of these just really out there things. How important do you think it is and how much bandwidth do you think news organizations have to fact check all of these things?
EJ Dickson: I think it's incredibly important. I have my guesses as to why they're not doing it. I think in part it is a bandwidth issue, probably even a bigger impediment to coverage of the trial at first was the fact that most newsrooms do not have a dedicated reporter on TikTok, being sort of submerged into the morass of the coverage of this trial. I don't think a lot of newsrooms really knew what was going on or what direction the discourse was going in. I think that very much reflects newsroom's lack of understanding about social media in general.
Brandy Zadrozny: This is about more than just TikTok videos. What's at stake here?
EJ Dickson: We know that irresponsible or lighthearted coverage of domestic violence victims hurts domestic violence survivors in the long run. There's a 2014 study that suggests that "Using sexist humor, offensive and prejudicial humor, jokes promoting distractions to victims of DV and language in connection with DV allows society to view this type of violence as more acceptable," which certainly describes a lot of the memes I'm seeing on TikTok about Amber Heard right now. Regardless of whether of who you know is right or wrong in this scenario, or who's telling the truth or who's lying, the fact is that domestic violence survivors are going to see these memes and they're going to see the treatment of Heard and it's going to discourage them from coming forward as a result, because nobody wants to be treated like this in the public eye.
Brandy Zadrozny: Do you think the outcome of this case matters at this point?
EJ Dickson: I think the damage has been done. I don't think Amber Heard is going to have a career after this. I think the jury's out on whether Johnny Depp will. I suspect he might. There are whispers of people close to him wanting to get together a film project for him as soon as possible after this and after his name is cleared. I think that's going to happen either way, regardless of what way the verdict goes. I have no opinion on who is right or who is wrong in-- Im not just saying that for the sake of maintaining journalistic objectivity, I have no opinion because there's ultimately no way to know the truth.
To some extent, I think that journalists are somewhat limited in what they can and can't fact check throughout the trial. That's not what interests me, that's not the focal point of my coverage. The focal point of my coverage is how is this going to impact sexual and physical abuse survivors further on down the road? That's the conversation that I think most people need to be having right now.
Brandy Zadrozny: Thank you, EJ.
EJ Dickson: Thank you so much.
Brandy Zadrozny: EJ Dickson is a senior writer at Rolling Stone. She covers internet culture.
[music]
Brandy Zadrozny: Thanks for listening to this week's podcast extra. Talking of TikTok, on the big show this week, we have a taxonomy of TikTok moral panics that you won't want to miss. See you then. I'm Brandy Zadrozny.
[00:12:57] [END OF AUDIO]
Copyright © 2022 New York Public Radio. All rights reserved. Visit our website terms of use at www.wnyc.org for further information.
New York Public Radio transcripts are created on a rush deadline, often by contractors. This text may not be in its final form and may be updated or revised in the future. Accuracy and availability may vary. The authoritative record of New York Public Radio's programming is the audio record.