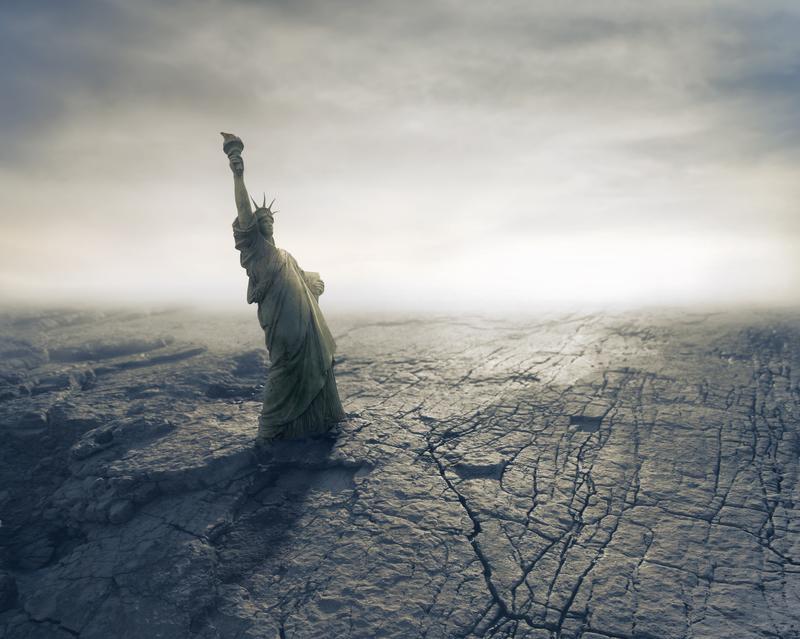 Transcript
BROOKE GLADSTONE We've always fictionalized Earth's final chapter, whether by aliens or asteroids or a nuclear blast. Nowadays, it's the changing climate.
KIM STANLEY ROBINSON History is going so fast, technology's changing so fast that we're living in a science fiction story that we're all writing together.
CLAIRE VAYE WATKINS So something we can't actually get our heads around. Climate change was too big for us. We're just these dumb reptiles who just barely got upright, basically.
[CLIP]
NEWS REPORT You know, New York is just welcomed the warmest Christmas holiday ever with 65 degree temperature weather. [END CLIP]
[CLIP]
LISTENER In the future, we'll have a word. Winter smell. That encompasses all of these smells of winter that we're losing. [END CLIP]
ROBERT MACFARLANE Did you see the snowdrops? They shouldn't be out yet. We live in an untimely time when things are starting to behave out of sync and out of joint.
BROOKE GLADSTONE It's the end times, but it's not all bad. We promise. This is a rerun episode from July 2017, which we think is still timely because, let's face it, a lot of us are still thinking about the end of the world. From WNYC in New York, this is On the Media. Bob Garfield is away this week. I'm Brooke Gladstone, and our planet is weird.
[CLIP]
NEWS REPORT Phoenix could reach 120 degrees, forcing dozens of flight cancellations because many of the regional planes simply can't fly in temperatures above one hundred eighteen. [END CLIP]
[CLIP]
NEWS REPORT The North Pole is seeing a heat wave. Scientists say it's 36 degrees warmer than normal over most of the Arctic Ocean. [END CLIP]
[CLIP]
NEWS REPORT Melting sea ice is behind this gathering of walruses. Thousands of them forced ashore facing starvation. [END CLIP]
BROOKE GLADSTONE The weather sounds like the stuff of science fiction, as does much of what we've done to the Earth, so much so that there's a new term for our time. The Anthropocene, the age of man. And since we'll need new words to describe our march into the Anthropocene, we asked you to conjure some up.
[CLIP]
LISTENER Echo-legiac deriving from ecology and elegiac. The adjective for Elegy, a lament for the dead. As a naturalist. I wax echo-legiac when I am taking in the beauty of migrating birds and feel I may be seeing a treasure that myself and humanity are bound to lose. I'm Daniel Large and I'm from San Antonio, Texas. [END CLIP]
BROOKE GLADSTONE In recent years, speculating on humanity's earthly impact has generated tubs of popcorn thrills. Onscreen, we've had Mad Max: Fury Road, Interstellar, Snowpiercer, to name a few, and on bookshelves much more with such titles as The Book of Joan, The Bone Clocks, New York 2140, Gold Fame Citrus, Borne, Solar, The MaddAddam trilogy, as you'll hear. Science fiction always explores her existential anxieties - like plague.
[CLIP]
MOVIE CLIP Two hundred and sixty million Americans will be dead or dying. [END CLIP]
BROOKE GLADSTONE Alien invasion coming.
[CLIP]
MOVIE CLIP They'll keep coming, because it's not war. This is an extermination.
[END CLIP]
BROOKE GLADSTONE Obliteration by asteroid.
[CLIP]
SCIENTIST It's the size of Texas Mr. President,.
PRESIDENT What kind of damage?
SCIENTIST Damage? Total, sir. That's what we call a global killer. The end of mankind.
PRESIDENT My God. [END CLIP]
BROOKE GLADSTONE And don't forget the nukes. I never do.
[CLIP]
SCIENTIST When they are exploded, they will produce a doomsday shroud. a lethal cloud of radioactivity which will encircle the earth for nine, three years. [END CLIP]
BROOKE GLADSTONE But nowadays, fear of expeditious extinction has been replaced by annihilation by degree or degrees. As we grapple with the impact of global warming and other perils posed by the mix of technology and humanity. Science fiction defines what to many of us it's an inchoate fear. Those imaginings are the focus of this hour. It's what the genre does and what the current moment demands. In this era of slow apocalypse.
JEFF VANDERMEER Oh nuclear war ostensively, we can feel some amount of control over even if we feel like it's slipping from our control. Alien invasion, we can still fight back against that. That's really, in a sense, fiction wise, no different than describing some kind of war between two entities on Earth. But the slow apocalypse, it gets into our brains. It seeps in in a way that I don't think is the same as for other things.
BROOKE GLADSTONE Jeff VanderMeer is a science fiction writer who focuses on the natural world. It's indefinable essence, its endangerment and its strangeness. So much so that The New Yorker dubbed him Weird Thoreau.
JEFF VANDERMEER One influence on my books has been the Gulf oil spill when they were thinking they wouldn't be able to cap it. There was this slow swirl in my brain every second. There was the gush of the oil in my brain. I couldn't get away from the anxiety of that.
And I think that that is something that manifests in a lot of people today psychologically thinking about this issue. It's something that you can't get away from. You feel a certain amount of paralysis or helplessness. That's something I want to actually document in my fiction. The trick of that is that fiction wants to be about action.
BROOKE GLADSTONE VanderMeer's most recent work is the novel Borne, which explores a despoiled world inherited by castoff biotech. In 2014, his celebrated Southern Reach trilogy, partly inspired by Florida, depicts nature resurgent and relentless.
JEFF VANDERMEER When I show that this kind of seeps into things in ways you don't expect, in the normal ways of dealing with issues can't be brought to bear on this issue. It goes against what people expect from certain kinds of tropes. What they expect from certain kinds of resolution. And you have to go with that, even if you know that some readers are not going to want to go along for that particular ride.
BROOKE GLADSTONE Your Southern Reach trilogy is about a mysterious area called X, and nature there seems to be almost a conscious being. And researchers who have gone to study Area X can't quite remember anything about the expedition - if they come back. And meanwhile Area X is expanding, it is a place almost through the looking glass that's starting to impinge on the ordinary world. I can't think of a better description of Florida.
JEFF VANDERMEER Well, I mean, you know, it's there's definitely that aspect of it, especially because there is a mysterious aspect to North Florida, because it is still relatively unspoiled.
BROOKE GLADSTONE What you said in an interview was that there is this sense of porousness. Porousness of homes, porousness of the body. You can't separate from this thing...
JEFF VANDERMEER It's something that is actually true of our world that I also want to convey in fiction, which is that this idea of outside and inside, especially in North Florida or other places like that, is just nonexistent. There's no inside outside for the gecko's even, which are like, you know, visible, but for like mold, for fungus, for all these other things. There's so much going on. There's so much interplay and contamination that we don't see or don't recognize. And this is very important to thinking about climate change, thinking about issues like pollution, where a lot of times we can't see it because we can't see it. We can't visualize the causality between something that's happening and cancer deaths. We have to see it to believe it. So one thing fiction can do in its laboratory is it can make visible what is often invisible to us.
BROOKE GLADSTONE There's a term that you find very useful, coined by writer philosopher Timothy Mortin, and it's called hyper object. You see it as a way of using a word as an anchor for something that would otherwise be hard to picture in its entirety.
JEFF VANDERMEER That does give some kind of concrete essence to something that is by nature, kind of uncanny. I mean, there are ways in which global warming is like a haunting because it appears everywhere and nowhere at the same time. I wanted Area X to be to humans what animals feel human beings are to them. Basically, we are a hyper object to animals a lot of the time because we are inexplicable to them. Our actions are inexplicable. They may be inexplicable to ourselves. I always thought it was interesting if Area X had this agenda and it had its own patterns, we just couldn't quite see them all.
BROOKE GLADSTONE Which brings us to Borne. In this case, we're talking about creatures that were made by scientists. And you want to just sum up the world of Borne?
JEFF VANDERMEER Well, think of it as a post-scarcity city, which we actually have several of those now. Where multinationalists come in and sucked out all the resources, more or less, and then left this place that people still have to live in. One day, this woman, Rachel, who's a scavenger in the city, finds a bit of abandoned biotech.
BROOKE GLADSTONE You can eat biotech because it's made of flesh, blood and bone.
JEFF VANDERMEER Yeah.
BROOKE GLADSTONE But it is designed by human beings.
JEFF VANDERMEER Designed by human beings. And so these are castoff from a company that has kind of more or less pulled out but left all this stuff behind.
BROOKE GLADSTONE Think highly refined island of Dr. Morreau or something.
JEFF VANDERMEER Yes, and she, instead of, you know, rendering it down for food or for parts, she raises it as her child. It begins to speak, it it grows, and then there becomes a conflict between what it might have been created to do, and how she's raised the creature. Borne has a very basic vocabulary for a very long time. But he has more senses than Rachel does. He can see things she can't see. And so he's both not her intellectual equal and so far beyond the human that she can't really understand him no matter what happens.
But that is one thing that fiction is good for, is trying to make that jump, that leap, and knowing that you can't quite cross that divide. But making that leap gets you a little closer to a kind of empathy that I think is useful. There's often a narrative that's being enacted by the animals in the backdrop, especially in Borne, that the human characters don't really see it first. Which is kind of the way it works in real life. There's animals and enacting in their own narratives all the time. What I find really fascinating is just simply that we live on this alien planet, which is to say we don't understand how everything works on this planet that we're destroying. We don't even understand the biology of a lot of the creatures that live on this earth, even as they're disappearing. It's like we've terraformed another planet and we don't understand the life on it. And that's what I want to explore, is that absurdity that we still don't get it.
BROOKE GLADSTONE You're concerned with global warming. Who do you think has done a good job of advocating, in fiction, on this issue over the years?
JEFF VANDERMEER Well, I think, obviously, Kim Stanley Robinson, there are still scientists who reference J.G. Ballard from back in the day. I think Margaret Atwood did a really good job in the MaddAddams trilogy, which still holds up. And also, quite frankly, created a space for this kind of fiction on the literary mainstream side. That's very useful because it means you're reaching a different set of readers to potentially convince. But the convincing thing is something I go back and forth on. I don't think I can convince a climate change denier. What I can do is I can possibly change the mind of the person who thinks this isn't gonna happen until 70 years down the road - when a lot of scientists thinks it's going to really get bad in the next 30 years. That person who does say they believe in climate change, but they think it's as far distant thing that's not going to affect them or their children. That's the person that I feel like I'm writing for right now. You know, I get emails and letters from people all the time who say that the fiction that I've written has spurred them to be more proactive on the environmental side. And that keeps me going to some degree. You know, I sometimes walk down the street and I think, you know, everything here seems so permanent, but it's not. Buildings, landscapes - all of this could be wiped away in seconds. That's one thing that needs to reside in the heart.
BROOKE GLADSTONE Jeff, thank you very much.
JEFF VANDERMEER Thank you.
BROOKE GLADSTONE Jeff VanderMeer is the author of the Southern Reach trilogy, Born and most recently - A Peculiar Peril.
[CLIP]
LISTENER My name is Katherine Duckett. I'm calling from Brooklyn, New York. Winter smell. That encompasses all of these smells of winter that we're losing. That metallic scent of cold. The smell of snow. The smell of certain foods. All of that will be summed up in that one word. And who knows if anyone will really understand after a while what that means. [END CLIP]
BROOKE GLADSTONE This is On the Media.
This is On the Media, I'm Brooke Gladstone. In Claire Vaye Watkins novel Gold Fame Citrus, extreme drought and disastrous planning have left the state of California baked and barren. Most people have evacuated East, but Luz a former child celebrity and Ray, an Army deserter, squat in the abandoned mansion of an L.A. starlet, immobilized by inertia. Finally, driven to leave, they confront an ocean of sand that threatens to engulf the entire southwest. Claire, welcome to the show. Thank you for having me.
BROOKE GLADSTONE Why drought? Why not flood?
CLAIRE VAYE WATKINS I come from the Mojave Desert. I was born in Owens Valley, named for Owens Lake, which today is not really much of a lake at all. It's been drained more or less by the Los Angeles aqueduct system. So, I grew up on the desert side of California. In that story, the story that's told in Marc Reisner's book Cadillac Desert, about the desert reasserting its dominance on humanity. I guess you could say. Those are kind of like bedtime stories for me.
BROOKE GLADSTONE So that was the starting point for imagining the world of the novel. How did it come to take shape in your mind?
CLAIRE VAYE WATKINS I was just watching Planet Earth and watching the deserts episode in Season one, and there's a sequence about the Gobi Desert. David Attenborough was like the largest deserts on the planet. And I was just like - "but dude, what if it wasn't?" And I just started envisioning this huge super dune, which I was so delighted. And I realize that's what's actually called like the dune sea.
BROOKE GLADSTONE I'm wondering if you read from your description of the sea. Start on page 118.
CLAIRE VAYE WATKINS Okay, will do.
The Dune Field overtook i15 in a weekend, reaching a corpulent 400 square miles, insisting upon a three classification from dune field to dune sea. Still rose the dune sea, and like a sea now making its own weather, sparkling white slopes superheated the skies above, setting the air a churn with funnels drawing hurricanes of dust from as far away as Saskatchewan. Self-perpetuating then, the sand, a magnet for its own mixture of clay, sulfates and carbonate particles from the pulverized bodies of ancient marine creatures. So high in saline that a sample taken from anywhere on the dune will be salty on the tongue. So came the name, amargo, being the Spanish word for bitter. Amargosa being the name of the first mountain range, the dune sea interred.
BROOKE GLADSTONE We meet the main characters, Luz and Ray, in an abandoned mansion in a desiccated Los Angeles where the pools are dry pits and the blackberries are filled with dust. And in fact, on page 17, you describe this.
CLAIRE VAYE WATKINS Yeah: "Hard, sour strawberries and blackberries filled with dust, flaccid carrots, ashen spinach, all pith oranges, shriveled lemons, Boosie tangerines, raspberries with gased aphids curled in their hearts. An avocado who's crumbling taupe innards once made you weep." Gross
BROOKE GLADSTONE A lot of the book centers around the people who swirl around the Amargosa dune. There are the climate refugees called Mojav's who are picked up in the desert and thrown into detainment centers. But more focus is on a community, kind of a cult that lives on the dunes periphery in defiance of the government order to evacuate, and suspicious of the government's intentions. The cult leader believes that the government wants this to be a dead place. What were you thinking about here?
CLAIRE VAYE WATKINS Well, when you grow up in rural Nevada, conspiracy theories are kind of a oral tradition. And I love it. Growing up in a super libertarian enclave, as I did, my first home I ever had was my dad was basically squatting on BLM Land.
BROOKE GLADSTONE Bureau of Land Management land.
CLAIRE VAYE WATKINS Right. So I kind of wanted to think about the people who would stay behind. Because I just looked around my family or my town would be like, these people never leave. It's so tied to their identity where they live. And this idea of like distrusting the government. I'm not a libertarian politically, but I totally understand it because they're proven so untrustworthy and I don't know is easy peasy for me to slip into that mindset coming from where I came from.
BROOKE GLADSTONE Now, if we have reason to be suspicious of the government, we become very suspicious of this community, too. Especially its charismatic leader, Levi. There's a kind of talisman in the book. It's a primer that he wrote of new animals that had evolved in the environment of the dune. The Dumbo jack rabbit with giant ears that serve as a cooling system, and the stilt walker tortoise with long legs. So the hot sun doesn't burn its belly, and a whole bunch of others.
CLAIRE VAYE WATKINS That was so, so fun to make up animals. And that's like something happens over geologic time. It's not going to happen in 50 years. So I was like, if I'm already tinkering with geologic time, I can basically do whatever I want, right? So why not tinker around with evolution and adaptation and also the idea, more importantly, perhaps, that what if this place that looks barren and empty, which is language, is always, always used for the desert? What if it is actually very, very much alive?
BROOKE GLADSTONE And Luz clings to this book. The hope it represents. The sense that it isn't all death and it isn't all an ending. And yet no one else has seen these animals. Maybe those animals don't exist. Maybe Levi's making it all up. It's part of, his, religion.
CLAIRE VAYE WATKINS Levi has grown up on a fundamentalist Mormon compound. So, like his his myths are new. I see that in a lot of the West. Particularly like the Anglo-Saxon West, that tends to ignore native peoples. The idea is like that history is new, so it's sort of malleable and pliable and like, why not? If Brigham Young wrote the Book of Mormon just the other day - why can't Levi write his new primer now?
BROOKE GLADSTONE Sure, if it's part of a body of myth to create a religion. But if you really think those animals exist and they don't, it really is just a lie.
CLAIRE VAYE WATKINS I know. It's a bummer. It's a total bummer. She's at this compound that's really scary and really hard to live in. It's like this absolutely awful version of Burning Man or something that's dirty and crusty. But they're there because they feel they're spiritually called to be there for some reason or another. And I think Luz really wants to feel a spiritual sense of purpose. I identify a lot with Luz's feeling like she wishes she had something she could believe in. So, she finds this amazing book and gets the goose bumps like we do when we're faced with the natural sublime or just the crazy uncanny of the natural world. If we're like, open to it.
BROOKE GLADSTONE You said. Drought is fascinating to you because it's a collision of human time with the geologic time. And the drought is something that we experience in the moment. But prolonged drought, that's geologic time. Right. So how do you think a novel enables us to think about drought or climate change in general - in geologic time?
CLAIRE VAYE WATKINS The big experiment of Gold Fame Citrus was could I write about climate change in a deeply evocative, affecting way? While I was writing the book I did an event with the novelist Ruth Ozeki, who I love, and she said at the bar afterwards something like, you know, maybe our brains this is something we we truly can't actually get our heads around. Climate change or geologic time - is too big for us. We're just kind of just these dumb reptiles who just barely got upright, basically, you know. We're ugly bags of mostly water, as they say in Star Trek, you know? And I was like, but if we could do it, it would be with novels. It would be with art and storytelling. And that's what makes us understand the understandable. So I wanted to put that thesis to the test. Can I make something that's really abstract, deeply felt and feel immediate? You know, it's not hard to convince people of like the danger of home invasion. And that's probably not going to happen. But climate change is definitely gonna happen. The future is here, that time that we've all been worrying about - is here. We don't have the luxury of the future tense anymore.
BROOKE GLADSTONE Consider this. The New Yorker's Jill Lapore wrote about the, quote, radical pessimism of contemporary dystopian fiction. And she said, quote: "dystopia used to be a fiction of resistance. It's become a fiction of submission. The fiction of an untrusting, lonely and sullen 21st century. The fiction of fake news and Infowars. The fiction of helplessness and hopelessness. It cannot imagine a better future. And it doesn't ask anyone to bother to make one."
CLAIRE VAYE WATKINS I would love to get engaged in that project that Jill is describing of resistance and hope in the future. And I admire the writers who are engaged in it doing acts of radical hope in their art. I'm not one of them because Art for me comes from a weirder, deeper, darker, unknown place and I can't really control it. I can't say to that part, hey, you know, you've got to write the story that's useful to the cause. I don't know if storytelling is the thing that's going to get us out of this awful current moment we're in, and the long, long moment, the long current moment we're in to like geologically. But it's what I have to offer is telling a story and telling it powerfully and and making felt an abstract, confusing idea. If I can. And making something perhaps maybe beautiful in the process.
BROOKE GLADSTONE It was beautiful. Thank you, Claire.
CLAIRE VAYE WATKINS Thank you.
BROOKE GLADSTONE Claire Vaye Watkins is the author of Gold Fame Citrus and Battleborn. She's co-founder of the Mahavir School and teaches at the University of Michigan.
[CLIP]
LISTENER My name is Russ Gonzalez from Marion, Indiana. Number one, beachnesia, the phenomenon of not being able to remember what the beach was like at your childhood vacation spot because it's been eroded all the way back to the interstate. Number two, SPF'd. This is when there's so many UVB rays that it's impossible to put on enough SPF to keep from burning. [END CLIP]
BROOKE GLADSTONE Now, let's trade a waterless California for a waterlogged New York. Kim Stanley Robinson has been called one of the greatest living science fiction writers. He's best known for his award winning Mars trilogy, which depicts the settling and terraforming of the Red Planet and the evolution of society and politics after ecological disaster on Earth. His latest book, New York 2140, imagines the world after a steep rise in sea level. Lower Manhattan is mostly submerged and rents are cheap. But uptown, the water ebbs and the prices rise.
KIM STANLEY ROBINSON Manhattan has a spine to it, running from Central Park up the Upper West Side, all the way up to the cloisters. That's way taller than 50 feet above sea level. They're using graphenitated composites. Uptown has some like 300 story skyscrapers and looks a little bit like Dubai or something. But downtown, in the area that's been turned into a kind of a Venice, people are zipping around canals. You have vaporetto's that take the place of busses. It will be much scrappier.
BROOKE GLADSTONE Robinson imagines people walking to work on sky bridges instead of sidewalks and growing lots of food on rooftop farms. Young people are reinventing art and culture in cheap onclaves, and even though the water glimmering around the city is poisonous, it is beautiful. So much so that New York is increasingly known as Super Venice. Kim Stanley Robinson, thank you so much for doing this.
KIM STANLEY ROBINSON Oh, it's my pleasure. Thank you.
So the New York City of your book is shaped by two flooding episodes. You call them pulses that ultimately result in a 50 foot rise in sea water. Is that actually close to what we can expect?
KIM STANLEY ROBINSON If all the ice on the planet were to melt, that's two hundred and ten feet higher. The truth is that the ice that's in eastern Antarctica, although it's two miles thick, it's also quite stable. It's going to be dark down there five months of every year, no matter how much climate change we create. So the fair amount of the ice on this planet is pretty stable. And then there's a significant portion that isn't. And how fast it's going to come off is an open question.
BROOKE GLADSTONE There's a real sense of history in the book. You have references to old British ships and a lot of references to Melville. You note that the MetLife Building, where a lot of the book takes place, was actually designed as a replica of the Campanile in Venice.
KIM STANLEY ROBINSON The Bell Tower in San Marcos Plaza in Venice is a very distinctive brick building that goes up higher than everything else in Venice. And that's where Galileo demonstrated his telescope in 1609. And the architect for the old MetLife Tower on Madison Square used that as his model. So it struck me as a good joke.
BROOKE GLADSTONE And in 2140?
KIM STANLEY ROBINSON While the water would go up to about the second or third story with a farm on the logia floor and photovoltaic panels up and down the sides, buildings will have become like tiny little independent city states, trying to be energy and food independent as much as they can, which is not enough, but will be a gesture.
BROOKE GLADSTONE There's much made of the low cost enclaves that the creative people can live in, and ultimately their ideas for how to live and how to create culture are co-opted by the rich. But in the meantime, they're making them and they're making them in the cheap precincts of New York City.
KIM STANLEY ROBINSON If sea level rise were to happen, it would be a devastation. A world class disaster. One of the biggest in world history. That said, 50 years later, people are going to be coping with the situation and they aren't going to abandon New York. So the areas of New York that are built on landfill, they won't support their buildings if the streets around them and the ground is under seawater all the time or in the intertidal zone between low tide and high tide. So those areas will begin falling apart. They'll be condemned. People will be squatting in them. A whole cheap New York will come back in Manhattan in a way that is a bit brutal. But as I say, people will be coping, people will be trying to make good lives. There's going to be some fun ahead.
BROOKE GLADSTONE Right. And matter of fact, although the book refers to billions of deaths during the pulses, and describes waves of refugees sweeping the earth, New Yorkers seem to have adapted. And there's a way of reading this book almost as an urban planning manual. Do you want people to read the book and be hopeful?
KIM STANLEY ROBINSON Yes, I do. There will indeed be billions of climate refugees, and that's coming. If sea level rises quickly or slowly. That said, it's not going to be zombies in the streets. It's not apocalyptic. It's a challenge. And people are going to rise to the challenge one way or another. So I wanted to write a novel that is hopeful because hope is appropriate to the situation. It's not the end of the world.
BROOKE GLADSTONE In fact, you have a character, one who lives in the intertidal. He's quite old and he has to leave because the building has become unlivable. His name is Hexter and he says that people have trouble living in the in-between.
KIM STANLEY ROBINSON Yes. If you say a disaster's coming down, then people tend to think apocalyptically. But human history has been coping with a series of disasters, including climate disasters. There were people having perfectly wonderful lives, and it turns out that where they lived is where the Black Sea is now. So humanity has evolved to adapt to climate change, and it's happening again. But it's a mixed picture. It's partly an opportunity to do things better. And that's what my people in the old MetLife Tower are trying to do.
BROOKE GLADSTONE New York is still a center of finance. And one of the characters you focus on is Franklin, who works at a hedge fund and has developed the intertidal property pricing index. Franklin readily concedes that the floods were good for capitalism. There's even a bit of a joke in the language. He refers to an underwater mortgage, which is literal in the book.
KIM STANLEY ROBINSON All that was really fun. The various ways that we have financial metaphors that have to do with liquidity, right. There are lots of illiquid assets in our lives, like our homes or jobs and so on. And the way that global finance manages to prey on us is that global finance likes liquidity and makes money off liquidity. Whereas ordinary people desperately want what you would call illiquidity and staying above water and not having their lives treated like tradable assets, which is really the way finance treats them.
BROOKE GLADSTONE Are there corrections in the world you created in New York, 2140?
KIM STANLEY ROBINSON There is a story near the end of the book where the people deliberately pop a real estate bubble by refusing to pay their mortgages as a kind of a strike. And that causes another federal rescue like 2008. And in this case, the rescue of the banks includes nationalizing the banks. There is also a politician in New York 2140, that when a hurricane hits New York and that will be worse than ever before because of the already higher sea level rise that's postulated. There's a politician that says, look, we need to requisition these empty towers that millionaires from elsewhere have in New York. They own them. They're empty. We've got a refugee population. We want to take these towers and occupy them with refugees. This is what Jeremy Corbyn asked for in London because of the fire in that tower. And this happens all the time in science fiction. Writers just following out my scenario, I've managed to predict things that happen much more quickly than the time postulated.
BROOKE GLADSTONE You know, there's been a series of rather dystopian books written about climate change recently. And writer Allegra Hyde wrote that facing the future means facing darkness, but it also means dreaming, giving weight and respect to the imagination. It means writing our way towards hope.
KIM STANLEY ROBINSON Well, I love that. That's more or less my motto, my working policy. I am a utopian science fiction writer and I've never but once done a dystopia in my entire 40 year career. They're too easy and they do end up being a kind of pornography of despair where you can always think to yourself, well, at least my life right now isn't that bad. And so there's a complacency to dystopias and a giving up quality, whereas you try the utopian future and then what you really realize is there's never going to be a perfect utopia. All you really mean is a positive course for history. And writing those down gives us ideas and plans. History is going so fast, technology's changing so fast that we're living in a science fiction story that we're all writing together.
BROOKE GLADSTONE And what is New York 2140? It's neither a utopia nor a dystopia. It's in a continuous state of disorder and decrepitude. And yet somehow something's being built out of it. We're not offered any assurances as to what the future will be. Far from it.
KIM STANLEY ROBINSON No. Well, thank you for that. There are hopes and fears both, but there is also a shared political project where people want to make their lives better by getting involved in local politics, like running the building, running the local neighborhood, and district. And then even going down to Washington, D.C. and hammering away at the federal government. These are all parts of my story. And the seizing of global finance is a project that everybody on Earth needs to be involved in to make sure that money is working for people and against the destruction of the environment rather than the reverse, which is kind of the way things are now. The thing that's interesting is that finance right now is not evil or villainous and good people pursuing legal means can make themselves rich while the environment suffers. So we've mispriced things. And this is a legal problem more than anything else. What's sad in a way, is that the the fate of our future is almost entirely a political legal question. We've got to jump into the weird and muddy world of politics. It isn't down to individual virtue. It's down to the laws that we get passed. That's a little scary. But a lot of people have jumped in and are making the effort.
BROOKE GLADSTONE Scary, but not as scary as jumping into the waters around New York City in 2140.
KIM STANLEY ROBINSON Well, people wear dry suits. You would not want to be in the water, which would be poisonous for many years to come. But the tidal flushing and the the work of the oysters and clams is such that if you cleaned up a few Superfund like sites, a few decades would clean the estuary out quite a bit.
BROOKE GLADSTONE We just need special suits to jump into politics. That's all. Stan, Thank you very much.
KIM STANLEY ROBINSON It's a pleasure. Thank you.
BROOKE GLADSTONE Kim Stanley Robinson is the author of New York 2140, Aurora, and one of my favorites: The Years of Rice and Salt.
[CLIP]
LISTENER Submergia. This used to be suburbia, but now due to rising tides, is underwater. So one might say I live on a houseboat out in submergia. [END CLIP]
[CLIP]
LISTENER My name is Jimena Kaveyu, from Portland, Oregon. And the word is "hibernapping". I imagine a world in which winters are not long enough and polar bears can't hibernate anymore. Instead, they have to hibernap. Thank you. [END CLIP]
BROOKE GLADSTONE Coming up, more words to describe the indescribable. This is On the Media.
This is On the Media, I'm Brooke Gladstone. Fiction can do the job. But as the future becomes less and less familiar, we may need new words to write it. We asked you listeners to pitch in after speaking to the man who rounds out this hour, Robert McFarlane. He is passionate about what he calls the literacy of the land. Language, both evocative and precise, to portray the Earth even as it changes. His fascination with new words actually began with his study of old ones from the British Isles. Like shreep, mist that is slowly clearing, or ammil, the thin film of ice that makes leaves and twigs glitter after a frost. MacFarlane gathered thousands of these words in his 2015 book, Landmarks.
ROBERT MACFARLANE On the one hand, it's an opening of the eyes to things that are around us, but that we might not have seen without a name in our mouths or in our heart. So an example of that might be this gorgeous word from Sussex. Smeuse, S-M-E-U-S-E, probably hasn't been used much since the 19th century, but it's being used a bit more now. And this means the hole in the base of a hedge left by the repeated passage of a small animal.
BROOKE GLADSTONE A smeuse.
ROBERT MACFARLANE Smeuse, or maybe "smoyse." There's no pronunciation guide from the mid-eighteen hundreds. But as soon as you know it, you see them. You start to see them everywhere. I've had so many people write and say- "do you know, once I knew that word, then there they were." They were seeing evidence of a kind of creaturely like cohabitation in the landscape which had previously gone unregarded. But in a sense, some of these words were records of a biodiversity and a landscape diversity that had gone. That was extinct, and I think that's partly why there is an anxiety attendant to the revelation of this richness of diverse language, which, incidentally, original American also possesses in fabulous abundance.
BROOKE GLADSTONE Like?
ROBERT MACFARLANE Well, there's this wonderful encyclopedic glossary called Home Ground, which Barry Lopez, the great writer, put together with his partner, Debra Gwartney. And that includes things like shinnery, which is the oak scrub scratches your shins when you're walking.
BROOKE GLADSTONE But did they make that up or did it already exist?
ROBERT MACFARLANE No, it already existed. But what they brilliantly did was commission writers like Annie Prioux to devise definitions. So cow belly mud is the ultrafine silt that settles on the inside of the curves of a slow moving river. And it's so soft that if you were to step in it, you would barely detect the change from water to silt. And it's named because the belly of a Holstein cow is so softly furred to the touch that you barely know when your hand moves into it.
BROOKE GLADSTONE So we're talking about naming something makes it more present in your life and your naming something is a way to remember something that may have passed.
ROBERT MACFARLANE Yes, both of those things. I mean, I think we shouldn't always regard naming as a good thing. Nature doesn't name itself. Granite doesn't have any grammar. And when I stand on the top of the mountain, sometimes I say wow or nothing at all.
BROOKE GLADSTONE But, this is your endeavor, Rob! Is, is naming things!

ROBERT MACFARLANE No, no, no. We need room for silence as well, because sometimes nature is too much for us. But I would say a word for the good kinds of naming, the kinds that throw into vision our forms of involvement with the world that it astonishes us, delights as pleases us, thrills us, infiltrates our memory, shapes our days and thoughts as well. And a language which can do that. Seems to me one we should relish.
BROOKE GLADSTONE That is why you feel we need yet another new glossary, one for the Anthropocene. Compared to Landmarks, this is a darker endeavor. To preserve the names of what has gone, what you call the ghost species of our language.
Species are blinking out. Phenomena of blinking out. And so any desecration phrasebook needs to be alert to disappearances and vanishings. But I guess we're also bringing new things into being. To give you an example. This word, plastiglomerate.Plastiglomerate is the name given by Patricia Corcoran, a geologist, and her colleagues to a new form of stone that she discovered being made on the beaches of Hawaii. There's one particular beach in Hawaii which is quite distant from a road head, so people tend to walk out there and camp overnight. It's also because of the prevailing winds and the currents. It also receives a huge up wash of plastic trash. It's beach of disappointment. You walk for a day to get there, to the pristine Hawaiian Idyl and then you find bleach bottles and Avon skin-so-soft bottles. And the campers burn them. They burn the plastic on their campfires. This melts. And as it melts, it gathers up sand. Word in other bits of organic debris, and then it hardens again as it cools down. So all across this beach, Corcoran fanned these lava flows, as it were, of a kind of substance that was part organic, part anthropogenic. And it was proposed as a new stone, plastiglomnerate. In a way, all of these words are ugly because we have to jam them together to make new words for this new stuff that's happening and that we're doing. Plastiglomerate. It is a pretty ugly word.
BROOKE GLADSTONE There's one that you've written about before, Solastalgia. It's a beautiful word.
ROBERT MACFARLANE I think it is a beautiful word. I'm really glad you think so, too. I was coined by the Australian philosopher and ecologist Glenn Albrecht. It's a variant on nostalgia, so form of psychic or existential distress caused by environmental change. But what's specific about it is that the people who are experiencing this pain are not leaving these landscapes. That would be nostalgia. And looking back on something that they've moved away from, the landscape is leaving them. It's changing around them because of mining, because of temperature shifts. It has become unrecognizable to them. It is as though they have moved. And that, Albrecht said, we need a new term for. And he proposed Solastalgia.
BROOKE GLADSTONE Antevernals, a word to describe a process.
ROBERT MACFARLANE Yeah. Well, literally kind of pre spring or before spring.
BROOKE GLADSTONE This is when your flowers blossom long before they're expected to. Or the trees leaf out when they're supposed to still be bare.
ROBERT MACFARLANE Yeah, I think we all know this now. Did you see the snowdrops? They shouldn't be out yet. The celandines have popped. What's going on? What's going on? You know, so often we hear that phrase, we live in an untimely time when things are starting to behave out of sync and out of joint.
BROOKE GLADSTONE Tell me about shadow time. It seems applicable to a number of scenarios. Climate change would be one of them, but maybe not the only one.
ROBERT MACFARLANE Yes. So there's this American group called the Bureau of Linguistical Reality. They have put together a really fascinating and pretty ugly group of words. And one of these is shadow time. They give the definition of the sense of living into a more timescale simultaneously. And in addition, the sense that the future is soon to change drastically. They're thinking about the way climate change in particular, but also more localized forms of drastic environmental change loom in our psyches.
BROOKE GLADSTONE Shadow time isn't an ugly word, though. Give me a really ugly word by the linguistic reality people.
ROBERT MACFARLANE Oh well, Apex guilt.
BROOKE GLADSTONE Apex guilt. I like that. Living at the peak of humanity, we're about to decline, and so it's like survivor's guilt.
ROBERT MACFARLANE Pretty much. I think living within climate change, you know, we're all criminals as well as victims. And that wasn't the case with nuclear war, which was arguably the, the apocalypse of certainly my parents generation. And that was one that you could outsource to the villains, right? The world leaders with the big red buttons under the flip cases. But climate change doesn't work like that. On the whole, we're aware that at some level we're all part of this. So, I think that that sense of a collective culpability, is there an apex guilt?
BROOKE GLADSTONE Mmhmm. So what are some experiences or phenomena that you would love to capture, but you don't have the word for yet?
ROBERT MACFARLANE Well, I was in Greenland this autumn gone and I was living and working and walking and climbing on ice for a very long time and in a very lonely coastline. So in the village that I was staying for a time, Kulusuk, the glacier across the bay used to have such extent that its carvings could be heard in the village.
BROOKE GLADSTONE When it broke.
[SOUND OF ICE SHELF BREAKING]
ROBERT MACFARLANE Credible sonic events. The roarings, their crackings, their shootings - poppings. And they carry over many kilometers. So that was the soundscape of the village for as long as there has been a village there. But now the recession, the glacier is such that it's shrunk back behind a corner. And so suddenly the village is silent. It's soundscape is different. There's the howling of the dogs and there's the talking of the people in the wind and the blizzard. But there's no longer the glacier. I'm not saying this is a good thing or a bad thing, but that was one of the many powerful signs of melt that were at work in Greenland in the hottest autumn ever recorded. It's so hot that the Danish Meteorological Institute thought its instruments had malfunctioned.
BROOKE GLADSTONE There's another one you've written about. A Maori who who was trying to capture the sound of a bird that later went extinct.
ROBERT MACFARLANE Yes, so this is a bird called the huia, native to New Zealand, and it vanished before field recording technologies really existed, And it was prized for its its tail feathers. These very lush black and ivory feathers. But there was a Maori tradition of mimicking bird song. And so that mimicked song was passed down through generations as a form of knowledge from a time when the year itself has left no sonic trace. That mimicry was itself recorded by a non-native. In the mid 20th century.
[MAORI MIMICKRY OF HUIA PLAYS]
So what we have is an analog recording now digitized of a Maori mimicry of an extinct bird, and something about the complexity of that, I think speaks to some of the complexities of recording loss that I touched on earlier.
BROOKE GLADSTONE You recently gave a speech at a conference in Oslo about how our need to change, how we interact with the environment in the Anthropocene seems to greatly exceed our capacity to change. And you used the phrase thick speech to describe some of our limitations. What's that mean?
ROBERT MACFARLANE What is that speech? I think fixed speech is the stuttering that our language in our tongues make when we try to talk about the Anthropocene. The way that we are generating not just this ugly vocabulary that sticks in the throat, but also all these terms that we're generating for the Anthropocene itself, it's a hugely debated term. So we have the Anthropocene, the Misanthropocene, the Echonocene, the obscenocene. We're disputing even the basic name of our consequence for the Earth and its future history.
BROOKE GLADSTONE Thank you very much.
ROBERT MACFARLANE You're very welcome.
BROOKE GLADSTONE Robert McFarlane is a fellow at Cambridge University and the author of the books Landmarks and The Old Ways, among others.
[CLIP]
LISTENER Hello, my name is David Roseau, and I'm calling from Silver Spring, Maryland. My word is Ver-done. It is meant for a place that was once green but is no longer as in. He was a beautiful, lush forest. But now, sadly, it is Ver-done. [END CLIP]
BROOKE GLADSTONE On the Media is produced by Alana Casanova-Burgess, Micah Loewinger, Leah Feder, Jon Hanrahan, Xandra Ellin and Eloise Blondiau. We had more help from Eleanor Nash and our show is edited by me. Our technical director is Jennifer Munson. Katya Rogers is our executive producer. On the Media, is a production of WNYC Studios. Bob Garfield, we'll be back next week. I'm Brooke Gladstone.