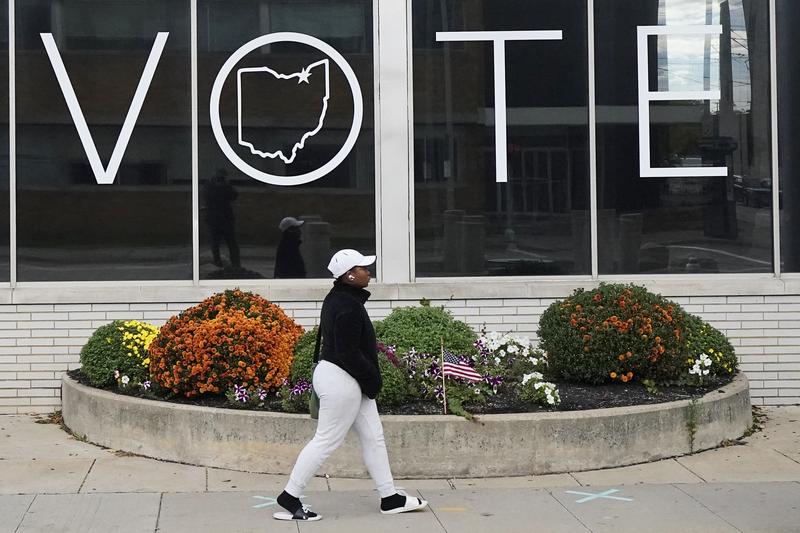 Transcript
The History of Tomorrow
NEWS REPORT Republicans deliver a political shockwave. The takeaways from last night's thumping.
BROOKE GLADSTONE Tuesday night was billed as an election smack-down of the Democrats on the ropes. But that hot take was notably incomplete. From WNYC in New York, this is On the Media, I'm Brooke Gladstone. Also, Facebook's newly envisioned march into the metaverse is derived from science fiction. Mark Zuckerberg seems to have read very selectively. Like a lot of his fellow tech bros,
JILL LEPORE They read the books for the gadgets. It's like reading Playboy for the articles.
BROOKE GLADSTONE ...and we talked to Paul Auster, whose new book about Stephen Crane traces the way he changed, the way we tell stories and why he needs to be remembered and re-read.
PAUL AUSTER He was a comic who flashed across the sky, and then he disappeared.
BROOKE GLADSTONE It's all coming up after this.
[END OF BILLBOARD]
BROOKE GLADSTONE From WNYC in New York, this is On the Media, I'm Brooke Gladstone. Tuesday was Election Day in some parts of the country and all over the media, and in the run up, the setup was clear. It was going to be a referendum on Biden. A report card, a spine-tingling portent. Ah, why fight the prevailing lexicological trend? It was a hella good bell ringer...
[CLIP]
NEWS REPORT As President Biden's falling approval rating takes a toll on his own party. A worrying trend for Democrats ahead of Tuesday's bellwether election.
NEWS REPORT A bellwether for the midterms. Whether or not Democrats are going to be successful or Republicans are going to retake their majorities. [END CLIP]
BROOKE GLADSTONE The peanut gallery was all abuzz.
[CLIP]
NEWS REPORT That New Jersey governor's race–wow! Republican nominee Jack Ciaterelli and incumbent Phil Murphy are neck and neck with close to 90 percent of the vote recorded
NEWS REPORT New Fox polling showing Republican Glenn Youngkin taking the lead with likely voters over Democrat Terry McAuliffe. [END CLIP]
BROOKE GLADSTONE The result could barely keep pace with predictions of doom for the party in the White House.
[CLIP]
NEWS REPORT A disappointing election night for Democrats in key races seen as omens for the congressional midterms next year,
NEWS REPORT Republicans deliver a political shockwave. The takeaways from last night's thumping.
NEWS REPORT President Biden has rejected suggestions that his Democratic Party's shock loss in the Virginia governor's race was a verdict on his presidency. [END CLIP]
BROOKE GLADSTONE As Republicans collected winds, there was curiously little talk of voter fraud, though reliably nutty right-wing website Gateway Pundit did ponder whether Democratic losses were, quote, a head fake. You know, kind of a false flag and "part of a larger Psi-Op on the American public." OK. Nevertheless, the overall conclusions of the night were simple. Everything is a bellwether, and Democrats got shellacked. Even worse, surprise shellacked! Left teetering in advance of the next ballot box contest. A story fit for flashing chyrons, but let's take a breath. First, not all victories were within the GOP. A diverse range of Democratic candidates also scored wins. Boston elected its first Asian-American mayor.
[CLIP]
NEWS REPORT It was the kind of win that politicians dream of. About 36 year old City Councilor Michelle Wu won yesterday's election for mayor of Boston, with almost two thirds of the vote. [END CLIP]
BROOKE GLADSTONE And a range of cities elected their first ever black mayors.
[CLIP]
NEWS REPORT Justin Beard is the newly elected mayor of Cleveland, Ohio. Ed Gainey is the first black mayor of Pittsburgh, Pennsylvania. Quinn Hart won reelection in Waterloo. Sarita Smith, first black woman mayor of Lima, Ohio. [END CLIP]
BROOKE GLADSTONE There was also a raft of important ballot initiatives passed. Reparations in Detroit and Greenbelt, Maryland. A minimum wage increase in Tucson. A rent stabilization charter in Minneapolis. New bonds to finance the construction and rehabilitation of low and moderate income housing in Albuquerque. A measure to create a civilian review board to investigate police misconduct in Cleveland, but the bulk of the coverage was focused on two states. Virginia, where the governor, lieutenant, governor and attorney general flipped from blue to red and the House of Delegates is too close to call but going the same way. And New Jersey, where Democrat Phil Murphy won in a squeaker. The results out of both states were heralded as shocking events – but were they?
PAUL WALDMAN I was not surprised, and I don't think anyone should have been surprised. If you look at what happens in American politics, there's a very predictable ebb and flow.
BROOKE GLADSTONE Paul Waldman is an opinion columnist at The Washington Post and senior writer for The American Prospect. What's missing in all the coverage, he says, is context.
PAUL WALDMAN One party wins the White House and then the other party is revived as its supporters get kind of angry and riled up. And what almost always happens is that the first major elections after a presidential election are the gubernatorial races in New Jersey and Virginia, and the opposition party almost always wins those elections. And then in the first midterm election, the opposition party almost always wins those elections, too.
BROOKE GLADSTONE So it seems Democrats took the governor's mansion in both states during the later George W. Bush years. Republicans took them back under Barack Obama. The cycle is fairly consistent.
PAUL WALDMAN The only times when it hasn't happened or when something truly extraordinary happened. So, for instance, in 2013, Terry McAuliffe won the governor's race in Virginia, actually getting a smaller percentage of the vote than he did this year. But he did it because there was a libertarian candidate who took about six percent of the vote. The times that it's happened in midterm elections, when the opposition party hasn't won a big victory. The only recent times were in 1998, when there was a real backlash against the impeachment of Bill Clinton and 2002, when we were still right in that post-9/11 atmosphere.
BROOKE GLADSTONE Waldman says it's really a cycle of motivation.
PAUL WALDMAN Well, right now, the Republican electorate is the one that's mad and energized, and it is really hard to get the president's party to feel that same energy and be mobilized to the same degree. But the Republicans are very good at turning up that anger within the opposition. It isn't really all that hard to keep the opposition mad because every day they're seeing Joe Biden as president of the United States.
BROOKE GLADSTONE So... predictable, but kind of blah. Not exactly blazing headline fodder.
PAUL WALDMAN And this isn't something that reporters are necessarily doing consciously. They're not saying, you know, how can I pump this story up? That's not what they're doing. But the impulse is always to say that this makes a big difference, that this is something that is really meaningful. And oftentimes, the historical perspective leads you in the direction of saying, we've seen this before. People shouldn't get too excited about it.
BROOKE GLADSTONE For voters, knowing that a Democratic president usually motivates Republican gains in local elections, and vice versa, shouldn't mean elections are foregone conclusions. They should be even more motivating if you know the tendency is for the party of the president to sit out the off year and midterm elections. But for the political press, Waldman says those times should be an invitation to cover stories beyond the horse race.
PAUL WALDMAN To ask: what kind of a difference is this actually going to make to policy? If this person gets elected, what can they really do about it? And that's a question that doesn't often get asked. You know, candidates kind of whittle things down to a few talking points. They might be compelling. They might resonate with your values, but they may not tell you much about what's actually going to happen after the election.
BROOKE GLADSTONE You do this job long enough, and you see the same breathless, speculative election takes every single time, making the usual likelihood of losses for the party in the White House into a bogus thrill ride. Our media tend to talk down to us, but maybe we don't ask hard enough for more or seek more elsewhere. Up next, Mark Zuckerberg desperately needs a lesson in reading science fiction. This is On the Media.
[BREAK]
BROOKE GLADSTONE This is On the Media, I'm Brooke Gladstone. Ripples still roll out from Mark Zuckerberg's October announcement of a new name and vision for the company, formerly known as Facebook. The new name is Meta, and the new vision is the metaverse, which already exists in limited forms on other platforms, including one offered by the blockbuster online game Fortnite. Many tech watchers have observed that if Zuckerberg wants to succeed, he'll have to cooperate with those other platforms, which Facebook is not good at. Ethan Zuckerman, founder of the Initiative for Digital Infrastructure, wrote that 'really Meta's vision is about distracting us from the world it helped break." Zuckerberg seeks to build an all inclusive, virtual, reality powered commercial, cultural and social space where cool things happen you don't want to miss. And where do many – maybe most of the coolest ideas come from? Science fiction or speculative fiction or S.F. If you will. Take Elon Musk pursuing space exploration and Neuralinks to the internet. He just loves Hitchhiker's Guide to the Galaxy, which really seems to grok our Mr. Musk.
HITCHHIKER'S GUIDE TO THE GALAXY NARRATION: And for these extremely rich merchant's life eventually became rather dull, and it seemed that none of the worlds they settled on was entirely satisfactory. Either the climate wasn't quite right in the later part of the afternoon, or the day was half an hour too long, or the sea was just the wrong shade of pink. And thus, were created the conditions for a staggering new form of industry... Custom-made luxury planet building.
BROOKE GLADSTONE Did you know Amazon's Jeff Bezos considered naming what would become his gargantuan retail disruptor, 'make it so'?
[CLIP]
PICARD Make it so Mr LaForge. [END CLIP]
BROOKE GLADSTONE But what happens when a great literary genre, yes, great – is misread? What might these tech moguls have learned if they'd only read slower or better, starting with the novel that introduced the word Metaverse? Neil Stephenson's Snow Crash?
ANNALEE NEWITZ So the metaverse is both a kind of immersive world that you can dove into, or it can be accessed through goggles that give you an augmented reality.
BROOKE GLADSTONE Annalee Newitz is a science fiction author and science journalist and co-hosts the Hugo Award winning podcast, Our Opinions Are Correct.
ANNALEE NEWITZ The part that they seem to have forgotten is that the story around the metaverse in Snow Crash is that access to it is controlled by a crazy magnate named L. Bob Rife, whose name is clearly a reference to L. Ron Hubbard, and he controls a cable TV network. So to access any of the goodies in there, you have to go through this one corporation. Ultimately, Rife decides that the best way to maintain his control is to release this weird kind of semi-magical virus that's both a computer virus and a human virus that causes people's brains to shut down. They crash, and they are no longer able to speak or understand language.
BROOKE GLADSTONE Does Zuckerberg not see how he would be cast in such a scenario?
ANNALEE NEWITZ I mean, that's certainly what a lot of people have been suggesting. It's about Zuckerberg kind of misreading his place in the story. I also think that it's about not being able to think about where Facebook fits into this larger social picture. It's interesting to see this discussion about who Zuckerberg is in the story Snow Crash at the same time that the U.S. government is asking, What is Facebook in the context of our nation? Trying to hold Facebook to account for everything from suicidal ideation among young people, to the attack on the U.S. government in January. Two parallel conversations, one of which is about what is Facebook doing to us right now in the United States and in other nations? And also, what does Facebook mean to the progression of humanity? Which is the bigger science fictional questions raised by thinking through Snow Crash
BROOKE GLADSTONE In 1998, the philosopher Richard Rorty said that novels like Snow Crash, I mean specifically, was a writing of rueful acquiescence in the end of American Hope. Inspiring, right?
JILL LEPORE Yeah, that's what you really want to build your future out of.
BROOKE GLADSTONE That's Harvard historian and New Yorker writer Jill Lepore. I wondered if, as an educator, she saw reading comprehension is the issue.
JILL LEPORE They read the books for the gadgets. It's like reading Playboy for the articles.
[BROOKE LAUGHS].
JILL LEPORE I don't know. It's a weird thing. And that's why they don't read Octavia Butler, Margaret Atwood or Ursula LeGuin. You know, it's one thing to read Neal Stephenson for the gadgets and ignore the social world, it's another thing to read Margaret Atwood for gadgets and ignore the social world. You just pretty much can't do it right. So it's a very selective and willful reading. It's an abdication of what reading is, and it's an abdication of historicism. If you were, you know, taking class and science fiction, you'd be learning a lot about the writers and the world that they lived in and the nature of the critique they were offering. These guys, as boys, read all these novels that were about the building of worlds, right? They're all world building novels, and now they're the only people on the planet who are rich enough to actually build worlds.
BROOKE GLADSTONE Lepore is talking about the tech moguls raised on fiction written during the mid-last century by mid-last century men, creating worlds suggested by an imagined in a time and place very different from our own. The tech wizards, she says, used an exacto knife to extract the gadgets from these books, irrespective of the author's context,
JILL LEPORE Asimov and Heinemann were writing from this perspective of a 1950s Mad Men era culture of swaggering white male solves everything with his fancy new computer. We don't live in that world anymore, and in fact, science fiction has so long ago moved on from all of this stuff. You know, there's a whole world of Afrofuturism and post-colonial fiction and feminist science fiction. These guys never cite that stuff. "Well, we're really big science fiction fans," but they read books that were published generally in 1952. Like, their vision of the future is unbelievably obsolete and antique. It's not that people are not excited about the Metaverse are Luddites and backward looking, it's that the metaverse is Luddite and backward looking. You know, science fiction is not fundamentally about the future, really is always about the present or about the past. So, to read it as a manifesto for the future is to begin by misreading it.
[CLIP]
GENE SEYMOUR Science fiction has never interested me as a vehicle for prophecy. [END CLIP]
BROOKE GLADSTONE Gene Seymour is a longtime culture critic and science fiction fan whose works appeared in Newsday at CNN, The Nation, The Baffler, and elsewhere.
GENE SEYMOUR The idea that, well, someone saw, you know, nuclear submarines as far back as the 1800s. Yeah, it's interesting from a historical standpoint, but I've always been more interested in how we behave, whether it's a dystopia or utopia. What we do to accommodate those changes, and I find that science fiction writers are further ahead than most other people are in assessing those. Science fiction or speculative fiction has always appealed to people who see themselves are forced to see themselves as outsiders, ok. People either willingly or not left to their own devices and imagining, OK, I'm on my own. How do I magnify my knowledge? How do I magnify my presence? How do I magnify me? And this is why so many adolescents are attracted to it. It speaks to that impulse to not just figure out who I am in relation to others, who either dismiss or marginalize me.
BROOKE GLADSTONE You've written a lot about– you've thought a lot about Afrofuturism.
GENE SEYMOUR Yes. As you know, for many, many decades, you could see a science fiction movie or read a book and not find any characters of color or even acknowledgment that there is still such a thing as a person of color in the future. And many readers of science fiction, including me, wondered, OK, this has to be altered. Somehow, this paradigm has to be changed. And how do we do that? Well, in the years since, there have, of course, been many writers of color. Octavia Butler, Samuel Delaney, people like that
BROOKE GLADSTONE ....and N.K. Jemison.
GENE SEYMOUR Exactly, yes.
BROOKE GLADSTONE I love her. In fact, a lot of the leading contemporary afrofuturists are women.
GENE SEYMOUR Yes, they are. And talk about world building. They've done some incredible things. With not just the details of their world, the actual physical details, but also the societal development. When I read one of her books, I'm always struck by how fully she imagined this and also the detail. Not just in the different settings, but also in the social fabric. They seem to have an understanding of that as good, if not better, than some of the great white male science fiction writers of an earlier time. I think it comes out of a sense of urgency with black writers and writers of color to stake a claim for themselves in what the future holds. They're saying we want to get in on this since it's wide open, not just to buy into this, but as a means of self-defense and it costs from being overrun by whatever's coming, wherever it comes from. Tech millionaires trying to reshape the face of politics or deepen perhaps what's already oppressing us. You mentioned Meta earlier. There's something kind of disquieting about a Meta concept, particularly because it somehow seems out of not just our control, but out of our immediate access, and we want to make that access less remote. And I think that's one of the reasons why there is such vital interest in Afrofuturism in whatever manifestations it takes. I always, always have been enraptured. It's not altogether inaccurate to use the term rapture to describe it. I'm enraptured by how people can imagine how other people are going to deal with that and in essence, what that means in dealing with others. I don't know if that makes me typical of the people who like reading these books. All I know is the lure of those books remains principally to find out what it means to be human. And I grew up with the generation, the boomer generation that was always concerned about when the bomb was going to drop. And even back then, I'd always ask some of these people too, well, the bomb is going to drop. It's all going to end. I would ask them: what if it doesn't? And they look at me as if I was quite mad sometimes. And so these are the things that drive you to the science fiction book when people look at you that way.
[BROOKE LAUGHS]
GENE SEYMOUR These are the things that, that sort of tend to marginalize you. But I think it was a valid question then, and it's a valid question now. If that makes me more of an optimist than I have a right to be, my answer that would be the question, well, what other choice do we have?
BROOKE GLADSTONE In fact, Neal Stephenson himself has launched a project to collect and catalog positive visions of the future as a response to these dark times. His rule? No hackers. No hyperspace. No Holocausts.
ANNALEE NEWITZ Yeah. So it's not about just painting a happy picture of the future.
BROOKE GLADSTONE Annalee Newitz.
ANNALEE NEWITZ I mean, I think Neal Stephenson was expressing something that many of us in the science fiction community have been feeling for at least the last decade, which is that wallowing in dystopian stories or dark stories at a time in history when things are already feeling chaotic can create a sense of helplessness. So instead of turning outward to your community and trying to make things better, even if that's just by voting or giving a meal to a friend, instead, we just go back to the Metaverse, right? You go back for more and more entertainment, more and more dystopian stories that just confirm your already existing bias that the world has fallen apart and there's nothing we can do. It's a very dark, nihilistic tunnel that you can go down. And I think that's what's so provocative about the idea of the Metaverse, because it provides us with this metaphor for what it means to indulge endlessly in entertainment without ever leaving your computer. I'm not saying you can't make the world better from your computer because lots of people do. I just mean that we can get caught in these loops that just keep reconfirming that there's no use in trying to make things better.
BROOKE GLADSTONE What science fiction books would you suggest the scions of Silicon Valley read?
ANNALEE NEWITZ Becky Chambers. She has a new series out now called Robot and Monk, which is all about imagining technology and ecology working together. One of the big writers in the science fiction field now, of course, is in N.K. Jemison.
BROOKE GLADSTONE Oh god, yeah
ANNALEE NEWITZ Who is just fantastic, and she's also thinking about the future of the planet and how technology and environment will go together in that future. One of the things that's interesting about both of these authors is that they are engaging with technology, but it's just as important to think about the civilizations that that technology is embedded in. And you know, if you're a Silicon Valley entrepreneur and you're trying to create some kind of app that has a social component, it's really important to be reading science fiction that deals with the social world. That's something that you just don't see in a lot of those kind of golden age, 1950s science fiction writers. Tade Thompson, who is a Nigerian British author. His series that begins with the book Rosewater is a really interesting exploration of alien technology and how it transforms cities. And again, it's all about the social world, also really cool technology and mutants and stuff like that. So these are all books that are fun, but they also will make you think about these social issues.
BROOKE GLADSTONE I have just written those down. I'll be well-equipped when I become a high-tech media mogul.
ANNALEE NEWITZ Yep, when you're ready to just start melting people's brains, but then you're reading, science fiction will hold you back. Yes, and you'll realize
BROOKE GLADSTONE I just don't understand why Snow Crash didn't have that effect. So you can lead a techie mogul to a book, but you...
ANNALEE NEWITZ ...can't make him think.
[BOTH LAUGH]
BROOKE GLADSTONE I guess the moral of the story is that reading isn't merely fundamental, it's existential. You just have to read the right stuff. Ursula LeGuin.
[CLIP]
URSULA LeGUIN I think hard times are coming when we will be wanting the voices of writers who can see alternatives. Who can see through our fears stricken society and its obsessive technologies to other ways of being And even imagine some real grounds for hope. [END CLIP]
BROOKE GLADSTONE Coming up, more ways to tell the stories of our time and other times from a writer long dead who should never be forgotten. This is On the Media.
[BREAK]
BROOKE GLADSTONE This is On the Media, I'm Brooke Gladstone. We've often practiced on this show the art of looking back to understand the present, especially the past that has been forgotten, or nearly, and those who explored it and defined it – likewise unremembered. Like the writer Stephen Crane.
PAUL AUSTER Born on the day of the dead, and dead five months before his 29th birthday, Stephen Crane lived five months and five days into the 20th century, undone by tuberculosis before he had a chance to drive an automobile, to watch a film projected on a large screen, or listen to a radio. A figure from the horse and buggy world, who missed out on the future that was awaiting his peers.
BROOKE GLADSTONE That's acclaimed novelist Paul Auster reading from his new book of nonfiction Burning Boy: The Life and Work of Stephen Crane. In it, he makes the case that not only did Crane miss out on his future, but we, his readers missed out on the radical literature he could have written if only he'd lived longer. Before his death in 1900, Crane found enduring critical acclaim and a mass audience with the Red Badge of Courage, a civil war novel, he wrote at 23.
PAUL AUSTER Not once does he name the war. Not once does he say what the war is about. The word slavery is never mentioned. The name Abraham Lincoln is never mentioned. The name of not one general is ever mentioned. We don't even know where we are. We're in a kind of haunted space inside the mind of a 16 or 17-year-old boy.
BROOKE GLADSTONE That's the book that most of us who can remember Crane, know him by. Auster read it in high school, but when he returned to Crane's work decades later, he found a captivating corpus, vast in size and impact. To pay his constantly mounting bills and debts, Crane produced reams of mostly journalism, vivid fly on the wall accounts of people reckoning with poverty, natural disaster, war. Crane also wrote poems. I asked Auster to launch our talk by reading this one.
PAUL AUSTER In the desert, I saw a creature naked, bestial, who, squatting upon the ground held his heart in his hands, and ate of it. I said, "is it good friend?", "It is bitter, bitter," he answered, but I liked it, because it is bitter and because it is my heart.
BROOKE GLADSTONE Let us begin close to the beginning with Maggie, because this sets him on his path. What is it that Stephen Crane originated? I think it's fair to say that a big part of that starts with Maggie.
PAUL AUSTER Well, it's true. Maggie is his first novel. It's really a novella. He wrote it when he was 20 and the early months of being 21. It's a book set in the slums of New York City in an imaginary neighborhood called Rum Alley or Devil's Row. And it's about an impoverished family, a rough, hard drinking family.
Maggie broke a plate. The mother started to her feet as if propelled– good god, she held her eyes glittered on her child with sudden hatred, the fervent read of her face turned almost purple. The little boy ran through the halls, shrieking like a monk in an earthquake.
And the central character, Maggie, is through a series of misadventures with a loudish young man, is reduced to walking the streets as a prostitute and eventually dies. It's not so much the subject that is so astonishing about this book. It's the vividness of the writing, and it is also Crane's refusal to moralize, which was the standard approach of any writer of the day writing about the poor. It had to have uplift, it had to have hope, it had to offer solutions to making the world a better place. In any case, Crane's first writing experiences were as a journalist. He had the good fortune to have an older brother, 19 years older than he was, who owned a news agency. Crane, as a teenager, was working for his big brother Townley, doing little tidbits for the summer season in Asbury Park, which was the most thriving seaside resort on the East Coast at the time. It was a great place for Crane to learn his trade. This journalistic neutrality carries over into the fiction, he wrote. Therefore, no judgments. This was so shocking that every publisher in New York rejected it, and he was reduced to having to publish the book himself by scraping together the money of his inheritance, which wasn't very much. Even the printer was so shocked they refused to put their name on it. Members of Crane's own devout Methodist family hid their copies in the attics of their houses and eventually burned them.
BROOKE GLADSTONE You say that in his lack of judgment and his attention to detail, he actually pre-figures people like Camus or Joyce others.
PAUL AUSTER Hemingway was very influenced by Crane. Yes, Crane is the one who opens the door unto a new sensibility.
BROOKE GLADSTONE He was a rebel with regard to his own family, and he referred to himself as the black sheep.
PAUL AUSTER He rebelled against this hypocritical piety. The great thing that drives all of Crane's work was, to be honest, not to tell lies. To actually explain and describe and tell stories about the real world. But he's not a realist in the strict sense of the word. He's not Zola or that tedious, long winded over-detailed realism. No, no, no, and this is why I say he's the first modernist. Crane's approach to telling stories was to strip out everything that wasn't absolutely fundamental to his purpose. So all the tropes of the traditional 19th century novel and the beautiful things that we all love so much, Crane got rid of it all. So as I say somewhere, yeah, you can curl up on a sofa with a Tolstoy novel. You have to read Crane's sitting bolt upright in your chair.
[BOTH LAUGH]
BROOKE GLADSTONE You describe Crane's writerly tone in Maggie as reminiscent of a war correspondent who steadily surveys carnage as it unfolds. And of course, Crane would later report on war for a variety of newspapers. You've ignited a discussion about whether Crane was a journalist.
PAUL AUSTER This was the golden age of newspapers. In New York City alone, there were 18 daily papers published in multiple editions every day, with elaborate full-color Sunday supplement. In addition to those, there were 19 foreign language daily papers. The press was everywhere, and the press needed well as they say today– content. And so there were many more kinds of writing that appeared in newspapers then than is the case now.
BROOKE GLADSTONE Poe and Twain both wrote in papers, and they both put in stories that were completely fictitious.
PAUL AUSTER Yes, but newspapers also published overt fiction, and they published poetry. And then there was a form, and this is the one that Crane excelled at. Called the sketch, which shares traits of traditional reportage and fiction writing. Often the lines blur so much that you can't tell. Crane, throughout 1894 was writing many of these sketches and their marvelous pieces about all kinds of things going on in New York City. You know, there was a tremendous economic depression going on, then the panic of 1893, he wrote. The Men in the Storm, it's a great piece of work about unemployed men waiting to get inside a shelter for the night.
BROOKE GLADSTONE In the Men in the Storm, he came back the worse for wear. After going and joining those people who were trying to get into the shelter...
PAUL AUSTER Some of the gusts of snow that came down on the close collection of heads cut like knives and needles. The men huddled and swore not like dark assassins, but in the sort of an American fashion, grimly and desperately, it is true, but yet with the wondrous under-effect. Indefinable and mystic as if there was some kind of humor in this catastrophe.
Yeah, because he went out into a February blizzard without an overcoat. He might not have had an overcoat then, he was so poor.
BROOKE GLADSTONE A friend said, Why didn't you just put on a few extra undershirts?
PAUL AUSTER And Crane said, How would I know what those poor devils were feeling, if I didn't feel it myself?
BROOKE GLADSTONE He observed that there were two kinds of, mostly men, waiting outside for the shelters. The temporarily unemployed and the habitually unemployed and their views of the world differed enormously.
PAUL AUSTER Yes, the unemployment rates in New York City were staggering. I think it was 30 percent were unemployed here. He talks about the recently unemployed men. He says that the men are not angry at the rich nor the poor. They're just bewildered where they went wrong to have lost out in the game. But this sense of personal failure in the capitalist battleground that America has always been is a very deep comment for someone that young to be able to make. This is the same attitude that one felt during the next big depression. Even bigger in the 1930s, and explains, It seems to me why America has never had a socialist revolution. The worker's movements in America and there were violent strikes all through Crane's lifetime. They didn't so much want to overturn society, they just wanted a fair shake at doing well in the established a society that had been set up. And it's a very different attitude. It's not a revolutionary one, but an evolutionary one.
BROOKE GLADSTONE You observed that a contemporary reporter witnessing a scene similar to the one that Crane observed in 1894 would have cited unemployment rates and included statements of experts and so forth. And he didn't. He just sat down and watched and listened. And this sketch featured the kind of observation that even a mountain of data could not have provided.
PAUL AUSTER He didn't even go inside. He didn't talk to anybody who worked there. You know, journalists today would be obliged to do that and count how many beds there were. What kind of services that they provide. Where was the money coming to fund it? How many people did they have every week, every month? None of that. He just stood because it was too cold to sit. There was a foot and a half of snow, but he just stood there and watched and listened, and then he walked home. He sat down and wrote a seven-page piece after all of that and collapsed in bed. It's a remarkable piece of writing, but again, it does not conform to what we would call journalism today. So it irritates me a bit when people say Crane learned everything about how to write fiction from being a reporter, he was never really a reporter.
BROOKE GLADSTONE Spoken like a true novelist. And then there's the story The Open Boat, which you call a documentary fable. In it, he writes about his experience of being shipwrecked. This piece, you say, and he said, changed him.
PAUL AUSTER Oh, definitely. The shipwreck happens before the story begins. What we are is in the middle of the Atlantic Ocean, off the coast of Florida in a little ten-foot rowboat, a dinghy.
BROOKE GLADSTONE He describes how the boat pranced and reared and plunged like an animal as each wave came. She rose for it. She seemed like a horse, making it a fence outrageously high.
PAUL AUSTER This ship has sunk. There had been 20 men on board, 7 of them drowned, and Crane was stuck out there. In this story, he calls himself the correspondent.
There was this comradeship that the correspondent, for instance, who had been taught to be cynical of men, knew even at the time was the best experience of his life. But no one said that it was so. No one mentioned it.
The somewhat hard boiled, suspicious, sometimes cynical Crane had a transformative experience there. You know, just to sum up, his approach to the world is that the gods have vanished, we live in an absurd, meaningless cosmos. It's not as if nature is cruel, nature is just simply indifferent. This could lead to a nihilistic position about things. If nothing matters, then why be good? And what his work tells us is that he says no. What human beings do with and among one another counts for everything. Even if we mean nothing in the cosmos, we are the measure of all things for ourselves. We can create extraordinary moments of cooperation and solidarity that give life meaning, or we can divide, go at each other and make life hell. I think this is the push pull conflicts that he's dealing with, particularly in the last years of his writing life. And it's this position is very close to Camus. You know, it is existentialism, you know, before the facts.
BROOKE GLADSTONE The story The Open Boat reminded you of one of Crane's poems: A man said to the universe: "Sir, I exist." "However," replied the universe. "The fact has not created in me a sense of obligation."
PAUL AUSTER That's Crane's wit at work, too. He could be so deadpan, ironic when he chose to be.
BROOKE GLADSTONE It was such a struggle, and not just with his health, but with his finances and the stress of it, you convey incredibly well, Paul. Let's talk about the society of his final days. Our listeners, some of them may not know Crane's name, but they are far likelier to have heard of his close friends Joseph Conrad, Henry James. He was friends with H.G. Wells and Ford Maddox Ford, not to mention, obviously his erstwhile fans and frenemies like Teddy Roosevelt and William Randolph Hearst. Why do you reckon Crane has been mostly forgotten while the other writers from his day are more read and remembered?
PAUL AUSTER The answer to that question is simply that he lived such a short life. He was a comet who flashed across the sky, and then he disappeared. He never gained a real toehold in the literary world. All of these other writers lived reasonably long lives, and they had time to develop. Time to establish themselves in their different cultures. Henry James, he never sold that many copies of his books. He was not a popular success. James's real success has come in the many years following his death, and now he's considered a master. Then he was considered an interesting writer, but a little stuffy. [LAUGHS]
Welles, we don't need to talk about, he wrote all his most famous science fiction books, then. During the period when he knew Crane. I mean, Conrad struggled terribly in the beginning, just as badly as Crane had. But eventually, of course, he became recognized. But Crane fell in love with Conrad's work, and he understood that Conrad was a spiritual brother, and Conrad was overpowered by Crane's work, and these two became the closest of close friends. Conrad worked, I think, for the rest of his life, with the photograph of Crane on his desk. Conrad wrote very movingly about his friendship with Crane. The story he tells, I mean Crane was so weak he could barely talk. He was in a bed overlooking the sea. He just said, I'm so tired. Conrad just stood there in the door looking at Crane, who was looking out the window at a boat passing by.
BROOKE GLADSTONE You make reference all through the book to things that Crane did first. The lack of moralizing, Dialogue, that in one story, you likened to Raymond Chandler. The sort of beginnings of... Is it fair to say, a stream of consciousness? Following the thoughts inside of a head during a time of great stress. So many things that were later done and I think credited in the popular imagination to others. One thing that you note was that his unique ground on which he wrote, was coherence and a blur.
PAUL AUSTER I'm glad you brought this up because it's a fascinating moment in his work. If one really wants to understand Crane, one must read the journalism. Whatever, however, you want to define this journalism because some of the most pertinent statements he made are buried in these pieces for newspapers. Crane left the city for a day to write a piece for Pulitzer's World on the electric chair at Sing Sing, and it's called The Devil's Acre. Crane goes out and visits the graveyard in which the, you know, the dead prisoners have been buried. There's a house at the edge of this graveyard overlooking the Hudson River, and he simply writes this:
If people on this veranda ever lower their eyes from the wide river and gaze at these tombstones, they probably find that they can just make out the inscriptions at the distance and just can't make them out at the distance. They encountered the dividing line between coherence and the blur. Now, I think this is an extraordinarily perceptive remark that line that Crane inhabited as a writer. And I think he's the first one to discover this territory and stick it out as his own.
BROOKE GLADSTONE What do you imagine he might have done had he lived beyond the age of 28?
PAUL AUSTER It's the inevitable question that one can't help but ask and fully understanding that there's no answer to it. It's impossible to say. If he had followed his best instincts and impulses as an artist, if he hadn't been crushed by poverty. Assuming that he was still on his feet, assuming that his vision hadn't been corrupted, what he was going towards is writing in the first person, which is something he really didn't do. Except there's a piece that he wrote in the last year of his life called War Memories. It's over 40 pages, so pretty long for Crane, it's written in the first person, and it's about his experiences in Cuba. I think for the first time in a text, all sides of crane are present, almost simultaneously. Humor, and it's very funny at times, but also, you know, the dark, even tragic things that he encountered there. And the voice is so vibrant, that I think if he had lived, I think he might have found another avenue to express himself through these first-person narratives. And I speculate that it's fascinating because early on his position is so rigorously third person, defiantly third person. You know, I am the invisible fly on the wall. But no, he's feeling more comfortable about himself. You know, he's still not even 30 years old, and he's starting to get his feet on the ground. So, who knows?
BROOKE GLADSTONE I mean, from the moment the reader encounters him, he seems to know his time is running out. I wonder if that affected the nature of his work.
PAUL AUSTER I think it did. And I think it affected the nature of his life as well, which would account for his tremendous risk-taking and his great love of gambling. The early years of his life, he was sick a lot. I think he started talking about how he wasn't going to live long when he was as young as 20 and knowing that in terms of the work that his writing gravitated towards essential questions. So most of his great work is about people in extreme situations, whether it is crushing poverty, war, physical danger. And that's why the work doesn't get old because these things don't change in human life. You know, he can write as well as anybody ever wrote. What goes through your mind when someone's pointing a gun at you and you think the trigger is going to be pulled within the next 15 or 20 seconds? 1890 or 2021? Its just the same experience, and therefore I think his work is eternally relevant. That's why I wrote this book because my sole aim was simply to get people to start looking at Crane's work again.
BROOKE GLADSTONE Thank you so much, Paul.
PAUL AUSTER Brooke, it was a pleasure to do this with you.
BROOKE GLADSTONE Paul Auster is the bestselling author of 4-3-2-1, Sunset Park, Invisible, The Book of Illusions and The New York Trilogy, among many other works. His most recent book is Burning Boy: The Life and Work of Stephen Crane's.
BROOKE GLADSTONE On the Media is produced by Leah Feder, Micah Loewinger, Eloise Blondiau, Rebecca Clark-Callender, and Eli Cohen with help from Juwayriah Wright. Our technical director is Jennifer Munson. Our engineer this week was Adriene Lily. Katya Rogers is our executive producer. On the Media is a production of WNYC Studios. I'm Brooke Gladstone.