Silenced Samples: How Copyright Laws Infringe on Hip Hop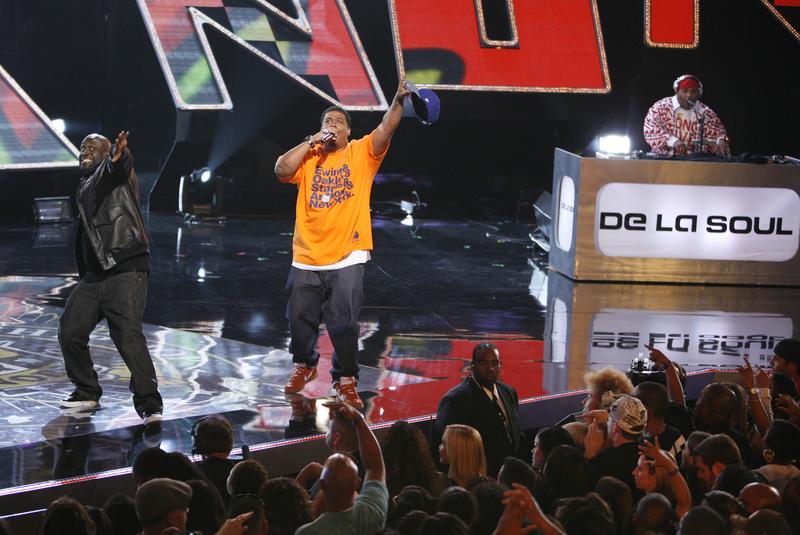 Transcript
Micah Loewinger Hey, I'm Micah Loewinger and this is the on the Media podcast Extra. This month it was announced that De La Soul's amazing music is finally streaming just in time for the 50th anniversary of hip hop.
NEWS REPORT Today, this morning, you can actually listen to the De La Soul catalog. It's an amazing, amazing thing to happen.
To say listeners are overjoyed would be an understatement. Only a few days after their 2023 streaming debut, their 1989 album, Three Feet High and Rising, soared to number five on the UK album chart, even topping their original 1990 high of 13. And this should be no surprise the group had a towering presence in hip hop in the eighties and nineties. Their playful ingenuity and eccentricity inspired so many great artists like the Beastie Boys, Childish Gambino, Outkast and The Far Side. But what kept De La Soul's music off Spotify and Apple Music, and thus largely out of the public imagination, was copyright law and record label infighting and legal restrictions surrounding sampling. You know, deejays and hip hop producers taking snippets of records and stitching them together to form sonic collages and infectious beats. In an interview from 2018, De La Soul members True Joy, the Dove and Maseo reflected on a series of copyright battles.
CLIP The biggest fear is almost feeling like you're being written out of history. That's how being written out a history, let alone financially, being taken advantage of. You know, feeling like the workhorse, the mule for something you don't really benefit from at all.
Speaker 2 I spoke to Dan Charnas. He's the author of Dilla Time: The Life and Afterlife of the Hip Hop Producer Who Reinvented Rhythm, and a recent piece in Slate titled It's Time to Legalize Sampling. We began the interview discussing De La Soul's song Cool Breeze on the Rocks
Dan Charnas It is a complete riot of a sonic collage. These little excerpts of songs are talking to each other at the very end, where Michael Jackson begins singing I want to rock with you, but the word rock is cut out. And instead, Prince Paul inserts run from Run-D.M.C., screaming. Right in the middle of it. And it does exactly that. See what you did? You laughed. Right. And my mentor, Rick Rubin, very pointedly says, you know, when people laugh like that at something, you know that something genius is happening. It let us all know that this was going to be a new way to express ourselves in this sort of post-modern, referential era. Another moment was, you know, the very first track on the album, The Magic Number.
["MAGIC NUMBER CLIP"]
Dan Charnas It's based on a sample of Schoolhouse Rock. That's the first bit of music that you hear on this album. And this is something that Generation X has grown up with, but we never expect to hear it on a hip hop record. And here they are rapping over Schoolhouse Rock, and then they're getting it to talk to Johnny Cash, which is talking to Eddie Murphy in this track. It is incredibly, deeply, deeply funny, but also deeply serious in its humor. And that really is the moment that cracks open this idea of how you can use this music to talk to culture, to talk to history, to talk to the future, to speak to the present.
Micah Loewinger In a way, the sampling kept it kind of anchored to the past, because until recently we weren't able to hear this music on the streaming services. What was it legally that kept this album tied up and collecting dust in record bins rather than streaming online?
Dan Charnas There was a huge issue of uncleared samples. The dispute between the group and their former label Tommy Boy, was essentially, as I gather, about who was going to pay.
Micah Loewinger Who's going to pay for these uncleared samples?
Dan Charnas That's correct. Was it going to come out of the record company share? Was it going to come out of the artist share? Reservoir Music came in and I think they essentially bought Tommy Boy's sound recordings and injected the cash that enabled some of these samples to clear. But some of them were not clearable including that song Cool Breeze on the Rocks. So they literally lifted out that incredible collage and left essentially, I don't know, nothing. An echo.
["COOL BREEZE" CLIP]
Dan Charnas I know it had to be heartbreaking for Paul, but it made me super angry because this is a landmark work of American culture. And not one of those songs on De La Soul's album infringes on the ability of those copyright owners, whether of the song ideas or the recordings themselves does not prevent them from making money, does not get in the way of their ability to market their own music. In fact, there's an argument to be made that it would help. It's really this ridiculous overextension of moral rights so that the copyright owners, the record labels, can charge anything they want for any piece of music that's being sampled and prevent creators from creating in the way that we all create now. It's not like it's just rap music. Sampling breakbeats and using digital loops became one of the major ways that pop music was created from the 1980s onward.
Micah Loewinger Yeah, that's house, electronic music, which is everything
Dan Charnas If I take you back to 1990 and we listen to Milli Vanilli, two of their biggest hits in 1990 had a sample of Ashley's Roach Clip by Chuck Brown and The Soul Search, a very famous breakbeat record. It's subsided a bit that way of making music because there is such a chilling effect because there are essentially zero protections for sampling.
Micah Loewinger Maybe the kind of low hanging fruit response to that would be something like why can't producers just sample from a set of previously cleared songs to avoid the copyright issues altogether? You know, why don't they just do that? Why aren't they just using writes free breaks and samples and avoiding this headache?
Dan Charnas Well, that response, though understandable, comes from a place of not knowing what hip hop is and what sampled music really is. It's a reference to history. It's not just, oh, I can't play the drums and let me find somebody who can play the drums and loop it up. That's what people really think sampling is. It's not the reason that everybody samples the Honey Drifters impeach the President or Melvin Bliss's Synthetic Substitution. Why you don't know the names of those records, but everybody samples them is that they are a common language between emcees, producers, singers, audiences. It's the language of a culture every bit as much as the one for five chord progression, which is completely public domain. Right? It is the lingua franca of American music, essentially. But the fact that Twist and Shout and La Bamba have the same chord progression and the same top line melody. They both share that. We've accepted that level of copying and yet if somebody like the great late producer J Dilla, would it take 2 seconds of a samba record and flip it and reverse it and make it non recognizable, he could still be sued for that usage. There was a moment where J Dilla stopped sampling because he and Q-Tip were sued over a sample of a song called U.F.O. by the group ESG, which is again part of that common canon of breakbeat records. And it was something like over $100,000 for the use of this tiny little sample.
Micah Loewinger This is the [SINGING]
Dan Charnas Very good!
Micah Loewinger Look, I love ESG, I love J Dilla.
Dan Charnas But you and I frankly would not know about ESG if it weren't for hip hop. Let's be real.
Micah Loewinger In 1991, the first hip hop sampling case went to court over New York rapper, deejay, beatboxer, Biz Markie's right to the use of Gilbert O'Sullivan's 1972 ballad, and federal Judge Kevin Duffy opened his opinion with the lines, quote, Thou shalt not steal. What happened with this case and what kind of precedent did it set?
Dan Charnas It allowed the equation of sampling and interpolation with theft. And my point is this. That's wrong. The devil in all of this is not copying. The devil is deception. The devil is putting out a record that confuses the consumer, that it's not the record that you think you're buying or not paying for a substantial use.
Micah Loewinger You actually published a biography about J Dilla last year called Dilla Time: The Life and Afterlife of the Hip Hop Producer Who Reinvented Rhythm. For listeners who are lucky enough to be encountering his name for the first time. Who was J Dilla?
Dan Charnas J Dilla had a very short career in the 1990s. He was affiliated with groups like De La Soul and A Tribe Called Quest, Common.
Micah Loewinger Erykah Badu.
Dan Charnas Yes. And he died at the age of 32 in 2006 of a rare blood disease. But in that short life of his, not only was sort of regarded as the master of the sampled art form, but he literally on his machine, created a new rhythmic time feel that did not exist before him. Our popular music has had two basic time fields, straight time where every beat is even swing time, where beats are uneven and J Dilla collided those two time feels in what I call Dilla time.
Micah Loewinger Can you give an example of a Dilla time track by J Dilla?
Dan Charnas Yeah, a song called Come and Get It off of his album, Welcome to Detroit in 2001. If you listen to the very first bars of that song, you can hear swing time and straight time really fighting with each other. And it gives this limping, drunken quality to the rhythm. It almost seems erratic, but it's not. It's completely deliberate. And that has for the first time, a beat maker and electronic music producer influenced the way that traditional musicians played their instruments and felt musical time.
Micah Loewinger When we hear these beats, we can imagine him at an NPC at a drum machine, triggering the drum samples in real time with his fingers.
Dan Charnas Well, no, he program them. He used the machine itself to displace the note. That's a common misconception about Dilla that all he did was essentially turn off the timing functions of the drum machine. You know, anything that would correct where he placed the note and instead play freehand. And he did do that for the first part of his career. But when he started working on this drum machine, the PC, he found that it allowed him to actually displace notes and kind of make them fight each other in a way that was really interesting and disorienting and pleasant.
Micah Loewinger Can you give an example of of pop music thereafter borrowing Dilla time?
Dan Charnas Well, I can think of one very recent one. A song called Sincerity is Scary by the 1975. The hi hats are swung and the snare and the kick are sort of in a swung relationship as well. But that's swinging at a different rate than the high hats. So there is this sort of drunken feel to all of this, almost like you're looking at a bunch of small magnets that you're dragging along the floor and they're sort of like following each other as you're dragging them along the floor, but not necessarily staying in the same shape as you drag them along the floor.
Micah Loewinger Can we talk about his album Donuts? It was, I guess you could say, his last official release. It's an experimental hip hop album. All instrumentals. No rapping, though. Rappers would eventually rap over some of the beats. For me, it's kind of like a desert island disc. So much listenability on donuts and then you learn the story behind the album and it gets even richer. Can you kind of set the scene for how Dilla made this album?
Dan Charnas He got sick in 2003. He was diagnosed with this horrible blood disease, and the disease got worse. And so in early 2005, when he gets out of the hospital, he starts creating on his laptop this series of instrumental beats that are incredibly short, incredibly hectic, and use a lot of vocal samples that are essentially not great for emcees to rhyme over because it's hard to rhyme over somebody's singing. It's almost like the beats themselves were talking. In the end, it was something like 31 tracks on donuts, but it gets released right on his birthday, his 32nd birthday, and he dies three days later. I think the reason that it resonates for folks, other than the brilliance of his approach to sampling and using language, is a part of what he's sampling, is that it really is an example of what a human does in the face of death. Do we resign ourselves? Do we withdraw from the things that have been meaningful for us? Or do we keep going? And I think one of the things that's so inspiring about Donuts is he kept going, kept making beats until the very end. And then, of course, after he passes, a lot of people are listening to this album and hearing what they feel are messages from him.
Micah Loewinger Yes. I want to ask you about some of the messages because I started listening to this album when I was in high school, and once somebody says to you, there are secret messages in this album, you listen so much closer. And not to be too glib about it, but there is a death of the artist thing going on here where people project deep meaning onto these songs, thinking that they're hearing Dilla from the grave, speak to them through the songs that he chose to borrow from. In some ways, it can be heard as a kind of concept album about sampling. I mean, even the first song features this very memorable drum beat. I think it samples this amazing song called The Worst Band in the World by British band from the Seventies, 10cc. And that original song is itself a satire of the music industry, and it's delightfully meta. One lyric from the song goes Here I am a record on the jukebox, a little piece of plastic with a hole through a physical object of music singing to us. And Dilla is borrowing from this physical object. It's almost as if he's encouraging us to think of the records themselves that he's using. He's asking us to be aware of his medium and his special relationship to it.
Dan Charnas Now, that's some great analysis, Mike. I've never heard that before. That's great.
Micah Loewinger Let's go.
Dan Charnas I'm convinced you got me.
Micah Loewinger Let's get to the personal ones. Another song he samples by 10cc on his track called Waves. He's borrowing from a rock song called Johnny Don't Do It.
Dan Charnas His younger brother, John Yancy, was in college at the time that his brother died and Donuts came out. And there's this moment that I write about in the book Dilla Time where John gathers himself. He's got to leave his college town. I believe it's Mount Pleasant in Central Michigan and drive back down to Detroit to be with his family. And so he uses this opportunity in the car, this long car ride, to listen to his brother's new album for the first time. And he has this uncanny moment where he hears his name, He hears the record go... And what was uncanny for John was that he said that James, when he was a little kid and he would hang out in the basement while James made beats. He would say, Johnny, Johnny. Like that's how we would call to him. And so he really felt like his brother was talking to him. And Questlove on the other end of it.
Micah Loewinger The drummer of The Roots.
Dan Charnas Yes. Was listening to this album as somebody who's an expert on sampling and really trying to dissect what Dilla did. And he realized that what Dilla was sampling said, Johnny, don't do it. And he took out Don't and made it. Johnny, Do it now. Could he have taken the Don't out because it didn't fit rhythmically or melodically? Sure. But I also know for a fact that Dilla, many years previous to this used vocals on albums and manipulated the words so that they sounded like other words.
Micah Loewinger What was the asking Johnny to do or not do?
Dan Charnas I think he was just saying, Johnny, do it like Johnny. Go live life. Yeah, And listen, we don't get to say what James meant. We don't get to do that. None of us do. I do know that when you're sampling a song called When I Die by Motherlode, it's pretty obvious why you're sampling it. And he keeps the refrain, When I die, I hope to be a better man than you thought I'd be.
Micah Loewinger Whether or not you buy these hidden messages as you've said, Donuts was a return to what he did so well. But prior to his work on it, the process of trying to get samples cleared had become so frustrating he nearly stopped sampling altogether. And which I think speaks to your point of the litigiousness around clearing samples can have a chilling effect on this type of creativity.
Dan Charnas That's the thing that frustrates me that nobody wants to address. We are all so serious about the moral right of artists to deny use of parts of their songs or parts of their recordings. But we have nothing to say about the moral right of artists to create in the first place. Sampling has been demonized as copying.
Micah Loewinger How much of that is just racism? I mean, a lot of the people who were defining sampling as an art form were young black people.
Dan Charnas Well, there are also people who feel that the use of the compulsory license in the 1950s was what allowed any record company to remake R&B songs using white artists and thus cut black folks out of their due equity and access. So Pat Boone remaking Little Richard, for example, or Pat Boone remaking Fats Domino. There is an argument that the the compulsory license allowed that, but overall. Watch what gets protected and who gets protected by law and watch who doesn't. And in the case of the 1950s, with R&B, also the case with hip hop in the eighties and nineties, it certainly isn't young black artists. Most of the folks who were suing were like white artists, British artists who had essentially created their entire ERV out of black music. And yet looking at what these young black programmers were doing as somehow unmusical or anathema.
Micah Loewinger Hip hop's about to turn 50 years old. That's 50 years of great albums by artists who did manage to clear samples. Yeah, so the art form has flourished in spite of these legal obstacles. So then what's at stake here? I mean.
Dan Charnas I would I would disagree. Listen to Paul's Boutique by the Beastie Boys. Listen to Three Feet High and Rising by De La Soul. Listen to Public Enemy's It Takes a Nation of Millions or Fear of a Black Planet. All of those records happened in the late eighties, early nineties. You won't see them anymore. They don't happen anymore. Donuts that had a lawsuit against it 15 years after Dilla died. It's very difficult to compose in this way without a lot of effort, a lot of time and the risk of some copyright owners saying no for whatever reason. As an artist, as somebody who loves this music, who's written a biography about the person who was at the apex of this style, and to realize that that person never had any protection for what they practiced is anathema to me. And it's the 50 year anniversary of hip hop. It's time to speak out.
Micah Loewinger Dan, thanks so much.
Dan Charnas Thanks for having me.
Micah Loewinger Dan Charnas is the author of DeLay Time The Life and Afterlife of the Hip Hop Producer Who Reinvented Rhythm. His latest piece for Slate is titled It's Time to Legalize Sampling. Thanks for listening to the OTM podcast extra, On this week's big show. We're airing the second part of our series The Divided Dial. It's an investigative look at the rise of right wing talk radio. You don't want to miss it. I'm Micah Loewinger. See ya.
Copyright © 2023 New York Public Radio. All rights reserved. Visit our website terms of use at www.wnyc.org for further information.
New York Public Radio transcripts are created on a rush deadline, often by contractors. This text may not be in its final form and may be updated or revised in the future. Accuracy and availability may vary. The authoritative record of New York Public Radio's programming is the audio record.