Hey Everyone, Meet Sacha Pfeiffer!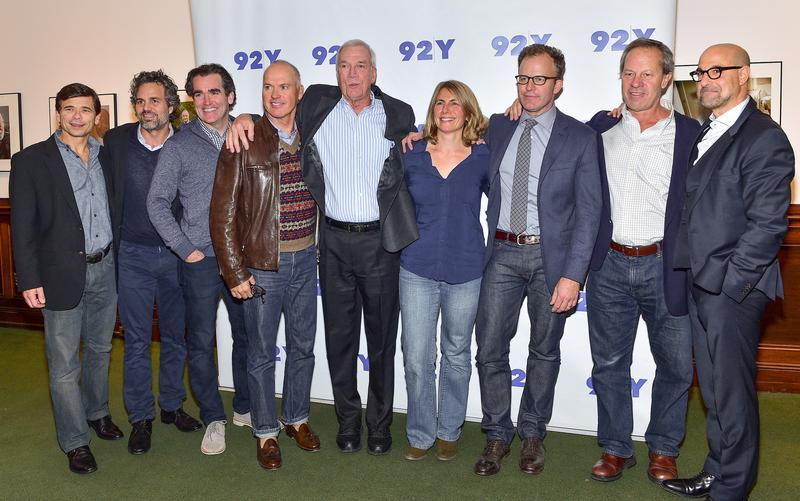 Transcript
Brooke Gladstone: This is On the Media's midweek podcast. I'm Brooke Gladstone. I want to introduce you to an esteemed journalist who'll be filling in for me for the next few weeks. Sacha Pfeiffer is currently an investigations reporter for NPR, but some years back, she was part of The Boston Globe's Spotlight team. The team which exposed the clergy sex abuse covered up by the Catholic Church, and earned the newspaper the 2003 Pulitzer Prize for public service. Oh, and she's got hosting chops too, as senior reporter and host of all things considered and Radio Boston at WBUR.
By way of introduction, this week's podcast is the interview I did with Sacha and her Boston Globe colleague, Walter Robinson, who goes by the name Robby, back in October 2015. Spotlight, the movie had just come out. Sorry, Michael Keaton is Robby, and Rachel McAdams is Sacha. The film sets the scene in 2001, when a new editor arrives at The Globe, Marty Baron, played by Liev Schreiber meets with Robby at a restaurant, and he asks how the Spotlight team operates.
Robby: We are a four-person investigative team, and we keep our work confidential.
Marty: What are you working on now?
Robby: We just put out a piece on a shoddy construction outfit, and right now we're really just trolling around for our next story.
Marty: How long does that typically take?
Robby: Hard to say. A couple months.
Marty: Couple months?
Robby: Yes, we don't like to rush it. Once we settle on a project, we can spend a year or more investigating it. Is that a concern?
Marty: Not necessarily, but from what I understand, readership is down, internet is cutting into the classified business, and I think I'm going to need to take a hard look at things.
Brooke Gladstone: The couple of years on a story, it seems like such a luxury to even contemplate today.
Walter Robinson: In fact, today, many newspapers spend no time on investigative reporting. That's a tragedy for people who depend upon newspapers to hold important institutions accountable.
Brooke Gladstone: Spotlight is still going on at The Globe, right?
Walter Robinson: Spotlight is still going on. They just produced a very good long story about Massachusetts General Hospital, where doctors very often perform two surgeries at the same time on patients without, by the way, telling the patients. That project took almost a year.
Brooke Gladstone: Yet, recently as this week, there's been a whole other round of cuts at The Globe.
Walter Robinson: That's correct. The Globe went from about 350 employees down to about 315. Although relative to other similar-sized papers, The Globe staff is still 50% or more larger.
Sacha Pfeiffer: Brooke, not only is the Spotlight team actually still alive and well, it's larger than it was when we were on it about a decade ago. It's now six reporters and they've added a companion SWAT Team. They don't call it that, but it allows investigative reporters to team up with beat reporters so they can turn around good investigative stories faster. The Globe is still doing a lot of investigative journalism.
Brooke Gladstone: As it did even while Marty was cutting way back then. Interestingly, he's the man who launched the investigation.
Walter Robinson: He came from Miami, and Florida has the best public records law in the country. He came to Massachusetts, which has among the worst, government is not accessible at all. We consider ourselves to be the Mississippi of public records. Marty arrives and the very first story he reads before he comes to work is a column by Eileen McNamara about one priest, John Geoghan, who is facing 84 lawsuits. The column notes that the records provided by the archdiocese to the plaintiff's attorney are underseal. She further wrote, "The truth may never be known." To Marty Barron, that is a red flag.
Sacha Pfeiffer: Marty was such an example of what a pair of fresh eyes can do because many of us over the years had reported on various clergy sex abuse cases. Most people never questioned whether we should wonder why they're sealed. We just accepted that they were sealed. Marty came in and said, "Have we tried to get the seal lifted off these documents?" An embarrassed answer, no. He set us out to try to do that. The church, unlike non-profits and public companies, and government agencies, they don't have to give us records. You can't send them a public record request. They don't have to file tax returns. As a reporter, it's a real challenge to think, "How do you get that story when they don't have to and don't want to tell you anything?"
Brooke Gladstone: The first thing you did was to go back to people with whom The Globe had dealt before, but discount it as being fanatical or difficult to deal with, that sort of thing.
Walter Robinson: In fact, there's a seminal moment in the film and it was a seminal moment in our investigation when we had in an abuse victim who was the leader of the local chapter of the survivors' network of those abused by priests. He came in with a box of documents, and among the very first things he said to us is, "I gave you guys this stuff five years ago."
Phil: Talk to Richard Sipe. He worked in one of the church's treatment centers, he's an ex-priest here. This is his testimony from the Kos case.
Sacha: Phil, what's a treatment center.
Phil: It's where they send priests when they get caught. This is all right here in the box. I sent this all to you guys five years ago.
Robby: To The Globe? Who did you send it to?
Phil: I don't want to say who, but they said that they weren't interested.
Matt: Phil, we did run a couple of stories on you. I saw them in a clip.
Phil: Yes, but to be completely frank, it wasn't enough. You guys got to understand, this is big. This is not just Boston, it's the whole country, it's the whole world.
Walter Robinson: One thing that always happens, particularly with daily newspapers, is people are constantly calling, wanting to tell you stories, and very often, they are people who are saying, "There's a conspiracy here. You have to uncover it." 9 times out of 10, these are people who are perhaps off their meds, but the fact of the matter is, there are people who sound like they are a little troubled because they are victims of a conspiracy and we miss those stories, and that happened in this case.
Brooke Gladstone: In fact, there are hints of that all through the film Robby. Echoes of The Globe having had tantalizing hints that it didn't follow up on. One of the crucial ones in the film is an allegation of 20 abusive priests that ended up buried in the Metro section. There is a quick effort to think about how did it end up being buried? Why wasn't it followed up on, and you were the guy in charge of Metro?
Walter Robinson: The story came from a lawyer who was letting us know that there were 20 priests who he said had abused children whom he had reported to the archdiocese. We dutifully published that in the paper and never followed up on it. When it came up in 2001 or 2002, none of us, including myself, remembered the story at all.
Sacha Pfeiffer: I think that's why we love this movie.
Brooke Gladstone: Me too.
Sacha Pfeiffer: In real life, people are flawed. The movie captures that. It shows what we did well and what we should have done sooner. That's really authentic to real-life into real reporting.
Brooke Gladstone: There is so much that is authentic about this film. Actually, I was going to ask you about that. What was it like being impersonated? I know you guys were on the set, the actors and the writers kept interviewing you. We have a clip from director and writer, Tom McCarthy, who's sitting with co-writer Josh Singer on that very issue.
Tom McCarthy: Interviewing reporters is a nightmare.
Josh Singer: Totally.
Tom McCarthy: It's like trying to heal a doctor. Reporters just don't want to be interviewed. They like asking the questions, and we had to ask some tough questions. You could tell, we walked out of a lot of interviews, like, "We're going to have to go back," because they didn't give us what we needed.
Sacha Pfeiffer: That is so funny to hear because I know in my case I felt very guarded at the beginning. They asked very probing and sometimes personal questions. Like, how did this project affect your marriage? Did you cook dinner with your husband? What kind of haircut did you have? Did you wear jewelry? We spent a lot of time with our actors. We took walks, we had dinners, and I just thought of those as walks and dinners, but then when we saw the movie, and we realized they were depicting our mannerisms, we realized that all those walks and dinners were homework. They were research projects in which we were being and studied.
[laughter]
Walter Robinson: My first dinner with Michael Keaton in New York, I was quite uncomfortable because I had found out earlier that he had been listening to previous old videotapes of appearances I had made. He arrived for our first meeting, he had my voice down, and he looked at me at one point and he said, "You really don't have that much of a Boston accent." I said, "How would you know?" He said, "Believe me, I know your voice." It was a little disconcerting.
Brooke Gladstone: A London tabloid noted Rachel McAdams dresses down her role as investigative journalist, siting her messy tresses, clunky loafers, baggy clothes.
Sacha Pfeiffer: She looked so much like me in this one scene where she was photographed. Then the next day when the press basically eviscerated her outfit, it was hilarious, because she got me so right, but clearly, my outfits are not what people expect celebrities to be wearing.
Brooke Gladstone: Rachel McAdams said about you, you're one of those people that everyone wants to talk to. That you're an extraordinary listener, you're compassionate, and that part of your role on the team was to draw out the stories of the victims. We have a little clip.
Joe: He said, "What will help is if we play strip poker." Of course, I lost and things went on from there.
Sacha: Can you tell me specifically what happened?
Joe: Specifically, he molested me.
Sacha: Joe, I think that the language is going to be so important here. We can't sanitize this, just saying molest isn't enough. People need to know what actually happened.
Joe: We should probably get these to go.
Sacha: Right.
Sacha Pfeiffer: That clip, I think, is a reminder for all of us that at the root of the story was this terrible tragedy in which many people, usually boys, when they were adolescents, had a really traumatic thing happen to them that many of them never recovered from. We needed details that were sometimes uncomfortable for people to tell us. Because I was the only woman on the team, I believe that it was often easier for men to tell me what had happened. They were talking about things that they were embarrassed about and ashamed about.
Walter Robinson: On almost any story, Brooke, Sacha could talk the dog off the meat wagon. There was one story actually involving a priest who was in charge of young teenage girls who were studying to become nuns. He introduced them to sex by persuading them that he was Jesus Christ on earth. Sacha picked up the phone, reached this priest. For 45 minutes, she talked to this priest and he acknowledged it all. He went on and on because Sacha kept asking the right questions in the right way. If I had called him up, he probably would have hung up in my ear.
Brooke Gladstone: Was the timing of this story crucial to its impact? I know that this was one of the earliest stories to go viral on the internet, but was there also something to do with a changing view perhaps in Boston towards the institution of the Catholic Church?
Sacha Pfeiffer: Even though the movie makes clear that we probably could have done this story years earlier if we'd really put our minds to it, if we had done it earlier, the stories would not have gone on the web. Because it did go on the web, our stories weren't just read in the Boston area, they were read all over the country. That meant tip calls came pouring in, and that helped our reporting. Brooke, you're right. I think the deference that the Catholic Church got, particularly in a city like Boston, was really beginning to erode by the time we did our stories.
This is a beloved, powerful institution, and many people just didn't question its authority for many decades. This has taught us why it's important to ask tough questions of institutions like the church because this is how tragedies like this happen when you don't.
Brooke Gladstone: There's an amazing scene at the end when you decide that you're going to go into the spotlight office on the weekend because you've left a phone number, a tip line in case anybody wants to call you. It was almost too cinematic to be true. The phone is just ringing off the hook.
Sacha Pfeiffer: It was absolutely true. It was absolutely true.
Walter Robinson: It was just like that.
Sacha Pfeiffer: It was usually men calling from all around the country. So many of these men thought for decades that they were the only person that had been abused and suddenly they find out that there had been dozens of other people, hundreds of other people, and they began calling us.
Walter Robinson: Many of them had never told anyone in their family what had happened to them. I still remember an 87-year-old man from Millinocket, Maine who called to tell me about the abuse he had suffered 75 years earlier. I was the first one he had ever told about it.
Sacha Pfeiffer: I think it was actually you, Robbie, that often said it was as if we were grief counselors who hadn't been trained to be grief counselors. We spent a lot of time on the phone with men in tears. I think that was very disturbing, but ultimately, very angering. Anger can be a motivator. I think in our case, it motivated us to work even harder on the story.
Walter Robinson: It's unimaginable, whether you're Catholic or not, that an institution like this could countenance, enable, and cover up thousands of cases of children having their lives shattered by this kind of heinous behavior, and yet it happened everywhere for so long. It changed our concept of what we should report. After that, we consciously looked for stories that involve victimized populations, stories where people were getting run over by society and they had no one but us to tell their story.
Brooke Gladstone: What does it feel like to have this all coming back in this way 13 years later?
Sacha Pfeiffer: I think we're still processing that. Recently some more clergy sex abuse lawsuits have been filed in the Boston area. I think that as the word of the movie spreads, some people are coming forward for the first time.
Walter Robinson: Those of us who believe in the power of the printed word are a little gobsmacked at the moment because we're now beginning to think that this film has the potential to really raise public consciousness on important issues of journalism and treatment of children that aren't possible to do with the printed word.
Sacha Pfeiffer: We certainly hope it keeps the church working hard to try to make sure this doesn't happen again. We also hope that it reminds people how important investigative journalism is. You have to support this work. That means buying your newspaper, get a digital subscription, get home delivery. That's the revenue that helps us do what we do because this is an industry that's in really rough shape.
Brooke Gladstone: Walter Robinson and Sacha Pfeiffer are journalists. They work at The Boston Globe. Thank you guys very much.
Sacha Pfeiffer: Thank you.
Walter Robinson: Thank you.
[music]
Brooke Gladstone: Thanks for listening. I'll be back with all of you soon, but in the meantime, you're in good hands with Sacha. Stay tuned for this week's big show. I'm Brooke Gladstone.
[music]
Copyright © 2021 New York Public Radio. All rights reserved. Visit our website terms of use at www.wnyc.org for further information.
New York Public Radio transcripts are created on a rush deadline, often by contractors. This text may not be in its final form and may be updated or revised in the future. Accuracy and availability may vary. The authoritative record of New York Public Radio's programming is the audio record.