No. The Medieval Times Were Not All Game of Thrones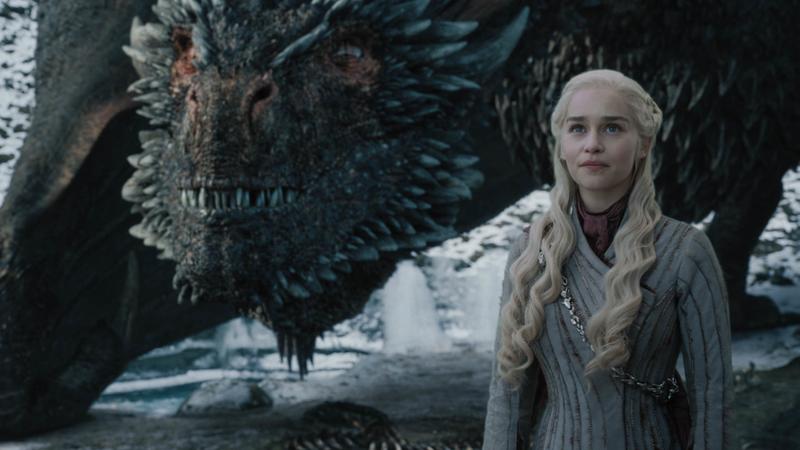 Transcript
Brooke Gladstone: This is On the Media, I'm Brooke Gladstone. We focus a lot on history on the program and what it can teach us, how careful attention to prior conflicts could protect America from possible catastrophe, but history badly told can also mislead us. Case in point, today, when we encounter the medieval world, it's mostly a dark time. Unenlightened by reason, but also literally gloomy- all bare stone and gray skies. We know it is a brutal time dominated by white men with mighty steeds and flashing swords, or drenched in blood by marauding Vikings, as rendered on the History Channel, with a Netflix spinoff coming soon.
Floki: I've been told your god is a carpenter. Guess what? So am I.
Brooke Gladstone: The "Dark Ages" have long been a prime setting for fantasy, as on Game of Thrones.
Illyrio Mopatis: A Dothraki wedding without at least three deaths is considered a dull affair.
Brooke Gladstone: In their new book, The Bright Ages: A New History of Medieval Europe, historians Matthew Gabriele and David M. Perry trace the harm of the myth of the "Dark Ages," and illuminate the medieval stories that have mostly escaped our modern gaze. Welcome to On the Media, Matt and David.
Matthew Gabriele: Nice to be here.
David M. Perry: Thanks so much.
Brooke Gladstone: In your book, you write about the tendency to kick a current problem back into the past by identifying things like terrorism, death penalty, even pandemic mismanagement as medieval. It's a way of bolstering our 21st-century sense of superiority.
David M. Perry: This is David. I'll jump in. There's little examples and there's big examples. There was a funny story calling the process of getting a driver's license in Russia medieval. It's literally to operate a car. They mean it's really complicated bureaucracy, which is really not the medieval bureaucratic state. Then there's a lot of things when we get violence or barbarism that become categorized as medieval. It suggests that this 1,000-year period, let's say, in Europe, was more violent or more barbaric than something else. It was like when President Trump would call ISIS medieval, or when people talk about war as medieval or anything else.
Before, let's say, 400 CE in Europe, there was lots of war and violence and torture, and afterwards, there was lots of violence and torture. In some ways, the power of the mechanized world has only enhanced the ability for people to do harm to each other, imposing distance between us and these things you don't like by calling them medieval. It seems to me it's harder for us to understand what's really going on and address the problems now.
Brooke Gladstone: By calling something medieval and adopting that kind of fatalism, you're like the 40-year-old kid who's still blaming his parents.
Matthew Gabriele: This is Matt. It's like when a politician says, "That's not who we are." Well, it is who we are because we just did that thing. You're trying to give a very simplistic explanation and say, this is an aberration, so we don't actually have to pay attention to why it's happening.
Brooke Gladstone: I'm curious, though, some of us think of it as a brutal and a dark, horrible time, but the people who sported symbols of the Crusades at the Unite the Right rally in 2017, think of it as a glorious time.
Matthew Gabriele: This image of medieval Europe that exists in the popular imagination, it's like a cafeteria. You can pick and choose what you like from it and then you bring it into the modern age and you apply it however you like. It exists as both dark and gloomy and as a glorious past that needs to be resurrected. Game of Thrones is a great example. We know it as medieval because there's Knights on horsebacks, there's castles. We know it's medieval also because of its barbarism because it was filled with sexual violence, with people being cruel to one another.
That can be, depending upon your modern politics, how you think about the world today, that can be a good thing or a bad thing. For these white supremacists who bring these narratives into the present, it's something to be valorized because they associate themselves not with the people who are being persecuted, but the persecutors and they want to place themselves in that space once more.
Brooke Gladstone: You wrote it's not a coincidence that the members of the KU Klux Klan called themselves Knights. Whenever you find white supremacists, you'll find medievalism, and you'll almost always find murder.
David M. Perry: Part of the job of a historian is to think about what story is being told and why is that story being told this way. Who does it serve? Who does it harm? The 19th century, we have people who are inventing the modern discipline of history in Europe, looking out at the imperial conquest, and coming up with a historical narrative to explain almost like a just-so story, how they got here and why it was good they brought in relatively modern concepts, their own ideas of nationalism, and scientific racism way of explaining the world to build racial hierarchies with whiteness at the top.
Brooke Gladstone: You talk about the term, the West, and this so-called clash of civilizations. You wrote that events leading to the siege of Jerusalem in 1099 had been seen as a particular flashpoint in a clash of civilizations and an unending war between Islam and the West, which really means Christianity. This clash of civilization notion, you can see that in newspapers every day.
Matthew Gabriele: If anything haunts us in the modern world, it is this ghost of a clash of civilization narrative. It's actually a very modern concept. To explain, in the '80s and '90s, the breakdown between what they saw as west and east, which meant the Islamic world, they look back for origin points. One of the things that they used to point to was the Crusades. They use a justification, in their words, the violent expansion of Islam out of the Arabian Peninsula and the conquest of the Mediterranean world from the Romans in the 7th century and go on from there.
All these historical moments, while we're not trying to deny, of course, that there was horrific violence that occurred between groups of Christians and Muslims throughout the European religions, there's a specific reason what we call the First Crusade happened in 1095 and not in 1050 or the 1800s or the 1200s. That had to do with a particular political and cultural and religious context of Europe, and the papacy and its relationship to various Kings and stuff like that. Those historical moments need to be understood in their context.
Doing that breaks this idea that there's an unbroken chain of only violence that's existed between the Christian and Islamic world that stretches, again, from the very birth of Islam until today because in those "in-between spaces", you see a lot of different relationships and a lot of real possible worlds that emerge from them. What I mean by that is that, even on the First Crusade, which is launched in 1095, when Pope Urban II calls for a holy war to take Jerusalem from the Muslims, and probably actually happens in 1099, the Christians take the city and massacre many of the inhabitants there.
Brooke Gladstone: It seems so irrational even as you paint it in the book. This war that was distant to the people who were preparing to fight it, what they imagined is the place they sought to conquer was a place that didn't really exist.
Matthew Gabriele: Sure. Many of the people who had participated in this crusade probably had never met a Muslim in their entire lives before then, but they knew it was an existential enemy because it had been created in their mind as such. That was enough for them to match out to kill people they had never met and probably never heard of before. This is not foreign to the modern world, the idea that people could do things for abstract notions like nationalism.
If you think about it at the macro level, it shows that that idea can be incredibly powerful. If you break it down a little bit, it also shows how permeable it is, if that makes sense, because even along the way, as the crusaders are marching east to kill people in a war, they're making alliances with other Muslim groups.
Brooke Gladstone: You guys wrote that by painting the Middle Ages as hopelessly terrible, bloody, and so on. That we adopt a fatalism. We miss the moments. In medieval times, when things could have gone in a different direction, when things could have been better. How so, and what's the impact of missing that?
David M. Perry: What we don't want to do is adopt a fatalism that a terrible event had to happen, or that when something non-terrible happens, that it was random or irrelevant, but to engage it with all the complexity and nuance that we think is in fact true to how things play out. That can be hard across 1,000 years, but there are these moments where contingency pops up. One I like to talk about early in the book is a moment in which Roman general from Constantinople, we can call him a Byzantine general, is offered the title of emperor in Italy. This is 30 or 40 years after the Western Roman Empire has technically fallen, according to the narrative, the Dark Ages has begun, and he was offered this title. He could have taken it and then we'd have an entirely different story to tell. He didn't take it.
Brooke Gladstone: We'd still have a Roman Empire, technically.
David M. Perry: We certainly would've had another maybe century, I don't know, maybe two of having a pretty clearly defined Roman Empire in Italy.
Brooke Gladstone: Let's talk about the The Bright Ages. It begins with this striking scene plucked from the year 430 on the East coast of Italy. Artists are pressing shards of glass infused with the blue of lapis lazuli into a ceiling, turning it into the richest of blue skies. Why do we associate medieval times with a dull stone wall rather than with luminous mosaic?
David M. Perry: Matt usually says, but I'm going to steal it from him, they lived in color. They did not live in a black and white world. In some cases, the colors on the stones have faded, and in other cases, we just somehow don't look at the colors that are left. We've worked very hard to not write a Pollyanna version of the European Middle Ages. Blood is bright red. Fire can illuminate, but it also could burn books. We've tried to work within that dichotomy.
Brooke Gladstone: We don't generally associate medieval times with democracy. Is that because there wasn't any?
David M. Perry: There was lots of democracy, and we're still surrounded by medieval democracy today. Medieval people like to form associations with each other of different sorts. Fraternal organizations, you would think like the Elks Club, but also trade organizations. You can think unions, church communities. They would get together and they would write often really complicated bylaws and they would vote on stuff.
There are medieval governments that were democratic. Italian cities voted for mayors. They voted for aldermen. The formal trappings of governmental democracy absolutely existed, but it's much deeper than that. Medieval people love to vote. Every university that has a faculty senate is fundamentally reenacting a medieval process. If you start looking within your social clubs or within your unions, or any places like that where there's bylaws and voting, I would encourage people to see that as fundamentally medieval in the best possible way.
Brooke Gladstone: Yes. It wasn't a universal franchise.
David M. Perry: When is it? When and where in human history is it really a universal franchise? There's always a definition of who gets to be a citizen and who doesn't, what ages, what genders. I like living in a society that is a much more expansive notion of a franchise.
Brooke Gladstone: For the time being?
David M. Perry: For the time being. I hope we could defend that. Medieval Venice, which is the city that I study, there are a lot of men in that city who voted for their government. Certainly, it was at least as representative as something like ancient Athens. We don't just get to write medieval Venice out of the Middle Ages because it doesn't conveniently fit the model of kings and queens and men with sticks.
Brooke Gladstone: I'm curious, though, if we really did as a culture, understand the period as you do, what do we stand to gain?
Matthew Gabriele: That's the million-dollar question because it's the so wet question. The importance of thinking about history, as David said earlier, as one of contingency, really demonstrates that those structures play a role. There's a limited number of things we can do sometimes in our society. We still do have choice. Political budget is a certain number of dollars. We can put it on X or we can put it on Y. We've made a choice that's not a foreordained conclusion.
If we're talking about like this idea of the clash of civilizations, if we focus on the reason that people chose violence in certain cases, but chose understanding or respect in other cases, those can be models for how we relate to interreligious tradition, relationships for the future. We're not constrained by the actions of the past. When people are telling you that the past is very simple, that you can draw a straight line from X until Y in the modern day, they're selling something. We have to ask, what are they selling and why are they selling it, and what if we look at it from a different perspective, does that upend the entire story that they're trying to tell and the entire product that they're trying to pedal?
Brooke Gladstone: Matthew Gabriele and David M. Perry are the authors of The Bright Ages: A New History of Medieval Europe. Thank you very much.
Matthew Gabriele: Our pleasure.
David M. Perry: Really just a joy.
[music]
Brooke Gladstone: Thanks for listening. Please check out the big show on Friday. It usually gets posted around dinnertime.
[music]
Copyright © 2022 New York Public Radio. All rights reserved. Visit our website terms of use at www.wnyc.org for further information.
New York Public Radio transcripts are created on a rush deadline, often by contractors. This text may not be in its final form and may be updated or revised in the future. Accuracy and availability may vary. The authoritative record of New York Public Radio's programming is the audio record.