The Milkshake Duck-ing of Bon Appetit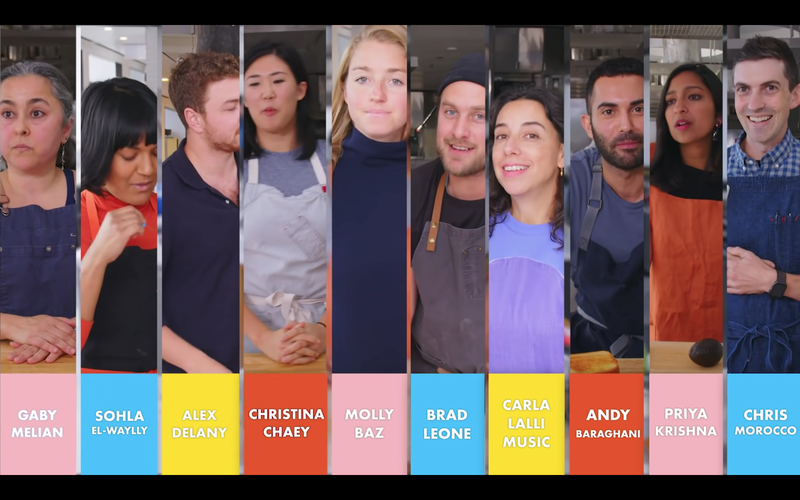 Transcript
Brooke Gladstone: There's this old internet fable about a duck who liked milkshakes. Everyone loved the milkshake duck until it turned out to be racist. The moral of the story is that everything online either turns to caca or we learn it always was. The latest example we submit is the so-called food media or at least its most prominent avatar.
News Presenter 1: Adam Rapoport the editor-in-chief of Bon Appétit Magazine has resigned amid questions about equality within the company. This after several employees with Bon Appétit spoke out saying the magazine is not inclusive and does not treat minorities equally.
Brooke: Adam Rapoport departed the scene last Monday after weeks of furious attention to systemic racial inequality nationwide, and after a month of similar scrutiny within the food media, beginning last month with the tumble of viral-recipe-author Alison Roman. It was around then that technology and culture writer Navneet Alang wrote an essay for Eater called Stewed Awakening: Alison Roman, Bon Appétit, and the Global Pantry Problem. We asked him to describe the impact of Bon Appétit in the before times.
Navneet Alang: About a decade ago Bon Appétit was a slightly stuffy food magazine, but over the last few years, Bon Appétit has developed a YouTube channel.
Carla: Hey, guys. This is Carla. I'm here in the Bon Appétit Test Kitchen today.
Bon Appétit Host: Hey, guys. It's Alive and we're making gravlax or lox. It's a nice cured salmon, and we're going to slice real thin.
Claire: Hi, everyone. I'm Claire. We are here in the BA Test Kitchen--
Navneet: Now it has over 6 million subscribers. The videos have been viewed over a billion times. Maybe most significantly there was this cult of personality that developed around the hosts of Bon Appétit Test Kitchen that was like the arena where they demonstrate their recipes. There are entire Instagram accounts dedicated to one of the host's hairstyle, that was Claire Saffitz. People would talk about whether or not the hosts have crushes on each other.
It became this cultural phenomenon, but because of that, Bon Appétit also became this authority in the food world more generally, because they had such a big audience and they had such almost an outsized impact, if Bon Appétit was making a particular kind of dish or using a particular kind of ingredient, then it meant that that had really hit the American mainstream.
Brooke: How would you describe these minor cult figures or major cult figures of food?
Navneet: Generally speaking, they're youngish. There's a chilled collegial vibe between the host.
Claire: Is that my new nickname?
Brad: Perhaps. Oh my God, Claire, it's perfect. Half-sour Claire. Oh my God. It's perfect, Claire.
Claire: Half-sour Saffitz
Brad: Half-sour Saffitz. This is how things happen, organically.
Navneet: Generally conventionally attractive. They look good on camera, but also, the longer you watch Bon Appétit, the more difficult it becomes to ignore that most of them are White.
Brooke: Despite the incredible impact of Bon Appétit, there have been other figures most notably for our conversation Alison Roman.
Alison: I'm Alison Roman and I am making a salted butter chocolate chunks shortbread cookie, also known to some of you as "the cookies." You gave it that name, not me.
Brooke: She was popular before COVID and then she became the "Prom queen" of the pandemic. Why was she such a hit?
Navneet: A couple of reasons. One is that her style of cooking was very much focused on pantry ingredients.
Alison: Here's the thing, through a hilarious mishap we had an abundance of shallot, an extraordinary amount of shallots. How will I possibly eat all those shallots? I was, "I guess this anchovy pasta is now really a shallot pasta. In the end, "I was like damn. That is so delicious." Are you following? Because it's confusing.
Navneet: The kind of stuff that you have lying at the back of your cub. When we were all stuck at home, and many of us still are, that kind of cooking was the right style of cooking for the right moment. The other reason was that Alison Roman has a very accessible approach to cooking.
Alison: The best part about this whole dish is you take half of that mixture and you put it in a jar or container, whatever, and you use it later for like a million other things. It's going to make your life so good. Just by having this in your fridge, you are going to get a promotion. You're going to like- I don't know, find a parking spot immediately. It's going to adjust to improve the quality of your life twenty fold. I promise you.
Brooke: Let's talk a little bit about her recipes.
Navneet: Alison Roman is one of the first people to have viral recipes, period. Two or three years ago, the idea of a recipe going viral seems a little bit strange. One of the recipes that did go viral was something called "the stew" or #TheStew.
Fan 1: If I search "the stew." Look at this, Alison, she's done it again.
Fan 2: 137 comments and they're talking about how they added- I don't know, cashews or leaving out mint yogurt. I don't know why you would do that.
Fan 3: There are infinite variations of this dish that they were making it my way, but I'm sure Alison would approve.
Brooke: It was controversial.
Navneet: Which is a very strange thing to happen to a stew. Some people argue it was basically a curry it was chickpeas, coconut milk, and turmeric. It started to become a little bit controversial particularly among say peoples of South Asian backgrounds or people of color generally because there was this sense that, why has this suddenly become so so popular? Why did it take Alison Roman to make a quite ordinary easy recipe become so popular and so viral? Curries aren't exactly obscure.
There was this sense of frustration that not only did it take a White media personality to popularize this, but that all of the people of color that have been toiling away in restaurants or trying to get gigs at media companies ended up being pushed to the side or ignored in the process.
Brooke: She said last October to Jezebel, "Y'all, this is not a curry. I never made a curry. I don't come from a culture that knows about curry. I come from no culture. I have no culture. I'm vaguely European." This strikes me as an attempt to say, "Look, I'm not trying to commandeer anybody else's culture." It also suggests that she sees herself as a default nonculture. In other words, the default culture.
Navneet: Yes, I think a good example of that is the way that we use, even I sometimes use this term that we talk about ethnic cuisine. Technically, all cuisine is ethnic in some fashion. What I think that Alison Roman may have been doing was she would just trying to say, "Look, I'm not trying to step on anybody's toes." In the process of doing that, I think that what she did was disavowed the way that the White majority will often assume that they are the default of all things and that anything that doesn't have a particular label or name just ends up being White. The stew, for example, I suspect that if a South Asian cook had put that recipe out into the world, they would have called it a chickpea curry.
Brooke: Maybe do you think this would have blown over if Alison Roman hadn't in comments to the new consumer last month disparaged Marie Kondo and Chrissy Teigen, neither of whom are White. The rest seems to be food media history.
News Presenter 2: Cookbook author a New York Times food columnist, Alison Roman, coming for Teigen's success. "What Chrissy Teigen has done is so crazy to me. Now she has an Instagram page that has over a million followers, where it's just like people running a content farm for her, that horrifies me. It's not something that I ever want to do." The backlash to Roman's criticism's swift. Chef Sunny Anderson on Instagram summing up what so many felt online, saying, "Let me know if you need me to side-eye any privileged cookbook authors acting like the way they make their pennies is better than the way you make your dollars."
Brooke: Her column in the times was suspended, they say temporarily.
Navneet: I think that we'll have to see what will happen to Alison Roman in the future because there was this sense that the outrage at Alison Roman wasn't just about that interview. It had also been bubbling for quite a while, then it found its outlet or its focal point.
Brooke: You wrote about whiteness in food media and how even as American pantries appear to be more global than ever before, our food media are still primarily White people telling other White people how to cook. This, as you say, is another reckoning. One reason why we brought up Bon Appétit and Alison Roman's counter TOMPH is because this sort of thing isn't limited to just what we consume as culture and food consumers. This can go right to the workplace.
In the case of Bon Appétit, the people of color on the staff were exploited and treated terribly. There was a montage that emerged this past week showing Sohla El-Waylly, one of the very few people of color to appear in the Test Kitchen, just being pulled right left and center by her largely clueless White colleagues, ones that she's claimed are being paid very much more than she is.
Female Colleague 1: Sohla, do you have a minute?
Female Colleague 2: Sohla, do you have a minute?
Female Colleague 3: Sohla, when you have a minute. You want to talk, sugar?
Male Colleague 1: Hey, Sohla. Can I ask you a question about technique real quick?
Male Colleague 2: Tumor, turmeric, turmer. Hey, Shola. How do you say "turmeric?"
Male Colleague 3: Do you think I need to toast my spices first?
Male Colleague 4: Dosa? What's dosas are?
Navneet: My reaction to that was that it was a little bit enraging. A, it felt profoundly unfair, but B, I think one of the reasons that it made me angry and made so many people that I know angry is that it felt somewhat familiar. That feeling of having one's knowledge or expertise called upon or relied upon but that you're not compensated in a commeasure way, it seemed to me be reflective of the way in which media generally tends to push people of color aside, but also, to call upon them to do the things that need doing while the spotlight, I think, gets shown on, often, white personalities.
Brooke: There was a revealing piece in the San Francisco Chronicle by food critique Soleil Ho. She observed in Bon Appétit's work that there were ingredients and techniques that its stars and writers thought needed to explain to their audience and there were ones they didn't, those editorial choices appeared to be based on the assumption that the viewer or the reader is White. That turns out to be a pretty sloppy assumption with some devastating consequences, right?
Navneet: When you assume that your audience is White, and you're introducing some new ingredient or new technique or some new aspect of culture that the White majority might not be familiar with, you end up reinforcing the idea that the mainstream, itself, and the mainstream culture is always somehow defined as white, which speaking as a person of color, can end up being quite frustrating. One is borne into Western culture, and you want yourself to be reflected in the mainstream, not just someone who looks like you, but someone who knows the things that you do, someone who has some of the sense of cultural knowledge that you do.
Brooke: You were a Bon Appétit Test Kitchen fan, right?
Navneet: Yes, absolutely. Watching food videos on YouTube is one of the ways that I relax, and Bon Appétit was fun, because of the way that the hosts would often interact with one another, there was this assumption that they were people who got along. I think that delusion has been shattered now.
Brooke: You mentioned earlier that this is a moment across the culture to reckon with marginalizing of particularly African Americans and their unequal treatment with regard to everything from pay, to environmental conditions, to criminal justice certainly. I could go on and on, everything essentially. What do you think the significance is of food in this moment?
Navneet: Food, I think, is the most obvious and most everyday way in which we interact with different cultures. It's potentially a very superficial interaction with other cultures. You can just pop in and get a bowl of ramen somewhere and never think about anything ever again. It's also a potential avenue to think about those cultures. I think this particular moment in food media, I hope that it reveals or leads to perhaps a slightly more explicit politicization of food and not in a negative way. I wouldn't want food to be politicized but in a way that felt like a drag basically, but in a way that acknowledged where food fits into culture and where different cultures fit into American culture more generally.
The other thing that makes me think is that the reason that these questions are so important in media is because it isn't just a question of place equity, but the media is the lens through which a particular kind of reality gets reflected and then gets amplified to the public more generally. I think that an acknowledgment of race, of racism, and the long history of those things is, obviously, something that needs to be confronted head-on. I think hopefully we're at a moment in history when those things are finally starting to be recognized.
Brooke: Food is a very accessible place to begin.
Navneet: Yes. Everyone around has to cook, particularly when you're stuck at home.
Brooke: What are you cooking these days?
Navneet: I have actually been staying with my parents a lot. I have elderly parents that I have been trying to help out, and maybe as a result of that, I have been cooking a lot of Indian food, particularly the Punjabi food that I have grown up with. I've been learning to try to figure out which spices go with vegetables or which dishes.
[background music playing]
Brooke: I hear that turmeric is the next big thing. [laughs]
Navneet: Yes. I've used it once or twice in my life.
[background music playing]
Brooke: Navneet Alang, is a technology and culture writer. His essay for Eater is titled Stewed Awakening: Alison Roman, Bon Appetit, and the Global Pantry Problem. Thanks for listening to this podcast extra, you can check out the big show on Friday. I'm Brooke Gladstone.
[background music playing
Copyright © 2020 New York Public Radio. All rights reserved. Visit our website terms of use at www.wnyc.org for further information.
New York Public Radio transcripts are created on a rush deadline, often by contractors. This text may not be in its final form and may be updated or revised in the future. Accuracy and availability may vary. The authoritative record of New York Public Radio's programming is the audio record.