The Divided Dial: Episode 5 - There's Something About Radio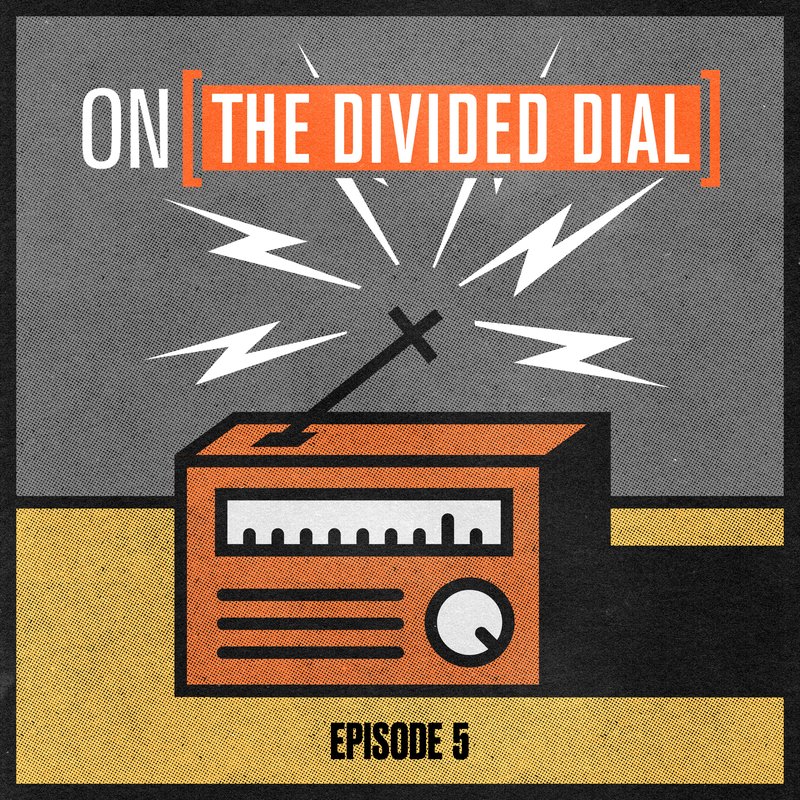 Transcript
EPISODE 5: THERE'S SOMETHING ABOUT RADIO
A couple years ago, on a long and lonely drive through Northern Minnesota, I flipped on the radio to keep me company. My car stereo looped around the FM dial, and stopped on the one station strong enough for it to pick up.
Welcome to the focus on the family broadcast, helping families thrive.
It was playing "Focus on the Family…"
and the Lord's servant must not be quarrelsome, but kind to everyone. Not most people. Yeah. Kind to everyone…
…the longstanding Evangelical, anti-LGBTQ show that's also a long-time paying ministry on Salem stations.
until God helped him to see that homosexuality is incompatible with scripture..
And I listened. Because I was curious, but also because… it was a long ride. And that's what was on.
Our responsibility is Christians to keep the main thing, the main thing that is loving others through Christ…
Radio is familiar, personal. The hosts are with you as you drink your morning coffee, in your car on your commute, they're in the kitchen while you cook. You're definitely on first name basis with them. Even the national hosts might voice an ad for the tire shop down the block.
Radio is intimate. I love it. And so does this guy.
Boyce: Hi Katie.
Katie: Hello, Mr. Boyce. … can you hear me?
Boyce: I can hear you.
Katie: I can hear you.
Both: okay.
This is the final episode of The Divided Dial, a five part podcast series from On The Media about how one side of the political spectrum came to dominate talk radio — and how one company is launching a right wing media empire from the airwaves.
You remember Phil Boyce, Salem's Senior Vice President of talk; he's the guy in episode one who said this about Donald Trump:
Phil Boyce 2018: So we call him the gift that keeps on giving. // This guy right here is a game changer for our format.
And this about the medium of radio:
Phil (2018): It's almost better to say it on the air than to post it in a Tweet because you post it in a Tweet, it's out there for the end of time. You say it on the air, maybe they didn't hear it.
But before we hear from Boyce, let me bring you up to speed on Salem.
In Episode 2, we met the co-founders Stuart Epperson and Edward Atsinger. Well, at the start of this year, 83-year-old Atsinger, who was still CEO, became "Executive Chairman" of the Board. Epperson, who had been Chairman, is now Chairman Emeritus, as longtime head of Salem's radio division, David Santrella, took over as CEO. But even with these changes at the masthead, it's business as usual at Salem: They bought a few new stations this year. They still operate some of the country's largest conservative "news" sites and tons of Christian websites and services selling sermons. Today, Salem syndicates their programs to over 3,000 stations. Between those and the stations they own, that means their programs can be heard on about one in every five radio stations in this country. And though they've still got that pending defamation suit from a former executive at Dominion Voting Systems — and a new one from one of the supposed "mules" in their supposed "documentary," 2000 Mules — their hosts can still be found promoting lies about election fraud.…
Metaxas: What we've just seen in the midterms, which is called stealing, is a moral issue, it's not a political issue… Anybody who thinks Kari Lake lost, John Fetterman won, I don't think so. I think most Americans know it's preposterous.
That's Eric Metaxas. You know, from VeggieTales. Metaxas is actually something of an outlier on this one; elsewhere on Salem, talkers like newer host Brandon Tatum, while not exactly denying that the midterms were stolen, have tweaked the messaging…
Tatum: Stop talking about they stole every election. They gonna cheat in every election that that has ever existed. What you gonna do about it? Unless you have clear evidence. Leave that out. Because what happens is people say, I'm not gonna vote. Why would I vote when they cheating anyway?
Lest this be read as a shift to a more moderate tone; Earlier this year, Tatum retweeted a claim that, quote "9/11 was an inside job, just like COVID."
Meanwhile, internally, employees have been giving money to the company's own Political Action Committee, supporting conservative causes and candidates. And Salem's hosts still regularly inveigh against the COVID vaccine and climate change, spread hateful rhetoric about LGBTQ people, and preach right-wing conspiracies like the "Great Replacement" theory…
Kirk (13 Oct 21): I believe… this bottleneck is intentional… To try to create an argument for mass immigration. Remember, almost everything the other side tries to advocate for is around expanding the amount of people coming into the country.
Gorka: We're going to draw the connections between the environmentalist lobby, the Greta Thunberg of the world, the AOCs and Covid

Dennis Prager: Nothing Americans could do would help this country as much as taking their kids out of the schools of America.
Jenna Ellis: we disagree vehemently with the lie of transgenderism and the lie that marriage can be redefined… Any unjustified murder is tragic. But the same evil that was perpetuated against the victims of the Colorado Springs nightclub is the exact same perpetuated against victims every day who are unborn children in the womb.
I didn't know what to expect going into my conversation with Boyce. I anticipated that he, as an executive, would put a bit of distance between himself and the rhetoric his hosts broadcast, maybe some deflection?… I thought it was likely I'd be faced with a brick wall of professionalism. I mean, Boyce is very good at talking. He's shaped the careers of some of the biggest talkers in the history of radio! But what I didn't expect was the affability and the surprisingly on-brand answers I got. We covered a lot of ground: from Salem's mission, to the new audiences they're appealing to, to some points of a little more… contention. So let's get into some segments of our interview.
Katie: To begin, uh, Mr. Boyce I would love to just have you introduce yourself, tell me who you are and what you do.
PB: Okay. My name is Phil Boyce. I'm senior vice president spoken word for Salem. I manage the Salem radio network, uh, the Salem podcast network, Salem news channel, Salem New York, . And I have a little something to do with all of the. Radio station Salem owns all over the country, both in the news talk format and the Christian talk format. So basically anything spoken word at Salem, you would go through me.
KT: In your tenure, you've added some new talent to the Salem lineup. Um, Dr. Sebastian Gorka Eric Metaxas, Charlie Kirk. Um, most recently, Brandon Tatum. I'm wondering, sort of what you looked for in your new hosts? What made them great Salem hosts?
PB: I have a track record of finding and grooming talk radio talent. When I got to New York at WABC, I found Sean Hannity. I found Mark Levin. I brought Mike Gallagher over to WABC. And you ask me what it is I look for a host who wakes up every day with a show screaming to get off their chest. Somebody who's driven to succeed. Somebody who is particularly gifted at communicating in the spoken word format, uh, who has something to say knows how to say it. And, and is articulate in the way they explain things. And beyond that, it's all more of a of an instinct on my part.
KT: In Salem's 10 Ks, Salem reports that you are fundamentally committed to programming and content, emphasizing Christian values, family themes, and conservative news, and that Salem's quote, commitment to these values means that we may choose not to switch to other formats or to pursue or pursue potentially, More profitable business opportunities in response to changes in audience preferences. And I had asked in email if the political programming and the religious programming was ever sort of at odds with one another.
PB: If the political programming is at odds with the Christian programming.
KT: Yeah.
PB: It's not. Let me see if i can give you a little more on that. Salem's basic format, the format that started the company is what we call Christian Teach and Talk. It's basically an all Christian, all the time format that helps people accept the challenges of their life through a Christian worldview. Maybe you don't know this, but a lot of the Christian Teach and talk listeners are conservative politically. Not all of them, but a lot of them are. And if you look at the Newstalk format, a lot of the Newstalk listeners are either Christian or Jewish or have some kind of a faith. In their life. So I don't find there's any conflict or any disagreement between the two. I just think it would be a misinterpretation of what those listeners expect out of the speaker for you to think otherwise.
KT: So I'm a little bit curious, just to dig a little bit deeper, you know, it's pretty rare that in a publicly traded company you see in a 10 K a statement that you may pursue a less profitable option. So I was very curious if that had come up within your tenure.
PB: There is something different about Salem that I think you need to understand. Uh, the difference with Salem is, even though we always want to make money and we do make money, we're in this to save America. We have found that the most profitable route is the route that's consistent with what we call Salem worldview. Look, if we don't make a profit, It doesn't give us an opportunity to do the things that we want to do. So the two things go hand in hand. We don't ever go out and intentionally lose money. Everything that we do is intended to make money.
KT: And you mentioned the Salem worldview. What? What is the Salem worldview?
PB: Well, there's nothing really in writing for that, but we believe that America is the greatest country on. And we should do everything we can to protect the Constitution, to help foster the conservative values that we think the country was founded on. You know, I can't give you a paragraph of something out of our handbook. I can just tell you that. I know in my heart what it is, uh, the chairman of the board Ed Atsinger knows what it is, our CEO, Dave Santrella knows what it is. And we think we're performing a really important job in America.
KT: And I know you have a long background in commercial radio. How does it feel for you to be at a station that has those explicit values versus some of the other stations you have been with previously?
PB: It feels like I am where I am meant to be. I'm happy to be able to work for a company where not only do I make a good living, but I feel like I can contribute to making the country a better place to live. You know, when you look at what's going on with the media, you think about this, Katie, on the secular side of the mainstream media, it's almost all liberal. So you've got the great newspapers, the New York Times, and the Washington Post, and some of the other newspapers. You've got the TV networks, abc, cbs, NBC, you've got the cable channels, MSNBC, CNN, and then you've got us. You've also got Fox News Channel. You do have some others on the conservative. But sometimes we feel a little bit outnumbered.
KT: Do you all see the work that you're doing as sort of similar, comparable to what an outlet like the New York Times, the Washington Post is doing? Is it entertainment or is it journalism?
PB: Well, I, it is entertaining. It is informing, my hosts are not particularly journalists, although they sometimes will use journalistic tactics to tell their stories. My host are storytellers, they're opinion makers, they are thought leaders, and I think there's room for all of that. I think, uh, somebody has to tell the other side, otherwise we'll continue to drift to the left, to the point where I, I worry about the future of our country.
KT: Salem under your leadership has been doing very well. You've had some record years, um, is that because of the sort of diversification of platforms that y'all have gotten into that you say that?
Exactly. It is because of the diversification...we're not just a radio company. we've built the SalemNow.com platform, which is our video on demand platform… And then wWe built the Salem News Channel, which is our OTT television network with a TV network, 24/7/365 of conservative content, uh, with, using some of the same radio hosts that you hear on Salem radio network…. You can watch us on Salem news channel. Salem is also into publishing. You can read us in our books… We've built the Salem podcast network, which is now, uh, I think 25 different podcasters. With podcasting, we've been able to reach a much younger audience… Julie Hartman… She just graduated from Harvard… And, uh, you know, she's reaching a demographic that we have to reach: young females… You're gonna see us expand in that platform and reach new people that maybe, maybe they don't even know how to find the AM band on their car radio. Maybe they think that AM uh, on button, on their car dashboard means morning… I don't know, but, it doesn't, it means AM. But if they don't wanna find us there, they'll find us on the podcast or someplace else.
Katie: It seems like you also do have faith that those younger hosts are reaching people on the terrestrial airwaves as well though. I mean, Charlie Kirk is on the air.
Boyce: That's right. And, and don't forget, Brandon Tatum. Brandon, who just joined us to replace Larry Elder, Black conservative. I found Brandon because he has 1.9 million subscribers on YouTube. That's three times the size of Charlie Kirk, three times the size of Dinesh D'Souza. So we gave him the slot to replace Larry Elder. And he's 35 years old. So, uh, yeah, we're reaching younger people all the time.
A quick aside to you, listeners. Salem may have started as a company rooted in southern, white Evangelicalism. But they were on a mission to reach far beyond that. And appealing to new and more diverse audiences has been key to their effort - and arguably they're better at it than their conservative peers. From the early days, Salem bought signals in big cities. When they officially went into secular political talk in '95, they were quick to bring on Black conservatives and Jewish hosts. They syndicate to small towns, but Salem-owned stations serve a niche audience of conservatives and would-be conservatives in cities and the surrounding suburbs. And today, their listeners may relate more to Eric Metaxas' corner office studio in the Empire State Building than a rural Iowa diner. Salem's political talk radio listeners earn more than the average American. They are more likely to have gone to college, more likely to own their own home, and more likely to be a business owner. And Salem is always working to get the message out to even more audiences.
Katie: Let's talk about… the Spanish language programming and what the goals are.
PB: We think that Hispanic people generally by nature lean more conservative. They're generally more family valued. They, in many cases are more, uh pro-life… they're hard workers, they're entrepreneurial, uh, and they just naturally believe in family. We'd like to see more conservative talk be made available to the Spanish audience. We think that they're natural candidates for the conservative movement. And we wanna provide them more information to be that way.
Despite this wildly stereotypical, monolithic, and transactional understanding of Spanish-speaking audiences, Salem already has a couple of stations that broadcast in Spanish. They recently acquired two more, both in South Florida. And earlier this year, they were on the cusp of buying 18 more, spread out across 10 different cities. But they were outbid by a newly formed group called Latino Media Network. Most of the group identify as liberal, but not all. The purchase was made, in part, with money from a fund supported by George Soros — which has led to some furious tweets about how the FCC is allowing a "leftist takeover of the airwaves." And while Phil Boyce didn't go that far, he was not happy about the purchase.
PB:They want to do for the liberal side, what we wanted to do for the conservative side. I think they're gonna be the opposite of us. And I think it's gonna be bad.
KT: How so?
PB: You mean, how is it gonna be bad?
KT: Yeah.
PB: Uh, I don't think that they're going to be truthful with the Hispanic population they're talking to.
There was one last thing I really wanted to talk with Boyce about. In our email exchanges before this interview, I told him that I was planning to ask him explicitly about what I called "disproven falsehoods" about the 2020 election. But Boyce took issue with that characterization. He wrote, quote, "These are not disproven and these are not falsehoods."
PB: There is proof that there were shenanigans played and my company bank rolled a movie called 2000 mules and we showed the evidence on screen. And I challenged you Katie to go see it. Have you had a chance to see it?
KT: I did. Yes. Yes. I have seen it.
PB: All right. Good. So what you saw there was evidence that something was going on in the 2020 election.
Katie: I do think it's important to point out that many people, tech experts and others have challenged the methodology behind the film saying that it's impossible to prove using that geotracking data that the people were actually going directly to the drop boxes. It was argued in the film that people went to multiple drop boxes and this was caught on video. It was never shown… Cases that were brought up in the movie went to the Georgia bureau of investigation. You know, the Georgia bureau investigation has said that they, that there is not a case…
PB: You do have fact checkers that are denying it, and they're giving a variety of reasons why this bit of evidence or that bit of evidence should be discredited. By the way, all the fact checkers are liberal. So it's in their best interest to discredit the movie.
KT: I, I do just wanna sort of clarify, you said that your listeners believe there were shenanigans and that Salem bankrolled this film to prove that. Does Salem leadership feel that those claims of election fraud are valid, are factual?
PB: I, you know, I, I don't think we have an official statement on that other than to say that shenanigans were played in the election. You can take different opinions about it, whether or not it was enough to overturn the presidential election… Our opinions are just that -- they are opinions. My host are paid to express their opinions.
Katie: So, you know, you mentioned this is a matter of a differing opinion. Um, do, do you feel that this is then a matter of opinion rather than fact?
Boyce: Let's talk about opinion versus fact. One of the things you said in your email to me was you wanted to ask me about misinformation or disinformation on the part of my hosts. And I responded that what some people on the left call disinformation or misinformation is nothing more than a disagreement of opinion. It's a matter of opinion. My host have the right to investigate and look at a particular situation, come up with their conclusion and state their opinion. And it's not right to call that disinformation. And then try to silence that information. Imagine how boring this country would be. If there was only one opinion, allowed.
KT: Of course. But respectfully, I would say in, in my listening, I've found that hosts are not necessarily sharing these claims, uh, these assertions of election fraud, as a matter of opinion, they're sharing them as a matter of fact saying, you know, we have this proof, um… there's a section within 2000 Mules where Dinesh d'Souza is sort of recapping the "facts" about widespread coordinated election fraud. Um, not opinion but facts. Do you think that listeners understand that this is opinion?
PB: Well, uh, the, it is opinion based on what my host believe to be factual…Uh, we don't wanna be wrong. We wanna be right. Uh, but our opinions are what's important. And we hope that our opinions will persuade people that we're right.
Katie: What was going through your head when January 6th was happening? Did it cross your mind to possibly ask hosts to change their content?
Boyce: No, it did not cross my mind to ask hosts to change their content, because I didn't hear anything from my host that I could not defend… I would never send an email out like one company. To all my hosts saying, don't talk about this or that. Or in the, in this particular instance, they said, don't talk about the 2020 election…
Katie: You alluded to the memo about January 6th that came down from Cumulus I believe…
Boyce: What did go through my mind was a feeling of sadness, because I know many of those hosts that are being impacted over there. ... And I feel bad that they're being put in this position… It's disappointing to me and I'm saddened by it.
Katie: Mm. So the sadness was for the hosts that they couldn't...
Phil: That's right.
Katie: …speak about that. Interesting.
Boyce: Look, we're not trying to overturn that election. You can't get Biden outta the white house now. It's too late…. But certainly things happened in that election that shouldn't have happened. And… you can make sure that those shenanigans that were played aren't played again.
KT: Is that a hoped for outcome of the film? To be able to ... strengthen some of those so-called voter integrity laws.
Phil: Absolutely. Now the state of Georgia did pass a voter of integrity law last year… All Georgia did was try to make their elections more secure so that, mo- uh, the right people would vote… It was not voter suppression. As Biden called it, it was not Jim Crow 2.0, it was actually the right thing to keep the right people voting.
Katie: There are many people who say that in practice, those laws, not unlike poll taxes and the literacy tests of bygone eras, disproportionately keep poor people and people of color from voting.
Boyce: I think that anybody who's poor can still get a drivers license. I think anybody thats of color can still get a drivers license. I don't know how you, uh, live in this society without one. And, uh, or if they don;t drive, they could get some kind of a picture ID. I think thats all that was intended was to make sure that the right person with the right picture is voting. And I, I think its actually insulting to either the poor or persons of color to say that they cant figure out how to get a picture ID. Come on.
Katie: right. And, and I don't think anybody's saying that they can't figure out how to get a picture ID, but in practice those things, whether it's a matter of, of being time consuming, um, or there are language barriers, historically those things have been barriers to many members of those communities.
Boyce: I think that's all that was intended was to make sure that the right person with the right picture is voting… if you don't have the right documentation, you shouldn't be voting… I, I want all of them to vote. I just don't want illegal people to vote.
Katie: I'm wondering if, you know… Between the challenges that have come up with 2000 Mules.. this sort of pending, um, defamation case, that names Eric Metaxas... What would you say to folks who might say that Salem is sowing mistrust in American election?
Boyce: It is not our intent to sow mistrust. It's our intent to actually build trust in the American system. I don't agree with that, that Salem is sowing seeds of mistrust. I really don't. We're, we're sewing seeds of belief in America. That's what we wanna do.
Katie Thornton: I know we have to wrap up. So I wanna ask you one sort of big picture question… I know that Salem is in many, many different mediums, um, but what do you say to those who just say radio just doesn't matter anymore, right?
Phil Boyce (Int 1): Well, radio will always matter. But its growing and expanding into all kinds of different formats and forms. So now you can hear us on podcasting. You can watch us on Salem news channel. so there are always going to be ways for us to get the word out as to what we do. And I think that were finding new ways that we can reach our audience with our message. And well continue to do that. And, uh, you know, I'll see you in all of these different venues, Katie, because I think they're all growing and they're all going to make an impact.
In many ways, I enjoyed my conversation with Phil Boyce. He was nice to me, and we share a love for radio. But I've been listening to his stations for a long time now. And to me, what I hear doesn't sound like they're trying to build trust in… anything… except themselves. Not science, not education, not our neighbors, not the democratic process. And there's a part of our conversation that really stuck out to me…
PB: Now the state of Georgia did pass a voter of integrity law last year… All Georgia did was try to make their elections more secure so that, mo- uh, the right people would vote…
Dinesh D'Souza in 2000 Mules suggested the same thing.
Dinesh D'Souza: …These states that are trying to do something about systematic fraud by restoring a modicum of let's call it the old rules, checking your voter ID, checking signatures… these voter integrity laws, far from being voter suppression are actually a legitimate way to make sure that the people who vote are actually eligible to vote?
When I hear D'Souza and Boyce say they want the "right" people to vote, I'm reminded of something we heard in Episode 2...
Paul Weyrich: "How many of our Christians have what I call the 'Goo-Goo syndrome'? Good government.
That's Paul Weyrich, founder of the council for national policy, the conservative networking group that Salem has had close ties to for decades.
Weyrich: They want *everybody* to vote. I don't want everybody to vote! Elections are not won by a majority of people. They never have been from the beginning of our country, and they are not now. As a matter of fact our leverage in the elections quite candidly goes up as the voting populace goes down."
Election denial and the undermining of the democratic project seems to have been good for Salem's bottom line… But I wanted to know, is it LEGAL?
Joel Timmer: There are two policies which might be used to target false news story.
That's coming up, after the break.
This is The Divided Dial, I'm Katie Thornton. And from the time I started reporting this series, I had wondered if Salem - and other outlets, are breaking any laws when they broadcast election denial rhetoric and other falsehoods. So I talked to some experts. Including Joel Timmer, professor at Texas Christian University, who we heard from before the break. He says, false speech has been deemed acceptable under the First Amendment. And there are good reasons for that.
Joel: If we did punish speech that was false, the big concern would be that that would lead to a chilling effect.
Chad: The rationale is that the public in a democracy is best served by timely reporting and robust, wide-open debate about public affairs.
Chad Raphael, professor of communication at Santa Clara University, agrees.
Chad: And that could be threatened if the news media feared punishment for making honest mistakes.
But there are exceptions when there's harm associated. And when broadcasting on the public airwaves in particular, there are a couple things that could potentially curb dangerous falsehoods. the first one is called the "hoax rule." It was put in place to stop deceptive radio station promotions that… took their "fun" a little too far.
Chad: So for example, there was a radio station that, um, staged the kidnapping of a disc jockey as a promotional stunt.
Or, in 1991, when rock station KSHE in St. Louis played a warning siren and falsely claimed there was a nuclear attack in progress...
KSHE: Attention, attention, this is an official civil defense warning. This is not a test. The United States is under nuclear attack [beep] [explosion]
The hoax rule has been on the books since the early '90s, when there were a slew of these stunts taking place. But people have tried to use it in other contexts too. In March of 2020, then President Trump claimed, without basis, that hydroxychloroquine could help with COVID and that it's, quote, "not going to kill anybody." But it did kill somebody just a few days later. After those claims were aired without comment by some outlets, a group called Free Press petitioned the FCC.
Joel: So they alleged that the broadcast hoax rule had been violated there. [BUT]… the FCC dismissed the petition.
The hoax rule has never been used for false coverage in news. But there's another regulation on the books, called the "news distortion policy."
Chad: The FCC's News Distortion policy prohibits deliberate staging, slanting, and falsifying of news. So that means that broadcasters can't… knowingly report false information.
On radio, it is illegal to deliberately distort the news. But that policy… has rarely been enforced.
Chad: The commission has rejected most complaints without even investigating them… The research literature shows that between 1969 and 2018, the FCC has ruled against broadcasters in only eight of 128 published cases of distortion. And it's dismissed many, many more cases without even investigating them.
In three of those eight cases, the FCC sent a strongly worded letter — with no penalties.
Chad: In two other cases where distortion was compounded by numerous other infractions, the commission issued short term license renewals, which is like putting them on probation. But they renewed their licenses after that. In the last three cases, distortion contributed to a host of violations that ended up costing broadcasters their licenses, but it was only one of many infractions.
So, what that means is…
Joel: No one has lost their license specifically due to only a violation of the news distortion rule.
By the way, the last time any of this happened… was decades ago. Oh, and that hoax rule?
Joel: The FCC has never found anyone to have violated that rule.
But Chad says it may not be a matter of underenforcement. The toothlessness is kind of… baked in.
Chad: I think that, as it's written right now, [the news distortion policy] was designed to be unenforced and unenforceable… [The FCC], it's current definition of distortion will mention three criteria for approving distortion.
One, the coverage in question has to be on a significant matter. Two, news has to be intentionally distorted — not an innocent mistake or expression of a controversial opinion. And three…the kicker.
Joel: There has to be extrinsic evidence, uh, other than the broadcast itself, uh, about the distortion… So some testimony from someone that they were bribed or told or directed to, air false statements.
That kind of explicit pressure is rare.
Chad: When I analyzed FCC decisions between 1969 and 99, I found that lack of this outside evidence was the main reason the FCC gave for dismissing distortion complaints… The FCC tends to only question whether they were distorted if you can show a kind of smoking gun memo or outtake or testimony from a journalist that they were told to fabricate something.
And there are some other things that render the policy pretty meek. The FCC only allows complaints about news distortion to be considered at the time of a station's license renewal or transfer to a new owner. Those renewals used to take place every three years — so you could take action on something relatively quickly. But today, the FCC renews licenses only every eight years. It was lengthened as part of the 1996 Telecommunications Act. So, with reviews only taking place almost once a decade, the news distortion policy can't be responsive to the immediate threat disinformation poses. Plus, the only action the FCC can take on news distortion… is to remove a license. Which is really extreme, and something they do very rarely.
Chad: What I found was that the FCC had essentially created a symbolic regulation that, um, reassured, uh, its overseers and Congress at the FCC was going to be a watchdog for truth in journalism without actually enforcing the policy. It's not… likely to be a powerful cudgel against misinformation. Never has been.
Chad says there are a few things that the FCC could do to make the policy more effective. The first idea is to have enforcement options that aren't just what he calls the "nuclear option" of removing a license.
CHAD: If you could fine a broadcaster, if you could require them to enter into consent agreements, if you could issue demands for them to substantiate claims or air corrective programming, um, there are plenty of other options that would give the FCC the flexibility and maybe the courage to act more often on instances of distortion.
The FCC could also look at how other federal agencies have curbed dangerous false speech while still respecting the First Amendment.
Chad: They could adapt the Federal Trade Commission's regulations on deceptive advertising, which really just requires that you show that an advertiser… made a representation that was likely to mislead a reasonable consumer. You could adapt that to news, which after all, for commercial news organizations, news is, is a kind of commercial speech these days. It's designed to attract audiences, to sell to advertisers.
Or they could look to some other definitions of illegal speech.
Chad: Libel law offers another standard, a different one, which is "reckless disregard for the truth," which could be grounds for arguing that a news station ought to be doubtful about these kind of claims if it's been presented with really strong evidence that those claims are false. But the FCC didn't incorporate the "reckless disregard for truth" standard into its news distortion policy. So in many ways, it's harder to prove a news distortion claim than a libel claim.
Salem and Eric Metaxas are facing defamation suits over their claims that a former Dominion Voting Systems executive was at the heart of a national plan to rig the 2020 election. But Chad says there are drawbacks to private defamation lawsuits standing in for regulations.
Chad: They're incredibly expensive. They're often settled out of court with no clear resolution for the public about what was true or false… and they fail to remove bad actors from the airwaves. I think in general private lawsuits like libel don't directly vindicate the public's interest in truthful news.
As it stands right now, neither… does the News Distortion Policy. Even so, I did ask Chad if he thought there was grounds to find any Salem stations guilty of violating it. Like any good legal expert, he said he couldn't comment on the specifics of a case...
Chad: But I can say this. If the leadership of one of the major political parties is asserting that a falsehood is true… it's not likely that the FCC's gonna hold a broadcaster accountable for repeating that falsehood or even amplifying it enthusiastically. So, you know, "stop the steal" or "vaccines kill" — if you've got a major political party in the US that is repeating that consistently, it's gonna be very difficult for the FCC to, to decide that broadcasters aren't allowed to do it.
So, if the FCC isn't making false broadcasts a priority, what other options are there that could help curb the influence of dangerous falsehoods on the air? We've talked throughout the series about the Fairness Doctrine — the policy that sought to counter one-sided broadcasts not by restricting speech, but by encouraging more speech. And every so often there's a push among the public, or even Congress, to revive it.
Nicole: I don't think that's something like a new fairness doctrine would work…
Historian and author Nicole Hemmer.
Nicole:…precisely because FCC commissioners are appointed by presidents. And that would backfire, I think pretty quickly.
And if it was politicized, it wouldn't be the first time! Remember when Kennedy's FCC used it to intimidate some broadcasters who were airing McCarthy-ite voices in the 1960s?
Plus, the idea of "fairness," can sometimes be at odds with a core journalistic tenet … reporting the truth. If broadcasters were forced to air the "other side" of issues like supposed widespread election fraud or climate change, that would mean platforming extreme ideas that just aren't factual.
On top of that, the Fairness Doctrine only applied to inherently scarce broadcast media — radio and television. Not cable, not the internet. And perhaps most importantly, the Fairness Doctrine alone didn't prevent racist, one-sided broadcasts from dominating the airwaves back in the middle of the century.
So…if not content regulation, then what? In Episode 4, we also saw how economic decisions, like the 1996 Telecom Act, ended up dramatically affecting content. Getting rid of the limit on the number of stations a single company could own nationwide let those who were already at an advantage in the market get massive, and blast almost exclusively right-wing programming all over the country. So could economic changes make it possible for more owners to get on air with more perspectives?
Nicole: You could pass legislation that breaks up monopolies, um, or near monopolistic enterprises, like clear channel and Salem, and that open up a little bit more space for different content providers.
Local and diverse ownership have both been shown to be correlated with viewpoint diversity. And both took a hit after the '96 Act. The number of Black-owned stations was cut by more than half in the years between 1995 and 2012. Today less than 2% of commercial stations in the US are Black-owned. Only about 7% are owned by women. And many stations across the country — or even whole cities — were left with little or no local input, local jobs, or local voices on the air.
But former FCC counsel Mark Lloyd says local or diverse ownership don't guarantee diversity of opinion. Remember the story of WLBT in Jackson, Mississippi, managed by a dedicated white supremacist in the 1950s and 60s?
Mark: The local owner of WLBT did not serve the local community.
And today, in this deregulated and consolidated market that has allowed conservative talk to dominate for so long, the format has become, as we talked about last episode, a "safe" bet. So even breaking up existing big, for-profit companies and replacing them just with smaller ones — regardless of who owns them — wouldn't necessarily change the content on the airwaves.
Nicole: Conservative talk, that has been a proven moneymaker. It might be risky to try out different programs and work on building those different audiences. Because even though you might only be serving 30% of the people in an area…maybe even smaller than that, you're making a ton of money. So you have no interest in experimenting in that way.
Mark: These operations — however local they are, however diverse they are — if the rules are not in place that require them to actually serve the local community, they're going to serve the bottom line. I'm all for local and diverse ownership. That's not enough… You need to have the rules in place that give the local community power.
In the Civil Rights era, citizen action eventually led to policies like ascertainment and educational programming requirements. They were policies that didn't eradicate conservative and far-right perspectives from radio — no one's arguing for that — but they did increase the perspectives that could be heard on the airwaves.
And while the idea of creating new policies that would place community need over profit may sound like a fantasy, there's one thing that might actually make it possible on radio in particular.
The "electro-magnetic spectrum" — the waves that carry radio broadcasts into your home? That spectrum is public property. It's used for other things too — like government communications and wifi. But on that spectrum, radio companies have a special privilege.
Mark: Unlike the telecommunications companies, unlike AT&T, unlike, uuuuhhh...Cox broadband... radio stations use the public spectrum and pay nothing for it. Uh, AT&T pays to use the spectrum to... to provide you telephone service, or internet service. But radio stations, commercial stations, public stations, uh they pay nothing.
There's an annual regulatory fee station owners pay to the FCC. But they occupy the spectrum rent free. Because back in the 1920s, the government decided that private companies could use the spectrum, in exchange for a promise… a promise that is still on the books today.
Mark: They get it for the promise that they have made to actually provide public service.
For all the changes the radio dial has faced, that requirement to serve the public interest is still the rationale for granting and renewing stations' broadcast licenses. Still the station's duty in exchange for being entrusted — for free — with the public airwaves.
60 Minutes: CLICK click CLICK click CLICK click CLICK click
In a 1991 interview with 60 Minutes, Rush Limbaugh was asked, "What are you trying to do with this show?"
Limbaugh: I'm trying to attract the largest audience I can and hold it for as long as I can so that I can charge advertisers, confiscatory advertising rates. This is a business!
But unlike Limbaugh, not everyone stumbles into politics — and political extremism — for the payout. From early on, Salem Media Group wanted to shape audiences, not just serve a market. They preached ultra-conservative social messages. They stoked ideas of persecution, even as they grew evermore connected to the Washington establishment, and claimed more space on America's airwaves. They helped prime listeners for people like Limbaugh. In turn, people like Limbaugh brought those long-stoked grievances to a more consolidated, less competitive marketplace — and conservative outrage was a highly profitable industry.
Today, many of the same grievances Salem promotes are amplified by big-name talk stars like Dan Bongino and Sean Hannity, who are pumped out to huge audiences by Cumulus and iHeartMedia — companies that, though not explicitly ideologically driven like Salem, nonetheless blast these talkers out across the country to make a buck. Those out to make a profit are playing the game in an arena built by ideologues like Salem. And now, whether a company's motivation is politics or profit, the end result is the same: the product is everywhere.
And it's been a key source of information for many Americans — our friends, neighbors, and loved ones. And the father of someone you've come to know well. Nicole, who we've heard from throughout this series, was a grad student in 2004, when she went home to Indiana for the summer.
Nicole: And one day when we were out in the car, my dad turns on the radio and he says, you know, this summer, I'm going to get you to vote for George W. Bush. And he was going to do that by having me listen, to rush Limbaugh, to Sean Hannity, to all of these conservative talk radio hosts…
To Nicole's dad, there was something about radio…
He found it so persuasive and he found it so entertaining that he really did believe exposure was all that I needed in order to, uh, become like-minded politically.
Nicole's dad died in early 2009. And despite being a longtime talk radio listener, she says his love for America trumped all.
Nicole: After Barack Obama won the presidency, he didn't take the Limbaugh line of, I hope he fails. His line was, he wasn't who I voted for, but I hope that he does a really good job. And he wanted him to, right? Because there was this huge financial crisis and he likes this country and he didn't want things to go badly.
But things are different today. As companies like Salem have grown entrenched in everything from podcasts to web news to church sermons, there's a wallpaper effect of their sometimes hateful and anti-democratic messages.
Nicole says, if she's honest, she doesn't know how her dad would've handled this present moment.
Nicole: I don't know if he would have grown alienated from conservative media or if he would have grown alienated from me by moving down a much more radicalized path. Um, I, that's not a bridge we ever had to cross.
It would be naive to think that even the most politically and culturally diverse radio dial would solve for the current state of the discourse in our country. After all, you can't turn an ocean liner on a dime.
But maybe..... just maybe, if more and different voices were amplified we could help to redirect it.
I don't have solutions for what ails the rest of the media. But when it comes to the radio, we the people may have more say than over any other medium. The airwaves literally belong to us. Isn't that worth fighting for?