The Death of Historical Memory in Russia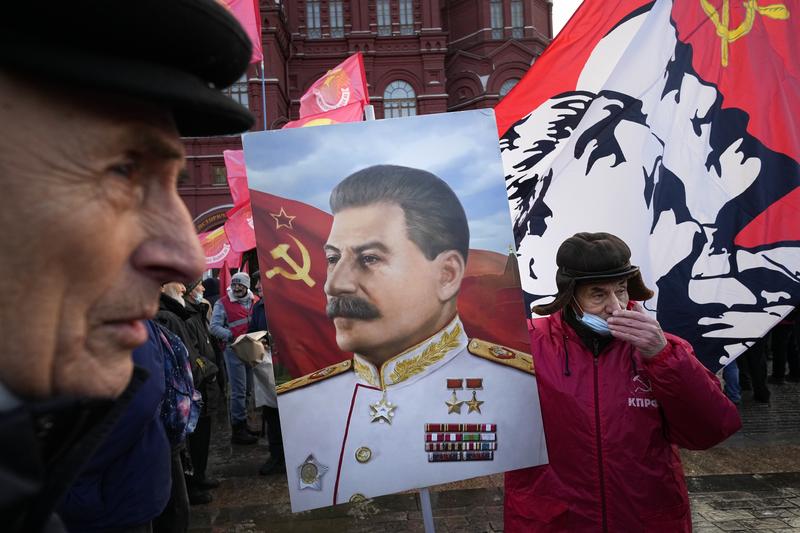 Transcript
[music]
Brooke Gladstone: This is the On The Media midweek podcast. I'm Brooke Gladstone. Last month, just days into the Russian invasion of Ukraine, Russia's Supreme Court announced it would uphold its decision to close Memorial International. The purpose of the organization has long been to amass and preserve records of the crimes against humanity committed in the Soviet Union, especially during the Stalin era. Archives are our collective memory banks that assure future generations can piece together a reliable accounting of history, and with luck, maybe learn from it. Which is Molly Schwartz was drawn to report on this story to begin with.
Molly Schwartz: It's late December in Moscow. I'm walking down [unintelligible 00:00:51], a wide street running north to south. Workers are up on the roofs of the buildings shoveling off huge clumps of snow. When the snow hits the ground, it sounds like a series of small explosions. It's 5 PM on a Friday, but when I walk inside the headquarters of Memorial International, people are hard at work prepping for [crosstalk].
Nikita Lomakin: We can go upstairs.
Molly Schwartz: Nikita Lomakin is an archivist at Memorial, the oldest and most famous human rights organization in Russia. His family, like millions of others, was touched by the terror of the 1920s and '30s.
Nikita Lomakin: My grandfather was arrested in 1938 and died soon after this.
Molly Schwartz: But that's not what drew him to these archives.
Nikita Lomakin: I like the paper. I like the sound of paper. I like the sound of scanner. I like databases. That's something which you like, like a [unintelligible 00:01:45] and so on.
Molly Schwartz: Memorial has documents about around 60,000 victims of Soviet repression. They also have an online database with information about over three million people.
Nikita Lomakin: I had an idea what to show.
Molly Schwartz: Lomakin takes me back to the stacks and turns a wheel, revealing piles and piles of boxes. Each box represents a person and each contains documents that open a window into a different time.
Nikita Lomakin: I try to reconstruct the folds and feelings and circumstances and try to internalize it.
Molly Schwartz: These documents tell the story of life in the Gulag, the brutal labor camps where hundreds of thousands of people were sent during Stalin's purges of the 1930s.
Nikita Lomakin: When a person gets arrested, a person go to prison, and after prison, transported to camp. During transport or you're in the train and you have nothing to write on, so what people do, you can see.
Molly Schwartz: Lomakin shows me a cigarette rolling paper covered in tiny Russian script.
Nikita Lomakin: People just wrote a small letter and put it outside the train, and somebody found it and if there was an address or something which could be sent to the person in the Soviet Union, they'd do it. This one is a letter on this cigarette rolling paper.
Molly Schwartz: What was this person's name?
Nikita Lomakin: That's Alexander Nagourney. He wanted to meet his wife while train passed, I think, Baku, but wife didn't come, he didn't know why, but in this letter, he wrote that I understand you did everything you could do for me.
Molly Schwartz: That's so sad, but sweet.
Nikita Lomakin: But this story helped to localize the place of this documents.
Molly Schwartz: As I look at this tiny rolling paper dropped out of a train as it passed by Baku, it seems like a miracle that letters like this survived and even more of a miracle that it made its way into Memorial's archives.
Nikita Lomakin: I would say that Memorial was a huge family archive, because people donated copies of the documents which they gained from state archives, documents which were held in the families like letters, drawings, and so on.
Molly Schwartz: Memorial's archives grew organically from donations like these. They came from people across Russia and former Soviet states and many from descendants of those who experienced the worst.
Nikita Lomakin: Memorial was founded by grandsons and granddaughters, people who are grown up in the '70s, '80s, '90s, people who witnessed perestroika and to whom this identity was part of the new identity.
Molly Schwartz: As he showed me around the archive, all I could think about was how vulnerable each piece of paper was and not because they're old pieces of paper but because an ominous court date was hanging in the air.
News Report: Now, one of Russia's most prominent human rights organizations is fighting for its survival.
Molly Schwartz: In 2016, Memorial was named a foreign agent by Russia's Ministry of Justice. The foreign agent law in Russia dates back to 2012. It allows the Russian Government to label NGOs as foreign agents if they receive any amount of foreign funding. Prosecutors have used this foreign agent status to bring two suits against Memorial for not properly marking things like social media posts or books at a book fair, with [unintelligible 00:05:12] saying they were distributed by a foreign agent. On December 28th, 2021, 11 days after my trip to the archives and 30 years after the fall of the Soviet Union, Memorial had its day in court.
News Report: Inside Russia's Supreme Court, the verdict was swift.
News Report: Today, Russia's highest court ordered the country's most prominent human rights organization closed.
News Report: The axe has fallen on an organization made famous for identifying the millions of victims of Stalin's purges.
News Report: The reason given is that the group which has for five years now been designated a foreign agent hasn't observed that law and declaring itself a foreign agent sufficiently.
Molly Schwartz: Memorial's supporters in the courtroom responded with shouts of shame.
[shouts of shame in Russian]
Molly Schwartz: Officially, the reason given for the closure was Memorial's repeated violations of the foreign agent laws, but in court, Alexei Zhafyarov, a lawyer from the Prosecutor General's Office said Memorial International's real crimes were distorting the history of World War II. He asked, "Why should we, descendants of the victors, be ashamed and repent rather than take pride in our glorious past?'' Much reporting that came out around Memorial's closure suggested this was really a battle over history and who gets to control it.
Ivan Kurilla: It supported the memory of those victims of Stalinist regime of the whole Soviet time of the repressions and that supported the memory of people who perished, and it supported the idea that the state can be dangerous.
Molly Schwartz: Ivan Kurilla is a Professor of History at the European University at St. Petersburg. He specializes in 19th century Russian-American relations, and he published a book this year called The Battle for the Past: How Politics Changes History. He says Memorial's version of history put it directly into the crosshairs of Russia's current president.
Ivan Kurilla: Vladimir Putin from the very beginning started to use the past as a part of legitimation strategies for his regime, and he became acting president in late December of 1999. Then February of 2000, he flew down to Volgograd and went to Mamayev Hill, and that was a major point for the Second World War and the Russian Stalingrad battle, and
Mamayev Hill was a huge Memorial to the Stalingrad battle. Putin started establishing his personal link to the major event of the Russian 20th century history.
Molly Schwartz: One of the first things Putin did as president was to switch up the national anthem. He sidelined the slow Glinka tune of the Yeltsin years in favor of an old Soviet national anthem dressed up with some new lyrics.
[national anthem]
Molly Schwartz: To be fair, the old anthem is pretty good. I mean, come on-- This is rousing. If I were on an Olympic team, I'd want to march to that.
Ivan Kurilla: Then, the year 2014, annexation of Crimea and the deterioration of Russian relations with Ukraine and with the West. In the same year, 2014, the criminalization of the so-called Rehabilitation of Nazism was introduced, not a coincidence I say.
Molly Schwartz: This Law Against Rehabilitation of Nazism makes it a crime to spread "false information" about the Soviet Union's role in World War II," and also included--
Ivan Kurilla: Disrespect to the holidays of the military victories.
Molly Schwartz: It was under this law that sales of the book Maus were banned in 2015. Then in 2020, a clause was added to the Russian constitution which gives the state the power to defend the "historical truth."
Ivan Kurilla: It can be used to shut up the narrative which teach people that the state can kill people. That was one of the major discovery for the public in the perestroika era that the Soviet state did kill hundreds of thousand people.
Molly Schwartz: One of Memorial's activities that first got it into trouble was its education program.
Ivan Kurilla: Memorial for many years organized competition for high school students, they encouraged students to write history of their families. It was not always about repression. It was just about the 20th century personal history, but several years ago, the state tried to stop it, and that is very telling because the family histories, the last refuge of the alternative narrative, because people know that their grandfathers or granduncles were arrested or had very difficult lives during the Soviet time, and that competition helped to keep this narrative, which is different from the official school books.
Molly Schwartz: Then there were the things that Memorial did in present day Russia to the chagrin of certain parties in power. Once a year, reading aloud all the names of the people who were shot in the Great Terror of 1937 to to 1938, putting plaques on apartment buildings to show that residents living there were killed by Stalin. Kurilla told me that Memorial's experience in Russia holds some lessons for Americans seeking to expand our perspective on our own history.
For example, he praised how the authors of The New York Times' 1619 Project challenged how the history of slavery is told, but added a note of caution.
Ivan Kurilla: What will be bad from my point of view is if the Project of 1619 will say, "This is the only history which happened to the United States." We should understand that the American founding fathers were not only slave owners, but they still brought something important to this world. If you get rid of these important ideas, it would be not a good development. In the Russian case, it's exactly about that. If you get rid of the Memorial, it will be bad for the Russian future, but if you'd say that victimhood was the whole story of the Russian nation, it will be not good as well. Learn to live with multiple versions of our national history.
Molly Schwartz: If that's even possible, especially when it comes to our history of slavery and all that followed from it. The battles over so-called critical race theory are a case in point, but Kurilla suggests Russians may be even more serious about their history.
Ivan Kurilla: History is important for Russia for several reasons. First reason, because after the collapse of the Soviet Union, there is no more ideals to build toward. The second was the very tragic history of the 20th century, which included millions of people dead in the Second World War. This is something which usually is underestimated in the United States, but 27 million Soviet people, the vast majority of them from Russia but not only Russians of course died in the Second World War, and up to 1 million died from the state repressions. Every family had somebody perished in the war or in Gulag or both. That is something which is still alive.
Molly Schwartz: As I write this, Russia is massing troops along the border of Ukraine and Putin continues to assert that historically the two countries are "one people." Kurilla says this is why history shouldn't be used for political purposes.
Ivan Kurilla: Because some of the narrative will call for arms to fight neighbors. My big hope is the historians and the politicians will stop doing that.
Molly Schwartz: Lomakin says it's no secret that Memorial is a liberal organization with dissident roots, but the archives have taught him that personal stories don't fit inside ideological models and that's not what the people want or need.
Nikita Lomakin: It's more about the family stories, more about the story of the country. It's not about human rights. It's not about even maybe not about rehabilitation.
Molly Schwartz: Stories are appealing because amid the chaos of life, they're neat. Beginning, middle, end. Ivan Kurilla would say, "Our biggest mistake is thinking of history that way. Rarely do people or nations follow grand historical narratives." They're random, contingent, contradictory, which is why when composing it, the more voices we get to hear from, the better, and the more politics stays out of it, the better still. For On The Media, I'm Molly Schwartz.
[music]
Brooke Gladstone: It was only a month ago that we first aired this piece, but already, the information and media landscape in Russia is unrecognizable. Unknown numbers of journalists have fled draconian new laws that could land them in prison for 15 years for contradicting the party line on the war in Ukraine, and state-controlled media has tightened its stranglehold on the airwaves. In the chaos of the past few weeks, Memorial's closing was tragically just another data point, another nail in the coffin for truthseekers. Thanks for listening to this podcast extra. We'll be back at the end of the week with another show for you. I'm Brooke Gladstone.
[music]
Copyright © 2022 New York Public Radio. All rights reserved. Visit our website terms of use at www.wnyc.org for further information.
New York Public Radio transcripts are created on a rush deadline, often by contractors. This text may not be in its final form and may be updated or revised in the future. Accuracy and availability may vary. The authoritative record of New York Public Radio's programming is the audio record.