Covering the Proud Boys, Without Platforming Them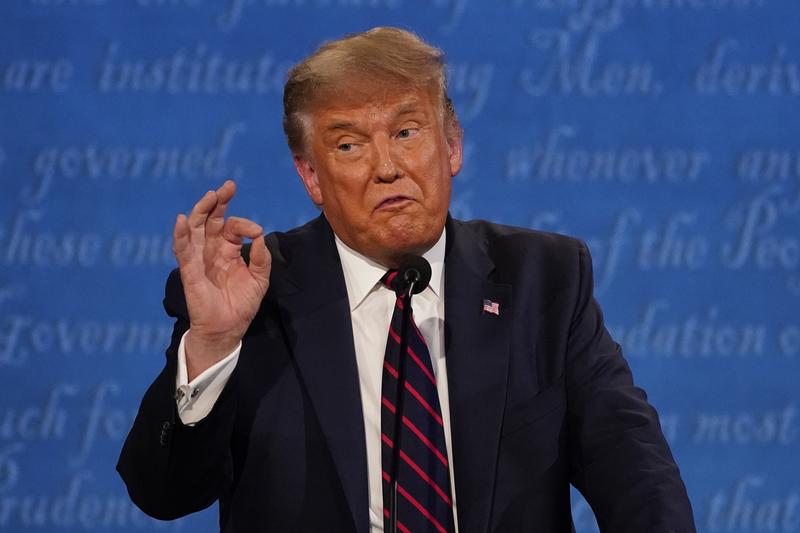 Transcript
Announcer: Listener-supported WNYC studios.
Bob Garfield: If over the past three and a half years, anyone were so distraught as to compare the Trump regime to a fascist state, the eye-rolling would commence. Don't be so hyperbolic. Don't confuse empty rhetoric for actual anti-democratic conduct. Look at you, Cassandra. You're a poster child for Godwin's law.
President Trump: I would say almost everything I see is from the left wing not from the right wing.
Chris Wallace: But what are you saying?
President Trump: I'm willing to do anything. I want to see peace.
Chris Wallace: Then do it, sir.
Joe Biden: Say it. Do it. Say it.
President Trump: You want to call them-- What do you want to call them? Give me a name, give me a name.
Chris Wallace: White supremacist.
Bob Garfield: That's Trump at Tuesday's presidential debate in Cleveland, declining to condemn white supremacy.
President Trump: Proud boys, stand back and stand by. But I'll tell you what, somebody's got to do something about Antifa and the left, because this is not a right wing problem-
Bob: Telling, let's say. In his depraved damn chaotic first term, we've heard Trump tell many thousands of lies, including classic big lies.
President Trump: I'm not denying climate change, but it could very well go back. We're talking about over a millions of years.
Lesley Stahl: But that's denying it.
Bob: We've seen him unleash the full power of the state, including the Department of Justice and the military against his political adversaries.
William Barr: They have to start showing more than they do, the respect and support that law enforcement deserves. If communities don't give that support and respect, they might find themselves without the police protection they need.
Bob: We've seen him wall out immigrants and cage children. We've seen him trash historical allies and subvert Congress to rule by decree. Now he's mobilizing his Brown Shirts, inciting political violence to maintain power. The specter of Nazi Germany has long since ceased to be dismissible per Godwin, as the careless extrapolation of alarming rhetoric into modern history's worst evil. 2020 Cleveland is now officially Munich in 1933. By any objective measure Donald Trump is a fascist tearing democracy from America, like a baby from its mother's arms. Which raises the inevitable question, what should the press do about that? We cannot not report vial presidential conduct, yet as we learned four years ago, and as Germany learned, 90 years, the very reporting spreads the message and moves the criminal fringe to center stage. Dr. Joan Donovan is the Research Director of the Shorenstein Center on Media Politics and Public Policy at Harvard University. As an expert on far right groups, she studied this dilemma closely and joins us once again now. Joan, welcome back to the show.
Dr. Donovan: Great to be here with you.
Bob: All right. What we witnessed Tuesday night, it was proof positive of political evil. It was also a recruitment ad for an otherwise fairly marginal group of political thugs. What went through your mind when you heard this exchange?
Dr. Donovan: The minute that happened, I could feel in my body, my temperature going up because I knew that this was going to trigger an entirely chaotic sprint of journalists towards anything labeling itself Proud Boy. Then the second thing I thought about was what Trump said right after, which was really trying to pivot to get Biden, to say, the left is just as violent. When you look at what the Proud Boys have been doing for the last few years, they have been beating up in the streets anyone they label as Antifa. It has been growing and growing and growing. I just was very, very aware that we were headed into a really dangerous situation.
Bob: I just wanted to clarify a bit. Antifa, of course, is the leftist, I hesitate to say, organization because it isn't much of that. It's not an army as Biden tried to explain. It's more like an idea.
Dr. Donovan: You have to think about it like feminism. Nobody's asking who's the president of feminism. It's a kind of ideology or a way of thinking about fascism.
Bob: There are protestors, some of whom have acted out even illegally, but it's in no way in equivalent of any of the right wing militias that have come heavily armed and body armored looking for trouble at, for example, Black Lives Matter protest.
Dr. Donovan: Yes. I think when we talk about anti-fascist protesters, we have to think about what is the context in which they arrive in the public square? One of the reasons why the Proud Boys have been de platformed on Facebook and on Twitter back in 2018 was related to the fact that they were using social media to call for these events. Then at these events, you would have a running street battle between different groups of folks, some of which are anti-fascist protestors, others were people that were coming out specifically against the Proud Boys. That kinetic energy that was surrounding Proud Boys call to action is really what propelled platform companies to take down their accounts in the first place.
Bob: It's not just that they have a history of violence, they have an ideology of violence. In 2019, there was a Manhattan judge, who sentenced two Proud Boys to prison for solving left-wing protestors. The judge observed, "I know enough about history to know what happened in Europe in the 30s, when political street brawls were allowed to go ahead." I made the same comparison to the Brown Shirts. Is it in fact a fair analogy?
Dr. Donovan: I think there's a few things that are going on that we have to impact in terms of the way in which the Proud Boys will want to present themselves. This has a lot to do with media framing, especially as we have a bunch of journalists hesitating to call them white supremacists in this moment, and are using the frames that the Proud Boys have put out about themselves. I heard this on CNN this morning.
CNN reporter: A lot of groups that arose during the Trump era, like the alt-right, they are not explicitly white supremacist. They say they want to support Western civilization, but they're not out there posting swastikas.
Dr. Donovan: If you look at the insignias that they use with their trademark Fred Perry shirts. Fred Perry has recently come out saying that they do not support the Proud Boys and that they're going to discontinue the black-and-yellow shirt until such time that it's no longer associated with the Proud Boys. In the hardcore punk scene there was earlier debate in the 70s and 80s about Fred Perry shirts and right-wing nationalist, racist skinheads even using those shirts to declare their nationalism. Fred Perry had issued a t-shirt design called "Black and white unite". The reason why this is all significant, just to think about historically, we also have to think about the kinds of symbols and where those come from and how those symbols are things that are important ways that they recognize one another. Then there's also important ways in which they function in order to signal their affiliation. Even the notion of Brown shirt. Why did they feel like they needed to come out in a unified front? Why do we see things like that replicated today?
Bob: Beyond the shirt, there's a whole mess of iconography and memes and brand characteristics that they flaunt, including one like something out of Dr. Strangelove and the reactionary General Jack D. Ripper
General Jack D. Ripper: Women-- women sense my power and they seek the life essence. I do not avoid women, Mandrake.
Capt. Lionel Mandrake: No.
General Jack D. Ripper: But I do deny them my essence.
Bob: What essence is it exactly that the Proud Boys suppress?
Dr. Donovan: One of the things that members of the Proud Boys are supposed to adhere to is this idea that they don't masturbate. Part of this actually is a toxic masculinist approach to the world, which is that, in having that self control, one is not giving over their desires or their will to women. We don't really know how seriously anybody takes those aspects of it. Essentially what the Proud Boys try to do is they use humor as a way to trigger the [unintelligible 00:09:22] curiosity of journalists to suggest, "Hey,. We're just a fun-loving group of guys. We're like a drinking club." Everything about them in some ways was clownish if you look back to 2016, 2017 when they first started gaining steam. Part of that jokinness was really about separating themselves from the faction of the alt-right that was being led by Richard Spencer at the time. They really wanted to carve out a space for themselves and a space for that approach to politics that is, "Everything is a joke" until of course it's not. We've seen literally thousands of videos now on YouTube of violence being perpetrated by these Proud Boy members. By and large, I think that the humor is something that draws people in, but it's not necessarily how journalists should characterize them.
Bob: You have seen such distraction work like a charm. Can you give me examples?
Dr. Donovan: Yes, for instance, when they were trying to garner media coverage, you would see them posting these initiation rituals on the internet: You need to be able to names a fair number of breakfast cereals while you're being beat up and then the beating will stop once you've done such a thing. What happens when you search for them and you find joking coverage really is an easy parry away from the charges that have come up against this group and I'm talking about actual criminal charges.
Bob: The idea of misdirecting the media while also attracting their attention is not unique to the Proud Boys. It's right out of the playbook of the Nazis and of the KKK and other nefarious organizations who have used the mass media to spread the word. What does their self-proclaimed ideology remind you of most?
Dr. Donovan: It reminds me of the moments in US history when people would describe the Klan as a civil society type organization, businessmen first, and to offer up representatives that are just trying to have fun with the guys and look at what these horrible protesters have done to attack them. I think, in the background, what they did try to do early on was generate an image of themselves as being really stewards of the MAGA Coalition as it started to come together. Then after the alt-right really wasn't able to keep it together and wasn't able to hide its racist tendencies, you did see a group like the Proud Boys try to step in and say, "Well, we have members who are from all kinds of races." That kind of multiracial right-wing front was then used to suggest that, "Well, how could Proud Boys be labeled as a hate group?" That kind of framing and that kind of media manipulation really only works if you have pretty good control of the message and are in control of the distribution of that message. Journalists for a while in 2017, 2018 really understood what the stakes were of their work and what these descriptions really meant. Journalists were very good at looking into the infrastructure and the resources of groups like the Proud Boys and showing how they were making money off of the notoriety they were gaining from these street battles and the merchandise that they were putting out. I'm thinking here of April Glaser's piece in Slate specifically. I think in this moment when the President mentions a group like the Proud Boys and tells them to stand by, it introduces a whole another set of complications, where now you have a general public looking for this information. In many places online, the misinformation that is leading is stuff that the Proud Boys have produced themselves.
Bob: There is the journalistic imperative to uncover, to shed light and yet you have counseled in the past for far-right groups, in general, that live off of the oxygen created by mass media, that they do a little less light shedding and more of what you call strategic silence. Tell me, please, about strategic silence.
Dr. Donovan: Yes, Danah Boyd and I have thought a lot about how do we both provide the coverage that is necessary so that people can understand the risks and the threats, but turn away from coverage that hands the microphone over to these groups and quotes them directly, let's themselves describe, because we were getting a lot of uncritical journalism of the alt-right. People were really asking the question, "Are they white supremacists?" Then they were calling them up and saying, "Hey, you want to go on record?" That wasn't working because it was allowing white supremacists to plant different storylines to even make their own content mocking journalists. There was a version of fascist podcasts that were recording their interactions with journalists and then playing them and then laughing about how dumb the journalists were for falling for it. As a researcher, I was privy to all of that and I think that journalists weren't intentionally being duped but I think that the pressure to get the story out was really speeding up and working in favor of white supremacists at that time. We were advocating for journalists to think more strategically about who do you place at the center of your story. Do you go look for groups that these groups have harmed and maligned and put those people in the center of the story or do you hand the mic over to white supremacists and say, "Have at it." We also were thinking more to about what is the protocols that platform companies need to have around strategic amplification so that when someone is just seeking more information and they look up, say, something like the Proud Boys, how do they then not get served more and more content about that thing that they were initially curious about but get served other kinds of content that is strategically placed in order to either debunk or defang some of these groups, so that people got a more true and correct picture of what they were seeing?
Bob: Can you give me a brief history of messaging by hate groups and how the press has over the years handled it?
Dr. Donovan: Yes, I think that the most important moment in US history really has to do with the 1960s and American journalists learning more and more that their coverage impacts policy, it impacts politicians' behavior, it impacts the way that police treat different groups. The pivot from looking at the KKK and describing their spectacles of violence and lynchings to looking at the victims, looking at civil rights organizations, looking to others that were trying to exercise their rights and were being told, "Yes, that's a right, but we're not going to let you have it." I'm thinking here of the lunch counter sit-ins, the Freedom Riders. It was really about that moment when journalists decided to reframe the conversation about the KKK to call them violent white supremacists and to call out that violence but that's really when I'm talking about the American white press. If you look at the history of the Black press, the way that they've covered the KKK has always been very different and it's the approach has always been to cover them in so far as you need to provide your audience with enough information so that they can protect themselves. In those cases, don't publish pictures of lynchings, don't publish pictures of cross burnings because those are things that they're doing as media spectacle. We do have versions and different kinds of ways to tell the history of the American press and its relationship to white supremacists and I think that we need to tell both of those stories.
Bob: You described two ways of covering this kind of story. One is to do so indiscriminately and see the spotlight to the very people who are problematic and then you also talked about a better path of focusing on the victims, focusing on the violence, focusing on the real story beneath the shiny object. There's a third path that over the years has been prescribed by particularly Jewish community groups dealing with explicit antisemitism and that is what they call quarantine.
Dr. Donovan: Yes. The notion of quarantine comes about at a time when the American Nazi Party is rolling from town to town hosting events, where one explicit tactic is to get into fights with protesters outside of the events in order to claim that they are being politically persecuted and in order to gin up the media engine and to give some more content to it. At the same time that they're showing off that they're brawny and that they're tough, they're also claiming to be victimized in silence. Jewish civil rights organizations decided that one of the tactics they were going to do is they would write a press release saying that Rockwell is coming to town and here's all the reasons why the press shouldn't cover it.
Bob: George Lincoln Rockwell, who was a prominent American Nazi in the '60s.
Dr. Donovan: Exactly. That method of quarantine of letting the press know that there is a strategy of violence that are going to call their attention to the problem, as well as telling people in the Jewish community not to go to these events and not to give them the spectacle that they're looking for was important. We're in a moment right now where part of the public square though and part of the ways in which these groups gain attention has really shifted to social media. The kinds of quarantine that we talk about now are similar to the ways in which Reddit will put up a little click through that says, "This group is known for misinformation or this group is in some kind of quarantine status. Then if they keep making either hate speech or organized harassment then Reddit would take them down. In the digital space quarantine really has to do with the degree to which platforms are willing to tolerate Neo Nazi behavior, white supremacists behavior and hate speech as well as organized harassment. I think we do need to revisit the notion of quarantine but when it comes to folks in the public square engaging, I think a lot of people in this moment understand the threat of fascism and they don't actually think it's coming. They think it's here. For them it's very important to confront it when it shows up in their cities because it's their last line of defense. We also don't have civil society groups coming out saying, "Well, just don't engage with them." I think that right now a lot of individuals are taking action. That gets to the heart of what we talk about when we talk about anti-fascist activism which is that, in some instances these are just regular people that for no other reason would be going out except for there are fascists organizing in their town square. If we think back to who was at Charlottesville protesting the alt-right's arrival, there were moms, there were families there, there were all kinds of people. You don't get that amount of people out unless it's a significant problem.
Bob: I think probably a lot of this conversation is tragically academic because when Trump uttered the words "Stand back and stand by," the phrase was immediately memefied by the Proud Boys. It is flying around the internet. I wonder what you prescribe the press under these circumstances when Biden inadvertently and Trump explicitly unleashed this brand message to world.
Dr. Donovan: When the president invokes a group like this or a group like QAnon like he did, the other last few weeks, is the impulse of journalists to show their work right now whether posting screenshots of groups that the Proud Boys do still operate on different apps. Those become places that people start to travel to. We've seen a huge uptick in people joining Proud Boy messaging group through the desire just to see what's happening. This is a very powerful recruitment tool. I really want journalists to protect their audiences in this moment. Give them enough information so that they have the story. but by and large, if you're showing your work and you're giving people access to the spaces and that these groups are congregating, then we're going to be in a very, very difficult place in just a few weeks when-- November 3rd we should have no expectation that we will know who won the election. Nevertheless there will be calls for protests. There will be calls for rallies and we have to be prepared for all of that. The last thing I'll say is we are in the midst of a very growing sentiment, both online and off, that the police are not going to protect the public. That sentiment, where it's coming from online from these very conspiracy minded groups, is turning into real world violence. We're seeing arising militias, arising vigilante groups. When the public thinks that it can perform the functions of the police not only are other members of the public endangered but the police themselves. Their duty to protect becomes much more complicated.
Bob: Joan, I want to thank you.
Dr. Donovan: Thanks for having me. It's always a pleasure.
Bob: Joan Donovan is the Research Director at the Shorenstein Center on Media Politics and Public Policy at Harvard University.
Copyright © 2020 New York Public Radio. All rights reserved. Visit our website terms of use at www.wnyc.org for further information.
New York Public Radio transcripts are created on a rush deadline, often by contractors. This text may not be in its final form and may be updated or revised in the future. Accuracy and availability may vary. The authoritative record of New York Public Radio's programming is the audio record.