The 'Country Queers' Who Don't Want to Flee Rural America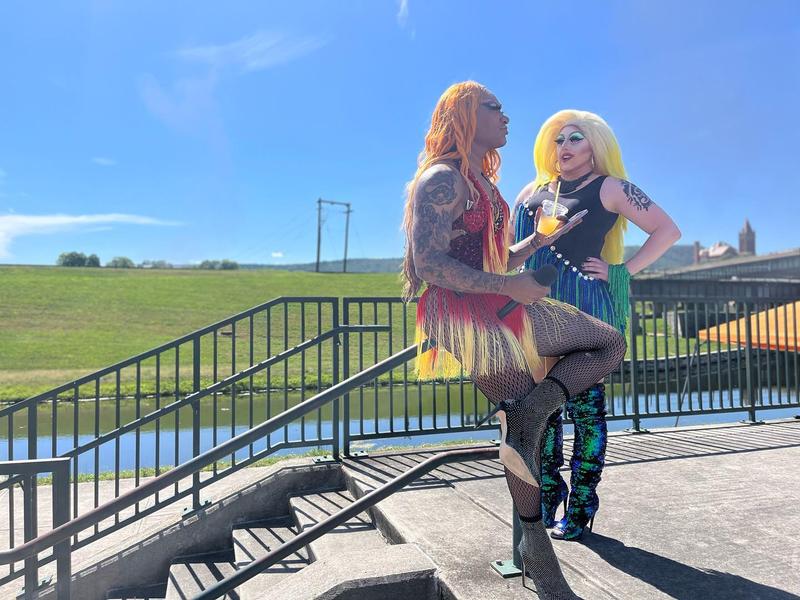 Transcript
Annalee Newitz: I'm Annalee Newitz and I'm co-hosting this week's show with Brooke Gladstone.
[music]
All across the country this month, people are celebrating queer and trans pride. We're having parades, cookouts, dances, family gatherings, and drag queen story hours for kids in libraries and schools. It seems like the LGBT community has never been more visible and yet, the future of this community feels darker than it has in a long time.
[cheers]
Speaker 2: Across Florida, protests against the so-called "Don't Say Gay" bill, officially, The Parental Rights in Education bill, it prohibits classroom instruction by school personnel or third parties on sexual orientation or gender identity in kindergarten through third grade.
Speaker 3: Across the nation, an attack on the rights of transgender children, hundreds of anti-trans bills have been introduced in the past year.
Speaker 4: Police arrested more than 30 members of a white nationalist group in Idaho. Officers confronted the Patriot Front Group on Saturday. Dozens were piled in the back of a moving truck. Police say they were traveling to a pride event where they were hoping to set off a riot.
Annalee: A lot of these attacks, whether they come from Proud Boys or elected officials seem to reinforce the idea that LGBT people cannot survive or thrive in places outside a few coastal cities, but this has never been true. A study from the Movement Advancement Project in 2019 revealed that at least 3 million queer people live in rural America, and they have no interest in fleeing to big cities for protection.
Rae Garringer has spent the past 10 years chronicling the lives of what they call country queers. It's for an oral history project and a podcast of the same name. Race subjects are LGBT people who are living in rural parts of the United States in small towns and remote farms, and they're taking great joy in it. From Makena, Hawaii-
Speaker 5: I think it's very beautiful. When the sun's going down, the light is turning like that golden red color. When it shines on these mountains, it creates these huge shadows, beautiful shadows in the ridges.
Annalee: -to Prospect, Virginia.
Speaker 6: My great grandparents bought 40 acres of land, and they're at the turn of the century. Actually, if you think about it, my great-grandfather would've then been a Black man traveling from West Virginia, wrap your head around that. Out of the original 40 acres, 35 are still here.
Annalee: Growing up without TV or Internet in rural West Virginia, Rae didn't hear any stories of queer and trans people living in their state, and it didn't improve much when they left for college.
Rae Garringer: The only accessible stories of queer people in rural spaces and trans people in rural spaces that were available in the early 2000s were the stories of the murder of Matthew Shepard and the murder of Brandon Teena. Boys Don't Cry, I think, was the first movie I ever saw that had rural queer people in it, and that's a horrible story. [laughs] That's a horrible, horrible story.
Annalee: What about when you finally got to college, things like the L-word, for example, did you see anything in there that felt like it was applicable to your life?
Rae: No, no, no.
[laughter]
I do remember the L-word came out when I was in college and I remember it was like this whole thing and some friends rented the whole DVD set because we didn't have TVs in our dorms and had this whole like watch party, but I was like, "Is this real? Where is this happening? Who are these people?"
[music]
Speaker 8: Provocative.
[music]
Speaker 9: Can you stay here with me?
[music]
Speaker 10: If I didn't know it was you, what if that someone had just locked in?
Speaker 8: The L-word. Same-sex, different city, Sundays at 10:00, only on Showtime.
Rae: Well, you know what I mean. It did not feel like my life or experience in college, but definitely, no part of it had felt like it existed on the same planet as where I grew up. A, that there is a coffee shop, B, that everyone can get there and meet up and find each other, C, that it's like totally fine to be queer and talking about your sex life in public, [chuckles] none of this.
Annalee: Your oral history project, Country Queers, is basically a corrective to the false dichotomy of rural death and city joy. It's documenting the lives and work of queer and trans people living in different parts of the American country. I'm wondering, how did this project come about?
Rae: After being gone for about 10 years, I finally moved home in 2011 and really quickly started to see queer people. I was just in a different place with my own queerness. I was much more tuned in to who was around me, and so we'd give each other a nod at the Walmart or at the state fair or wherever we'd see each other.
People also started to really tell me, now that I was home and I was out, people I'd grown up with would be like, "Oh, there was these two men that lived in a house together down the road when I was a child and nobody ever called them partners, but they weren't related. They shared a life together and raised sheep together and went to church together."
I just started to get really frustrated because I felt like I'd been lied to by our mission, both locally in terms of growing up and it just wasn't talked about. Also, I think in this sort of national context of there being just a complete absence of any evidence that we not only can live in these places, but often do, that we've always been here, and that it's not exclusively an experience of violence, harassment, and death.
That can be a reality, that has been a reality in rural places, but it also has been a reality and continues to be in cities for many queer and trans people, particularly trans women of color. I just got really frustrated and decided I wanted to try to meet and learn from other rural and small-town gay and queer and trans folk, so it's kind of set out with a recorder.
Annalee: You have said that the format of the oral history project was kind of accidental. What made you gravitate to it and then stick with it?
Rae: There is a journalist and an oral historian that I really admire based in North Carolina named Cynthia Greenlee. I heard her speak once and she talked about having to really readjust her approach to oral history interviewing as someone who is trained as a journalist because she realized that it's more like porch sitting than it is like a journalistic interview.
I really love that description and I think that oral history really lends itself well to rural spaces. I definitely grew up in a place and in a culture where people just sit on the porch and talk. People just tell stories, you know what I mean? The general store gas station and where the post office is at the bottom of the hill, still, every time I go down there, there's a row of guys sitting on the porch just talking.
I think that that sort of, in some ways, the informality of oral history is something that I really love about it. We've so often been documented from the outside, and I think that goes for queer people, that goes for trans people, that goes for so many communities of color. I think it's really rare that we get to reclaim narratives about ourselves as rural people. I know that's true for people living in the Appalachian region in terms of national media, and I think it's really true for queer and trans people too.
Annalee: I love that. I love that it's just a casual conversation that can also mean so much. It can mean the difference between feeling like you're alone and feeling like you can have a conversation with other queer people. The project has grown quite a bit, and you've said that another goal for the country queer's oral history is to challenge the myth that rural America is just this conservative monolith. I wonder if you can talk a little bit about that.
Rae: That wasn't initially my idea with the project, it was really-- I needed this. I needed to find other rural queer people and understand how they were making it work. I had a lot of questions about whether or not I could pull this off. Some days, I still do, honestly, [laughs] but it's taken on some new purpose for me in terms of providing somewhat of an intervention in the way that we think and talk about rural spaces in media in this country.
I think that still, so often, especially at a national level, the representations of rural places are very flattened, are very boiled down into something that doesn't reflect the richness and the fullness and the contradiction of our spaces. The economies of rural places are really varied. There are places closer to where I'm living that are completely the boom has passed and these towns are suffering.
There are towns in rural Texas I passed through that seem to be thriving, and it's not in some rural gentrification process, they never died, for whatever reason. They have an economy that can sustain it. The geography is so different. The political climates are really different. There are these pockets of very liberal and progressive rural communities all over the country. Then there are, of course, incredibly conservative and places where queer people and then especially, I would say queer and trans people of color feel really unsafe.
There's just so much variation in what is held within the description rural. My hope for media representations of rural places is that our places are allowed as much nuance and contradiction and complexity as any maybe collection of stories about New York or the Bay is.
Annalee: To some extent, your oral history project is concerned with raising the visibility of these country queers. At the same time, especially right now, there's a ton of conversation about whether increased visibility is actually helping queer and trans people or if it makes some people less safe. How do the folks that you're talking to deal with this risk in their lives?
Rae: That's a great question. I think about this a lot. The original dream and vision of the project was really about making ourselves visible to each other, that there's something really important, particularly, I think for rural people who've been told maybe much of our lives, that there aren't people like us here or that this is a new phenomenon or that this is influenced from cities or from mainstream media.
I think there's something really powerful in claiming the reality that we've actually always been here and trying to find those stories, trying to connect with each other around those stories. At the same time, of course, in this day and age and on the Internet, in general, you can't control where things are going and how they're going to be used.
Annalee: Have you heard anything from your sources and the folks that you talk to about how they're rethinking the way that they're out or how they're maybe changing the way that they talk about themselves because of the backlash?
Rae: Not really. I have been interviewing, in the past week, a queer couple in the closest town to me who advertised on Facebook that they were hosting a drag brunch at their plant store and then got an eviction notice pretty immediately. The community responded, for the most part, really positively and organized an Equality March in town. This is a town of about 2,700 people. As far as I know, the drag brunch will be the first public gay event to ever happen in this town.
A lot of people online are saying things to them like, "Come over to this town where it's more liberal," or, "Come to this city," in West Virginia city in air quotes, I would say, but they're like, "We don't want to go." For them, the more resistance that they're getting, the more they want to stay. They're like, "If we are ruffling feathers, it means we're doing something right." It's not the only queer-owned business in the town, but it's the first queer-owned business that talks about being a queer-owned business in town.
They get a lot of people coming in of all ages. Not just young people coming in and talking about how important it is for them, that there's just a physical space even though it's a store. It's a store that sells plants. It's not like a community drop-in center, but in some ways, it serves as that. They also talked about having people in their 50s and 60s come in who have never publicly come out. If anything, I think I hear a lot of people digging in and rooting deeper into really wanting to stay in and change and in particular, support younger queer and trans people in rural places.
Annalee: There's been just so much awful news for queer and trans folks living in the United States over the past year. There's the "Don't Say Gay" laws. There's other laws targeting trans kids and queer communities in Texas and Florida and many other states. There's scapegoating of drag performers. Even in the city where I live in San Francisco, the human rights campaign has found that there's a rise in pride parades and other events like the drag brunch that you mentioned in rural areas and small towns just this year in the past maybe couple of years.
I've been thinking a lot about what Adrienne Maree Brown calls Pleasure Activism, which is the need for marginalized people and particularly trans and queer people to experience joy just to survive, just to feel like they can go on another day and imagine a better future. I wonder if that resonates with you and your project.
Rae: So much so. Yes, so much so. I think it's important to talk about the fullness of our experiences. I don't want this project to deny the realities that a lot of rural queer people and a lot of rural trans people in particular face some real intense struggles, but at the same time, I think for a long time, the only stories that were accessible, particularly about rural queer lives were those of violent murders. That's the only thing I could find when I started this project in 2013, which in some ways is not that long ago.
What brings you the most joy in your life? So often, they're like this, sitting on my porch right here or walking in the woods with my dogs or getting to hang out with my grandma. It's about being home. It's not about leaving. I think claiming joy in rural spaces as queer and trans people is so important. Maybe that's part of why these really new pride events feel so powerful is because we claim joy in private, at each other's houses right here, but we don't do it publicly very much. That feels like a new way of I think that's happening in a lot of rural places right now.
Annalee: Can I ask what gives you joy about living in the country? What's kept you there all this time?
Rae: It's not all a walk in the park. It's just not. Jobs are hard to find in the region I live in Central Appalachia, not to mention jobs where you can be out at work, where you can also make a living wage. Education opportunities are scarce here. There's a lot that is hard here. Internet access is hard here. [laughs] Dating is really hard here, but there's nowhere on the planet that I love as much as this place. Every time I leave, I'm so homesick. I'm so homesick. When I come home, it's like my whole body can relax in a way that it just never does anywhere else.
There's just nothing that makes me happier than taking my goats on a walk down in the woods and watching them climb and jump off of rocks and wander around, tasting things. Swimming in the river that's at the bottom of this mountain is one of the most joyous things I've ever experienced in my life.
[music]
Driving around in my truck, playing country music with the windows down on these back roads brings me so much joy.
Annalee: Thank you so much for joining us, Rae.
Rae: Thank you so much. It's been fun.
Annalee: Rae Garringer is the founder of the oral history project, Country Queers, and the host of a podcast of the same name. They are a senior fellow at the Annenberg Innovation Lab at the University of Southern California. Thanks for listening to this week's podcast extra. On the big show this week, we ponder the legal consequences of the January 6th committee's findings. See you then. I'm Annalee Newitz.
Copyright © 2022 New York Public Radio. All rights reserved. Visit our website terms of use at www.wnyc.org for further information.
New York Public Radio transcripts are created on a rush deadline, often by contractors. This text may not be in its final form and may be updated or revised in the future. Accuracy and availability may vary. The authoritative record of New York Public Radio's programming is the audio record.