Can Eviction Moratoriums Stop The Bleeding?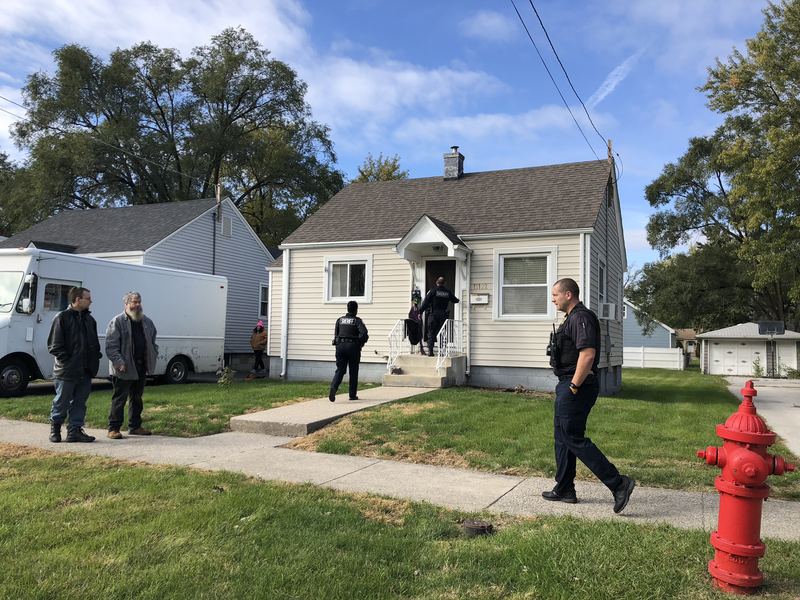 Transcript
Brooke Gladstone: So much is changing and so quick. Admonitions to keep sterile and separate to flatten the curve, the shuttering of workplaces, the sheltering in place. But what if your life depends entirely on that workplace? What if there's no where to shelter in place? Moratoriums on evictions ranging from brief to indefinite are imposed in cities including Atlanta and Baltimore, New York, Miami, LA, Seattle and the States of Virginia, New Hampshire, New York, other cities and States are calling for the same. Meanwhile, the overburdened shelter system struggles to cope. Matthew Desmond, founder of the Eviction Lab at Princeton and author of Evicted has been following the situation.
Matthew Desmond: I'm encouraged that some States and cities have acted so quickly to stop the bleeding, but it's not fast enough and it's not happening in the places we really need it to happen.
Brooke Gladstone: So let us go through some of those, where it's happening and where it isn't and I'm going to start where you feel there's always too much emphasis, which is on the West Coast. Seattle is one of the two epicenters of the Corona virus within the US and you have one of the highest homeless populations there too. And so what's being done in Seattle to avoid exacerbating the preexisting housing crisis?
Matthew Desmond: From what we've been reading, the mayor in Seattle utilized public health emergency authority to expand shelter capacity for people experiencing homelessness in that city. Over a hundred additional spaces are going to be created because of those efforts. Seattle is also halting any power and water shutoffs due to non-payment caused by work stoppages or slow downs for the Coronavirus emergency. King County where Seattle is, it's looking into purchasing hotel spaces to allow homeless families to isolate during the crisis
Brooke Gladstone: You were talking about how in Seattle there are more spaces and shelters becoming available and so forth, but that's not safe, isn't it?
Matthew Desmond: That's right. This essential part of our safety net, but this is where people are eating shoulder to shoulder, where they're sleeping, multiple people in the same room where multiple people have to share bathrooms together. And so the homeless are particularly vulnerable to upper respiratory illnesses, including COVID-19, and this includes folks that are even unsheltered, living on the streets. We've seen stories last year of tinted cabins experiencing outbreaks of these medieval diseases like typhus and French fever. And those are places that are also incredibly susceptible to this outbreak as well.
Brooke Gladstone: So the solution of housing the homeless during this outbreak isn't the solution of the past. You're just feeding that curve that we keep seeing.
Matthew Desmond: Our solution to homelessness in America in general is basically neglect and triage. It's neglect, then we're going to see dozens and dozens of people living under our underpasses and by the size of our roads on our daily commute to work or we'll triage them in a shelter for a limited period of time and then hopefully they can find their own path. And I think that this outbreak is shining a glaring light on the cruelty of the American way of life toward its poorest and most vulnerable families.
Matthew Desmond: You're right. You'll point out that what we do in normal times just to triage is inefficient and it's more than an efficient, it's down right dangerous in these times, but we can do better, we could look for vacant hotel rooms and subsidized hotels at the same time as housing families in a safer way. We could work with apartment buildings to identify the vacant units. There are major cities, including New York who have a tremendous amount of vacant units in the city.
Brooke Gladstone: Wouldn't that be wonderful, since so many of those vacant units are actually a multimillion dollar ones? It'd be like seating people who can't get into coach in first class.
Matthew Desmond: Yeah, I'd be for it.
Brooke Gladstone: We've seen eviction moratoriums in some form or another all across the country, from Miami to Pittsburgh, San Francisco. But they're all very different policies. Which ones do you think worked better than others that you're aware of?
Matthew Desmond: The ones that are the best are the ones that are happening at the state level. New Jersey for example, issues of statewide moratorium on evictions, Massachusetts issued a statewide moratorium on evictions because people losing their homes, that's not just a thing that happens in cities. It happens in suburban communities, rural communities, some rural areas of the country have eviction rates that are just as high as the highest evicting cities in the nation. And so those States that have used the judiciary to either enact or empower localities to kind of shut down evictions for the moment, those seem to be the most promising. And then we can kind of zone in on certain localities and the ones that seem to be doing the best job are the ones that have shut down the entire housing court system and not just eviction as the sheriff spear tip of the moment.
Brooke Gladstone: Isn't that sort of what's happening in New York City? The housing courts are mostly shut down.
Matthew Desmond: Yeah, that's right. In Massachusetts too, except for so-called emergency evictions, and that's when a locality deems your home unfit for human habitation and moves a family out. I have to say, the reason too Seattle and New York, Boston, LA have responded so quickly is because those are places with a strong tenant rights movement. The organizers on the ground really deserve a lot of credit for moving so quickly and so effectively during the crisis.
Brooke Gladstone: And that brings us to what you said at the beginning of the discussion, which is that the places that need the most help are sometimes the least responsive to the problem.
Matthew Desmond: Right. We don't see much action in Oklahoma and Mississippi, in South Carolina and Virginia. These are hot beds for eviction. And as much as I love seeing New York and Seattle move a such speed, we need to see that speed in places that are the hardest hit by the eviction crisis, places like Tulsa and Albuquerque and Greensboro, South Carolina and Wilmington, Delaware. We need to see those stoppages there.
Brooke Gladstone: You mentioned Virginia. Virginia hosts some of the top ranking evictions cities on your eviction lab chart.
Matthew Desmond: That's right, and the state has been pretty responsive to rolling out additional support for people facing eviction and incredibly rent burdened families over the last year, but they've been a little slower to roll out an eviction moratorium during this crisis, I should say they haven't done anything during this crisis so far.
Brooke Gladstone: It's probably too soon to track what the crisis has done to eviction rates.
Matthew Desmond: It is too soon from our end. To put this in perspective, in an average month, about 300,000 families across the United States face eviction. 300,000 eviction filings in an average month. If the average family has 2.5 people on it, that's about 750,000 people. That's the population of Denver. So the population of Denver nationwide faces an eviction every single month. We would expect this month to be much worse because of work slowdowns and work stoppages.
Matthew Desmond: A third of the American workforce earns less than $12 an hour. That's a chunk of our workforce that has limited access to paid sick leave and paid family and medical leave. They're the ones that are being crunched by this crisis and are incredibly susceptible to losing their homes.
Brooke Gladstone: What's your view about relief for homeowners who depend on rental income in order to make their own mortgage payments and for homeowners in general, especially those who are finding themselves out of work? Would you favor a nationwide mortgage reprieve like in Italy or some other solution? Or are we hurtling towards foreclosure crisis 2.0?
Matthew Desmond: I hope not. This is not something that we have to just kind of accept rolling off the cliff. The foreclosure crisis ride incredible damage. The families all across the country, we can prevent that. Now, you're right to bring up Italy, France, other nations have put a stop to mortgage payments during the crisis. The Italian banking industry got together and say, "Hey, let's put a lid on this guys until we get through this together." That's something that our banking industry can do. The federal government is considering a massive stimulus that has to include housing relief, both for renters and for homeowners, and that includes property owners and landlords as well. A lot of landlords that are reliant on rent as their only source of income, they need a lot of help during this moment too.
Matthew Desmond: Eviction is not a solution to someone not paying the rent. It's not the solution now. It's not the solution before the crisis. It's not like a family gets evicted and the sheriff hands the landlord $500. And especially during this time when we're all told to hunker down and stay in doors, it's not automatic at all that a landlord is going to find a new tenant to replace a family.
Brooke Gladstone: Was it Mitt Romney who proposed giving all American adults $1,000 to address the outbreak?
Matthew Desmond: It was, yeah.
Brooke Gladstone: What do you think of that?
Matthew Desmond: I don't think it would hurt. And he also proposed small business grants, aid for higher education students, deferring student loan payments for new graduates. I think that Senator Romney is thinking about the pain many vulnerable Americans are facing.
Brooke Gladstone: I was reading in the LA times that there doesn't seem to be a lot of planning yet for what will happen when these moratoriums, these moratoria expire. That tenants will have to come up with the rent payments they missed. That could obviously still be a problem for people who live paycheck to paycheck. How are they going to make up for the lost income? And it's going to be even worse of the country is plunged into a recession and people are struggling to find some stable jobs. As you have always said, Matt, we can afford this if we choose to pay for it. We'll have to adjust the tax structure. We'll have to address the basic inequalities that essentially will make it impossible for potentially millions of people to ever catch up.
Matthew Desmond: I think there are two ways of looking at this, for me, at least right now. One is, this could be a silver lining of crisis. Coming out of this crisis with the recognition that the country can and must do more for families that are incredibly crushed by the high cost of housing. And by do more, I mean, we can build more public housing, we could extend housing vouchers to many more families. Most families that qualify for this help don't get it in their entire lives. We can ensure that kids grow up in a stable, affordable, safe home. We can absolutely afford this as a nation.
The other way of looking at it is to take this crisis as an opportunity to say, why is the rent so high, especially in really poor, disadvantaged neighborhoods? If I'm a landlord and it takes me $500 to keep a unit up to code, but my rent is $1,000, is that really necessary? Studies have shown that the profit margins for landlords in poor neighborhoods are much higher than the profit margins for landlords in middle-class and rich neighborhoods. And so I think it's an opportunity not just to ask, well what's going to happen when the moratorium lifts? But it's an opportunity to ask what is really necessary to keep this housing up to code and what's a fair rate of return? Have landlords been receiving a fair rate or more than a fair rate and how does that vary across our cities? And I think that we could ask that question as we come out of this crisis and those moratoriums lift.
Brooke Gladstone: Matt, thank you very much.
Matthew Desmond: Thanks Brooke. It's always a pleasure.
Brooke Gladstone: Matt Desmond runs the eviction lab at Princeton university and is the author of Evicted.
Thanks for listening to this podcast extra. Bob and myself and the rest of the OTM team are hard at work on this week show and we'd like to hear from you. The question we'd like you to answers this, how is your Coronavirus media diet affecting your mental health? Record a voice memo on your phone and send it with your name and location to onthemedia@WNYC.org, with the subject line Dealing With Coronavirus News. We may use your message on our show. Till then, wash your hands. I'm Brooke Gladstone.
Copyright © 2020 New York Public Radio. All rights reserved. Visit our website terms of use at www.wnyc.org for further information.
New York Public Radio transcripts are created on a rush deadline, often by contractors. This text may not be in its final form and may be updated or revised in the future. Accuracy and availability may vary. The authoritative record of New York Public Radio's programming is the audio record.