From Birtherism to Election Theft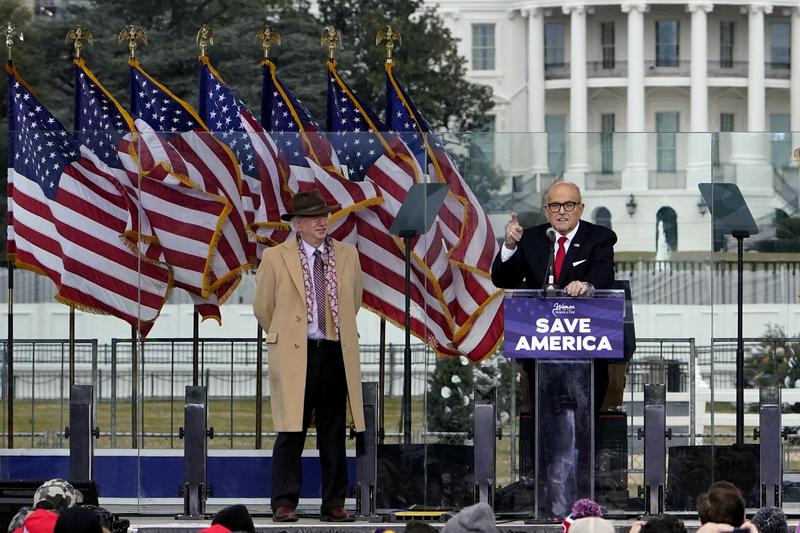 Transcript
Sacha Pfeiffer: This is the On The Media Podcast extra, I'm Sacha Pfeiffer sitting in for Brooke Gladstone. In the months following his election loss, as he made baseless accusations of election fraud, President Trump floated a dangerous idea.
Donald Trump: Had Mike Pence had the courage to send it back to the legislatures, you would have had a different outcome, in my opinion.
Speaker 1: Is that what you told him to do?
Sacha Pfeiffer: It was a troubling talking point about a troubling claim that then-Vice President, Mike Pence had the power to overturn the 2020 Presidential Election in Trump's favor. That same claim brought insurrectionists to the Capitol on January 6th. As of this week, it's been given new context.
Speaker 2: There's a two-page memo marked Privileged and Confidential. January 6th Scenario is the title.
Sacha Pfeiffer: That memo, made public in Bob Woodward and Robert Costa's new book, Peril, outlines a six-step plan for how Pence could refuse to tally votes from states with, "multiple slates of electors." That would throw the final decision to the House of Representatives, which was then controlled by Republicans.
That election overturn plan was written and proposed to Pence on January 5th by John Eastman, an Attorney advising Trump. Eastman isn't a household name, but he's come up on the media before. In 2020, he was pushing another false theory, birtherism. Birthers tried to call President Obama's right to hold the highest office into question, and birtherism resurfaced around Kamala Harris's eligibility.
Donald Trump: I heard today that she doesn't meet the requirements.
Sacha Pfeiffer: That was, of course, false. Kamala Harris is a US citizen and fully eligible to serve as Vice President. That didn't stop that false claim about her from seeping into the public conversation through a Newsweek op-ed written by John Eastman, an op-ed that Newsweek later apologized for. Last summer, Brooke spoke with Slate's Mark Joseph Stern, who described the origins of his birtherism falsehood and how Eastman and his organization, the Claremont Institute, used the media to spread it.
Mark Joseph Stern: This is a really old canard, and unfortunately, it's still with us.
Sacha Pfeiffer: Stern tracked the birtherism lie all the way back to an 1857 Supreme Court decision.
Mark Joseph Stern: We've to go to the Dred Scott decision in 1857, which was the notorious Supreme Court ruling that said that Black people could not be citizens of the United States, that they had no rights that the white man was bound to respect. They are an inferior order, the Supreme court said, and so they simply cannot obtain citizenship in this nation. Overt racism of the most rank and abhorrence kind. The Dred Scott decision was one of the sparks of the civil war. After that civil war, the nation passed a constitutional amendment, the 14th Amendment whose very first sentence is a direct rebuke to Dred Scott.
Sacha Pfeiffer: What does it say?
Mark Joseph Stern: It says, "All persons born or naturalized in the United States, and subject to the jurisdiction thereof, are citizens of the United States." It doesn't just say they will become citizens. These people have always been citizens and we are now ensuring that their citizenship cannot be questioned. Nice idea, here we are in 2020, it's still getting questioned.
Sacha Pfeiffer: What is new about the Kamala birther lie?
Mark Joseph Stern: Basically nothing. Because even though we'd seem to settle the question of birthright citizenship once and for all, when the first Black Senator was sent to Congress in 1870, Hiram Revels, some racist Senators tried to deny him his seat. To be a Senator, you have to have had American citizenship for at least nine years. These racist Congressmen said, "We only passed the 14th Amendment two years ago, that was when this guy got citizenship."
That was obviously rejected almost out of hand by these Senators who had just passed the 14th Amendment who were still there in the Senate. They were able to say, pretty definitively, "No, we meant to say that these folks have always been citizens. What we did was confirm a truce that had been widely recognized up until Dred Scott reversed it."
Sacha Pfeiffer: Could you give me a quick summary of the differences between the Obama birther lie and the Harris birther lie?
Mark Joseph Stern: The Obama birther lie asked not if he was an American citizen, but just whether he was natural-born. The Kamala lie asked if she is a citizen at all.
Sacha Pfeiffer: What is the argument being presented by such people as John Eastman of the Claremont Institute in Newsweek? The title of his op-ed was almost polite. Some questions for Kamala Harris about eligibility.
Mark Joseph Stern: Eastman's op-ed presents an argument that he has been making for many years, that those four words, "subject to the jurisdiction," means something totally different from what everybody understood them to mean in 1868. Back up a little Kamala Harris's parents were immigrants to the United States. They were both here on visas, no laws broken. Of course, individuals coming to the United States on visas can have children here, and it has long been understood that those children become American citizens. Because they are born on American soil and they don't fall into the exceptions, laid out by Congress when it passed the 14th Amendment.
John Eastman has a different theory. He thinks that the words "subject to the jurisdiction," have this secret meeting. That is, that you have to owe your allegiance exclusively to the United States in order to pass on citizenship to your child, even if your child is born in the United States. He says that because Kamala Harris's parents were foreign nationals when she was born, they owed their allegiance to other countries. They were unable to pass along citizenship to Kamala because they were not fully subject to American jurisdiction, instead, they were subject to the jurisdiction of India and Jamaica.
Sacha Pfeiffer: Mark, this was in Newsweek. It was an op-ed. The Claremont Institute, which you talk about, where Eastman is a senior fellow, what is the Claremont Institute?
Mark Joseph Stern: The Claremont Institute is a conservative think tank, although I think 'think tank' is a bit of a misnomer here. It's located in California. It was founded by four students of a guy named Harry Jaffa who was a Goldwater Conservative in the '60s and '70s. This was founded in 1979. The idea was to spread these Goldwater ideas to revive the celebration of American nationalism and American exceptionalism at a time when conservatives perceived it to be on the decline.
This was the later part of Jimmy Carter's presidency, the Malays speech, Yada yada. The Claremont Institute burst onto the scene and tried to intellectualize theories about American nationalism and American identity that had been a little bit further on the fringe of the rights, but we're, at that stage making, their way to the center of the GOP.
Sacha Pfeiffer: Then it started to evolve, let's say, in the '90s and in the early 2000s.
Mark Joseph Stern: I would say devolve is maybe the better word. Look, I don't think the Claremont Institute was ever totally free of nativism. The very ideas that it was promoting had a bit of an undercurrent of white national identity, in my view. After Jaffa died, and after the conservative movements fully embraced some of these nationalistic ideas, the Claremont Institute moved further and further to the right, onto the fringe.
Instead of just talking about American nationalism, it would talk about almost an American ethnic identity. Who is truly American and who is an interloper? Its main course of attack here was against immigrants, mostly from Mexico central America, what it deemed to be "inferior countries with inferior orders" in the words of the Dred Scott decision.
Sacha Pfeiffer: You're being a little nicer here. In your article, you called it "A racist fever swamp with deep connections to the conspiratorial alt-right, that it granted a fellowship to a guy named Jack Posobiec, who helped promote the Pizzagate conspiracy theory." This is the idea that the Democratic Party is involved in some child sex ring.
Mark Joseph Stern: In the last 10 years, it has just collapsed into insane, paranoid, alt-right terror of non-white people. Almost all of its scholarship is directed toward presenting these outrageous theories about why non-white people are not really Americans. Especially during the Trump presidency, has fully embraced the wackiest and most dangerous conspiratorial elements of the Trumpian Movement, including Pizzagate.
Sacha Pfeiffer: You say that few, if any, of the supporters of the birtherism lie, lack connections to the Claremont Institute. That includes Eastman who wrote the op-ed questioning Kamala Harris's eligibility in Newsweek, and also Josh Hammer, who was the Newsweek editor who commissioned the piece, is a former fellow at the Institute. It seems like when it comes to birtherism, all roads lead to Claremont.
Mark Joseph Stern: Michael Anton, who wrote a piece arguing against birthright citizenship in the Washington Post in 2018 is, guess what, a senior fellow there as well. By the way, the first scholar to really pitch this idea that the children of immigrants do not get birthright citizenship in the United States, he was a Claremont scholar. His name was Edward Erler. He wrote this book that was just outwardly racist against Mexican immigrants and proposed violently expelling the children of Mexican immigrants, who are American citizens, back into Mexico because he claimed that they were stateless foreigners.
Sacha Pfeiffer: I assume that you were braced for this Kamala Harris birther thing?
Mark Joseph Stern: When I first saw the piece, I have to say, I felt nauseated because I knew that there was a chance I would have to respond. I've written about this issue a great deal. I fear that even responding to these theories is like giving more oxygen to the fire because it creates this illusion that there's a debate here and the debate has to have two sides. There just isn't another side to this issue. The birther claim is a lie. Full stop. It is as easy to debunk as somebody who says two plus two equals 10.
Still, Newsweek publishes this piece, which means we're going to be talking about it. It's going to spread like wildfire across all of the conspiratorial Facebook pages that Mark Zuckerberg refuses to shut down. It's going to become an issue that dogs Kamala Harris just like the Obama birther lies dogged Barack Obama. At one point, 25% of respondents to a poll said that they questioned Barack Obama's citizenship. These things may sound ridiculous, but they do gain a purchase.
Sacha Pfeiffer: We are so much more divided now as a nation than we were even during the last campaign or the one before that. I'm just wondering whether this is just meat to a base that has committed itself long ago to the presidency of Donald Trump and whether it'll just bounce off people who don't support him or independence?
Mark Joseph Stern: This lie about birthright citizenship, it has implications way beyond this presidential election. There are at least 18 million children born of immigrants in the United States right now. If Eastman were correct, which he is not, then all of those people are stateless, who could be stripped of citizenship, stripped of all of their rights and privileges, and violently expelled from the country. That is extremely frightening. That is a white nationalist's fantasy.
The fact that a law professor and someone affiliated with a think tank can promote it in the pages of Newsweek suggests to me that we need to educate people and explain that American citizenship does not rest on your parents' allegiance to another country or this one. I hope that there are some people who haven't really thought about this, who are reasonable people, who can learn from the conversation we're having now and some of the articles that have been written in response to Eastman that this has been settled since at least 1868, and that the next Black person who runs for president or vice president is going to have their citizenship challenge. Maybe we can shrink the group of people who buy into it next time around.
Sacha Pfeiffer: Mark, thank you very much.
Mark Joseph Stern: Thank you so much.
Sacha Pfeiffer: Mark Joseph Stern covers courts and the law for Slate.
[music]
Sacha Pfeiffer: Thanks for listening to this week's podcast extra. Tune into the show on Friday. I'm Sacha Pfeiffer.
[music]
Copyright © 2022 New York Public Radio. All rights reserved. Visit our website terms of use at www.wnyc.org for further information.
New York Public Radio transcripts are created on a rush deadline, often by contractors. This text may not be in its final form and may be updated or revised in the future. Accuracy and availability may vary. The authoritative record of New York Public Radio's programming is the audio record.