"Free Speech Week" Puts Berkeley Back in the Crosshairs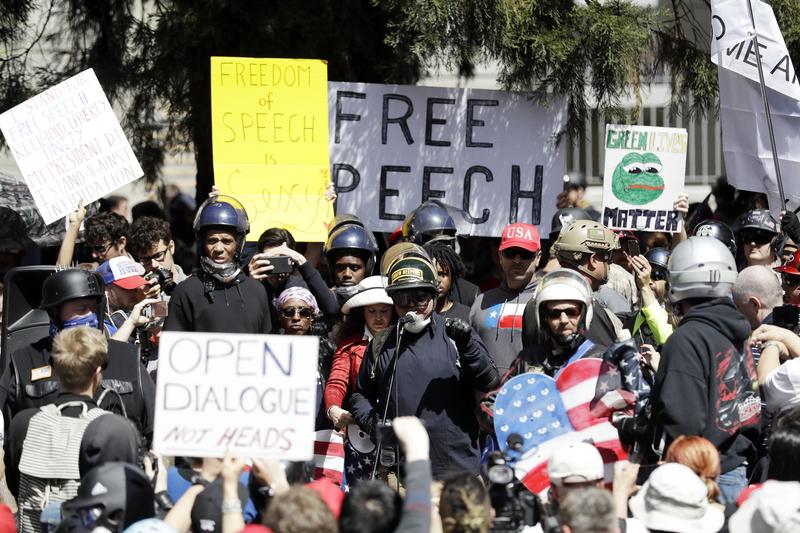 Transcript
[PROMOS/ MUSIC UP & UNDER]
Brooke Gladstone: Alt-Right provocateur Milo Yiannoupolos recently released a list of 20 some speakers for his upcoming 'Free Speech Week' at the University of California Berkeley. The four day event beginning next Monday will undoubtedly spark the controversy for which he is known and which he needs especially since his ouster from Breitbart in February.
[CLIP]:
Male Correspondent: The conservative speaker Milo Yiannoupolos is planning a comeback at the place literally set on fire the last time he was there. Milo announcing a multi day event on Facebook which will include events out at Berkeley. Violent protests erupted there in February when the campus attempted to schedule an appearance for his book tour as you might remember. Former White House chief strategist Steve Bannon and commentator Ann Coulter will also speak.
Brooke Gladstone: Well maybe. University officials maintain that the Berkeley Patriot the conservative student publication responsible for inviting Yiannopoulos in the first place has blown through the deadlines and flubbed basic logistical planning to such a degree, it has put Free Speech Week in jeopardy. Meanwhile Yiannopoulos has an alternative account.
Milo Yiannopoulos: UC Berkeley has been racking its brains for months trying to work out how to cancel free speech. They do not want us on campus. The administrators at UC Berkeley have tried everything to derail free speech week up to and including accusing the students of being inept.
Brooke Gladstone: It's a confusing mess that invokes yet again the rightwing provocation an angry leftwing response. We've come to expect from campus outrage stories. Angus Johnston is a historian of student activism and a professor at Hostos Community College in New York. He says that's a false narrative that the press and news consumers should focus less on the issue of campus free speech and more on Yiannoupolos' PR strategy.
Angus Johnston: Thank you.
Brooke Gladstone: At Berkeley, Free Speech Week is particularly resonant because Berkeley is home of the Free Speech Movement and I assume that's probably why he picked it?
Angus Johnston: Yeah. One of the things that this is is a gigantic trolling operation. It is an attempt to rub everybody's noses in all the things that he thinks of people's noses should be rubbed in. He's even planning on giving out a Mario Savio award on the final day a famous martyred member of the free speech movement. Yes exactly. The most famous member of the Free Speech Movement in Berkeley in 1964 who gave probably the most famous speech in support of student activism in American history. Why do you call this a trolling operation? Milos intent is to get people riled up to get people upset. In his most recent video announcement about this event he wore a t shirt that said everyone that hates me is ugly. That's about the level of discourse that he operates on.
Brooke Gladstone: But he also says in that video that the campus has tried strenuously to prevent this event from happening. Has it?
Angus Johnston: It's a very strange claim and there's a lot that both sides aren't saying here. But his claims of being shot down seem to rely mostly on what happened in the last 72 hours of the last week. Claims that there were new concerns brought forward that very short deadlines were set. That was basically not going to be possible for him to meet. But what Berkeley says is that they have been giving him and his student sponsors deadlines for two months that they've been blowing through regularly over and over and over again.
Brooke Gladstone: Now the Berkeley Patriot, the campus paper that is hosting the Free Speech Week is very new. I mean is it even two months old?
Angus Johnston: They were formed over the summer. They're essentially an attempt to restart an online paper that existed a few years ago. They've got something like a dozen members. Their current budget for this academic year is about $800. So they're not running the show. They don't have the money or the logistical power or the experience to actually put on an event like this. And that's actually very, very common. What a lot of these right wing speakers do is they find somebody on campus who is willing to serve as their sponsor. But they provide the money they provide the publicity they provide the logistical support and all of that. And in some cases they don't even bother. RICHARD SPENCER when he spoke on a campus to a tremendous amount of controversy recently he wasn't brought in by a student or faculty group at all. He just took advantage of a policy that allowed people in the community to rent space on the campus so he was essentially doing the equivalent of just you know renting a room at the Holiday Inn to have a meeting.
Brooke Gladstone: Now we're speaking on Tuesday. Things can change radically but there's already a longstanding argument as to whether Steve Bannon and Ann Coulter are the two headliners of free speech week are even going to appear. There aren't any signed documents confirming their appearance, Berkeley says. Steve Bannon will be speaking in Washington on the morning he is scheduled to appear much later in the day in Berkeley. I think it's at 5 o'clock currently. I suppose it can make it. But what do we know about that. I mean do they have guests.
Angus Johnston: So we know that several people who were originally slated to be confirmed attendees have said that they're not attending. They were never asked to attend. They would never have said yes if they had been approach Charles Murray is one.
Angus Johnston: Charles Murray yes exactly.
Brooke Gladstone: Heather McDonald of the Manhattan Institute is another.
Angus Johnston: That's right. And so we've got about another half a dozen who haven't said anything including on social media or anywhere else. Ann Coulter was asked about this about a week ago on a podcast and she said--
Ann Coulter: No don't tell me this but I'm… I'm dubious that this Berkeley Free speech is going to come off.
Angus Johnston: And she didn't actually say why she didn't say whether she thought that Berkeley was going to shut it down whether she thought that the logistical problems were too much or as a lot of people have been suggesting in the last few days. Perhaps some or all of this is stuff that Milo never actually intended to go through with.
Brooke Gladstone: Well that is certainly what some people at the University of California Berkeley have suggested that this event was never really meant to happen that it was really kind of a hoax and any kind of disturbance redounds to the benefit of Milo and his cohort.
Angus Johnston: Well I don't know. I've a little bit of a sense of wondering whether Milo even knows what his end game is here because I think in a lot of respects his approach is whatever happens is good for him.
Brooke Gladstone: But you actually believe that he was never really serious about holding the event that he might actually want Berkeley to cancel it.
Angus Johnston: He does like being turned away being canceled. That's one piece of it. We also know that he claims to have vast financial resources but they've missed multiple deadlines for putting in deposits and signing contracts and all of those kinds of things. We know that he lied about a variety of the elements of this.
Angus Johnston: But this particular thing of saying you're having an event not going through the procedures that would enable you to have that event on a campus and basking in the glow of martyrdom after there's a mass or the event is canceled. Is that a thing?
Angus Johnston: That's exactly what Ann Coulter did at Berkeley in April.
Brooke Gladstone: Explain.
Angus Johnston: She announced with some students support that she was going to be speaking she gave a date that she was going to be speaking and Berkeley's administration after that public announcement was made said that this was the first that they had heard of it that there hadn't been an attempt to book a room that there hadn't been an attempt to coordinate on security or anything like that that there was no contract. And when it eventually became clear that Berkeley was not going to be able to accommodate the arrangements that had been unilaterally announced by Coulter's people, Coulter announced that she had been prevented from attending and basically took her toys and walked away.
Angus Johnston: Basking in the glow.
Angus Johnston: Exactly. You know and claiming to this day that she was censored and she was driven off the Berkeley campus.
Brooke Gladstone: Now a spokesman from Berkeley has said that David Horowitz the conservative commentator and of course Millo have provided evidence of their actual intention to speak. So that's two people.
Angus Johnston: Yeah. And there are a few others who have said in one form or another that they intend to be there. So I'm not saying that it's definitely a hoax. But if you say that this is a thing that is planned that is all set up that is all squared away as many media outlets do. If it doesn't happen well then the question is who made it not happen and Berkeley is the ones who announced that it's not happening. The obvious interpretation is that Berkeley somehow shut it down and that's very much what Milo wants everybody to believe.
Brooke Gladstone: It's very easy to get a college to shut something down by Bollocking up the arrangements, the deadlines the deposits and so on that are required in order for the campus as it says to get the proper security there and the permits and so on to let it go on to begin with.
Angus Johnston: And frankly, the way that this thing has been planned is just flabbergasting to me. In a standard speaking arrangement for something of this scale setting aside the controversy. All of this stuff would have been quite away months ago at this point. I think there are 10 different events on across the four days and two of them are scheduled to be inside and the other eight are outside or something like that. There's part of me that is very skeptical about the idea of Milo and Ann Coulter and Steve Bannon all speaking outside at Berkeley that seems unlikely to me.
Brooke Gladstone: Obviously there'll be a lot of media coverage surrounding the protests that will inevitably occur on campus. What should news consumers keep in mind as they watch this story develop? And does this story provide lessons for watching other similar stories?
Angus Johnston: I think it absolutely does. And one of the things that we're seeing over and over and over again is this question of free speech on the campus. Academic freedom does Milo have a right to speak on campus. Do the students have a right to shut him down. Whose free speech rights should prevail. I think that in almost every case that's the wrong framing because most questions about what's going to happen on a campus are not First Amendment questions. They're not questions of constitutional law. They're not the kind of questions that you would take into the court system and bump up all the way to the Supreme Court of the United States.
Brooke Gladstone: This is a little pet peeve of mine is people think the First Amendment protects your right to speak what it really does is protect your right to speak against the government.
Angus Johnston: Right. It inhibits the government from constraining your speech. Now in the context of a public university, students have rights. Milo Yiannopoulos has no right to speak on the Berkeley campus. It's like a vampire who can only come into your house if they're invited through the front door. Having been invited, the rights that are at issue here are not Milo's rights. It's the rights of the student body, the student organization that is trying to bring him and I take those students rights very seriously. However, those students rights are mediated by the content neutral policies that the university sets up about. How do you bring a speaker. How long in advance do you have to have the room reservation what kind of insurance do you have to have in place. And it seems clear that if this is a genuine attempt to hold an event and if it does fall apart it will have fallen apart because of a failure to navigate that policy. And that is frankly not a constitutional issue.
Brooke Gladstone: Now if you're watching these stories and you hear that he was invited to speak at Berkeley you might assume that he was invited by the University to speak. And that is very often a mistake, you say.
Angus Johnston: Well yes you have situations like Richard Spencer where we literally had no campus sponsorship he just walked in to the room reservations office at Auburn University in Alabama plunked down a check and made a room reservation. Right. And the question obviously there is well why choose a campus. Why not just go to the local Holiday Inn? And the answer is that being on a campus gives you a certain cache. We see this over and over and over again. And one of the things that's really significant here is that the funding for these speeches is not coming through the student government it's not coming through the campus activities office, it's coming from organizations like the Young American Foundation, YAF, and other big right-wing funders who are basically saying if you can get yourself on this campus we will pay to bring you out.
Brooke Gladstone: So if you're right and Milo and other far right activists are much more interested in creating havoc and staging censorship than actually holding their events, how are universities like Berkeley to avoid falling into this trap.
Angus Johnston: There is a way that they can stay out of the trap and then there's also a way that the rest of us can stay out of the trap. I think that the way that they stay out of the trap is they establish good, robust, student-friendly First Amendment friendly policies for campus speakers and campus events and then stick to those policies. And I think that that is in most cases a lot less complicated than a lot of people make it out to be.
Brooke Gladstone: Don't they do that now?
Angus Johnston: I think most of them do. I wonder whether Berkeley in an attempt to appear even-handed may have bent over backwards a little bit too much in this Milo situation. The fact that they have come forward and said that Melo and his sponsors blew through three different deadlines suggest that they may not have stuck to their own policies in this instance and it may be blowing up in their faces a bit but I'm not a person who thinks that the university itself is in crisis right now and that brings me to the other half of my answer, which is that most of us, in consuming media, most of us in observing the university as a national institution pay a lot more attention to it in these moments of weird theater than we do to what's going on every day. I work with students on my campus I work with students from around the country as a mentor as an adviser as a campus speaker. And my experience of the students of this current generation is that they are, compared to my generation a few decades ago, much more willing and able to engage in hard conversations.
Brooke Gladstone: OK well let me direct you to this recent study. True, it was paid for by the Charles Koch foundation. That said, it was conducted by a Brookings Institution senior fellow and UCLA professor named John Villasenor. And I'm probably pronouncing that wrong. But in any case, he surveyed 1500 undergrads at four-year colleges and found that a fifth of them now say it's acceptable to use physical force to silence a speaker who makes offensive and hurtful statements. Forty percent of them believed that the First Amendment protects us against hate speech. That's not true either. So you have found in your anecdotal experience that the students you meet are able to engage in difficult questions. Do you think your experience is unusual or that it runs counter to this research?
Angus Johnston: Well I think there are a few things. One is that there's a lot of data that shows that college students attitudes are free speech issues are actually not all that different from the general population. So in many respects to the extent that we have a problem it's a national problem rather than a campus problem. I would also say that the question of what to do about hate speech is one that a lot of us are finding really really vexing. Right now we are a weaker country than we thought we are we are a country at greater risk than we thought we were. And a lot of people are struggling with what to do about that. And as somebody who considers myself a very strong civil libertarian and somebody who is closer than most people to being a First Amendment absolutist, the thing that frustrates me the most is that the rhetoric of the First Amendment and the rhetoric of free speech is so rarely deployed in support of young activists. Young activists are portrayed as being hostile to free speech. But then when they engage in speech acts themselves which are unpopular--
Brooke Gladstone: Such as?
Angus Johnston: Such as holding an event on a campus which is not in a public space and saying that for this portion of the event we're going to choose to not have the media present. In that circumstance, there is a legitimate right to not have the media present for that. But it was covered as being an act that was hostile to free speech. Another incident was at Mount Holyoke a couple of years ago where a student group decided that because they saw the Vagina Monologues as being a trans-exclusive play, they weren't going to hold the play anymore. And this was seen as an act of censorship where it was a theater troupe deciding what play they were going to put on, which is entirely within the bounds of free speech. A lot of the speech that we're seeing coming from the campuses right now is extremely challenging. A lot of the protest that we're seeing coming from the campuses right now is extremely challenging. I see a lot of my peers in academia and in the media who are a lot more willing frankly to stand up for the free speech rights of a Nazi than for the free speech rights of a student activist. And that is, I think, not completely unrelated to the fact that student activists don't see the First Amendment as being a weapon in their arsenal. They see it as a cudgel that they have been bludgeoned with.
Brooke Gladstone: For my part and I can only speak for myself. The activist stances that challenge me are those that protect them from speech that they don't want to hear. That is also cast as a free speech discussion and I'm not talking about excluding the media. I'm talking about trigger warnings. To me that has a chilling effect on speech.
Angus Johnston: In what respect?
Brooke Gladstone: In that you have already put a bunch of parentheses around a particular discussion area for fear that it will set people off. I mean and it's applied to literature frequently across the board and the kinds of experiences that I know I sound like a college professor but I barely have a B.A. that I assume are part of the reason why people want to go to college, which is to be exposed to things that will challenge them and open their minds.
Angus Johnston: Let me start by saying I'm a historian and I use what I call a content note which is essentially a trigger warning in my classes. Basically what I say is that some of the material that we will be encountering in this class may be emotionally challenging for you, psychologically challenging. It may be in certain circumstances, traumatic for you. When I'm teaching about the history of medicine one of the things that is really important for me to get across is the fact that the medical world that we live in today the world of health care that we live in today where we have antibiotics and vaccines and a healthy water and food and all of this is very, very new. Right. That the vast majority of people who have ever lived, lived in a world which was a lot more dangerous from that perspective. A text that I have sometimes used in teaching about this is a letter that Charles Darwin wrote after the death of his daughter Annie. She died of a communicable disease when she was nine years old and she was the light of his life. And he wrote a letter basically talking about who she was and what kind of a kid she was so that he didn't forget the love and the joy that she had brought him. I would not want to teach that text without warning in a classroom if one of my students had just lost a child. I teach at a community college. My students are not young people. Many of them are my age or older. They've had a wide variety of life experiences as most college students have these days. The person who convinced me that trigger warnings were something that I had to include in my classroom is a friend of mine who is a Navy combat veteran who has PTSD and she had the experience in multiple classrooms of going to her professor and saying there are some things that are going to be rough on me. And can I talk to you about them and can we make a plan for dealing with those things. And she was rebuffed. And she dropped out of college in no small part because of that. What demands for trigger warnings do is challenge the professor's position of dominance in the classroom. And that is scary for a lot of professors. But the fact remains that professors have vastly more power than students do in the classroom. And when students are pushing to take a little bit more of their power I don't think that that's necessarily a bad thing. That doesn't mean that what they're calling for is always right but that's OK because they're usually not going to get what they're demanding anyway. So it's OK if occasionally they ask for something that they shouldn't be asking for cause if it's a stupid idea it's probably not going anywhere.
Brooke Gladstone: So just to circle back for a moment if when people are reading these stories and they think these are stories about free speech on campus and the crisis that they're engulfed in right now, you're saying that reading is probably wrong.
Angus Johnston: I don't think the problem that we see right now is the problem of a campus in crisis. I think what we have as a nation in crisis and what I see happening on the campuses is students struggling to respond. And one of the things that's happening as a result of that is that students are grappling with the ways in which they see their universities as being complicit with what's happening in the country right now and they don't want to be complicit themselves. And so yes, they are struggling for power within the campus and they are struggling to define the mission of the campus. And I see that as healthy.
Brooke Gladstone: I'm a little confused though how are the students in conflict with their universities because the university policies allow people like Milo to come on to the campus to begin with? And you see the university as first and foremost a kind of safe space?
Angus Johnston: Well the university is at the same time a community and an institution and as an institution the thing that is really exciting about the university is that it is large enough to matter in the nation and the world and small enough to have an impact on. You can influence it. You can change it. For many students, not as many as in years past, but for many students the campus is not just where they study. It is where they live. It is where they work. It's where they spend their free time. It's where they fall in love. It's all of this stuff. So figuring out how to make the campus reflect their values is a perennial student project going back hundreds of years. What happens is that each generation succeeds in some ways and fails in other ways to reshape the campus and then the next generation comes along and says well actually it needs more reshaping and our generation is like no we already did that. We fixed it. The university looks the way we want it to look.
Brooke Gladstone: Angus, thank you very much.
Angus Johnston: Thank you.
Brooke Gladstone: Angus Johnston is a historian of American student organizing and a professor at Hostos Community College in New York. Thanks for listening to this podcast extra. The next edition of On the Media can be found hot off the presses Friday at around 6:00 Eastern Time.