The Art of Disastertising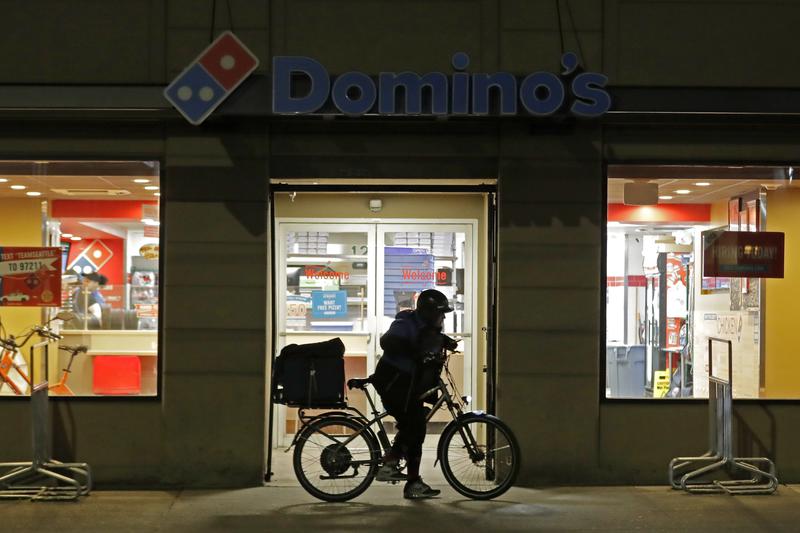 Transcript
Bob Garfield: This is an OTM Podcast Extra. I'm Bob Garfield. A long, long time ago, like January, advertising was just advertising, sometimes trying to make a product or service look indispensable, sometimes portraying a brand as hip or subversive, sometimes offering something free in addition to the main offering, sometimes trying to touch your foolish heart. With the onslaught of pandemic though, all of that went out the window. Now, advertisers are dividing their messages between, "We are with you in these uncertain times every step of the way," and promising we can buy what they're selling without winding up on a ventilator. The stark change in tone and approach is what The Atlantic's staff writer Amanda Mull calls disastertising. Amanda, welcome to the show.
Amanda Mull: Thank you for having me.
Bob: I'm watching a commercial for pizza delivery and the message isn't about lots of cheese or tangy sauce, or 15 minutes to your door. The message is, "We won't touch your food." [chuckles]
[advertising]
If they'd run that three months ago, it would sound like parody. I would think that would be the absolute minimum brand promise, "We'll do our best not to kill you." You're seeing a lot of this stuff. What's happening?
Amanda: The nation's pizza delivery change have really been the torchbearers in this new type of advertising, where suddenly consumer's ideas of what they want and ideas of what they want to hear about and their needs have changed. What the pizza delivery companies, and after them, a lot of different types of businesses have done is figure out where it is that consumer's anxieties lie where they are unsure where they want to be spoken to, and try to tailor their message to that. The problem is that during a pandemic, interests turn to precise oven temperatures and food handling practices and things that are really unsexy for advertising in general.
Bob: Corona hygiene big right at the top of the list.
Amanda: Yes, everybody wants to know exactly how many people have interactive with any particular thing that they might touch and how much they did and how long ago. [chuckles]
Bob: [chuckles] Now, for at least 100 years, brand advertising has been about brand differentiation, sometimes even by inventing a difference that doesn't exist or highlighting a trivial one. A Budweiser is all American. Sam Adams is hip. Heineken is sophisticated. How do you differentiate your brand, when everybody is trying to promote, probably, not suicidal?
Amanda: That is a big problem that brands are facing now because what it's coming down to is that you really don't differentiate your brand. What consumers want right now is, at least, based on what these advertisers have detected is a sense that we're all in this together, and that the advertisers in question have figured out where it is that their needs lie and are addressing that.
There are only a few specific consumer needs that brands can really talk to right now. You need to get food. You need things that make it easier and more comfortable for you to stay home. You need things to entertain your kids. You need things to keep yourself clean and safe. Beyond that, everybody is saying that we have your back. It's a message of solidarity instead of one of branding, really.
Bob: Solidarity in the shadow of calamity, whether it's war, or 9/11, or natural disaster, it has long since become a reflex for big brands to get all emotional and supportive and community-minded. That's the disastertising we're already familiar with, no?
Amanda: Right. Disastertising is not a new thing, especially in the era after 9/11 when you saw a lot of people aligning themselves with patriotism, with endurance, with grit, with standing by their fellow Americans. The difference in this is that most disasters are quick. Even if they have long fallouts that result in geopolitical changes that affect the entire world, the disasters themselves are usually over fast. Even recessions, they last a little while, but for a lot of people, life goes on as normal.
Bob: Now, you are probably aware that someone [chuckles] made a supercut of this chorus of communities genre. Here's a little bit of it.
[advertising]
Now, here again, [chuckles] Amanda, if every brand is just going to go all group hug on us, how the hell are we supposed to know who has our back the most?
Amanda: That's the problem for brands because the pandemic is going to be a really long-extended disaster that disrupts so many people's lives for such an extended period of time. Brands are having to figure out new ways to be memorable that go beyond just simple advertising. What a lot of brands have found effective and what a lot of them have turned to is doing things that are newsworthy in and of themselves because that helps them get into other types of media. It helps them get covered by press. It helps those efforts get shared on social media by regular people.
What you see is acts of charity. Well, acts of charity are charitable. They're also marketing. I think that any advertising executive would admit that to you. You see brands like Apple donating 20 million masks to frontline workers. You see Burger King donating a million meals to hungry kids. You see Budweiser donating millions of dollars to the Red Cross and also some of its advertising space that it had already bought to the PSAs.
These things, they work really well. They get covered really widely by press. Especially for press, it's looking for anything positive and encouraging to talk about when news is so bleak. That is a way that a lot of brands have found to differentiate themselves and rise above the noise in this time because in traditional advertising, you're right, you can't do a whole lot except say, "We're in this together over like a solemn piano tune."
Bob: Now, this kind of activity, speaking for myself personally, makes me very queasy because I think it's cynical, and sometimes, even repulsive to do some modest or even substantial act of charity and then to brag about it in advertising, often, by the way, at a cost and media expenditure far exceeding whatever was spent for the supposedly humanitarian contribution, but the public, you found actually seems to eat this stuff up.
Amanda: I think the public reaction to it is complicated and paradoxical because I think a lot of people are with you and they find it sort of repulsive that we, as a country, rely on Burger King to feed hungry children in the disaster, or that we rely on the large asset Apple to protect frontline healthcare workers who-- Kids should already be fed, frontline healthcare workers should have the supplies they need to be safe.
I think that Americans do understand that generally that that is a pretty repulsive situation that we found ourselves in, but I think that they also feel a certain level of helplessness, especially in the situation where if these companies aren't going to do it for people who need it, then who will because we have a government that is pretty reticent to provide the scale of help that people clearly need, and local governments are somewhat stymied in their abilities to fill those gaps. I think that consumers look at the situation and go, "I wish it weren't like this, but I'm glad that at least somebody is doing something."
Bob: There is an interesting wrinkle that you identified in the COVID-19 crisis. Instead of just bragging about donations to victims, some advertisers are bragging about just being employers, like, "Look at us. We're not junk food peddlers. We are a public service."
[advertising]
Domino's is an American hero?
Amanda: Domino's would love you to think of them as an American hero. The pandemic has been a real opportunity for the giant corporate employers of low-wage service workers, both in big-box retail and fast food, to recast themselves as public services, and people who are doing a charity to the public by existing and selling pizzas and selling toilet paper and things like that.
That comes at a really convenient time for big-box retail companies and fast food companies because in the past several years, there has been a lot of labor organizing around Fight for $15, which would increase minimum wage in those types of jobs to $15 an hour. The federal minimum wage is still only $7.25, and in some states, that is the case in localities too. You have had a lot of static for these business owners in the very recent past about how they treat their workers. Now, suddenly, things are more dire and more dangerous for their workers than ever before, but continuing to employ them is now a PR opportunity for the companies who have denied them sick leave, denied them fair wages, denied them proper protective gear in many cases, which is pretty cynical.
Bob: That's another part of the flip side of the heroism narrative because the frontline employees are at a vastly increased risk of infection, which I haven't seen an ad about yet.
Amanda: Right. The heroes here aren't the Walmart executives, or the fast food executives, or whoever runs McDonald's. It's people who are making your sandwiches and delivering your food and restocking your toilet paper that deserve our praise and our thoughts in this time. They also deserve hazard pay and fully covered sick leave, and things like that. Pretty much all they're getting is commercials from their employers, encouraging people to come shop and thanking them for their service in ways that are completely non-monetary.
Bob: [chuckles] Now, it is very easy to take potshots at advertising, right? I spent 25 years of my career doing just that, but for all its foibles and its hypotheses and its economic travails at the moment, it still plays a very important role in the economy and for better or worse for the culture. Is there anything about these disaster-tising trends that makes you feel, I don't know, sympathy.
Amanda: Sort of. I do feel sympathy for people who work at companies who are trying to figure out how to get their ducks in a row to weather this disaster and not lose their jobs, and not have to lay off their direct reports, and not have to hurt more people in the process. I feel sympathy for line-level workers in all kinds of industries, who are just trying to figure out how to survive this pandemic.
Advertising is annoying as it can be at times and as loathsome as it can be at other times. We have set up America to be an economy, in which it is absolutely vital that brands keep advertising and that people keep looking at them and the people keep shopping. That cycle continues ad infinitum because without it, you lose a lot of media, you lose factory jobs, you lose retail jobs, you lose lots of office jobs. We have backed ourselves into a corner of having to deal with this, at least for the moment.
Bob: Much of what we've been discussing has concerned to TV commercials, but a long before we went into the world of COVID-19 disastertising, advertising has been a slow-burning disaster itself. The whole industry is in a state of mid collapse. The TV commercial has long since lost its primacy, much of the world's marketing is done online. How has the digital world affected how disastertising is executed this time around?
Amanda: The overall trend in advertising that has set the stage for a lot of the disastertising that we see now is that people spend less and less time in ad-supported media. You watch Netflix. You listen to Spotify Premium. You consume things that don't have ads around them or in them or on them. That means that advertisers have to get a little bit more creative in order to attract the attention of consumers. That means all kinds of travails and influencer marketing on social media. You get sponsored posts. You get small companies that maybe have just started up masks and things like that buying low-cost ads and Instagram stories.
You get Crocs, the rubber shoe manufacturer, giving away thousands of pairs of shoes to nurses across the country and then buying an ad on Priyanka Chopra's Instagram account to let everybody know about it. You get a lot of really weird things, and a lot of people trying to hold the advertising and media industries together with chewing gum and paper clips.
Bob: Someday, presumably, mankind will emerge from this pandemic and from the economic depression it's triggering. What will the legacy of this crisis be? Will this appeal that we've been describing, survive The Great Quarantine of 2020?
Amanda: I think this can go one of two ways and I'm not sure which way it's going to go yet. The less optimistic view is that this helps kill off American mom and pops perhaps for good. It consolidates consumer dollars at Amazon, at Walmart, at Target, at Burger King, at Domino's, and it places that can afford to survive this and advertise through it. That means that we see this for the foreseeable future, for the rest of our lives, probably because it's something that works, it's something that helps companies survive the types of disasters that we're only more likely to see as climate change worsens.
On the other hand, the optimistic view is that the way that this pandemic has exposed a lot of inequalities in our society and a lot of fundamental flaws with our system of government and our system of economics, helps encourage people to look around, look at their options and decide that some of the services that providing a food, that providing of supplies, the paying of salaries in a crisis are things that we want our government to do, are things that we want our tax dollars to fund instead of funding more warplanes or more defense projects.
I think that there's an option here for a fundamental reevaluation of how America spends its money and how America expects to receive the services it needs and the resources it needs to sustain itself. I don't know which way that's going to go though. I worry about it a lot.
Bob: It's conceivable that if we reorder the economy and the society to be more just and equitable, we'll have Papa John to thank for it.
Amanda: [chuckles] Maybe indirectly.
Bob: [chuckles] Amanda, thank you very much.
Amanda: Thank you for having me.
Bob: Amanda Mull is a staff writer at The Atlantic. Her recent article is titled, How to Advertise in a Pandemic.
[music]
Copyright © 2020 New York Public Radio. All rights reserved. Visit our website terms of use at www.wnyc.org for further information.
New York Public Radio transcripts are created on a rush deadline, often by contractors. This text may not be in its final form and may be updated or revised in the future. Accuracy and availability may vary. The authoritative record of New York Public Radio's programming is the audio record.