Armchair diagnosing do's and don'ts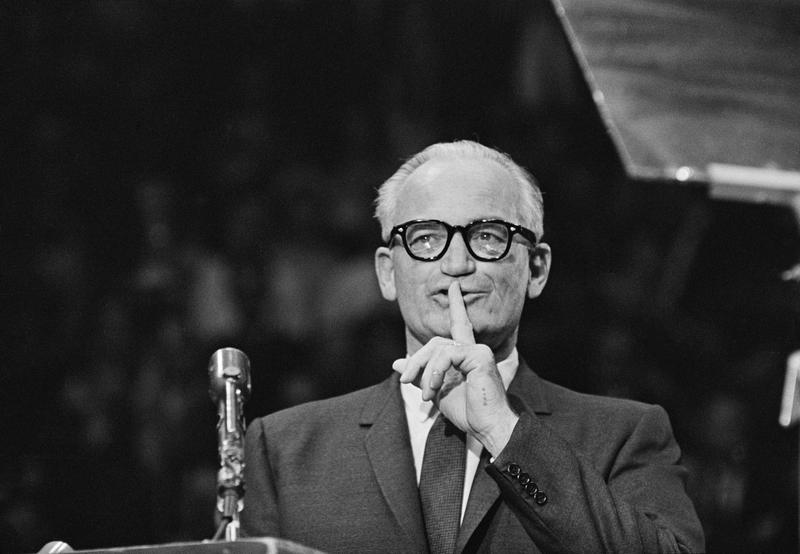 Transcript
Bob Garfield: Tuesday morning, Maine Senator Susan Collins, a Republican, and her democratic colleague, Jack Reed of Rhode Island, were caught on a hot mic after a Senate subcommittee meeting musing on the president's mental health.
Jack Reed: I don't say that lightly.
Bob Garfield: It's hard to hear, but right at the top of the tape, Senator Reed says, quote, "I think he's crazy."
Jack Reed: I think he's crazy.
Bob Garfield: Not an original observation. Ever since his inauguration, the president's erratic behavior has spawned all sorts of amateur psychology, including diagnoses of narcissistic personality disorder, borderline personality disorder, and even the toll of untreated venereal disease. There's also been talk about invoking the 25th amendment, removing the president from office on the grounds of mental incapacity, and it isn't all Democrats. Bill Maher on his show asked Senator Al Franken what the Republicans were saying behind closed doors about President Trump. Franken said there's a range.
Al Franken: Some will say that he's not right mentally and then some are harsher.
Bob Garfield: Then came last weekend and the boy scout jamboree. Trump addressing 45,000 young boys about the virtues of scouting. No, not much.
Trump: Who the hell wants to speak about politics when I'm in front of the Boy Scouts. Do you remember that incredible night with the maps? And the Republicans are red and the Democrats are blue and that map was so red it was unbelievable, and they didn't know what this ... and hopefully he's going to get the votes tomorrow to start our path toward killing this horrible thing known as Obamacare that's really hurting us. He better get him. He better. Otherwise I'll say, Tom, you're fired. The fake media will say, "President Trump spoke before a small crowd of Boy Scouts today." That is some crowd. Fake media, fake news.
Bob Garfield: The president then spent five minutes regaling 14 year old boys with the riches to rags story of real estate developer, William Levitt, who Trump said he encountered at a cocktail party in New York.
Trump: And it was very sad, because the hottest people in New York were at this party. It was the party of Steve Ross. Steve Ross, who was one of the great people. He came up and discovered, really founded, Time Warner. And he was a great guy, he had a lot of successful people that the party. And I was doing well so I got invited to the party, I was very young. And I go in, but I'm in the real estate business and I see a hundred people, some of whom I recognize, and they're big in the entertainment business, and I see sitting in the corner was a little old man who was all by himself, nobody was talking to him. I immediately recognized that that man was the once great William Levitt of Levittown. And I immediately went over, I wanted to talk to him more than the Hollywood show business communications people.
So I went over and talked to him, and I said, "Mr. Levitt, I'm Donald Trump". He said, "I know." I said, "Mr. Levitt, how are you doing?" He goes, "Not well, not well at all." And I knew that, but he said not well at all. And he explained what was happening, and how bad it's been, and how hard it's been. And I said, "What exactly happened? Why did this happen to you? You're one of the greats ever in our industry. Why did this happen to you?" And he said, "Donald, I lost my momentum. I lost my momentum." A word you never hear when you're talking about success, when some of these guys that never made 10 cents, they're on television giving you the things about how you're going to be successful, and the only thing they ever did was a book in a tape.
Trump: But I'll tell you, it was very sad and I never forgot that moment, and I thought about it, and it's exactly true. He lost his momentum, meaning he took this period of time off long years, and then when he got back, he didn't have that same momentum. In life, I always tell this to people, you have to know whether or not you continue to have the momentum. And if you don't have it, that's okay, because you're going to go on and you're going to learn and you're going to do things that are great, but you have to know about the word momentum. But the big-
Bob Garfield: All the disordered stream of consciousness reminded nobody of any presidential address to Boy Scouts in 80 years. But it did ring familiar if you've seen the Caine Mutiny. You may recall the Humphrey Bogart classic in which a trio of US Naval officers relieved their commander of duty in a typhoon because in their opinion he was mentally unstable. They were court marshaled for mutiny but were acquitted thanks to Captain Queeg's own testimony.
Queeg: I know exactly what he'll you, lies. He was no different from any other officer in the war and they were all disloyal. I tried to run the ship properly with a book, but they fought me at every turn. If the crew want to walk around with their shirttails hanging out, that's all right, let them. Take the toll line, effective equipment, no more and all that, but they encourage the crew to go around scoffing at me and spreading wild rumors about steaming in circles, and yellow stain. I was to blame for Lieutenant Merrick's and competence and poor seamanship. Lieutenant Merrick was the perfect officer, but not Captain Queeg. I'll have the strawberries. That's what I had them. They laughed at me and made jokes, and I proved beyond the shadow of a doubt and with geometric logic that says that a duplicate key to the water did exist. I produced that case. They hadn't pulled the cane out of action. I know they were only trying to protect some fellow Austin.
Bob Garfield: This is one of the great unraveling in cinema history, a strange agitated digression by a man who seemed to forget who his audience was. Now, I'm not a psychiatrist, Senators Jack Reed and Al Franken aren't psychiatrists, but Trump's descent into Queegish non-sequitur infuriated Boy Scout parents and lit up social media. The word unhinged came up a lot, but who gets to judge? Here's one of the Cane mutineers being grilled at the court martial hearing on his mental health expertise.
Interviewer: What training have you had in psychiatry or medicine?
Mr. Merrick: None.
Interviewer: Where did you get the idea that Captain Queeg was mentally ill?
Mr. Merrick: A lot of books.
Interviewer: Books. Name the titles.
Mr. Merrick: I can't remember them.
Interviewer: Mr. Merrick define schizophrenia.
Mr. Merrick: I can't.
Interviewer: What is a manic depressive?
Interviewer: I don't know.
Interviewer: What's the difference between the words paranoid and paranoia?
Mr. Merrick: I don't know.
Interviewer: In truth, then, Mr. Merrick, you don't know what you're talking about when you discuss mental illness.
Bob Garfield: In March, the American Psychoanalytic Association emailed it's 3,500 members giving them the go ahead to bring their professional judgment to bear in commenting publicly about the president's words and deeds. But Tuesday the much larger American Psychiatric Association was obliged to reiterate its so-called Goldwater rule, the ethics policy forbidding members to diagnose or speculate on anyone who they haven't personally examined. The rule sprang from a Fact Magazine article claiming that 11,089 psychiatrists found hawkish 1964 presidential candidate Barry Goldwater psychologically unfit to be president.
Last summer, I spoke to Paul Applebaum, a professor of psychiatry, medicine, and law at Columbia University, who told me that he is a strong proponent of mental health experts staying out of the pundit business.
Paul Applebaum: On top of the likelihood that conclusions reached will just be misleading is the concern about harm. Barry Goldwater himself testified when he brought suit against Fact Magazine about the negative impact on his life of wondering what people now thought about him. But there's also a concern, and for me, this is the primary concern, that people who could benefit from mental health treatment won't seek it if they see psychiatrists and other therapists making diagnoses based on very little information and often simply their political views.
Bob Garfield: All right, so the Goldwater rule is sort of the psychiatric law of the land, but there are work arounds. There are ways to discuss symptomology while stating loudly and disingenuously, that this isn't the diagnosis of anyone in particular. Trump, Trump, Trump, Trump.
Paul Applebaum: Well, we've seen a good deal of that this year. Like any ethical rule, the Goldwater Rule relies on good judgment and good faith and trying to apply it. So do we see people who either are on the border of what's legitimate or cross over that border? This year we've seen them in spades.
Bob Garfield: Permit me please, to push back actually at the core though of your concern. One of your colleagues told 538.com that quote, "Labeling Trump from afar would be no different than diagnosing President Obama with leukemia sight unseen." But leukemia can be diagnosed by looking at blood cells. Narcissistic disorder, let's say, and most psychiatric conditions, are really labels attached to certain symptoms as codified in whatever the latest diagnostic manual the DSM has to say. If those symptoms are vividly projected to the entire world every single day for a year, indeed far more exposure than any psychiatrist ever has to his or her patient in an office or hospital setting, why isn't that perfectly legitimate basis for a diagnosis?
Paul Applebaum: When people are in public, they are often projecting a persona. That may be revealing of certain things, but it certainly doesn't disclose the essence of a person's psychological functioning.
Bob Garfield: You mean I'm not a lunatic, I just play one on TV?
Paul Applebaum: Well, I'm not as grandiose or unrealistic as I seem, but I find that it's effective in business, politics, or the like, and actually in private, I'm a very different person. When we do an evaluation, it's not just the positive symptoms that we're looking for, it's the negative correlations as well. Is there a history of substance abuse? What's the family history? Are there symptoms that might not be evident in public, but which the person will report to us privately? Merely to observe public behavior tells you about none of that, and frankly, if I observe a political figure or anyone else in public, my description of that person's behavior is probably no better than yours.
Bob Garfield: If it's really a fool's errand, what's the impulse for us to try to get the psychiatric goods on those who would lead us?
Paul Applebaum: I think the attraction of psychiatric labels in a political context is their power to so completely discredit. If we say that this candidate's policies don't make sense, somebody can come along and say, "Well, of course they do. I like these policies." But if we say a candidate is psychotic, or manic, or has a personality disorder, that candidate's supporters can hardly say, "But we want a psychotic candidate."
Bob Garfield: Well, this takes us back to 1964, and the Goldwater question, which was, "Do we want this guy to have his finger on the nuclear button?" The question that has been raised about Donald Trump.
Paul Applebaum: So I would point out that almost every four year cycle, between 1964 and 2016, has seen something of this sort. Mental health professionals, believing that they alone can save the republic, coming out with some sort of diagnostic formulation, and often as this year, many different diagnostic formulations. Lyndon Johnson was considered grandiose. Richard Nixon was called depressive and paranoid. Ronald Reagan's memory and mental functioning were repeatedly called into question. All sorts of labels were applied to Bill Clinton, and of course, whole books had been written about George W. Bush and his presumed psychopathological a rivalry with his father. We run the risk every four years of letting our political views color our views of the psychopathology of the people with whom we disagree.
Bob Garfield: Well, you say every four years, but periodically special times call for special approaches. I mean, there are extremes.
Paul Applebaum: But those extremes can be encountered on their own. I would have a hard time imagining a situation in which psychiatrists or other mental health professionals through sharing diagnostic speculation would tell the public something useful that wouldn't otherwise be evident from a person's track record of behavior and discourse.
Bob Garfield: Well Paul, thank you very, very much.
Paul Applebaum: You're welcome.
Bob Garfield: Paul Applebaum is a professor of psychiatry, medicine, and law at Columbia university. So mental health professionals like Applebaum are wary of applying psychiatric labels to politicians from afar, but Bill Daugherty, a therapist and psychology professor at the university of Minnesota believes the integrity of the profession depends precisely on speaking out. In 2016, he created the online manifesto "Citizen Therapists Against Trumpism", which thousands of mental health specialists have signed. When I spoke to him last August, I asked him how he defines Trumpism.
Bill Daugherty: A political ideology and public stance that is characterized by a strong man approach. Trust me, I will protect you against the enemies, domestic and foreign against the other. It's an appeal to a fear without reason, and it's a deeply undermining approach to the public mental health and to our democracy.
Bob Garfield: And why was it important for you to speak out against Donald J. Trump, not just as a voter and American, but as a therapist?
Bill Daugherty: Well, the origins of this was a trip I made to Eastern Europe where I saw neo fascist uniformed youth on the street. I visited a concentration camp, I toured Freud's house and saw videos of him fleeing Nazi Europe, and I began to look into this and realize that mental health professionals stayed silent during a very dramatic time in the history of the Western World.
I saw the rise of Donald Trump and what he represents as on that continuum of movement that undermines the public good, public mental health in our democracy. So I felt that this time, mental health professionals should not just stay at our offices and act as if the world is not threatening our clients.
Bob Garfield: Now, to do this, as we've just heard, you are flouting the so-called Goldwater Rule, which is to say it's unethical to make psychological diagnoses from a distance.
Bill Daugherty: I am not making a psychiatric diagnosis of Donald Trump. I'm not doing anything that would require much more knowledge of his private life than we have. I'm focusing on the public presentation of Donald Trump and what he stands for, so I don't view myself as violating that rule.
Bob Garfield: Hmm. Well, that sounds a bit disingenuous. If Trumpism is a disorder, is not Trump disordered?
Bill Daugherty: Well, I didn't call Trumpism a disorder. I said it's a threat. It undermines our democracy and undermines public mental health. Somebody could promote that without having a psychiatric label applied to them.
Bob Garfield: And many have, especially in the political and pundit classes. Why do you believe that there is a responsibility on mental health professionals?
Bill Daugherty: Well, I believe that all professional groups should speak out. I think educators should speak out if they're seeing more bullying in the schools and more scapegoating of others. This just happens to be my profession and I think we have something to contribute to the public conversation. So for example, Trump's apology last week for hurting people is a classic thing we see in our offices of the non-apology apology.
Trump: Sometimes in the heat of debate and speaking on a multitude of issues, you don't choose the right words or you say the wrong thing. I have done that.
Bill Daugherty: Not taking accountability and not really understanding that the harm done. I'm a marriage and family therapist, I see this all the time in my office. I think we should be part of the public conversation about these issues.
Bob Garfield: Did I understand you correctly that you believe that Trumpism actually threatened the mental health of the entire country?
Bill Daugherty: Well, it clearly is threatening the mental health of a number of the patients and clients that I see and my colleague see who are immigrants. I'm hearing from therapists all the time. There's a term that I first heard in Latin America called political stress. Personal pain, anxiety that comes from what's going on in the political sphere, so there are a lot of those folks who are experiencing that. Other minority groups, African-Americans I've talked to are worried, and middle-class people in our practices, certainly in my practice, are saying, "What the heck is going on with this world that a man like this is representing a major political party."
I'm not saying it is affecting the mental health of every last American, but this is a strong effect we're seeing.
Bob Garfield: In Vox, recently, psychologist Cedar Rener pointed out that in labeling Trump with a psychiatric disorder, and that's happening a lot, we turn him into an anomaly and as a consequence de-politicize him. So which is worse, a presidential candidate who is off his rocker or one who is not mentally ill, but going directly to the playbook of fascist demagogues?
Bill Daugherty: Clearly the second. This is why the manifesto is against Trumpism, because he represents something and is unleashing certain dark forces in our country that's happening in Europe, as well. He stands for something much bigger than a guy who is sort of crazy.
Bob Garfield: You have 2,400 some signatures on your manifesto, which is not a trivial number, but there are, I don't know, 100,000 people like you practicing clinical psychology. Are they mad, disappointed, what?
Bill Daugherty: I have had some angry responses from some conservative therapists who believe that what I'm doing is simply a partisan political thing to get Hillary Clinton elected, and my response is that if Donald Trump were not running for president, I would not be writing a manifesto against Jeb Bush or any of the others in that group, that Donald Trump represents something different on our scene. This is different.
Bob Garfield: All right, let's just say you haven't broken the Goldwater Rule. If you squint hard enough, you haven't, strictly speaking, made a diagnosis of a disorder that you think belongs in the DSM. Do you believe in general in the Goldwater Rule? That it is a slippery slope when a mental health professional starts drawing conclusions from a politician's public persona?
Bill Daugherty: I have a complicated thoughts about the Goldwater Rule. It serves an important purpose in the sense of not encouraging mental health professionals to use diagnosis as weapons against politicians who they don't like for other reasons. It serves the purpose of not trivializing diagnosis. I think has been misused to silence the public voices of mental health professionals who need to be speaking out here. It's kind of like in your field of journalism, the objectivity norm. There's this side and that side and nobody has an opinion about it. That works just as the Goldwater works in normal times, but when there's a very threat to the fabric of our society and our democracy, we should not be bound to certain kinds of traditional norms that work in other circumstances.
Bob Garfield: Bill, thank you very much.
Bill Daugherty: You're welcome. It's been my pleasure.
Bob Garfield: Bill Daugherty is a therapist and psychology professor at the University of Minnesota. Thanks for listening to this podcast "Extra". Check your feeds Friday for the big show. This week I'll be speaking to the Atlantic's James Fallows about the media's relationship with Senator John McCain. I'm Bob Garfield.
Copyright © 2020 New York Public Radio. All rights reserved. Visit our website terms of use at www.wnyc.org for further information.
New York Public Radio transcripts are created on a rush deadline, often by contractors. This text may not be in its final form and may be updated or revised in the future. Accuracy and availability may vary. The authoritative record of New York Public Radio's programming is the audio record.