A Civilization As Great As Ours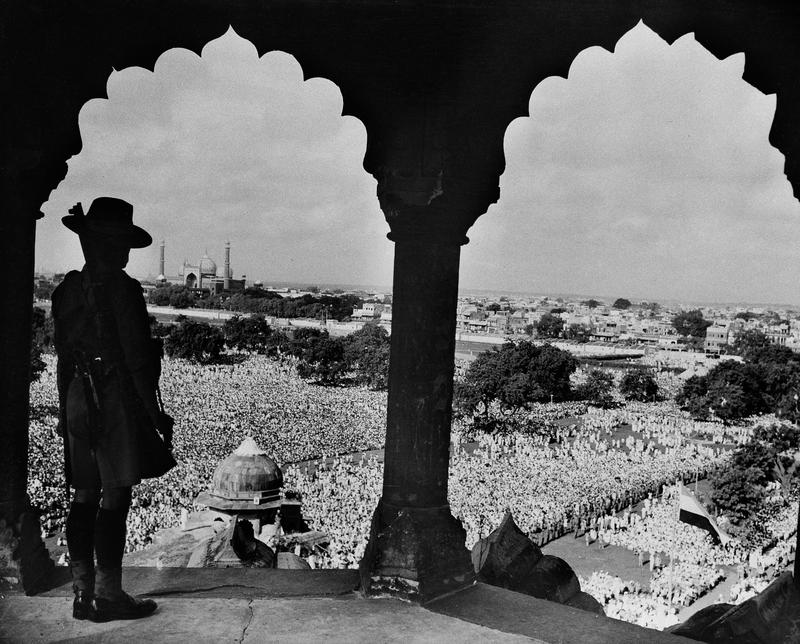 Transcript
[CLIP]
MALE CORRESPONDENT The phone lines are down, the Internet has been blocked and cable TV is also blocked in parts of Kashmir. [END CLIP]
BOB GARFIELD India strips Kashmir of its autonomy under cover of near total information blackout. From WNYC in New York, this is On The Media. I'm Bob Garfield. It turns out that the move is in keeping with a wholesale rewriting of what modern India stands for. One that could have reverberations for generations to come.
[CLIP]
CHRISTOPHE JAFFRELOT The Indian youth will probably not know the history of India it should, if things continue at the same pace. [END CLIP]
BOB GARFIELD Also we speak to a historian who examines the role of the frontier in American expansionism
[CLIP]
GREG GRANDIN There's not one president that doesn't use the frontier thesis to justify American power in the world. [END CLIP]
BOB GARFIELD It's all coming up. After this.
BROOKE GLADSTONE From WNYC in New York, this is On The Media. I'm Brooke Gladstone.
BOB GARFIELD And I'm Bob Garfield.
[CLIP]
FEMALE CORRESPONDENT This week, we saw a new unwritten chapter in India's history being created. [END CLIP]
BOB GARFIELD Earlier this month in the world's largest democracy, a dark and ominous turn. In the disputed state of Kashmir, half administered by Hindu majority India and half by its Muslim majority rival Pakistan, India has revoked autonomy for the Jammu and Kashmir region in its control–despite the 67 percent Muslim majority there. With the stroke of a pen, that majorities' political power and constitutionally guaranteed rights have been obliterated.
[CLIP]
FEMALE CORRESPONDENT Article 370, the section of the Constitution that gives significant autonomy to Kashmir is at the heart of why the region joined India in 1947. It allows the regional government to make its own laws except and finance, defense, foreign affairs and communications.
MALE CORRESPONDENT Kashmiri Muslims complain bitterly about their rights and identity being stolen from them.
FEMALE CORRESPONDENT It's moved at lightning speed without any consultation. [END CLIP]
BOB GARFIELD The de facto annexation of the autonomous region into the whole of India is the formalization of longstanding claims on the Himalayan territory. Claims that have been prosecuted with wars, political rhetoric and widespread human rights abuses against Muslim citizens. And thus the legislative fiat of the ruling Hindu nationalist BJP was more shock than surprise.
[CLIP]
FEMALE CORRESPONDENT It's been a part of their platform for decades so it's not a surprise that they were interested in trying to remove this Article 370 and make Jammu Kashmiri a formal part of India without special autonomy. [END CLIP]
BOB GARFIELD What has changed over those decades has been the consolidation of political power into the hands of Prime Minister Narendra Modi and his BJP and the popular acceptance of the action in the name of both national destiny and national security. Modi claimed that absorbing Jammu Kashmir will create greater regional stability.
[CLIP]
MALE CORRESPONDENT The reason that he gave for removing Article 370, which had given Kashmir its special status and greater autonomy was simple. He said it hadn't worked at all. He said all it had bought with nepotism, separatism and terrorism. [END CLIP]
BOB GARFIELD Thus under the pretext of hampering terrorist reprisals, the assault on Kashmiri democracy was carried out in an information vacuum. The government cut communications in Kashmir and prevented the vast majority of regional newspapers from publishing. The info blockade reportedly included even human quarantine.
[CLIP]
MALE CORRESPONDENT They are not being allowed to come out of their houses and they don't have any access to any sort of news or information. The phone lines are down, the Internet has been blocked and cable TV is also blocked in parts of Kashmir. [END CLIP]
BOB GARFIELD Where protests took place, the government denied their existence. Even when the BBC showed video of the police opening fire and using tear gas to disperse the crowd, Modi's administration claimed no such demonstration or police action ever took place–not that outside of Kashmir there was much evidence of anger.
[CLIP]
MALE CORRESPONDENT Celebrations breaking out in different parts of the country. This is a historic moment. This is the day when Kashmir stands finally integrated with India.
MALE CORRESPONDENT There symbolizes the whole debate and the whole problem that exists. On the one hand the public here in India strongly behind their prime minister. On the other hand the Muslims who live in the valley, at the moment, feeling disconnected both physically, because they have no way to communicate with the rest of India, and also with their government in Delhi. [END CLIP]
BOB GARFIELD How in a democracy can un-democracy be so popular? It's a question Americans lately are asking ourselves but if we're seeking lessons from the subcontinent, in India the answer is clear. To engineer a quiet nationalist revolution, to employ the levers of democracy, to subvert democracy, requires most of all control of the narrative–and not just by news blackout or legislative shenanigans or even hateful propaganda. As tyrants of the past well understood, to hold power, it is necessary to own history itself. As Indian historian Romila Thapar recently wrote in The New York Times, quote 'extreme nationalists require their own particular version of the past to legitimize their actions in the present.' This week on the anniversary of India's independence, producer Asthaa Chaturvedi examines the ways in which India's far right political movement, now with a grip on power, is redefining national identity by rewriting the past.
[MUSIC UP & UNDER]
ASTHAA CHATURVEDI One place to find the identity of a nation is its founding documents and the ideals of those who fought for independence. In India, it was the people on the forefront of the movement to fight against 200 years of British rule.
[CLIP]
JAWAHARLAL NEHRU To the people of India, whose representatives we are, we make an appeal to join us with faith and confidence in this great adventure. [END CLIP]
ASTHAA CHATURVEDI That India's first prime minister Jawaharlal Nehru speaking in 1947 to the Constituent Assembly of India, in the country's parliament on the eve of Independence. He outlined an egalitarian vision for the country.
[CLIP]
JAWAHARLAL NEHRU This is no time for petty and destructive criticism, no time for ill will or blaming others. We have to build the noble mansion of free India where all her children may dwell. [END CLIP]
SHOAIB DANIYAL The Indians founding principle was a unity and diversity where no matter who you were you spoke your language, you practice your faith.
ASTHAA CHATURVEDI Shoaib Daniyal is a writer for Scroll, an independent English language news site based in India. He covers politics and culture.
SHOAIB DANIYAL Where ever in India you're from, no matter the way you looked, you could still buy into the civic nationalism of India. And you could still be Indian in that way.
ASTHAA CHATURVEDI Today India's the world's largest democracy with 1.3 billion people. In 1947, it was the job of Nehru and the Assembly to bring together the diverse interests of the world's youngest democracy. For example, the constitution itself recognizes 22 languages.
SHOAIB DANIYAL These values are trained in India's constitution, which is drawn up by a constituent assembly consisting mainly of people who had fought for freedom against the British. This is happening against incredible bloodshed between Hindus and Muslims when partition happens.
ASTHAA CHATURVEDI As India celebrated Independence, the country was divided into two nation states. An estimated 15 million people were uprooted as Hindus Sikhs moved to India and Muslims move to Pakistan. Despite sectarian violence that has continued over many decades, the ideals of a multicultural diverse India were still the country's north star.
SHOAIB DANIYAL And unity in diversity was suddenly pushed out. You know, I remember this right in the 90s when I was a kid. Where you know you would have these government ads--
[CLIP OF AD].
SHOAIB DANIYAL --basically showed a Muslim and Hindu and a Sikh and a Christian--.
[CLIP OF AD].
SHOAIB DANIYAL --hanging out and doing their thing.
[CLIP OF AD]
SHOAIB DANIYAL There was this message sent out that India sort of belonged to everyone who lived in India.
[CLIP OF AD]
ASTHAA CHATURVEDI How is the story of India changing now? And who's behind it?
SHOAIB DANIYAL The main actor I think behind it is the Bharatiya Janata Party, which just translates to Indian People's party.
ASTHAA CHATURVEDI Shorten to the BJP, Prime Minister Narendra Modi's party.
SHOAIB DANIYAL They have a specific and very distinct idea of India from what India was founded on. They believe India is a Hindu nation. In this scenario, if you're Muslim, if you're a Christian, you sort of get excluded. So this was a doctrine championed by a person who lived in colonial India called Vinayak Savarkar.
ASTHAA CHATURVEDI Savarkar, a far-right independence activist and writer, popularized the ideology of Hindu nationalism called Hindutva. In 1923, in an influential text, he wrote that Hindutva is quote, 'not a word but a history.'
SHOAIB DANIYAL He basically says that anyone who considers India his Holy Land is a true Indian. Anyone who has holy places outside of India, for example, Catholics have the Vatican in Europe and Muslims have Mecca in Saudi Arabia, they are not really truly Indian.
ASTHAA CHATURVEDI The BJP draws inspiration from Savarkar's work and traces its roots back to a pro-Hindu group founded in 1925. The most influential of which is--
SHOAIB DANIYAL The Rashtriya Swayamsevak Sangh which translates to The National Volunteers Organization.
ASTHAA CHATURVEDI The RSS, they aren't a political party they don't stand in elections.
SHOAIB DANIYAL Almost every important person in the BJP was once a member.
ASTHAA CHATURVEDI This includes prime minister Narendra Modi. The tentacles of the RSS spread far and wide.
SHOAIB DANIYAL The RSS has worked at the grassroots for decades. Nobody knew in the 1960s that the BJP would one day come to power.
ASTHAA CHATURVEDI The rise of the BJP can be traced back to the 1980s when Hindu nationalists led a violent movement to demolish a mosque in north India and build a Hindu temple in its place.
[CLIP]
MALE CORRESPONDENT India is in political turmoil. At least 100 people have died in religious violence, which has erupted across the country since militant Hindus tore down a mosque in the northern town of Ayodhya yesterday. [END CLIP]
SHOAIB DANIYAL There were riots all throughout the country. You know, for almost a year, tens of thousands of people were killed.
[CLIP]
MALE CORRESPONDENT One government ministers that it was the worst crisis for secular India since Mahatma Gandhi's assassination in 1948. [END CLIP]
SHOAIB DANIYAL Hindutva goes from being this fringe ideology and, sort of, comes to occupy center stage. That's when the BJP becomes the largest party in India's parliament.
ASTHAA CHATURVEDI Fundamental to the Hindu nationalist message is that Hindus are native to India. Historians have found that, actually, the origins of Hinduism came from the mixing of a thriving civilization in northwest India and aryans who came from outside India–something the Hindu nationalist deny.
CHRISTOPHE JAFFRELOT Because they want the Hindus to be the sons of the soil. And therefore, they are rewriting the Indian history in that light.
ASTHAA CHATURVEDI Christophe Jaffrelot is a senior research fellow at the French National Centre for Scientific Research and visiting professor at the King's College India Institute.
CHRISTOPHE JAFFRELOT This second thing that they are very much keen on is to depict the Islamization of India, the way Islam became one of the important religions of India, as a violent process.
ASTHAA CHATURVEDI Historians have pointed to the fact that Hindu the rulers could be just as violent and that the RSS interpretations disregard important alliances between Hindus and Muslims.
CHRISTOPHE JAFFRELOT And the last, and probably the most important thing, that you want to change is related to the freedom movement.
[CLIP]
FEMALE CORRESPONDENT An Indian newspaper recently reported that certain textbooks had erased all mention of India's first prime minister Jawaharlal Nehru. Nehru was a member of the Congress party, a major rival of the ruling BJP. [END CLIP]
CHRISTOPHE JAFFRELOT They replace these eras by their own personalities at the expense of the previous figures.
SHOAIB DANIYAL And obviously, one of the best ways to do that is through education, is through changing textbooks.
ASTHAA CHATURVEDI Shoaib Daniyal.
SHOAIB DANIYAL The RSS has a veto power in who is Education Minister in India. That is something that the RSS considers key to its job, reaching kids when they are like five or eight or 15, that's the best way to do it.
ASTHAA CHATURVEDI Most of the process of rewriting textbooks to suit the so-called Saffron agenda, named for the color Hindus regard a sacred, comes at the state level. States where the BJP has won.
MALE CORRESPONDENT Critics of the Uttar Pradesh government in Rajasthan say that the BJP is changing the very face of the curriculum by slipping in that saffron agenda.
FEMALE CORRESPONDENT First Rajisthan and Uttar Pradesh and now Mughal history has disappeared from state board textbooks.
MALE CORRESPONDENT Whatever we have learned from British and Muslim emperors should be removed. It is time for our government to put the right heroes in the syllabus. [END CLIP]
ASTHAA CHATURVEDI And the saffron-ization is not limited to grade schools. At the University of Delhi, the history, political science, sociology and English departments syllabi were revised last month.
NANDINI SUNDAR So it goes through a four step process.
ASTHAA CHATURVEDI Nandini Sundar is a professor at the department of sociology. This year, the syllabus creation and approval process was following the usual steps.
NANDINI SUNDAR The teachers themselves who are involved in teaching the courses, the department committee of courses, the faculty level and then the academic council.
ASTHAA CHATURVEDIUntil the National Democratic Teachers front, a right-wing teacher's union backed by the RSS and a student group within the RSS family, protested for changes.
[CLIP OF PROTESTS]
NANDINI SUNDAR English syllabus they objected to a short story which showed the militant wing of the RSS in a bad light for their role in the 2002 Gujarat massacres in which large numbers of Muslims were killed. In the sociology syllabus, they wanted material on the joint family and ancient India to be included. In the history syllabus, they objected to various modules including some things which were actually in a different period.
[CLIP OF PROTESTS]
NANDINI SUNDAR It's really shutting down this university as a space for students telling them that they cannot really exercise their critical faculties, that they must know only one side of a story, that anything that is open to debate or different interpretation is somehow taboo.
ASTHAA CHATURVEDI Step outside the classroom, and the rewriting of history is being enacted on brick and mortar.
[CLIP]
FEMALE CORRESPONDENT Alright, today we're asking what's in a name. Well, a lot of political clout-- [END CLIP]
SHOAIB DANIYAL In India, you have this campaign of renaming anything that has been named after a Muslim king.
FEMALE CORRESPONDENT Remember the century old Mughalsarai Station on the busy Delhi-Howrah route. Well, it is getting a quick saffron makeover now. It will formally be renamed after RSS--[END CLIP]
ASTHAA CHATURVEDI Even language in India, a country with more than 19,500 languages and dialects, is a contested ground.
[CLIP]
FEMALE CORRESPONDENT A massive controversy erupted today over a proposal to possibly impose Hindi language in all schools. [END CLIP]
SHOAIB DANIYAL They released the new education policy, which said that no matter your actual native language, you might be a Tamil speaker, you might a Gujurati speaker, you might be a Bengali speaker, but you must learn Hindi.
ASTHAA CHATURVEDI The proposal didn't go through, this time. Daniyal the reporter says that in his speeches, even the prime minister himself has changed the narrative of Indian history.
SHOAIB DANIYAL When Mr. Modi made his first speech in Parliament, five years back in 2014.
[CLIP OF NARENDRA MODI'S SPEECH]
SHOAIB DANIYAL It was almost a throwaway comment. You know, you would have missed it if you sort of weren't cued in.
[CLIP OF NARENDRA MODI'S SPEECH]
SHOAIB DANIYAL He basically said India is now just getting over 1,200 years of slavery. Just this figure exemplifies a drastic shift in how India sees its own history. The standard narrative of the history is that India was under colonial rule for 200 years, which is under the British. Right, the British basically first capture of power in India in 1757 and then they leave in 1947. So it was 190 years. Two centuries of British colonialism. Usually the kingdoms before that are not seen as colonial entities but Modi wants us to see them as colonial entities. That's because a large number of medieval kingdoms in India were basically kingdoms ruled by Muslims. So in the Hindutva view of India, that is also colonial rule much in the sense of how British rulers are colonial rule. You know, this is a very fringe view of history, which sort of pushes that India has been a colonial power for a thousand years.
ASTHAA CHATURVEDI I asked political scientist Christophe Jaffrelot what he would say to those who claim that India's history, for the last 70 years, was rewritten by the people who want to cover up a true Hindu history.
CHRISTOPHE JAFFRELOT It's a science history. It's a social science but it's a science. So you have to get archives, you need to have evidence when you make some claim. We have archaeologists, historians, linguists who have been in a position to show for decades, here is the history that we can substantiate for which there is evidence. There would respond to that by invoking, not history, but legends.
[CLIP]
FEMALE CORRESPONDENT Now there is yet another science and tech shocker from the BJP Chief Minister said, 'that technology existed in this country during the Mahabharat time. That is satellite communication existed during the Mahabharat time. If you don't believe me, listen for yourself. [END CLIP]
ASTHAA CHATURVEDI Some of the impacts of the Hindu nationalist efforts to rewrite the story of India are obvious and direct.
CHRISTOPHE JAFFRELOT The Indian youth will probably not know the history of India it should, if things continue at the same pace, you'll see young Indians ignorant of basic realities of India's history and living in fantasy to a large extent.
ASTHAA CHATURVEDI He points out that we've seen this story before in India's neighbor Pakistan.
CHRISTOPHE JAFFRELOT Pakistan has started the process of free writing of history of Islamization of the history of Pakistan, long time ago. And the young Pakistanis don't know what there is to it is about Pakistan.
ASTHAA CHATURVEDI In other ways the movement combined with the effects of policies like the revocation of Article 370 in Kashmir means that the nature of Indian democracy is changing and that minorities are marginalized.
CHRISTOPHE JAFFRELOT At the end of the day, the minorities cannot be recognized as full fledged citizens because they don't have the same rights, they don't have the same access to jobs, to land, to their rights. So it's not only because of the writing of history for sure but it's a trend that is taking India on the ethnic democracy way.
ASTHAA CHATURVEDI All of this of course is happening against the backdrop of a marked rise in right-wing populism around the world. In Poland, a law was passed that makes it a civil offence to hold Poland responsible for the Holocaust. In Brazil, President Jair Bolsonaroo denies that the Portuguese were responsible for the country's slave industry, saying that Brazil quote, 'owes no debt to its black citizens.' And in Turkey, President Richard Tayyip Erdogan's party has taken steps to remove the study of evolution from schools and has purged academics who favored Democratic governance. And if some of this sounds at all familiar it's because it is.
[CLIP]
MALE CORRESPONDENT History maybe getting an overhaul in Texas as the State Board of Education is set to vote on a new social studies curriculum that could affect classrooms across the country.
MALE CORRESPONDENT Out, too much talk about Thomas Jefferson and the Enlightenment which stressed reasoning and science over faith. In, more recognition of the contributions of religious leaders like Moses to American ideals.
[MUSIC UP & UNDER]
ASTHAA CHATURVEDI This summer Tejasvi Surya a young newly elected member of India's lower house of parliament and a strong supporter of Hindutva spoke for the first time in front of the assembly of his colleagues. He was emotional as he described his personal journey.
[CLIP]
TEJASVI SURYA The other most important thing that we witnessed in the last five years was that a culturally repressed country, who would not wear its identity up its sleeve and proudly say that we belong to a civilization as great as ours. Who, when a young Indian in school was made to cringe and feel apologetic that he belonged to a great Hindu faith that had changed in the last five years since. And that, I think, is one of the irreversible changes which is beyond the confines of Indian polity. [END CLIP]
ASTHAA CHATURVEDI It's hard not to hear echoes of make India great again. A comeback from a conjured period of repression. This reimagining of India's story rejects the boisterous multi faith democracy that Nehru envisioned. Hindu, yes, but also Muslim, Christian, Buddhist, Jain, Atheist, Sikh, Jewish. The list is long. And as minority voices are squeezed out of the discussion, the fear is that this rewriting could be irreversible. For On The Media, this is Asthaa Chaturvedi.
[MUSIC UP & UNDER]
BROOKE GLADSTONE This is On The Media.
****************************
BROOKE GLADSTONE This is On The Media. I'm Brooke Gladstone.
BOB GARFIELD And I'm Bob Garfield. We just heard our producer Asthaa Chaturvedi describe the movement to challenge the founding myths of India. Now we move on to our own with part one in our series about the myths of the American frontier, which we first aired in April.
[CLIP]
BROOKE GLADSTONEJames Monroe, writing about the U.S. in the 1920s, declared there is no object which as a people we can desire, which we do not possess or which is not within our reach. That sentiment has driven centuries of history and that peculiar notion we call American exceptionalism. That seemingly limitless reach, that unappeasable desire is set to have its roots in America's relationship with the frontier. Those of us alive today feel it mostly metaphorically. John F. Kennedy in 1960.
[CLIP]
JOHN F. KENNEDY: And we stand today, on the edge of a new frontier. The frontier on the 1960s. The frontier of unknown opportunities and perils. The frontier of unfilled hopes and unfiled threats. [END CLIP]
BROOKE GLADSTONE Ronald Reagan in 1982.
[CLIP]
RONALD REAGAN As we hold to this new path, you and your forebears as Malcolm said tamed the wild frontier. And believe it or not, you did it without an area redevelopment program or urban renewal. [END CLIP]
BROOKE GLADSTONE George W. Bush promising to quote extend the frontiers of freedom in the war on terror.
[CLIP]
GEORGE W. BUSH The story of America is the story of expanding liberty. An ever widening circle, constantly growing to reach further and include more. [END CLIP]
BROOKE GLADSTONE Endless possibility but also endless consumption, endless military might. Presidents have promised boundless opportunity by pushing our boundaries ever outward–whatever the cost. But in his new book, The End of the Myth: From the Frontier to the Border Wall in the Mind of America, historian Greg Grandin says, 'that the movement outward has come to a screeching halt.'
[CLIP]
PRES. DONALD J. TRUMP We're going to build the wall. We have no choice. We have no choice.
CROWD CHANTING Build that wall.
PRES. DONALD J. TRUMP Build that wall. Build that wall. Build that wall. [END CLIP]
BROOKE GLADSTONE But first Grandin takes us back to the underpinnings of the frontier ideology.
GREG GRANDIN Ceaseless expansion, that there is no problem caused by expansion that can't be solved by more expansion.
BROOKE GLADSTONE In the next few weeks we'll be unpacking the national narrative of expansion and exceptionalism. Next week we'll expand our inquiry overseas. But this week we've enlisted Greg Grandin as our transcontinental guide.
GREG GRANDIN Thomas Jefferson's first political track a couple of years before drafting the Declaration of Independence held out that the right to pick up and move, to escape tyranny wasn't just a natural right–it was the condition of all other natural rights. And Jefferson laid out a moral history in which Saxon free men, in what is now Germany, when feudalism began to take hold, picked up and moved over to the British Isles. And then when the layers of social life began to weigh heavy on Saxons and on the British islands and they just moved over to the Americas. His argument is that movement allows all other rights to take place.
BROOKE GLADSTONE And the founders acknowledged, always, that there would be tension between the haves and the have-nots. And James Madison solution would be to extend this sphere meaning territory.
GREG GRANDIN The founders were fairly clear that the concentration of wealth would cause a problem to republican virtue. One solution that was put forward by Jefferson and was to redistribute property to every generation. So it didn't build up.
BROOKE GLADSTONE Take it from people?
GREG GRANDIN He gave up that idea pretty quickly. And the solution that presented itself was fairly obvious. To extend the sphere, as Madison put it.
BROOKE GLADSTONE He believed that citizens spread over a wide territory would be less likely to join quote common interest or passion or to discover their own strength and to act in unison with each other. This is pretty frank stuff.
GREG GRANDIN Yeah expansion was held out as the breaker of every paradox. The overlay of every [inaudible].
BROOKE GLADSTONE So there was a metaphor for what expansion did, for its use as a remedy. It was called the safety valve–to relieve the pressure. The pressure of what?
GREG GRANDIN Well one was a class pressure. The increasing number of wage laborers, immigrants that were coming into the country. How do you prevent a Labor Party from forming, for instance, that might challenge the sacrosanct right of private property? And the second problem the safety valve was thought to solve was the question of slavery.
BROOKE GLADSTONE You quote the editor of the Western Monthly Review Timothy Flint. He proposed America by Mexican territory because it would serve as the proper escape valve from the danger of too great an accumulation of blacks in the slave states. Thinning the population by diffusing it over great surfaces. And when it comes to class, you have the Massachusetts Congressman Caleb Cushing in 1839 who called the west the great safety valve of our population.
GREG GRANDIN One of the dangers that somebody like Cushing identified was that as the vote was extended to un-propertied white men, to working class illiterate white men, the fear was that they would use that vote to vote in socialism, to vote in the Labor Party. So what to do? Their answer was to use the expansion west, the distribution of public land the West, as a way of diffusing and dispersing concentrated social demands.
BROOKE GLADSTONE It seems that Cushing was also a bit of a libertarian because he hoped that the westward movement would also keep the government occupied.
GREG GRANDIN Well, exactly. Because that's the second problem. Right? That the problem of concentrated wealth and the problem of social movements contesting the concentrated wealth is that you wind up having the growth of government trying to solve the problem–either becoming overly repressive in clamping down on the demands or overly generous in distributing property. And either of those solutions were anathema to somebody like Cushing. So what's the solution? You go west.
[MUSIC UP & UNDER]
BROOKE GLADSTONE To explain how that frontier mentality set the U.S. on its ruggedly individualistic trajectory, Grandin suggests we pause it 1848. Across Europe it was a year of revolution. Workers were rising up in Paris and Berlin, in Milan where La Scala opera house was closed during a riot delaying the opening of this work Mercadante's operaThe Saracen Slave. The poor were waging war on the rich.
[MUSIC UP & UNDER]
BROOKE GLADSTONE Waging war upward.
GREG GRANDIN It was like a wildfire and basically it thrust the class question, the question of economics into the political sphere. When you have the rise of industrial factories, when you have the spread of economic immiseration, from that moment there emerges Labor parties, an ethic of social democracy. The beginning of social rights not just political rights, not just right to property or the right to assemble or the right to have free speech but the right to healthcare, the right to education. Rights that take a more activist government to form. In some ways, that's the inflection point and that's what the United States does not develop. Its liberal tradition does not socialize. It does not move from embracing political rights and individual rights to expanding the palette to include the right to education, the right to healthcare. And 1848 is an interesting turning point, they don't have a revolution. What they have is a racist war against Mexico.
BROOKE GLADSTONE The end of the 19th century was a period of political theories. The dominant figure responsible for turning the frontier from a mappable place into an abstract idea is Frederick Jackson Turner at the 1893 Chicago World's Fair.
GREG GRANDIN Up until that point, historians tended to argue what they called the germ theory of history. By that they didn't actually mean bacteria but they meant that everything that was good about American Anglo-Saxon culture came wholesale from Europe.
BROOKE GLADSTONE Germ meaning germinate.
GREG GRANDIN The seed that basically the Puritans created nothing. Their institutions were already perfected from Europe. Turner born in Wisconsin, Midwestern, he turns that on its head. He says that was good and unique and dynamic about America was born in America. It was born on the frontier and he identified a number of particular traits that he felt with exceptional to the United States. One was individualism, crude intelligence that was practical, that was innovative, that was resilient. This becomes, in some ways, the foundation of an organic American born Americanism.
BROOKE GLADSTONE And as you wrote, 'he glosses over the small matter of the series of Indian wars and the slavery question. The frontiersman is virtuous. There's no reference to the high price paid by some for the myth of boundless American freedom.'
GREG GRANDIN Absolutely. The frontier theory was implicitly, and at times explicitly, racist. But it's important to note that it didn't elevate racism as a motor of history.
BROOKE GLADSTONE The way the term the germ theory--.
GREG GRANDIN The way that somebody like Theodore Roosevelt--Theodore Roosevelt was also an historian. For him war and the domination of Native Americans was the engine of history. It was from this violent, primal confrontation with base nature in the form either of Native Americans or of the natural world that creates civilization. There's none of that in Turner. Turner barely mentions war. Nothing as brutal that is on every page of Theodore Roosevelt.
BROOKE GLADSTONE It isn't slaughter--.
GREG GRANDIN It isn't slaughter.
BROOKE GLADSTONE --that elevates one.
GREG GRANDIN And this is important because America's about the launch itself into the Pacific–into the world. And if it has claims to universalism that kind of out and out racism of the Saxon germ theory or Theodore Roosevelt's war against nature, it is not a particularly useful way to think of how to organize the world. So Turner it becomes an important way in which racism becomes sidelined and the implication of his theory is that as the U.S. moves across the frontier, racism is left behind as a residue.
BROOKE GLADSTONE The frontier thesis, according to Turner was a way to explain the formation of the national psyche.
[MUSIC UP & UNDER]
BROOKE GLADSTONE Through a particular sequence of events. First settlers arrived in the wilderness then enterprising families follow after to work the land. Think Little House On The Prairie.
[CLIP OF LITTLE HOUSE OF THE PRAIRIE]
We crossed into Kansas four days ago. What are you looking for?
We had no future where we were living before. it was a hand to mouth existence at best and I want more than that for you and the children. A hundred and sixty acres free and clear from the government. To plant and harvest my own crops to be owning to no man, I want that.
BROOKE GLADSTONE Eventually those families assemble into communities and then the communities coalesce to form civil society. And then, as Turner put it, as by magic, markets emerge.
[CLIP OF LITTLE HOUSE OF THE PRAIRIE]
I need a plow and seeds, enough for a 100 acres.
Well, you've come to the right man. I sell only the best. [END CLIP]
BROOKE GLADSTONE Finally after everything is created, then set in motion, the state arrives.
GREG GRANDIN And the state's only legitimate function is to protect virtue, not to create virture in the form of social rights.
BROOKE GLADSTONE But it was a lie and he knew it.
GREG GRANDIN It was a lie and he knew it. And one of the articles that he was reading where he got a lot of his ideas, he has a little notation that says government came before. Because the fact is that you don't have any of these things without government. You don't remove native Americans off the land, move them west. You don't create the infrastructure needed to create markets without a strong state. The West had always been the terrain of large scale corporations or federal infrastructure projects that preceded the ideal of virtuous civil society mixed with nature.
BROOKE GLADSTONE The premise that the state doesn't show up till the end gave ballast to the idea that it had no responsibility to create social or economic rights. These things offered by the state would be perverse or unvirtuous?
GREG GRANDIN This is the foundational premise of the ideal of a minimal state, of the ideal of individual rights being the only legitimate rights.
[CLIP]
PRES. DONALD J. TRUMP: They want to replace individual rights with total government domination.
CROWD: Boo.
FEMALE CORRESPONDENT: We know jobs are not created by government and jobs are created by free market.
MALE CORRESPONDENT: Thomas Jefferson said government that governs least governs best. [END CLIP]
GREG GRANDIN The denial of the state and government action and federal action in creating this world allows this fiction to take root and to flower.
BROOKE GLADSTONE I still don't get it. They're saying that it is literally unvirtuous to offer health care or education or welfare. Why?
GREG GRANDIN Well it would entail an intrusion in the realm of economics and--.
BROOKE GLADSTONE Meaning you'd have to tax people to pay for it.
GREG GRANDIN You'd have to tax people to pay for it. You have to regulate the economy. What we call libertarianism in this country has deep roots.
[MUSIC UP & UNDER]
BOB GARFIELDComing up, we'll hear more from Greg Grandin and the myth of the American frontier.
BROOKE GLADSTONE This is On The Media.
******************
BROOKE GLADSTONE This is On The Media.
BOB GARFIELD And I'm Bob Garfield. Now back to the second half of our conversation with Greg Grandin about the myth of the American frontier.
[MUSIC UP & UNDER]
BROOKE GLADSTONE By the late 90s, the frontier had come to an end. The census officially declared there was no more open land in the West. Yet, the U.S. kept expanding to Puerto Rico to Hawaii to the Philippines, but more on that next week. Let's just observe that in discussing expansion post-1898, President Woodrow Wilson said quote 'we made new frontiers for ourselves beyond the sea.'
GREG GRANDIN Turner was a friend of Wilson and went along with pretty much everything Wilson did--.
BROOKE GLADSTONE He was such a racist. He was just as racist as Teddy Roosevelt.
GREG GRANDIN Yes, yes. The Frontier thesis moves from an historical theory to an ideology. It moves from an explanation of how and why something has happened to an argument for why something should happen. The frontiers understood not just there's a line to stop that but a line to cross over. There's not one president that doesn't use the frontier thesis to justify American power in the world.
[MUSIC UP & UNDER]
BROOKE GLADSTONE But in some precincts, Turner's thesis was turned against itself. In 1912, Walter Weyl, the future founding editor of The New Republic, wrote a piece describing the individualism championed by Turner as a curse. The westward march of the Pioneer gave to Americans a psychological twist, which was to hinder the development of the socialized democracy. The open continent intoxicated the American. It gave him an enlarged view of self. It dwarfed the common spirit. It made the American mind a little sovereignty of its own, acknowledging no allegiances and but few obligations. It created and individualism self-confident, short sighted, lawless, doomed in the end to defeat itself as the boundless opportunism which gave birth became the last circumscribed.
GREG GRANDIN Right. It's right there in that Walter Weyl line that it inhibited a socialized democracy. The frontier is still being used to explain America but now they're explaining all the things that are bad about America, all the things that old preventing America from developing a government that has the capacity to respond to mounting social problems. Weyl use the word slum almost as much as Turner use the word frontier. Right? There was a sense that political inequality, all the problems that come with industrialization, all the problems that come with mass migration, all of the problems that come with the rise of cities and concentrated populations, that the federal government was completely incapable of addressing those problems.
BROOKE GLADSTONE So after the Great Depression was met with a bootlace response from Herbert Hoover, Franklin Roosevelt endorsed the frontier theory as an explanation of the nation's past. And then, in his 1932 presidential campaign declared it defunct.
GREG GRANDIN So in his famous Commonwealth Club speech in San Francisco during the presidential campaign, he spent some time laying out the Turner a thesis and trying to explain the development of American capitalism and--and all of the good things that came from that. And then with just one sentence he would just say, 'but those days are gone.'
BROOKE GLADSTONE In 1938, on the third anniversary of the signing of the Social Security Act, he brought it up again.
[CLIP]
FRANKLIN D. ROOSEVELT: And because it has become increasingly difficult for individuals to build their own security singlehanded, government must now step in and help them lay the foundation stone. Just as government has helped lay the foundation of business and industry. [END CLIP]
BROOKE GLADSTONE Leveraging the power of the state to cure what ails its people, now that was virgin territory.
[CLIP]
FRANKLIN D. ROOSEVELT There is still a frontier that remains unconquered, an America unreclaimed. This is the great and nationwide frontier of insecurity, of human want and fear. This is the frontier, the America, that we have set ourselves to reclaim. [END CLIP].
BROOKE GLADSTONE Roosevelt's brain trust wove Turner's thesis into all facets of the New Deal including efforts to cope with the Dust Bowl brought on by unsustainable frontier farming.
GREG GRANDIN A kind of strip mining of the soil that happened as a result of expansion, of just like moving on and moving on and moving on. And what these New Dealers did was they basically just to fix the words social to all these ternary categories. So instead of having democracy now you had social democracy. Instead of having education, you had social education. Instead of having civilization, you had a social civilization.
[CLIP].
FRANKLIN D. ROOSEVELT: Social justice, through social action. [END CLIP]
GREG GRANDIN And he was also good at using the Turner thesis to explain the social relations of existence. He has one phrase this man made world of ours. Again these terms and phrases that capture a whole world view, a new political ethic, a new political culture that was laying the groundwork for the closest the United States came to some kind of social democracy.
BROOKE GLADSTONE Isn't its weird how the argument over the frontier theory just keeps recurring and recurring. Martin Luther King--
GREG GRANDIN Yeah.
BROOKE GLADSTONE --here he is in his, 'the summer of our discontent' speech in 1964.
[CLIP]
MARTIN LUTHER KING JR. We are the nation that worships the frontier tradition. And our heroes are those who champion justice through violent retaliation against injustice. It is not simple to adopt the credo that moral force has as much strength and virtue as a capacity to return a physical blow. That to refrain from hitting back requires more will and bravery than the automatic reflexes of defense. [END CLIP]
GREG GRANDIN Yeah and it speaks to the deeper level in which King presented his nonviolence, not just as a tactic but really as a counter value to the whole of American history. King saw something deeply pathological in the myth of the west. In what he called rugged individualism for the many and the poor, but socialism for the rich and the form of subsidies and write offs. And if somebody like Turner and other moral philosophers believed that individualism and the legitimacy of self-government had to do with your ability to regulate yourself use your virtues to control your emotions, King transferred that more into the social realm and he talked about African-Americans who moved through the social wilderness of racism and were able to not give in to anger and not give in to justifiable rage. And that was a higher claim to self-governance.
BROOKE GLADSTONE The Vietnam War, what Grandin calls the first frontier war we lost, was rife with frontier imagery.
[MUSIC UP & UNDER]
BROOKE GLADSTONE Soldiers gave names like crazy horse and Sam Houston to their air and ground operations and reportedly cut off the ears of dead Vietnamese. The historian Richard Drennen noted that the quote 'as of cowboys and Indians were the only game the American invaders knew.' In 1970, the Mexican author Octavio Paz described the U.S. as a quote 'giant that is walking faster and faster along a thinner and thinner line.' With the Vietnam War Grandin says, 'the U.S. hit its limit.' It was around this time that the idea of border walls started to loom larger in the public's imagination. And conflict and vigilantism on the border became even more acute. In 1977, the Ku Klux Klan led by David Duke set up a border watch that was much covered by the press and supported by patrol agents. The association with that last frontier war in Indochina went beyond the symbolic.
GREG GRANDIN These sheet metal landing pads that were used to land helicopters and cargo planes in Vietnam, they were brought over and used as--as some of the first physical structures along the border.
BROOKE GLADSTONE And I was struck when you wrote that some of the fencing was repurposed from the Crystal City Japanese American internment camp.
GREG GRANDIN Right. So you see the wall taking shape from all of these different sediments and moments of U.S. racial history. The internment of Japanese in 1948, some of the first fencing when that internment camp and Crystal City was disassembled, the chain lengthened the posts were then used on the southern border.
BROOKE GLADSTONE If the countries lived past the end of its myth, the frontier myth, what replaces it?
GREG GRANDIN The border wall. The idea that the world's resources are not limitless. Not everybody could sit at the table, that the United States needs to batten down. It needs to turn inward.
[CLIP]
PRES. DONALD J. TRUMP It's going to be only America first. America first. [END CLIP]
GREG GRANDIN The unique ability to constantly deflect outward, to flee forward, to divert social contradictions and class conflict and race outward, to roll over the trauma from the last war into the next war, to use the promise of growth to organize domestic politics, to say whatever problems we have now will be solved in the future through more expansion. Now that is no longer an option, the promise of unlimited growth has come crashing down in terms of the exhaustion of the economic model, the exhaustion of the military model and climate change.
BROOKE GLADSTONE Tell me again why you wrote this book?
GREG GRANDIN I was trying to figure out a way to get beyond what had seemed to be a simplistic opposition in talking about Trump. Trump was either presented as completely unprecedented, an interruption in the United States as a long history of proceduralism and pluralism and multilateralism and openness. Or, if one was more critical of the United States, Trump was presented as the culmination of a brutality that was in there from the beginning and settler colonial expansion. You know, I think that opposition fails to account for the contingencies of immediate history. What happened with Iraq, what happened with the changes in the political economy, what happens with climate change and the way that that has scrambled politics and the way politics could be organized. I was trying to present a way to think about Trump, historically, that didn't fall into one or the other. He's wholly new or he's just the fulfillment of settler colonialists.
BROOKE GLADSTONE Thank you very much.
GREG GRANDIN Thank you Brooke for having me.
BROOKE GLADSTONE Greg Grandin is a professor of history at New York University and author of The End of the Myth: From the Frontier to the Border Wall in the Mind of America.
[MUSIC UP & UNDER]
BOB GARFIELD Tune in next week for part two in our series where we discuss how to hide an empire. That's it for this week's show.On The Media is produced by Alana Casanova-Burgess, Micah Loewinger, Leah Feder, Jon Hanrahan and Asthaa Chaturvedi. Our technical director is Jennifer Munson. Our engineers this week were Sam Bair and Josh Han.
BROOKE GLADSTONE Katya Rogers is our executive producer. On The Media is a production of WNYC Studios. I'm Brooke Gladstone.
BOB GARFIELD And I'm Bob Garfield
UNDERWRITING On The Media is supported by the Ford Foundation, the John S. and James L. Knight Foundation and the listeners of WNYC Radio.