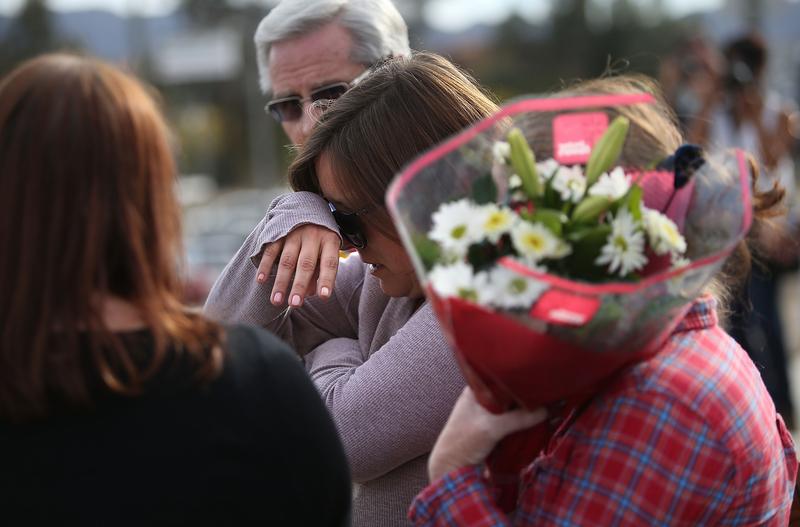 Transcript
BROOKE GLADSTONE: On Wednesday afternoon, breaking news.
[Clip]
WOLF BLITZER: Jim, one of our producers, Alberto Moyez, on the scene for us, uh, Alberto, where are you? What are you seeing?
MOYEZ: We're on the corner of San Bernardino Avenue and Richard Street. There's been a massive police presence that has descended. The police department is ordering us to stay back. They do not know if there is a suspect on the location. There are multiple helicopters that are flying above me as well.
[End Clip]
BROOKE GLADSTONE: As the hours wore on into evening, we learned more.
[Clip]
Voice: At least 14 people are dead and at least 17 more are injured
[End Clip]
BROOKE GLADSTONE: But it seemed to us that even though the usual rolling coverage had taking over, the wild speculation that usually follows in the wake of a so-called active shooter situation was greatly diminished.
[Clip]
Voice: Is the suspect who was hit dead?
Voice 2: I don't have that information
Voice 3: Is there another suspect who was not hit but is in custody?
Voice 2: I don't have that information either.
Voice 4: Have you cleared the building entirely at this point?
Voice 2: I don't know
[End Clip]
BROOKE GLADSTONE: It wasn't until much later that the names of the shooters were released, and we learned that they were of Pakistani descent and that they had dropped off their six month old baby with her grandmother, before committing mass murder. But even with some of the biographical details filled in, a motive was - is still not clear.
[Clip]
PRESIDENT OBAMA: It is possible that this was terrorist-related. But we don't know. It's also possible that this was workplace related.
[End Clip]
BROOKE GLADSTONE: President Obama offered his thoughts and prayers to the victims. He also called, yet again, for stricter gun controls. While many others, including every Republican Presidential candidate, restricted themselves to those prayers and thoughts. One writer was not impressed. Igor Volsky, a contributing editor to the political news blog "Think Progress" responded to Senate majority leader Mitch McConnell's "thoughts and prayers" tweet by tweeting the quote "NRA dumped 922k into McConnell's re-elect bid, so when it comes to preventing gun violence all you get is this tweet." And in response to Speaker Paul Ryan's tweet came this, "got 2000 from NRA during 2014 cycle to keep #SanBernadino victims in his prayers, and little else". Soon the hashtag thoughts and prayers was trending and congressional hypocrasy was under the gun. Congress had long decided that firearms don't kill people. People do. But information can definitely violate our second ammendment rights. Hours before the shooting in San Bernadino, a group of doctors petitioned Congress to lift the nearly two decades old ban that effectively prevents the CDC from researching gun violence. And the former Congressman who authored the research ban, Jay Dickey, continued his campaign of apology. Todd Zwillich is Washington correspondent for The Takeaway. Todd, welcome to the show.
TODD ZWILLICH: Hi, Brooke.
BROOKE GLADSTONE: So let's go back to the early 90s when this started, 1993. The New England Journal of Medicine published a CDC-funded study that found "keeping a gun in the home was strongly and independently associated with an increased risk of homicide."
TODD ZWILLICH: Right and this is the study, you know, when you hear gun control debates amongst your friends or your relatives, permeated the culture "it's more dangerous to have a gun in the home than it is to not have one", you hear that all the time. This is the study that showed that. That was 1993 and by 1995 and into 1996, the National Rifle Association started to lean on members of Congress to say "Hey, this study that came out that was funded by the Centers for Disease Control, this is taxpayer money, they're advocating for gun control. We don't want you paying for this."
BROOKE GLADSTONE: So that brings us to Representative Jay Dickey of Arkansas, who attached an amendment to a 1996 omnibus appropriations bill.
TODD ZWILLICH: He sure did, and it's short. It's only about 20 words long. And it says "none of the funds made available for injury prevention and control at the Centers for Disease Control and Prevention may be used to advocate or promote gun control". That's all it said. It didn't say you can't do the research, it didn't say you can't do whatever epidemiologic study you want to. And you say, "Well that's not a ban. That doesn't tell people what to study" But here's the problem, and this was really crafty back in the 90s. Before they introduced this amendment Brooke, they slashed the funding for the CDC by $2.4 million, the exact amount that had been used for this research in the injury prevention and control fund. And what message did that send? It said you can do whatever research you want, but if you report your research, and that research tacitly or directly advocates for gun control, you're gonna be breaking the rules.
BROOKE GLADSTONE: Certainly the American Psychological Association and others have laid the blame for this amendment directly at the feet of the NRA. I don't know that the NRA would deny it. The issue seems to be that the NRA equated gun violence research with anti-gun political advocacy.
TODD ZWILLICH: And Jay Dickey himself has talked about that, that back at this time, you have to remember how contentious was. It's contentious now, but it was really in play, I mean, back in the 90s they had the assault weapons ban of 1994, that had just happened, so this was a very hot and active political issue. The NRA thought that the advocacy that was coming from public health researches, if they went into the medical journals and said "my research shows that you should get rid of your gun," or, "my research shows that we would be safer if there were fewer guns available or if it were harder to buy a gun", yeah they saw that as gun control, and maybe it was advocating for gun control. Nevertheless, this was the action that they leaned on members of Congress to take and they took it.
BROOKE GLADSTONE: So what kind of information don't we have, do you think, because of this ban?
TODD ZWILLICH: Well I think we don't know a lot about how guns hurt people in the real world. What's the interaction between having a gun in the home and substance abuse? How more likely are you to injure someone else or injure yourself with a firearm? If there's alcohol in the house? How is it connected to people's income? Are people with lower incomes at higher risk, do they have other things to watch out for? I think there are a great number of things that researchers would tell you that they would like to know about how those guns either in the home or just floating around out in the world interact with how we act every day. That's what epidemiology is all about. And I think we lack a great deal of that information about what is it that leads to these situations where a gun can hurt a person. It's hard to imagine any other area of human harm where 33,000 people die and 85,000 are injured by the way, where the primary government research public health agency isn't permitted to study it. It's almost an egregious omission from the perspective of science and public health.
BROOKE GLADSTONE: And the same research ban was extended to the National Institutes of Health with almost the same language a few years ago. But Todd, after the shooting at that historic church in Charleston, South Carolina, in July, an amendment was proposed that would have reversed the CDC research ban, but you reported that didn't go anywhere.
TODD ZWILLICH: No it didn't. This was a Democratic amendment in the House Appropriations Committee. And Republicans voted down an effort to reverse the Dickey amendment. And I turned around and asked John Boehner, who was then the Speaker of the House about it.
BROOKE GLADSTONE: And he offered you this now-famous reply.
[Clip]
JOHN BOEHNER: Listen, the CDC is there to look at diseases that need to be dealt with to protect the public health. I'm sorry, but a gun is not a disease. And guns don't kill people, people do. And when people use weapons in a horrible way, we should condemn the actions of the individual, and not blame the action on some weapon.
[End Clip]
TODD ZWILLICH: Well an automobile is not a disease and it kills the same number of people as guns every year. A bacteria is not a disease for that matter. So I think from the epidemiologist's perspective, that statement from the political sphere on Capitol Hill was really really hard to take.
BROOKE GLADSTONE: So let's talk about the man whose name is on that ban, Jay Dickey. He went through something of a conversion.
TODD ZWILLICH: Yeah, Jay Dickey has come out, he's been talking to reporters to issue his apology. He basically said, "Look, this was a debate in the 90s, I thought that a government agency was advocating for gun control and I did think that was inappropriate, but I wish hadn't gone as far. I wish they were doing the research. I wish we knew more."
BROOKE GLADSTONE: Is it because he's no longer in office that he can take this position?
TODD ZWILLICH: Almost certainly. I mean, I don't want to try to imagine or speculate what Jay Dickey would say if he were still an elected official. Who knows? But it's certainly easier for him, now that he's no longer a member of Congress. Look, Brooke, this is about whether or not a public health agency can study a public health matter, and I think most people know that. But I had a conversation with a senior Republican aide here on Capitol Hill a few weeks ago and asked, "Are you gonna undo this thing? You just have to strike 20 words and it's gone." And this Republican aide said, "Look, to you and me in this building, it's the Dickey amendment. Outside this building and outside the beltway, that's called gun control, and that's how it will be perceived. So the answer is no"
BROOKE GLADSTONE: Forever?
TODD ZWILLICH: Well Brooke, who knows forever. You know, frankly, this is one of the smaller issues to the gun control lobby itself. I have asked them if they want to go after this ban at the CDC, and they say they do, but they consider this low-hanging fruit. They want the assault weapons ban. They want stricter background checks. And they're afraid if they go for reversing the ban on a couple million dollars of research at the CDC, it will be a small moral victory, but it will be the only crumb they get.
BROOKE GLADSTONE: I just can't help questioning the logic of gun control advocates who worry about this being the solitary crumb. It seems to me that research is something that you can build an argument on.
TODD ZWILLICH: I think many of them see that, I think in the world of politics, however, there's always a danger and it's not just in the gun area. This happened in immigration too, and I won't digress too much, but there were lots of little things that could have gotten done on immigration when the sides parted, Brooke they didn't get done because no one wanted the crumb. We want big immigration reform and we're not gonna chip away at all this political capital that they had. For me, this isn't really about gun control at all. I mean, I used to be a health care reporter and a science reporter, and from that perspective, it's really for open and unrestricted research into the things that do hurt, harm and injure Americans, whether it's a bacteria, a virus, domestic violence, an automobile, a knife, or a firearm. And carving off one of those things because it's politically charged is something I think that many people who value science and research and what it can do for us find it inexcusable.
BROOKE GLADSTONE: Todd, thank you very much.
TODD ZWILLICH: Brooke, it's a pleasure.
BROOKE GLADSTONE: Todd Zwillich is Washington correspondent for the Takeaway, from PRI and WNYC. The Los Angeles Times is writing obits for the victims of the San Bernardino. Robert Adams married his high school sweetheart, Summer, and loved to attend the Renaissance Fair. Nicholas Thalasinos dropped off his wife at work - she's a second grade teacher - and on Wednesday, he also carried in the classroom snacks. Mike Raymond Wetzel could soothe a colicky infant when no else could. As victims' families struggle to create something worthwhile out of their loss, they often find that they must learn how to manage the media to achieve their goals. The template for that kind of PR savvy, was set back in 1999, after the massacre at Columbine High School. As Karin Duffin reported, for us a few years ago.
RICHARD MARTINEZ: Why did Chris die? Chris died because of craven, irresponsible politicians and the NRA. Too many have died! We should say to ourselves, "Not one more!"
BROOKE GLADSTONE: As Karen Duffin reported last fall, the template for that kind of engagement was established back in 1999, after the massacre at Columbine High School.
CRAIG SCOTT: My name is Craig Scott, and I am a survivor of the Columbine High School shooting. I also lost my sister, Rachel Joy Scott.
KAREN DUFFIN: Craig was a student trapped in the library during the rampage. As he left the school, he confronted both his trauma and a country anxious to hear about it. Oprah called, Katie Couric called. He went on The Today Show two days after Columbine.
[CLIP]:
CRAIG SCOTT: - two kids with trench coats on, they came into the library and they shot Isaiah.
KATIE COURIC: And then you, you played dead, Craig.
CRAIG SCOTT: I, I just ended up laying on the floor. I was, I was praying to God to give me…
KAREN DUFFIN: Each time a high profile tragedy occurs, the victims must decide, unsettled and unprepared, whether to share it.
STEVE SIEGEL: So everything is on the fly, and that creates a lack of perspective about what are the consequences of, of my doing this or not doing this.
KAREN DUFFIN: That's Steve Siegel, from the Denver District Attorney's Office. He's worked with victims of Columbine, Aurora, Sandy Hook and many other major tragedies. He says public relations professionals can spend years learning how to calculate how one interview might affect a court case, a relationship, a reputation five weeks or five years down the road. It's like playing chess. One move affects the next. But victims don't calculate.
STEVE SIEGEL: The vast majority of people who are willing to cooperate with the media, they are looking to try to create some sense out of a senseless act.
KAREN DUFFIN: Craig Scott says talking to the press has been cathartic.
CRAIG SCOTT: It was therapeutic, to be able to talk and have people listen and have people be supportive.
DARRELL SCOTT: Not everybody is - wants to do that, and I understand that.
KAREN DUFFIN: That's Craig's father, Darrell Scott.
DARRELL SCOTT: It has been not only therapeutic but it's been a joy, because it's like they're still with you, as long as you share their memory.
KAREN DUFFIN: Victims' advocates like Steve Siegel say that the line between an interview feeling cathartic and feeling painful, or even re-victimizing, is thin. Darrell understood this.
DARRELL SCOTT: A lot of times media wants to see emotion, and I personally just made a decision in the early days not to perform for the camera. I don't answer a lot of questions, like, "How did you feel when you heard that your daughter died?" I always just say, you know, "Like any other parent would feel."
KAREN DUFFIN: Sometimes victims use the media simply because it's the best way to spread the word.
[MUSIC UP & UNDER]
JOHN WALSH: The parents of Adam Walsh, who's been missing since yesterday noon from –
KAREN DUFFIN: You may recognize that voice.
[CLIP]:
JOHN WALSH: I'm John Walsh. For 25 years, I've hunted fugitives all over the world. Tonight I'm taking….
[AUDIO UP & UNDER]
KAREN DUFFIN: His son Adam was kidnapped from a shopping mall in 1981. He begged the press to cover the story, but he says they barely did. So one week into the search John took some PR advice from an unlikely source.
JOHN WALSH: The county coroner said, raise the reward.
KAREN DUFFIN: This PR-savvy coroner told John to use the most basic tool of PR, a news hook.
JOHN WALSH: It'll intrigue the media. They'll show up, and it will reinvigorate Adam's case.
KAREN DUFFIN: Sure enough, the local papers showed up. But two weeks later, Adam Walsh was found dead. John still believes that press attention could have brought Adam home alive, with reason. As host of America's Most Wanted, he's used the media to help capture over 1200 criminals.
Media pressure influences the decisions of police and politicians, and that influence is enough to make an otherwise press-shy person talk to the media.
BOB SWARTZ: I don't know, from my point of view I didn't think I had any choice.
KAREN DUFFIN: Bob Swartz is the father of internet activist Aaron Swartz. In 2011, the federal government charged Aaron with illegally downloading files over the MIT network. Amidst a very aggressive prosecution Aaron committed suicide, and his death sparked an international outcry.
FEMALE CORRESPONDENT: He was a computer prodigy, an online activist, co-founder…
MALE CORRESPONDENT: He was an idealist who believed we had to live up to something better.
KAREN DUFFIN: Unlike the Scotts, Bob Swartz doesn't like talking to the press.
BOB SWARTZ: Yeah, I mean, it's very – emotionally, it's incredibly hard, and I try to erect some degree of emotional distance, but it's very difficult. I mean, what happened was just so shattering that one has a responsibility to make sure that these kinds of things don't happen again.
KAREN DUFFIN: Bob's goals are ambitious, to make all academic literature free, to modify federal computing laws and to make structural changes at MIT. So Bob did look for PR help, and he found a professional willing to advise him pro bono.
BOB SWARTZ: Well, I think he helped make sense - you know, begin to make sense out of what was going on, you know, try to understand how to approach this. I mean, it was a completely new experience, and I, I didn't have a clue.
KAREN DUFFIN: Bob is confronting institutions that have PR experience and deep pockets, but he has the advantages all victims and their families have, a public profile, deep tragically-earned credibility and an emotional story that provokes interest in arcane-sounding issues. So he can use the media to help level the playing field, but moving from human interest to influence means learning how to attach a personal story to big issues and concrete solutions. In PR speak, this means learning how to bridge. John Walsh.
JOHN WALSH: When I got involved in trying to force the FBI and the Justice Department to stop opposing the Missing Children's Bill, I knew that I would only have a short amount of time on air and I had to be succinct, I had to be articulate. I had to have a call to action. I better know what I was talkin' about, and I had to have something to say, other than crying and pleading for Adam.
KAREN DUFFIN: Walsh got his bill passed. And Bob Swartz, advocating after his son's suicide, helped prompt Congress to introduce a bill called Aaron's Law and MIT to conduct an internal review of its role in Aaron's case.
Meanwhile, the Scotts have also become advocates for a larger cause, through an anti-bullying program they founded called Rachel's Challenge, based on the life and writings of Rachel Scott, Craig's sister who died at Columbine. They say it's the largest school assembly program in the country and that it's prevented at least seven school shootings and 500 suicides.
But the passion that gives these particular advocates their power also saps their strength. This isn't a product pitch. It's their lives, focused on the worst moment of their lives. John Walsh says:
JOHN WALSH: I say it to every victim: "You really don't have an obligation to carry forward. If you can't carry forward financially, if you can't carry forward emotionally, if you can't carry forward because it's destroying your family relationships, then don't do it."
KAREN DUFFIN: Steve Siegel from the Denver District Attorney's Office says to remember you can say no to the press and, if you say yes, you can set the parameters. He also says to be realistic about what you can actually get from talking to the media.
STEVE SIEGEL: You know, you, you hear the word "closure," telling my story will bring me closure. It, it just really does not, in my experience, provide that, and what the real search is for, incorporating this horrible experience into your current circumstances.
BOB SWARTZ: Now, look, my son's dead and everything else is meaningless - as compared to that. But you want to make sure that maybe some small amount of good can come out of such an immense tragedy.
CRAIG SCOTT: People that say, Craig how you continue to talk about it and do the media, you know, it's like you don't get it. Just join me for one trip and see what I see and then tell me how could I not do it.
KAREN DUFFIN: Living in the spotlight is a challenging new reality for victims and their families. As Bob Swartz said, his son is dead. Everything after that is meaningless.
[MUSIC UP & UNDER]
But if they can learn how to play the media, while factoring in their own limits and tolerance for the game, they may be able to find some meaning, even in the meaningless. For On the Media, I'm Karen Duffin.
[MUSIC UP & UNDER]