When Silicon Valley Takes on Elementary School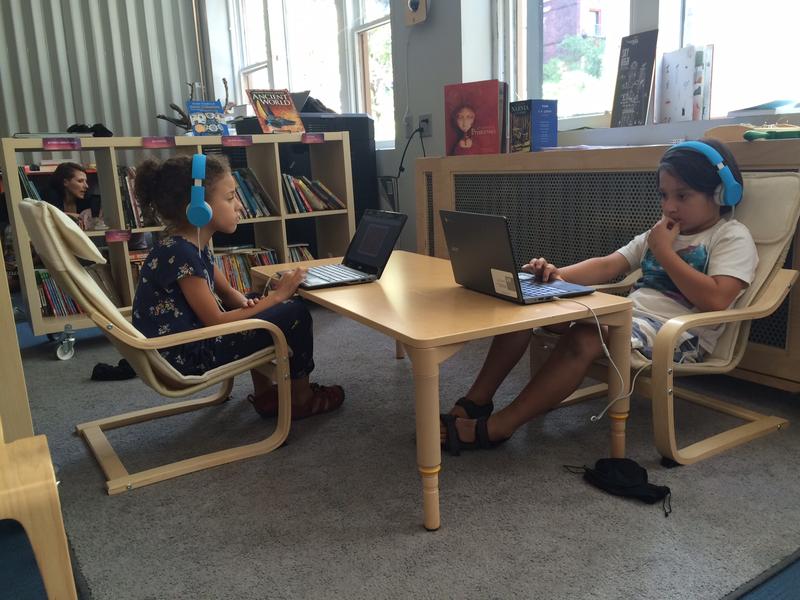 Transcript
Manoush Zomorodi: How do you like school here?
Piper: I really like it. It gives me an opportunity to fulfill my dream of becoming a nature or wildlife biologist.
Manoush Zomorodi: You already have a dream like that to be a nature or wildlife biologist.
Piper: Yes.
Manoush Zomorodi: I had no idea. When did that happen?
Piper: Just a few days ago.
Manoush Zomorodi: Just a few days ago?
Piper: Yes.
Manoush Zomorodi: Wow. How is AltSchool helping you reach that dream? Tell me.
Piper: Some kids really, when they woke up in the morning, they say, "When is it school time?" I do that too because the school is really fun. We have an opportunity to do what we want, choose our path instead of the teacher is making a choice for us. We get to choose our path.
Manoush Zomorodi: Yes, friends. This is a very well-spoken nine-year-old, explaining why she is so into her new school. Her name is Piper. She's blonde, freckled, precocious, and she used to go to my son's public school in Brooklyn. Now, she's enrolled with the help of financial aid in an experimental school called AltSchool. The founder is Max Ventilla. He's a former Google executive with a vision to transform education in America.
Max Ventilla: That's what we want, desperately, as a country for the United States to have the best education, to be the one that the most kids are getting rather than the one that the fewest kids are getting.
Manoush Zomorodi: Max has founded companies before, and you're going to hear more from him later, but yes, he thinks he's got a way to fix our schools, starting one kid at a time and then scaling. Here's NPR's education reporter, Anya Kamenetz describing the long game for Max Ventilla's enterprise.
Anya Kamenetz: They have a giant promise, which is that the right software system, the right operating system is going to transform teaching and learning across the country, across the world. It ultimately means is that they have shareholders to satisfy, they have growth targets to make.
Manoush Zomorodi: We're going to hear more from Anya too. Now, as you know, I am also a skeptic of tech being the answer to all of society's problems, but if a radical new way of teaching kids was being prototyped up the road for me, didn't I have a responsibility as a tech journalist and a parent to investigate? Hell yes. It's Note to Self, the tech show about being human I'm Manoush Zomorodi. This week, when Silicon Valley wants to apply the personalization that software can offer to kids in the classroom, can a tech startup engineer a better system to transform teaching and learning everywhere and make money?
AltSchool isn't your typical private school. It's raised over $100 million in funding from investors, including Mark Zuckerberg and Marc Andreesen. Tuition is up to $30,000 a year, but many families, about 40% get some financial aid. The company has eight so-called micro-schools. These are outposts in New York, Palo Alto, and San Francisco, with Chicago coming next year. Each of these micro-schools has between 30 to 120 students, so pretty small and the facilities are minimal, usually just a few rooms. There's no separate gym or music room. I went to visit the AltSchool near me above a restaurant, a couple of neighborhoods away. I went there twice.
Teacher: Your lunchbox will go in this bin. Not this way. You're Ellie, right? Yes. All right. [chuckles] Just a few steps.
Manoush Zomorodi: On the first day of school, things were pretty low-tech. There were just those three classrooms, one for preschoolers, the other two for lower and upper elementary kids. Each of them had soft carpeting, wooden blocks, art supplies, big cushions to lounge on.
Teacher: Kids who were in this class last year, how did we show that we wanted to say something?
All Kids: [unintelligible 00:04:13].
Teacher: We put a thumb in there. Can we [crosstalk]?
Manoush Zomorodi: When I went back a couple of weeks later.
Teacher: Hey, welcome back.
Manoush Zomorodi: Oh, thank you. I just like to be here. The laptops and iPads had been given out to the kids. Now, I look like a stereotypical tech startup, but with kids for founders.
Kid 1: 16 millimeters deep.
Manoush Zomorodi: Whoa, what are you looking at?
Kid 1: Top 10 world biggest sinkholes.
Manoush Zomorodi: Oh my gosh, those are really deep. Is this choice time or science time? What is it?
Kid 1: I finished my work.
Kid 2: Now, I'm going to watch science video on YouTube. Almost the same as this.
Manoush Zomorodi: What are you going to lookup? Sinkholes too?
Kid 2: Whoa.
Kid 3: Guatemala [unintelligible 00:05:00].
Kid 2: World's smallest Minecraft house.
Mara Pauker: I struggled a lot in school, reading, writing, math. Really, weren't my strong suits.
Manoush Zomorodi: Mara Pauker is the head of the AltSchool in Brooklyn. As a kid, she didn't really like school, but later in college, Mara began studying education itself. She learned about different philosophies, different learning styles, and she decided to become a teacher.
Mara Pauker: I realized that there was a more open-ended way, less structured but equally as rigorous and important. I dove into that side, that is a Reggio Emilia-based philosophy of education. It just gets you to think outside of the box and think of children as partners instead of these little buckets that you have to fill with information and pass them across the factory line.
Manoush Zomorodi: When you first heard the name AltSchool and learned about it, what seemed like its biggest difference compared to what you experienced so far?
Mara Pauker: I think I was most intrigued by the technology, only because I am by nature, a documenter of student learning and I'm always seeking different opportunities and methods to capture what's happening. I felt like AltSchool was pitching this to me as an educator.
Manoush Zomorodi: What does that look like? Can you specifically tell us what does that even mean?
Mara Pauker: We have something called a playlist. The playlist is a set of activities that teachers have created for students based on things that they're interested in. It's almost like a placeholder or a schedule, just as we adults look at our Google Calendars. It helps with kids organize themselves so then they might go over to the shelf and find the printing book. If it's a child who needs more support, perhaps those materials are already set out and they physically just have to go to that area.
Then a more concrete example in terms of small group work might be that there's a research group who's studying the earth and each one of those three students might have the same card on their playlist, but then behind the scenes, it might that they're working on achieving different skill sets. One child might be looking at the math side of the problem, another child might actually be looking at math, and the third might be looking at the literacy components. Teachers are able to mark and assess the students against the personal goals that they're working on while arriving at the activity through the same objective.
Manoush Zomorodi: There's no homework or grades, is that right?
Mara Pauker: That's right.
Manoush Zomorodi: It's interesting. There's no homework for the kids, but it sounds like there's a lot of homework for the teachers to come up with these playlists. If you've got a bunch of kids and in each, you're doing something different with each of them, how does that work?
Mara Pauker: There is a centralized database. If there's a teacher at a San Francisco school, who's done something around readers or writers workshop, or they've done something around, I'll go back to that earth example, and there's a science lesson that other teachers can pull from. Then if we tag them, we can add keywords and things so they're easily searchable.
Manoush Zomorodi: Got you. This is all still relatively new. This is only year two. When prospective parents come to look at the school, what would you say is their number one concern?
Mara Pauker: I think that the number one concern is how we're perceived as being a school on the screen, and they want to be sure that their children aren't going to come into school and not interface with any other children.
Manoush Zomorodi: The philosophy at AltSchool is that by tracking kids' resilience, their curiosity, self-direction, creativity, critical thinking, that over time, builds a more thorough picture of a student. That stuff can seem mushy in the abstract. When they track it with data points, it brings the whole child into focus, or it's supposed to, all of their strengths and weaknesses, both academic and social. What happens to all the data?
Mara Pauker: That's a great question. One of the great components of capturing all of this year after year is that the data actually gets passed to the next teacher. It just creates a more comprehensive profile of each student. That information actually follows them over time and it gets stored somewhere, but it's accessible if the teachers need to.
Manoush Zomorodi: Is it going back to base because I know part of this is you are, in some ways, a research lab as well, right? Is it going back to the valley and they're parsing over it and making changes?
Mara Pauker: Yes. Eventually, we will have third-party schools who will take the platform that we're building right now. Hopefully, one day, there will be public schools or charter schools, or other independent schools who can use these different platforms.
Manoush Zomorodi: Another question I have, recording what goes on in the classroom, does that happen because I know part of it is looking back and saying, "How could we have changed what happened"? Is that correct?
Mara Pauker: If you go into any of the classrooms, you'll see cameras. As a student, you're always being videotaped, but nobody's really watching it. It's not like a live stream where somebody's like sitting in an office and like monitoring what's happening in the classrooms, but rather teachers can go back and bookmark different moments throughout the day. If you know it, 10:05, you led an awesome morning meeting or your morning meeting was actually quite horrible. You just want to go back and revisit and figure out why and what you could have done differently.
We have the capacity to go back and revisit the video and get the sound bites to see what could have been done differently and to learn from it. This video again is just something that is part of AltSchool's DNA. Any school that you walk into, there's a big sign by the front door that says you're entering a learning lab.
Manoush Zomorodi: The constant videotaping creeped me out but, apparently, the Reggio Emilia approach typically uses photography and video to document kids' progress at school. AltSchool just installs the technology to make it less cumbersome for the teachers. Mara says she has lots of public school teacher friends who have classrooms of up to 40 kids and they ask her a lot of questions. They want to know when will the AltSchool stop being a learning lab.
They want to know when it will start making its software, those playlists, the portals available to other schools, places where they don't have the resources and personal attention that a $30,000 per year tuition can buy. Coming up, we'll talk to NPR education reporter, Anya Kamenetz about her concerns that AltSchool isn't just about education. It's about making money.
Anya Kamenetz: That's the beauty of Silicon Valley. It's like Willy Wonka land. They're just like, "What could we do if we could do anything? Hey, here's $100 million."
Manoush Zomorodi: Founder Max Ventilla pushes back on our ambivalence.
Max Ventilla: Not to be confrontational but I don't subscribe to the idea that the world is a miserable place and kids kind of used to it.
Manoush Zomorodi: We're back. It's Note to Self. I'm Manoush Zomorodi and we're talking about the AltSchool, which is Montessori School 2.0. It's been profiled in the New Yorker and other places, but I first heard about it when my son's classmate, Piper, transferred there.
Piper: We also have big pillows that people can sit on.
Manoush Zomorodi: Is it cozy?
Piper: Yes, and we have cozy chairs and we have a nice, really cozy rug.
Manoush Zomorodi: That rug does look very cozy. I have another question for you. Piper was super happy at this school. I mean, who wouldn't be? Students get a ton of adult attention. They get their own laptop, cozy pillows, chairs, and rugs but what about Piper's mom, Cindy Jordan says it's been an adjustment more for her than Piper.
Cindy Jordan: I think that the school could be a good fit for any child. It might be a hard fit for parents.
Manoush Zomorodi: Why?
Cindy Jordan: Because it's so different. Like for us, we didn't think she was dancing because she would come home, "We played this today. We played that." I'm like, "Are you just playing all day?" Then all of a sudden, she would tell us these amazing facts, where I would say, "Oh, I have this math worksheet, can you do this?" She's like, "Of course." Then she would just bust out this long division worksheet and I'm like, "Oh, okay." Well, I feel better. It's just it's so personal and it's so caring and nurturing for the kids.
Manoush Zomorodi: A lot of resources needed.
Cindy Jordan: That's true. That's very true. [chuckles] I think that a lot of money that goes toward the more regimented testing base charter schools could be going to some more project base Montessori Reggio based charters schools that you don't have the testing to look at, but you have happy, smart kids who love to learn.
[bell rings]
Manoush Zomorodi: Oh, school starting. Happy, smart kids who love to learn. That sounds amazing. Surely, we can all agree that the answer is personalized learning.
Anya Kamenetz: Like any term that's part of Silicon Valley hype, it's always in danger, being co-opted and expanded.
Manoush Zomorodi: Anya Kamenetz covers education for NPR. She's also written several books on how education intersects with technology and innovation.
Anya Kamenetz: We talk about learning styles, we talk about at your own pace in your own time, and just in time, and I think, as so many other realms of the economy have transformed toward flexibility and increasing personalization. I mean, one of the major tenants of what technology does for consumer services is mass customization.
Manoush Zomorodi: Not only is education going in that direction, but our entire society is going in that direction.
Anya Kamenetz: It's a major, major trend and so the fantasy, I think, that keeps popping up is a notion that there'll be some magic Spotify playlist for education, for learning, that the child is going to come and open up this magic box or this magic trick Jiminy Cricket at the age of one year old, and it'll have everything that they need to learn and learn alongside them. When AltSchool was founded, they raise $100 million. I sat in a room with Max Ventilla, the founders of AltSchool and he took me through his deck as it was at the time about what is their promise to investors.
Their promise was a new operating system for education. AltSchool is not just a school, it's a tech startup with dozens of engineers and they have a giant promise, which is that the right software system, the right operating system is going to transform teaching and learning, not just in these little boutique private schools, but across the country, across the world. What it ultimately means is that they have shareholders to satisfy, they have growth targets to make, and part of the way that they're doing that, they are surveilling every move these kids make.
They're videotaping them, they're audio taping them, they're capturing all of this information about their day-to-day. I get why, as a teacher, you might want to work really closely with software engineer. As an ed-tech engineer, you might want to work really closely with the teacher but how do we make sure that that's been done a fair way? That's balancing the benefits for both sides.
Manoush Zomorodi: I guess I wonder like the public school system doesn't-- social services, they don't seem to have the funds to be able to do this work and so isn't that just what's happening all across America that the private sector is stepping in putting big dollars behind research that we hope crossed fingers will eventually trickle down to the rest of the nation?
Anya Kamenetz: I definitely see that. I also feel that there's actually amazing research being done in universities, which have the right alignment of interests on ed-tech, on learning, and technology, and for the right reasons. I don't think we have to give it up totally to the companies and startups.
Manoush Zomorodi: The other thing, I guess, it begs the question is, it's a very small number of kids who are enrolled at AltSchool, as we speak.
Anya Kamenetz: I'm going to bet you that it's not representative of the nation's students. I take that representation issue really seriously because what we're starting to grapple with as a country is that the experiences that kids bring into the classroom, because of their upbringing their environments, a trauma they may have witnessed, their neuro-atypical nature. That's always something that stymies any research and education, this notion, same thing with evaluating charter schools. Are they creaming the crop? Are they taking the parents who are the most interested even you're not parents of means?
Manoush Zomorodi: Pardon me, it's like, well, you got to start somewhere.
Anya Kamenetz: Absolutely, absolutely. I'm not saying that they should be put out of business, or they shouldn't exist. It's just how much are we going to learn from that environment versus potentially something like the Summit Schools in Silicon Valley, which is a chain.
Manoush Zomorodi: What are they? Tell us about the Summit Schools.
Anya Kamenetz: They are a pretty well-established group of charter schools. It's also under the same umbrella of individualized learning, playlists. They actually have collaborated with Facebook engineers and brought out a type of software already available to teachers this past year, to assist teachers in putting into practice this personalized learning idea. They had the R&D lab, but with a more classic urban student population.
Manoush Zomorodi: Better situation, do you think?
Anya Kamenetz: The more, the better. You know when they wouldn't write off the school districts, I think that there's interesting stuff happening at school districts all across the country, where people are taking notice of what's available, what's possible, and trying to experiment.
Manoush Zomorodi: Did you visit an AltSchool classroom?
Anya Kamenetz: I visited. They actually have a classroom, a school located in their headquarters in Dogpatch, in South San Francisco. When I was interviewing the engineers and the founders, they had like a group of seventh-graders doing yoga.
[laughter]
Manoush Zomorodi: Of course, they did. What did you observe? Like, what was your visit like? I don't know, for me, if it's like this idea of-- Oh, well, you just put some cushy cushions all around and personalize and optimize and I don't know. There's something very like--
Anya Kamenetz: Just taking all the culture of the tech world, which is becoming a parody of itself, and putting it in a school seems slightly blasphemous. Is that what it is that's bothering me? I'm not sure. I don't think it's just a taste thing. I think, to me, it's as someone who covers education, and has become somewhat cynical and jaded over many years of like, silver bullet approach after silver bullet approach. As I guess, you'll start to cover the public school system more, where 9 out of 10 kids are enrolled.
I started say, like, "Gee, this is a really great illustration of what you can do with completely unlimited resources," and that is so not applicable to what we have to face in terms of transforming learning. It's like they're on the space station.
Manoush Zomorodi: It's not reality.
Anya Kamenetz: It's just not reality. That's the beauty of Silicon Valley. It's like Willy Wonka land. They're just like, "What could we do if we could do anything? Hey, here's $100 million."
Manoush Zomorodi: Your daughter just started kindergarten?
Anya Kamenetz: Yes.
Manoush Zomorodi: Let's say, money was not an issue and I was like, "Anya, we've got this slot at AltSchool." You weren't a tech reporter, so there was no conflict of interest.
Anya Kamenetz: No conflict of interest.
Manoush Zomorodi: Go back to the Willy Wonka world that you were talking about. This is fantasy world, where it's paid for, no conflict of interest. Would you take it?
Anya Kamenetz: I would love to play around with the notion of free and open progressive personalized education. I think my daughter would get a ton out of it. I have my own hobby horse because I feel like what I really care about in her early education is the community that we're a part of, being in a school that's diverse. Our school is more than half Hispanic. She's in a dual-language program. It's embedded in our neighborhood history. That way, it would be a lot for me to give that up, even for this shiniest, coolest model on the block, but that's a very personal choice.
Anya Kamenetz: That is the question that kept dogging me as I got further into reporting on AltSchool. What personal choice would I make? If I could afford AltSchool, would I send my kids there?
Max Ventilla: I'm Max Ventilla, I'm the CEO and founder of AltSchool and I'm sitting here in the KQED studio in San Francisco.
Manoush Zomorodi: Of course, Max is going to defend his product, but he's also a parent and so I was curious to hear his personal take on optimizing education for the masses. I think the big question, whether you're a journalist or with kids or a parent who goes to visit that comes in as would I send my kid here? Like that's, of course, I can't help, but question that. Part of me is like, "Well, right now it just doesn't look like reality." This personalization that those kids get-- I don't know.
There's something about like my kid having to deal with kids of very different economic means also not everybody is nice to him at school. Maybe some teachers should be, but they're not, I don't know. There's something about-- It felt very wonderful, but not real.
Max Ventilla: I think there's a lot of different questions buried in that. First off, not to be confrontational, but I don't subscribe to the idea that the world is a miserable place and kids should get used to it. I don't. I think that childhood can be a magical time. I think that it's a real shame that this period, where you're becoming the person you're going to be for a very long time and you have this room and support structure to help you isn't pleasant, isn't effective, doesn't help you to be a successful adult in the modern world.
For starters, I think that if we do a good job, helping kids be introspective, helping them be entrepreneurial, helping them be conscientious, giving them that broad foundation of skills and experiences that everyone should have while also allowing them to go deep on the things that they're passionate about, that's a kid who's going to be successful in high school and in college and anything else that they might do later on. The other notion is there are a lot of misnomers when you say personalization. This is not digital learning.
The whole challenge for us is how do you-- personalizing the digital world is easy, personalizing the non-digital world is hard, where they care enough about the subject matter to push themselves and to stick with it. When I look at that experience and you say, "Well, that's not real," I think there are aspects to it that are very real. I think that the inside of an AltSchool classroom resembles the inside of my modern workplace far more than the education that I got.
I don't think it's necessarily what people were used to, but again, I don't think the future's going to be like the past and so I don't know why the inside of a classroom should be the same as it was.
Manoush Zomorodi: Max also told me that he doesn't think kids and their needs in this day and age are the same either.
Max Ventilla: In a nutshell, I think it's the rate of change. For our grandparents, parenting our parents, you did have a roadmap of what a happy successful life would look like and change is happening so fast now on a global scale that I don't have that roadmap for my daughter. In the absence of a roadmap, you need a compass. When I thought about what qualities I would hope school engendered in her, it was that introspection to know herself and the entrepreneurism to actually bend the world around her in a way that actually was good, not just for her, but for the people that she with.
Manoush Zomorodi: That's so interesting to me because it sounds as though you're saying the fact that you have this perspective, this tech, the Silicon Valley perspective on knowing yourself, knowing your strengths, knowing your weaknesses, knowing how to drive yourself going forward, almost makes you, I won't say more qualified than people who are already in education, but it's almost saying by virtue of the fact that you're not in that world, that's what is needed because of this rate of changes you just described.
Max Ventilla: It's crazy to think that a bunch of technologists and non-educators would be able to be part of a transformative solution in education, given the complexity of running bad schools, let alone good schools without working with amazing educators who really know what it is to motivate and to relate to kids and to day in and day out, make it work in practice. I don't think it's one or the other. We've relied from the earliest days on that intense partnership between career teachers and non-teachers. I do think that most people would agree that the purpose of school is to prepare kids for what's coming, not what it was.
Manoush Zomorodi: What's coming for AltSchool in the long term is unclear. There's a lot of competition in this field and AltSchool is still a startup. The majority of tech startups don't succeed. Who knows? Maybe down the road, those Brooklyn parents will have to look for a new school for their kids. In the meantime, though, they can enjoy the Willy Wonka version of education circa 2016. If you are a parent or guardian, I hope you'll check out the guide that we've created for you to use when you hear about tech coming into your kids' classroom.
The exact questions that you should ask if your school says, "We're raising money, so we can put a tablet in the hands of every kid," or, "We're moving toward a blended learning model," find the guide @notetoselfradio.org. You can even print it out, bring it with you to back-to-school night.
[music]
Hey, are you subscribed to Note to Self on iTunes? Even if you aren't, will you please rate us or leave a comment because it does wonders in terms of getting us in front of new listeners, who may want to come and join our special human brand of tech coverage? Thanks for doing it. The Note to Self team is Jen Poyant, Jenna Kagel, and Joe Plourde. Many thanks to Rachel Neel, Megan Cunnane, and Ben [unintelligible 00:27:25] for their help this week too. Note to Self is a production of WNYC Studios. I'm Manoush Zomorodi and thank you for listening. Microgreens, micro-schools, micro children. Okay.
Copyright © 2022 New York Public Radio. All rights reserved. Visit our website terms of use at www.wnyc.org for further information.
New York Public Radio transcripts are created on a rush deadline, often by contractors. This text may not be in its final form and may be updated or revised in the future. Accuracy and availability may vary. The authoritative record of New York Public Radio's programming is the audio record.
Music Credits:
"Disinter" by Blue Dot Sessions
,
"White Limit" by Blue Dot Sessions
,
"Travelogue (Instrumental)" by Nick Jaina
,
"Gizmo" by Schuyler Peterson from BWNoise Music
,
"Not a Machine (Instrumental)" by Nick Jaina
,
"Celadon" by Podington Bear
,
"Scratcher" by Blue Dot Sessions
,
"Rally" by Blue Dot Sessions
,
"Jeremiahs Suit" by Blue Dot Sessions
,
"Slow Slow Sky" by Blue Dot Sessions
,
"Fast" by JT Bates from BWNoise Music
,
"Here I Come" by SK