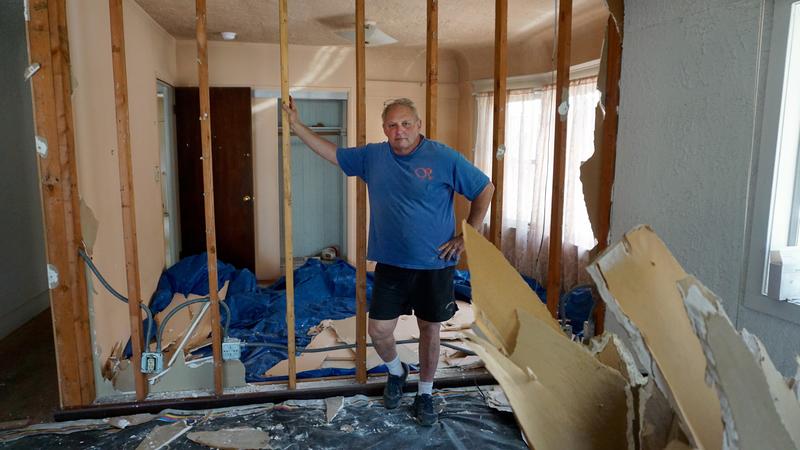 Transcript
Speaker 1: I'm just confused as to who are these people? Then houses get snapped up in a day. It's like, what am I doing wrong? Where is this cash coming from? It boggles my mind.
Speaker 2: As a homeowner, my equity is skyrocketing. My home has doubled in value in five years but that also is insane.
Speaker 3: Today, we had, I guess, 18 people or so here, just for this one bedroom here clamoring to sign a lease.
Speaker 4: People will go out and once they get the hang of it they start buying property, and then they just get into buying property and then it's almost like a drug.
Speaker 5: Every single day, I get some real estate advertisement, or a request to sell in my mailbox.
Speaker 6: They're going to lose the home one way or the other. It's much better if a local investor can buy the property and convert it into a home that another family can use.
Speaker 7: All the time we hear, "You know what? Gee, I've held on to this property for 30 years. Now it's time to sell it and I don't know what to do." That's where we come in.
Speaker 8: There goes the neighborhood.
Speaker 9: There goes the neighborhood.
Speaker 10: There goes the neighborhood.
Saul Gonzalez: Sometimes when change comes to a neighborhood, it's quiet, and subtle. Other times it's loud and blunt, like a pickaxe punching through drywall. Peter Schulberg is starting demolition work today on a house he's just bought in Los Angeles' Jefferson Park neighborhood. Largely Latino and African American, Jefferson Park is just south of the Santa Monica 10 freeway between downtown and LA's Westside.
Peter Schulberg: It's opening up the house to what it would have been.
Saul Gonzalez: Like other homes on the street, the house is a small century old Craftsman cottage, and it's been worn down by neglect and some really bad renovation work done over the decades, like a popcorn ceiling added in the 1970s and a dining area that's been turned into an illegal third bedroom. Peter is gutting it, and restoring the home to its original condition and charm.
Peter Schulberg: Every house, no matter how small, has a little soul to it. What I find when I come into these places is it's about trying to give them back the hope they had when they were built.
Saul Gonzalez: Peter isn't purely motivated by architectural altruism. He's one of those people who buy broken down houses, fixes them up and resells them at a higher price.
Peter Schulberg: I am a flipper. I cringe a little bit whenever I admit that but yes, that's what I've been doing for the last four years.
Saul Gonzalez: Why the cringe? Well, Peter says flippers like him are at least partly responsible for jacking up Los Angeles' already high home prices. What's your timeline roughly?
Peter Schulberg: I'm hoping I would say three months, it's always five months.
Saul Gonzalez: He knows if he adds value to a home by flipping it, that will increase the price of other homes in the neighborhood and that will make it harder for working people to buy or rent in the area. Prices here are already high, even for old homes in Jefferson park that need a ton of remodeling.
Eva Aubrey: This house was $578,000, which is much more than I've ever spent on any house. That's what's happening is a year ago, this would have been $478,000 three years ago, this would have been $350,000, it's just gone crazy.
Saul Gonzalez: Eva Aubrey has seen the craziness. She's lived in the neighborhood since the 1950s and says now the flippers are always circling.
Eva Aubrey: Every single day, every single day somebody wants me to sell my house, somebody wants to know if I want to get a loan on my house. They want to give me everything but they want my house.
Saul Gonzalez: I'm Saul Gonzalez and you're listening to There Goes the Neighborhood LA. Flipping used to mostly be associated with the suburbs, especially during the Great Recession. That's when more than 9 million people nationwide lost their homes. Now the supply of foreclosed houses in the burbs that flippers used to scoop up cheap has dried up so flippers are moving into cities.
Auctioneer: $1,345, 000 [unintelligible 00:04:28] now 50, $1,350, 000-
Saul Gonzalez: About 70 property hunters are in this darkened hotel conference room south of downtown LA. It's a property auction and many in the room are flippers bidding on bank owned houses in and around Los Angeles.
Chris Demarest: 100% of the funds that you want to bid and buy with, you must have on your person.
Saul Gonzalez: Chris Demarest is with auction.com the company that runs the auction.
Chris Demarest: There is no time allotment to go to the bank to get more. You can't run to your partner on the other side of the hotel, you can't even go to your car to get more money. You can only bid with what you have within the room and that's a strict rule.
Saul Gonzalez: Jonathan Rios is a full-time flipper, always on the hunt for new properties and loving the chase.
Jonathan Rios: We almost think of it as treasure hunters. It's like the homestead boom, they shoot it off and once they find out what an opening bid is, everyone who runs to the property tries to see what the appraised value is, what the rehab is going to be, what kind of title they have on the property. Everyone has a team and it's basically every team on a treasure hunt is what it's like.
Saul Gonzalez: Jonathan works for Wedgwood Incorporated, it's a Redondo Beach company that claims to flip about 3,000 properties a year. Jonathan has specific orders from his bosses, find houses that can earn the biggest profits on resale, and don't over bid.
Jonathan Rios: I want to buy every property for $1, is ideal.
Saul Gonzalez: That's the ideal?
Jonathan Rios: That's the ideal. Basically, I want everyone to just hand me properties and titles for deeds, and then just walk away and high five me and say, "Have a good day." If it makes dollars it makes sense.
Auctioneer: Final call $1,387,500 [unintelligible 00:06:19] bid, and that's going to be sold at $1,385,000.
Dave Think: Honestly, this area is a great place to look. Also, it's one of the last places in LA proper, where you can find an affordable flip that makes sense.
Saul Gonzalez: I'm back in LAs Jefferson Park neighborhood talking to Dave Think, he's with an LA real estate company that's trying to flip an 830 square foot stucco house on a corner lot.
Dave Think: The price on this is $680,000.
Saul Gonzalez: $680,000?
Dave Think: Yes, for that price, I would say it's a pretty fair steal.
Saul Gonzalez: Dave's company bought it for $460,000.
Dave Think: It's making less and less sense in Silverlake, Echo Park, Eagle Rock has all those houses, you can no longer get those at a really low price. Now you're paying a premium for them and you're going to have to put money into them. It just doesn't make sense, you can't get as big of a return. This area, if you're looking to get a return on your money, this is the area to go to. We're seeing it, houses are going fast here.
Saul Gonzalez: According to ATTOM Data Solutions, the hottest zip codes for flipping in Los Angeles are all in South LA. That's right. In some South LA zip codes last year, 20% of houses sold were flips, three times the Los Angeles average. Who's buying the flipped properties? When did you move in?
James Blackman: Summer of last year.
Saul Gonzalez: Many of them are 20 or 30 somethings looking for their first house, but who can't afford the prices in other parts of LA.
James Blackman: I was living in Los Feliz working in West Hollywood, so, coming down here to South LA, it was a big change.
Saul Gonzalez: That's James Blackman, 29 years old, and originally from New York, he works as an actor, filmmaker and bartender. James is a self-described hipster and he has to look down from tattooed arms to his neat bean.
James Blackman: [unintelligible 00:08:22] like they say there's always something to do, always a project. They were so right about that as you can see.
Saul Gonzalez: Last year after renting in LA for six years, James bought a flipped house near Central Avenue in South Los Angeles for $360,000.
James Blackman: The importance of this place is I am becoming an adult in my own way and not the traditional way. I know the traditional way is always been like, "Oh yes, get a house, get a car, white picket fence all that." I did it through the back door because I don't have a traditional job but I still was able to get the house. I feel pretty damn good about that.
Saul Gonzalez: James's house is pretty no thrills but on the outside but inside.
James Blackman: They did put all the bells and whistles that made people think like, "Oh, man, this house is amazing." Gas range stove. They did some trendy things like high end engineered [unintelligible 00:09:16]. People go crazy over that.
Saul Gonzalez: That gray shade that's really popular right now?
James Blackman: Yes, with all the laser etching that makes it look like real wood. [laughs] Things like that, impress potential buyers.
Saul Gonzalez: Along with adding design bling, flippers know they also have to talk up neighborhoods, boasting to potential buyers that if they're not cool now, they soon will be. A few miles west from James's place Dave Think describes the community surrounding the property he's trying to sell.
Dave Think: If you're from LA I describe it as, it's like Echo Park and Glassell Park and Eagle Rock five to 10 years ago, right before it started to really get gentrified and really booming, but you're seeing all over the place in this neighborhood people buying up commercial spaces, they're putting in coffee shops, gastro pubs. This area is really developing into a really pleasant place to live.
Saul Gonzalez: As flippers invest in once neglected LA neighborhoods. There are many who love it.
Marsha Hosea: I don't feel guilty. I don't feel guilty. It's good. It's improving the neighborhood and I enjoy it.
Saul Gonzalez: Home owners Marsha Hosea and Jennifer Thistle in nearby Leimert park say, bring on the flippers. If they help attract businesses and boost neighborhood value.
Jennifer Thistle: I like to have an uplift in the community where I don't have to always go and shop and give my dollars outside of the community because they don't offer the things that I like in the one or two mile radius.
Saul Gonzalez: You're saying, bring on the nice stores. Bring on the coffee houses, the boutique stores. At least some of that.
Marsha Hosea: Yes, definitely.
Jennifer Thistle: Raise property values.
Saul Gonzalez: Raise property values.
Jennifer Thistle: We're looking forward to that. We want that. Yes, the property values, real estate, definitely. Location. location, location.
Saul Gonzalez: Others like Eva Aubrey, who you met earlier worry about flippers pricing people out of their community.
Eva Aubrey: This was a working class neighborhood. When my family first moved here, people who lived in this area were mailmen, nurses, policemen. These were people who went to work every day and who had jobs who didn't make a lot of money. They made enough money to live comfortably.
Saul Gonzalez: But Eva thinks Flipping will change that.
Eva Aubrey: It's pushing these people out. The younger people, I don't know how they can afford it. The young ones behind me, where are they going to go? What could they buy? How can they live? What's happening is they're pushing people out. These people who live in this house or that house, they can't afford to live there anymore.
Saul Gonzalez: Oscar Moreno is a high school teacher from South LA who lives with his father in a home they own. He worries about keeping accumulated wealth in the community.
Oscar Moreno: People in like Mercedes and Porsche's like, "Oh, would you like to sell?" My dad's like, "Well, I didn't have a for sale sign. Why would you assume I want to sell?" Then they throw at us that, "We'll give you let's say 15 %, 20% above market value to take your house." Anyone that's struggling will take that offer. Long-term wise that offer that they're giving you is actually a low ball offer because they know, even though they give you that 15% in the next 10 years, that property value is just going to continue to go up.
James Blackman: When you're renovating the dust gets on everything and you're always cleaning.
Saul Gonzalez: James Blackman knows that by buying a home that's been flipped, he's playing a role in driving neighborhood housing prices up. That could be a source of tension with his neighbors. James is Black. He says that might soften some grumbling about how he's a gentrifier in this largely African-American and Latino neighborhood, but only so much. He has this advice for other outsiders moving here or other gentrifying LA neighborhoods.
James Blackman: You should tread lightly because people can be funny when it comes to change. It's a weird thing. When people come face to face with real deal change in their lives, things are not going to be the same anymore. Some people accept it and are open to it and some people are just not, and they fight against it with every breath that they take.
Saul Gonzalez: Jefferson Park, Peter Schulberg thinks he can have the homie bought for $578,000 and his rehabbing back on the market in three to four months. His likely asking price,
Peter Schulberg: I'd say 850.
Saul Gonzalez: $850,000, that in a neighborhood we're home selling for even half that price five years ago would have seemed like real estate science fiction. Coming up, what's the connection between flipping in Beverly Hills and flipping in South LA? It's money of course, but where does it all come from?
[silence]
Where do flippers get the money to buy the houses? KCRW's Ann Scott has looked into that and found a little known phenomenon in flipper financing.
Anna Scott: In the auction Saul went to, people were plopping down a million dollars or more in cash, who has that kind of money lying around? More and more flippers are getting their money from loans, a specific kind of loan, not loans from banks, but from real estate investors. They could be rich individuals or large groups of investors pooling their money. To find out more about this business and how it works, I talked to Cory Conkey. 9:00 in the morning, inside a Starbucks. At one of the tables, a tall 28 year old guy in a button down shirt and slacks types on a laptop.
Cory Conkey: I tried to work in a cubicle for a while and I couldn't do it.
Anna Scott: Cory was born and raised in Orange County, about 50 miles South of LA. In 2008, it was ground zero for the mortgage crisis. From its fallout, Cory started his career working for a company that loaned money to buyers at foreclosure auctions.
Cory Conkey: Literally my first day on the job, they handed me a backpack with like six or $700,000 and they told me to drive to Riverside and buy a property for an investor.
Anna Scott: At the time an injury had just ended Cory's first career as a minor league baseball pitcher. The auction felt a little bit like a game to him.
Cory Conkey: We didn't win, but I had an adrenaline rush there. I was shaking. I had no idea what was going on. It was just the first time I got the same feeling of like playing sports and like a job.
Anna Scott: Cory doesn't carry backpacks full of cash anymore, but he still works as a go-between for people with money and people who need money to buy real estate. He mashes up borrowers with what are called private lenders or hard money lenders. These are the investors you heard about a minute ago. It is nice work if you can get it.
Cory Conkey: When you're lending money, all you have to do is just wake up, go to the mailbox, pick up your cheques. There's no my toilet broke, the third floor of your apartment buildings' flooded. If that happened to your borrower you're like, "I don't care that's not my problem."
Anna Scott: There's not much data on how big the private lending market actually is but multiple experts told me it's growing fast, including Cory.
Cory Conkey: It's almost overcrowded right now. It's getting to the point. I think there's always going to be enough property in LA, just because there's so many, it's just sheer volume, but there's a lot more people in now because everyone's been making money. It's the longest bull market we've had in a really long time or ever.
Anna Scott: Just like flipping, private lending is connected to the recession. After 2008, it became a lot harder to get a bank loan, that created an opportunity for private lenders to step in and provide money to people who wouldn't meet bank standards anymore. Another thing that happened after the crisis was a lot of new regulation on mortgage lending to protect regular people like you and me looking to buy a house.
Those rules don't apply to investors buying properties to flip or turn into income generators. That's who private lenders give money to because they can charge super high interest rates and demand to be paid back fast. Cory has a meeting with one of those private lenders this morning, but first he has to stop at the supermarket to pick up booze. Cory says it's a little something to foster Goodwill with the lender and his staff. Maybe get his calls returned a little faster.
Cory Conkey: Girls like Chardonnay, I would say, and the boss guy likes a brown liquor.
Anna Scott: Do you switch it up? Is it always alcohol or do you bring them to-
[crosstalk]
Cory Conkey: Mostly alcohol. We have have a really stressful job. People drink at the end of the day. It's just what people do.
Anna Scott: Never like candy.
Cory Conkey: No, no one does candy, not in LA.
Dennis Rediker: Cory, how are you, bud?
Cory Conkey: How's everything going?
Dennis Rediker: Everything is going great. We're about to have a good month.
Anna Scott: Dennis Rediker is in his 40s, gray hair, slim, dressed in jeans, laid back vibe. His nickname at his country club is Gatsby. Dennis has about 250 loans outright now worth around a hundred million dollars, that makes him a medium sized player in this world. He made his money as a landlord. His family owns apartment and office buildings. Dennis wanted to invest that fortune in something low risk with a nice return.
Dennis Rediker: About seven years we started getting into the loan business because we didn't have anything to do with our money.
Anna Scott: That's what a lot of people have done. Interest rates are low. Investing in stocks and bonds isn't as lucrative as investing in a real estate loan where you can charge 10% or 15% interest. Though Cory says competition has pushed those rates down a bit since he started in the business.
Cory Conkey: When I first started, a few companies were charging like 14% and five points. Now we're down to like nine and two nine and one and a half. That's over, five years, six years because of the sheer number of volume and people are getting in because it is a very safe industry. That's probably one of the second oldest professions in the world.
Anna Scott: Cory leaves Dennis's office in Burbank and Drives to Beverly Hills to a two storey Spanish style mansion that's under construction. This is one of the properties Cory's set up alone on. The actress who played either the good witch or the bad witch in The Wizard of Oz once lived here. Cory's not sure which witch. Six investors, actually, three married couples bought this house together for $6 million. They plan to flip it for 15 million to get that much.
Cory Conkey: You need to have a pool. You need to have a spa. You need to have a view or if you don't have a view, you need to have land. Now you need to have a gym, a screening room. You have to have some kind of like theme or like Hollywood kind of feel to the house, you're going to have the LA actress kind of movie star theme. It's going to have all that other stuff too.
Anna Scott: More than doubling the value of this house could raise the value of all the houses around it too. How expensive can this neighborhood get?
Cory Conkey: There's a house in Bel Air right now that's for sale for $250 million.
Anna Scott: A house in Bel Air for $250 million?
Cory Conkey: I think that's the most expensive house around.
Anna Scott: I guess it could go off quite a bit? [chuckles]
Cory Conkey: You should take a look at it. It's pretty stupid.
Saul Gonzalez: Anna, what does selling a giant house in a rich area like Beverly Hills have to do with flipping a house in South LA?
Anna Scott: Well, first of all, these lenders aren't just giving money to people in Beverly Hills, these house flips that they're funding are also in places like South LA. Besides that, let's say you have $2 million to spend, you want to buy a house in Beverly Hills. Well, you come to this street, and you see that that's out of reach for you. Maybe you go look in Culver City or Silver Lake, that makes those neighborhoods more expensive and on down the line.
Saul Gonzalez: The super aggressive lending practices, I can't help but think about what happened before the financial crisis in 2008. Is there a connection there? Is one like the other and should we be worried?
Anna Scott: It's hard to say. It's true that there are similarities and Saul you're not the only person who feels uneasy hearing about this industry. Dave Min, a law professor at UC Irvine, who specializes in banking regulation and real estate said the same thing about being reminded of pre-2008.
Dave Min: One of the myths of the crisis was that these were all poor borrowers trying to buy a home. In fact, people who studied what happened with housing prior to the crisis, know that in fact, a lot of these loans that were made pre-crisis were loans made to investors of exactly the type you're describing in this new phenomenon. These were house flippers.
Anna Scott: These lenders aren't connected to the economy in the same way that banks are and they're not lending money to the average house hunter looking for a home to live in. It's just really hard to analyze the pitfalls here. It's hard to say what would happen even if a bunch of them failed all at once.
Dave Min: It is worrisome, it's not quite at the level where it might be something that we should be overly concerned about but it's not something we should ignore given past history.
Anna Scott: For now, though, people in the industry are super bullish about it, like the lender who provided the money for that Beverly Hills house.
Shawn Miller: Hi, I'm Shawn Miller, the CEO of 5 Arch companies.
Anna Scott: 5 Arch is really big in this world. They've got about 1,000 loans out at any time in 20 states. In LA, Shawn sees endless opportunity, because he says cities are more desirable than ever. Leading up to 2008 developers built 1000s of homes out in the suburbs.
Shawn Miller: 30 to 70 miles away from downtown Los Angeles, that seems to be changing in front of our eyes. The younger generations have this real sense of community and wanting to be much more close to where they work.
Anna Scott: He's talking about young people like James Blackman, the actor you heard from earlier who bought the flipped house in South LA. People like James want to settle in big cities, but a lot of the housing stock is old. It needs to be fixed up just like bridges or roads. Shawn says that's what his company does.
Shawn Miller: You take Brooklyn in New York as a perfect example, where you may have brownstones that literally were at the turn of the century, last century. Instead of really financing a home builder, building a track of 1,000 new homes, 60 miles from downtown Phoenix or LA or Dallas, we get to spend a lot of our time looking block by block at homes that are in the areas that the next generation want to be. You can really marry a little bit of the old with the new and that product is not going away tomorrow.
Anna Scott: Do you see private lending as being at all connected to gentrification? Does it facilitate people coming in and fixing things up and prices going up?
Shawn Miller: Look, [unintelligible 00:23:59]. It's certainly better for neighborhoods that haven't had a lot of capital improvements to have more capital in the neighborhood. That's a given.
Anna Scott: Shawn says companies like his are little drivers of neighborhood change. They're like barnacles on the big drivers. He gave me a couple of examples of big drivers, the new Rams football stadium being built in Inglewood. The acres of development around USC.
Shawn Miller: Those are movements that come into an area which can shift the demographics of miles and miles around them by the sheer scale of them. Then really more grassroots efforts from people like ourselves, which really, I think are assisting in allowing for these neighborhoods to slowly start to pivot and give more investors and more people confidence that every day goes by there's going to be more improvement and a higher quality of products. Certainly, that would be a neat thing to happen.
Saul Gonzalez: When we talk about gentrification in LA, so much attention gets focused on the huge projects like Shawn just mentioned, or like the Hollywood Crossroads housing development we talked about in episode one. A lot of neighborhood change happens one house at a time, with no city hearings or public attention, like properties that get flipped.
The money behind those tiny changes, it's like an invisible River. You can't see it when you're walking down the street but you can definitely see its effects. For every house or apartment building that gets fixed up and sold, there could be one, two, or dozens of investors hoping to turn money into more money.
Next time on There Goes the Neighborhood LA, are artists and other creative types the perpetrators or victims of gentrification?
Speaker 18: If you want to call this place the arts district, then you need to make it so that we can stay in the arts district. If we can't stay in the arts district, then you need to change the name from the arts district to the luxury district or to the douchebag river district or to the let's call it the silicon lost.
Saul Gonzalez: Listeners we really want to hear about your own experiences involving change in LA or wherever you live. Go to kcrw.com/theregoestheneighborhood. Last week, we asked for opinions about our show focused on Black communities facing gentrification.
On our Facebook page, one listener brought up the phenomenon of Black plight or middle class African American families who leave urban areas for the suburbs. Well, I drove out to Moreno Valley about 70 miles east of Los Angeles. It's a community that since the 90s, has seen a big increase in Black families who've relocated there from LA. I met X Angelino Delphine Johnson, who moved with their kids to Moreno Valley 11 years ago, and has no regrets about this decision.
Angelino Delphine Johnson: Let me tell you, when I go back down there to LA County, I'm just like, "Oh my God, can I hurry up and get home." It's just so congested, there's so much going on and out here I feel peace and my neighborhood. You know what? I really enjoy not hearing helicopters flying over my head all night and sirens blazing down the streets. I really enjoy that and I feel that people here respect their home, their community, their church, and it makes a big difference. It does. It makes a big difference for all of us.
Saul Gonzalez: You're a proud suburban?
Angelino Delphine Johnson: I am so proud to be here and I'm not going anywhere. If I go anywhere, I'm going farther that way. [laughs]
Saul Gonzalez: You are pointing east?
Angelino Delphine Johnson: Yes.
Saul Gonzalez: You can also find There Goes the Neighborhood LA on Apple podcasts. Subscribe and tell your friends to subscribe and please leave a review. There Goes the Neighborhoods reporter is Anna Scott. Our producer is Miguel Contreras. Remember how we told you he's facing eviction right now? Well, he's here with an update.
Miguel Contreras: That's all. As far as I know, the new owner of my buildings still plans to tear it down and raise the property all around it. The good news is that I got an extension till June of 2018, which is almost nine months. It's great, but it's just delaying the inevitable, which is that I'm going to have to leave and find a new place. Actually, reporting on all this stuff, what I've learned is you have to take the little wins, because often it's the only win you're going to get.
Saul Gonzalez: Thanks, Miguel, and all the best.
Miguel Contreras: Thank you.
Saul Gonzalez: Going back to our credits, Celeste Wesson is our editor, Sonya Geis is our managing editor. Our recording engineers are Reg Warner and J.C. Swatting. At WNYC studios our producer is Paige Cowett, our executive producer is, Karen Frillman, and Cayce Means is our technical director. Our composer is Hannis Brown with additional music by Terence Blanchard. I'm Saul Gonzalez. This series is supported by the Conrad and Hilton foundation. Thanks for listening
[00:29:02] [END OF AUDIO]
Copyright © 2020 New York Public Radio. All rights reserved. Visit our website terms of use at www.wnyc.org for further information.
New York Public Radio transcripts are created on a rush deadline, often by contractors. This text may not be in its final form and may be updated or revised in the future. Accuracy and availability may vary. The authoritative record of New York Public Radio's programming is the audio record.