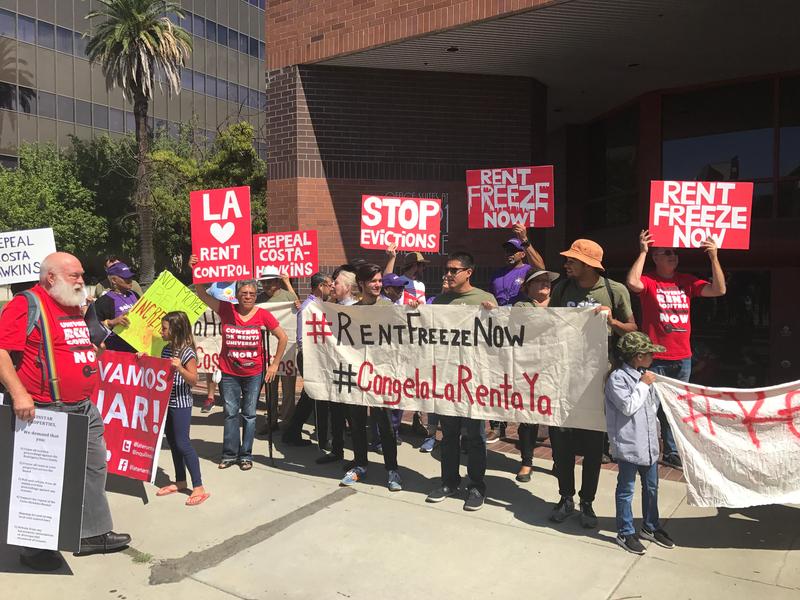 Transcript
Speaker 1: This is Beverly Hills now. Just cost of living here is just ridiculous. Used to be nothing but a slum when we were kids, now I look at it now.
Speaker 2: This is not just a crisis of affordable and accessible housing. This is also a crisis of displacement and eviction [unintelligible 00:00:26]
Speaker 3: This is a couple of businessman brothers that are also like known vulture landlords in this neighborhood. We wanted to bring attention to that as well.
Speaker 4: If you think it might be a gentrifier don't move into a neighborhood and then complain about the way that it is and shop at the local grocery store and don't get upset because you can't buy this coffee or can't visit an art gallery.
Speaker 3: Los Angeles is a city that is rooted in history and religion in its communities. If you uproot those communities you uproot those people you're tearing out the heart of Los Angeles.
Speaker 5: There goes the neighborhood.
Speaker 6: There goes the neighborhood.
Speaker 7: There goes the neighborhood.
Speaker 8: There goes the neighborhood.
Speaker 9: Tenants, now uniting on that ground. Fight gentrification keep your family in your house.
Saul Gonzalez: Anna, where are we?
Anna Scott: We are in the Venice beach neighborhood on a Saturday morning. The voices you hear belong to about two dozen people dressed in matching red T-shirts.
Betty Medin: My name is Betty Medin and we are marching with the LA tenants union and we're marching against landlord harassment.
Anna Scott: This is days of rage, a series of demonstrations by the LA tenants union.
Speaker 10: We have a route planned. We're going to go up here turn left and go down towards the beach.
Anna Scott: Instead of just waiting for say the city council to come up with a way to bring down housing costs, groups like the tenants union are out organizing.
Speaker 11: What we're doing right here is the beginning, I believe, of the end of gentrification.
Anna Scott: Their solution to high housing costs starts with letting people know they're mad as hell. They're out protesting and pressuring landlords.
Speaker 12: This is the third time that the same letter has been given to the owners. The letter is simply stating that the residents of the building form the tenants association.
Anna Scott: Like these demonstrators, a lot of people in LA just want exorbitant rents evictions and displacements to stop. How do you solve a housing crisis? That is what this episode is about.
[music]
Saul Gonzalez: I'm Saul Gonzalez and this is There Goes The Neighborhood LA. This is our final episode of the season and we're going to use it to solve LA's housing and gentrification crisis once and for all. All right. Not really but we will look at remedies or at least partial remedies.
Anna Scott: Now, if this problem were easy to solve it wouldn't be a problem. None of the ideas out there are perfect. Some of them may not be popular and many of them could even create other problems.
Saul Gonzalez: You'll hear about a lot of different ideas in this episode. To help you keep track every time we introduce a solution you'll hear this.
[ding sound]
Anna Scott: It's cute. It's like a cartoon light bulb.
Saul Gonzalez: It's adorable. Now let's go back to that days of rage protest on behalf of renters. Anna, what are those demonstrators and their allies fighting for exactly? What do they want to see happen?
Anna Scott: Well, renters make up about half of LA households. That's a huge number. Millions of people. The tenants union wants to harness all those people to fight for rights for tenants and a big focus for them is trying to preserve and expand rent control departments. That's one of their proposed solutions to the housing crisis.
Saul Gonzalez: Hey a solution. That's great but how does rent control help things?
Anna Scott: Well, groups like the tenants union see rent control departments as one of our best sources of affordable housing. In these units, rent increases are limited to 3% a year. If you live in one long enough you end up with a great deal. In LA though, only apartments built before 1978 are rent controlled with a small number of exceptions.
Saul Gonzalez: Why can't the city council just apply rent control to new places that are built?
Anna Scott: It's not so easy. They can't because of the state law called Costa Hawkins which prevents cities in California from making their own rules to expand rent control. If you repealed Costa Hawkins, LA could do a lot more on that front. That's just one example of how changing state laws could help renters.
Saul Gonzalez: Expanding rent control and strengthening tenants rights could also be problematic.
Anna Scott: What's that noise.
Saul Gonzalez: We've got a sound for problems too, Anna. Expanding rent control gets a happy ding for being a remedy but it also gets that sad sound because a lot of people don't see rent control as a solution at all. Some housing experts and economists even liberal ones argue, it makes the housing situation worse. They say rent control takes away the incentive to build new apartments because investors know their incomes will be kept.
They also argue rent control discourages landlords from maintaining existing apartment buildings. Here's Richard Green the director of USC's Lusk center for real estate.
Richard Green: What you have is buildings falling down. We have this weird phenomenon and there's a very expensive real estate market. If you go out in the San Fernando Valley and look at the garden apartments that were built in the 50s, a lot of them are in really terrible shape and ultimately may be removed from the stock because they haven't been maintained. People shouldn't be living in them and so you make the supply condition worse instead of better.
Anna Scott: Rent control is not a panacea but at the moment it's the only reason hundreds of thousands of people in Los Angeles can afford their homes.
Saul Gonzalez: There are lots of other ideas about how to help renters and we'll come back to that in a bit but let's shift gears and talk about people who want that American dream of buying their own home. Obviously, that's really tough for lots of people to do in the LA area where the median price of a home is now $575,000. Anna, you know about that.
Anna Scott: Yes, my husband and I have been looking to buy a house for several months now and it's crazy. Everything we've been on has gone for way over asking like a hundred thousand dollars more. I knew it was an expensive market. Obviously I report on it but I was not prepared for this. We're actually putting that on hold for right now.
Saul Gonzalez: A few years back the city of LA tried to make it easier to build affordable single family homes in the city. [ding sound] Here comes a solution. The idea was if you build houses that aren't really big and fancy it gives more people a shot at home ownership.
In 2005 the city changed the dezoning rules. The new rules allowed multiple detached residences like townhomes to be built in places that used to just allow bigger single family houses. A guy named Briant Brislyn knows about this. Where are we going right now by the way.
Briant Brislyn: We're going towards the East end of Echo Park which in this current economic cycle has really started to blossom.
Saul Gonzalez: I'm riding shotgun in the Jaguar Sedan Briant is driving on Sunset Boulevard. What is it that you do exactly? What's the simplest way to describe it.
Briant Brislyn: I identify land for future housing developments.
Saul Gonzalez: Briant specializes in small lot developments. They're these tightly packed townhouse projects that look like stacks of Legos and they're usually built on small parcels of land. Briant says they're especially appealing to younger buyers who don't want to live in the burbs.
Briant Brislyn: I feel in the last cycle in the 2000s, you saw a lot more people moving to Santa Clarita, Valencia, Palmdale, Lancaster and now in this economic cycle over the last seven, eight years I feel like people are like, "Well, I'd rather have that extra hour, hour and a half I'd be driving at night to do yoga or to be with my kids or do CrossFit or crafts or a shot for organic produce et cetera.
Saul Gonzalez: These are people who want to be urban dwellers. Here's one big problem with small lot homes. These houses that were supposed to be more affordable really aren't.
Mark Mullin: This is a model home. It's staged with furniture.
Saul Gonzalez: It has a new home smell to it.
Mark Mullin: Yes, it does.
Saul Gonzalez: I went to an open house for new small lot development called Covo in LA Silver Lake neighborhood where two single family homes once stood. There are now 10 townhouses each three stories tall and separated by six inches of airspace. Real estate agent Mark Mullin gave me the tour of one house including its third floor living room with an outdoor deck.
Can I assume this is really the spot that sells the place.
Mark Mullin: It is. It's the money shot. It's the dramatic moment. When we walk people up here they've seen all the practical features of the home. Then you come up here and you go, "This is the way I want to live. This is where I'm going to spend my time."
Saul Gonzalez: Remind me how much are these going for.
Mark Mullin: At Covo you're spending a minimum of $1, 050,000 to purchase a home. That was our least expensive home and it topped out at about $1 million too.
Saul Gonzalez: You acknowledge this is not housing for working class [unintelligible 00:09:24].
Mark Mullin: It is not.
Saul Gonzalez: Tracy Doe, Mark's boss says if you're looking for a culprit for why this affordable housing option became so unaffordable blame the real estate market.
Tracy Doe: Your question is, why aren't these priced at 500,000 they can be priced at 500,000 but the demand is such and the people willing to pay a certain price for them will push the prices up to where they are now, the market prices because this is what somebody is willing to pay.
Saul Gonzalez: You're saying in a sense we're shackled to the market.
Tracy Doe: That's it. That's what the market is saying.
Saul Gonzalez: There's another problem with small lot homes. Building them often means existing housing gets bought up and torn down, and that has sparked a backlash against small lot development. At this protest in Hollywood, housing activists are attaching balloons to an apartment building.
Ann Hertz: I am blowing up balloons to put bouquets of balloons on housing that is slated for demolition to make way for luxury housing in Los Angeles.
Saul Gonzalez: Artist Ann Hertz came up with the idea after being inspired by the movie Up. You know, the film where the elderly man ties balloons to his house after all the other houses around it are torn down and replaced by skyscrapers.
Speaker 18: Tell your boss, he can have our house. Really? When I'm dead.
Saul Gonzalez: Ann drives all over the city to protest small lot developments. How many times have you done this?
Ann Hertz: 10, 15 times, now.
Jennifer Grey: Yes, maybe.
Ann Hertz: I'm not even sure. We've lost count.
Saul Gonzalez: You want people to look at the balloons and recognize it as you see it a violation happened here?
Ann Hertz: Absolutely.
Jennifer Grey: Can you just take a look at this real quick, Ann.
Ann Hertz: Sure.
Saul Gonzalez: Jennifer Grey is here to help Ann with the protest. Jennifer used to live in a $500 a month rental cottage in the San Fernando Valley, but it was sold as part of a small lot development deal and replaced by 26 units selling for $800,000 a piece, and Jennifer got displaced.
Jennifer Grey: I've got nowhere to live now.
Saul Gonzalez: You say nowhere to live, is that just poetic license or literally nowhere to live?
Jennifer Grey: Literally. Life is packed up in a storage unit, and I'm floating around
Saul Gonzalez: Couch surfing?
Jennifer Grey: Yes.
Saul Gonzalez: In the car or?
Jennifer Grey: No, it's not there yet. No. I've got friends, and couches and family and everybody's doing what they can.
[music]
Saul Gonzalez: Coming up, building, building and more building.
[music]
Saul Gonzalez: When you talk to experts about LA's housing crisis, the one big idea that keeps coming up again and again, is that we just need to build a hell of a lot more housing.
[ding sound]
Anna Scott: Yes, you heard about this in episode one. For decades, California, including Los Angeles hasn't built enough housing to accommodate its population.
Saul Gonzalez: Now the city of LA does have a target. Building 100,000 units of housing over eight years. That's over 12,000 new homes a year, but Brent Gaisford, the Director of the activist group, Abundant Housing LA says those goals are small ball.
Brett Gaisford: If we just want to keep rents flat, we need about double that. We need 25 to 30,000 units a year.
Saul Gonzalez: That's just to tread water.
Brett Gaisford: That's just to tread water. Exactly. That 100,000 units is really a continuation of the status quo. It's not the change we need, if this problem is going to get better. It's continuing to dig ourselves into the hole.
Saul Gonzalez: What's the figure you would put on the table and say, that's the target we have to reach.
Brett Gaisford: If I had to pick a number, I would say 25,000 units a year, double. That's probably not going to make the rent go down. That will probably keep it where it is, which is unaffordable to a lot of people, right. If we can keep the rent where it is, and hopefully incomes will start to rise, the problem can start to get a little better for some folks. I would love to see us build 30,000 units a year, but let's start somewhere.
Anna Scott: Of course, if developers could build 30,000 units a year they would. They cannot for many reasons, including community opposition, environmental restrictions and parking requirements the tack on big costs. Small lot development, those townhouses we just talked about, were one idea for making it easier to build and wedging more houses into central LA. Here's another one.
Saul Gonzalez: Yes, trains, many planners say it's a no brainer to put a lot of housing close to LA's expanding system of light rail.
Jenna Hornstock: I think our stations can be ground zero for seeing how great compact urban design works and how you can have a lifestyle with other mobility options besides getting in your car.
Saul Gonzalez: That's Jenna Hornstock with Metro, LA County's Transportation Agency. It's her job to get market rate and affordable housing built near LA's rail stations. Why does Metro care about this? Its job is to get people from point A to point B after all, not house them? Well, Jen is pretty candid about one answer. It's in Metro's self interest.
Jenna Hornstock: We want people to take public transit. If you locate their live, work and play at transit, near transit, they're more likely to use transit. For us it's ridership. That's the barest connection, the most base connection to having real estate development on our property.
Announcer: Next stop is Culver City station. Connect here with Metro Culver City and Santa Monica, [unintelligible 00:15:08] blue buses.
Saul Gonzalez: Metro is overseeing the completion of 17 projects with a housing component near train stops. It has more than a dozen others under construction, or on the drawing boards, but of course, there's a problem. Housing experts say public transit often makes existing homes along the rail routes more expensive.
Larry Gross: The value of that land is increasing and thus, it's putting a target on all the existing affordable housing.
Saul Gonzalez: Larry Gross is the executive director of the Coalition for Economic Survival. It's a housing advocacy group that's closely watch development and investment along the rail routes. Both those that are already open and those getting built.
Larry Gross: It's just developers who are buying up land now and just sitting on it, waiting for the value of that land to increase as the stations are built in that area.
Saul Gonzalez: You see that now?
Larry Gross: Yes, there's a tidal wave on the horizon. As soon as those stations are going to be built, they're going to be pushed out, because they're then going to see the opportunity to cash in on building this luxury units next to these stations.
Saul Gonzalez: I brought Larry's worries up with Jenna Hornstock back at Metro.
Jenna Hornstock: We've committed on our land, that 35% of the units built on Metro own land will be affordable to low income families. With the land that we can control, we're saying we're making a commitment to affordable housing, and that commitment is made in spite of how challenging it is to have enough public subsidy to do it all. It stands to us to figure out with our city partners how to make that happen.
Announcer: Please stand clear. The doors are closing.
[music]
Anna Scott: That concern about new housing projects that train stops driving up prices, that applies to lots of new developments. Many people push back against the idea that we need to build more because what they see getting built right now isn't making things cheaper. In fact, it's often doing the opposite. Here's Damien Goodman, a political consultant and executive director of the Crenshaw Subway Coalition. That's a residence group formed to influence how a new train line going through South LA gets built.
Damien Goodman: Even though many of these projects don't require any type of tear down, just the imposition of them, given their scale, and the fact that it will be priced out well outside the level affordable to local residents, unleashes a wave of gentrification.
Anna Scott: He's studied five of the biggest projects planned for Los Angeles right now. He agrees they'd add a lot of new housing, but says they'll also displace a lot of African American and Latino residents.
Damien Goodman: Almost all of these projects are nearly 100% market rate and market rate, as we say in our meetings means not for us. When you get into the question of gentrification and the concerns of community, it's not difficult to understand why most people, the cries, yes, you can build but don't displace.
Anna Scott: Damien and others would like to see more affordable housing being built for one thing, but that's really difficult too. There's no steady source of public money for it. Given how expensive it is to build in LA, it's not worth it to most developers.
Saul Gonzalez: City of state leaders know we need more affordable housing.
Anna Scott: Right, and they have some things in the works. Mayor Eric Garcetti has proposed a new fee on developers to fund affordable projects. Los Angeles voters passed a new tax measure to fund homeless housing last year, and the state in recent years passed laws to create new rent controlled housing.
Saul Gonzalez: There are also some really pie in the sky ideas out there. Here's one, get employers to build housing for their employees, especially in pricier communities where essential workers like teachers and police officers simply can't afford to live. That's a really big deal here in the city of Santa Monica, where our studios are located. KCRW's Frances Anderton joins me to talk about that. She's the host of our weekly programme DnA or Design and Architecture, and has followed LA urban planning for years. Hey, Frances.
Frances Anderton: Hey Saul. Yes, so here we are in Santa Monica. This lovely beach town with lots of jobs, but here you'll find a median home price is $1.4 million, and the average rent for one bedroom? Well, it's around $3600. Folks in the workforce like say teachers are especially affected by this lack of affordable places to live. Listen to this.
Hilary Weissman: I generally wake up at around four o'clock and I am out the door by 5:00. I grab coffee every morning, I take it in the to-go mug and head out the door. I generally eat breakfast when I get to work at around 6:00 or so. 6:15-ish.
Frances Anderton: That's Hilary Weissman. She's an Assistant Principal in the Santa Monica Malibu School District. She lives in Long Beach, so her daily commute is almost 100 miles roundtrip.
Hillary Weissman: I will stay as long as I can on campus to watch sporting events, to go to our plays, or our theatrical productions, or go to some music, so that my day generally ends at around 7:00 or so maybe 8:00. Football nights are normally 9:30. That makes my drive and preserves my sanity to maybe around an hour and 15 minutes. If I leave school, anywhere between 4:00 and 6:00, I'm looking at near two and a half hour to three hour commute home.
[music]
Saul Gonzalez: It's like Hillary has this daily Lewis and Clark expedition just to get to work.
Frances Anderton: I know, Saul, it really sounds awful. In fact, she talks about even getting a cot to sleep in in her office.
Saul Gonzalez: A lot of Southern Californians can totally relate to that. They work one place but live someplace else really far away, because it's what they can afford.
Frances Anderton: That's absolutely right, Saul. In fact, there's even a name for this. It's called the jobs housing imbalance. Now let's go back to Santa Monica. This is a city of around 94,000 people, but by day that population jumps to an estimated 250,000. This isn't all workers, some are tourists, but an estimated four out of five people who work in Santa Monica, do not live there.
Saul Gonzalez: I'm one of them, Frances, and I see these people crawling along the 10th Freeway with me every day.
Frances Anderton: To try and fix this problem for teachers, it turns out the Santa Monica Malibu school district has a big idea and that's to try and create housing. Listen to District Chief Operations Officer Carey Upton.
Carey Upton: We've begun considering how we might actually help support our teachers, our staff members, by providing housing closer someplace in Santa Monica. This would be workplace housing, so it's not that we would be providing free housing, but we would help provide them something that they could afford within the budgets and the salaries that we are able to pay.
Saul Gonzalez: This is all really speculative, so let's put a problem noise here. It's hard enough getting health care coverage from employers much less a place to live.
Frances Anderton: Yes, I mean, there's no shovels in the ground yet. This is at a very early stage. As I understand it, it is possible for the school district to actually consider doing it because they already own some land. Other cities have done it on a small scale. Los Angeles Unified School District, for example, has built a couple of apartment buildings for its staff.
Saul Gonzalez: You know what this reminds me of? It's that classic early 20th century company Town Model.
Frances Anderton: You're absolutely right. It's not a new idea. Back in the day, the movie studios built housing close by for their employees. In Santa Monica in fact, workers at Douglas Aircraft now Santa Monica Airport, lived in houses built for them. Now that neighborhood has since become one of the most expensive areas in the Southland.
Saul Gonzalez: Thanks, Frances.
Frances Anderton: Great to talk to you, Saul.
Saul Gonzalez: There are all kinds of other housing solutions we didn't even get into, like community land trust. That's when a nonprofit buys property to keep it out of the private market, then the nonprofit builds housing on it and sells only the houses but not the land for a cheaper cost.
Anna Scott: Another idea distributing more section eight vouchers which subsidize the cost of rent for low income people.
Saul Gonzalez: Others want to see bigger investments in public housing, and opening up public housing projects to people earning a wider range of incomes.
Anna Scott: Then there's the idea of providing people with a guaranteed basic income. Everybody no matter what their income working or not, would get a minimum paycheck that they could use for essentials like housing.
Saul Gonzalez: So many solutions.
[music]
Saul Gonzalez: Listeners we know you have solutions too. You've posted them on our Facebook page. KCRW's Caitlin Shamberg who does our social media, talked to some of you.
Katie Adams: My name is Katie Adams, and I live in Boyle Heights. My immediate thought is find a path for people who have been renting to be able to buy because I truly believe that when people go from renters to homeowners, they have a much more invested interest in the neighborhood and they're much more likely to stay put and be active in the neighborhood, and basically have an emotional attachment and loyalty to the neighborhood that only brings up the entire neighborhood. It only helps the neighborhood when people feel invested in it.
Carl Fierman: My name is Carl Fierman and I live in Leimert Park. Seriously the first solution I have for the housing crisis, I think everybody has to accept the fact that we need more housing. That means we need it in our neighborhoods and especially around places like Wilshire or transit corridors like where I live. It seems like those would be ideal places to have very dense housing. Of course traffic will get worse, but hopefully people will get out of their cars and use the transit.
Mark Andrada: My name is Mark Andrada. I am a resident of Pico-Union. Zoning laws that might need to be looked at and possibly restructured, to be able to allow for more development of affordable housing as opposed to high end condominiums and properties and such in really largely condensed areas of LA.
Sarah: My name is Sarah and I live in San Francisco. My ideal vision would be to get rid entirely of rent control, but if that's not politically possible, at the very least, to amend it so that rent control is not tied to the year of the building, but to the income of the person renting.
Jeff Wellman: My name is Jeff Wellman, and I'm from Bellflower, California. The solutions are self-evident. It's just a function of whether leadership decides to take hold of the legislative brains it's been given.
[music]
Saul Gonzalez: As we said, this is our last show of the season, but we're not walking away from coverage of housing and gentrification issues in LA and the rest of the country. They're simply too important to ignore so stay tuned. We also want to continue the conversation with you online at our There Goes the Neighborhood, Facebook group.
There Goes the Neighborhood's reporter is Anna Scott. Our producer is Miguel Contreras. Celeste Weston is editor. Sonya Geis is our managing editor. Our recording engineers are Reg Warner and JC Swastik. At WNYC studios, our producer is Paige Cowett. Our executive producer is Karen Frillman, and Cayce Mean is our technical director. This episode was mixed by Bill Moss. Our composer is Hannis Brown with additional music by Terence Blanchard. I am Saul Gonzalez. This series is supported by the Conrad N Hilton Foundation. Thanks for listening.
[00:27:28] [END OF AUDIO]
Copyright © 2020 New York Public Radio. All rights reserved. Visit our website terms of use at www.wnyc.org for further information.
New York Public Radio transcripts are created on a rush deadline, often by contractors. This text may not be in its final form and may be updated or revised in the future. Accuracy and availability may vary. The authoritative record of New York Public Radio's programming is the audio record.