Gentrification: No More L.A. Traffic, Put It That Way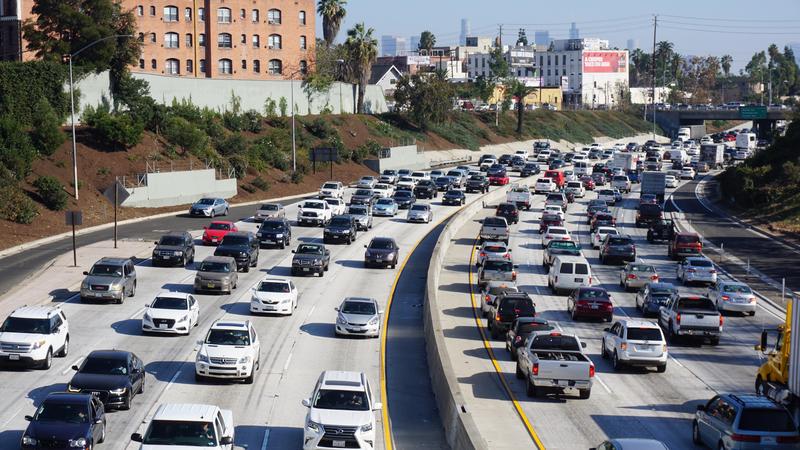 Transcript
[music]
Speaker 1: We have got into a lot of complaining about our cities. We have to fix them. They have to overcome unaffordability. We have to deal with gentrification. We have to deal with inequity. We have to make them more inclusive, but they really are our economic drivers and generators. They really point us to a better future.
Speaker 2: I took my Corvette, loaded it up, and put every bit of my clothes and stuff in it to where I could see just enough through the mirrors to get to California.
Speaker 3: I'm an actor but can't completely pay my rent yet doing that, but I'm getting closer.
Speaker 4: I think that my room alone is double what I used to spend in San Diego, just for a bedroom. It's small.
Speaker 5: You can have both. You can have a huge population of very wealthy people and, at the same time, continue to have a city that is open to all and allows for economic mobility. If we continue to price the poor and even middle income folks out of Los Angeles, we are making the American dream harder to achieve for millions of people.
Speaker 6: Oklahoma is a place where you go to die. You don't go there to build up. You come to California to build up, go back to Oklahoma to die. There you go.
Speaker 7: There goes the neighborhood.
Speaker 8: There goes the neighborhood.
Speaker 9: There goes the neighborhood.
Speaker 10: There goes the neighborhood.
Speaker 11: Good morning. Welcome to Central Casting. This is for new registration.
Saul Gonzalez: On a recent chilly morning, there was a long line outside of a nondescript building in the San Fernando Valley. The people in that line have left their home towns and families behind, and have come to Los Angeles for a shot at something better. They hope to get cast as extras in movies and TV shows.
Jennifer Bender: It's LA and it's Hollywood. You know the old cliche. It's where dreams are made, right? [chuckles]
Saul Gonzalez: Jennifer Bender is the vice president of Central Casting. Yes, there really is a company called Central Casting.
Jennifer Bender: Oftentimes, they've come from other states, other places of the country, and they've just arrived. Sometimes, they drove in last night and they arrived here or they just arrived recently and this is their first stop to get work in Los Angeles.
Saul Gonzalez: This is the first rung for a lot of them, right, for making a life in LA?
Jennifer: Absolutely. Many times, they come here, they don't even know what they want to do, but they know they want to be in the entertainment business.
Saul Gonzalez: Even before these newcomers get their first gig, they've got another challenge. Finding an affordable place to live. Sean Walsh, who's 23, drove over 1,000 miles to stand in this line.
Sean Walsh: I came from Oklahoma for a better beginning, a new beginning, and the cost of living down here is crappy. It costs a lot of money to live here.
Saul Gonzalez: I asked Sean, who's here with his brother, how they're getting by.
Sean Walsh: Well, living situation now is in a car.
Saul Gonzalez: Just park overnight someplace?
Sean Walsh: Yes. We just park, train station over there, because we can park nine hours at a time. Sleep during the nighttime at the train station. In the morning, come to Central Casting and that's it.
Saul Gonzalez: Actor and musician Chris Judd came to LA from a small town in the California desert. He says his housing anxiety is pretty much constant. How long have you been here?
Chris Judd: Seven years, coming up in September.
Saul Gonzalez: Seven years. Any time during those seven years where it's like, "I don't know where the hell I'm going to live or where I'm going to go"?
Chris Judd: Oh, yes. I feel like that's a daily thing for me. It's a thought that passes through my head every single day that I have to counteract with positivity and just saying, "Hey, no. This is the place to be." Anything else just seems boring to me.
Saul Gonzalez: Here's the thing. What Chris just said, I heard that from pretty much everyone I talked to in the Central Casting line. LA is a tough place to live, they say, but there's no place they'd rather be and there's no way they're going back to wherever they came from.
Sean Walsh: Let's do it. Let's hit on all eight cylinders. Let's go. Let's do it. I'm in Cali. There's no better opportunity than California. None.
Saul Gonzalez: LA in particular, right?
Sean Walsh: Exactly. I went to see the ocean for my first time yesterday in my whole 23 years of life. It was beautiful.
Saul Gonzalez: I'm Saul Gonzalez and this is There Goes the Neighborhood: LA. A lot of people love Los Angeles and think this is the place they have to be to get ahead, but LA isn't the population magnet it used to be. Here's KCRW's Anna Scott.
Anna Scott: Our population is still growing with almost 4 million people in the City of LA as of this year. That growth is from babies being born, immigrants from other countries, and people living longer. It's not because of people moving here from other states. That's true all over California. One person who's researched this is Phillip Reese, a reporter for The Sacramento Bee.
Phillip Reese: For the past 15 or 16 years consecutively, there've been more people leaving California for other states than coming here from them.
Anna Scott: Who's moving out? Phillip recently analyzed about a decade's worth of census data. He found that low-income people are fleeing California.
Phillip Reese: A net loss of our impoverished of about 800,000.
Anna Scott: Where are people going?
Phillip Reese: Texas. Texas and neighboring states. Pretty much anywhere where it's cheaper to live. Texas has been the main beneficiary of this trend, if you will.
Anna Scott: When he said Texas, I immediately thought of [unintelligible 00:05:34]. She's the single mom I interviewed for episode one. She's facing eviction from her rent-controlled Hollywood apartment. When I asked her where she might go next, she said maybe someplace else in LA County or--
Speaker 12: Possibly in the future, moving out of California. Texas, Oklahoma, or Michigan.
Saul Gonzalez: It sounds like if [unintelligible 00:05:55] family moves to Texas, she'll find a lot of other ex-Californians there already.
Anna Scott: Yes. Meanwhile, who's moving in? Phillip looked at the LA Metro area, which includes Los Angeles and Orange Counties.
Phillip Reese: We've seen a net gain, in particular people who are wealthy, if you will, or relatively wealthy. It really shows up if you look at those with and without a college degree. The Los Angeles Metro had a net gain in the last decade of over 20,000 residents with college degrees, even though the Metro lost over 250,000 people who are at or near the poverty line. The professions with the highest net gain were software developers and physicians.
Saul Gonzalez: When people see how high housing prices are lately and they wonder who can afford that, that's really part of the answer, right?
Anna Scott: Yes. LA is attracting well-educated people, doctors and tech workers. It's right there in the data. Meanwhile, cashiers, retail workers, and truck drivers are moving out, to name a few. This is also a story of race. There are a lot more Latino and Black people moving out than in. That's true of whites and Asians too, but the disparity is way bigger for brown and Black people.
Saul Gonzalez: What happens to a city when only rich people can afford to live there? You'll hear more about that in a minute. First, though, where are the people who are moving to LA coming from?
Anna Scott: A lot of the time, they're coming from states with an even higher cost of living than California. Here's Phillip.
Phillip Reese: We had a net gain of residents from New York where it's, in many places, even more expensive to live than here.
Anna Scott: Places like Brooklyn.
Alex Howell: There's a certain point where you just graduate out of New York or you're just like, "I'm too old for this shit."
Anna Scott: Alex Howell and his wife, Yaz [unintelligible 00:07:46] moved this year from Brooklyn's Clinton Hill neighborhood to Venice Beach. They moved here for Alex's new job doing marketing for a yoga website. They picked Venice because they wanted to live near the beach and Alex can bike to work. Yaz works from home for an Israeli startup. They live in a 1920s Spanish duplex. They pay almost $4,000 a month for it and they see it as a good deal.
Yaz: We really lucked out with where we landed now. The apartment we were in, in Brooklyn, the rent that they put it up for after we left was $3,800. We're renting this place for $3,800 and we have a two bedroom versus a glorified studio there.
Anna Scott: So far, they love it here even though they find LA's culture to be a little bit different than New York's.
Alex Howell: I definitely was asked to hold a crystal in a work meeting. That was a surprise.
Yaz: I've done some weird things. I bought $30 manuka honey. I've spent probably $150 on fresh juices already. It's all in the name of a healthier West Coast lifestyle so we're very happy.
Anna Scott: I asked how much of their income they spend on rent.
Alex Howell: Let's just round up.
Yaz: 15%.
Alex Howell: No, it's closer to 20.
Anna Scott: 20%. A fifth of take-home pay?
Alex Howell: Yes, roughly.
Anna Scott: That's a really good ratio [chuckles] compared to many.
Alex Howell: There's this psychological thing about it feels like you're flushing that money every month. That amount creates this urgency in my mind to want to own something.
Anna Scott: Guess what? Even they feel priced out of the markets they'd like to buy in. Neighborhoods near the beach.
Alex Howell: You open Zillow. All it is is a sea of houses that are $1.3 million and north of that. We're doing really well for ourselves, and yet it still feels basically unattainable, which means do we live in Baldwin Hills? Maybe. I don't know. Inglewood?
Anna Scott: We reported on Inglewood earlier in this series and how the tech industry near the beach puts a lot of pressure on housing prices there. This is what it looks like from Venice. I asked Alex what he'd say to those who might see him as just another gentrifier making the city more expensive.
Alex Howell: I feel great guilt all the time. I don't know how to not be myself. This is who I am. I'm the problem everywhere I go in terms of neighborhood change. I've lived in all of the amenity-rich stereotypical cities that everyone's moving to. I lived in the Northeast in Portland. I lived on the east side of Austin for four years. I'm acutely aware of our role in this. I just don't really know how to be a part of the solution without being a part of the problem also.
[music]
Saul Gonzalez: Up next, people who've had it with LA and are saying, "I'm out of here." When the Gold Line train arrives at the Highland Park station between downtown LA and Pasadena, passengers get off in a rapidly gentrifying part of Los Angeles and change is just steps from the station at an apartment building once known as the Marmion Royal.
The building has new owners and they've priced out 50 families over the past year as they've remodeled it and raised rents. Lizzie Brumfield and her fiance were evicted this past summer from the Marmion. The couple and their baby stayed at his sister's place for a few months.
Lizzie: It was putting a lot of stress on my family to look for a place, especially here in LA not having the ability to afford what's around the area. After a while, it just gets overwhelming living with someone else. You want your own place after that.
Saul Gonzalez: Now, they're leaving LA. KCRW producer Miguel Contreras met up with them on moving day.
Miguel Contreras: Lizzie and her fiance lived in LA and then in Bakersfield before they finally found an affordable apartment.
Lizzie: We actually got one in Hemet for $925. It's a two bedroom, two bath, so it has more space for us. It's just taking so much of a hassle to get out there.
Miguel Contreras: Hemet, where they're moving to, is an excerpt about 90 miles southeast of LA in Riverside County.
Lizzie: We're going from being close to family to living practically almost two hours away.
Miguel Contreras: Hemet. That's a refuge for people priced out of LA.
Saul Gonzalez: Yes. Actually, that area has been a magnet for Angelenos for a long time because it's cheaper to live out there.
Miguel Contreras: Lizzie's father and brother are lugging a bed out of her storage unit. It's one of those heavy adjustable ones you see in infomercials. This is Lizzie's dad, Christopher.
Christopher: It hurts my daughter, and her boyfriend, and the baby. It's wrong but unfortunately, there's nothing you can do about it.
Miguel Contreras: It hurts you.
Christopher: Yes. Now it's probably going to be a lot harder to go see my granddaughter, see my daughter.
Miguel Contreras: Lizzie's fiance, Christian, works as a security guard in Hollywood. He's looking for a job near Hemet but he doesn't have one yet. His plan for now is to crash somewhere in LA during the week and go back to Hemet on the weekends.
Christian: It's going to be hard being separated from my daughter and, obviously, my fiancee but we have to make what's best right now.
Miguel Contreras: For the time being, Lizzie plans to be with their 11-month-old daughter in Hemet on their own.
Lizzie: We're done, right? That's everything?
Christopher: Yes. That's it. Everything [crosstalk]
Miguel Contreras: It's time to say goodbye.
Christian: No more LA traffic. Put it that way. I'm excited to start a new chapter.
[phone rings]
Lizzie: Hello?
Miguel Contreras: Hi, Lizzie. It's Miguel. Four weeks after moving, they're trying to figure it out down in Hemet.
Lizzie: It's been working out a lot better. The transition was very hard, especially for me. I was bored out of my mind up here. I had nothing to do except take care of my daughter and then go to school, which is online, obviously, so I'm stuck at home.
Miguel Contreras: A few weeks ago, Christian's employer transferred his job as a security guard from Hollywood to nearby Moreno Valley.
Lizzie: His job is really good. There's a lot of overtime so he's pushing in a lot more hours than he did over there.
Miguel Contreras: You said it turned out for the better?
Lizzie: Yes. It is working out very well. It sucks because we're not anywhere near home. Once things are more situated, we'll be able to go down more often. For sure around the holidays, Christmas, Thanksgiving, that type of time, we'll be down there. We won't be spending it up here by ourselves. We'll be with family.
[music]
Saul Gonzalez: One person who's thought a lot about the long-term consequences of people like Lizzie leaving Los Angeles is Richard Green. He directs USC's Lusk School of Real Estate. Green says if LA doesn't fix its housing affordability crisis, we could end up looking a lot like another California city.
Richard Green: We're following San Francisco in this regard. If you look at San Francisco, if you look at LA 50 years ago, and if you look at their income distributions, they were very similar to the country as a whole. Big middle class, some rich people, some poor people, but like the country as a whole. City of San Francisco now basically has two kinds of people in it.
It has very rich people, and people in rent-controlled units and some people with subsidized housing. That's it. The middle class in San Francisco has shrunk dramatically.
We're seeing that here play out in Los Angeles. We are importing people with college degrees so that's great, but we're exporting people who don't have college degrees. Ultimately, that's going to play out so that almost everyone here is either in a high paid profession or an immigrant. That will be the character of the city. Whereas 30 years ago, Los Angeles was very much a middle class city.
Saul Gonzalez: Those immigrants who still remain here, they become essentially a service class for the wealthy or the upper-middle-class. They're the gardeners, the nannies.
Richard Green: Exactly. You don't have to look too far to see that that's exactly what's going on.
Saul Gonzalez: A lot of other people could stay in LA, but they figure why? They take a good hard look at the city and say, "Hey, Los Angeles, the problem is you, not me, in this relationship. I'm leaving you for someplace that's less expensive and high maintenance." Psychologically, it's a lot easier to be the one dumping LA than to feel like you're the one who's been dumped.
Take Southern California native, Mason Cooley, for example. He always felt like this was his home but as he told KCRW's Anna Scott, when he and his wife drove out of LA on their way to Asheville, North Carolina a few years ago, he suddenly didn't feel that way anymore.
Mason Cooley: I didn't really expect it but this overwhelming feeling that it was terminal came over me. [laughs] I just realized that when you leave LA, you're essentially already replaced by so many other people coming in. I never really felt like Los Angeles was the city that was going to miss you or something. I don't know if that sounds weird.
Anna Scott: Mason's 43 years old. Four years ago, he was working as an art professor at Cal State Long Beach earning about $50,000 a year. His wife's an optician and they both make custom furniture on the side.
Mason Cooley: When I left LA in 2014, we were renting the house in Van Nuys and the rent was $2,300 a month.
Anna Scott: Was that a two bedroom, two bath?
Mason Cooley: Yes. It was actually a pretty good size. I was lucky to find it. I didn't really like living in Van Nuys but it was really the only place I could afford to rent that size house.
Anna Scott: They wanted to buy a house but it seemed financially impossible here.
Mason Cooley: I think of when I was younger, in my twenties, I kept thinking, "I'm not going to worry about it. It'll happen. There'll be an opportunity." Then I hit 40 and I was like, "I still don't have any opportunity here to really purchase anything." As the rent increased, it was really frustrating.
Anna Scott: They picked Asheville because they'd read some articles about it. It's a small mountain city known for its art scene and they thought it sounded nice and affordable. Now, they own their own home. They built it themselves on two acres of land that they got by trading a bunch of custom furniture. It's modest, a 900 square foot apartment over a furniture workshop, but it allows them to live mortgage-free.
Mason Cooley: We did have some cash saved up and I was able to budget without taking a construction loan out.
Anna Scott: The whole thing cost about $100,000. Mason doesn't plan to ever move back to Los Angeles.
Mason Cooley: We really love it here.
Anna Scott: He says an interesting thing is happening in Asheville. He's meeting more and more people like himself, new arrivals from other cities escaping high housing prices.
Mason Cooley: If you'd go out at a restaurant or a cafe, or you just run into somebody random, more often than not, the story they share is a very similar story. People are from New York, Brooklyn, Los Angeles, Portland, and Austin. The cost of living, it's not Los Angeles but it's definitely rising here.
Anna Scott: What Mason is noticing is real. Asheville's population grew about 7% between 2010 and 2016, according to census numbers. It's still small, less than 90,000 people within city limits, but it's growing. Mason's advice?
Mason Cooley: If you have any extra money laying around, you can invest it here.
Anna Scott: The median home value in Asheville is about $257,000, less than half of what it is in LA. In the past year, it's gone up almost 10%.
[music]
Saul Gonzales: What's happening in Asheville, Los Angeles, and so many other cities around the country, it's a kind of economic sorting. It's part of a national phenomenon that's way bigger than any single city.
Cynthia Strathmann: Property, as with a lot of other wealth in this society, is becoming more and more concentrated. The more concentrated it becomes, in some ways, the weirder the market is in terms of how it functions.
Saul Gonzales: Cynthia Strathman is the executive director of Strategic Actions for a Just Economy. She says gentrification is tied to nationwide, even global, economic forces. How can you ever address that at the city level? What can Angelenos who want to live in an economically and racially diverse city do?
Cynthia Strathmann: I think you actually hit on a really key question because part of the problem is that the forces that impact gentrification are largely national or supernational, whereas the tools that we have to address land-use concerns are largely municipal. I think there are ways that you can intervene.
Saul Gonzales: How? Next time on There Goes the Neighborhood: LA, we've spent a lot of time talking about Los Angeles's problems, but what are some solutions when it comes to housing and gentrification?
Speaker 13: We've committed on our land that 35% of the units built on Metro-owned land will be affordable to low-income families. We're saying we're making a commitment to affordable housing and that commitment is made in spite of how challenging it is to have enough public subsidy to do it all. It stands to us to figure out with our city partners how to make that happen.
[music]
Saul Gonzales: Listeners, we really want to hear your opinions about this show. Why did you move to where you live or why did you leave where you used to live? Go to kcrw.com/theregoestheneighborhood. You can find us on Apple Podcasts, so subscribe and tell your friends to subscribe.
There Goes the Neighborhood's reporter is Anna Scott. Our producer is Miguel Contreras. Celeste Wesson is our editor. Sonya Geis is our managing editor. Our recording engineers are Joel Stein, Ray Guarna, and JC Swadek. At WNYC Studios, our producer is Paige Cowett, our executive producer is Karen Frillmann, and Cayce Means is our technical director. Our composer is Hannis Brown with additional music by Terrance Blanchard. I'm Saul Gonzales. This series is supported by the Conrad N. Hilton Foundation. Thanks for listening.
Copyright © 2020 New York Public Radio. All rights reserved. Visit our website terms of use at www.wnyc.org for further information.
New York Public Radio transcripts are created on a rush deadline, often by contractors. This text may not be in its final form and may be updated or revised in the future. Accuracy and availability may vary. The authoritative record of New York Public Radio's programming is the audio record.