I Didn't Want to Evict You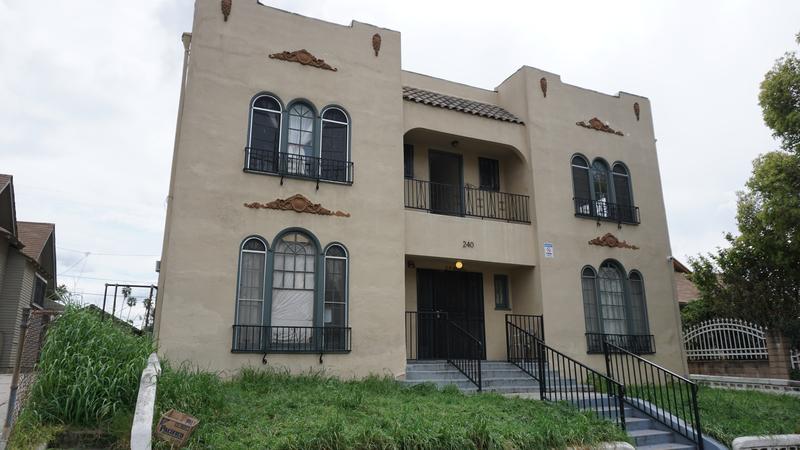 Transcript
[music]
David Bramante: I have evicted a lot of people. I've also been evicted.
Speaker 2: I've had to relocate so many times, I'm like, "I can't afford this rent anymore." What did I do? I worked harder to get more money so I could go back into that neighborhood because I liked my neighborhood.
Maria Santa Cruz: You want it the hard way? Well, we'll see. I'm not stupid. I don't speak English well, but I could call the police and tell them, "Hey. You should come here. Come and see what's the new owner of this building is doing to all the tenants here."
Speaker 4: Well, I could consider myself as homeless because I don't have my own home anymore. I may stay a week or so here and a week or so there. I have no permanent place to leave.
Speaker 5: When someone gets displaced from their home, they're just not losing their home. They're losing their community. They're losing their social network. We're disrupting and tearing apart neighborhoods and communities which are the backbone of the city of Los Angeles.
Many speakers: There goes the neighborhood.
[music]
Saul Gonzalez: I'm standing outside this apartment building in Los Angeles, it's just south of the Hollywood Freeway in north of LA's MacArthur Park. It was built in the 1920s. It's really thousands of other buildings from that area in Los Angeles. The exterior walls are faded yellow stucco, really, really faded. There are tiles above the door and arched windows, they give it small splashes of Spanish-style charm. Inside, the hallway's dimly lit, and there's a worn wooded staircase leading up to the second floor.
It's all really normal-looking but a bitter fight has broken out in this apartment building between the new owner and its tenants. That's where our story starts.
[music]
Saul Gonzalez: I'm Saul Gonzalez, and this is There Goes the Neighborhood LA. In this episode, we're going to zoom into the story of one apartment building in LA's Rampart Village neighborhood. The new owner is trying to push out the tenants who live in this building's eight one-bedroom units like this woman, Maria Santa Cruz.
[00:02:31] Maria Santa Cruz: We're a human being. We're living here for many years. I'm not going to make it easy for him. He doesn't have no right to do what he's doing.
Saul Gonzalez: It's 8:00 AM, and a handful of people are standing around in front of the two-story apartment building. On the stoop, Maria's husband, Uver Santa Cruz, put a pink box down on top of a chair.
Uver Santa Cruz: Doughnuts. [laughs] Coffee's upstairs. Yes.
Saul Gonzalez: He shifts from one foot to the other as he talks.
Uver Santa Cruz: I'm expecting that guy anytime. Generally speaking, I think we're all up on really nervous. I haven't slept well at all just thinking about what may transpire.
Saul Gonzalez: Uver lives in this building with his family. This is the morning the building's new owner want some tenants to move out. He says it's just temporary while he renovated their apartments, but the tenants don't trust him. They're afraid if they leave, they'll never come back. I'm watching what's happening with KCRW reporter, Anna Scott.
Anna Scott: Big, orange, moving truck hold up in front of the building. There's three movers on the stoop.
Saul Gonzalez: Nobody's coming out with boxes. The movers go back to the truck and just sit there. Lots of people are on their cellphones or just milling abound, waiting for something to happen. Whatever that something is.
Maria Santa Cruz: [unintelligible 00:03:53] We have a truck already, so we can move out.
Saul Gonzalez: Then the landlord arrives.
David Bramante: We're moving out two tenants. We're legally allowed to.
Saul Gonzalez: That's David Bramante. He's 35 years old and dressed in black jeans and a black puffy jacket.
David Bramante: We've done everything that we are supposed to. We notified the tenants that today, units number one and units number two would be moved out.
Saul Gonzalez: Okay, so no one's moving out yet. What do we do?
David Bramante: I haven't talked to the tenants yet, but, yes, if that's the position, we'll find out pretty soon.
[music]
Saul Gonzalez: This kind of struggle is now common in LA. On one side, are people with money, developers, and investors who've come to neighborhoods they used to ignore, seeking to make more money by buying up properties. On the other side, are the people who live in those neighborhoods, folks who are terrified that outsiders coming in could mean eviction, displacement, and maybe even homelessness, or they might be forced to leave Los Angeles altogether. Now, about this particular apartment building, Anna knows a lot about it and its new owner.
Anna Scott: Yes. Let me tell you about that owner. David Bramante bought the building in the spring of 2016. He's an unusual guy. A lot of real estate investors don't want to be interviewed about their work especially if it involves gentrification, but David is very open.
David Bramante: When I buy a property, I do ask everybody if they want to leave or if I could pay them to leave. I apply a little pressure like, "Yes. I'd like you to leave if you're open to that."
Saul Gonzalez: David is also very visible. For months, he's had this billboard of his smiling face on the corner of Echo Park and sunset.
Anna Scott: Yes. I live right by there, and he has bus benches too. David talks a lot about his success as a real estate agent.
David Bramante: I have sold more properties in Echo Park than anyone else. On Echo Park Avenue, I've just crushed it. I have sold so many apartment buildings.
Anna Scott: With real estate investments, David has done fewer deals. He's a small player by LA standards. For the building in Rampart Village, David says he got 14 investors to go in on it. Together, they paid 1.2 million dollars.
David Bramante: I had friends, family, some colleagues who I knew were looking to buy property. Then I gave them a call, and I said, "Hey. There's this building. It's basically South Silver Lake. It's close to downtown. It's got amazing views. I think it has a lot of potential. I'd like to take a crack at it."
Saul Gonzalez: Wait a second. He said South Silver Lake. That's not a thing. That's not a place in LA.
Anna Scott: Well, that's real estate speak.
Saul Gonzalez: Now, the two neighborhoods are close as you know, Anna. They're really close right next door to each other, but Rampart and Silver Lake, they're in two worlds, really.
Anna Scott: Yes. Silver Lake is lots of juice bars and $5 vegan doughnuts.
Saul Gonzalez: And Rampart is chili hamburgers at the Original Tommy's, street vendors selling grilled corn, and Tacos out of the store.
Anna Scott: Silver Lake is really hip gay bars.
Saul Gonzalez: Rampart is Evangelical storefront churches.
Anna Scott: If Silver Lake was a movie, it would be 500 Days of Summer.
Saul Gonzalez: If Rampart was a movie, it would Rampart, a film about a dirty cop on the streets of LA. Woody Harrelson, by the way, is the dirty cop.
Speaker 10: I don't intend to retire.
Speaker 11: Rampart has become a shitstorm of such epic proportions, legally and financially.
[music]
Saul Gonzales: Which makes sense because the neighborhood is well-known for this police corruption scandal that happened about 20 years back. Before that, the 1980s, immigrants that were fleeing civil wars in Central America settled in Rampart. Many of their kids got involved with street gangs in the neighborhood. Today, crime in Rampart Village is about average for the city of LA.
Anna Scott: Silver Lake, meanwhile, is synonymous in LA with soaring housing costs. 15 years ago, my husband rented a studio apartment there for $480 a month. Now, that same apartment costs about $17,000, more than triple. It makes sense that a guy like David would see opportunity in Rampart, the next neighborhood over from Silver Lake where rents are still pretty low.
Saul Gonzalez: Let's not understate this. The rents in this building are from another era.
Anna Scott: Yes. I asked David about that. With the rents in that building, I know they're very low. How far below market rate for that area is that?
David Bramante: Some people are paying couple hundred dollars. I think the most is maybe $800 or $900. Depending on how well the units would be renovated and if the tenants wanted to move out, what would market rate be? It could maybe be over $2,000.
Anna Scott: There are other buildings like this around LA, rent-controlled places in so trendy areas where people have lived in the same apartments for decades. Now, those low rents are a lure to investors who see profit in undervalued properties.
Saul Gonzales: Really right, the only way that the new landlord can get the rent up to market rate is to basically, get everyone out. Right?
Anna Scott: Yes. David has a lot of incentives to do that. He's taken a real gamble here. Remember, the building cost 1.2 million, and David bought it with 14 investors. That's a lot of people for a deal like this. They're expecting some kind of return.
David Bramante: I can't get to specific because that's confidential, but I can tell you there are 14 people involved. That's very complicated. There's more investors that have money on the line than there are tenants that have homes in the building. I'm in the middle of that.
Anna Scott: David also took out a short-term loan for $800,000 which he has to pay back or refinance within two years.
Saul Gonzalez: He's got to feel stressed. He's already a year into the loan.
Anna Scott: He need to squeeze more money out of this building ASAP, but it's really hard to evict rent-controlled tenants in LA. You heard David say earlier, when he buys a building, he offers everybody money to leave voluntarily. That's a pretty common move for landlords who want to get rid of rent-controlled tenants. It's called "cash for keys". David's done this before, and it worked for him. That was his first move here.
David Bramante: I never told them they have to leave but I did tell them that I would like them to leave.
Anna Scott: Except the tenants said, no, they've been through this before, too. The last owner was also an investor and things with him got really ugly. When David took over, the tenants were prepared for a fight.
Saul Gonzalez: Who can blame them? They know how little they're paying compared to a lot of people in Los Angeles. They know the $20,000 they'd get from the "cash for keys" deal, is less than a year of rent on an average one-bedroom LA apartment.
Anna Scott: I talked about this with a lawyer named Elena Popp. She runs a nonprofit called the Eviction Defense Network. It represents tenants in eviction court. She says a few years ago, most of her cases settled, her clients would accept some sort of payout from their landlords and they'd move. But today-
Elena Popp: I would say that 90% of the cases are not settling because the market skyrocketed, rents are through the ceiling. Rent-controlled tenants are substantially below market and there's no place else for them to go in their neighborhoods or in the city. When folks realize that, they get much more ardent about fighting to save their homes.
Anna Scott: That definitely describes residents in this building. Most of them are Central American immigrants and they're very anxious about losing these apartments. Producer Miguel Contreras talked to Maria Santa Cruz, who you heard earlier.
Miguel Contreras: I asked Maria what this experience was like.
Maria Santa Cruz: [Spanish language]
Miguel Contreras: She says she's lived here all her life and adapting somewhere else would be hard for her family. She's not the only one, Dina Tatuan who lives downstairs said she's sick with stress.
Dina Tatuan: [Spanish language]
Anna Scott: The guy who's leading this fight to stay in the building is Maria's husband, Uver Santa Cruz. You heard him earlier too with the donuts.
Uver Santa Cruz: Every unit has a special story. Most of us have grown up and made families here.
Anna Scott: He's 53 years old, born in Guatemala and raised in Los Angeles. He lives here in this spacious but cluttered one bedroom with Maria and their two sons. Right now Uver is sitting at his kitchen table listing his neighbors and how long they've lived here.
Uver Santa Cruz: Humberto has been here for like 48 years. Maria's mom, she's been here for 37.
Anna Scott: Her mom?
Uver Santa Cruz: Yes.
Anna Scott: Your mom and your sister live in the building?
Maria Santa Cruz: Me, myself [unintelligible 00:12:28].
Uver Santa Cruz: Right next door.
Anna Scott: Uver works as a union electrician, but it's stop-and-go partly because of an arm injury he had surgery for last year. He also supports his four-person household. For this one bedroom they pay a little less than $500 a month.
Uver Santa Cruz: The market rate for a thousand square foot apartment starts at $2200. You can probably go up higher than that. Maybe even up to like $4,000, working for common folk can't do that.
Anna Scott: His numbers are pretty close. The average one-bedroom in LA costs about $2,000 a month, four times Uver's rent. For Uver leaving this apartment would probably mean leaving Los Angeles.
Uver Santa Cruz: There's no way we could find even a room, even a single room. You can't even find a single room. If I were to have steady income throughout the year, I would probably make 60,000 about a year, but it's never that much.
Anna Scott: His 11-year-old son Moises worries about having to leave his school and about his parents.
Moises: They get really stressed out and I feel like something bad might happen. I hope that everything goes back to how it used to be. We can grow our guava tree in the back. He cut that down and it was nice fruits in the summer. Hopefully, we can just be our normal selves.
Uver Santa Cruz: We take it for granted, but I can look up the city, the whole city from my window and it's really beautiful. That's removing a great chunk of me if you take me from here. It's my city.
Saul Gonzalez: Coming up, a bad situation gets worse between Uver and David.
Uver Santa Cruz: He said to me it's really playing. He said, "You've been here too long. It's time to leave."
Saul Gonzalez: To understand the potential, the new owner sees in this nearly 90-year-old Rampart apartment building, you just have to cross the street.
Anna Scott: There's a brand new apartment building here. Three stories. It looks like a boutique hotel with a bright green and gray facade and balconies. This building is called HoM At Temple, H-O-M no E.
Eric Matheson: I also love the fact that it has a probiotic juice bar on the corner of the apartment complex.
Anna Scott: We got a tour from the building manager, Sabrina Fuentes. The property has landscaped courtyards with fire pits, a game room with a pool table and Sabrina said they were working on getting pet groomers.
Sabrina Fuentes: This is one of the apartments that I have available, two-bed, two-bath. It's about 1,200 square feet. Two walk-in closets in this floor plan. You'd get a washer dryer, all the appliances, stainless steel microwave, dishwasher, stove, refrigerator. If you pop outside too, you can actually see the downtown skyline where the sun [inaudible 00:15:36]
Anna Scott: Stepping out onto the balcony, you look straight down at Uver's building.
Eric Matheson: You could throw a ball and hit it almost.
Anna Scott: How much is this apartment?
Sabrina Fuentes: It's currently running for $3,150.
Anna Scott: 28-year-old Eric Matheson lives in another two-bedroom, two-bath in this building. He works as a head Hunter in the finance industry. He moved in because he wanted to live in a hip vibrant neighborhood.
Eric Matheson: They'd actually advertised it as Silver Lake. We didn't officially know that this wasn't part of Silver Lake. [chuckles]
Anna Scott: When did you figure that out?
Eric Matheson: Actually, when I first realized that it was opening up Snapchat, the day we moved in, we were doing like a snap of each other and I was doing a geotag and Silver Lake was not an option. It was Rampart Village. It was Westlake. That's when I realized that we were not in Silver Lake.
[laughter]
Anna Scott: Eric likes the neighborhood anyway, it's close enough to Silver Lake. He shares his apartment with a roommate, his old friend, Sarah. They pay about $3,300 a month. That's six times Uver's rent. Eric is aware that he's part of neighborhood change.
Eric Matheson: We definitely think about it. One morning we woke up to, someone had graffitied across the sidewalk in front of our building, F-word gentrification. There's times where we feel guilty or maybe complicit. Now we're starting to see that we're part of a larger movement.
Anna Scott: Back across the street, Uver and David are on a collision course. Uver persuaded the tenants in all eight units not to take David's buyout.
Uver Santa Cruz: I'm Tenants Union activist. I'm an organizer. I am a member of a neighborhood council.
David Bramante: Where I have tenants that would love to move out, they said, "I would do it, but Uver won't let me." It's political. Many of the tenants don't even like each other in the building. To think that this is a beautifully functioning building with super tight-knit relationships, that if you move these people even temporarily, they would just perish, is not the reality.
Uver Santa Cruz: The guy just flat out one day asked me, "Man, how much is it going to take? What do you want? $40,000, $50,000, $60,000? You want $100,000, Uver?" I finally just blew my top and I said, "Man, it's not about your money." He said to me-- it's really plain. He said, "You've been here too long. It's time to leave.:
Anna Scott: Uver is not the only person at odds with David. David's bus benches, billboard and Instagram, make him a high profile face of gentrification. On social media, he's been called an evil gentrifier, a parasite, total scum, and a classist racist capitalist piece of trash. David says he also gets hated on because of assumptions people make about his personal background.
David Bramante: I'm immediately judged like, "You're white. Obviously you inherited money from family. That's why you can buy real estate." I can't go anywhere with that conversation because it's a no-win conversation.
Anna Scott: Gentrification is complicated. The winners and losers aren't always cut and dried. Sometimes they trade places. David says when he was 17 years old, his family got evicted from their apartment in Hollywood.
David Bramante: My brother and I would take the bus from our high school. Then one day we came home and my mom was in our car and she had her dog and she had a bunch of things. I got out of the bus with my brother and she looked so sheepish. I thought, "Oh, we don't--" Sorry, I just never talk about this stuff. We ended up living with her boyfriend. After that I went to art school and I was just on my own. For a while, I was just like living out of my car.
Anna Scott: Then David says he made a plan.
David Bramante: I started going to these real estate seminars and just trying to figure out how can I not have that happen again? That was how I got started in the business.
Anna Scott: Almost 20 years later, business has been good for him. After his tenants said no to "cash for keys", David started posting eviction notices, using technicalities that the law allows.
David Bramante: We have pursued evictions on things that are really negatively impacting the building, so there's some big, wild dogs that are not supposed to be there per leases.
Anna Scott: The tenants lawyered up, they filed their own lawsuit against David, accusing him of violating the city's rent stabilization law and attempting illegal evictions, among other things. As part of the complaint, lawyers argued that David can't evict Uver partly because Uver is disabled from his arm injury. At one point in all this, David hired a private investigator to follow Uver around and see if the injury is real.
David Bramante: Maybe this is like a hoax because I've seen other tenants in the past, they're forging stuff for payment and so we had him followed for a couple of days and as soon as he's away from the building, there's no arm brace.
Anna Scott: Uver says his injury only acts up periodically, and that David has used surveillance cameras to intimidate tenants.
Uver Santa Cruz: Those are now in order. The first installation was right camera pointing at your door.
Anna Scott: David tried one more way to make good on his investment. Landlords in LA contemporarily move rent-controlled tenants out of buildings to do serious renovations. David said upgrading the property would make it more valuable and help him refinance his loan. Tenants and their lawyers say this is a loophole landlords around the city use to get rid of rent-controlled tenants. That once the tenants are out, owners can do all things to keep them out like delaying the renovations, so they give up and find new places to live.
Saul Gonzalez: We're back where we started moving-out day. People in two units are supposed to go to their temporary apartments this morning. Uver and Maria are dressed in their red t-shirts at the LA Tenants Union ready for battle and they're joined by their allies, renters' rights activists, and lawyers.
Anna Scott: Fire Department, paramedics come twice when a woman thinks she's having a medical emergency because of the stress. Wow, okay, second truck. Multiple fights break out both inside and outside the building and at one point Uver's older son, Eddie confronts David. Their faces are only inches apart.
Eddie: I want to speak.
David Bramante: Well, you're not involved really.
Eddie: Yes, I am. How am I not, sir? I sleep in the fucking same bed as they do in the same house. How am I not involved? Explain?
David Bramante: Your parents are.
Eddie: So what?
David Bramante: That's not the point of what today is. Today is unit number one, and unit two are supposed to move.
Eddie: I'm not letting them leave.
David Bramante: You're not letting them?
Eddie: [crosstalk] Eduardo Santa Cruz, I'm not letting them leave. We're just human beings, bro. I swear to God. No type of human--
David Bramante: We're doing everything by the law. Uver, you know that. [crosstalk] You should talk to your son about it.
Eddie: [crosstalk] You don't give a fuck where we end up in one year. All right, you give no fucks about us. That's the truth about the situation.
David Bramante: There's no better than that.
Uver Santa Cruz: This is what happens when you have no humanity but he's telling you.
David Bramante: Uver, I have been talking to you and your attorneys for over a year. If it's not humane to have a conversation for a year and a half, then I don't know what is.
Anna Scott: There was also a fight between David and Maria.
David Bramante: You're going to lose. I didn't want to evict you. I put $20,000 in an escrow account for you guys to take and move but again, you guys want to fight but that's not fair to them.
Maria: You know what? Who said that I'm going to lose?
Saul Gonzalez: Off to the side watching the whole scene play out is Humberto Ramirez Jr. He lives in the apartment too with his dad.
Humberto Ramirez Jr.: I realistically eventually think he'll win because he has more lawyers, more money to spend on the lawyers, and go through more stuff so eventually he'll win but we'll stay here as long as we can.
Saul Gonzalez: Maybe David will win, but maybe not. I caught up with renter rights attorney Elena Popp. She says landlords might have the money for lawyers, but tenants in the city have the power of numbers.
Elena Popp: The truth is that if every single tenant in the city resisted every single rent increase, and if every single tenant in the city refused to move when the landlord try to push them out, landlords would not be able to evict people because they have to go through the court system and the court system can't support every single tenant in the city resisting. That's why resistance works, but everyone has to do it.
Saul Gonzalez: Essentially saying is jam the gears.
Elena Poop: Jam the gears.
Anna Scott: Months later, most of the tenants in Uver's building are still there. David ended up dropping most of his eviction cases, including the one against Uver. Just one eviction is still pending. David also refinanced his loan for another couple of years and he says he plans to hold on to the property. So far, one apartment has been vacated. Right now it's advertised on Airbnb for $60 a night. Under neighborhood features, David lists hipsters, bohemian, and cool modern architecture. The lawsuit that the tenants filed against David is still dragging through court. The next meeting in the case is scheduled for November.
[music]
Saul Gonzalez: The questions were raised in this series, Is There A Place for me in Los Angeles? What kind of city is this going to be in the future, are obviously not abstractions for Uver and the other tenants. Eviction is frightening and it's very real to lots of people in Los Angeles. Here's just one.
Miguel Contreras: Actually, saying it out loud, right now is making me a little panicky.
Saul Gonzalez: That's our producer, Miguel Contreras who you heard interviewing tens in this episode. He's facing eviction, too.
Miguel Contreras: I love my apartment. I don't know if I'll ever live in a place as cool and as nice as that and to have that looming over your head, and not just you, my roommate, and my neighbors who I've had this relationship for all these years. It's scary. It's sad and aside from the frustration and the helplessness about not really being able to do anything about it.
Saul Gonzalez: We know there are plenty of you in this situation as well. Here's Rita Casick from LA's Highland Park neighborhood, she was forced out of her rental this summer.
Rita Casick: When we move, we're moving away from all of our friends. We're moving further from our jobs. We're moving further from the families and the businesses that we've gotten to know over the years. It's really heartbreaking.
Saul Gonzalez: If you've got an opinion or an experience you want to share, go to kcrw.com/theregoestheneighborhood to join the discussion on our Facebook group. You can subscribe at Apple Podcasts and please tell your friends to listen too next time on There Goes the Neighborhood.
Speaker 2: There also is an anxiety about the disappearance of black folks in the city and what does that mean and what does that mean for equity and what does that mean culturally?
Saul Gonzalez: There Goes the Neighborhood's reporter is Anna Scott. Our producer is Miguel Contreras. Celeste Wesson is our editor. Sonya Geis is our managing editor. Ray Guarana and JC Swastik are our recording engineers. At WNYC studios, our producer is Paige Cowett. Our executive producer is Karen Frillman and Cayce Means is our technical director. Our composer is Hannis Brown with additional music by Terence Blanchard. I'm Saul Gonzalez. This series is supported by the Conrad N. Hilton Foundation. Thanks for listening.
[music]
Copyright © 2020 New York Public Radio. All rights reserved. Visit our website terms of use at www.wnyc.org for further information.
New York Public Radio transcripts are created on a rush deadline, often by contractors. This text may not be in its final form and may be updated or revised in the future. Accuracy and availability may vary. The authoritative record of New York Public Radio's programming is the audio record.