All These People Moving In, New Buildings, New Apartments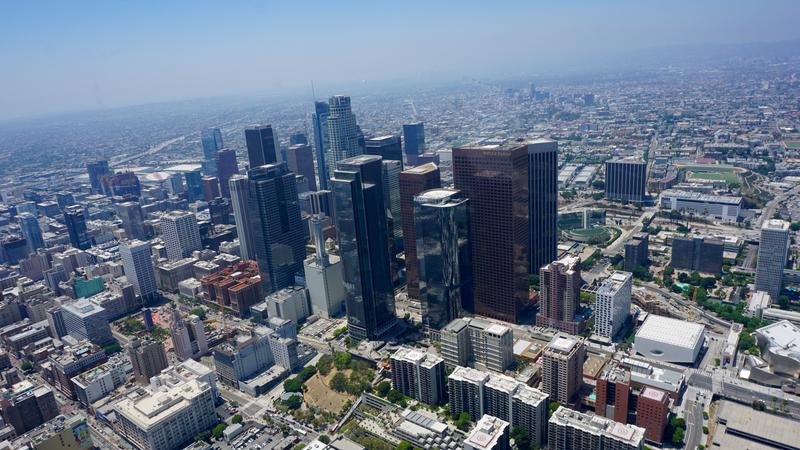 Transcript
Speaker 1: People in this city are starving for housing. Middle, low and extremely low-income housing.
Speaker 2: I live in Echo Park and I'm always worried about my landlord kicking me out [chuckles] because he could get so much more rent.
Speaker 3: As a matter of fact, I walked into the Starbucks and I told the guy, I said, "Where you're standing right now was my patio."
Speaker 4: We don't need three, four coffee shops on one street, I go in and there's vintage shops and there's new bars on the street.
Speaker 5: I love this city. I want to see the makeup of this city remain what it is. I don't want to be moved along just because I'm a different class of person.
[music]
Speaker 6: I was one of the first people in my community to own a house. It was initially something that I was somewhat embarrassed about.
Speaker 7: I feel like we could represent that invader, that gentrifying couple.
Speaker 6: Have you seen your property value go up?
Speaker 3: I just did a re-buy. Oh, yes, it's jumped up a lot [laughs] significantly yes
Speaker 1: The Hispanic community has decimated here. They can't even rent here, where are they renting, where are they going?
Saul Gonzalez: I'm sitting in a backyard in Los Angeles' Echo Park neighborhood. Talking to a guy who knows a lot about how LA became what it is today.
Wade Graham: We have to remember that LA is an exceedingly improbable phenomenon. This is a place that has no natural advantages at all. It has no timber. It has no coal. It has no iron. It has no natural harbor. It has basically no water for eight months of the year. Essentially there's no reason for a city to exist in coastal southern California whatsoever.
Saul Gonzalez: That's historian, Wade Graham. He takes the long view of LA development reviewing more than 100 years of LA real-estate booms.
Wade Graham: How were they successful? They figured out what they could do and what they had a lot of was an unusual climate and a lot of flat, cheap land. What's the basis of your development going to be? It's not going to be steel mills. It's going to be real estate. You need to attract people and get them to buy land. In order to do that, you have to plant some sort of a dream in their head which doesn't have to do with finding a job in a steel mill.
Saul Gonzalez: Real estate and the marketing of that real estate is really at the core of Los Angeles and always has been.
Wade Graham: It's the foundational structure of Southern California is real estate. It's the selling of land to people who you've convinced that they need it. That they needed in this particular place and they're willing to travel a long distance and pay a lot of money in order to inhabit that.
Saul Gonzalez: Boy, did it work?
[music]
I'm Saul Gonzalez and this is There Goes the Neighborhood, LA.
[music]
This is the series about Los Angeles and how it's changing and it's really changing. Development money from across the country and around the world is gushing into this city. There's a big push to make LA taller and denser and more urban, where we travel by subway instead of the freeway.
Speaker 8: All right guys.
Speaker 9: We're ready.
Speaker 8: Clear?
Saul Gonzalez: Because Los Angeles is so big, a good place to begin understanding the sheer scale of what's happening here is to go up and I mean way up. Looking down from a helicopter, LA's urban sprawl is both impressive and a little scary. There's just so much of it. 10 million people in Los Angeles County spread over an area twice the size of Delaware.
Dave Trier: You can see the downtown skyline in front of us. That's probably a good 10 miles away for us right now, so the visibility's okay.
Saul Gonzalez: Our pilot is Dave Trier. He owns a helicopter charter company and has been flying over Los Angeles for nearly 20 years. From up here, Dave has seen a lot of LA life. Freeway chases, wildfires and what's happening in the backyards of the rich and famous.
Dave Trier: Along the Hollywood Hills here guys, we have Johnny Depp who live right down here off of Sunset Boulevard. We have Leonardo DiCaprio that lives up here on the Hill.
Saul Gonzalez: In recent years, Dave's also seen all the new development below. One hotspot is downtown, there's more development happening there than any time since the 1920s.
Dave Trier: You have a lot more apartment units being built. You have a lot of the old historical manufacturing buildings are being converted to lofts now. You have this influx of people into the downtown area where once it used to be a ghost town after five o'clock, now is actually a thriving community.
Saul Gonzalez: As we keep flying, we see signs of more change in the city. New homes packed on the small lots in Echo Park and Silver Lake, commercial and residential mega developments on Sunset and in Koreatown. Dave can talk about what's fueling all this because he's also a real estate agent.
Dave Trier: Well, the market is hot. It is climbing year after year. For about five years now, we've been in a constant price increase in the market and there doesn't really appear to be a slowdown in the short future here. The inventory, things have been low at this moment and now we're just in basic economics supply and demand. A lot of people want to live in Los Angeles, though the demand is high and the supply is low and the prices keep going up. Econ 101, basic supply and demand, coupled with a little bit of emotion in here and that drives the prices up.
Saul Gonzalez: Dave is right. Even though you see cranes and new construction all over the place, it's not enough. From 2010 to 2015, LA added more than 230,000 people but only 40,000 new homes. Dave's advice, if you've got the dough, you'd be crazy not to invest in LA real estate right now. You can make a killing. Now for some people the changes happening in LA are great, with cool new places to live, work and play but for others.
Mario: Man, the cost of living here is way ridiculously high. We're actually living paycheck to paycheck.
Saul Gonzalez: Mario says he works in special ed but I meet him selling trinkets on the corner of Hollywood and Highland.
Mario: All these things moving in and new buildings, new apartments, you got to have two jobs just to stay living in LA. That's barely keeping us above water, paycheck to paycheck because of the rent especially because of the rent. LA is just too expensive these days and we're not even middle-class, we're in lower class already. There's no such thing as middle classes. There's lower class and upper class about it.
Saul Gonzalez: I hear this story all over LA from Venice to Boyle Heights to the Valley and in this neighborhood Hollywood. It's a place where different ideas of what LA should or could be are colliding. I'm joined by my colleague Anna Scott. Who's been covering LA's housing crisis for KCRW. Hey Anna.
Anna Scott: Hey. Yes, Hollywood which you just mentioned is crazy right now with a ton of new construction, hotels, apartments and stores. On the walk of fame, you've got the same old tourist traps, people dressed as superheroes taking photos for tips.
Speaker 11: Hello guys, I'm Superman for Hollywood Boulevard.
Anna Scott: All around you see fenced off construction sites, cranes and concrete mixers idling in the street. To some people, this is exactly what you should be seeing in Hollywood. For decades city officials have targeted this area for dense new development, like our mayor, Eric Garcetti back when he represented Hollywood on LA City Council.
There are still parts of Hollywood untouched by mega developments. You'll see small bungalows, low-rise apartment buildings, family businesses like, this pocket around sunset Boulevard. Here, you can find one of LA's quirky historic monuments. An 80-year-old outdoor shopping mall called the Crossroads of the World.
Speaker 12: The globe has been spinning since 1936.
Anna Scott: It's easy to miss but you can recognize it by a spinning globe mounted 60 feet in the air.
Speaker 12: At great expense and time I have to tell you because it's very complex machinery, that's not made very much anymore.
We've had to go through a lot to keep it going.
Anna Scott: Linda Duttenhaver's family has owned Crossroads of the World for nearly 40 years. Her father Morton La Kretz is a huge LA real estate developer.
Linda Duttenhaver: When he bought it, it was for closure basically. He paid very little for it and you know what's happening around here at us in Hollywood. It's definitely appreciated a lot.
Anna Scott: Over the years, Morton turned the shopping center into commercial space and offices. He also bought up some apartment buildings nearby. Now, Linda's family has made a deal with a developer to build a huge complex here. Skyscrapers, a promenade, a hotel and nearly a thousand upscale housing units.
It's called Crossroads Hollywood but to make room for the new, the old apartment buildings have to go. That's bad news for the people living in them. 84 rent-controlled households. They're just three boxy, beige and white structures lined up side by side but this is the Hollywood people like Darren Wilstead call home. What are we looking at now?
Darren Wilstead: This is a lovely courtyard. I've always wanted to put a swimming pool in here but they prefer grass.
Anna Scott: It's a two-storey place with bulky-window air conditioners going strong on this hot afternoon.
Darren Wilstead: Then there's this one tree right here. I forget the name of that tree but they had the beautiful flowers that come out twice a year.
Anna Scott: Can I see your place?
Darren Wilstead: Sure, come on.
Anna Scott: Darren rents a one bedroom upstairs.
Darren Wilstead: We have the living room. The one thing that I've hated about this since day one is the Berber carpet but I've just made due, I'm putting rugs in and painting everything else.
Anna Scott: He works for a nonprofit that gives scholarships to LGBTQ students.
Darren Wilstead: I'm not high income. I'm not low income. I'm just mid-range. I'm the last of the middle class here in LA.
Anna Scott: Darren pays about a thousand dollars a month and it's rent-controlled. For him, this is a great deal. Most renters in LA, almost 60% spend more than a third of their income on rent. Darren pays less.
Darren Wilstead: For a one-bedroom apartment, it's pretty decent-sized.
Anna Scott: Yes, and for what you pay, it's really big. I searched Craigslist to find other one-bedroom apartments that Darren could live in for a thousand dollars a month. After you sort through all the scammy-looking posts or rooms for rent, there's not much. Average rent in LA is already over $2,500 a month. He could get a 200-square-foot unit about five miles East in Westlake. That's about the size of a one-car garage.
You'd have to put most of his belongings in storage, or he could get a real one bedroom, one bath, 30 miles south in long beach. That would mean an hour-and-a-half commute to work in traffic. Darren is fighting to stay where he is. He recently got flyers posted to his door, invitations to meet with a relocation specialist.
Darren Wilstead: The flyers are very polite in nature, inviting us to an ice-cream social in the courtyard. I think at one point they even had music, but they look fake. It's a sweeter and gentler eviction.
Anna Scott: It's really hard to evict rent-controlled tenants in LA. Lots of landlords offer cash to persuade tenants to move out voluntarily. So far, about a dozen of Darren's neighbors have taken buyouts and left. Darren doesn't want to go. This might not be the prettiest place.
Darren Wilstead: But it's central. It's affordable and I've saved lots of money but then when I heard that they're putting in new apartments, I thought, "That's exciting. I'll look for a new place to live." That's when I saw the sticker shock. Some of the newer apartments here in Hollywood, they're averaging $3,000 a month, $5,000 a month. It's impossible to be able to afford something like that.
Anna Scott: Some of Darren's neighbors can barely afford to live here as it is, like our Aura Venezuela.
Aura Venezuela: [chuckles] That's my daughter, Zoe.
Anna Scott: She's four months?
Aura Venezuela: Correct.
Anna Scott: Aura, Zoe and Aura's mother live in a one-bedroom on the same floor as Darren, but theirs still smaller. There's a bed in the living room and stacked up baby gear.
Aura Venezuela: My family has actually lived in the complex for over 27 years. I'm 27 years old. I was born and raised here.
Anna Scott: In this building?
Aura Venezuela: Yes, [chuckles] it's almost like a Melrose place. [laughs] Everyone knows each other. Everyone looks after one another. My uncle actually lives downstairs, which is where we had originally lived and then, we moved upstairs here.
Anna Scott: Since Aura had Zoe, they all live on the money her mom makes us a hospital housekeeper. What do you guys pay in rent for this?
Aura Venezuela: I believe the rent is 975.
Anna Scott: If you move to another apartment, what's the maximum you would want to pay for rent.
Aura Venezuela: We wouldn't want to pay more than 1,300 with bills included and that's difficult.
Anna Scott: She's almost certainly not going to find that in Hollywood anymore.
Saul Gonzalez: This is happening to people in many places in LA. Older apartments and houses are being torn down to make way for what's marketed as luxury housing. More than 22,000 rent-controlled apartments have been taken off the market in just the past 15 years. Up next, you'll meet one of the people creating the new Hollywood. We're talking about the Crossroads project in Hollywood, the developer behind it is Dave Schwartzman.
Dave Schwartzman: I am the President and CEO of Harridge Development Group.
Saul Gonzalez: We meet Dave and his lawyer and his publicist in a gleaming conference room on the 32nd floor of LA's second tallest skyscraper. Dave's company is building projects from downtown to Inglewood. When Dave looks at where Darren and Aura live, he sees one of the last parcels of Hollywood still available for big new development.
Dave Schwartzman: It's sort of the land, the time for God as it sits today. Development has gone to the East and development's gone to the West. It's sort of sunset and highland, two great cross streets in Hollywood. It's been skipped over, so what we're trying to do is bring the sizzle back to the middle and bring it back to crossroads. I like that actually, that's a good one. [laughs]
Saul Gonzalez: He compares the area to Manhattan's Meatpacking District.
Dave Schwartzman: I really view crossroads as a place where you can work, where you can shop, where you can live, where people can visit around the world.
Saul Gonzalez: Now the whole project is supposed to cost about $600 million. With most of that coming from private investors, Dave says he's confident money will flock to the project.
Dave Schwartzman: This is not trailblazing. The Academy Awards are a block away from this. When you have a hotel across from where the red carpet is, that hotel in 2022 will be the most seen hotel in the world.
Saul Gonzalez: Plus, Dave claims the project will create 5,000 jobs between the hotel, the restaurants, and stores. As for the 84 rent-controlled apartments that will be destroyed. Dave says he'll replace them with 84 new affordable units set aside specifically for low-income people. The tenants who live there now and qualify are supposed to be the first ones in.
Dave Schwartzman: On current developments, we think about half the people will qualify for low-income, which leaves about 20 or 25 units that are issues. We're working up on a plan to relocate those people within Hollywood, into rent-controlled product.
Anna Scott: Here's the thing, Darren, wouldn't qualify to live in one of the affordable apartments. He makes too much money to stay, but not enough to come back and rent at crossroads Hollywood. If you ended up getting evicted at the end of the day, do you know where you would go or where you would look for a new place to live?
Darren Wilstead: Koreatown. I speak Korean. I used to live in Korea, so I could easily move over there. [Foreign language] That means very expensive.
Anna Scott: It sounds like Darren might be okay but for Aura, it's a little less certain. She might qualify to come back to the new crossroads Hollywood, but she says she'll probably be priced out of LA before that ever gets built.
Aura Venezuela: We actually don't know where we would go. Maybe going towards West Covina, Chino, and possibly in the future, moving out of California. Texas, Oklahoma, or Michigan.
Anna Scott: When these older rent-controlled apartments go away, something else disappears. A kind of diversity and the feeling that LA's door is open to anyone. Your neighbor could be a nonprofit worker, a lawyer, an opera singer, or a single mom who lives with her mother in a one-bedroom apartment.
Saul Gonzalez: Crossroads, Hollywood would cost a lot more to live in than those rent-controlled apartments it's replacing. That's typical. That's why many people think new development intensifies our housing crisis instead of solving it. They're asking, "If there really is a housing shortage, why isn't all this new supply making grants cheaper?"
Anna Scott: I don't disagree that we need to put roofs over people's heads. I don't think that building more luxury units is going to be the answer. I don't think that building is our way out of it.
Saul Gonzalez: Susan Hunter rents in Hollywood and is one of the people opposed to the crossroads project. She works for the coalition to preserve LA, a group that fights a lot of new development. Susan argues real estate speculation is what's really driving our prices. She says the housing shortage has been exaggerated by developers and elected officials. When I asked Susan whether she believes we even have a housing crisis, this is what she said.
Susan Hunter: I don't know that we do.
Saul Gonzalez: Some people might hear you say what you've said and say you are the housing equivalent of a climate-change denier. You would say what?
Susan Hunter: Well, I would say that again, we have to look at all the information. I think what we're hearing is a one-sided solution that is based on pro-development. That if we keep building more and more luxury units, somehow it's going to solve our housing crisis. I don't think the answer to our climate problem is going to be more coal mines.
Anna Scott: I want to stop here for just a second. Susan is right that there's a lot of building going on in LA and prices are still high, but that doesn't mean we don't have a housing shortage. Last year, LA permitted about 15,000 new units. Experts say we'd need hundreds of thousands to actually meet demand. What feels like a lot on the ground isn't actually enough.
Saul Gonzalez: Susan says the new developments are making things worse because they're mostly market rate. She says, developers pretty much get to do whatever they want because they spend lots of money at city hall. Like the Harridge Group that's behind the crossroads Hollywood project.
Anna Scott: Harridge is one of the largest donation givers to city council members and to the mayor's office. When we're looking at who's giving the money to who and we're looking at the policies that are being created, clearly there's a link between the two.
Saul Gonzalez: Harridge has contributed a couple of thousand dollars to recent political campaigns, including the mayor's, but election laws put caps on those contributions. The real money is spent on lobbying. According to filings with the city, the LLC established by Harridge to build Crossroads spent $285,000 on lobbying services during just one three-month period last year.
The lobbied, according to those records include the mayor's office, the city council, the building in safety department, and the LA Department of Water and Power. They're all stakeholders that will have to sign off on the project. Now, Dave Schwartzman is well aware that neighborhood activists like Susan often resent people like him.
Dave Schwartzman: These damn developers that everybody doesn't like are creating housing, are creating jobs. They're improving life. Housing prices are escalating, rents are escalating. It's not because there's not enough affordable housing, there's not enough housing period. Are ready for the gentrification question? Hollywood is gentrified. Hollywood has been gentrified for the last 20 years. It's already gentrified.
Saul Gonzalez: Related to the big, bad evil developer question is-- The cousin to that question is you and people like you have city hall wrapped around your pinkie, and your lawyer over here immediately to your left. You're with a law firm, your big lobbyist, or I think the biggest according to the ethics commissioners last year. Why is it crazy for people to think that you have more clout than you should have when it comes to getting your projects through?
Dave Schwartzman: First of all, if I had all this clout. I wouldn't need all these lobbyists to do my lobbying for me. [chuckles] Let's be honest. Do I have any more clout than assistant? No because when you have the neighborhood council and you have that old system, people have a voice. I think there's a very negative connotation to the word developer. At least the way I look at it, I'm trying to create jobs. We're changing lifestyles, we're upgrading an area and that's the thing. I think we're making the country better.
Saul Gonzalez: What Dave just said, that's basically what generations of LA developers have argued as they turned Los Angeles from a little town to a modern megalopolis. Maybe the city is being upgraded, but at what cost to long-time residents. Now, just about a five-minute walk away from the proposed Crossroads project, Caesar Vega rents a Spanish-style cottage. It's surrounded on three sides by a towering 500-unit apartment complex that's already in construction. We're outside your backyard, tell me what we both see.
Caesar Vega: All right. You're looking at tons and tons of cranes flying over your head and our tiny little palm trees that used to hover over the block and other door by these ugly monsters.
Saul Gonzalez: Caesar has a small video production company, he's lived his entire life in LA but now pretty much feels like a stranger in his own city.
Caesar Vega: I don't see myself in a lot of the things that are happening. I'm in victim mode but I'm not part of that circle. I feel like in a way, I'm a holdout. A lot of the people that I know left, and there's a construction after construction being built for who knows who the people are, and the way that the city approaches it can be looked at like it's an improvement, it's a benefit to everybody. The rising tide lifts all boats, but I'm not sure that people in small boats wrote that.
Saul Gonzalez: Lots of Angelenos are feeling that way. They're asking themselves these questions, "Is there still a place for me in LA and can I live a decent life here?" LA's Mayor Eric Garcetti says he says he hears worries like that pretty much all the time and he totally gets the anxieties behind them.
Eric Garcetti: Will my children and my children's children be able to stay here? Will they be able to financially with a decent school, decent way of getting housing, decent job, decent commute, be able to stay the way that we and our parents and grandparents were attracted to come here because that's what this place represented?
Saul Gonzalez: These are big questions and the answers aren't easy. The mayor though has some ideas, a fee on developers to pay for more affordable housing, cutting red tape to build more homes and more development near public transit to cut down on traffic. Garcetti also wants to spend upwards of $170 million to fight homelessness. That is LA's homeless population has increased 20% over the past year to 34,000 people, but beyond programs and dollars, Garcetti says as long as people want to live in Los Angeles, we have to make room for them.
Eric Garcetti: We can't go back to the LA I grew up in as attractive as that would be, but we can build an LA that isn't just where we are passive about the future. We can actually create that future if we come together and say yes to things, what we want in our backyard, not just no.
Saul Gonzalez: Really subtext to what you're saying is LA is changing, it has to change and you better get on board with it.
Eric Garcetti: Well, cities change. More than get on board with it, we all better shape it or else it will shape us.
[music]
Saul Gonzalez: That's what this series is all about. Looking at the people and forces shaping Los Angeles in ways big and small, and change is really messy. It's all tied up with race, class, history and a sense of belonging. This series will tackle all of that, like in the next episode, it's the story of a white landlord with lots of money at stake seeking to evict his immigrant tenants.
Speaker 13: He said to me, "It's really plain. You've been here too long. It's time to leave."
Saul Gonzalez: These kinds of things aren't just happening in Los Angeles. It's also in Seattle, Miami, Brooklyn, Philadelphia, and so many other places. Listeners, we really want to hear your experiences of change wherever you live. Go to kcrw.com/theregoestheneighborhood. Our web team has posted a lot more about what's happening in LA. You can also find us on Apple podcasts, so subscribe and tell your friends to subscribe and please leave a review. There Goes the Neighborhood's reporter is Anna Scott.
Our producer is Miguel Contreras. Celeste Wesson is our editor. Sonya Geis is our managing editor. Our recording engineers are Greg Warner and JC Swatic. At WNYC Studios, our Producer is, Paige Cowett, our Executive Producer is Karen Frillman and Cayce Means is our Technical Director. Our Composer is Hannis Brown with additional music by Terence Blanchard. I'm Saul Gonzalez. This series is supported by the Conrad and Hilton Foundation. Thanks for listening.
[music]
Copyright © 2020 New York Public Radio. All rights reserved. Visit our website terms of use at www.wnyc.org for further information.
New York Public Radio transcripts are created on a rush deadline, often by contractors. This text may not be in its final form and may be updated or revised in the future. Accuracy and availability may vary. The authoritative record of New York Public Radio's programming is the audio record.