The Pentagon's Secret Gaggle of Gays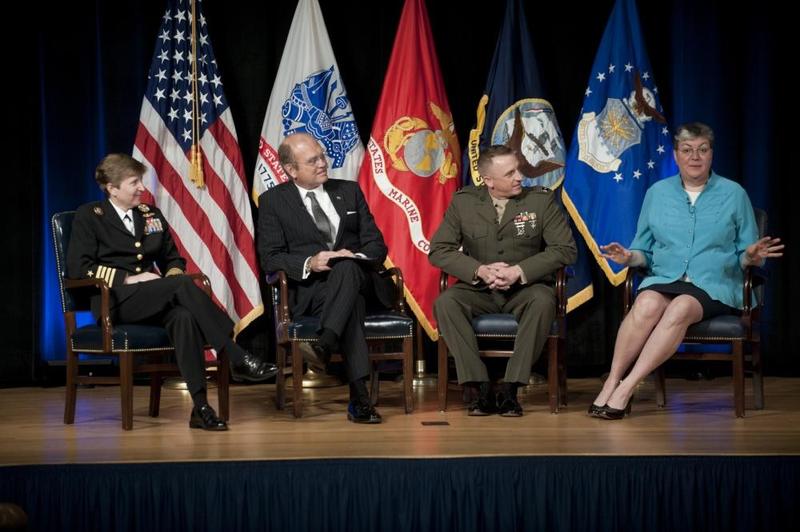 Transcript
KATHY: Tobes.
TOBIN: Kath.
KATHY: I was counting the other day.
TOBIN: Oh counting what?
KATHY: I was counting the queer people in our office and I noticed something kind of amazing.
TOBIN: Oh not where I thought you were going with that, this makes me uneasy, what did you discover?
KATHY: I found that our podcast corner, not just Nancy, but sort of spreading out in our office, our area there is majority queer.
[THEME MUSIC STARTS]
TOBIN: Oh I like that that's nice! The agenda is working. [LAUGHS]
KATHY: The gay agenda is absolutely working.
TOBIN: That makes me feel lucky because it means that our workplace is like very queer-friendly.
KATHY: Yes, professional gays.
TOBIN: Professional gays. [LAUGHS]
KATHY: Exactly, yeah. But for today's episode, we're going to a workplace that is the antithesis of the tote-bag carrying world of public radio podcasting.
[BEAT]
KATHY: Today… we are going to… The Pentagon.
[THEME]
VOX 1: from WNYC Studios, this is Nancy.

VOX 2: With your hosts Tobin Low and Kathy Tu.
[THEME MUSIC ENDS]
KATHY: So earlier this summer we got the news that Donald Trump is proposing to ban transgender people from serving in the military, and a couple episodes ago we talked to former airman Jordan Blisk about what it was like to be trans while serving.
TOBIN: By the way, Nancy listeners, you can hear that convo in our podcast feed or at nancypodcast.org.
[PERCUSSIVE DRUM]
KATHY: So today, you can serve openly if you're gay or lesbian. But even after Don't Ask Don't Tell was repealed, the military still wasn't a place many would call queer friendly. Today's story is about how that started to change. And we'll begin with this guy...
TODD: My name is Todd Breasseale. I joined the Army out of college in 1992 as an Army Lieutenant in the Field Artillery. I spent twenty-two years, two months, and twenty-eight days in the regular army.
KATHY: And for most of those 22 years, he didn't tell anyone he worked with that he was gay.
TODD: None of my commanders ever suspected, and, actually one of my troops who did suspect, who I think was gay also, he asked me if Dorothy was a friend of mine. He just, I mean he said, "Are you a friend of Dorothy's?" I'm like, "I...I don't know her, man!" and he's like "All right sir, sorry, I never, I was just curious, never mind." So, it wasn't until years later when I found out that if you're [LAUGHTER] a friend of Dorothy's, that that's like a big indicator.
[DRUM MUSIC ENDS]
TODD: For five years I was convinced I could either pray it away, or get it counseled away by seeing an army psychologist. So I thought well, here's the deal, I will set about creating a life for myself where I have my personal life, and then I'll set up a very, impenetrable wall between my personal life and my professional life. And my friends at work will be my friends at work, but they'll never really know who I am, and then my friends outside of work, will know the full me. Um, and then I met Mark.
[QUIET PEACEFUL BACKGROUND MUSIC]
TODD: Mark and I were substantively engaged, we had exchanged rings, for eleven years. For those eleven years, he followed me from assignment to assignment, waited for me while I went off to war a few times, and, um, never received even a courtesy call, let alone any of the rights, benefits, and privileges of a lawfully recognized spouse, while I served. What that man went through, is something no one should ever have to go through. That hurt me watching what he was going through.

[CLIP] NEWS: We begin tonight with something brand new in America today. It is Day 1.

[CLIP] NEWS: Don't Ask Don't Tell forced around fourteen thousand people to leave the armed forces, because they are gay.

[CLIP] NEWS: But today, the seventeen-year-old policy fought its last battle in the Senate.

[CLIP] NEWS: With sixty-five votes, the Senate voted to end the ban on gays serving openly in the military.
[MUSIC ESCALATES, THEN STOPS]
KATHY: Todd was out to dinner when he got a phone call from a friend.
TODD: And he called to let me know how the vote had gone down, and that Don't Ask Don't Tell had been repealed, and immediately, like, my eyes welled up with tears, "It's been repealed!"

[CLIP] OBAMA: So this morning, I am proud to sign a law that will bring an end to Don't Ask Don't Tell.
KATHY: Not long after that, Todd was posted to the Pentagon, high up in the communications department.
TODD: And just before going, a buddy of mine he said, "You know, there's this coffee group that meets in the Pentagon. They're all gay. It's civilians, it's people of all ranks, and, it's a really great way to network, and uh, you should, you should give it a shot."
[MILITARISTIC DRUM BEAT STARTS]
TARAK: We were one part of a little budding gaggle of gays at the Pentagon. My name is Tarak Shah, and I was the Special Assistant to the Assistant Secretary of Defense for Operational Energy. As they say in Washington the longer your title the less important you are.

ALEX: I'm Alex Wagner. I am the former Chief of Staff to the 22nd Secretary of the Army.
KATHY: Alex and Tarak were civilians appointed by the Obama administration. And they were regulars at the coffee club.
ALEX: The Pentagon coffee group was a group of military officers and enlisted, from every service, who would come together to create a community within a building that at the time, was openly, skeptical at best, and more likely hostile, to their presence in uniform.
KATHY: Even though Don't Ask Don't Tell had been repealed, it's not like the military suddenly became a comfortable place for gay people. Unless you knew where to look.
TARAK: Every Tuesday and Friday morning, we'd meet downstairs in the food court by the Dunkin Donuts.

ALEX: Laughing, smiling, and clearly not working. But it wasn't like someone put a big rainbow flag on the table.
KATHY: The coffee club wasn't exactly secret, but Todd was definitely NOT interested. He still wasn't out to his co-workers at the Pentagon.
[PEACEFUL BACKGROUND MUSIC BEGINS]
TODD: I am just coming out of this environment where being honest and behaving naturally was just so uh, not just frowned upon, but unlawful. But, one day, I happened to have a meeting get cancelled and I thought, you know what I'm just gonna, just gonna check it out. I walked the path to get to this place in the center of the Pentagon. I go down the escalator and so I walk into the group, and I see some faces look up, like "Hey, man, welcome, welcome to coffee clutch." I just kept on walking! I just walked right through the group, and, uh, it freaked me out.
KATHY: Alex and Tarak, the civilians, they knew that something extra needed to happen for LGBT service members to know it was okay to be themselves. Something public. Something official.
ALEX: If we could have a Pride event at the Pentagon, that would send a message to every single military installation all across the world, that you can have one too. If it could be done in the heart of the Pentagon with the most senior uniformed and civilian leaders, embracing and endorsing this type of event, it would be something that would be impossible to stop the momentum going forward.
[MILITARISTIC DRUM INTERLUDE]
KATHY: So in early 2012, Alex and Tarak decided that they were going to organize a Pentagon Pride event that June. And it would be the first of its kind.
ALEX: Tarak and I sat down and we shared a Burger King veggie burger and started plotting...
[MUSIC STOPS]
TOBIN: Wait, Burger King has a veggie burger?
KATHY: Tobin, focus!
[SUSPICIOUS-SOUNDING JAZZ MUSIC]
ALEX: Tarak and I sat down and we shared a Burger King veggie burger and started plotting how we were going to execute a Pride event in the Pentagon, the Pentagon way.
[HORN SALUTE]
KATHY: "The Pentagon Way." This part of the plan was crucial. Whatever picture comes to mind when you think of a Pride event, this was not what they were going for. For this to work at the Pentagon, it would have to be really… square.
[HORN SALUTE ENDS]
ALEX: ...which meant have a ceremony in the Pentagon auditorium, with all the pomp and circumstance, but also with all the respect for tradition and history.
KATHY: And so this incredible milestone in the history of the Pentagon would be marked by...a panel discussion.
ALEX: My motives here were not to have a Pride parade in the Pentagon, but to have an event that resembled every other event the Pentagon held, whether it was MLK month, Black History Month, Asian Pacific American Heritage Month, in a way that all those people could be proud of it. And so we started plotting.
[SUSPICIOUS-SOUNDING JAZZ MUSIC RESUMES]
KATHY: The first thing Tarak and Alex had to do is build their team. And the first person they wanted to recruit was Todd.
TARAK: An expert in thinking about how to message things.
KATHY: Now Todd still wasn't out at work, but he wasn't completely hiding it either.
ALEX: At some point he told me that he had taken Kathy Griffin to Afghanistan. And I remember going home that night and saying, "Kathy Griffin is code word for something. But could he be gay?" [LAUGHS]

TODD: I think I outed myself, um, at the first meeting. [LAUGHS] But my gut reaction when Alex and Tarek brought me this was, uh, it's just, it's just too quick. It's way too soon. This is a needless provocation. The ink isn't even dry on the repeal yet. Give it time to kind of process.

ALEX: I worked him over. [LAUGHS] I had dealt with the Todds of the world before. And, you know, I don't really take no for an answer.

TODD: He's like, "Now is the time to put the accelerator pedal down and floor this son of a bitch because people need to understand that the longer we push to the side and don't acknowledge, then the longer it'll take for people like your fiancee, and my friends to receive the full rights and benefits that they've earned."
[SUSPICIOUS-SOUNDING JAZZ MUSIC RESUMES]
ALEX: We had to go way outside the chain of command in order to pull this off.

SUE: My name is Sue Fulton. I'm an army veteran.

TARAK: Sue was a pioneer in her own right as part of the first female class of graduates at West Point in 1980.

ALEX: For many years, Sue was one of the more prominent voices advocating for repeal of Don't Ask Don't Tell.
[SUSPICIOUS-SOUNDING JAZZ MUSIC FADES OUT]
SUE: My greatest shame in my life was the time when I was asked, by a military investigator, if I was gay, at a time when I did know that I was gay. And I lied and said no. I had survived the investigation. I'd managed to stay in. I'd managed to get out of the Army on my own terms, many others had not. But I'd carried the shame and guilt for that for many, many years. And in one with way or another I've been advocating for LGBT people, particularly LGBT people in the military, every since that.
[SUSPICIOUS-SOUNDING JAZZ MUSIC RESUMES]
ALEX: Importantly, she also knows most of the Army's senior military leadership. So she had social relationships with many of the senior uniformed generals.

SUE: Tarak told me of this ambitious plan to hold a pride event at the Pentagon that June. And I told him, "Hey, whatever I can do to help I'd be happy to do." But in the back of my mind I was thinking, that's too early, not gonna happen.
[PERCUSSION AND HORN MUSIC BEGINS]
SUE: I had to be persuaded to block the date on my calendar, I was that skeptical, and I'm an optimist! But it just, the Pentagon just seemed so foreboding to me at the time. But I also knew that if anyone could pull it off, Alex and Tarak could.
ALEX: So, Tarak and I thought, well, what we'll do is, we'll do this the way the Pentagon does its business.

TARAK: We wanted to put it on paper.

ALEX: We'd create a memo, a formal document that went up through the chain, and got the right buy-in. So by the time it got to the Secretary's office, this would've been an easy win. And so I assumed, and I think Tarak assumed, that this would be a no brainer.
KATHY: They followed all the official steps, and they waited. And waited. And waited.
TARAK: You know you're not making headway in the Pentagon when your memo meets silence.
[DRUM AND HORN MUSIC ENDS]
TODD: I recall, um, various factions within the Pentagon sort of superstructure, all but making it impossible for him to move forward.

ALEX: I think a lot of people were genuinely concerned that a Pride Month event would look like the Fox News B-roll of a Pride parade.

TODD: The Chiefs of Staff, of the Army, Navy, and Air Force and the commandant of the Marine Corps categorically stood in lockstep against it.
KATHY: It was just weeks 'til the summer. Just weeks 'til Pride. And they still didn't have the sign-off from their superiors.
[PEACEFUL BACKGROUND MUSIC BEGINS]
ALEX: I was so frustrated that Tarak and I had done everything right.

TARAK: We didn't have formal approval yet from the building.
[THEME MUSIC STARTS]
KATHY: But they weren't about to let this opportunity go. So the Pentagon's gaggle of gays took matters into its own hands. Broke rank. Went rogue. But, you know, Pentagon style.
[THEME MUSIC ENDS]
TOBIN: That's in a minute. You're listening to Nancy.
[THEME MUSIC]
TOBIN: And we're back. Kathy, where are we?
KATHY: We are at the Pentagon.
TOBIN: Oh.
KATHY: And Alex and Tarak are trying to organize its very first Pride event.
TOBIN: So I am terrible at navigating bureaucracy. I think I would be horrible at organizing something like this.
KATHY: All they want to do is a couple keynote speeches, a panel discussion, and the presentation of colors, that ceremonial presentation of the flag.
TOBIN: Okay so like pretty straightforward.
KATHY: It is, but it's turning out to be an uphill battle. At this point, they've written memos, they've tried going through all the official channels, and nothing is working. And they're starting to get desperate. And then one day, Alex is sent to a meeting. A meeting at the Obama White House.
[MUSIC OUT]
ALEX: So I found myself at a table, at a meeting, representing DOD, Department of Defense, at the National Security Council. And at the end of the meeting...

TARAK: The discussion eventually came to a question to all of the national security agencies of how they were planning on celebrating Pride Month.

ALEX: And the State Department said, "Oh, we're having another event with the Secretary," and the Justice Department was very excited about the Attorney General speaking at their event the year before. And it seemed like every federal agency was doing something for Pride Month. And then all of a sudden, it came to me.
[LIGHT PERCUSSIVE MUSIC BEGINS]
ALEX: When you're sitting at a table at a meeting convened by the National Security Council, you're always going to be a little bit nervous. But I think adrenaline took over.

TARAK: And so, you know, Alex reported that you know, we were having a little trouble, that there was a plan in place to do a Pride event at the Pentagon, but that there was a question about whether it would actually happen.

ALEX: And I said, "Well, I'd love the White House to light a fire under the Department's leadership to make this happen." I was asking for something that was not in my specific marching orders. I could've been fired on the spot! I mean if the Secretary of Defense said to the White House, fire him, boom.
[LIGHT PERCUSSIVE MUSIC ENDS]
ALEX: I later came to find out that the Office of Cabinet Affairs, the Office of Public Engagement, and the National Security Council came together at the White House to send a note to the Pentagon's leadership that they would like to see a Pride event happen.
[MUSIC STARTS]
TODD: I won't call it outside pressure, but what I will call it is a kind of, uh, wake the fuck up, look at what's going on around you. Don't be the only federal agency that attempts to squash an entire population of the people who work for you.

TARAK: And we went from facing a few road blocks to sort of the gates being opened.
[DRUMLINE MUSIC]
SUE: And when I got the email, "It's on, you'll be getting the invitation shortly," I think I jumped up, pumped my fist, and then said to my wife, "Oh my god Penny, they did it! They did it! And I'm going to speak at it!"
[DRUMLINE ESCALATES WITH HORNS]
TARAK: It's the day of the event. We're excited, and we're really nervous.

SUE: The Pentagon auditorium is downstairs. The stage is not very big, it's built for something like a panel of three or four.

TARAK: The auditorium is filling up. And in the back of the auditorium, it turns out that there are dozens of TV cameras, and they've come from the military's own news reporting structure, and from the national networks.

SUE: There was so much tension in the room. It felt a little like every straight person in the room was a little bit worried that people might think they were gay, and every gay person was a little worried people might think they were gay. It's almost like on game day you feel the tension, and it feels good because you're know you're ready. That's how I felt. I felt like, "Okay, this is good. Give me the ball."
[MUSIC ENDS]
[CLIP OF EVENT] SUE: I think back to when I arrived at my first duty station in 1980, one of the first people I met, was our battalion Pac NCO, Personnel NCO. And, forgive the stereotype, but he was about 6'4" and he was the fiercest, most fabulous, you know, take-no-prisoners flamboyant gay man I'd ever seen. [LAUGHTER] And yet, all of the captains and majors and colonels deferred to him, because he knew his job inside and out. He knew it better than anyone else. When he would pass me in the hall and say "How you doin', ma'am?" I...[LAUGHTER]

SUE: You could see them all they started to laugh and relax.

[CLIP] SUE: ...the other folks would say, "Well that's just Riley."

SUE: And like, okay, this is gonna be alright. That was my intent. And from there it was easy.

TARAK: We can't believe it's going so well, we had a gay Marine who is active duty.

[CLIP] MARINE: When the repeal happened, I went into work thinking that my life was going to change. And I went in and I sat down at my desk, and I kind of braced myself on the desk waiting for everyone to come in and ask if I was gay. [LAUGHER]

TARAK: We played the President's message for Pride Month-

[CLIP] OBAMA: As we celebrate LGBT pride month, we remember the advocates, and activists, who refused to be treated like second-class citizens.

TODD: It touched me. I mean I get emotional to this day when I think about the growth that I watched happen on that stage.It absolutely changed me.

SUE: Seeing our friends in the Pentagon auditorium was so celebratory and exciting. I mean people with these huge smiles, people with tears in their eyes, that we're here, this is happening.

TODD: I was sitting with my husband, the man I'd married just a couple of months previous because it was no longer unlawful to do so.

SUE: And then the event it starts with a presentation of the colors, as the colors come down the aisle.
[HORN SALUTE]
SUE: And the fact that it was for Pride [CHOKES UP] was so moving, to stand there and render honors as I'd learned as a 17-year-old at West Point, knowing that this was celebrating something that I'd had to hide, was almost more than I could handle.

ALEX: Yeah. It was one of the proudest moments of my entire life. It meant that we could never go back.
[HORN SALUTE ENDS]
[BEAT]
TOBIN: That was Alex Wagner, Tarak Shah, Sue Fulton, and Todd Breasseale.
KATHY: By the way, this year President Trump didn't acknowledge Pride at all, but there was still a Pride event at the Pentagon this year. It was organized by DOD Pride, the group that used to be the unofficial Coffee Club.
TOBIN: You go, Coffee Club.
KATHY: Thanks to Audrey Quinn for bringing us that story.
[CREDITS MUSIC]
TOBIN: We're on Facebook and Twitter. We're @nancypodcast both places, and we'll be live on Facebook Mondays all season. And you can sign up for our newsletter over at nancypodcast.org.
KATHY: Credits time...
TOBIN: Producer...
KATHY: Matt Collette!
TOBIN: Sound designer...
KATHY: Jeremy Bloom!
TOBIN: Intern...
KATHY: Caleb Codding!
TOBIN: Editor...
KATHY: Jenny Lawton!
TOBIN: Executive Producer...
KATHY: Paula Szuchman!
TOBIN: I'm Tobin Low.
KATHY: I'm Kathy Tu.
TOBIN: And Nancy is a production of WNYC Studios.
[END CREDITS MUSIC]
Copyright © 2019 New York Public Radio. All rights reserved. Visit our website terms of use at www.wnyc.org for further information. New York Public Radio transcripts are created on a rush deadline, often by contractors. This text may not be in its final form and may be updated or revised in the future. Accuracy and availability may vary. The authoritative record of New York Public Radio's programming is the audio record.