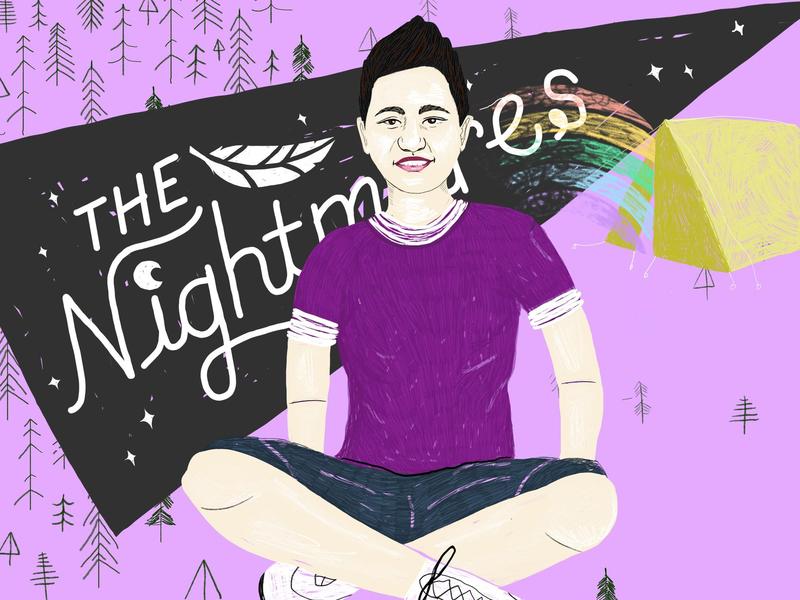 Transcript
KATHY: Tobin.
TOBIN: Kathy.
KATHY: You went to camp as child.
TOBIN: Oh, did I go to camp! I went to marine biology camp, I went to karate camp, I went to space camp because I won a trip to space camp,
KATHY: What?!
TOBIN: I went to circus camp. I went to roller hockey camp.
KATHY: I'm learning so much about you.
TOBIN: [LAUGHS]
KATHY: Okay, well ... I never got to go to camp as a child, because my parents never believed in it. They thought that summer was solely reserved for summer school.
TOBIN: Hmm.
KATHY: But a few months ago, I found out there was such a thing as an adult camp just for queer women and gender non-binary folks, called A-Camp. And it's run by the website Autostraddle. This year, it took place in Wisconsin for a week in May, from a Thursday to Tuesday.
TOBIN: I remember when you brought this up in a story meeting and you were SO anxious about it. You said you'd never been around so many queer women before ...
KATHY: Uh-huh, yes.
TOBIN: … and you don't know how to talk to strangers ...
KATHY: [I] do not!
TOBIN: … which is hilarious because that's what you do for a living. And you also aren't really a crafty person.
KATHY: That's what they do at camp, right?
TOBIN: Yeah. Crafts happen. And while you were going through all that, we went ahead and signed you up for camp anyway.
KATHY: Yeah, very supportive team. And then I thought, you know, I've never been in a queer normative space before, and I'm curious what they're like. So, like I've said a million times on this show, I work out my anxieties via podcast. So I packed up my little tiny bag, and I went off to camp.
[THEME MUSIC]
GUEST 1: From WNYC Studios, you're listening to Nancy.

GUEST 2: With your hosts, Tobin Low and Kathy Tu.
[THEME MUSIC ENDS]
[AIRPORT AMBIENCE IN]
KATHY: Once I make it to the Milwaukee airport, I spot the group of queer folks sitting together in sort of a circle near baggage claim. There are at least 30 to 40 people, and the group is growing. It seems like everyone already knows each other. I'm barely five minutes into my camp adventure and I'm already overcome with anxiety. I realize I have a job to do, which involves talking to people and recording conversations, but I just can't deal with this right now. So I sit down next to a girl with red hair, and refuse to make eye contact in case she wants to talk to me or something.
[OUTDOOR AMBIENCE & BUS IN]
KATHY: We load onto a yellow school bus and make a pit stop at a Walmart before turning off the paved road into camp. It's late afternoon, and as the busses roll down the dirt road, someone dressed in a bear costume greets us. Why a bear costume … ? I don't know, maybe it's a camp thing? Anyway, the place looks how I imagined camp would look. Cabins surrounding a field. There's a lake and a gazebo. I get off the bus and meet a few of my cabin mates before we head off to the only event for the night: the opening ceremony.
ELIZABETH: We are walking to the opening ceremony, down the stairs, in the dark.
KATHY: Among them is Elizabeth ... lives in Chicago ... first-time camper ... and a lover of intrigue. I like her immediately.
ELIZABETH: It's very suspenseful, in a group of five queers, from the Nightmares Cabin. We're fashionably late, on queer time.
KATHY: And there's Carroll from DC ... also a first-time camper ... and very opinionated.
CARROLL: I feel very strongly that we need to enter through the back.
KATHY: And there's Alex from Seattle ... also first-time camper … outgoing and kind, and super fun to record.
ALEX: You probably should have done this before I started drinking, I'm not gonna lie!
KATHY: And it turns out Alex is the girl I sat down next to at the airport and refused to make eye contact with. She apparently was doing the same thing. We quickly forgive each other and bond as bunkmates.
[TRUMPETS PLAY A SONG FROM THE MUSICAL "CHICAGO"]
KATHY: The ceremony kicks off with a dance set to the music of Chicago. Then the camp organizers give a speech.
KRISTIN: Yes, yes, beautiful stuff, all around. We wanted to start by saying, "Oh my gosh, we're all here, in Radclyffe Hall, together!"
KATHY: Followed by the founder of A-Camp.
RIESE: We are here to build each other up in a queer-normative space, and to inspire change, and to smash the patriarchy...
[CHEERS]
KATHY: It's the first time everyone at camp is together under the same roof.
RIESE: ... And bringing us all together through the incredible power of lesbian acoustic rock music.
[JENNY OWEN YOUNG PLAYS A-CAMP SONG]
Just beside my feelings,

Beneath Wisconsin clouds,

There's a place for you and me ...

In fact, we're in that place right now!

And we've come from towns and cities

Far away and near,

To hike and dance and makes some crafts

But, most of all, be queer!
KATHY: As me and my cabin-mates are walking back after the Opening Ceremony, we're all laughing and joking and getting to know each other … and it kind of feels like these are gonna be my people at camp.
[RAIN AND THUNDER ROLLS IN]
[DINING HALL ANNOUNCEMENTS]
KRISTIN:Hello! Happy lunchtime! [CHEERS] What a beautiful sunny day we're having! Um, so, there's some weather…
KATHY: The next day, Friday, I get to the dining hall a little late ... and I'm panicked. I have no idea where my cabin mates are, and it feels like all 300 queer people looking at me. And maybe it would've felt that way anyway, but I'm also the only one here walking around all day with a microphone and recorder. Eventually I find a spot on a bench and sit down.
[PHONE RINGS]
TOBIN: [GASPS] Is this Camper Kathy?

KATHY: It is. I don't have a camp name yet. I don't think we do that here.

TOBIN: Where are you -- um, where are you talking to me from?

KATHY: I am talking to you in a room that is off of, uh, the main dining hall, 'cause it's nice and cozy here. I feel like I've been here a week already even though it's been 24 hours.

TOBIN: Yeah, okay, so walk me through what all has happened so far.

KATHY: Um, this morning at 8 o'clock, there was a thing called "Suns Up, Buns Up…"
[MUSIC IN]
KATHY: Okay. So, you don't need to hear my detailed recounting of every hour to Tobin. There are SO many sessions throughout the week. Just know that this morning I made a little succulent terrarium.
TOBIN: Nice.

KATHY: And the session was called "Hold Me Closer, Tiny Planter."

TOBIN: [LAUGHS] They're all going to be puns, aren't they?

KATHY: Yeah.

TOBIN: Okay, keep going.
KATHY: There's also "Let's Write A Weird Personal Essay," "QTPOC Speakeasy," "Bad Breakup Art," "Shibari Rope Bondage," "Racial Justice 101," "A-Campella," "POC Zine Project" ...
KATHY: And a granola thing...

TOBIN: Wait, literally a granola thing? Or are you using that as a euphemism?

KATHY: Oh, "Granola as Savory Rebellion"...
KATHY: … "Cards for Incarcerated Queer & Trans People," "Trans Mask," "Acsexability: Demystifying Disability and Sex"...
KATHY: Auto … actually, no. "Autopaddle" was canceled because it's raining today.
KATHY: … So you get it, there's a lot of stuff to do at A-Camp.
TOBIN: Can I give you a challenge for tomorrow?

KATHY: Yeah, give me a challenge.

TOBIN: Why don't you pick a session or an activity you would otherwise never do?

KATHY: Okay. Okay. So tomorrow morning, I'm going to "Ring of Keys: Leatherworking."

TOBIN: Great. I'm excited, that sounds dynamic.

KATHY: Okay. Would you like me to make it for you?

TOBIN: Oh, always. I love a souvenir.

KATHY: [LAUGHS]
[MUSIC OUT]
KATHY: By Saturday, I'm starting to make some friends, or at least, I'm talking to people outside of my cabin. Like Dominique, from Chicago.
DOMINIQUE: This is my first A-Camp. There are some things that I have said here that I've never said anywhere else.

KATHY: Tell me what! What did you say?

DOMINIQUE: So I was talking about like losing my mom so close after I came out, and then not telling her. But, like, a part of me was relieved in some ways that she didn't know, because, like, what if she didn't accept me or what if she was upset? You know, like, and I ... my worst fear was disappointing my mother. [NERVOUS LAUGHTER] And so a part of me kind of felt that way, like, maybe she died with this image of you that she wanted to see, you know? And it's like really messed up. [TEARING UP] But that's how I felt. But I don't think I could've really told my straight friends that. Because they would've been like, "No, that's not true." And I was just like … but that is a worry that I had. Yeah I know my mom loves me, but at the same time, it's like she wants a certain kind of life for me. And that doesn't involve being gay. [SAD LAUGHTER]
KATHY: Dominique tells me about how sometimes she feels uncomfortable with how queer she is, because in her non-camp life, a lot of people read her as straight. So I ask her, on a scale from 1-10, how queer does she feel?
DOMINIQUE: A four.

KATHY: Let's see by the end of camp what number you get to.

DOMINIQUE: Okay, this will be an interesting challenge.

KATHY: Yeah!
[MUSIC IN]
DINA: I mean it's like any kind of summer camp, summer romance situation.
KATHY: This is Dina, and Dina is a veteran camper, so she knows all about "camp time": how everything is sort of heightened at camp, like friendships and crushes.
DINA: You'll have just that quick fling. I've seen people who meet someone at camp and it's just for camp and it never becomes anything else. I also know people who have moved across oceans for each other because of camp, and, uh, because of a camp romance. It's a whole thing.

KATHY: Okay, so my question now is the specifics of … how does one engage in a camp romance?

DINA: Aha! Yes. There's a lot of sneaking around in the woods, from what I understand. People tend to meet, so they'll meet at workshops, or they'll go dance in Klub Deer …
KATHY: Klub Deer is basically the unofficial nightclub at camp.
DINA: … or they'll dance at the end-of-camp dance. It's frequently where a lot of camp romances culminate. Is that the word I want? They come to their pinnacle. They come to their peak. I'm probably the last person to ask for advice because the only reason that my wife and I ended up together was because she was very persistent.

KATHY: [LAUGHS] I wish I had that confidence.
[MUSIC OUT]
ELIZABETH: I'm definitely a hopeless romantic.
KATHY: One of my favorite things about cabin mate Elizabeth is how much we have in common. I mean, not the part about her being a triathlete or a staff writer for a magazine for disabled women and nonbinary folks, but the part about loving bread and obsessing about Shondaland. And, of course, she had come up with a way to spark her own camp romances.
ELIZABETH: So basically, Maggie the mail person -- our dear friend Maggie -- has been delivering notes to people, and when she walks into the room, people are sort of like, "Oh my gosh, is there any mail for me?" Myself very much included. So I --

KATHY: I know. Me, too.

ELIZABETH: -- I kept asking Maggie, "Do you have any love notes for me?" And she's like, "No." And I got this idea well what if there are other people who are asking Maggie every time she walks in if there are love notes for them, and what if I just wrote sort of an open-ended love note to a stranger, and Maggie can whip it out the next time someone says, "Do you have any love notes for me?" And so I wrote these like little love notes.

KATHY: Let's read some of them.

ELIZABETH: Okay. You want the gently dirty one, that's what you want. The front of the note, it's folded in half, very dramatically, it says, "Hey, you gorgeous queer, you."

KATHY: [LAUGHS]

ELIZABETH: Oh, and Kathy giggled this much while I was writing them, too, so this is really appropriate. And then there's a consent statement on the front fold of this card. It says, "Turn the page if you consent to some gentle flirting between strangers. Hey Queer ... When I day-dreamed about A-Camp, I dreamed about: star-gazing while holding hands" -- it's a bulleted list -- "making out in a meadow, skinny-dipping, snuggling two bodies in one sleeping bag. What did you fantasize about, Gorgeous Queer? Love, Elizabeth. Nightmares Cabin." And then there's a little box that says, "Write a cute note back if you like" with lots of "dot dot dot"s and hearts for intrigue.
KATHY: Watching Elizabeth write these notes, I'm sort of thinking, we're adults acting like teenagers. What are we doing?
ELIZABETH: So, it's summer camp, and a lot of the activities are things you would've done as a teenager or a child at summer camp. Which I think is really appropriate because I think a lot of us here have this sense of not having the childhood that we wanted because we couldn't be out and totally be ourselves, so this is kind of a reclaiming a lost queer childhood, I think, for me, and maybe for other people. You know, doing things like bouncing in the bouncy house, and, like, having silly crushes and sending silly notes because, like, that's not something I could do at summer camp when I was a child, because it wouldn't have been fine for me to be out as queer.

KATHY: Elizabeth and I both hate feelings.

ELIZABETH: Yeah. We both have a lot of feelings and aggressively hate them all.

KATHY: Aggressively. [LAUGHS]

ELIZABETH: Aggressively.
[PHONE RINGING]
TOBIN: Hello.

KATHY: Hi, Tobin.
KATHY: It's only Saturday, and there's already been a major deviation in my plans for camp...
KATHY: And this is where the story is ultimately gonna land on … I have a crush.
[BEAT]
TOBIN: I always knew this is where the story was gonna go. I am just shocked we got there from the jump.
[MUSIC STARTS]
CARROLL: This is Nancy, we'll be baback after these messages. I fucked that up.

ALEX: Kathy's a jerk. We'll be back after these messages.

IZZY: This is Nancy. We'll be back after these messages.

KATHY: Perfect. This is how it's done!
[WHISTLE]
[MIDROLL]
[BIRDS CHIRPING]
KATHY: Alright. So, it's Sunday morning. And I have been completely, 150% distracted by the fact that I think I like this one person here. Ohh, the feeling.
[PHONE RINGS]
TOBIN: Kathy.

KATHY: Hi.

TOBIN: You had a little baby crush.

KATHY: Yeah. The baby grew.

TOBIN: [LAUGHS] More like a toddler crush? Ooh no I don't like that. I take that back.

KATHY: Uhh -- a teen -- a teenage crush. A teenage crush.

TOBIN: Good!
KATHY: A teenage crush is sort of a miracle for me. Because a few months back, right around when this podcast launched, I went through what I would call a "devastating breakup." I was a complete mess. And, of course, it sounds dumb, but a part of me didn't think I could like someone new for a long time.
TOBIN: People go to camp, you included, to do something outside of what they normally would do. So, I'm gonna say, maybe don't overthink this one.

KATHY: Oh, Tobin, do you know me?

TOBIN: [LAUGHS]

KATHY: Do you know me at all?
[MUSIC IN]
KATHY: I don't overthink it ... I just do something equally as misguided. I abandon going to most of the sessions at camp from here on out. "Witch/Craft"? No. "Lesbian and Bisexual TV Trivia"? No, thank you. "A-Camp Dance Team Practice"? That was never going to happen, so … also no. It just feels like I can't do anything but focus on this crush. It's agonizing. What am I supposed to do with these feelings?
[MUSIC OUT]
MAI: I'm about to write a letter.

KATHY: What kind of letter?

DANI: A love letter.

MAI: It's not a love letter. A … umm …

DANI: It's a love letter.

MAI: I guess a love letter. A letter! Just a letter.
KATHY: My cabin mate Mai is getting help from Dani on how to write to her (Dani's) crush.
DANI: This is the formula that has worked so far that I've observed. So what you do is like "hey person, I think you're "A, B, and C". And I've been noticing you since "la la la." How would you feel about making out with me this evening?" And then you put a checkbox: yes, no, or maybe.

KATHY: Maybe! [LAUGHS]

DANI: And at the bottom you should have like a cool out, like, "Regardless of what you choose, I'm happy to have met you and I hope we can have a dance."

KATHY: Aww, that's sweet.

DANI: Right? Classy.

KATHY: That's classy. Mai, be classy.

DANI: "If you don't check yes, you're dead to me." [ALL LAUGH]
[BEAT]
ELIZABETH: This is my little A-Camp rom-com dream come true, right here.
KATHY: This is Elizabeth again, and she is thrilled that I have a crush. I talk her down from planning an intricate scavenger hunt throughout camp that would lead to me confessing my feelings. So, instead, Elizabeth decides that I should write a series of letters.
[MUSIC IN]
[MONTAGE OF ELIZABETH HELPING KATHY WRITE HER LETTERS]
ELIZABETH: And we've decided to start off with a little intrigue, so it's gonna say … Okay what comes after this … No, I think "I like you" is a good start … What if we have Carroll write the third … I think it's really cute … Actually I might number them … You have to write her name on this one … I feel like I'm like a conductor … Carroll, I really love you, but I think that you should trust this to me, it's my area of expertise.
KATHY: Okay. So, I send them. And the only thing left to do is wait.
[MUSIC SLOWS]
KATHY: There's nothing more anxiety-provoking to me than telling someone how I feel. It's like a life or death situation. And all I want to do is crawl into my bunk with my double-layer of blankets that I borrowed from bunkmate Alex, and hide there for the rest of my life.
[MUSIC OUT]
KATHY: But there is no hiding, because now there is the dance. A dance is always an anxiety nightmare for me. I successfully avoided all dances in high school, mainly because I didn't believe I could dance, but also because I never had anyone I really wanted to go with. But now… I do.
KATHY: I have one question for you, Tobin.

TOBIN: Yeah.

KATHY: How does one ask somebody to dance?

TOBIN: I don't know. Just … go for it.

KATHY: Okay. I can do that.

TOBIN: You know what? 'Cause Kathy Tu is back in the game. She's here to play the field.

KATHY: Am I?

TOBIN: Yeah. You are.

KATHY: Okay. [LAUGHS] Sounds good. [DOOR OPENS] I think people are on the move, so it'll be noisy.

TOBIN: Ah, okay. I can let you go. And, for tonight, I hope you dance.

KATHY: [LAUGHS]

TOBIN: Cue the music, that's where the music will come in in this piece. It's gonna be great.
[DANCE MUSIC IN]
KATHY: My friend Kip was parked outside the dance with my mic.
KIP: Can I ask what you're wearing?

CAMPER 1: JC Penny.

KIP: Can I ask what you're wearing?

CAMPER 2: I, as always, am going for bratty '90s tomboy, but it's a little more '80s tonight, and I have fire pasties on that I am ready to release at the proper moment.
[A-CAMP FAMILY BAND SINGS "HEAVEN IS A PLACE ON EARTH" A-Camp Family Band: Heaven is a Place on Earth ]
KATHY: In the end, I just couldn't bring myself to ask my crush, or really anyone, to the dance. But I did dance. With Elizabeth and Izzy and Alex and the rest of my cabin mates. We laughed and we danced around and we jumped up and down. And it was more fun than I could've ever imagined. I briefly forgot anything I was anxious about. I was in a queer space, with my queer people, being my queer self.
["HEAVEN IS A PLACE ON EARTH" ENDS, AND EVERYONE CHEERS]
[GEESE HONKING IN THE DISTANCE]
KATHY: It's the last day of camp, and the only thing I can think about is … I will never understand the people who say they enjoy having a crush. They must be talking about the part when you're excited, and doing things that you think your crush would like. When you write four letters, and you're sure they're going to be received with the same sense of possibility and excitement that you felt when you sent them.
Because I can't imagine how anyone can possibly enjoy the next part. The part where you wait ... maybe a few minutes or a few days. And you agonize. And when you finally get a reply, it turns out she doesn't really feel the same way. And disappointment sets in, and maybe some foolishness for putting yourself out there. And THEN you're like, "Fuck, I had a job to do here, and instead I got so wrapped up in this place and my feelings!"
It's crazy to me that I can have a feeling at 31 that I thought only 13 year-olds would have — these intense crushes in such a short period of time. But at least at 31, I was in a space where I felt like I could share my feelings. And that in itself has been a journey. I have never been able to tell someone so quickly how I felt about them.
DOMINIQUE: [LAUGHING] So I think I'm a full 10 now.

EVERYONE: [LAUGHS] Yeah! You made it!
KATHY: This is Dominique again. Turns out we're all on a journey of some kind.
DOMINIQUE: And I do think I will carry that with me.

KATHY: Yeah.

DOMINIQUE: Yes. That is a definite 100% of being like, "Yeah, I don't care. I'm queer and you can't tell me any different!"

KATHY: That's awesome.

DOMINIQUE: And I can do whatever the fuck I want to.
[CAFETERIA SOUNDS, THEN OUTDOOR SOUNDS]
KATHY: Walking back to the cabin to pack up my stuff, I run into Carroll. We're both going to miss camp.
CARROLL: Basically here, anywhere you go, whether you're eating or just walking along, everybody's queer. And there's that level of comfort. Like, honestly, I was thinking about what I wanted to wear [BEAT] to the airport. It's like, well, just how gay do I want to look?

KATHY: [LAUGHS] Alright, here we go, back at the cabin. One last time.

CARROLL: Oh, you shut your mouth!

KATHY: One last time.

CARROLL: One last time!

KATHY: I mean before next year!
[SOUND OF CAMPERS PACKING IN THE CABIN]
KATHY: We're back at the cabin, everyone's packing, Elizabeth's singing, and I walk out to the bus with Ashanti.
ASHANTI: I'm sad to leave A-Camp. I had the best time. Best time getting to know you, Kathy.

KATHY: Aww. Go ahead, say more.

ASHANTI: Go on, go on.

KATHY: Go on!

ASHANTI: But yeah, it's been amazing.
[BUS ROLLS OFF, MUSIC UP AND THEN OUT]
TOBIN: I have to admit I really thought when I sent you off to camp that you were gonna find love -- that that was the purpose of the whole thing.
KATHY: [SARCASTICALLY] Thank you for not telling me that in advance.
TOBIN: [LAUGHS] It was my secret.
KATHY: Great.
TOBIN: But -- and not to be too cheesy -- I think what you found was kind of better.
KATHY: Yeah, even though I went through what I call a journey of feelings, I came back with a gaggle of friends -- of queer friends. And, like, my cabin has been in a perpetual G-chat since camp ended, and it's been amazing.
TOBIN: Yeah. It makes me want to go to gay camp, but then I realize that I don't have enough money for a timeshare on Fire Island. Anyway!
KATHY: Okay.
TOBIN: I'm wondering if you have any classic post-camp blues?
KATHY: Well, I'd say, after I got back from A-Camp, I was kind of sad and I was kind of like, "Ugh, I don't know what to do with my feelings." And then I unpacked my stuff, and I found a letter.
TOBIN: From whom?
KATHY: It was Elizabeth's gently dirty letter.
TOBIN: [LAUGHS]
KATHY: When she wrote that note, it was the highlight of my camp experience, and the fact that she stuck it into my bag, because she knew how much I loved that note … It's really touching.
KATHY: But Tobin! I brought you a present!
TOBIN: [GASPS] Wait, where is my keychain? OH MY GOD!
KATHY: I almost -- I almost monogrammed it but I wasn't sure if I was going to give it to you or somebody I liked, so I ended up with not monogramming it at all.
TOBIN: Wait. Wait. [KATHY LAUGHS] Gimme that fucking thing.
[MUSIC IN, THEN OUT]
[CREDITS MUSIC STARTS]
KATHY: Special thanks this week to everyone who talked to me at A-Camp, and to Kip Reinsmith for his production help.
TOBIN: And, for the last time this season, credits!
KATHY: Our producer...
TOBIN: Matt Collette!
KATHY: Sound designer...
TOBIN: Jeremy Bloom!
KATHY: Editor...
TOBIN: Jenny Lawton!
KATHY: Intern...
TOBIN: Caleb Codding!
KATHY: Executive producer...
TOBIN: Paula Szuchman!
KATHY: I'm Kathy Tu!
TOBIN: I'm Tobin Low.
KATHY: And Nancy is a production of WNYC Studios.
[MUSIC OUT]
TOBIN: I feel like, right now, like Timon and Pumba during the moment that they see Simba and Nala together, and so I'm just gonna say, [SINGING] I can see what's happening.
KATHY: [NOT SINGING] Tobin, don't sing to me.
TOBIN: [SINGING] They don't have a clue. Who? They'll fall in love and here's the bottom line. [KATHY LAUGHS] Our duo's down to me.
Copyright © 2019 New York Public Radio. All rights reserved. Visit our website terms of use at www.wnyc.org for further information. New York Public Radio transcripts are created on a rush deadline, often by contractors. This text may not be in its final form and may be updated or revised in the future. Accuracy and availability may vary. The authoritative record of New York Public Radio's programming is the audio record.