And Another Thing, with Errol Morris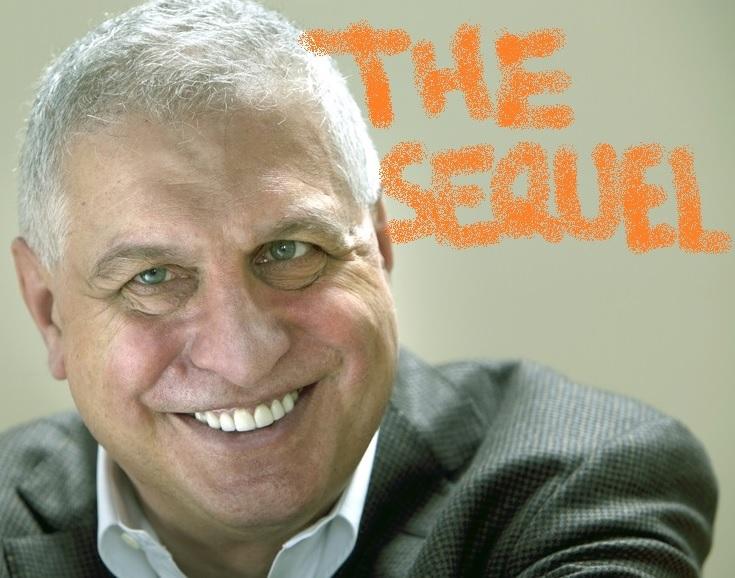 Transcript
Alec This is Alec Baldwin and you're listening to Here's the Thing. After our interview, I realized I still had a couple more questions for Morris.
Alec Thank you so much. It's Alec. Thank you so much for taking this phone call.
Errol This is not a cold call from some Policemen's Benevolent Association, I hope.
Alec It's a call from AT&T.
Errol Uh oh. Years ago, when I kept failing to pay my phone bill and the phone company was after me. They were hot on my ass.
Alec Really?
Errol And my stepfather took me aside and said to me, "Errol. Don't you think it's time you turned yourself in to the phone company?"
Errol I looked at him and I said, "hm, no, I don't think I want to do that."
Alec Well, while I have you, I want to ask you. I want to ask you about collaboration. We wanted to append... every now and then I think about things I did not do to my satisfaction. And I wanted to talk to you just briefly about collaborations, because obviously as a filmmaker, you have fairly steady... you know, there's a couple of films you've made with different people. And I just wanted to go through some of these folks.
Errol Sure.
Alec Now, of course, the first one that comes to mind is glass, because I downloaded and I watched Fog of War again the other day. And I've rarely I'm kind of a nut for score and music and how well it fits or how intrusive it is. Blah blah blah. And he composed that original score. You didn't access some material of his. That was original score for the film, correct?
Errol I often sat with him at the piano.
Alec I've rarely heard score that was more compelling than that score for Fog of War. It was beautiful. And I was wondering, how did you first begin your collaboration with Glass? How did you guys find each other?
Errol Well, I had shot most of the thin blue line. I was editing. I was using scratch tracks. When you're editing a film when formal music hasn't been written for the film, you need something to edit with. What did I edit with? I edited with Philip Glass. Various tracks from music that he had written previously, from Glass Works, from In the Upper Room. It worked so well that I kept saying we need to find somebody who can write like Philip Glass. And then there was that. Do we want to call it an epiphany?
Errol When I'd get the dude himself right, why not get Philip?
Errol And that was not so easy. I just kept nagging him and urging him to see the film. And we set up a screening. He reluctantly came in, looked at the cut of the Thin Blue Line, and immediately said, "I'm writing the music for it."
Alec Wow. Wow.
Errol And it was really, really I mean, we've done many things together now, but it was really interesting collaboration. I remember sitting at the piano with him and I said to him at one point, you know, "the trouble with this music is it's just not repetitive enough." And he gave me this very funny look and he said, "that's a new one."
Errol But the collaboration worked. I believe we work really, really well together.
Alec Oh it's fantastic. No now when you work with someone like that. And I apologize because I should have asked you this earlier, but did you have any background in music?
Alec You say you sat at the piano, so you played. And when you're there with him, is he putting forth things and playing selections for you in music? You know, pieces of it for you, and you are just going "Great, yes." Or do you actually make suggestions to him about what you want in terms of the film's music?
Errol I would say the latter. I mean, I said all kinds of crazy things to him that are probably deeply inappropriate.
Alec How so? Why?
Errol Well, I remember him playing the main cue for the thin blue line. I said, you know, if you raise that voice up an octave, it could be much better, maybe even two octaves. And he did. And then he said, "I think you're right."
Alec What's the last project you did with him?
Errol Well, we did Fog of War. We did a film to commemorate the hundredth anniversary of IBM together. And he is writing the music for my new series. So it's an ongoing relationship. And I am a fan. I've always been a fan and I remain a fan.
Alec You two had the same music teacher over in France, is that correct?
Errol We did.
Alec What? Who was that teacher?
Errol Can you believe that?
Alec No. Well, yes I can. With you anything's possible, I've learned.
Errol Nadia Boulanger.
Alec Oh it was THE Nadia Boulanger. Okay incredible.
Alec The formidable, frightening Nadia Boulanger herself.
Alec And you were with her when?
Errol God I was still in high school. It's a thousand years ago.
Alec Right. I understand. One of the other collaborations -- I just want to hit some of the key ones here -- was Doug Abel. And you just did Fog of War with him. You didn't do any other projects with him?
Errol I did something you would really, really like, which I would send to you is a portrait of Rick Rosner, one of the smartest men in the world. What's the name of the film? I think it's called One in a Thousand Million Trillion.
Alec OK. Was it released?
Errol It was on television. It was part of a series, First Person. Right. It's really one of the strangest and one of the funniest things I've ever done.
Alec I'll look it up.
Errol I have this misfortune. No one thinks -- maybe I can convince you that I'm funny, but it's about Rumsfeld. Did we talk about my version of Rumsfeld?
Alec Well, you told me that you thought Rumsfeld was the least I don't want to say self-disclosive because hat's really not the goal, I guess, when you're talking to people like that, but just thought the most obtuse -- that's my word.
Errol Well I have a version of his "Known known, known unknown," etc. etc. My version is the "known funny." For example, you would be the known funny.
Alec Right.
Errol I know that you're funny. I find you funny. You constantly say funny things. And then, of course, there is the known unfunny.
Errol We're all familiar with that.
Alec Yes.
Errol I would put Rumsfeld in that category.
Alec The known unfunny.
Errol The known unfunny. The known deeply unfunny.
Alec We'll re-release the film and call it that. Well, let's look at some old footage and see if we can fluff that up.
Errol But then there's another category, the unknown unfunny, which is a very scary category. It's a deeply unfunny, but you don't know it yet.
Alec Boy, that describes half the things I see on TV.
Errol Only half?
Alec Yeah, well, I'm trying to be kind. I try not to be too negative.
Errol Okay.
Alec If I told the truth about how I felt about, you know, much of what's going on out there, I would be...
Errol Aside from this conversation, are you going to work with me? That's the only question I'm interested in.
Alec The answer is yes. The answer is fuck yes.
Errol Well, I would be pleased to work with you so we will try...
Alec Think of what we can do. Think of what we can... anything you need, anything you need, please don't don't hesitate to contact me. Now so when you're with Abel and someone like that, I mean, I'm assuming that you're very hands on at editing. What does an editor do for you other than to give you an assembly?
Errol They work with me.
Alec Right.
Errol We talk. We think about what we're doing together. They're a companion.
Alec Did you have an editor that you felt you worked really, really closely with?
Errol I've had fabulous editors.
Errol My editor as we speak, Steven Hathaway. Karen Schmeer, who was one of the editors on Fog of War. Doug Abel. I've been lucky. I've been lucky with cameramen, with editors, with producers. I've been unlucky, too. But I, for the most part, been very, very lucky.
Alec I mean, have you ever worked with an editor more than once?
Errol Of course!
Alec You have, because I look at the IMDB type things...
Errol My current editor, Steven Hathaway, has been working for me for 20 years.
Alec What makes what makes a good editor?
Errol He's a really smart. He has a really good idea structure and story. And he actually rolls up the sleeves and immediately gets to work. All he lives on is dailies. You know, the only thing I'm good for and it's not clear that I'm really good for anything, but I'm a dailies producer. It's when an editor wants. "Please give me more dailies!"
Alec Ted Bafaloukos was your production designer?
Errol An amazing, an amazing character, yeah.
Alec He worked... didn't Bafaloukos work with. Let me look up and see... I thought he...
Errol Barry Levinson.
Alec He worked with Levinson and he worked... I'm trying to see what else he did.
Errol Not that every story isn't a tragic story, properly considered, but he was one of the most talented people that I have ever met. Certainly one of the most talented people I've ever worked with. And he was never really given his due. He should have been directing many, many, many films. He directed one film, which got limited distribution, but as a kind of cult...
Alec What film?
Errol Called Rockers.
Alec Right. What was his wife -- didn't he have a wife in the business? That's what I'm also...
Errol He did. Eugenie Bafaloukos.
Alec That's it. That, Eugenie Bafaloukos.
Errol Wardrobe.
Alec That. I worked with her. I worked with her. That's the connection I had with him, is...
Errol Yeah.
Alec I remember his wife, I remember his wife. And we worked together for, I think probably something with Demi. Something with Demi.
Errol That makes sense.
Alec Yeah. Let me ask you just two more here. Robert Chappell?
Errol One of my cameramen that I've worked again and again with.
Alec You've done a lot with him?
Errol Stefan Czapsky, who did The Thin Blue Line, who also did Batman Returns. Someone asked me. I was being interviewed for the DGA. They asked me, "why are all the shots so dark in the thin blue line?" And I thought, "what? What are you saying?" This is about a murder that occurred on a dark roadway in West Dallas close to midnight. It's a film noir documentary if anything. Would you ask a film noir director... say you're talking to Jacques Tourneur about Out of the Past. Would you say to him, "oh, you know, those shots are sooooo dark. Why'd you do that? What was that about?" It's a dark story! It involves a cop killing! Still to this day, the way people see documentary, it's as if they DON'T even see it. They see something other than at least what I want to show them.
Alec Eugenie Bafaloukos did Miami Blues, the movie that I did...
Errol She did indeed.
Alec ...that Demi produced and George Armitage directed. And then she did Grosse Pointe Blank...
Errol It's a good movie!
Alec Well it's a loopy movie. But I had a good time. Yeah, George did Grosse Pointe Blank with...
Errol Sure, and let's not forget, the guy that I work now with, my DP, Igor Martinovic, who is just kind of fabulous. He did Wormwood. He did American Dharma. He's doing my new series.
Alec You're not the best I've seen, but you're up there in terms of this game you play where you just, you know people love you and admire you and you do what I do. I mean, the Irish... Maybe the Jews are like the Irish where it's like, let's just get this over with. That's my theory of life.
Errol Yeah.
Alec We know it's going to end. The Irish way of living is "let's just get this over with." We know what's going to end. Let's just cut to the ending.
Errol Maybe we can be in a nursing home together.
Alec Well, I always told my wife, literally, I said, "when I die, if I could..." Maybe you could shoot this movie, it would be great. You and all your gang. Philip Glass could do the music; it would be so compelling. I said to my wife, "if I found that I'm going to die, that I had a terminal illness, we're going to film it all." We're going to film, you know, the doctor's gonna say, "I think you need to come in and see me as soon as possible." Boom. We get the cameras. Are we going? He says "you have cancer," and we find that I'm sick. And by the end, I'm in the bed and we do split screen. And you kind of see a camera like kind of like raking over my face. A little bit of light coming through the window. But you see the monitor at the foot of the bed in the other split-screen. So when I flatline and I'm dead, the moment I die, it's on camera. We film the moment. I just go, "bzzzzz".
Errol You know that Timothy Leary did just that.
Alec Did he really?
Errol Yup.
Alec He filmed them the moment of his death.
Errol He filmed the whole week long episode of his dropping dead, yes.
Alec And was anything ever done with it? Did is come out?
Errol You mean at your local multiplex? No, but...
Alec Yeah, is it a blockbuster?
Errol But is it available? Yes.
Alec It's available where?
Errol It's like everything else. On the fucking internet.
Errol It's on YouTube. Of course it's on YouTube. What isn't on YouTube?
Alec Oh, God. Oh, God. Oh, God. Let's make a movie about that. I'll play Leary. No, you don't want to do a narrative film.
Errol I AM doing a narrative film! Fuck you!
Alec Alright. Do me a favor. I always say the same thing. Just... let me finish my question. Representation. Have you ever... agents, managers? Has anybody ever helped guide your career and opened doors for you? Or are you... like most people I know who are extraordinarily talented, you just get the work yourself. It all just comes to you yourself.
Errol I have perhaps the most powerful agent in the business. I can't really recall what he's done for me.
Alec Right. Yeah, well, my agent would say to me, "I want you to read this script" and he would start to describe the merits of the film. And I would say, no, no, no, no, no, no, no, no, no, no, no. Don't do that. Don't do that. Don't do that. I said "you're an air traffic controller. You just land the plane and make sure there's plenty of peanuts and Diet Coke on board." Then we take off again. I said, "I don't... I'm not interested in your creative interpretation of the material.
Errol Just land the plane. There was a terrible crash at San Francisco International Airport. Some plane came in from I believe it was Korea and they hit the seawall. They crashed. People were killed horribly.
Errol And very shortly after that, I flew into San Francisco. And as I'm getting off the plane, I looked at the pilot and said, "thank you for not hitting the seawall." And he gave me this very strange look, but I thought it was appropriate.
Alec Yeah.
Errol Thank you for landing the plane.
Alec Well, let me just say this to you. I'm going to find out how I can e-mail your office. I don't want your personal contacts, but I'll get like an assistant, an office e-mail, something that's appropriate. And I'm going to make you so sorry that you mentioned working with me. Because I'm just going to keep pulsing you and pinging you and driving you insane until you let me come. I'll play a cab driver. I'll play a sommelier. I don't give a shit how small it is. I just want to shoot something with you.
Errol You're gonna have trouble driving me insane because I'm already there.
Alec Well, we're going to drive you further down the can, the goal-line, the well, the well of insanity. Alright, many thanks to you. I want to put this in there, about collaborations with you. That's very important.
Errol OK. And thank you for doing this. People seem to have responded to it... what's the word? Favorably.
Alec I got to say, I can't tell you how many people have said something to me. People come up to me all the time and they'll go. And the more unusual... If it's somebody that we know is on a tour and you know, somebody who's selling a book or what have you, we don't object to that. I mean, that's a part of the business. But I have had so many people say to me how much they love this interview with you. You have many, many, many, many, many admirers out there.
Errol Well, I am on a tour. I'm on a tour to nowhere.
Alec I want to go on that tour with you. Let me come on tour with you.
Errol Oh, we'll go on tour together.
Alec Alright have a lovely day and thank you.
Errol Okay thanks. Take care. Bye.
Alec We're on a tour to nowhere together.