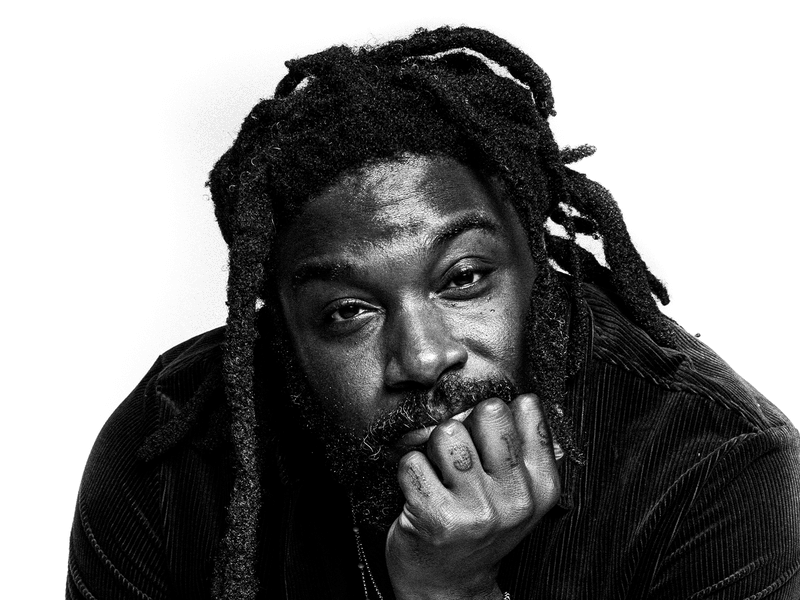 Transcript
[music]
Helga Davis: What is the impact of language, of words? How do they change our very chemistry? How might those words impact our own path in life? I'm Helga Davis. New York Times best-selling author, Jason Reynolds sat down with me to talk about what it means to make things during this unprecedented time.
[audio playback]
Jason Reynolds: It's been interesting, and it's also been really wild as an artist to try to make stuff.
[end of audio playback]
Helga Davis: How to hold space for the next generation?
[audio playback]
Jason Reynolds: I struggle with it because I want them to have theirs.
[end of audio playback]
Helga Davis: This is Helga: The Armory Conversations with Jason Reynolds.
[music]
Helga Davis: Yes.
Jason Reynolds: Good morning.
Helga Davis: Yes. Where are you coming from?
Jason Reynolds: I was coming from Georgia. I'm in D.C. right now as which is where I live, but I was in Atlanta for a couple of weeks doing some work.
Helga Davis: How does it feel for you to travel a little bit right now?
Jason Reynolds: It's strange. I'm only traveling by car. I am far too nervous to get on an airplane at the moment. If I'm going somewhere, it's got to be in driving distance, so I want to [unintelligible 00:01:30] 10 hours, which is for me is okay. I'm a road trip kind of guy. How have you been by the way? The last I saw you was when at the school when I did the all-American boys joint, and then before that was Walters thing. How've you been? How are you dealing with all of this?
Helga Davis: The answer to that, it depends on the day, and sometimes it depends on the hour, and then sometimes it depends on the minute. I've not actually been doing very well with all or any of this. In part because I think that I was tricked into believing that it was only going to last for a couple of weeks. I had been in LA with Toshi, we performed at UCLA in Royce Hall for 1,800 people.
I came back to New York to this flurry of concerned calls, asking me if I had food, asking me if I had water, asking me, asking me, and my not understanding of or fully grasping what the problem was. Then I got on a plane a couple of days later. I arrived in New York on Friday, March 13th. No one would meet me anywhere. Then maybe a week after that, the pastor of the church across the street from where I live, was dead. Two weeks after that, one of the ministers at the mosque next to the church was dead. An elderly neighbor in my building, a month after that, was dead. Then I locked down.
Jason Reynolds: Yes, it's interesting, because I was in LA, at the same time you were, I was on tour, and flew back that Friday as well. Then got home, and my mom was losing it. My mom who's 75 years old, she's like, "Look, I'm not going to beat this thing if I get it." Like having these very real conversations. Like, "Listen, I don't know what you're doing, but if you're not paying attention, you need to park it because if you come over here to help me do something, I can't risk you infecting me".
Then it got very real and then locked down. It's so strange, all of it. It's also been really wild as an artist to try to make stuff, which I know we don't really have to, I guess, but for me, this is where I put my stuff. It became hard to put my stuff where I always put my stuff.
Helga Davis: Because--?
Jason Reynolds: I'm still trying to figure that out. I'm realizing that part of my process when it comes to making things and even exercising all of the stuff is like the human element has to be there as well. Even though most of my work is a solitary thing, at least on its surface, I realized that without the bumping up against human beings and the humaneness of those human beings, is a part of the distillation process when it comes to making things. Being locked down for this long and not having humans around me has made it difficult for me to tap into my creative imagination.
Helga Davis: I just want to thank you for saying that, because it's one of those things that gets hard to explain to people after a while, in part, I think because we're used to operating on such a base level, so that if you have a place to live, you have food to eat, you have shelter, and you have clothes, then that is the genesis of your staircase to gratitude.
When do those things become given and rights of all people, so that we can actually aspire to some other higher or, God forbid, lofty notions of what it means to be okay. I definitely am in mourning. It depends on who I'm speaking with, whether or not I share that, because there are people who just need for you to be fine. Like my mom cannot bear to hear that I'm not okay. She just can't. My mom just turned 93 a couple of weeks ago. I've been talking with her, she's not going to have the vaccine and her thing is that when the Lord is ready to take her, He's going to take her, and that's it.
Jason Reynolds: What can you say to that?
Helga Davis: Nothing. I say, "Okay, Mom".
Jason Reynolds: Yes. Do you think about who will be if this is over? I'm just interested to see how we've changed. I lived in New York, as you do know, for so long, and I think about my life in New York often, I don't live there anymore, but I often think about my time there and how grateful I am to have had that time, the relationships that I've built and the experiences I've had, and the person that that city helped to make me, and yet, I wonder if I will ever not fear it now.
The idea of coming through that tunnel-- and it makes me sad that I'm afraid. I'm hoping that I can just work through it. A year from now, this will all be something that we talk about and reminisce about, but I don't know. I don't know, I hate to have dumped this on you.
Helga Davis: I want to stop you right now. I don't feel dumped on, what I feel and continue to feel is how important it is when we can, when we have the luxury of words, to find them and to share them with folks who are also in search of words. When I was thinking about this season, I feel such a level of chaos inside, that I couldn't possibly see the value of continuing to talk.
Then, I'll just be in my life, and I'll get a message. Someone has just listened to an episode of Helga with whomever. They can't believe how in this time, that those words and those conversations still have so much meaning for them, and they say thank you. Then who am I to say no? Who am I to not show up?
Jason Reynolds: Yes. I try not to take my myself too seriously, but I do try to take whatever reason I may be here seriously, in that, I try to give whatever little bit I have to give selflessly in hopes that whatever avoid it seems to be cast into that it knocks up against who and what it needs to knock up against. I got to be good. I got to be okay with just putting those things out there and hoping for that because I got to justify or at least try to justify why am I here. I'm here to justify that. I'll never understand that because there is no rhyme or reason.
Recently, when somebody was talking about talent, and they said, "It's the only thing that's given out blindly." It's just sprinkled that.
[laughter]
Jason Reynolds: It's just sprinkled out. [unintelligible 00:09:30] friendly would say that. She's like, "Oh, it's just like pixie dust, it's just tossed up in the air and somebody gets some more of them and somebody doesn't. If you get a little on you, don't take it for granted. It could save somebody's life or at least help somebody feel less alone, which in turn could save someone's life." It's a beautiful thing to think about. I don't see it as a burden. What an honor to be able to say something, make something. She's, "What an honor".
Helga Davis: It doesn't negate the fact that we are where we are in this moment emotionally, that we are wounded, hurting, and grieving at the same time.
Jason Reynolds: That's for sure. It's a miraculous thing to think about all the things the body can hold. All the things that the mind can hold, the psyche and spirit can hold, there's another brother that I love named Eugene Yelchin. Eugene Yelchin is a Russian American who is, these days, most known as an illustrator, but he was also the man who made the Coca-Cola bears back in the early '90s. He grew up in the Russian Ballet.
Both of his parents were part of the Russian Ballet, and so he grew up in the wing as a child, and he told me what's interesting about growing up in the ballet, especially the Russian Ballet is when you sit in the wing, you can look out into the audience and you can see the amazement on the faces of the crowd, the joy, the outer environment, the overwhelm that's rushing over the crowd while watching such beauty and such grace on the stage. But on the wing, you can also see the blood.
You're close enough to see these dancers who are smiling and moving as human manifestations of cursive. You can't see it from the audience, but when you're close enough, you can see the toes breaking. That's what it's like oftentimes, it's like I am in pain and simultaneously I'm birthing something. This pain is a different pain, but I wonder, is there ever a moment where those two things aren't symbiotic? My father died in December and--
Helga Davis: Wait a minute, just wait one second.
Jason Reynolds: He was dying for a long time. It's quite a transformative loss. It was also tremendously beautiful for me. Our experience in the transition of our father was painful and lots of other things, and I would be disingenuous and reductive to limit that experience to one of merely just pain. It was phenomenal, death is a phenomenon in many ways.
Unfortunately, most of us, because the loss is so heavy and so magnanimous that it's hard to see the other elements to it, but I have to be honest and say that for us, in that moment, there was a lot of really just beautiful, beautiful, beautiful things taking place. The painful part was couldn't hug him, toward the end, he was like, "Listen, man, bring it in. I ain't going to make it" [laughs].
Helga Davis: He was that aware that he was leaving?
Jason Reynolds: He was lucid until two days before death. He was lucid the whole time that I hung out with him and we laughed, we joke. His last words to me was a joke about his own death, which is very much so my father, nothing was serious, nothing. He believe life was far too serious to be taken seriously.
Even as he was fading out, his last words to me were, I said, "Papa, I love you, I'm going to let you get some rest." He bust out laughing and said, "I'm going to get a whole out of rest real soon." [laughs] My older brother and I got in the car, looked at each other and burst out laughing, and said, "That was perfect", and he never spoke again.
I have a buddy, who's a dear friend of mine who is a doctor and a staunch a very regimented Buddhist. One time he was telling me this interesting thing where he was saying, "Jason, the beauty of the body, the beauty of the mind, and the beauty of the spirit is that all of it is working to protect you".
He said that when we think about pain, specifically emotional pain, as it pertains to loss, like a heartbreak. He said that the brain processes this in 17 seconds, and then the brain is done, the chemicals that make you feel that way move through in about 17 seconds. But memory that we cling to of what was once normal is what causes the suffering, but the body has processed it out, trying to save your life. What a phenomenal thing to think about?
Helga Davis: I also think all of this takes a spaciousness that I don't always have access to, the letting go, allowing the brain to do its thing, and then the I not getting involved with hanging on to anything. Are there things that you practices that you have, that you do every day that every person could do?
Jason Reynolds: I think so. Here's my new thing I'm adding into my practice, sleep. I haven't been sleeping in like a decade, 15 years. I got to New York when I was 20, and everyone around me told me that, "If you're going to make it, you got to like, you sleep when you're dead, you got to grind it out. It's an all-night thing. This is a city that doesn't sleep. If you sleep and they're working, they're going to get what you want to get." All this other nonsense that isn't actually true, and then you get to New York and all of us live boring lives like everywhere else in the world.
I don't even leave the five blocks that I live on. It's like there's a weird thing that people have this assumption that everybody in New York is just running and running and running. It's like, people be chilling [laughs], but I did grind it. I really did that to the point that it just became a part of-- I don't know, I was good with four hours. I thought I was good with four hours. Then it became, I just can't get comfortable in bed. I cannot wind down. My body's uncomfortable in the bed. I've tried all the different mattresses. I've tried all the different pillows.
I've taken the melatonin, I've done the lavender, and it's like-- I've decided to dedicate the rest of this year to developing healthier sleep habits. That's my new thing. Now, when I wake up in the morning, first thing I've been doing now is I light a candle for my father, which is unbelievably comforting. That's something that I'll probably be doing for the rest of my life.
When it's my mom's time, there'll be a second one there, so there's that.
Then I do the New York Times crossword puzzle every day. I do get the paper, I get the physical tactile paper delivered to my house every day, which is terrible for the environment, but it's necessary for me. We're already not touching enough, I need to touch the things. I do my crossword puzzle Monday and Tuesday, amazing. Wednesday it starts getting a little shaky by Thursday and Friday, I'm really just going through the motions. I've been doing this for years and you would think I would have gotten better at the Thursday and Friday ones, but turns out it ain't there yet, so I'm working.
I do that, I have my coffee because that's a part of the ritual for me. There's something about making something. I also have a really intense skincare regimen that I do every single morning. At this point, it has less to do with my vanity and more to do with habit. After the paper, that's when I usually sit down at the computer and this is when it depends on the day because I have a wonderful person who manages my life, and that's what I'm checking in with her.
Sometimes it's like, "Look, I need you to answer these 100 emails", or some days it's like, "Look, I've carved out time for you to have time to yourself to do what you want." Now, if it's one of those days where it's like, there's not much, we're not going to do much of this rigmarole, the red tape of being a, "Professional", then I do my work. I do my writing. Now I'm going to do my writing anyway, either way, someway I'm going to work it in. I always write about every day.
Helga Davis: Every day something on the page?
Jason Reynolds: I put in a couple of hours, every single day pen and pad, writing my stories, writing my thoughts, even sometimes just journaling, but usually, I'm working on some creative project, and just word by word, just working it out. That brings me the most joy. I love this work. It's not always easy and it's not always fun, but it is always a joy to do for me. I feel so grateful to be an artist and it is religious for me, and I pray at that altar every day.
Then after that I go see my mom, checking on her, make sure she's good or out walking around the block, and sometimes I'd lay on the couch and watch a movie, or read a book, or I try to create time in my life for leisure as well. I think it's okay for us to take a break.
Helga Davis: It's another thing on that list of things.
Jason Reynolds: That's another thing, yes. Then I cook, I'm being as sprinkling microgreens on the top of it. It's a whole thing for me because again, I like to make things.
Helga Davis: You can make everything. That's an interesting thing, that we can make everything.
Jason Reynolds: Yes. We can make everything. Every night I look at it, I marvel at this thing I've made and sometimes it tastes delicious and sometimes I've over-salted, and it's like, "Okay, I'm going to try and get the next week." On Sunday, I just wake up and have a bottle of champagne. You get one spin.
Helga Davis: Yes. Jason, I want to ask you about words because there's some research that shows that one of the biggest indicators of poverty in children is not just related to race or zip code, but it's about the number of words a child knows. That a child's ability to name their surroundings, to name the things around them is the thing that can save them from many other things that may be against them. Talk a little bit about your developing your relationship with words.
Jason Reynolds: Oh, man. Words for me it was all about my mother. We always talk about how she never spoke to me-- and it's funny because we laugh about it now. She's like, "We never did baby talk." She never did the, "Gugugaga, look at my sweet little baby." She never did any of that. She always just spoke to me and talked with me and to me regularly as if I weren't an infant but as if I were human. Because of this, she always tells the story about how I was talking before I was walking, which is a very rare thing. Like talking, talking.
She always still teases me because she would say-- We would be having full conversations but I wouldn't go to the bathroom and the toilet. For her, she's like, "We're having a conversation so you understand what I'm telling you, you're comprehending. I can't figure out why you won't just tell me when you got to go to the bathroom. It's like, "Because I ain't feel like it" [laughs]. It's always been a thing in my life. My family members, whenever we have any family dinner, all of my family always talk about how they would sit me at the head of the table as a one-year-old and everyone would just ask me questions and we would go back and forth and engage valuing language back and forth.
That's where it begins and then as I got older, it exacerbated through music. Everything changed when I started to put two and two together and realize that the song I was singing are words. It's not just sound that these sounds are coded into individual words. My father who, as I told you before was a huge prankster, he was the caregiver. My mom was a-- she was a hard-working scrappy, "I got to get out here and make it happen." My father was the one who got us up in the morning. He made us breakfast, got us dressed, took us to school. Because of that, he was the one who would play all the music in the car on the way.
My dad was like a rock and roll guy, tattoos and he was very different for the early 1980s for a Black man. Covered in tattoos and gold chains, and tight pants and motorcycles, and Corvettes and guitars. My parents were just very different, and so he would play this music. You remember the song My Sharona? He would tell me that they were saying my scrotum because he knew -this is how he was- because he knew that I would repeat it because he knew I loved singing the words.
I didn't know what it meant, so he would do that so that I would get in trouble at school or whatever. He thought it was funny. But he also would play ad nauseum in 1988 Tracy Chapman. I remember being so fascinated by Fast Car, and specifically when she says, "My old man's got a problem, he lives about a bottle. That's the way it is. Says his body's too old for working, but his body's too young to look like his." I remember the moment of being like, "I know what that means." I'm like six. Well, there is pattern here and there's meaning here, and I don't know if it's because there was less instrumentation. It's like, "This is like a conversation".
Then after that, of course, comes Queen Latifah. Comes hip hop and my older brother was of that age where it's like, "This is the greatest art form to ever exist and this is all I want to listen to." My mom is banging on the door. It's the whole thing, and I've got my ear to the wall and I'm like, "This is magic", and after that it was over for me.
Helga: Was that ever a possibility for you? To go into hip hop?
Jason: No. I think this is where it connects back to my mother talking to me as a baby in those earlier years, because I'd never wanted to be a rapper, I just wanted to do the word thing. I was the kid who read the liner notes. I wanted to see the lyrics on the page even more than I wanted to hear it. I remember they had an old technique turntable and it never worked because my parents would have parties, and when they split the party stop, the turntables went to shambles. But my mother said that I could have the turntable, even though it didn't work.
I remember putting Bob Marley's Kaya record on, and the first song on that album is, Is This Love? I remember spinning it with my finger and because it's going so slowly, I could hear the wo-- Like is just clear, just the words. It's almost as if it were acapella, because it's so slow. I did the same thing for Nina Simone's Four Women on record. I'm spinning it and I'm like, "Wait, these are characters." Of course, we know that she's talking about archetypes, but when you're my age, aunt Sarah and Peaches, these are characters and she's telling their stories and I'm like, "Oh, this is an interesting way to make a song".
Then my mother was big on like soul music, [unintelligible 00:27:17] in the stacks or Motown only. Me being a little kid in the car just going for it. After that, I just started writing poetry, because I think that I recognize that these songs, they chemically changed me because I memorized them. When you memorize language, that language lives in your body, that's where it began. It was like, "All right, first comes my mother respecting me as a human being." Secondly, my family speaking to me as a member of the family and not like a baby, and then came the music and my mother had Nikki Giovanni and Langston Hughes books that we'd never read, but just living in the house. Eventually, you start to pick around and see that this is the same thing as the rappers are doing.
I'm reading Cotton Candy on a Rainy Day I'm reading Great Pax Whitey, I'm reading, Ego Tripping and I'm like, "Oh, this is--", and then you start catching references. I'm listening to the Fugees and Lauren Hill says, "I'd be Nina Simone, and defecating on your microphone." And then you realize, "Wait a minute, I know who that is. I've heard this name before." I don't know if I could be a word person without recognizing that I exist on a continuum and I think all of those things just make it feel like some weird magical thing that I cleave to.
Helga: To that point I think it's why I'm so worried about what I hear a lot of young people, and particularly a lot of young people of color listening to. Now, I'm worried about the language that they take into their bodies and that they process. I wonder if you would say something about that.
Jason: Yes. This is something that I battled with, because I don't want to admit that it's true. I struggle with it because I want them to have theirs, and I also want them to know the power that language actually has. It is the cornerstone of culture and the cornerstone of existence itself. If the language of a particular part of our culture is destructive, then it is really difficult for particular portions of our cultures to not be poisoned. My biggest fear is that is not enough of a balance.
I think when I think about my generation, when I was coming up, there was the Queen Latifah's thankfully, but I also grew up with Snoop and that was gang music. It was pimp music. I grew up in N.W.A., we'd speak about N.W.A. is like these revolutionaries, and they were in certain ways, but is a bit revisionist just a bit. It's like, "What? Go listen to the rest of the catalog." You listen to F Da Police and we're like, "Exactly." It's like, "There are other songs that would push back against that idea." We had all of that, but I'd be lying and disingenuous if I said that some of that music wasn't extraordinarily violent and misogynistic and homophobic, and that's the reality.
I'm trying to figure out where the nuance is, I guess, between making art and sewing sadness into the lives of our kids. My fear is that what happens is we're just missing the gate, the music that is not like that, that is doing the work. I don't know. I'm also trying to give them just a little bit of rope, just because I don't want to chastise teenagers for being teenagers. You know what's interesting? I remember when we were younger and when I was coming up, you didn't call a woman a B-word. You just didn't say it. Then I remember the music changing and becoming popular, and listening to the music and loving it. Then how over the course of a year or two, it just got easier to say.
Before that, it felt strange in the mouth. It felt like vinegar. Then suddenly over time, it just got easier and easier and easier to say. I know for a fact that it has an effect. I remember it having an effect on us. I remember it changed the way that we saw our women friends, our homegirls. It changed the way that we treated them, the way that we spoke to them. It shifted things in us chemically. We don't talk about it often enough. Something happened, something was happening to us. We were fortunate in certain ways, but not all of us grew out of it or bounced back. Not everybody work through those things, but I'd be lying if I said that there wasn't some shifting happening.
Helga: Jason, last year, I was down in the West Village, couple of little kids who were messing with a grocer and I don't know if they were trying to steal, I don't know what they were trying to do. Then they ran out in the street and they were throwing something at each other and whatever they were throwing hit me. I turned to look at them and the littlest one just looked up at me and said, "You, what you going to do? What you going to do? You ain't going to do nothing." I looked at him and I said, "You know what, go read a book".
I felt ashamed that I had said that to him because I understood all the other things I wasn't saying and really at another time in another generation, if I had been that kid and I had been myself, I would've just snatched him up and asked him what he thought he was doing and where his parents were, and I better not ever see-- there was a whole system in place to correct and to help navigate that thing. There isn't that so much now. Also you write so beautifully for young people and I feel like you're in that dialogue with them.
Jason: I'm trying to be.
Helga: And that there's a thing you understand. I would love to know or have more tools to help.
Jason: It's so difficult. I think about that young man is not so tough without his friends. I know that because I was that young man. I was like the sweetest kid, though, but if my friends were around, I felt bigger. I felt emboldened. I felt tougher. We would get on the train in DC and we would curse as loud as possible because we thought that that's what it meant to be an adult, to be mature, was to use adult language. You ain't saying nothing. Just yelling out curse words. Usually, usually, these kids, from what I find, being in the juvenile attention systems and writing these books and being in the schools, a lot of these young guys are waiting for someone to snatch them up. It is a strange feeling to feel like no one cares what you do.
I remember being in Brooklyn, a little boy walking down the street. He walks past a trash can and throws his bottle on the sidewalk. I had to get him, "Hey, you live around here. Pick that up." "For what, man? Look at it." It's a trash can two steps behind you. We had a whole conversation and he picked it up and he pouted it and he said whatever he needed to say under his breath. I don't care. If I let your mumblings break me down, that's my fault. Put it in the trash and next time he's on his block, he will know better because he's going to be scared that I might be outside.
I'll tell you what. Guess what, though. There was an older man, an OG in the neighborhood who got me at 26 years old. I was walking down the street, had my head down because I have terrible posture, and he bumped into me intentionally and I said, "Oh, I'm sorry, man. Excuse me." He said, "What's wrong with you?" I said, "Nothing's wrong? I'm all right." He said, "Why is your head hanging down?" I said, "I'm fine, man." In New York, we do this thing where we just keep walking. You speak while you're moving away from a person. I'm throwing this over my shoulder, even though I should have stopped because he's an elder, I should have given him the benefit of the doubt, but I didn't. He says, "Stop walking while I'm talking to you." He said, "Let me show you something." Then he sprinted down the block, sprinted back, and he said, "I'm 90 years old." He said, "You know why I can still do that?" He said, "Because of my posture".
Then he leaned in closer and picked my head up and he said, "Also, there's enough people out here who are begging to see you with your head down. The least you could do is make it hard." He doesn't know me, he's a stranger, but he's not. I think what we're missing right now sometimes is we are looking at these kids like they're strangers. We're looking at them like we've decided who they are simply because of their behavior when the truth of the matter is we should never see a child as anything more than a child.
Children ain't gangsters. They ain't monsters, they're not criminals. They're the children and they're waiting for one of us to acknowledge that for one of us to just say, "Hey. man, chill out." Like, "Yo, cool it. Relax. What's going on with you? Just chill out", but you're going to know I'm not afraid of you. I can't be scared of what I love. You don't scare me. I'm supposed to be the adult. I'm supposed to know better, and what I know better is you're not angry with me, but you are angry at what I represent. Adults have failed you and you know that already, and you can feel the disrespect. Your response, because you don't necessarily have the lexicon to express your true feelings, anger is the easiest one to access. Imagine if you had a vocabulary.
Helga: Imagine.
Jason: Imagine to be able to say, "This is how I'm feeling." It's important that we don't give up on each other. These babies are a lot because they've seen a lot, and they've been through a lot, and they hurt a lot. We have to have an unending well of grace. It is necessary for the most human amongst us, who are the children. The children are the most human amongst the humans because they just got here. It's their first time doing this human thing. I feel the same way, though, about our elders. It pains me that over time, we have stopped intergenerational congregation.
It is important to be around the OGs as much as it is for the OGs to be around these babies. I think that the intergenerational mingling is very important so that we maintain a certain level of respect and reverence for the elders and there are certain things these babies know that only they can tell us. Everything I know about gender politics or gender identity as it's changed and continues to change and shift and be named in all these glorious and intricate ways have come from 16-year-olds. Thank God for them.
When I pushed back in a moment of ignorance, when I pushed back and said, "I don't understand", the young woman said, "What is there to understand? I am asking you to refer to me as this. Why is this a debate?" I needed that person. Let's not give up on each other no matter how difficult it gets, including ourselves, and let's try to figure out how to drum up as much grace as possible during this time and beyond.
Helga: It's so great to be here with you.
Jason: Same. I'm glad we got to do this finally.
Helga: Finally.
[music]
Helga: That was my conversation with author Jason Reynolds. I'm Helga Davis. If you want more of these conversations, subscribe for free wherever you get your podcasts, give us a rating and share with a friend. Don't forget to follow me @hel.gadavis on Instagram. Helga: The Armory Conversations is a co-production of WNYC Studios and Park Avenue Armory. The show is produced by Krystal Hawes-Dressler with help from Darian Suggs and myself. Our technical producer is Sapir Rosenblatt, original music by Meshell Ndegeocello and Jason Moran. Special thanks to Alex Ambrose. Avery Willis Hoffman is our executive producer. City and Bloomberg Philanthropies are the Armory's 2021 season sponsors. And now, [unintelligible 00:40:36].
[music]
Helga: The first thing I notice is that his mother is nowhere to be found. This is my first clue that something is very, very wrong. If someone as a joke has told the boy to go outside and play in traffic, he's understood and has found himself in the middle of the street, banging on the hood of a car whose driver doesn't know about his missing mother, his autism, nor that he cannot speak, and begins blowing his horn impatiently. I see another neighbor and ask him, "Where's his mother?" He turns to look, as I head toward the boy.
The boy sees me move toward him and begins to run. Run toward the intersection where traffic is sure to be less forgiving than the one car he encountered, but the streets still work, are still holding together, and when my neighbor yells, "Grab him", two strong Black hands reach out for the boy in mid-flight, ending his adventure. As I approach, another man begins to reprimand the boy, as the man holding him wants to shake some sense into him. "He doesn't understand", I offer in a much more calm tone than I feel.
"You're scaring him." They give me the we're just trying to help look, and I thank them. "These are babies", Jason Reynolds said in that voice, that writer's voice, that Black man in America voice, that voice that is claimed page after page all young voices as his own voice. I ease my hand into the boy's hand and hold it firmly. If he can squeeze back, I know that I can get him across the street safely and begin looking for his mother. He looks off into the distance and begins to pull away. I can't believe how strong he is. I insist and hold him a little tighter until he allows me to move him across the street, toward home.
My neighbor rings the bell of the apartment where the boy lives and yells into the intercom. "Come get your son." I hate him for this. I open the door and begin walking the boy up the stairs. I hear a door slam all the way from the top floor, and the terror in the footsteps that cannot run fast enough down the stairs. When she sees her son is safe, she throws herself to the ground, writhing in a mother's pain. Not quite screaming, not quite crying. Everything trapped deep in her throat and body. Her head, arms, and legs all search the stairwell floor until finally, she asks, "Why me Lord? Why me?"
Another neighbor had already joined her. We stand and witness silently until the first spasms of the question pass through her. "Look", I say, "He's safe. Come, look. He's safe." I open my free arm folding her into me, into her son. The neighbor who had accompanied her down the stairs joins the circle and folds us into her. The neighbor who yelled to come get her son stands on the staircase watching. I look up as he points, letting me know that this is not his part, and he heads upstairs. Whatever else is happening in the world, we know the impact of language, the effect of words on our actions, our very chemistry. The impact of our language in every moment like this one has the potential to change the path of each person we encounter and affect our own, and on this day, another one of our babies is home, safe.
[music]